Monday 29th of February 2016 and my alarm went off at 5 o'clock. Smoked salmon and tea before the shower and I was off to look for a taxi. I will cross the Chao Phraya River and we will take my
friend's car from his house. He lives pretty close to Suan Phutthamonthon (Phutthamonthon Park)

It was still dark when I came out on the street. It was not easy to find a taxi that wanted to go across the Chao Phraya River. I found one taxi around 6 thirty and I arrived to my friend's house 10 minutes past 7 or so. And I ended up in the middle of "going to school" drama when they prepared his son for school. Or if it is called nursery as he is only 3 years old.


Arriving to school
Arriving to school
Arriving to school

We had left his son at school and we took off to road #338 that will take us to the Suan Phutthamonthon (Phutthamonthon Park). Maybe 15 minutes or so of driving from my friend's house.

In order to reach Suan Phutthamonthon (Phutthamonthon Park) from Bangkok you have to drive road #338 towards the west. #338 starts where the Rama VIII road and the Pin Klao Bridge road joins on the
Thonburi side. The park is located at Phutthamonthon Sai 4 Road but we left road #338 at Phutthamonthon Sai 3 Road.

It was kind of light early morning traffic on the roads, at least on the lanes going west out of Bangkok. It looked to be
heavy traffic going in to Bangkok. But we made a good speed with only a few stops at traffic lights. We drove the Utthayan Road between Phutthamonthon Sai 3 Road and the
Phutthamonthon Sai 4 Road and thus we got a glimpse of all the lamp posts along the Utthayan Road.

The Utthayan Road was almost empty and it didn't take long to reach the Phutthamonthon Sai 4 Road and it is quite easy to access the park from the Utthayan Road. Just to turn right and then turn left at the intersection with traffic lights. And crossing a road with traffic light should
hopefully make it a little safer to cross. We crossed and we drove 100 meter before turning left and we were at the gate.

We got a card when we entered the park, free entrance so I guess the card is a way to keep track of the cars inside the park. We got our card and we stopped at the first roundabout.


Just keep on road #338 until you see the signs for Phutthamonthon Sai 3
Just keep on road #338 until you see the signs for Phutthamonthon Sai 3
Just keep on road #338 until you see the signs for Phutthamonthon Sai 3
Stay on Phutthamonthon Sai 3 until you reach Utthayan Road and turn right
Utthayan Road should be easy enough to recognize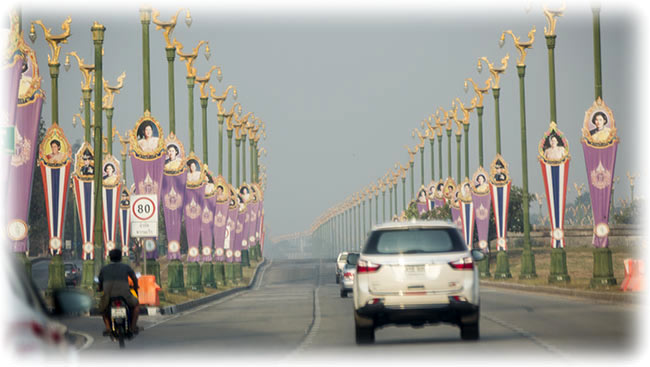 Stay on Phutthamonthon Sai 3 until you reach Utthayan Road and turn right
Utthayan Road should be easy enough to recognize
Stay on Utthayan Road until you reach the Phutthamonthon Sai 4 (road #3310) intersection
Now you have a temple building dead ahead
Turn right an immediate left and you're at the gate
Drive slow
Warning for turtles

Drive slow, WARNING FOR TURTLES don't mean they will attack you.
YOU SHOULD DRIVE SLOW in order to avoid the turtles



For a bigger map click HERE - This is also the link you want to copy to your mobile phone

I brought out my mobile with my prepared map over Suan Phutthamonthon (Phutthamonthon Park) But I was soon out of the car as there were Black-naped Orioles flying by. Several other birds and of course, the Red-wattled Lapwing - นกกระแตแต้แว้ด

I was soon to discover that the map was useless because the GPS in my phone was very slow so it didn't made any sense. But we drove around until we found a place to park the car. We left the car and we started to walk around in the area and we saw more of the Red-wattled Lapwing - นกกระแตแต้แว้ด and I also spotted an Asian Koel / นกกาเหว่า It was a female and the only thing making me know it was an Asian Koel was the red eyes and the call.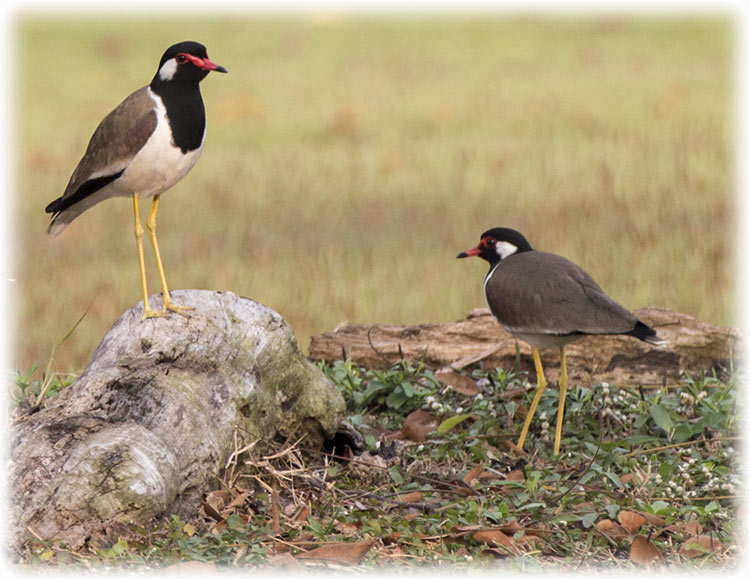 Red-wattled Lapwing - นกกระแตแต้แว้ด
Female Asian Koel / นกกาเหว่า
Female Asian Koel / นกกาเหว่า
Female Asian Koel / นกกาเหว่า
Turtles
Turtles
A girl in the park taking pictures of flowers
Asian Koel / นกกาเหว่า
Asian Koel / นกกาเหว่า
Asian Koel / นกกาเหว่า
Red-wattled Lapwing - นกกระแตแต้แว้ด
Grey Heron - นกกระสานวล
Grey Heron - นกกระสานวล
Raket-tailed Drongo
They are in the park to take pictures
It is a beautiful park
Asian Openbill Stork - นกปากห่าง
A turtle and a monster hiding in the water
Grey Heron - นกกระสานวล
A squirrel
Coppersmith Barbet - นกตีทอง
Coppersmith Barbet home
Blue-tailed Bee-eater - นกจาบคาหัวเขียว
Unidentified bird - Please drop a line if you know the bird
Asian Openbill Stork - นกปากห่าง
Black Drongo - นกแซงแซวหางปลา
Black Drongo - นกแซงแซวหางปลา
Black-naped Oriole / นกขมิ้นท้ายทอยดำ
Black-naped Oriole / นกขมิ้นท้ายทอยดำ
Black-naped Oriole, not a favourite bird, but it is kind of pleasant to look at
Common Myna - นกเอี้ยงสาริกา
Common Myna - นกเอี้ยงสาริกา


BAAM! Suddenly the clock was 11 thirty, almost 7 hours since I got out of bed and the time had passed very quickly. We walked around a lake and we spotted Black-capped and Common Kingfishers. Not possible to get any pictures. There are tree trunks in the water around the park and there are many turtles sunbathing on the tree trunks.

There is a small islet just south of the parking. But the bridge didn't reached the islet, a few meter ow water between the end of the bridge and the lawn. But I could see Black-naper Orioles and several different Egrets and Herons from the bridge, and of course turtles. February and many trees had lost their leaf, so I saw many Asian Koels in the area East of the lake and car parking. I have only seen one before, and that was in Suan Rot Fai in a tree without leafs.

The park had also many for Raket-tailed Drongos. I walked down to the Moat East of the lake and the Moat was an exciting area. Grey herons and more Raket-tailed Drongos. And I saw two birds flying by with a very long tail but I don't know what kind of bird it was.

We passed through a photo session walking through a road blocked with tree branches. We came out to a small peninsula and I was Indian Rollers, Black-naped Orioles, Common Kingfisher and some green birds. Walking back to the car west of the lake and I got a terrible pain in my stomach so I was sitting on a bench feeling like shit while my friend was exploring the fruit trees in the area.

I walked to a kiosk to buy water and when we passed the children's playground my friend took off to explore the area. DARN! Why did I have to suffer from the pain? I was on a bench drinking water when my friend came back. He showed me some very nice pictures of a Brown-headed Barbet. He told me that there were several of the yellow bird as well. The yellow bird is very
pleasant to look at and when I felt better after 10 minutes we went to check out the children's playground.

There is a tree with red flowers and I spotted 9 Black-naped Orioles within 2 minutes. Brown-headed Barbet but not possible to get any pictures.

There was a Common Myna sleeping in the tree when we came and the bird woke up, but the bird was not scared, just laid there on the branch enjoying the day.


Great Myna - นกเอี้ยงหงอน
Great Myna - นกเอี้ยงหงอน
Great Myna - นกเอี้ยงหงอน


We were getting hungry and we decided to go for lunch. We passed a Great Myna on the way back to the car and I took a few pictures. I like the Great Myna with the crest on the fore head.

We left Suan Phutthamonthon (Phutthamonthon Park) to go look for a place to eat. My friend told me that there was a big university across the road so there were plenty restaurants

- Are they clean? I asked
- Yes
- Any AC
- Yes

I was still not convinced but we went to check it out. We stopped at a place that looked clean, 24 times something. My friend went to look for an ATM and I went inside to explore the menu. I found exactly nothing that I wanted to eat on the menu. I left to talk with the girls next door while waiting for my friend. And where the duck
is the ATM? In Singapore?

My friend was back with two bottles of diet drinks for me and he told me that there was a Isaan restaurant further down the road.
- Do they have คอหมูย่าง?
- Most likely
- OK, let's check it out

We went down and I asked if they had diet drinks. And as they didn't had any diet drinks I popped open the first of my two bottles. The food was not bad, well, I ordered a steak, 240
Baht, the most expensive item on the menu. The meat was grey and I never touched it. But the other food was good.

We were ready for part 2 of the Birding/ Bird watching in Suan Phutthamonthon (Phutthamonthon Park) But first we went to see a friend, he used to be a photographer
and my friend want some pointers regarding taking pictures. My Thai is not even close enough to explain it to him in Thai. So we took off to meet our friend and I was looking forward to it, a nice guy and I had not seen him for a while.

It took us some 15 minutes or so to drive to his house and we passed a Central, DARN! We should have had our lunch here instead. Well, thinking about it, would not have been good for my diet.



Our friend gave some pointers and we decided to go have a look at the local wild life. We left our friend's house and I was off to some trees. They called me and it was obvious that we were going
in the car to another area. There were some green spots around our friend's house, but if they knew something more "exciting" around here I was all for it.

We drove out on the country side with rice paddies and green fields, and we're not far away from down town Bangkok.

We were soon ending up in, well, pretty much in the middle of nowhere. I asked them to stop so we could get out to look for birds.

-WALKING!! IT IS HOT!!
- We cannot do any birding from the Car!

I got them to stop at a big mud field. We got out and when I came around the corner there was a big group of Painted Storks that got scared and took off. I took pictures of the group and the stork with a big fish in the bill. Just to discover that I had forgot the adjustments, coming from inside out friend's house out to the bright sun shine. Needless to say, overexposure!


A group of Painted Storks takes off
A group of Painted Storks takes off
A group of Painted Storks takes off
Painted stork with a fish
Painted stork with a fish
Painted stork with a fish


There was not much left in the mud field when the Painted storks had left, a few Asian Openbills and some Black winged stilts. Of course, quite a few Egrets. Our friend didn't had his camera as
at his other house in Ratchaburi. Good, he will join us next week and I can put down yet another Thai that I have got interested in the nature. And that is the spirit we're looking for!

We will work with him, and maybe, I say maybe he will become like my friend and pick up garbage that lies around destroying the nature.

And they will teach their children and, well, you understand. And we have done something good for the future. Even
though I don't think there is much of a future in a not to distance future.

The mud field was almost dry with some small puddles that was like boiling. I got a closer look and I discovered that the puddles were full of fish.

So the storks better hurry up to eat up the fish or they will be dead in a few days' time. It is hot and no rain around here for a few months so the mud field will be dry very soon.

We spent 20 minutes at the mud field before we decided to go back to Suan Phutthamonthon (Phutthamonthon Park) Now it was late afternoon and it was not so hot and the birds would soon come out again. We were soon back in the car and the AC was on full.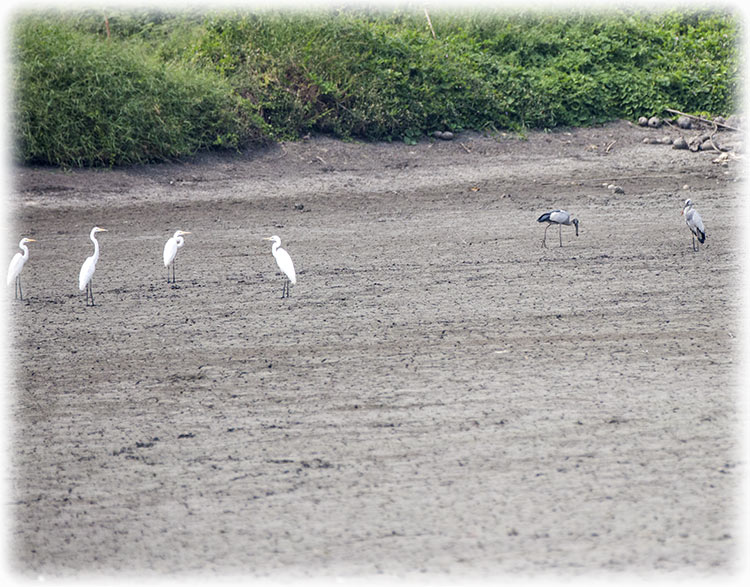 Great Egrets and Asian Openbill Storks
Black-winged Stilt - นกตีนเทียน flying over the mud field


We drove back to Suan Phutthamonthon (Phutthamonthon Park) and as our friend was hungry we stopped outside the moat. There was two water full ditches and my friend had to cross s flimsy
bridge built by some planks and some metal girders so rusty they had almost disappeared.



















The restaurant itself was on top of the inner ditch with floor boards so worn I could almost look through the floor. Me and my friend never went to the restaurant as we were looking for birds while our friend was eating. But he called us because he spotted a bird in the ditch under the restaurant. For sure not a nice experience to pass through the kitchen/ restaurant.

My friend had seen a Collared Kingfisher in the woods between the road and the moat. I spotted a bird, but the bird was too far away. And I really wanted to have a picture for identification as I
have heard the call before.

The call is very special: TWIT TWIT TWIT TWITtwitetwitetwitetwit

The call is easy to recognize, same as the Asian Koel. I know the Asian Koel, but this bird I had never seen before and now I wanted to know what kind of bird it was.


Plaintive Cuckoo - นกอีวาบตั๊กแตน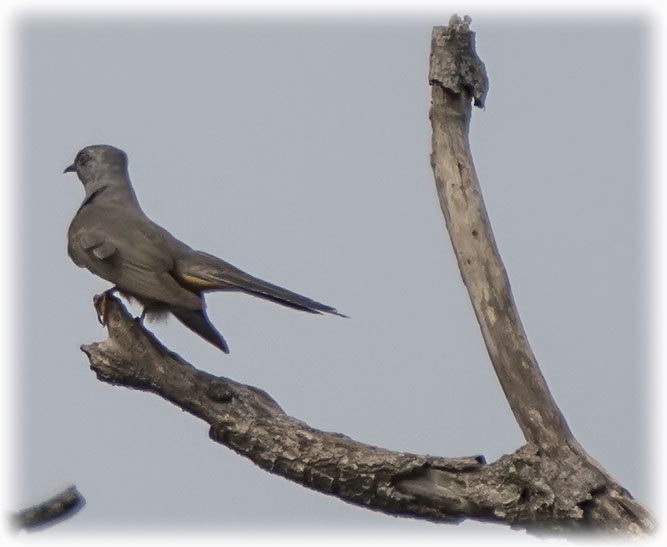 Plaintive Cuckoo - นกอีวาบตั๊กแตน


I was on the road searching the bushes for birds when I heard the call. I looked around and there was a grey bird in top of a dead tree. And yes, it was the typical call and I took a picture. And it took a long time to identify the bird. It looked like a cuckoo and I searched the internet. I gave up after an hour, and then I tried again, internet and my bird book, A Field Guide to the Birds of Thailand and South East Asia by Craig Robson

I spent most part of an afternoon identifying the bird. Looking for something looking similar and then searching www.xeno-canto.org - xeno-canto - Sharing bird sounds from around the world and when I didn't recognised the call I started all over again. Finally, I found out that it had been the Plaintive Cuckoo.


Listen to the Plaintive Cuckoo

Sound from www.xeno-canto.org


Anyway, we were leaving the restaurant and by that time I still had to learn the name of the bird I had seen. We drove back to Phutthamonthon Park and we started by exploring the south side of
the water bird lake as you can see on my bird watching map above over the Phutthamonthon Park.

We parked the car and we started to explore the area by foot. Indian Roller, Blue-tailed Bee-eaters and Black-naped Orioles. Egrets and Herons along the moat and there were two Jungle crows when I reached the, yeah, I call it a disgrace. Amazing how they can destroy a beautiful park.

And Suan Phutthamonthon (Phutthamonthon Park) is on Thai tourism web page as a attraction. OK, they have listed it as "Other religious & spiritual sites" and not a nature experience, so it seems like the garbage is OK. Seriously, imagine a family on the other side of the world planning for a holiday. They visit www.tourismthailand.org and they find Phutthamonthon.


ATTRACTION DETAILS
Phutthamonthon is a Buddhist park in the Phutthamonthon district, Nakhon Pathom Province of Thailand, west of Bangkok. It is highlighted by a 15.87 m (52 ft) high Buddha statue...

- PACK YOUR BAGS!!! HURRY UP!!!
- DADDY DADDY!!! MOMMY MOMMY!! WHERE ARE WE GOING?

- WE'RE OFF TO PHUTTHAMONTHON!! A PARK HIGHLIGHTED BY A BUDDHA STATUE
- YIIIPEEEE!!

- HURRY THE DUCK UP OR WE MISS THE FLIGHT!


So the whole family hop in to the taxi and take off to the airport with smokin' and
screamin' tires. You end up on a flight full of passengers delirious by anticipation bound for Thailand. Imagine their disappointment when they discover that the only highlight of the park is all the garbage thrown all over the place. Jeez, this would have been a very nice area if they could have kept it clean.


What is it with this guy and his fingers?

When we were ready south of the water bird lake we got back in to the car and we drove towards north on the east side of the Phutthamonthon Park. We crossed a bridge and we stopped the car. My friends took off but I had discovered a few strange looking birds along the moat. Most likely ducks and I will have to check this when I'm back home. My friends came back and we had a few pictures before we left to explore the rest of the park.


Muscovy duck - Cairina moschata
Muscovy duck - Cairina moschata
Muscovy duck - Cairina moschata
Muscovy duck - Cairina moschata

We crossed the road and we were walking around in a bushy area with bamboo and trees. Black-naped Orioles and Barbets. And there were plenty Raket-tailed Drongos, and of course, along the
water we had many Herons and Egrets.

I saw a Little Heron, yet another bird with many different names. In my book, the A Field Guide to the Birds of Thailand and South East
Asia by Craig Robson it is a Little Heron. Many other have the bird as a Striated heron.

The Little Heron is also named mangrove heron or green-backed heron. So it can be confusing but then I have help by the Scientific Name.






I checked for Butorides striata and all of the above mentioned herons have the same Scientific Name. So I have finally found some use for the Scientific Name. So today I have seen 3 new birds, well, I have got pictures of 3 new birds:
• Plaintive Cuckoo
• Muscovy duck
• Little Heron

I'm sure I have seen more new birds, but no pictures. And the unidentified bird from this morning is most likely a Ashy Drongo. This has to be confirmed. Anyway, we walked around in the bushes and bamboo and there is not only bird life in the park. Huge lizards and squirrels are all over the park. And I'm pretty
sure they have snakes here as well so I'm threading very careful walking around.

Our friend starts to work so he have to be back home at 5 thirty or so. We started to walk back towards the car

We walked along the water on a small track and we were soon passing a garbage dump. And it looked like they just buried the garbage. A nice surprise for the next generation of Thais when they discover that the parks are full of buried garbage.

Well, the next generation in Chumphon will for sure be in for a shock. They just buried an oil spill next to the beach. ...responsible agencies look into it later... For sure, when the ground is poisoned and the oil leaks to the ground water. But if you can't see it there is no problem, right?


Garbage dump and a beautiful park is fucked up
Garbage dump and a beautiful park is fucked up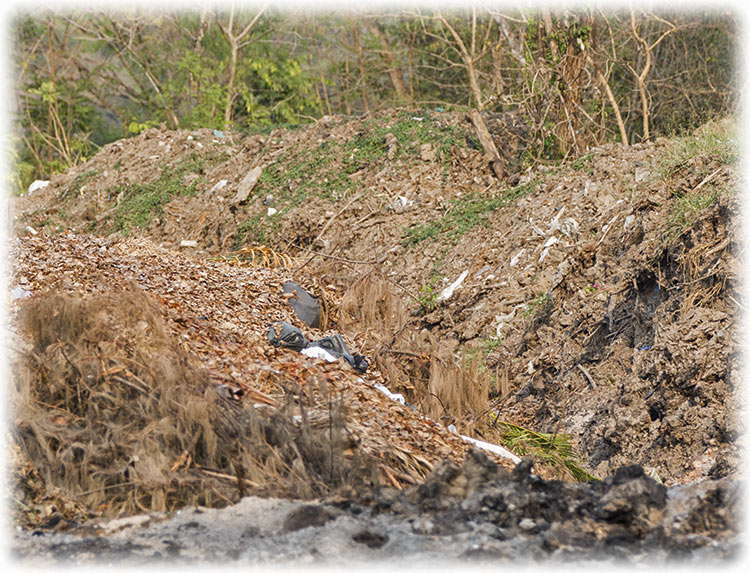 Garbage dump and a beautiful park is fucked up
Garbage dump and a beautiful park is fucked up
Of course, all bird pictures available on my Thailand
bird checklist of bird I have seen by clicking
HERE
How to kill a day in Bangkok #24
Review: Birding/ bird watching in Suan Phutthamonthon (Phutthamonthon Park)


Fee: Free

Web page: No official web page. But visit Nick Upton's web page Thaibirding for information about Suan Phutthamonthon Here you find all the information you need about Suan Phutthamonthon (Phutthamonthon Park), maps and what bird you can expect to see. And of course info on how to get there

Address: ตำบลศาลายา อำเภอพุทธมณฑล จังหวัดนครปฐม From www.tourismthailand.org

Tel: Several numbers on www.tourismthailand.org

Opening Hours:: 7 days per week 05.00 - 19.00 From www.tourismthailand.org



++++++


Attraction Details From www.tourismthailand.org

Phutthamonthon is a Buddhist park in the Phutthamonthon district, Nakhon Pathom Province of Thailand, west of Bangkok. It is highlighted by a 15.87 m (52 ft) high Buddha statue, which is considered to be the highest free-standing Buddha statue of the world. The park was created in 1957 (which was the year 2500 in the Thai Buddhist Era) on the basis of an idea of Thailand's prime minister, Phibunsongkhram. The park covers an area of about 400 hectares, which in traditional Thai units is 2500 rai. Construction started on July 29, 1955. The construction halted for a while due to a lack of budget and continued again during the government of Kriang Sak Chamanan as it was a part of government's policy. Moreover, the construction had a big progress thanks to the royal patronage and the park was inaugurated on the Vaisakh Bucha day (May 13) in 1957. After the inauguration, many buildings has been built such as the auditorium and a big building called "Mahavihara" where the marble Tripitaka is housed.



++++++


It is a huge park and you are allowed to drive your car inside, good for us, but it was kind of annoying while doing the birding/ bird watching with the cars. We did it on a Monday morning, but I can imagine the park during the weekends and holidays.

The park is not only for birding. People are jogging and bicycling around the park. Walking and enjoying the area is also very nice so you can really enjoy the area even if you're not in to birding. There are places to buy cold drinks in the parks.

And if you come here, I really recommend your own transportation. Or rent a taxi for half a day, should set you back with about 1000 Baht including tips. It will be hot and when you have been walking for 2 or 3 hours you will have to walk back for 2 or 3 hours in the heat. AND IT IS
GETTING HOT! Then it is nice to have a back-up taxi so you can foock off out of there whenever you want to. At least something I would like to spend the extra money on.


It was OK, there were plenty birds, but the garbage and shit they just throw around. Seriously, it is 2016 and there are still people around throwing garbage IN A PARK! This is a place where you come to enjoy with your children. AND THERE ARE TWATS THROWING THE GARBAGE IN THE PARK!!!

But for birding it was a very good park and we saw many different species of birds in the park.

Review Man




I was back home almost 14 hours after my alarm clock had went off this morning. It had been a lovely day and I will for sure get back to Suan Phutthamonthon (Phutthamonthon Park) And our friend want to join us. Just a shame that he work nights so it would not be OK for him to get up at 5 o'clock in the morning, but he can join us in the afternoon.

It is a month since I got back home from the tiger safari in India and I need to do a VISA run. I called Donsol ECO Tours Wednesday afternoon and they are now seeing Whale sharks every day and I booked a weekend in Donsol. I can finish yet another (
Hopefully) ting on my TO DO list on my VISA run.

It would be nice to put the whale shark thing behind me so I can continue with my list of things to do before I'm getting too old.
• To experience a hangover

• African safari

• To see Polar bears and icebergs

• Whale sharks "Failed"
• Tiger safari

• Whale sharks (second try)
• Antarctica
• The Amazon in Brazil
• Koala and Kangaroo in Australia

When I'm finished with the list I'm settled and the only thing remaining on my TO DO list is to
die. But we're in the hurry, Antarctica and the Amazon will not be around for much longer. And also, the older I get the more comfortable I am staying at home.

It is very nice when you're watching the wildlife, but to get there is more annoying by the year. And seriously, going to Antarctica, well, right now I don't feel very excited over it, but we will see. But first a long weekend in Donsol with the
hopefully whale sharks.



So I will be back at the Elysia Beach Resort in Donsol. I think about them every day, or almost every day since I left. They were the ones inspired me to do the fruit salad, the best I have ever
had and I really looking forward to get back to the breakfast - lunch - dinner routines with the fruit salad again.

And a dinner at Tempura Japanese Grill is always something to look forward to. Even though they have closed their branch at Robinsons Place in Manila. There is one branch at the UN Avenue so I might check out this branch on Friday night. A little something to look forward to!

Well, anyway, before you go to see the whale sharks you have some MUST READ information by clicking HERE

So this was a very quick decision as I had forgotten all about my visa. Thai Airways was full today so I have to go tomorrow instead. And Thai Airways was lucky, I tried both ANA and Asiana first. I'm in progress of becoming less involved with Thai Airways. Who is the owner of Thai Airways? Yes, the Junta and as they want me to pay much more than Thai people entering the parks when I go birding. The same for museums and other attractions, as a foreigner I have to pay much more. Should actually be the opposite, the Thais should pay 100 times more and they could have cleaners in the parks taking care of all the garbage.

Anyway, then I have no choice but to try to use another airline as much as possible. Why support the ones trying to foock you over? But flying to Manila and I have no choice but to fly with Thai Airways. DARN! After having booked my ticket I remembered Singapore Airline, the ticket was
about 3000 Baht cheaper and I would have arrived earlier. Of course, departure earlier and I would have missed a boxing session.

I can maintain my gold card status by flying other star alliance members and then I will redeem the points from Thai Airways. How's that for double pricing?



» Government critics who make comments deemed not to be in the nation's interest will be detained for "attitude adjustment" for up to a week, said Deputy Prime Minister Prawit Wongsuwon, marking the latest curtailment in freedom of expression under the military regime.

Full article from Bangkok Post by clicking HERE


Well, Thursday night and I'm off to my friend's house for dinner with him and his wife. I had planned to leave at 5 o'clock. You never know how long time it will take to get there. Everything
between 20 minutes and 4 hours.

At 4 o'clock it knocked on my door. Who the
? I had no idea who it could be. I have had people here all day long, termites and I don't know all. Now it was an old guy and girl
that came to repair the water leak in the bathroom. This took way longer than I had expected and they left without having finished the job at 5. A quick shower before I went to get a taxi. And I had to walk all the way to Asoke before I got a taxi. Heavy traffic so I was surprised that we reached the destination in
a jiff. 20 minutes before 6 so I had 20 minutes to kill before I
should be at my friend's house.

I walked past a restaurant and as I was hungry I went inside. Better to top up a little so I don't make a tit out of myself at my friend's house.

And as we're in Thailand it is better to be safe than sorry, the food might turn out to be very spicy. I finished my meal and I went out to look for my friend's house.
He had sent me a map and I missed the first soi as
it was so small I thought it was a drive to a house.

It was almost 6 thirty by the time I found the house. The dinner was good, yellow curry and rice, and yes, it was a wee bit spicy. But nothing the tea couldn't take care of.

It was a nice evening and the time passed quickly and it was soon time for me to go back home to pack my bag for my flight to Manila tomorrow.

And if you click HERE you will find yourself in the middle of that adventure.


OK, it has come to my knowledge that we have senior citizens visiting my web page. How hard can it
be? So it's not very easy for them to see the blue coloured links to the next page.

Jiffy (also jiff)


noun [in SING.] informal a moment: we'll be back in a jiffy.

ORIGIN late 18th cent.: of unknown origin.

So as you understand, in a jiff pretty much depends on your internet.

So I put a "Next" button here and I hope that there isn't any problem to understand how to use that one. So just CLICK the "Next" button on your left hand side and you will be on the next page in a jiff!
Marunong ka mag-tagalog? Walang problema! Magpunta sa kabilang pahina pindutin ang "NEXT" button sa itaas


Faites vous parlez le français? Pas de problème! Pour arriver à la page suivante faites s'il vous plaît un déclic le bouton "Next" ci-dessus!


Haga usted dice el español? No hay problema! Ver la siguiente página sólo hacer clic el botón "Next" encima!


Farla parla l'italiano? Non problemi! Per vedere la prossima pagina lo scatto per favore giusto Il bottone "Next" sopra


Sprechen sie Deutsch! Kein problem! Wenn Sie die folgende Seite sehen wollen gerade klicken der Knopf "Next" oben!


คุณพูดภาษาไทยได้ไหม ไม่มีปัญหา ถ้าคุณต้องการไปหน้าถัดไป ให้กดปุ่ม "Next" ข้างบนนี้


Вы говорите по-русски? NJET PROBLEMA! Просто нажмите синюю кнопку "Next" с левой стороны и Вы моментально переместитесь на следующую страницу!


E ni Svenskar och inte förstår Engelska så ska ni skämmas. J och Björn, med det menar jag inte att alla mina stavfel ska ältas varje gång vi träffas.


Well, the flag of Skåne, just a BONUS flag.
You are visitor no.