India Wildlife and Medieval Tour for Mr. Aladdin
Mumbai – Rajkot - Sasan Gir – Alang - Ahmedabad – Delhi – Corbett – Delhi - Neemrana – Jaipur - Ranthambhore – Fatehpur Sikri – Agra – Delhi - Bandhavgarh – Kanha – Pench – Nagpur – Mumbai

34 Nights – 35 Days
Cut short to 30 days due to VISA issues
Day 35 Day 30: Flying back to FUNKY TOWN


Today morning after breakfast day is free for individual activities and relaxation, If your flight is during night hours for hometown, you may opt for shopping Link Road Bandra, well known place for shopping in Western Suburban of Mumbai, here everything is available at bargained price for kids, home décor, jewellery, footwear, clothes, games.. You just name it. Later transfer to the International Airport to board the schedule flight for home town/onwards journey.

Cancelled due to VISA problems and I will spend the day at Hotel ibis Mumbai Airport



On departure tour conclude with the happy memories.
Thursday 4th of February 2016 and I had asked them to call me at 7 o'clock in the morning. Maybe I will be tired tonight so I can sleep on the flight back home. Then I realise that this was stupid, would have been better to sleep and then to stay up until I was back home.

Will meet a friend for a few San Miguel Light so I need to sleep when I'm back home to be full of evening vim. No need for the concrete hat to come on during the 2 first hours.

I went for breakfast at 10 o'clock and it was kind of nice to just stay in the room relaxing. For sure, I didn't feel like getting out in Bombay. Walk around in noise and dirt. So I stayed in my
room and I have asked for a late check-out. Check-out at 16:00 which was later changed to 18:00.

ibis, a safe bet and I have had a good stay every time at ibis. At first I tried to book at Sheraton, but they asked for a mobile phone number and the second
time I tried to pay I gave up. Not possible without any mobile number. I was thinking about my experience from Sheraton in Jaipur and Bangkok and I gave up the idea.

So I booked at Hotel ibis Mumbai Airport and I saved a lot of money and ibis is as good as Sheraton, if not better.

I called the restaurant and I got more Diet Pepsi to my room. I also called Thai Airways to reserve a seat. Again, I could not select a seat on Thai Airways web page and I tried to call Thai Airways, all for nothing. I cut my call to Thai Airways short by saying "Never mind, thank you" and I hung up the phone and I returned to my Diet Pepsi



And I'm seriously thinking about changing my favourite airline, yet again. First from KLM to Thai Airways and after the last few disappointments with Thai I think Turkish Airlines and ANA looks
like much better options. I like the service on board Thai Airway but after a few mishaps with the ground service, and I'm also considered about the owners and what they stand for.

But then, Turkish Airlines should be of concern as well, at least for the last couple of years.

And I had time to read Bangkok Post on line to update myself before going back home before I left the hotel and I don't know if I should laugh or cry when I was reading about how the Police and Army raided a bridge club in Pattaya. And 2 of the coments are quite, well, read for yourself below:
• Is the RTP so stupid that they thought playing Contact Bridge is encroaching on the army and Police gambling casinos?
• I feel so much safer now I go visit Pattaya and not have to worry about crime


Today's Bangkok Post - Read full article HERE
You just can't make up shit like this, so it is the true story
Another story from Bangkok Post - Full article HERE
The discussion board on this article has been turned off, because commenting on the above issue may cause legal dispute
The sad story about the mushroom pickers


I called the reception at 4 o'clock and I told them that I would like to change my check-out from 16:00 to 18:00. And I asked them to be so kind to have the car ready by then. I was on the way to the airport just after 6 o'clock and when we reached the second intersection there was a
beggar and her young daughter knocking on my window. They wanted money, of course, but they also wanted me to take their picture. She knocked on the window.
- 10 Rupees

I tried to explain that I didn't had any cash. I don't have any cash as I only pay with card.

When I came home I discovered a 100 Rupee note in my valet and I could as well have given the bill to her. But when I left for Bombay I was sure I didn't had any cash in my vallet. Well, that was a miss, she would for sure find better use for the 100 Rupees than I will. Well, I could not help to think about "the biggest democracy" One thing is for sure, democracy is one of the most misused words.



In Thailand they want to change to something they call Thai democracy. And what does Thai democracy mean? I don't know, but I guess they want to make sure the "right" people are running
the country. And in Sweden we have the word "välfärds samhället" and "välfärds byggande" that are so abused they have lost all meaning.

Well, they have not lost their meaning, it is worse, they have changed meaning. The meaning of välfärds byggande have changed to välfärds rivande. We approached Bombay International, Chhatrapati Shivaji International Airport. And this time the sun was setting. Last time approaching the airport the sun was over the airport.

And it is a huge and also a very beautiful airport. And I can say, by now I have been to 3 or 4 differtn airports around the world, and Mumbai's Chhatrapati Shivaji International Airport have make it right up to #1 on my favourite airports in the world. But if I had have anything to say about all the new airports around India I would have kept the old ones and used the money to supply education and housing for the masses of "have nots" in India. Corruption and mafia styled methods are destroying the country.

Not long ago Bombay was the most expensive city in the word with land and housing prices that was next to rediciolus. A paper box in the slum was worth thousands of dollars. Anyway, the government gave a huge land lot for a company to build cheap housings for the poor. well, as no surprise they built condos on the lot making billions out of it. South Africa and they built cheap housing for the poor. People from the government had bulvans to buy the housing very cheap from the poor. The poor moved back to the townships and they could sell the house for much more than they had paid for them.


The exhibiton at Mumbai Airport. Covering several floor and are maybe 20 meters high
covering the inner wall of the airport, both departure and arrival hall - Domestic and International
The exhibiton at Mumbai Airport. Covering several floor and are maybe 20 meters high
covering the inner wall of the airport, both departure and arrival hall - Domestic and International


I was in the terminal not long after 6 o'clock and the check-in would not open for a few hours. I went to a book shop and I asked for a book about Indian birds. She looked around for 15 minutes she told me that they didn't had any books about Indian birds. 2 minutes later and she brought me a book about elephants.
- Is this books about birds?

- No
I just left and I went to a restaurant and I spend the rest of the time there. I saw that people started to line up at the Thai Airways check-in and I went to check in. Immigration and security.



There were plenty people at the immigration but it went pretty quick to pass the immigration and the security was smooth. I must say that the security staff at the Indian airports have been very friendly and nice to have had to deal with. I was through the immigration and the security. Thai Airways
flight TG 318 was departing from gate 75. I was lucky, the lounge was in the same direction. And Thai Airway was using the GVK Lounge

The GVK Lounge was one of the best lounges I have been to, not as nice as Turkish Airways lounge in Istanbul. But right up there with Asiana's lounge en Seoul, maybe even a notch better than Asiana, well, not maybe, it was better.

The buffet was bigger than on many nice hotels and they had Rosemary wedge potato, seriously, can it get any better. OK, if they had Falukorv they would have been second to none!

I got my own room and the only thing I can complain about is that they didn't had any tea pots. Otherwise it was a perfect lounge, beautifully decorated and good food.


Entrance to the GVK Lounge at Mumbai's Chhatrapati Shivaji International Airport
I get my own room
Time to go to the gate
Wrapping up my new elephant


I left the lounge a wee bit too early, so I had time to walk around and I was soon in a souvenir shop. I found a elephant that I liked and I paid 11.850 Rupees for the elephant. It will look good (
hopefully) on top of my shoe cabinet inside the door.



Ganesha


(/ɡəˈneɪʃə/; Sanskrit: गणेश, Gaṇeśa, also known as Ganapati and Vinayaka, is one of the best-known and most worshipped deities in the Hindu pantheon. His image is found throughout India, Sri Lanka and Nepal. Hindu sects worship him regardless of affiliations. Devotion to Ganesha is widely diffused and extends to Jains and Buddhists.

Although he is known by many attributes, Ganesha's elephant head makes him easy to identify. Ganesha is widely revered as the remover of obstacles, the patron of arts and sciences and the deva of intellect and wisdom. As the god of beginnings, he is honoured at the start of rituals and ceremonies. Ganesha is also invoked as patron of letters and learning during writing sessions. Several texts relate mythological anecdotes associated with his birth and exploits and explain his distinct iconography.

From Wikipedia, the free encyclopedia


I got a bag for my new Ganesha and this bag can be used as shopping bag back home in Bangkok. They had started the boarding when I was back at the gate and it will be nice to get back home.


Boarding Thai Airways flight TG 318 to Bangkok
Taking our food orders - I was full and I only had tea
She saw my camera and wanted me to take her picture
Busy in the gally


I took my seat and I had about 7 glasses of water before another Stewardess to ask what I wanted to have for dinner. But I was still full from my visit to the GVK Lounge. So I told her that I was on diet. We took off and I asked for a pot of tea, but they didn't had any pot or big mug on board this flight, disappointing.



+++++++++++++++

Friday 5th of February 2016 and the flight took about 3 and a half hour to Bangkok. And it was a terrible flight due to restless legs and I was dead tired. But it was not possible to sleep. So I was very happy when we arrived to Suvarnabhumi. It looked like we had to go by buss to the terminal. I was kind of happy for the bus, arrival to Suvarnabhumi and the bus takes you almost all the way to the immigration. So no need to trot around for several kilometers.

I saw that we passed the Oriental Thai's Jumbo Jet. I don't think they have been airborne for a long time as I always see them on the turmac far away from the terminal when I go to Suvarnabhumi. So I expected a bus, but they conected us to a gate and I expected a long walk to the immigration.

I walked through the bridge and at the end there were stairs down to the ground level and a bus was waiting for us. And the bus dropped us at the terminal 2 minutes away from the immigration.


Arriving to Suvarnabhumi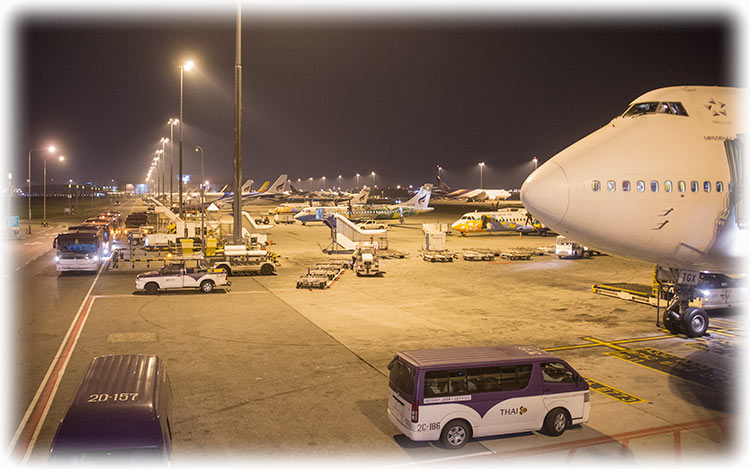 Arriving to Suvarnabhumi
Arriving to Suvarnabhumi
Arriving to Suvarnabhumi
Thai Immigration - Good guys in, bad guys out


Immigration premium line was full of Chinese tourist travelling in groups and I don't know how they got their premium lane access. I could not see any premium lane passes and it was tourist class tickets in their hands. I was asked for my boarding pass and I was alowed to use the premium line. Well, maybe they had given up with the Chinese as they had a hard time to comunicate in English. And there were some delays when they had not filed up their immigration cards corectly.

When I finally came to the immigration desk it went pretty quick, untill the immigration officer checked his screen, obviously he was concerned about all my entries and exits from Thailand. He asked for how long I was going to stay here in Thailand.
- 3 weeks

He called a Supervisor and he didn't seem so interested and I was soon on my way to pick up my
luggage. I booked a AOT car and I stopped at Family Mart to buy some milk. I was home at 6 o'clock and I was in bed a few minutes later.

I woke up around 2 o'clock and I left for Tops Market at Thong Lor
around 5. The traffic was terrible and I changed from Thong Lor to Villa Market on Sukhumvit Soi 33/1. Well, we approached Villa Market and I realised that I had forgot my vallet and we had to go back home.

More than 1 hour wasted and I gave up the grocery shopping and I walked to the Pizza House and I bought 3 pizzas and I brought 2 pizzas back home with some strawberry milk as a hangover pack for tomorrow.

I was going to meet my freinds at 7 thirty and I was stuck in the taxi for more than 30 minutes just to get to the and of Sukhumvit Soi 23. So something have happened with the traffic since I left for the tiger safari in India.

My friend, and now it turned out that he had been a very dedicated birder back in his childhood.
- I knew all the birds by sound and how they looked.
He also told me that he knew everything about our solarsystem, planets and stars and moons etc. Well, many children know that.
- But then I started to get interested in beers and girl so I have forgotten everything, he explained.

So he want to join for some birdwatching. My new birding pal joined us and we decided to hire a taxi for a day and to go outside Bangkok for some birding on Monday. Leaving town at 06:00 and we can have one morning and one afternoon session, something to look forward to.



+++++++++++++++

Saturday 6th of February 2016 and I was back home around 4 o'clock in the morning and I'm too old for beeing running around town until the wee hours. And I could feel it today and my friend were soon coming for a boxing session. But is had been a nice evening yesterday with, maybe a few San Miguel Light too much. Well, let's see how the exercise turns out.



I was surprised as the boxing training went far better than expected. But when we were ready I went back to my room and I stayed inside the whole day. Tomorrow it is Sunday again and I will go to Bangkok Slot Car Club. I have confirmed with the President of the Bangkok Slot Car Club so I will be there around 2 o'clock tomorrow afternoon.



I will meet my friend outside Terminal 21 at 13:30 tomorrow and we will go to Bangkok Slot Car Club by taxi or sky train. It will be fun with a Scalextric race again and we just need to click HERE to find out how it goes down at Bangkok Slot Car Club.


OK, it has come to my knowledge that we have senior citizens visiting my web page. How hard can it
be? So it's not very easy for them to see the blue coloured links to the next page.

Jiffy (also jiff)


noun [in SING.] informal a moment: we'll be back in a jiffy.

ORIGIN late 18th cent.: of unknown origin.

So as you understand, in a jiff pretty much depends on your internet.

So I put a "Next" button here and I hope that there isn't any problem to understand how to use that one. So just CLICK the "Next" button on your left hand side and you will be on the next page in a jiff!
Marunong ka mag-tagalog? Walang problema! Magpunta sa kabilang pahina pindutin ang "NEXT" button sa itaas


Faites vous parlez le français? Pas de problème! Pour arriver à la page suivante faites s'il vous plaît un déclic le bouton "Next" ci-dessus!


Haga usted dice el español? No hay problema! Ver la siguiente página sólo hacer clic el botón "Next" encima!


Farla parla l'italiano? Non problemi! Per vedere la prossima pagina lo scatto per favore giusto Il bottone "Next" sopra


Sprechen sie Deutsch! Kein problem! Wenn Sie die folgende Seite sehen wollen gerade klicken der Knopf "Next" oben!


คุณพูดภาษาไทยได้ไหม ไม่มีปัญหา ถ้าคุณต้องการไปหน้าถัดไป ให้กดปุ่ม "Next" ข้างบนนี้


Вы говорите по-русски? NJET PROBLEMA! Просто нажмите синюю кнопку "Next" с левой стороны и Вы моментально переместитесь на следующую страницу!


E ni Svenskar och inte förstår Engelska så ska ni skämmas. J och Björn, med det menar jag inte att alla mina stavfel ska ältas varje gång vi träffas.


Well, the flag of Skåne, just a BONUS flag.
You are visitor no.
To www.aladdin.st since December 2005
Visitors from different countries since 26th of September 2011