Written onboard M/T Ek-Star October 2010
Nepal 1994
The only thing I remember from my flight from Bangkok to Kathmandu was when the pilot told us
that we were passing Mount Everest. I tried to look out, but I can't remember seeing the darn mountain. Yes, there were many mountains, all white and covered by snow. but which on was Mount Everest? I have no clue, and I was not at a window seat so I really never got a real good look.

I also remember that I had to line up in
a queue to buy a VISA before I could go to the immigration. And as it was my first time in Kathmandu I had no clue on where to live. But the taxi driver took me to a place in the city and it turned out to be a nice place. And my hotel was in the middle of the city so no complains.

I ended up in a bar after only an hour or two in Kathmandu, no surprises there. I walked the street and I heard some good music on full blast so I went up the stairs to the second floor. Tuborg, WOW, real beer & good music and I were looking forward to my time in Nepal. I ordered a beer and I had a sip from the bottle.

- What the
is this?
I looked at the bottle and it was for sure not made in Denmark. I think this was my only beer I had during my time in Nepal. Tea and water is better.

I ended up in another bar in the evening, drinking water. There were all these extreme sport fantasts looking at a slide show from trekking and white water rafting. I meet people and I was asking around about the trekking in the Himalaya. I knew f@ck all. I had just packed my weekend bag and my entertainment centre and I had to find out along the way.

I meet a Swedish guy and he was on the way to a trek in Himalaya. He had hired a guide and we decided that I should join him.
- There are 2 girls from Denmark joining us, he said.
- The more the merrier!

We left Kathmandu with a bus. I think we left Kathmandu early morning and I really don't remember where we went. But after searching the internet my guess is that we got off the bus in Pokhara. This was the last town before reaching the big "Middle of Nowhere"

I discovered that most of the trekking around Annapurna starts at Pokhara. Well, starts, we took a bus from there to the mountains. But it's a day from Kathmandu so it would be too late to get on the trekking arriving from Kathmandu, so we stayed one night at a hotel in Pokhara.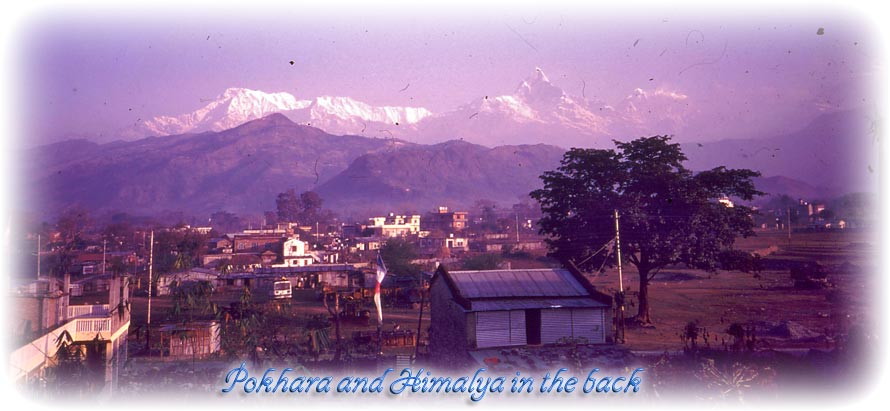 I found one trekking rout on the internet that can have been the one we did. I recognise the name
Poon Hill and it's the only 8 day trekking I could found. So it might have been this route. but I'm not 100% sure.

Pokhara - Tikha Dhunga (1491 M) - Ghorepani (2848M) – Poon Hill - Tadapani - Landruk - Pokhara. The only thing I'm in

Annapurna

(Sanskrit, Nepali, Nepal Bhasa: अन्नपूर्णा) is a series of peaks in the Himalayas, a 55 km (34 mi)-long massif of which the highest point, Annapurna I, stands at 8091m, making it the 10th-highest summit in the world and one of the 14 "eight-thousanders". It is located east of a great gorge cut through the Himalaya Mountains by the Kali Gandaki River, which separates it from the Dhaulagiri massif. (Dhaulagiri I lies 34 km west of Annapurna I.)

Annapurna is a Sanskrit name which literally means "full of food" (feminine form), but is normally translated as Goddess of the Harvests. In Hinduism, Annapurna is a Goddess of fertility and agriculture and an avatar of Durga.

The entire massif and surrounding area are protected within the 7,629 km² Annapurna Conservation Area, the first and largest conservation area in Nepal, established in 1986 by the King Mahendra Trust for Nature Conservation. The Annapurna Conservation Area is home to several world-class treks, including the Annapurna Circuit.

The Annapurna peaks are the world's most dangerous mountains to climb, with a fatality to summit ratio of more than 40%.



From Wikipedia

doubt over is, well, I don't have a clue where we went. But on the day we reached Poon Hill we walked on an edge 3500M.

And of course, the name. Poon Hill on the internet and the locals spelled it Pun Hill back in 1994.


OK, I will most likely never find out what places we went to, never mind.

But it would have been nice to have had my digital camera and I could have, if I had been interested back then, our maps and stuff over the area. Would be fun to have today, but back then, who cared?


We got off the bus in Pokhara, 2 Swedish guys, 2 Danish girls and our Guide from India. We got to our hotel and we were going to meet in the restaurant for dinner.


Pokhara Sub-Metropolitan City

(Nepali: पोखरा उपमहानगरपालिका Pokhara Up-Mahanagarpalika) is a city of close to 200,000 inhabitants in central Nepal located 198 km west of Kathmandu.

It is the third largest city of Nepal after Kathmandu and Biratnagar. It is the Headquarters of Kaski District, Gandaki Zone and the Western Development Region. Pokhara is one of the most popular tourist destinations in Nepal, noted for its tranquil atmosphere and the beauty of the surrounding countryside. It is also a base for trekkers undertaking the Annapurna Circuit.



From Wikipedia


Pokhara, and according to internet this is the place used as base for people trekking the Annapurna circuit. And I meet a lot of people on their way up the Himalayas. OK, I'm coming to Nepal
after a month of heavy part in Thailand and I'm wearing shorts and a T-shirt. And of course, my stupid Dr. Martens shoes.

My Dr. Martens, yes, I was worried after meeting all these trekkers. They were wearing trekking shoes and winter clothing. Here I was with my weekend bag and chafed feet. And I mean chafed, I could hardly walk with my new Dr. Martens.

I was not the nicest guy to have around and
we're facing several days of trekking Himalaya and I can't walk. And this fool in the shoe shop back in Gothenburg, Sweden.
- Nepal? Trekking, you have to look for better shoes than Dr. Martens. Highly recommended!

- MOTHERF@CKER!!

Well, we left Pokhara early morning with a bus to a place with a stairway up a hill. I passed one guy after 30 steps.
- F@ck, if this is the beginning how will I make it through the rest of the trek, he complained to me.
- Keep up the spirit! I said when I passed him on my way up the hill or mountain or whatever it was while whistling
. When we reached the top it was kind of flat and we passed these terrace cultivations and stuff on our way from the civilisation.
We had 2 porters with us to carry our stuff. Not much, my weekend bag and my entertainment centre. We have chosen a route so we could live in tea houses every night and thus we didn't need to bring any camping stuff.
I was pretty happy when we came to our first stop. I thought that we were going to spend the night. Well, turned out that it was just a quick stop for tea.

We were soon on our way again and even though I wasn't all that happy with my Dr. Martens shoes I enjoyed the scenery. My Dr. Martens was not that bad going uphill, but when it was downhill my toes was chafing against the steel cap. Motherf....!
Our first stop was at a nice tea house, 2 storeys, and quite comfortable. The more distance we put behind us and Pokhara the more we had to pay for food and water.

The highways in Himalaya are not what I'm used to. Everything had to be transported on donkeys.
And they came in convoys so we had to keep an eye out for them or they would have run us down. And this is not the area where you want to have an accident.
The tracks were narrow so it was quite interesting to watch the donkey convoys meeting in the mountains. Donkeys delivering necessaries to the villages in the Himalaya and they brought back stuff for the markets on their return to Pokhara.

Well, this is not the area where you want to run in to an accident or to be sick. I meet a guy from Japan, and nothing bad about him. But how stupid can you get? He was dead sick when I meet him, yes, he was about to die. He had been drinking water from a creek.

- What the
!!??
You expect more from a guy from Japan, they should be educated and now that it is a BIG NO to drink from the creeks. You never know, 100 meters upstream someone is having a dump.


Or there might lay a dead donkey or whatever in the creek and you're down streams drinking the
water. Luckily enough he was getting better. He had got some medicines from one of the inbound donkey convoys. But he had spent a few weeks in one of the tea houses.
So if you will run in to business in the Himalaya and have to go there, NEVER DRINK THE WATER IN THE CREEKS!!

One day we had stopped for tea before continuing over a suspension bridge. Made out of ropes and wood. I don't like heights so I was not looking forward to the passage.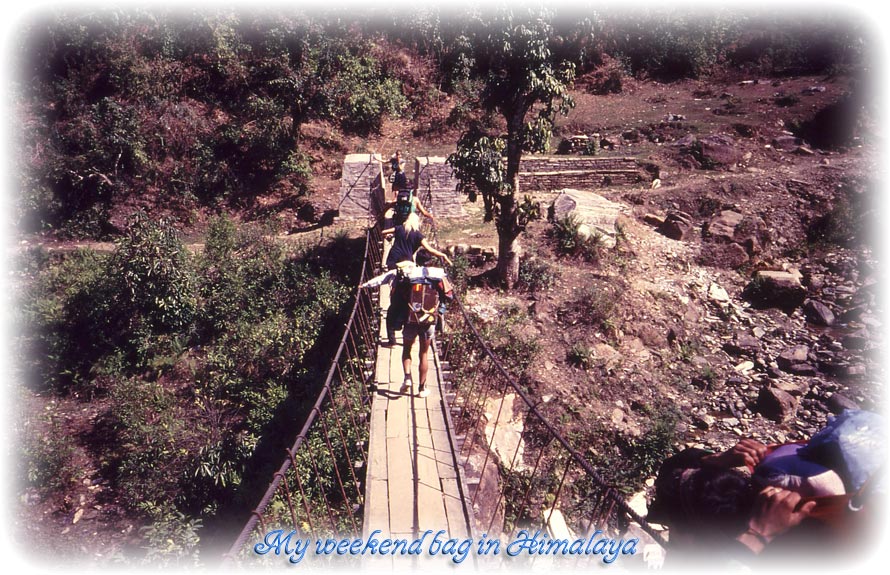 Passing the bridge and we were walking on the side of one mountain looking down a valley. Well, it was not much of a valley, at the bottom there was a small river and a bridge. On the other side of the bridge the mountain raised again, sharply and we were going to stay overnight at a tea house on top of that mountain.

I remember us stopping for lunch somewhere halfway between the bridges. Nice to sit down, and believe me. My arse had not hit the wood before my Dr. Martens was off my feet.
we finished our lunch and I can't say that I was full of vim and enthusiasm when we left the guest
house. But I was glad when our Guide pointed towards some buildings on the mountain opposite of the valley.
- We're going to stay there over night.
- Good

It looked like a one hour walk or so. But it was longer. We had been on our feet since early morning and we expected to arrive to the next tea house in the late afternoon. I walked down the mountain and I really didn't know what I had expected at the bottom.

A small river and a bridge and as soon as I had crossed the bridge I ran in to a steep rising mountain again.

I don't remember the name of the place, but I think this was our 3rd night on the trek. After a search on the internet I found an Annapurna trekking map. And I think we did the Ghorepani trek. And when writing this I really want to give it a second try. Maybe during the Christmas of 2010.


- Hmm, maybe I'm too old now.
It was not like there were any of the latest conveniences. But as a girl I meet in India said.
- It's good for us Westerners to come an experience all the inconveniences.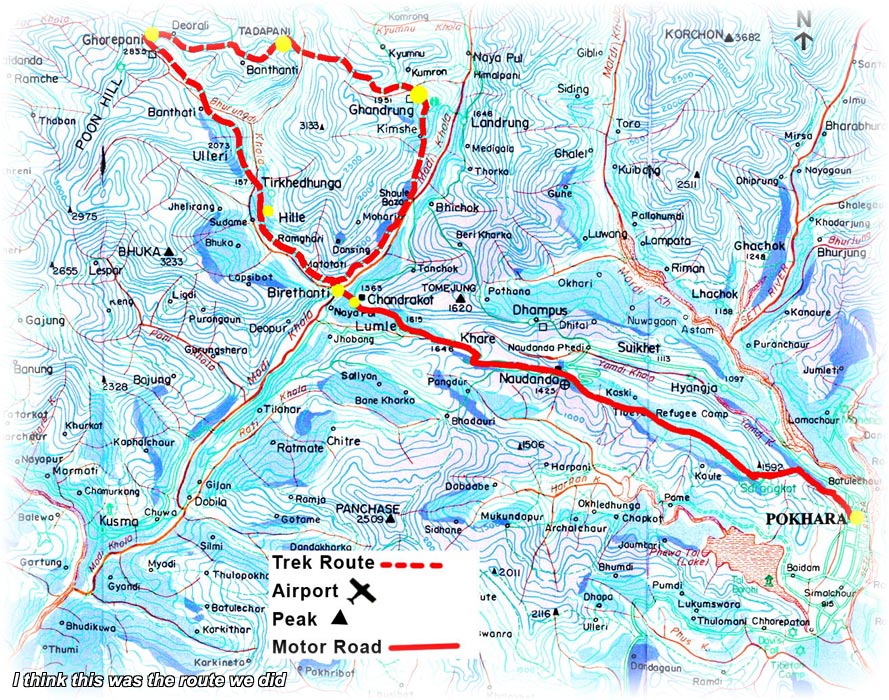 Well, our Guide, the Swedish guy and the Danish girls disappeared and the distance between us increased by every step up the mountain. How was I able to tell? Yes, we had 2 Porters to carry
our luggage and one of them was carrying my entertainment centre. And I could hear the music become weaker by the minute, and it was nod because we were running low on the batteries.
I also stopped for tea and talked with people on my way up the mountain and suddenly our Guide came running looking for me. Of course, not good for his business if Super Swede goes missing in Himalaya. But I would like to stop for a quick cuppa and exchange a few words with the locals, and this was not the only time our Guide came looking for me.
I arrived to the tea house and I had a seat in the lounge drinking a bottle of water. I remember that it was KRS playing on the entertainment centre and at the table next to me was a group of trekkers from USA, Baltimore if I remember is right. Obviously they didn't like the music. They were quick to let me know that:
- Even some black people in USA think that this music is offensive.
We left early morning and the next stop was at Ghorepani, I'm almost sure of this because this is the only village close to Poon Hill.

We walked through a forest of something that looked like the Christmas flowers and rhododendron trees. This was the first and only forest we passed through on our trek. and when we came out from the forest we were on a ridge. According to our Guide it was 3500 meters above water.
But I have not found anything about 3500 meters above water on the Ghorepani trek on internet.

- Hmm, did he tell me 3500 just to make it more exciting?

Well, anyway, leaving the forest and we found ourselves on a small path, maybe 1 meter wide on top
of a ridge. The mountain was falling sharply on both sides of the path. Not a place where you want to drop things and you have
to go down to get it. Like I did when I was skiing in Austria a few years back.

I was too scared to throw myself out of the mountains with my skis so I just walked by to the CHILD HILL. Yes I spent my
skiing holiday in the hill for children and in the beer house. I remember one time, I lost one of my skis and my ski disappeared down the piste. My ski took off in 200 and I had to walk down to get it again. Of course, in Austria and there is a ski lift in every hill.

But I could not see any ski lift around here so a dropped ski would have been a total loss here.

We were walking above the clouds and the cloud came from our left side and when they hit the mountain side they were blowing along the side up over the ridge and down on the right side of the ridge. Darn it was cold on the feet when the clouds blew over my feet and my darn Dr. Martens.
We came down from the mountain to a village and we were staying over night with an early departure tomorrow morning for the spectacular view of the sun rise over Himalaya from Poon Hill.

Early departure and I could not beleive my luck when we decided to stay 2 nights in Ghorepani. They decided to come back here from Poon Hill instead of continuing the trek. Good, I skipped Poon Hill. I don't think I wold have been able to do it in my Dr. Martens.
If I will do this trek again it will for sure be in sneakers. The Swedish guy and the Danish girls

Gurkha,

also spelled as Gorkha or Ghurka (Nepali: गोर्खा), are people from Nepal and northern India who take their name from the 8th century Hindu warrior-saint Guru Gorakhnath. His disciple Bappa Rawal, born Prince Kalbhoj/Prince Shailadhish, founded the house of Mewar, Rajasthan (Rajputana). Later descendants of Bappa Rawal moved further east to found the house of Gorkha, which in turn founded the Kingdom of Nepal. Gorkha District is one of the 75 districts of modern Nepal.

Gurkhas are best known for their history of bravery and strength in the Indian Army's Gorkha regiments and the British Army's Brigade of Gurkhas. The Gurkhas were designated by British officials as a "Martial Race". "Martial Race" was a designation created by officials of British India to describe "races" (peoples) that were thought to be naturally warlike and aggressive in battle, and to possess qualities of courage, loyalty, self sufficiency, physical strength, resilience, orderliness, the ability to work hard for long periods of time, fighting tenacity and military strategy. The British recruited heavily from these Martial Races for service in the British Indian Army.

Former Chief of staff of the Indian Army, Field Marshal Sam Manekshaw once famously said about Gurkhas:


" If a man says he is not afraid of dying, he is either lying or is a Gurkha."





From Wikipedia

left early morning and I stayed at the tea house. It was owned by a formed Gurkha soldier. And I remember most of the tea houses we visited were owned by former Gurkha soldiers.

Papa is away risking his life to provide for the family and it is only complains.
- Papa is never home.....
- I don't know my Papa....
- Papa should have taken more time for me....

- Blah-blah-bla......
But when it's time to pay the f@cking bills it's convenient with some cash handy. And what kind of life would they have if Papa hadn't been overseas making the big buck?

Well, I was alone with the daughters of the house. I think there were 3 daughters in the house
doing the work with their mother. There was a son, but as one of the daughters said:
- He is just walking around doing nothing, the useless son of a......!

It was very nice to stay behind even though I missed the spectacular view from Poon Hill. I was drinking tea playing cards with some Japanese trekkers.

And of course, I spoke with the family, especially
the daughters. And yes, they wanted to get married, preferable with a guy from Europe.
- Why?
- Nepalese men! They said pointing at their brother walking around doing f@ck all.
The daughters were showing me a traditional Nepalese dance in the kitchen while their mom was watching. One of the daughters was a Teacher at the village school and she took me there for a look. Yes, interesting to hangout with the locals and my guess is that I had more fun than the guys on Poon Hill. At least my feet appreciated the rest from running up and down the mountains of Himalaya in Dr. Martens.
I went to the school with the Teacher and I meet all the children. Plenty trekkers had passed through the village so they had seen white people before. But such a handsome guy? I doubt it!
I was in the kitchen eating something when the guys came back from Poon Hill. I was sitting
with the Teacher on the bench at the wood heated oven. The girl throw a, well, it looked like a potato. but I have no clue what it was.

Well, she threw it in the fire for me and now you should have seen her mom. She was running around nervously in the kitchen. It was like her daughters reputation in the village was in danger.
- It's a potato (looked like) fer god's sake!


Well, maybe the potato thing was something to get nervous about in Ghorepani, what do I know? I really liked
the place and I was really lucky that we decided to stay for 2 nights. My feet got a rest and I meet these people.

My trip would of course not have been the same without all the people I meet along the track.



We left Pun-Hill Guest House in the morning and by that time I had only been eating one Snickers® in my life, and this was several years before. And I doubt that I ate the whole chocolate bar.
- Who the
came up with the idea to mix peanuts and chocolate? Disgusting!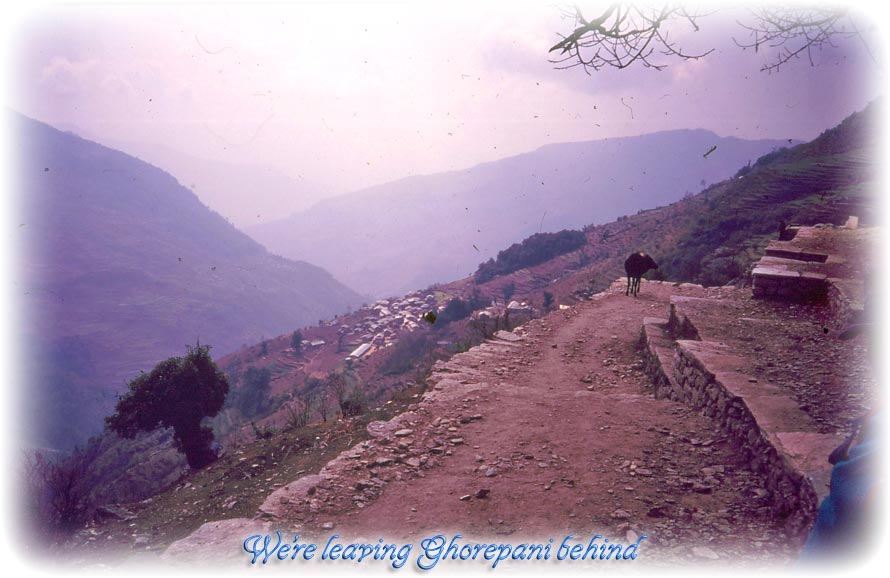 But after several day without eating anything but rice and omelette I was in desperate need of some carbohydrates. We passed a village on our way and we passed a house with a shop facing the path. I saw a few Snickers® and I bought all 3 of them.
It was a dainty, I will never forget how good I felt after eating the first snicker. I was full of energy and it tasted so good. Of course, after the third and last Snickers® it was another story.

We stopped around the corner from the shop for a break. We ordered drinks and we enjoyed the sunshine while having our break in Snickersville.
The girls from Denmark worked as waitresses at Peppe's Pizza in Copenhagen. And I remember this very break because I asked them why they didn't give any tip.
- Ugh, because....hmm.....
- But you work in a restaurant and you're getting sullen if you don't get tip
- Ugh, because....hmm.....
We left the restaurant and we started to descend from the mountain. It was step, very step and my darn Dr. Martens with steel toes made it very pain full to get down from the mountain. My toes were chafing against the steel and I took it very easy.
Finally down from the mountain and we walked towards our next tea house. And it was mostly flat
ground as soon as we came down from the mountain. Well, flat ground, I don't know.

But we didn't have to go up and down any hills following the path. And of course, after a few days running up and down the Himalayas you didn't notice a small hill in your way.

We approached a group of houses and our Guide told us that we were going to stay overnight at the village. The rest of the group disappeared and I stopped at a tea house before reaching the village.

I sat down at a bench and a table. There were a few trekkers around the table and we started to talk. I ordered tea and time flied by. I didn't realize this until our Guide came jogging looking for me. Darn, I will do the trekking alone next time.
When I arrived to the guest house the guys were sitting in the restaurant drinking whiskey.
- Come, have some!
- No thanks!
I took off to my room and my Dr. Martens were off my feet before the door slammed shut behind me. I had a shower and I was soon in bed reading a book.

Yes, I had my weekend bag with me, containing snus and some t-shirts and shorts. And the rest of the space was occupied by books that I had bought in a second hand book store in Kathmandu.
Yes, can't say there was very much to do but read books. No electricity so I had to read my books under a candle as soon as the sun had disappeared in the West.

We left the last tea house in the morning and this was our last day. We would be back in Pokhara in the evening. I remember it like we followed a creek all day long. This creek would most likely turn in to a river when it's raining and when the snow melts in the Himalaya. At least it looked so.
And we could see on the houses we passed that we were coming closer to the civilization. We reached the end of our trek and there was a big truck waiting for us. We jumped on the back of the truck and we took off towards Pokhara.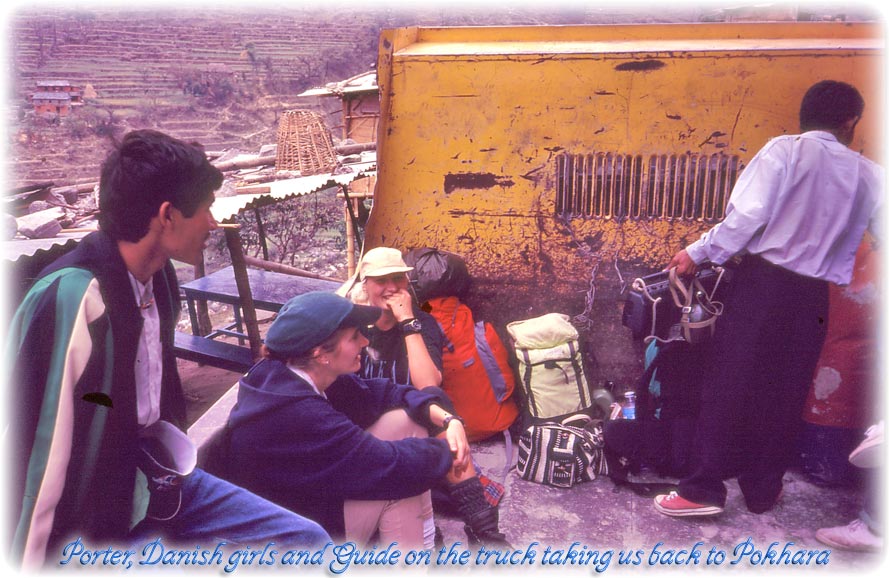 It was nice to leave the Himalaya behind. But it was also something I knew that I would miss. It was beautiful up in the mountains and it was for sure a mighty sight with all these mountains around you. You really felt small surrounded by this mountains and that's a feeling I can't get enough off.
We spent one night in Pokhara before we returned to Kathmandu on a terrible bus ride. Terrible to be scared all the way to Kathmandu. The road were, and this was by no mean a road keeping any, not even close to, Swedish standard.

On one side the mountain was rising and on the other side it was steep down for only God know. And I saw smoking truck and car wreck at the bottom of the ravine or whatever it's called. People standing at the road side looking down the track of cargo, truck parts and whatever it could have been. Ending up down there and you're best option would be to be dead.

Imagine lying there for several days with every bone in your body broken, waiting to die of thirst. Because there were no attempt from anyone to go down the and save you. At least not what I could see, and my guess is that it would have taken a day or two to get down there.

We had dinner with our Guide back in Kathmandu and I think it was a Thai restaurant. I used to eat my breakfast at a hotel not far away from where I stayed. There was a German bakery and the bread was excellent. A pot of tea or two with one (or two) of the cheese and ham sandwiches
was an excellent start of the day. And I read the daily news.

Drugs, yes, seems to be a problem all over the world. But reading about the latest thing in Nepal and I thought it was a joke. But they had problem with people taking stinky socks, they were collecting stinky socks and they drank the stuff. What the....? Imagine being robbed because having stink foot.

Must be a joke, but then I remembered what I read about the people addicted to Heroin did in Malaysia. Death penalty for drug runners and there was a lack of heroine in Malaysia. So the drug users used a half coconut with a hole on top of it. Then they watched the cows and when they
dropped a fresh one
the addicts were quick to put the coconut on top of the droppings and they inhaled the gases. Who the
comes up with something like that?

Time to return to Bangkok, I had bought 2 singing bowls. A soup bowl used by the Tibetan monks begging for food. A brass or something like that, bowl and a piece of wood. Rubbing the wood on the bowl and there was a high pitched sound coming from it. Everyone knew that there was monk in need for food when they heard the sound. And in the cold climate the warm soup kept your hands warm while holding the metal bowl with hot soup.

Well, I gave them to Bjäbben when I returned to Sweden. And of course, embroidery, I guy shooting himself on a few T-shirts. That was my souvenirs from Nepal, more than plenty.

I had had one beer in Nepal, but on the airport I got bored and I ordered a beer in the restaurant. One beer became two and suddenly I was out of Nepalese Scooby dollars. Luckily enough there were a Thai family next to me so I gave them Thai money for their Nepalese money.

Yes, I was a wee bit tipsy when I boarded Thai Airways flight to Bangkok and I ended up next to
two Japanese girls. We had a few beers on the flight and I must admit that I was a wee bit more
than tipsy when we arrived.

Arriving to Don Muang and I was lined up in the queue to the Immigration. I enjoyed some music on my entertainment centre and I saw a group of Immigration Officers approaching me. They took me to their office between the Immigration
desks. I thought they were going to put me in jail.
- Welcome to Thailand!
They stamped my passport and let me through, I was happy, I just saved 30 minutes of
waiting time. Good, I went straight to Lucky Luke from the airport.

I don't know how long I stayed in Bangkok, but I was joining Margaron 5th of May 1994 in Sweden.
OK, it has come to my knowledge that we have senior citizens visiting my web page. How hard can it
be? So it's not very easy for them to see the blue coloured links to the next page. So

Jiffy (also jiff)


noun [in SING.] informal a moment: we'll be back in a jiffy.

ORIGIN late 18th cent.: of unknown origin.

So as you understand, in a jiff pretty much depends on your internet.

I put a "Next" button here and I hope that there isn't any problem to understand how to use that one.
So just CLICK the "Next" button on your left hand side and you will be on the next page in a jiff!
Marunong ka mag-tagalog? Walang problema! Magpunta sa kabilang pahina pindutin ang "NEXT" button sa itaas


Faites vous parlez le français? Pas de problème! Pour arriver à la page suivante faites s'il vous plaît un déclic le bouton "Next" ci-dessus!


Haga usted dice el español? No hay problema! Ver la siguiente página sólo hacer clic el botón "Next" encima!


Farla parla l'italiano? Non problemi! Per vedere la prossima pagina lo scatto per favore giusto Il bottone "Next" sopra


Sprechen sie Deutsch! Kein problem! Wenn Sie die folgende Seite sehen wollen gerade klicken der Knopf "Next" oben!


คุณพูดภาษาไทยได้ไหม ไม่มีปัญหา ถ้าคุณต้องการไปหน้าถัดไป ให้กดปุ่ม "Next" ข้างบนนี้



E ni Svenskar och inte förstår Engelska så ska ni skämmas. J och Björn, med det menar jag inte att alla mina stavfel ska ältas varje gång vi träffas.


Well, the flag of Skåne, just a BONUS flag.
You are visitor no.
To www.aladdin.st since December 2005
Visitors from different countries since 26th of September 2011