Rewritten onboard M/T Ek-Star September 2010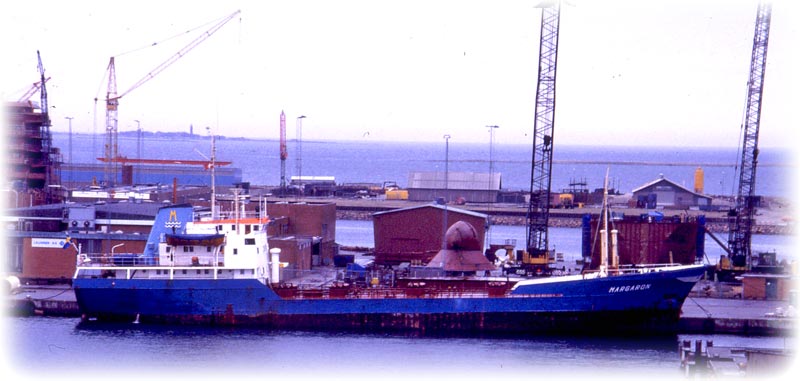 M/T Margaron
I took this photo 19th of April 1987 in Fredrikshamn.
M/T Margaron is an edible oil tanker on 1400 DWT built 1970 in Erlenbach/Main, Germany

I signed on M/T Margaron in Karlshamn 5th of May 1994. I had spent a few months in Nepal and Thailand so it was nice to sign on again.

I signed on as Chief Officer relieving 1 new Chief Officer. He wanted to come back to relieve me
and when he came back after 6 weeks I signed 2nd officer. 6 week was a wee bit too short for me so I was onboard as 2nd officer and when he signed off when he signed off 10th of August I relieved him again

That's my problem, I think it's best to work for around 3 month's but on Swedish ship the normal tour of duty is 4 - 6 weeks. This time it was perfect, I could sign on as 2nd while my reliever was onboard.

It was summer so the tank cleaning was more enjoyable, well, I don't know if that's the right
word. But everything is nicer and it's easier to work in the summer. I brought my stereo and the tea machine on deck. So I had music and tea while doing the tank cleaning. In the winter it was a totally different story. Ice, snow and storm so it was terrible just to be on deck. And then the tank cleaning on top of that.

And during the summer we could eat on deck. BBQ is always nice and I think the picture of the BBQ is from Ghent and when we were ready I
had had a few beers and I was a wee bit tipsy. So I took a taxi to Ghent to continue the beer drinking.

I remember that I went looking for Boccaccio, a world famous club for house and techno music. But
Boccaccio

was a nightclub in Destelbergen, near Ghent, Belgium.

The club is known being the breeding ground for New Beat. It was a diamond shaped venue which was crowded at the time, with people from all over Europe wanting to hear this kind of new music. Based on electronic body music but played very slow. Popular formations "bands" were Lords of Acid (with members Praga Khan and Jade 4U), and Confetti's. Legend goes that one of the "bocca" Djs (often credited to Marc Grouls) played an EBM record on 33rpm instead of 45rpm with the pitch control set to +8 and the Belgian New Beat was born. The club was forced to close after a long series of drug problems. They sold the name and the club was re-opened in Diest, and the name was recently sold to a club in Ostend. Famous Djs at the club were Olivier Pieters, Marc Grouls and Henk.



From http://en.wikipedia.org

I remember it as the club was closed down.

No problem, there were plenty other places in Ghent so it was not like it was a hard time finding a place to have a beer. I did a quick search on the internet while writing this and I found out that the club
had closed down due to drug problems.

I'm not surprised. But I never found out what year they had to close down. I remember it like they had just closed down when we were in
Ghent.

I had my friend onboard working as an AB. I had been at the office before joining the ship to ask if they needed an AB.


Hmm, how to say this. Well, after a bit of nagging they accepted my friend as an AB and he was joining us.

And of course, when he was onboard I took every opportunity to pester him. I remember him being so angry every time I called him to the bridge.

- Can you please empty the ash tray.
- Yes, no problem!!
5 minutes later I called him again.
- Can you please take out the trash?

- Motherf.....!!
5 minutes later I called him again.
- THERE IS A CIGARETTE BUTT IN THE ASH TRAY!!!

- Motherf.....!!

We were scheduled for shipyard in Gothenburg and Captain asked me to do a list of work I wanted them to do on the shipyard. I wanted them to
change our cargo line on deck for a new one. The old line was patched all over.
- It's not necessary to change the cargo line, Captain said.


Why the
is a Captain saying something like that? When you work onboard you put as much as you can on the list and let the company remove every items they think it's necessary.

Well, as no surprise the cargo line busted first time loading in Rotterdam after the shipyard. I was happy that I had put this cargo line on my list over work to be done. Now I really didn't give a rat's a.. I had covered my back. But it must have been
expensive for the company to send fitters and pipes to Rotterdam to change our cargo line. Of course, we could not discharge while they repaired the cargo line. This was expensive for the company.

I signed on as 2nd Officer before we arrived to the shipyard. The other Chief Officer had been home for his holiday and he wanted to come back for more work. It was good for me, during our stay at the shipyard I took off to Thailand for a week or so. Yes, I don't like shipyards so I was more than happy to leave, and the company saved some money as they didn't had to pay my salary.
I booked a ticket to Bangkok and I remember it like I stayed 2 or 3 days before I left for
Bangkok. I remember that I went to Denmark to pick up some money a few Danish guys owed my friend. He didn't had
any driving license so I had to drive his car from Gothenburg to the ferry in Helsingborg.

We were back in Gothenburg late in the evening and I was off to the airport and my KLM flight the day after.

I had been in the process to move my stuff to Bangkok ever since I got
kicked out from Gothenburg. And I will never forget this flight. I had all my CDs with me. It was about 70kg and I just knew that I had over weight. As soon as I dumped my CDs on the luggage belt I tried to distract the guy.
- Nice to leave this weather behind!

- Yes, I wish I could go as well.
He never noticed the 70kg on the scale and I was off to the security check.

Always straight from the airport to Lucky Luke at Nana Plaza and this time with 70kg CDs. My friend arrived to Lucky Luke and we went to see the Filipino Manager on
Hollywood 2. Of course, he was happy when we arrived with the CDs.
- Yo! You can be the DJ!
- Yeah, why not?

I started to play classic tunes like "Jag mår så illa" and "Men va fanken" with Philemon Arthur & The Dung. My friend and the Filipino
Manager felt of their chairs laughing down in the bar. But it was a different
story with the DJ. She was not as happy and she could not see the, or hear the fun with Philemon Arthur & The Dung.

There was a place called Hollywood close to MBK and there was a live band playing. This place, I only went a few times and it was never any fun. well, anyway, this evening I went on stage and the band must have thought
it was a farang superstar coming up on stage. They handed me the guitar. Big mistake.

The crowd, all 3 of them were delirious with anticipation and when I started to play "Smoke on the water" on one string they became very disappointed. And strangely enough, no one kicked me off the stage.
Hmm, maybe they were waiting for me to get serious with the guitar. And who wants to kick some one that turns out
to be a member in Beatles of the stage?

Thermae, what a strange place. The Waiters working there, sometimes you saw them driving around Police cars in full Police uniforms. So I don't know if they were Police officers. I remember one time, I don't know if it was this time around.

But my friend and one of the waiters (in full police uniform) stormed in to
Hotel 27 5 o'clock in the morning.
- Where is Aladdin?
- In room 103! What have he done?
- If you're lucky you see him in 20 years.
- He had not paid for his room yet!

Well I was dressed in a jiff and we went for a drink and of course, they asked for money when we
passed the reception. Yes, time turns quick when you have a good time and it was soon time for me to return to Sweden and M/T Margaron on the ship yard.

Of course, when I return to Sweden I discover that Margaron isn't at the Ship yard. I arrived straight from the airport with a taxi and, yeah, where is the darn ship? After calling the company I found out that she was in Sanna hamnen or something like that.

When we left the shipyard it was time for the Chief Officer to go home, so I relived him in Gothenburg. So I was in charge when the cargo
line busted and you understand that I was happy for my "Things to do" at the ship
yard list. Now I couldn't care less about the cargo line.

We had also opportunity to BBQ on deck in the nice summer weather. I managed to go ashore for a few beers in Karlshamn 1 night. We arrived during the weekend and no work until Monday.

We could sit on boat deck and drink
beer and listen to good music (I provided the music) before ordering a taxi. (As you remember I mentioned before that
it was just a 10 minutes' walk to the city, but
after a few beers I prefer a taxi)

If you remember me mentioned the 10 minutes' walk before the chance is that you also might remember me mentioning that there was not very much exciting stuff going on in Karlshamn. F@ck all happening, there was a hotel with a bar and dance. Yeah, I was soon back onboard with a taxi.
But I could not escape the hangover. But I was 20 years old so I don't want to call it a hangover.
Sometimes we loaded straight from ships in Karlshamn. They had ships coming from SE Asia with coconut oil and palm oil to Karlshamns AB. Then we loaded small parcels from the ship. These ships
were in the size of about 30000 DWT. It was a break from the old routines.

Anyway it was plenty oil for Karlshamns AB to make ice cream
and candy.

I signed on as Chief Officer when the other Chief Officer signed off. Now I could stay as long as I wanted. They didn't want this guy to come back again.

I remember in Hamburg, we were going to load glycerine and we had to do a tank cleaning. I came on deck to relieve the Chief Officer. He was going ashore and I told him that I could do the tank cleaning and he could go ashore have a good time. he must have been drunk already when I relieved him. He had just started the cleaning.
- Yeah, I started here...you're ready in 2 hours and can go to sleep.
- OK, go ashore have a good time!
Finish the cleaning in 2 hours??!! Circulation caustic and stuff. Well, I was looking at at least 12 hours. But no problem, it was nice weather and I had my music and the tea machine on deck.
Our Chief Officer came back onboard early morning and he started to scream.

- Isn't the cleaning ready.
Now I got angry and I started to explain a thing or two about tank cleaning for this guy.
- I take over!
- OK asshole, I'm off to bed.

Of course, problem and they had to come get me and I just said:

- Who the f@ck cares?
Then Captain came and I told him that I was going home. Well, they sent the other a-hole home. A well known guy, fired from all previous ships he had been on. And it came as no surprise when I learnt (2010)
that he was working in Veritas Tankers. They have a long record of drunken Captains and crew.

We got a new 2nd Officer and we were arriving to Karlshamn in the evening and I had asked him to prepare everything so I just could go up and start the discharging 6 o'clock in the morning the next day. When I'm coming on deck I see that nothing is prepared and captain told me that the 2nd Officer had been drunk.
- Good, better take the chance when we can. I take care of this.

Yes, if we have a chance to have a good time we're better of grabbing the chance. But when I saw him drinking vodka before it was time to get on his watch I lost it.
- Are you an f@cking alcoholic?
10 Minutes later Captain came and told me that 2nd Officer had jumped the ship.
- Good, we don't have any problem with this guy anymore, I said.
We had to wait for an hour or so for a new 2nd Officer before we could leave Karlshamn. Perfect, we get a new 2nd Officer and we did not have to go through all the problem to give the other 2nd Officer the foot. He took care of that himself.

I signed off in Karlshamn 5th of September in Karlshamn. I took a rented car together with an AB to Gothenburg. We left Karlshamn around 3 o'clock in the afternoon and I returned the car around 1730, after leaving my luggage at home and the AB at home. Good driving.

I was stopped by the police, driving 170 on a 90 road. I was shitting my pants when they stopped me. This will be a 1 million$ speed ticket and I can forget my driving license, I thought to myself.
- Hmm, we have a chopper watching the traffic, the police said
- Can I see your driving license?
- I don't have any, I lost it. Is it good enough with my passport?
He checked my passport and he said to me:
- You have been travelling a lot, he said when he saw my passport
- That's why you have a passport, I said.
- Take it easy on the roads, he said waving me off.
I was off. I was so lucky, no fine. Just Bon voyage. That's the spirit!
When I came home I bought a ticket to Bangkok and I was soon back on my stool at Lucky Luke. My
favourite bar back then.

And as usually, straight from don Muang to Lucky Luke. I never forget the feeling when you turn of the Nikkom Makkasan road to the Phetchaburi/ Sukhumvit Soi 3 intersection. Then it was just a few minutes to Lucky Luke and a Mekong Namsom.







Always starting with a few beers before going to Hotel 27 to get a room. Hell, sometimes I had to come back to Lucky Luke the day after to get my bag. I usually only had my weekend bag, but as I was in progress to move all my stuff to Thailand I had several bags and boxes with me. So it happened that Lucky Luke was full of my stuff until I could come and get it.
I don't remember much of this trip. Hell, I did not even remember being in Bangkok after Margaron
until I checked my pictures. I remember that I had orange hair

I didn't take many pictures and I don't remember how long I
stayed. The only thing I'm pretty sure of is that it was party.


But back in Sweden and my friend had broke up with his girl friend
and he had bought an apartment next to where I was living.

So I and another friend went there for a drink and
of course, our
friend felt a sleep in the armchair

Did we make it to town, I have no clue. But we called an old friend, well, we were not invited to his wedding and if you have followed Aladdin's adventure you remember when we were in Malmö with Bituma.

I and one of the ABs went to see him in Helsingborg and he had never spoken to me after that.

But we were talking about him and my friend called him 9 o'clock in the morning and the only thing he got out of him was:
- 9 o'clock in the morning and still drunk!

Well, that call turned out to be a waste of money and that was the last time any of us spoke with him.
Well, never mind, I had been home long enough and I was leaving for Antwerp to join M/T Tärnhav 20th of December 1995. Yes, it was nice to leave Gothenburg for a while.
OK, it has come to my knowledge that we have senior citizens visiting my web page. How hard can it
be? So it's not very easy for them to see the blue coloured links to the next page. So

Jiffy (also jiff)


noun [in SING.] informal a moment: we'll be back in a jiffy.

ORIGIN late 18th cent.: of unknown origin.

So as you understand, in a jiff pretty much depends on your internet.

I put a "Next" button here and I hope that there isn't any problem to understand how to use that one.
So just CLICK the "Next" button on your left hand side and you will be on the next page in a jiff!
Marunong ka mag-tagalog? Walang problema! Magpunta sa kabilang pahina pindutin ang "NEXT" button sa itaas


Faites vous parlez le français? Pas de problème! Pour arriver à la page suivante faites s'il vous plaît un déclic le bouton "Next" ci-dessus!


Haga usted dice el español? No hay problema! Ver la siguiente página sólo hacer clic el botón "Next" encima!


Farla parla l'italiano? Non problemi! Per vedere la prossima pagina lo scatto per favore giusto Il bottone "Next" sopra


Sprechen sie Deutsch! Kein problem! Wenn Sie die folgende Seite sehen wollen gerade klicken der Knopf "Next" oben!


คุณพูดภาษาไทยได้ไหม ไม่มีปัญหา ถ้าคุณต้องการไปหน้าถัดไป ให้กดปุ่ม "Next" ข้างบนนี้



E ni Svenskar och inte förstår Engelska så ska ni skämmas. J och Björn, med det menar jag inte att alla mina stavfel ska ältas varje gång vi träffas.


Well, the flag of Skåne, just a BONUS flag.
You are visitor no.
To www.aladdin.st since December 2005
Visitors from different countries since 26th of September 2011