+++++++++++++++

Sunday 12th of June 2016 and I was on board at midnight thirty. I stopped in the mess room to get 2 bottles of water before I went to my cabin. I left my luggage in the cabin and I went to
the bridge to see the 2nd Officer. Chief Officer was on the bridge and we recognise him as the 2nd Officer last time I was on board.

We will complete discharging around 3 o'clock and Pilot was booked for 5 o'clock. Next stop Brofjorden to load Gasoil for Rotterdam. And we expect to drop anchor at arrival to Brofjorden and latest news is that we will come alongside Preem late in the afternoon.

We had a chat and I was soon in bed and I had a very good sleep and I woke up at 9 o'clock. I grabbed a bottle of Pepsi MAX
that I had brought from Helsingborg and I went to the bridge.

We were approaching Brofjorden when I came on the bridge and we dropped anchor at 10:20. Latest news is that we will come alongside at midnight. I was going to go through the paperwork, it is not long since I was here last time, but a refresher is always good to have.

But I ended up chatting with the Captain. I had not seen him since we relieved each other on Tärnsjö 15 years ago. I spent most of the afternoon on the bridge and suddenly, as time turned very quickly it was time for dinner.

Same Cook as last time I was on board and the food is excellent and I was scared. Last time on board I was growing out of my pants. This time I have other plans and from tomorrow, it will be salad only. I cannot come to Australia looking like a human anti-aircraft balloon



+++++++++++++++

Monday 13th of June 2016 and we had all fast at jetty #5 in Brofjorden at midnight forty-five. We started to heave up our anchor at 23 thirty yesterday evening. I was in bed around 1 thirty and I slept good. Excellent summer weather and I was in an excellent mood when I came on the bridge 10 minutes before 8 o'clock.

My good mood lasted for about 13 seconds, then I discovered what must have been the biggest serving dish I had ever seen brimmed with freshly made cinnamon rolls.
MY DIET!!!

And for lunch we will have Skånsk lunch korv. I'm in a dire situation here. I will have (of course) some Skånsk lunch korv, would be against the law not to have any. Our Cook have promised tunna
fläsk pannkakor one of these days. That will be my next meal. Otherwise I will stay away from the mess room.

I would normally have asked for oatmeal, but seriously, I don't dare since I was here the last time. Yeah. Last time I felt of the chair when they brought a cubic ton of oatmeal to the bridge.

The bag was so big it blocked the access to the bridge. But the strangest thing was that no one reacted. It was "fully" normal that someone had dropped a truck load of oatmeal on the bridge. So what to do? Go to the mess room to get fruit? Well, I wish I dared, but our Cook is making so much VERY good bread and it is impossible NOT to eat when going there!



+++++++++++++++

Tuesday 14th of June 2016 and we left Brofjorden 25 minutes after midnight bound for Rotterdam and I was in my cabin by 1 o'clock. I was hungry and I had stopped in the mess room for a few
sandwiches that I brought back to my cabin. I made a mental note not to do this again. It was no problem to fall asleep.

I was on the bridge 5 minutes before 8 o'clock in the morning and I turned on the kettle. I was pottering about with my tea when I heard the door open to the bridge. I could hear someone walking in the stairs.

And suddenly I had our Cook next to me and he had made
semlor earlier in the morning. And now he came on the bridge to duck up my diet! I was not happy to see the serving dish full of fresh made Semlor.

- SABOTAGE!!!



Well, it was one of my favourites for lunch today, but I was so full I had to skip the lunch. I was lucky that we didn't had tunna fläsk pannkakor for lunch today. That would have been a disaster.

So I spent the afternoon on the bridge doing a discharge plan, ECDIS familiarization. I also had a
safety tour of the ship and it was 4 o'clock in the afternoon before I could get down to my cabin. I have got my final bill from Söderhavsresor, everything is booked and I will just have to pay the bill.

Dinner, well, I should have stayed in my cabin. The dinner was not bad, but I had two additional semlor. Not good for my diet and I really
hope that there will not be any more semplor or pastries before I go home. Especially
since I'm still looking at taking a day for cage diving with the great white in Port Lincoln. Those diving suits tend to be a wee bit small.

I will decide if I go to Port Lincoln in a few days' time, and I will book hotel and tickets with Qantas. I will also have to cancel one hotel night in Sydney. The only thing making me hesitate to go there is the flights, I really don't want to spend the time in a small seat on board a plane.



+++++++++++++++

Wednesday 15th of June 2016 and we were approaching Maas Centre when I came on the bridge at 8 o'clock in the morning. I prepared my tea and it didn't take long before our Cook was on the
bridge. And today he had a
plate full of fresh cup-cakes. Lucky me, the cup-cakes will
hopefully be a wee bit easier than the semlor to resist.

It worked out good for an hour and then I had one of the cup-cakes, mostly because I was getting hungry. Captain refused to have any cup cake, hell, he even refused to be on any pictures with the cupcakes.

Well, I'm happy for him and his self-control. I had a cup cake and if I remembers it right I had a second cupcake after an hour or so after the first. But I only had two as it was salmon for lunch. And wise from yesterday when I skipped lunch because of too many semlor I never had a third cup cake.


Captain refused to be on any pictures with the cup-cakes


We had to slow down a little as we had a few ships ahead of us bound for Maas Pilot station and
at 11 o'clock I went down on deck to welcome the Pilot.

It have been overcast, gloom and grey for as long as we have been able to see since we left Sweden. 16°C is not much for middle of June. Well, maybe it is, but after the stay in Helsingborg and the gorgeous Skåne weather I had expected more.

But no need to wait very long for the pilot and he was on board 10 minutes past 11 o'clock. So I just had to spend a few minutes on deck as I had made a stop in the kitchen on the way to welcome the pilot. Yeah, just to keep an eye on the Cook. He was busy with New potatoes
and I was looking forward to the lunch.

And it didn't turn any better when Captain's lunch came to the bridge. New Potatoes with dill and salmon. It looked to be very yummy. Yes, I was hungry!
















Time turned quickly and it was soon time for me to go to the mess room for my lunch. Fresh bread and excellent food as always with this cook.

I just told Captain earlier this morning that I was
lucky to have this Cook on board during my contract. But thinking of it, I don't know. Maybe I'm unlucky as I'm eating way too much.

It was about 3 hours from Maas Pilot to the jetty and I did the loading plan. We will discharge and then load immediately again from another ship so there will not be much time to do any loading plan tomorrow.



+++++++++++++++

Thursday 16th of June 2016 and when I went off my watch at midnight there were still no signs of us going to start discharging. We had all fast 2 o'clock in the afternoon and that is 10 hours ago. They came down to connect the cargo hose at 11 o'clock in the evening.



I stayed on the bridge to have a chat with our 2nd Officer and suddenly we had to guys from SHELL on board, it was time to start the discharging. And at 00:55 we started and I was soon
down in my cabin.

The cable to charge my mobile phone had slipped out from the connection so the battery was flat and thus there were no
alarm to call me in the morning.

I was a few minutes late to the bridge and I could smell that someone was making cinnamon rolls. And it didn't take long before our Cook came on the bridge with fresh cinnamon rolls.

And as I have found myself under dire conditions I had no choice but to offer the guys 1000 US$ every time they caught me eating. I had have most of the thing I came to Sweden for:

Skånskt Gästgiveri

Swedish spring rolls

Salmon, Hovmästar sås and new potatoes

New potatoes

Semlor

What I miss, and the below items are excluded from the diet bet
• Tunna fläskpannkakor
• Falukorv
• Kålpudding
• Soft ice cream
(I will try to come ashore to get it)

So from now on, macho salad and fruit only. I just had to pull the emergency stop. With this food and the bread our Cook is making I would soon have been eating myself in to the grave.
Macho salad


We completed discharging at 19:55 and, well, things were moving slowly around here. Tank inspection at 20:45 and it took until 23:10 until the cargo hose was disconnected. There was a
soccer game Germany vs Poland in the EURO soccer contest so the people were most likely busy watching TV.

And the Pilot is not booked until 01 thirty, well, the crew have the time to finish the super stripping before the departure. 3 hours to the m/t Atlantic Symphony and the STS so we are ready to receive the naphtha by then.



+++++++++++++++

Friday 17th of June 2016 and we started to load from m/t Atlantic Symphony 10 minutes before 8 o'clock. I stopped loading 10 minutes past 9 and now we have to wait for the analyse of the cargo to be ready before we can continue loading.

I spend the time NOT eating any snacks. 1000 US$ is a wee bit too much for a cinnamon roll. OK,
I had 3 on the bridge. But don't tell anyone. But for lunch, vegetables only and I was very hungry by then so I went delirious when I saw our Cook's fresh made bread. I escaped to my cabin to avoid seeing the good stuff.



Preem had asked us to take some pictures of the STS operation. And as the cargo operation had
come to an stop I took the opportunity to take a few pictures of Atlantic Symphony and Ternvag.

It was gloom and grey for as long as we could see. It started to rain and here is not much except the green surroundings reminding us that it is summer.

There were no sign of any results from the lab analysis of the foot sample and I took the
opportunity to make two loading plans. One for Brofjorden and one for Go:teborg for discharging in Halmstad.

I went to the bridge at 3 o'clock and I sent down our 2nd Officer as he wanted to watch soccer on the TV
and as I couldn't care less I could cover for him.

They had taken a foot sample in 5 Port in the morning and they came back in the afternoon to take foot samples in all the cargo tanks. Sampling completed at 16:00 so we will for sure not start to load before late tonight.

Dinner, meatloaf and vegetables only and I felt very good when I left the dinner table. I got a cup of oatmeal for tomorrow morning on the bridge. I have not had any "OATMEAL SURPRISE" ®
| | |
| --- | --- |
| Before | After |
in a very long time by now. I also got a pack of Earl Grey tea so I really look forward to my breakfast tomorrow.

Well, I am really glad that I finally got the diet bet up and running.


A ship leave Rotterdam in the rain
Evening in Rotterdam
Evening in Rotterdam




+++++++++++++++

Saturday 18th of June 2016 and we completed the loading at 11:42 and we can't wait to get out
of here. I still have headache, fever and a cold so I was off to bed in the afternoon. Now it is 3 days with headache, some kind of record for me.

I woke up just in time for dinner and I had two bowls of salad before I went back to my cabin. I watched them leave m/t Atlantic Symphony from my cabin. And I also saw them dropping the pilot around 19 thirty. Very nice, no need for me to bother about the pilot.



+++++++++++++++

Sunday 19th of June 2016 and we're steaming towards the Hirtshals in Denmark on a NNE'erly course. Some swell, so the speed is dropped. I still have some fever, headache and cough so I was in bed after my watch.

But first I did some of the monthly maintenance jobs and when I woke up I went to the bridge to do some paper work. I was back in my cabin at 4 o'clock. Feeling, maybe a wee bit better than yesterday and I really hope I'm OK by tomorrow as we expect plenty action in Brofjorden.


Midnight sun




+++++++++++++++

Monday 20th of June 2016 and we were approaching Brofjorden when I came on the bridge at 8 o'clock feeling much better than yesterday. We are going to drop the anchor until tonight and
that gives me time to finalize the discharge plan for Halmstad.

As we came closer it was suddenly uncertain with the anchoring, we might come straight alongside. And there were no calls for us with any news so we dropped the anchor at 10 thirty.

By then the AB and I had been forward for a while, it was kind of nice weather. Just a wee bit chilly in the wind, and the wind force was
increasing. Gale warning in the area so it is normal summer weather for the area.

I was soon back on the bridge and time was passing kind of quickly and I was soon off for my lunch. The afternoon will be spent with pre cargo operation tests and the discharge plan for Halmstad.

I could see the sea growing by the minute from the bridge. Gloom and grey for as long as I could see and it was some nasty summer weather. What a difference from Skåne just a week ago. Well, I can imagine that this will be the kind of weather we will experience in the Southern Australia next month.

We heaved up the anchor at 7 o'clock in order to be at the jetty at 8 o'clock. It had been raining non ducking stop since we dropped the anchor. Strong wind and it was more like November than June and I was not happy about it. This was not the weather I had expected coming to Sweden.


Approaching jetty #3 in Brofjorden
Approaching jetty #3 in Brofjorden
Approaching jetty #3 in Brofjorden

We had our first line ashore at 20:00 and all fast not long after that. They took samples and we had to wait until they had passed the test before we could start discharging. And we had not started the discharging when I left the bridge at midnight.



+++++++++++++++

Tuesday 21st of June 2016 and I woke up to a gorgeous day. Blue sky and sunshine, what a difference from yesterday. We were discharging but not as quick as I had expected. The Loading Master told me that we would keep a rate of 1500m3/h with the back pressure.

We were only able to keep about 700m3/h so it will take longer than expected. I was drinking tea enjoying the weather when Captain came on the bridge. We started to talk about Australia and he
had been there with a company Destination Downunder

I booked my trip with Söderhavsresor, but when I call them they answer "Destination Downunder" Söderhavsresor have bought the "Destination Downunder". I asked Captain what the girls name was and it was the very same girl I have to set up my trip.

Captain also told me that he had been doing a trip report for them and they still have it on their web page. You can click HERE to read it, of course, it requires basic Swedish to understand it.


I hope UK leave the sinking ship on Thursday so EU can finally come to an end




+++++++++++++++

Wednesday 22nd of June 2016 and we were anchored when I came to the bridge at 8 o'clock in the morning. We were force ventilating our tanks before going back to the jetty to load gas oil and gasoline for Halmstad. We were back alongside jetty #3 just after 12 o'clock.

They close the terminal in Halmstad at 12:00 on Friday due to midsummer. So we need to complete discharging before that. The original plan was to stop in Go:teborg to load a parcel of gas oil. But as we're running out of time this parcel was cancelled.

Well, time is passing quickly and there were no sign of any Loading Master when I was on the bridge at 4 o'clock in the afternoon. I wouldn't mind spending the weekend in Halmstad eating soft ice cream while the terminal staff had their holiday.



We were loading gasoline when I came on the bridge at 8 o'clock in the evening. We were soon starting to load the gas oil and we expect to be ready around 7 o'clock in the morning. I called them to inform them that we had about 600m3 of the gasoline remaining. They informed me that they only had 50m3 remaining and then the tank would be empty.



+++++++++++++++

Thursday 23rd of June 2016 and we were ready when I came on the bridge 10 minutes before 8 o'clock in the morning. We did the paper work, and of course, I had time for my god morning "Oatmeal Surprise" and a quick cuppa before we left Brofjorden at 8 thirty bound for Halmstad with full speed.

Yes, I was hungry by the time I came down for lunch. Yellow pea soup, and our Cook have falukorv with the soup. Seriously, I don't know what went wrong here.

I'm on a 1000 US$ diet bet, but Falukorv is excluded. Well, not excluded as I am allowed to eat meat. But somewhere along the line this had been misunderstood (deliberate) and the bet is not running when we have:
• Falukorv
• Kålpudding
• Tunna fläskpannkakor

And today we had falukorv (my request) with the soup. And that means no bet and I can eat our Cook's fresh bread (excellent) and pancakes with whipped cream and pretty much whatever I like for lunch. Well, I asked our Cook if there was something wrong with our bet.
- If we have falukorv I can eat pancakes and whipped cream?
- Yes

- Hmm, but if we don't have falukorv I'm only allowed to eat the peas
- Yes

- Hmm, that is a strange diet bet we're running here!

And I never thought I would hear myself saying this "Please, no more falukorv before I go home"
- Ah, there will be a few more opportunities, our Cook said laughing

I was stuffing myself with pancakes and whipped cream while talking to our Cook. We saw a guy walking by the window in an orange boiler suit. Rescue crew from a helicopter exercising and we went out on deck to have a look to see what was going on.



I had a power nap after lunch and I went to the bridge to prepare the paper work for the discharging. We expect to be at Halmstad Pilot station around 6 o'clock tonight. I will listen to
the radio for any news about the referendum in UK.

They don't know for sure until tomorrow, but maybe we can get the good news already tonight that UK will leave EU.

And I have already asked our Cook to buy two 50 cl bottles of Pepsi MAX for me tonight so I have something to celebrate with tomorrow when UK leaves the EU.

I was in my cabin when we passed the breakwaters in Halmstad around 18 thirty on a very gloomy
and grey evening. We have not seen much of the sun
since I joined m/t Ternvag in Go:teborg.

14°C so it is not hot, but the sea looks like a windmill pond as there are no wind. So it is OK, especially with the almost 24/7 daylight. So I'm quite happy to be here, well, except for the diet bet.

I booked my last tours on my Australian Kangaroo and Koala adventure. Whale watching tours in Sydney plus 2 day trips from Sydney. One day at the Blue Mountains and one day driving around the country side looking at the wild life. I will do a few more whale watching cruises in Sydney.

But as I don't know how (or if) the hangovers will affect me I will book these cruises in Sydney.





+++++++++++++++

Friday 24th of June 2016 and YES!! UK ARE OUT!!! My alarm went off and instead of going back to bed to wait for me second alarm I turned on the telly. I have half a bottle of Pepsi MAX on the bridge for the celebration.

Our Cook had been ashore yesterday and I asked him to bring back two bottles for this occasion. I might have been a wee bit too excited over the referendum yesterday and I finished both bottles yesterday. Well, I left a little in one of the bottles to have something to celebrate with today. But first a shower and then I will go to the bridge.


Good news from the UK and gorgeous weather


Our Captain and Cook were soon back with a case of Pepsi Max and I had called our Surveyor and he would stop to buy some snus for me on the way down to the ship. And I had asked our 2nd
Officer for some snus when he went ashore for a "good morning" jogging tour. So suddenly, I found myself with 4 cans of snus.

Well, Brexit, and it is celebration and the snus and Pepsi MAX will come in handy. Good news for sure, but after listening to the news during the morning and my enthusiasm cooled down. At first I thought it was the end for the failed project with EU. But interviews with Swedish politicians and I was soon realising that it would continue like it was.

Well, the Swedish Prime Minister said that now they had to build a "citizen's" EU. Talk about platitudes. Otherwise it was an UK problem and not any problem for EU. Strange, one of the biggest net contributors to EU leaves and it is no problem

In UK, 50 50 about and it is most likely the same in the rest of EU and they just want to continue like nothing have happened, respect for the citizens. Free movement, I don't know about you, but I have always been moving freely in Europe. Even before we joined EU, but free movement for them is the free movement for slave/ cheap labour.



But I understand it from the Swedish politicians that they just want to continue business as usually. And no referendum in Sweden as EU is very popular with the citizens of Sweden. Same as they have said about uncontrolled immigration and open borders with a failed health and education system. The Swedes just love it and it is sooooo good for our country.

We left Halmstad at 2 o'clock and we dropped anchor in Go:teborg @ 20:15. Our jetty will not be available until 1 o'clock or so in the morning.



+++++++++++++++

Saturday 25th of June 2016 and we were loading when I came on the bridge 8 o'clock in the morning. We left the anchorage around 1 o'clock in the morning. I expected us to be ready to sail late afternoon. But they stopped for a lab test at 9 thirty and, well, we will not leave Go:teborg today. My reliever arrived on board in the afternoon and I will train him before I go back home next time in Sweden.





+++++++++++++++

Sunday 26th of June 2016 and I was back in my bed at 4 o'clock. Pilot booked for 05:00. We resumed loading at 20:05 yesterday after having being stopped from 9 thirty in the morning for a lab test. Well, it was actually many different lab tests

Anyway, me and the new Chief Officer was sleeping until lunch and we spent the afternoon with fixed gas detectors and other equipment. Tomorrow we will do tank inspections and we will have our monthly drills, so it will be yet another full day.



+++++++++++++++

Monday 27th of June 2016 and today is the day we will have the time to inspect double bottom 3 port and starboard. Our new Chief Officer prepared the gas detectors and the paper work in the
morning. The very same paper work we recognise from Roy Mærsk. Entry permit, risk assessment and tool box meeting.

And I had our new Chief Officer to calibrate the gas detectors before entry. And we needed test tubes to test the atmosphere for benzene. When we had prepared everything we went down to the duty mess and we held a tool box meeting.

But coming out on deck was not a nice experience. The summer weather was just a memory. It was windy and cold with water spray over deck. But we had to measure for gas before we could get down to cover in the tank.

We lowered a hose for the Dräger test tube for benzene and one hose for the Riken Keiki 517 for HC,
H2S and oxygen. And we could enter the tank to do the inspection as soon as we were satisfied with the atmosphere.

I was surprised, a 12 year old boat and there was not any rust in the tank. We found one rust spot with some cracks in the paint. Otherwise there were no damages to the coating.

There were some mud in the bottom that they will have to remove before the dry dock in October. But by then I will be back on board m/t Roy Mærsk again, so I will never have to experience the
dry dock. And thinking about it, I hope
that I will never have to experueíence any ship yard again in my life. Ship yards are something I prefer to stay well clear from.



Our new Chief Officer got plenty gas measuring practice. 2 tanks had to be inspected so he got plenty experience. The tanks looked like new and we were back inside the accommodation quarter
to 12. And I was delirious by anticipation, Korv Stroganoff for lunch. And I was not happy about our planned drills after the lunch.

After Korv Stroganoff you want to go to bed, well, I guess that I will have to eat a wee bit less today.


Yeah, what a mistake to come here. They wanted me to come here to train the new Chief Officer. By now I'm using snus again and the diet, well, the diet is down the ducking drain. And on top of that our Cook was complaining about the chair and something about the salt jar. I don't know what it was about, so I made a video so I can study it in my cabin during the afternoon. And don't be surprised if you find the video on the internet. Anyway, I had way too much to eat for lunch.



The video didn't made much sense so I have to go for dinner to straight out the question marks about the chair and the salt jar. The drill, we will have several drills and we met in the duty mess at 1 o'clock in the afternoon.

We will have abandon ship, oil spill, emergency steering and a fire drill during the afternoon. We started with the oil spill drill. I was not looking forward to get out on deck again as it is very windy and cold outside. The time went on and it took us about 2 hours before we were ready with the drills.

Now we don't have to do any more drills for the month of June 2016. We will soon be back in Sweden and I will sign off in the beginning of July in Sweden. Latest news from Clydebank is that we will have to wait for ullage in the shore tanks at the anchorage. And I really hope that we don't have to wait very long.



Bad news never come alone. Korv Stroganoff and of course, strawberries. Strawberries, ask any one if they like strawberries. And I can guarantee you the answer I will get on my question:

- I LOVE STRAWBERRIES!!

Then I follow up with a new question:
- Without the whipped cream and sugar?
You can see their faces, suddenly they had to think about it.

Not any obvious answer without thinking anymore. You can see in their faces that they are thinking about the strawberries without the sugar and whipped cream and now it is another answer. And now the answer is:
- NO

And as Korv Stroganoff contains falukorv I'm allowed to add whatever I want on my strawberries. So I was worried, no falukorv and I would not have been allowed to add any toppings on the strawberries. Now I was full of agony when I left the mess room after dinner.

I was in my cabin looking out the window when we passed through the Pentland Firth. I could see the islands north of Scotland called the Orkney Islands. And it looked like it could be a nice evening. The wind had decreased and I hope I can see Flippers tonight. Yesterday, around 23 thirty and I saw Flippers swimming around us.



+++++++++++++++

Tuesday 28th of June 2016 and it is gloom and grey for long as I can see. We're steaming South in the Minch between Scotland and The Hebrides. As soon as I had left the Sea of Hebrides and the cover of The Hebrides behind the swell from the Atlantic Ocean hit us with full force.

Our New Chief Officer was busy on deck and we went to check gas detection equipment after our lunch break. I fired up my internet when I was back in my cabin and I started by reading Bangkok Post on line. You should be honest and I really don't like cheaters and scammers. But some people just deserve to lose their money. And some scammers deserve to keep the money.


Well, I'm going to stick out my head here and say:
Sometimes you deserve to be scammed - Full story HERE


We will drop our anchor tonight and we will come alongside tomorrow evening and they expect 48 hours of discharging. So I need to ne extremely lucky if I should make it to Kastrup International on the 4th of July. And I have got my last things on my Australian itinerary. And I'm really looking forward to my Koala and Kangaroo adventure.

I will kick off my adventure with a 2 Day top deck snorkel adventure on the Great Barrier Reef. Itinerary for the snorkel adventure by clicking HERE

We dropped anchor at 22:25 and we expect to come alongside tomorrow night, one thing is ofr sure, I will miss the flight on the 4th of July.



+++++++++++++++

Wednesday 29th of June 2016 and we were still anchored when I came on my watch at 8 o'clock in the morning. Gloom and grey for long as I could see, and I was remembered about that I have not
seen the sun since I joined the ship.

We heaved up our anchor around 4 o'clock in the afternoon and we picked up the Pilot at 5 o'clock in the afternoon.

We were going up the Firth of Clyde to Glasgow. Clydebank is one of Glasgow's suburbs and we are discharging just below the airplanes landing at Glasgow International Airport. We had all fast at NuStar Terminal just before 21 hundred s/t in
the evening. The Surveyor and Loading Master was on board 20 minutes later.

I took the opportunity to interrogate the Surveyor and Loading Master and there were some supermarkets open in town.

And I was told that there was a gas stop with a mini mart just a few minutes walk away from the jetty.

So I decided to go ashore to try to get a few bottles of Diet drinks. Our new Chief Officer will be in charge while I'm ashore to arrange my stuff. Just a quick constitutional
to the mini mart and back.

They just have space for us to discharge 9000m3 and then we have to stop until they have enough space for the rest of our cargo. Paper work was ready and we started to discharge the City Diesel at 22:10 s/t and that is 21:10 local time.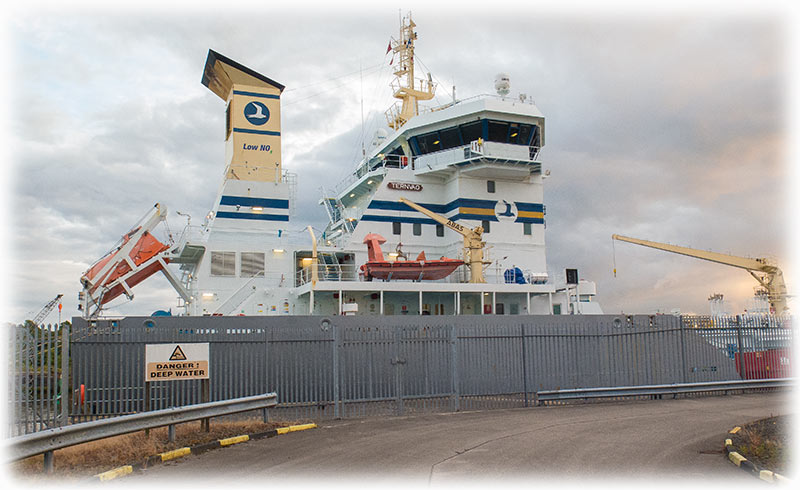 Leaving Ternvag behind in Clydebank
Leaving Ternvag behind in Clydebank
Leaving Ternvag behind in Clydebank


I left the ship and I had to get through a locked gate to leave the jetty. Then i had to pass through a gate to get out of the NuStar Terminal. None of the gates were manned so I had to use some kind of a button and intercom the get them to open the gates.

I walked and I walked, and it was definitely more than two minutes to the mini mart. It was at least 5 minutes just to reach the road. I looked to the right when I reached the road. There was a BP gas station.
Hmm, I'm prety sure that the Loading Master had said a Shell station.

I'm looking to the left and there was an ESSO gas stop, no Shell. So where to go? BP or ESSO? Well, ESSO was a wee bit closer so ESSO it was. There was not many Diet Pepsi left in the shop and I bought everything they had and it set me back by 14£


| | |
| --- | --- |
| Before | After |

I walked back to the ship with 2 big bags of Diet drinks and I turned of the road entering the small road to the NuStar Terminal. I was 20 meters up
the road when I spotted a fox crossing the road disappearing in to the bushes. I was of course excited, but disappointed that I never got any picture.

I continued towards the terminal and when I reached the parking space I saw another fox. The fox was on top of a heap of sand looking at me.

And of course, by the time I had my camera ready the fox was gone. But a few seconds later there was another fox,
the third fox for today. I got a picture before the fox disappeared.

I was back on board about 40 minutes after I had left and the discharging was in full swing when I was back on the bridge.

We need to get as much cargo out of the ship as quick as possible to avoid standing on the bottom at low water. We arrived 1 hour before high water and now the water is on the way out again and we're discharging with full speed. And no filling of ballast or trim until we have discharge about 3000m3 to get us a few meters less trim.



+++++++++++++++

Friday 30th of June 2016 and we had stopped discharging when I came on the bridge at 8 o'clock in the morning. We did some of our "hand over" work on the bridge. Our new Chief Officer and I went ashore after lunch. There was nothing I wanted to buy. I was looking for a "jacket in a bag"
for my whale watching adventures in Australia.

I could find the use for a few bottles of Diet MAX as well. Well, I ended up having a hair cut and our new Chief Officer bought a pair of trouser and sandals. Well, we have all seen them, the shopping centres where they are more in to cheap prices than to provide any good quality. And this was one of those places.

And we don't need much imagination to realise under what condition the people making the stuff on sale here are working under. It was a sad place and we were soon walking back to the ship. We made a stop to finish my last cash on Diet Drinks. 11£ that I got at the barber shop.

The barber shop had stickers with credit card on the door. But when I was going to pay they told
me that the machine wasn't working. So I had to go to an ATM to get cash and I had 11 £ in cash when I had paid the barber.



We decided to go back to the ship, no stop at any restaurant. No fine dining in the area and the restaurants reminded me about the restaurant I visited in Freeport, Texas. Italian food and I had asked for a melted cheese something for a starter. They dumped 5 kilos of melted cheese in front of me with a basket of bread that looked like something they had bought at Walmart.

Needless to say, I left the place without ever touching the melted cheese and the bread. Anyway, at first we went in the wrong direction so we had to go back to the shopping centre and from there we walked along the Canal and we were lucky to see a family of swans swimming by.

No discharging so we were training with the gas detection equipment's on the bridge during the night and the time passed really quickly. And when the time hit midnight our new Chief Officer is a full-fledged gas detection man.


Gas detection equipment training
Gas detection equipment training
Gas detection equipment training
Gas detection equipment training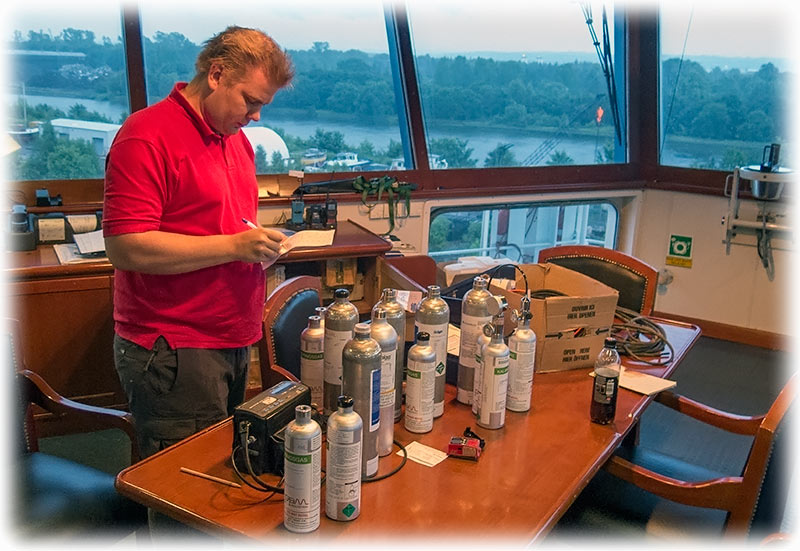 Gas detection equipment training
Gas detection equipment training
Gas detection equipment training
Gas detection equipment training


Well, the month of June 2016 have come to an end. And we know for sure that the month of July will start the same we June ended, here in Clydebank. Click HERE to check it out!


OK, it has come to my knowledge that we have senior citizens visiting my web page. How hard can it
be? So it's not very easy for them to see the blue coloured links to the next page.

Jiffy (also jiff)


noun [in SING.] informal a moment: we'll be back in a jiffy.

ORIGIN late 18th cent.: of unknown origin.

So as you understand, in a jiff pretty much depends on your internet.

So I put a "Next" button here and I hope that there isn't any problem to understand how to use that one. So just CLICK the "Next" button on your left hand side and you will be on the next page in a jiff!
Marunong ka mag-tagalog? Walang problema! Magpunta sa kabilang pahina pindutin ang "NEXT" button sa itaas


Faites vous parlez le français? Pas de problème! Pour arriver à la page suivante faites s'il vous plaît un déclic le bouton "Next" ci-dessus!


Haga usted dice el español? No hay problema! Ver la siguiente página sólo hacer clic el botón "Next" encima!


Farla parla l'italiano? Non problemi! Per vedere la prossima pagina lo scatto per favore giusto Il bottone "Next" sopra


Sprechen sie Deutsch! Kein problem! Wenn Sie die folgende Seite sehen wollen gerade klicken der Knopf "Next" oben!


คุณพูดภาษาไทยได้ไหม ไม่มีปัญหา ถ้าคุณต้องการไปหน้าถัดไป ให้กดปุ่ม "Next" ข้างบนนี้


Вы говорите по-русски? NJET PROBLEMA! Просто нажмите синюю кнопку "Next" с левой стороны и Вы моментально переместитесь на следующую страницу!


E ni Svenskar och inte förstår Engelska så ska ni skämmas. J och Björn, med det menar jag inte att alla mina stavfel ska ältas varje gång vi träffas.


Well, the flag of Skåne, just a BONUS flag.
You are visitor no.
To www.aladdin.st since December 2005
Visitors to www.aladdin.st from different countries since 26th of September 2011