+++++++++++++++

Friday 1st of July 2016 and we're still waiting for them to be ready to receive the remaining of our cargo. Latest news is that we will start tomorrow and then we will
hopefully be able to leave tomorrow night.

I changed my flight yesterday and I will leave with Turkish Airlines from Copenhagen on Thursday
arriving to FUNKY TOWN on Friday morning. And this will most likely be the last time I set my foot on board a Turkish Airlines flight.

I called them to change my flight and they charged me 273 US$.

- 273 US $
I was more than a little upset. Thee price to change the date was 65$ and, well, that would have been OK. But the price tag ended up to 273$. And yes, I can hear you.
- 65 $ How the
could this turn out to 273 US$

They had to add airport taxes and SERVICE FEES and I don't know what. I called them scammers and I will never fly with them again. This was cheating and even though it is not me paying I got angry. I have never have had to pay to change any business class tickets before and I have been with many different airlines.

But Turkish Airlines, well, they can ram their Baklava and airport lounge where the sun doesn't shine. Same with Thai Airways, they charge me 4 or 5 US$ more than Thai people to go watch
the birds in their national parks. Fine with me, I prefer to pay 1000 US $ extra to fly to Malaysia to watch my birds, and I will not fly with Thai Airways.

Let's do a quick and rough estimation, no calculator needed. Thai Airways have lost about 260 000 Baht revenue from me during the last month. If they charge me 100 Baht extra to see the birds 260 000 Baht is around 2600 visits.

So I guess they are on to something with the extra national park and museum fee for foreigners.
And I'm not the only one that have given up
Thai Airways, so yes, they are really up to something here.

And even though it is about 4 months ago I asked a simple question and there have been exactly ZERO attempts to answer the question. So I guess they have too many passengers flying with them so they want some passengers to fly with other airlines.

Anyway, I really hope
we're leaving in time so I can make it to my flight on Thursday aor Turkish Airlines will charge me another 273 US$. Twats!

I have not given up the idea of a "jacket in a bag" and my plan is to go to Glasgow to explore the city today. Maybe some fine dining available, I got an e-mail from my friend with some Glasgow restaurant suggestions. So I will try to try out one of the restaurants today. Well, the Indian restaurant will be a miss.




Hey.

You have to go into Glasgow for anything decent to eat.
Ok I have checked and these are suppose to be the best in Glasgow.

1. Black sheep bistro
2. Tarantino ristorante
3. Obsession of India
4. Bella Vita
5. 111

They will be in the city centre I assume. I've not been to them so up to you.

Jacket you will find, always cold and rain in Scotland.

G

Aladdin's reply:
To find a jacket is no problem, but to find a size


Our Cook had been at Intu Braehead shopping centre yesterday and he said that he had passed a "Porky & Flabby" clothing shop. I checked out the place on the internet and I was soon finding the name of the shop. Badrhino was the name and I checked out their jackets, there were so many X's that the screen wasn't big enough.



I also found out that there was a Tony Roma's at the Intu Braehead Shopping Centre. So I decided to skip down town Glasgow for today. And ducking Raggmunks for lunch, this made me even more
happy about all the X's in the jacket. I can eat Raggmunks and it will be like "NOT" eating as I can just buy a jacket with an extra X!

I called the terminal and I asked if they could be so kind to call a taxi for me. No problem and the taxi arrived 15 minutes later

And we were on the way to Intu Braehead Shopping Centre a few minutes later. It took us maybe 15 minutes to reach the Intu Braehead shopping centre and it set me back by 15 £ I had
got 30 £ from our 2nd Officer so I had 15 £ remaining for my trip back to the ship.

So what if the trip back would turn out to be 16 £? Well, I don't know and I don't want to find out. So I got the number from the girl and I would call her when I wanted to go back.

I went in to the Intu Braehead shopping centre and I started to look for the Badrhino shop and I came up with nothing. I passed a watch shop and as I'm looking for a new wrist watch I stopped to look at a Casio Edifice solar powered watch. The guy in the shop knew exactly nothing about watches. I asked him how to adjust the time.

I told him that it was impossible to use the big wheel/ button or what ever they call it to adjust the time. He tried to do it and he told me that it was because it was a Bluetooth and I
understood that he knew nothing. Pointless to stay and ask any more questions so I left the shop.

I continued my search for the Badrhino and there were no sign of any information desk in the shopping centre.

There was a second floor and I went up stairs on what must have been the slowest escalator I have ever been on. I was surprised to discover an information desk. But they had never heard of any Badrhino store. One of the guys said that there was something with Badrhino on the bottom floor. A shop called YOURS,
obviously a brand belonging to the same company as Badrhino. But they were selling woman's clothing.

I walked to the other shopping centre across the road, Intu Braehead SOAR but there were only restaurants and an indoor ski slop.

A climbing wall and a few stores. I walked back to the other Intu Braehead shopping centre and I called a taxi. I had decided to go in to Glasgow as everyone told me they had much more shops there. Any "Flabby & Porky" clothing?

The driver dropped me at the city centre and the ride had set me back by 10£ and 50p. So this means that I have 4£ and 50p in cash that I must spend. My first stop was to buy chewing gum
for the Captain.

Sugar free of course, I bought chewing gums for almost 9 £ so my pocket was full. Next stop, either a watch shop or a "Flabby & Porky" clothing place.

I walked up the walking street and there wasn't anything I was looking for but when I reached the end there was a Buchham Galleries. I went inside and I found a watch shop. I bought the very same EDIFICE wrist watch I had been looking at Intu Braehead. And this was a full service shop, the girl didn't knew how to adjust the time. She tried to move the crown.

Yes, amazing what I lean during my adventures. The big wheel/ button or what ever they call it is called the crown, the very wheel/ button you adjust the time with. Anyway, she found out how the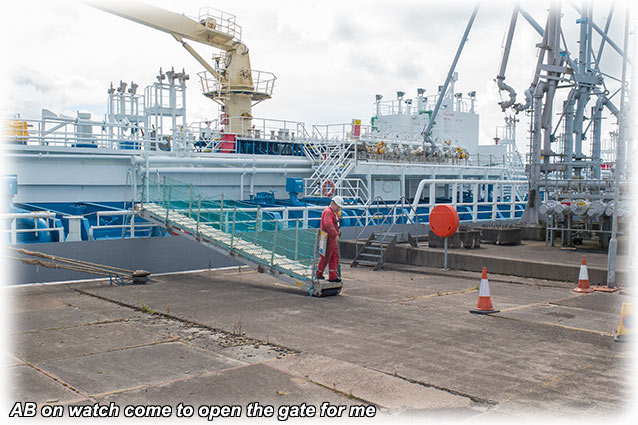 watch was working and I bought the wrist watch. Set me back by 260£

I had asked the taxi driver about a "Flabby & Porky" shop in Glasgow and he didn't knew anything. But he recommended me to take a "black cab" as they usually knew everything driving around town. And they accepted credit cards as well.

Sounds like we have a winner here. I stopped a "black cab" and there were VISA stickers on the door. I asked the driver if he knew any "Flabby
& Porky" stores. He knew nothing and we stopped to ask some of his fellow taxi drivers, but we came up with exactly nothing.

I asked the driver to take me back to the ship in Clydebank. Still no sign of anyone wanting us to start discharging. I had to call the AB on deck so he could come to open the gate for me.

There is only a push button on the inside of the gate out to the jetty. To get in to the terminal I use a push button
and they open the turnstile remotely. Anyway, I was on board just in time for dinner but I was full after the milk shake in town.

Well, I had 3 Raggmunks before I went to my cabin and I was asleep when the rest of the crew went for dinner.

We will have to spend yet another night on the bridge and today we will do one more enclosed space entry so our new Chief Officer can test a gas detector in our CO2 room. And we will work a little with the fixed gas detection system. So we will be busy and the time will pass very quickly tonight.


A tour boat passing us on River Clyde

I checked internet for flights from Glasgow to Copenhagen as I'm getting worried to get to my flight on Thursday in time. Ryan Air and one other airline have direct flights from Glasgow to Copenhagen. So if we don't get any good news tomorrow I might have to fly from here.



+++++++++++++++

Saturday 2nd of July 2016 and I brought two bottles of Diet drinks to the bridge. Captain and I decided that it was better to book a flight from here as they are now saying Sunday.

I was soon to discover that Ryan Air wasn't flying from Glasgow but from Edinburgh. Sunday and there was only a flight in the evening departing at 18:45. The ticket cost 125.89£ and I will arrive to Copenhagen at 21:30 and I will
hopefully have checked in at Marina Plaza in Helsingborg before midnight.

Booking the ticket and I took the opportunity to check the latest news from Bangkok Post. And it was good news, they are starting to put wires under ground. A wish I have had for many years.



Anyway, I was back on the bridge and suddenly, like a bolt from a blue sky they wanted us to start discharging. I had to go to try to change my ticket for tonight but they don't fly on Saturdays. And as we're leaving with the high water tonight I will have to stay overnight at a hotel. Captain called the Agent and they will come to pick me up at 4 o'clock s/t for transportation to a hotel.

I left the ship quarter to 4 and the car arrived as I was walking down the gangway. A one hour trip to Edinburgh and we can read all about it HERE.


OK, it has come to my knowledge that we have senior citizens visiting my web page. How hard can it
be? So it's not very easy for them to see the blue coloured links to the next page.

Jiffy (also jiff)


noun [in SING.] informal a moment: we'll be back in a jiffy.

ORIGIN late 18th cent.: of unknown origin.

So as you understand, in a jiff pretty much depends on your internet.

So I put a "Next" button here and I hope that there isn't any problem to understand how to use that one. So just CLICK the "Next" button on your left hand side and you will be on the next page in a jiff!
Marunong ka mag-tagalog? Walang problema! Magpunta sa kabilang pahina pindutin ang "NEXT" button sa itaas


Faites vous parlez le français? Pas de problème! Pour arriver à la page suivante faites s'il vous plaît un déclic le bouton "Next" ci-dessus!


Haga usted dice el español? No hay problema! Ver la siguiente página sólo hacer clic el botón "Next" encima!


Farla parla l'italiano? Non problemi! Per vedere la prossima pagina lo scatto per favore giusto Il bottone "Next" sopra


Sprechen sie Deutsch! Kein problem! Wenn Sie die folgende Seite sehen wollen gerade klicken der Knopf "Next" oben!


คุณพูดภาษาไทยได้ไหม ไม่มีปัญหา ถ้าคุณต้องการไปหน้าถัดไป ให้กดปุ่ม "Next" ข้างบนนี้


Вы говорите по-русски? NJET PROBLEMA! Просто нажмите синюю кнопку "Next" с левой стороны и Вы моментально переместитесь на следующую страницу!


E ni Svenskar och inte förstår Engelska så ska ni skämmas. J och Björn, med det menar jag inte att alla mina stavfel ska ältas varje gång vi träffas.


Well, the flag of Skåne, just a BONUS flag.
You are visitor no.
To www.aladdin.st since December 2005
Visitors to www.aladdin.st from different countries since 26th of September 2011