+++++++++++++++

Monday 19th of October 2015 and I have not been home for long. Just a wee bit more than a week. They called me just when I was about to leave for school. Emergency and the flight is
leaving in a few hours. OK, I booked a flight with Thai Airways and I booked a taxi to come here to pick me up at 22:00

I left for school and I took my seat in the class room. After 5 minutes or so I realised that it was
Monday and my class is on Tuesday. Well, I left again. I have had 2 classes this time at home.

I had also have had the time to buy new glasses, I was at the optician to pick them up before going for lunch with my friend earlier today. New glasses, 2 Thai language classes and some boxing exercise. Not much, I had expected more, but as it is an emergency I have to go.

I have also had some Adobe Photoshop and Adobe Lightroom lessons with my friend. Amazing programs and stunning results. And if I have spent the money on the programs I can as well learn how to use them. And it was fun. Underwater pictures coming up when
I'm going to Donsol to swim with the whale sharks in
November. Underwater pictures need some contrast and I'm sure my "new" Lightroom experience will do wonders.

But just in case, I will have an afternoon with my friend practising Lightroom and Photoshop on underwater pictures. And by looking at the pictures below it is easy to understand that I'm full of hope for the pictures I will take in Donsol on the Philippines. Well, that is of course if we spot the whale sharks.


Before applying Photoshop and Lightroom
After applying Photoshop and Lightroom
Before applying Photoshop and Lightroom
After applying Photoshop and Lightroom


The car was here well in time as usually and we were soon on our way to Suvarnabhumi International Airport. Light traffic and we made it in 25 minutes. Yes, the traffic, seems like it is hard times in Thailand, this time I have not seen any traffic jam.
And no people at the airport, security and immigration was a very quick affair.



I saved money and I was flying economy premium, same seat as in business class so no need to waste any money on a biz ticket, different food, but I will sleep anyway. Stockholm and
Copenhagen, flying with Thai Airways and the economy premium and biz seats are the same. So here I can save some money.

TIPS TACK TILL MASKEN!

I had 2 cans of soda water and a plate of grilled sausages in Thai Airways lounge before I left for gate D7 and flight TG 960 to Stockholm.



+++++++++++++++

Tuesday 20th of October 2015 and we boarded the plane 15 minutes before 1 o'clock in the morning. I was among the first to board and I was soon in my window seat looking at Suvarnabhumi
International in the dark.

Not many passengers and boarding was soon completed and they took our food orders. I told
them that I would like to skip the food as my plan was to sleep. I asked for pancakes for breakfast as there were mushrooms in the omelette.

They started the safety video and we were taxi to the runway. I took a sleeping pill and I was just waiting for us to take off so I
could turn my seat in to a bed.

Taxi came to and end and we had completed the safety video. The cabin was dark and we took off and we were airborne way quicker than I had expected. Booyaa!



I was soon asleep and I woke up at 2 o'clock. I finished my bottle of water. I asked for a new
one and something sweet. They brought me a cup of hot chocolate and a cake. I was soon asleep again.

They woke us up at 5 thirty, about 90 minutes to go to Arlanda, Stockholm and they brought the breakfast. The had the "Thai Airways" sized tea cups and I enjoyed a few of them. Flying over Gulf of Finland and we started to descend to Arlanda International where we landed according to schedule. It looked to be cold and it was quite cold. So I need to find a bathroom to change from shorts to panta longas.


Approaching Stockholm on board TG 960
Approaching Stockholm on board TG 960
Approaching Stockholm on board TG 960
Arrival to Arlanda International


My panta longas are in my checked bag so I need to get my luggage and it will
hopefully not be
missed. Well, it was the fifth bag arriving and I went to the bathroom to change.

I have a meeting at the bank in Stockholm city at 10 so I spent some time at Arlanda International buying lottery scratchers, needless to say, I won foock all. 2 bottles of diet drinks and it was soon almost 9 and I went to catch the train to Stockholm City. Way quicker than expected and we arrived to Stockholm just after 9 o'clock. The train was very
quick and convenient. But almost as expensive as taking a taxi.

I stepped in to the bank a few minutes later and we arranged everything and I left after 15 minutes and I stopped at Scandic Hotel Grand Central for a breakfast buffet. I updated my web page until they kicked me out from the restaurant.

They were preparing for the lunch buffet and I discovered that they had raggmunk for lunch. Jesus, I will be back for lunch. That was in 15 minutes, but I decided to go look for a new computer and I would be back.


What have Sweden turned in to?


The city was full of beggars, sitting around begging annoying the citizens of Stockholm. No computers to be found and I was soon back at the Scandic Hotel Grand Central. Raggmunkar and of course, the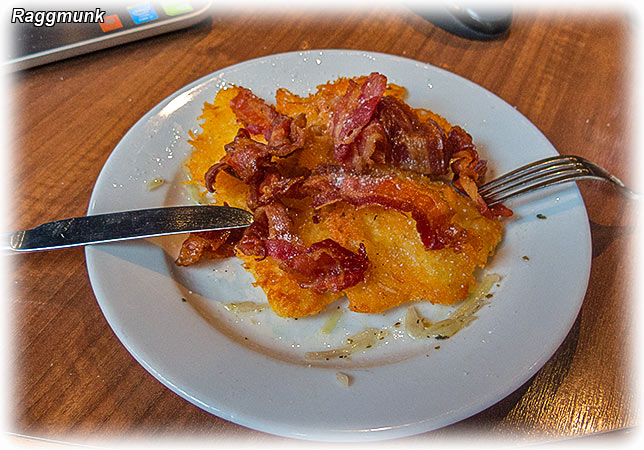 restaurant was full so I went to the reception and I killed some time updating my web page.

I went to the restaurant 30 minutes before they closed the lunch buffet and I got the same table I had have for breakfast

The Waitress told me she would bring me tea, same as for breakfast.

A special pot and a real size tea cup. Good service at Scandic Hotel Grand Central. The raggmunk was, well, OK. Not the Southern Sweden styled raggmunk I'm used to. Stockholm is in the middle of Sweden and something have obviously gone
missing in the recipe while the raggmunk was worked its way up north through Sweden.

I stopped to buy two bottles of diet drinks on my way to the train station. It is about 1 hour ++ with the train from Stockholm to Norrköpping and a bottle or two can come in handy. On the train I decided that this will be me last two bottles of diet drinks ever.

We arrived to Norrköping and I was soon on my way to Pampuskajen at Oljehamnen. It was a little bit hard to find and the driver had to use all his life lines:
1) Call a friend
2) 50/50
3) Take a wild guess
4) Ask the passenger

We arrived to the jetty just when Ternvag turned around to come up to the jetty and I could have a few pictures. Darn, we should have been here 10 minutes earlier.


Ternvag arriving to Norrköping
Ternvag arriving to Norrköping
Ternvag arriving to Norrköping
Ternvag arriving to Norrköping
Ternvag arriving to Norrköping
Ternvag arriving to Norrköping


I was on the jetty watching the mooring action and the gangway was ashore just after 5 o'clock in the afternoon. Just in time for dinner? I stepped on board and my adventure on board m/t Ternvag can start. So hang on and choose from the links below:

October 2015 - Joining Ternvag in Norrköping

November 2015 - On the way back to Go:teborg

November 2015 - Scandlines julbord before flying home



I joined Ternvag in Norrköping on the 20th of October 2015. They arrived from Go:teborg. We did the following voyages while I was onboard:


Voyage No.

Load Port

Cargo

Discharge Port

2015-041

Go:teborg

2 grades of Gasoil
1 grade of Gasoline

Norrköping

I'm joining the ship

2015-042

Piteå

Tall Oil Fatty Acid
Maximum 5500m³

Go:teborg




2015-043




Go:teborg

Reformate 12000 to 13200MT

Ghent




2015-044




Go:teborg

Reformate 11990 to 13000MT

Antwerp




2015-045




Fredericia, Denmark

Full cargo of ULSD
Ultra Low Sulphur Diesel
Cancelled due to the delays in Antwerp

Oslo




Fredericia, Denmark

Full cargo of ULSD
Ultra Low Sulphur Diesel
The second voyage is also cancelled due to the delays in Antwerp

Oslo




2015-047

2015-046
2015-045

Brofjorden

Go:teborg - I will sign off

MK-1 (Diesel) 7350m3 Load in Brofjorden
M94 (Gasoline) 2770m3 Load in Brofjorden

E10 (Diesel) 4000m3 Load in Go:teborg
M95 (Gasoline) 1200m3 Load in Go:teborg

NEW UPDATED LOAD ORDER ADDED:
Load 4000m3 MK-1 to discharge in Go:teborg before loading in Go:teborg

Piteå
OK, it has come to my knowledge that we have senior citizens visiting my web page. How hard can it
be? So it's not very easy for them to see the blue coloured links to the next page.

Jiffy (also jiff)


noun [in SING.] informal a moment: we'll be back in a jiffy.

ORIGIN late 18th cent.: of unknown origin.

So as you understand, in a jiff pretty much depends on your internet.

So I put a "Next" button here and I hope that there isn't any problem to understand how to use that one. So just CLICK the "Next" button on your left hand side and you will be on the next page in a jiff!
Marunong ka mag-tagalog? Walang problema! Magpunta sa kabilang pahina pindutin ang "NEXT" button sa itaas


Faites vous parlez le français? Pas de problème! Pour arriver à la page suivante faites s'il vous plaît un déclic le bouton "Next" ci-dessus!


Haga usted dice el español? No hay problema! Ver la siguiente página sólo hacer clic el botón "Next" encima!


Farla parla l'italiano? Per vedere la prossima pagina lo scatto per favore giusto Il bottone "Next" sopra


Sprechen sie Deutsch! Kein problem! Wenn Sie die folgende Seite sehen wollen gerade klicken der Knopf "Next" oben!


E ni Svenskar och inte förstår Engelska så ska ni skämmas. J och Björn, med det menar jag inte att alla mina stavfel ska ältas varje gång vi träffas.