Monday 26th of March 2018 and I had not really have had something to eat since dinner yesterday and I was getting hungry. OK, I had have a bag of peanuts on Yeti Airlines flight YT 421 coming here to Nepalgunj. I asked my Guide how many people that was living here in Nepalgunj. He told me that here was a population of 1 million.

I almost felt to the ground, it looked like a place with a population of maybe 10,000. Anyway, 1 million was good news and I asked my Guide if there was a 5 star hotel in town, or a 5 star restaurant so we could stop for breakfast. There should be a hotel some 30 minutes or so away. I asked if they had Diet Pepsi at the Tiger Tops Karnali Lodge. He didn't knew and I asked him to call and ask.

They only had Coca Cola so I asked if we could stop to buy a few Diet Pepsi on the way.


On our way to Tiger Tops Karnali Lodge
We make a few stops to look for Diet Pepsi
Hotel Central Plaza


I was soon giving up the idea with the Diet Pepsi. We approached a hotel that looked newly built, Hotel Central Plaza, the hotel my Guide and driver have had in mind for the breakfast. I went in to the restaurant and it looked nice and clean. But the menu, nothing to get excited about. But they had an omelette and I asked for fresh bread and a pot of tea.

Fresh bread was the toast bread that had not been through the toaster. So I asked for toast instead. The food, not very exciting but I was not hungry when I asked for the bill. My card was rejected and we tried different card and nothing was working. I was in a hurry and now the hotel came to a full stop as it often do when something stops to work south of the Alps.

And yes, I hear you, we are there in Sweden soon, very soon. Globalisation and cheap is the name of the game, so no taxes to build schools. In Sweden they are using the taxes to pay for all the "NEW" Swedes that they have been telling us is here to save Sweden with their high education. Hell, most of them cannot read and write, THEIR OWN LANGUAGE.

Hell yes, they are so desperate to save Sweden they starve the Swedish elderly in elderly care to death. Kick them out from their elderly homes to make more space for our rescuer from Africa and the Middle East. What a shame! They have paid maybe the highest tax in the world for their whole life and now people that have not contributed with one single cent gets everything. Shame on the embarrassment called the Swedish government.


Everyday life in Sweden HD
Meanwhile, the old Swedish people in the elderly care starve to death
What a shame!


And just before I came to Nepal the Swedish government, are you sitting down? They voted NO to ban child marriage!!!! That is the Swedish feminist government for you! Anyway, everything came to a full stop and the whole staff was looking at the card machine.

And as I was in a hurry I had to start manage things. To read the card was obviously the thing that was going to take the longest time.

I told on guy to concentrate on this while I told one girl to concentrate on my bill as it was never mind with the bill. I had got the bill for the breakfast, just to add the price for two ice creams that I wanted to buy. And we don't need the while kitchen and hotel staff to add the price of the ice cream on the breakfast bill.
- I can do that in my head, so just concentrate on getting the paper work ready, I said.

The machine never worked and now I was happy that I had changed the 3 dollars with the taxi driver taking me to Suvarnabhumi. I paid in cash, 6 US and that was my last cash, well, I still have 2 or 3 dollars. We left the hotel and the bill drama behind. As one Captain told me, you have to get used to this, now no one ask for what you can do, only how much you cost. And it is the same in Sweden now. No education as there is no more schools, well, school that works that is.

We were soon on our way again and we reached a bridge when we approached the Bardyia National Park. My Guide asked if I wanted to see crocodiles

- Crocodiles? Well, nah, I have seen millions of them
- There are some birds as well
- OK, lets have a look, I said

Me and my Guide walked over the bridge and the driver drove the van to the other side. We saw Cattle egrets and 4 crocodiles in the almost dry river. And was I lucky that I wanted to get out to have a look. I watched the crocodiles and one of them looked very strange, I took a picture. I saw that the crocodile had a very long and slim. I asked my Guide and this was a crocodile, only eating fish but an endangered species, only a few left.
- There are more tigers than this crocodile.


Great Egret
In breeding plumage
Great Egret and Little Egret
Both in breeding plumage
Not much water in the river
Long nosed crocodile
And a big turtle
I never seen something like this before
I was sure glad that I decided to walk across the bridge
All in one picture
Long nosed crocodile, big turtle, small turtle and a normal crocodile
Long nosed crocodile and a Pied Kingfisher
The gharial (Gavialis gangeticus),


also known as the gavial or fish-eating crocodile, is a crocodilian in the family Gavialidae, and is native to the northern part of the Indian Subcontinent. The global wild gharial population is estimated at fewer than 235 individuals, which are threatened by loss of riverine habitat, depletion of fish resources, and entanglement in fishing nets. As the population has declined drastically since the 1930s, the gharial is listed as Critically Endangered on the IUCN Red List.

The gharial is one of the longest of all living crocodilians, measuring up to 6.25 m, though this is an extreme upper limit, as the average adult gharial is only 3.5 to 4.5 m in length. With 110 sharp, interdigitated teeth in its long, thin snout, it is well adapted to catching fish, its main diet. The male gharial has a distinctive boss at the end of the snout, which resembles an earthenware pot known in Hindi as ghara. The gharial's common name is derived from this similarity.

Gharials once inhabited all the major river systems of the Indian Subcontinent, from the Irrawaddy River in the east to the Indus River in the west. Their distribution is now limited to only 2% of their former range. They inhabit foremost flowing rivers with high sand banks that they use for basking and building nests. They usually mate in the cold season. The young hatch before the onset of the monsoon.

The gharial is one of three crocodilians native to India, the other two being the mugger crocodile and the saltwater crocodile.



Distribution and habitat
The gharial once thrived in all the major river systems of the Indian Subcontinent, spanning the rivers of its northern part from the Indus River in Pakistan across the Gangetic floodplain to the Irrawaddy River in Myanmar. Today, it is extinct in the Indus River, in the Brahmaputra of Bhutan and Bangladesh, and in the Irrawaddy River. Its distribution is now limited to only 2% of its former range.

• In Nepal, small populations are present and slowly recovering in tributaries of the Ganges, such as the Narayani-Rapti river system in Chitwan National Park and the Karnali-Babai river system in Bardia National Park.

• In India, small populations are present and increasing in the rivers of the National Chambal Sanctuary, Katarniaghat Wildlife Sanctuary, and Son River Sanctuary. Another small population exists in the rainforest biome of Mahanadi in Satkosia Gorge Sanctuary, Odisha, where they apparently do not breed. In 2008, a population of about 100 individuals was recorded in Corbett Tiger Reserve. In 2010, several individuals were recorded in the Gandaki River downstream the Triveni barrage west of Valmiki Tiger Reserve and adjacent to Sohagi Barwa Wildlife Sanctuary.

Gharial is sympatric with mugger crocodile (Crocodylus palustris) and formerly with saltwater crocodile (Crocodylus porosus) in the delta of Irrawaddy River. In 1977, four nests were recorded in the Girwa River of Katarniaghat Wildlife Sanctuary, where 909 gharials were released until 2006. Twenty nests were recorded in 2006, so 16 nesting females resulted from 30 years of reintroductions, which is equivalent to 2% of the total pre-2006 releases.

This is seemingly not a great achievement for the money and effort spent, and as several researchers have suggested, perhaps carrying capacity has been reached there. In 1978, twelve nests were recorded in the Chambal River in the National Chambal Sanctuary, where 3,776 gharials were released until 2006. By 2006, nesting had increased by over 500% to 68 nests, but the recruited mature, reproducing females constituted only about 2% of the total number released. The newly hatched young are especially prone to being flushed downstream out of the protected areas during the annual monsoonal flooding.



Conservation status
IUCN Red List

of Threatened Species. Version 2017-3.

International Union for Conservation of Nature. Retrieved 20 March 2018.



From Wikipedia, the free encyclopedia


He told me that they had a breeding program in Chitawan, so I might have a chance to see the longnose again! There are 16 or 18 longnose remaining here and maybe 65 or 70 in Chitawan. In India there are more of them, the breeding program lose a lot of them in the monsoon. Strong currents in the river and the crocodiles ends up in India. Nepal and India, the only two countries where you can find this kind of crocodile. Eating fish only.

I was extremely happy that I had got to see the long nosed crocodile. Back in the van and we continued towards Tiger Tops Karnali Lodge and the Bardyia National Park. We arrived to the hotel quarter past 12 or something like that.


Working with lint or something like that
Finally, last stretch to the Tiger Tops Karnali Lodge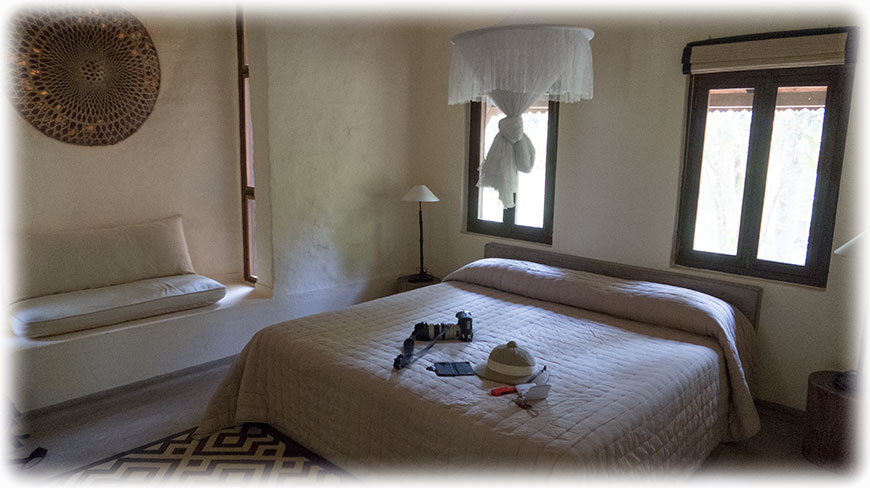 My room - Tiger Tops Karnali Lodge
My room - Tiger Tops Karnali Lodge


They would serve me lunch at quarter to 1 and we went to my room. The room was a disappointment. No desk and chair, no tea machine, no lamps except 2 bed side lamps and no wi-fi. And the SIM card they gave me in Kathmandu was not working here. I would really like to go to the internet to check out the long nosed crocodile.

We will go for the first safari at 15:00 so I had time to install myself in the room. First I went for lunch and they told me it was a buffet styled lunch, a disappointment. A plate with chicken skewers and some Nepalese salad. Buffet, I always thought that this was something with many dishes to choose from. Hang on, let me check out a dictionary



Buffet


noun
A meal consisting of several dishes from which guests serve themselves: [as MODIFIER] a cold buffet lunch.

The NEW OXFORD Dictionary OF ENGLISH


I was at the restaurant just before 3 o'clock and we went to the parking lot to board our Land Rover safari jeep. Will we see any tigers on the first safari? Will we be attacked by snakes? Eaten by a leopard? Well, click HERE to find out.


Du Thooomaaas
OK, it has come to my knowledge that we have senior citizens visiting my web page. How hard can it
be? So it's not very easy for them to see the blue coloured links to the next page.

Jiffy (also jiff)


noun [in SING.] informal a moment: we'll be back in a jiffy.

ORIGIN late 18th cent.: of unknown origin.

So as you understand, in a jiff pretty much depends on your internet.

So I put a "Next" button here and I hope that there isn't any problem to understand how to use that one. So just CLICK the "Next" button on your left hand side and you will be on the next page in a jiff!
Marunong ka mag-tagalog? Walang problema! Magpunta sa kabilang pahina pindutin ang "NEXT" button sa itaas


Faites vous parlez le français? Pas de problème! Pour arriver à la page suivante faites s'il vous plaît un déclic le bouton "Next" ci-dessus!


Haga usted dice el español? No hay problema! Ver la siguiente página sólo hacer clic el botón "Next" encima!


Farla parla l'italiano? Non problemi! Per vedere la prossima pagina lo scatto per favore giusto Il bottone "Next" sopra


Sprechen sie Deutsch! Kein problem! Wenn Sie die folgende Seite sehen wollen gerade klicken der Knopf "Next" oben!


คุณพูดภาษาไทยได้ไหม ไม่มีปัญหา ถ้าคุณต้องการไปหน้าถัดไป ให้กดปุ่ม "Next" ข้างบนนี้


Вы говорите по-русски? Просто нажмите синюю кнопку "Next" с левой стороны и Вы моментально переместитесь на следующую страницу!


E ni Svenskar och inte förstår Engelska så ska ni skämmas. J och Björn, med det menar jag inte att alla mina stavfel ska ältas varje gång vi träffas.


Well, the flag of Skåne, just a BONUS flag.
You are visitor no.
To www.aladdin.st since December 2005
Visitors from different countries since 26th of September 2011