Wednesday 4th of April 2018 and I was in the garden at 6 o'clock looking for birds. I started in the swimming pool area but I never managed to get any pictures of any birds. There were great Tits and Common Tailorbirds but I never got any pictures. But DARN! The hotel compound was full of mosquitos and I returned to my room to get some mosquito repellent.

After having greased myself up in my "Tropical" strength repellent I went behind the house my room is in. I ran in to a Great Tit but the picture didn't turn out so good.


Sun rise
Listen to the Common Tailorbird
Own recording with my ZOOM H5 Handy Recorder
Remarks from the Recordist


Early morning bird watching at Tiger Tops Tharu Lodge before going for tiger safari. The bird was maybe 4 meters away, looking at me while singing or calling. A very small bird with a loud voice


Listen to the Oriental Magpie Robin
Own recording with my ZOOM H5 Handy Recorder
Remarks from the Recordist


Early morning bird watching at Tiger Tops Tharu Lodge before going for tiger safari.

The bird was sitting in a tree outside my room, maybe 5 or 6 meters up.







I managed to record the Common Tailorbird and the Oriental Magpie Robin with my ZOOM H5 Handy recorder. I walk up the road to the gate and I see the Indian Paradise Flycatcher, Great Tits, Common Tailorbirds and a Green Pigeon.

Barbets was heard from many of the tree tops. Back at the swimming pool and I see two White-throated fantails. They refused to sit still so the pictures was going straight to the trash bin.


Green pigeon
White-throated Fantail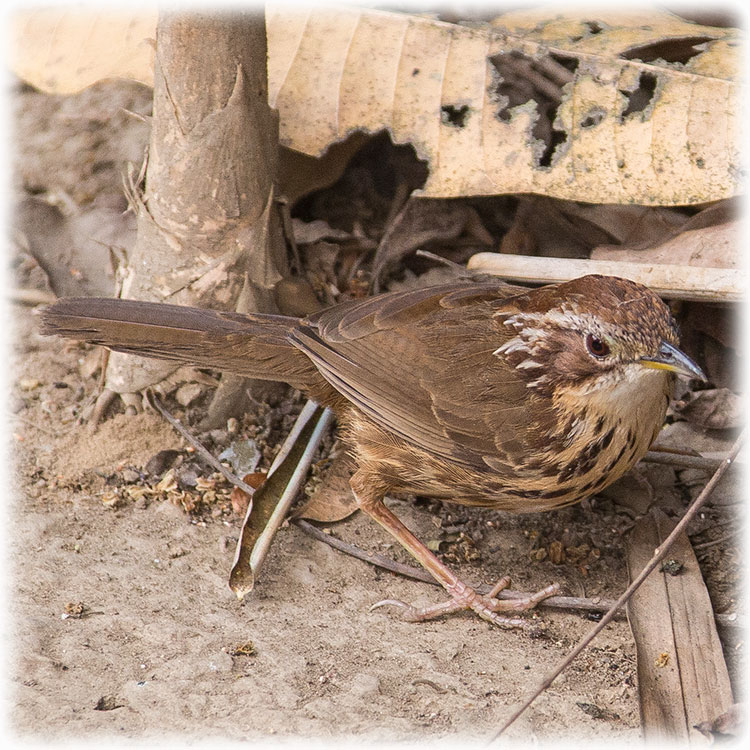 Puff-throated Babbler - थोप्ले भ्याकुर
Puff-throated Babbler - थोप्ले भ्याकुर
Puff-throated Babbler - थोप्ले भ्याकुर
Puff-throated Babbler - थोप्ले भ्याकुर
Puff-throated Babbler - थोप्ले भ्याकुर
Puff-throated Babbler - थोप्ले भ्याकुर
Puff-throated Babbler - थोप्ले भ्याकुर


Well, a few hours of birding and I got a few pictures of the Puff-throated Babbler, not much else. Lunch time and at 2 thirty I went to the jeep. It had been raining during the afternoon but
the sun was kind of shining now. Looked black in the horizon, but we decided to go for the safari hoping for the best.

I had been early coming down to the jeep so I walked around the area while waiting for the Guide. It is a beautiful area, but as everywhere else in this part of the world. It looks like a garbage dump with the rubbish they throw everywhere. Tiger Tops have placed rubbish bins around the village, but it doesn't help.

Anyway, the boat was waiting for us and we could cross the Gandaki River on a beautiful afternoon and we looked out for the long nosed crocodiles, but no luck.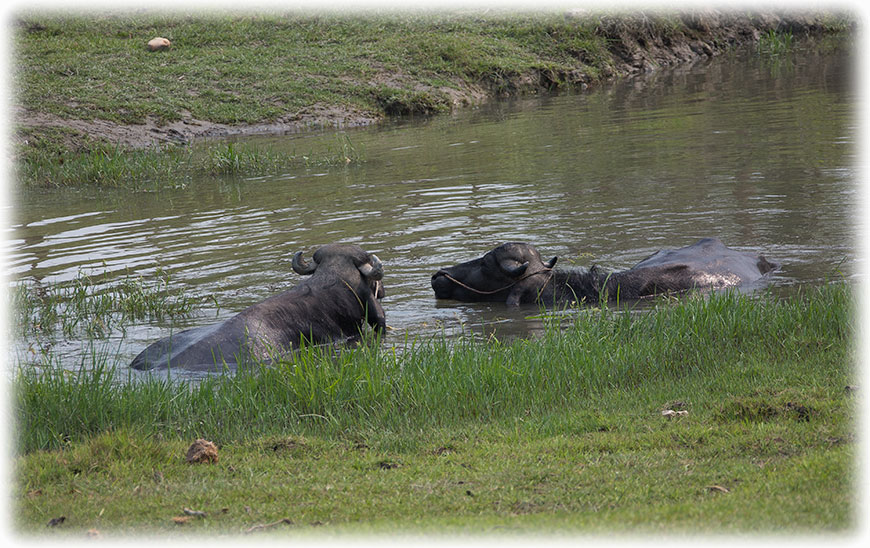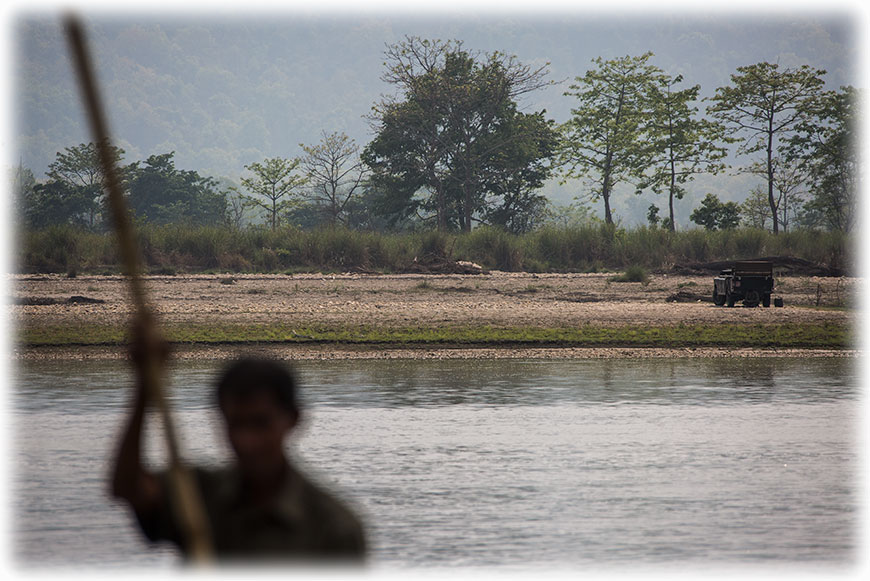 We can see the jeep on the other side of the Gandaki River
We are ready to cross Gandaki River
Here we go

We cross the Gandaki River and I spot a beautiful White-browsed Wagtail as soon as I step ashore on the other side. I run after the bird trying to get pictures. The bird was too far away for any good pictures. We got in to the jeep and we were soon driving through the high grass in the grass land. We're going to an area we had not been to before.

No tigers or leopards and we turn around when we reach a flimsy built bridge. We are soon back to our normal track but there is exactly nothing to be seen. We go to see if the crocodile with the eggs are still there. And she is, exactly same position as yesterday.


White-browed Wagtail
White-browed Wagtail
White-browed Wagtail
We drive through the grass land
We reach a flimsy built bridge
We drive through the grass land
Green Bee-eater
Angry Foreigner's You Tube channel, click HERE


We leave the crocodile to continue our search for excitements. We had been on our way for a few minutes and it started to rain. Same back in Bardia, the last safari and it is raining. My Guide had
brought two umbrellas and I borrowed one to cover my camera.

Never mind, I have had a very nice time looking for tigers here in Nepal. Now it will be nice to get back to Kathmandu. We drove back to the boat in slow speed and the rain changed to a drizzle when we approached the boat. But we still needed to use the umbrella, mostly to cover the camera.

Well, dinner and off to bed. They will wake me up with tea at 4 o'clock even though we won't leave for the airport until 8 thirty. I have planned for some early morning bird watching before breakfast and departure to the airport.



So, this is pretty much it about tiger safari in Nepal, a disappointment when it comes to tigers. But it had been very nice safaris with birds and animals. Now it will be birding in the Kathmandu Valley for the next few days. But first to the airport and my flight to Kathmandu, click HERE to find out if we make it to Kathmandu.


OK, it has come to my knowledge that we have senior citizens visiting my web page. How hard can it
be? So it's not very easy for them to see the blue coloured links to the next page.

Jiffy (also jiff)


noun [in SING.] informal a moment: we'll be back in a jiffy.

ORIGIN late 18th cent.: of unknown origin.

So as you understand, in a jiff pretty much depends on your internet.

So I put a "Next" button here and I hope that there isn't any problem to understand how to use that one. So just CLICK the "Next" button on your left hand side and you will be on the next page in a jiff!
Marunong ka mag-tagalog? Walang problema! Magpunta sa kabilang pahina pindutin ang "NEXT" button sa itaas


Faites vous parlez le français? Pas de problème! Pour arriver à la page suivante faites s'il vous plaît un déclic le bouton "Next" ci-dessus!


Haga usted dice el español? No hay problema! Ver la siguiente página sólo hacer clic el botón "Next" encima!


Farla parla l'italiano? Non problemi! Per vedere la prossima pagina lo scatto per favore giusto Il bottone "Next" sopra


Sprechen sie Deutsch! Kein problem! Wenn Sie die folgende Seite sehen wollen gerade klicken der Knopf "Next" oben!


คุณพูดภาษาไทยได้ไหม ไม่มีปัญหา ถ้าคุณต้องการไปหน้าถัดไป ให้กดปุ่ม "Next" ข้างบนนี้


Вы говорите по-русски? Просто нажмите синюю кнопку "Next" с левой стороны и Вы моментально переместитесь на следующую страницу!


E ni Svenskar och inte förstår Engelska så ska ni skämmas. J och Björn, med det menar jag inte att alla mina stavfel ska ältas varje gång vi träffas.


Well, the flag of Skåne, just a BONUS flag.
You are visitor no.