Friday 30th of March 2018 and we left Tiger Tops Karnali Lodge quarter to 7. We were kind of excited to reach the park. We had seen a Peacock dancing but we had missed it. By the time we realised it was a Peacock dancing it was too late. He was dancing behind some bushes and I thought the tail feathers were just another bush. But today...

We drive through the village and we spot an Oriental Pied Hornbill, but the bird take off before we can get in position for a picture.


Leaving Tiger Tops Karnali Lodge early morning
Early morning but we're not alone on the roads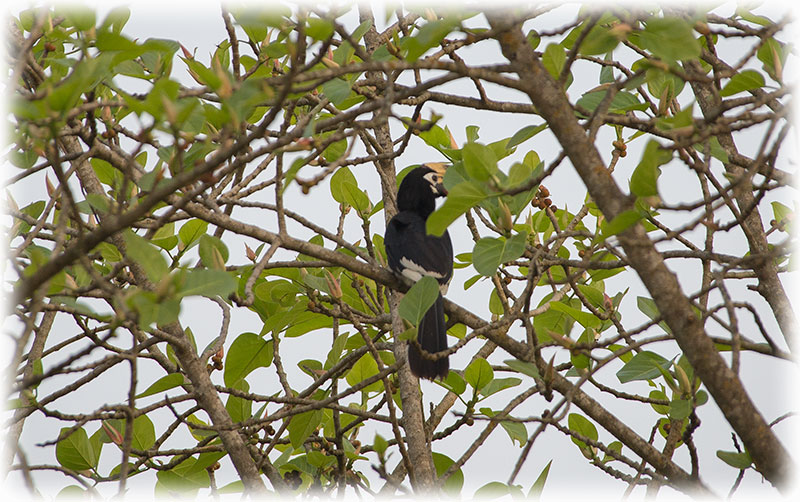 Oriental Pied Hornbill


We entered the park and we were soon at the area I have named "Peacock Dance" area. We could see 3 Peahens crossing the dirt road when we approached. We didn't had much hope to see any Peacock dance as the females looked anything but excited. And when we came out from the forest we spotted the Peacock sitting in the tree.

I don't know why, but the Peacock jumped down from the tree as he saw the three Peahens approaching. We were lucky to see the Peacock starting his dance. Very far away so the pictures and the movie left a lot to wish for.


It is a beautiful bird
Indian Peafowl - मुजुर / मयुर"
Indian Peafowl - मुजुर / मयुर"
Indian Peafowl - मुजुर / मयुर"
Indian Peafowl - मुजुर / मयुर"
Indian Peafowl - मुजुर / मयुर"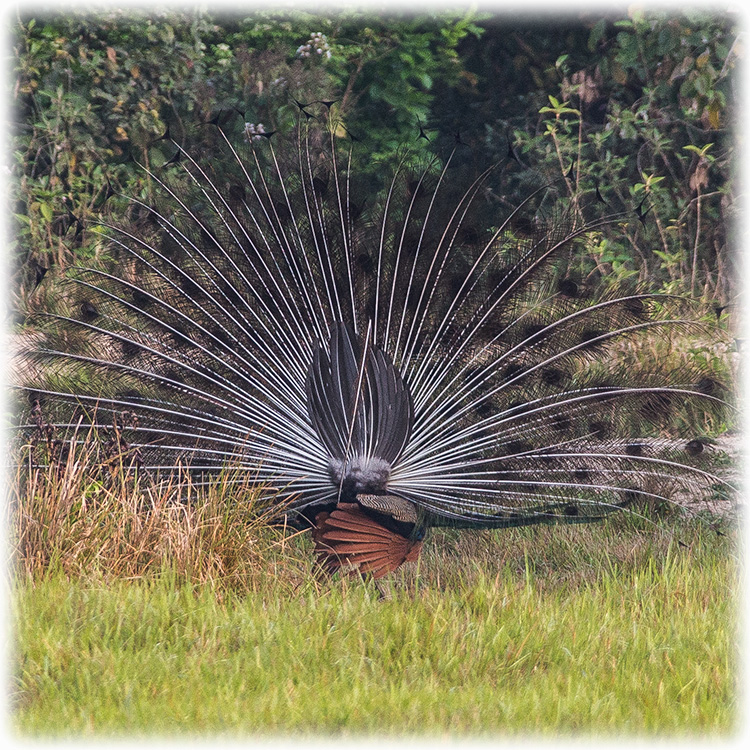 Indian Peafowl - मुजुर / मयुर"
The girls were not interested and the Peacock flies back up in the tree
Listen to the Indian Peacock's breeding call
Own recording from this very moment - Thanks to my ZOOM H5 Handy Recorder
Fresh tiger tracks on the dirt road


We leave the Peacock behind and after 50 meters or so we spot fresh tiger tracks on the dirt road. We continued on the dirt track in search for tigers and wildlife. We left the road and we drove down to a water hole/ channel. Full of dead tress so it was very beautiful. We spotted (at a far distance) Common Kingfisher, White-throated Kingfisher and a Peacock.

But no tigers or leopards. While we were looking out from the hill when a couple from Germany came down to us. They were in company of a Guide and I pointed out the White-throated Kingfisher for them. They were very excited and they were obviously not interested in taking pictures as the birds was very far away. Of course, they were only carrying binoculars.

So this is very important to think about if you plan to book a bird watching tour. You have to explain that you want to take pictures, UP CLOSE! Or the Guide will take you to see birds at a far distance so you can thick of the birds on a list. And I always get scared when my Guide arrives carrying a binocular. I want to be close enough to see the bird without having to use a binocular.


It is a beautiful place
It is a beautiful place
Can you see the Common Kingfisher?
30 March 2018 - Bardiya/ Bardia National Park, Nepal
Changeable Hawk-eagle sitting among the leafes
Changeable Hawk-eagle sitting among the leafes
Changeable Hawk-eagle sitting among the leafes
Listen to the Changeable Hawk-eagle screaming just next to us
Own recording with my ZOOM H5 Handy Recorder
Remarks from the Recordist


Driving along the dirt road in Bardiya/ Bardia National Park and suddenly we hear scream very close to us. We stop the jeep and there is a Changable Hawk Eagle sitting in the tree next to us. The bird was sitting on the very thin sprigs/ twigs among the leaves.

First I thought the bird was hurt. The Eagle was stumbling around in the leaves. Then it looked like the eagle was eating the leafs on the sprigs/ twigs. Maybe the bird was collecting leafs and small twigs to build a nest. But would it be possible to scream with the mouth full of leafs?

At 00:38 we can hear the Eagle taking off flying just above me landing in a tree on the other side of the road. One more call at 00:52 and the Eagle takes off again flying out over the open fields


Spotted deer baby


We drive along and we see, well, pretty much nothing. For sure not any tigers and leopards. But we were soon running in to yet another sign of tigers. We spotted tiger poo on the dirt road and my Guide went out to see how fresh the poo was. It was for sure looking fresh. Is the tiger close by?

The poo was full of fur so the tiger had been eating a deer. We were soon on our way again and as the time had passed quite quickly it was time to slowly go back to the lodge for lunch.


Tiger poo

We were lucky and we spotted a Great Tit in the forest on our way back to the hotel. We are approaching the "Peacock dance" area and I see a small tree/ bush with orange flowers. The tree is full of Sunbirds eating from the flowers.

There were many birds in the bushes eating flowers: Purple Sunbirds
Crimson Sunbirds
Oriental White-eye
Thick-billed Flowerpecker
Golden-fronted Leafbird
I just wish I could have got as many pictures, but these small birds never sit still so it is very hard to get them on picture.

And why didn't I discover this tree during the first day. I could easily have spent hours here!


Female Sunbird
Thick-billed Flowerpecker - मोटोठूँडे पुष्पकोकिल



Thanks'


Rafael at BirdingForum for helping me identify the Thick-billed flowerpecker



++++++++


Your ID is correct regarding the raptor. Eye-colour is age related. The bird in your photos is a juvenile (as you can see by checking the white tips to the wing-coverts); adults will have red eyes.

The 2nd bird is a Thick-billed flowerpecker (Dicaeum agile).

__________________
Rafael

http://www.flickr.com/photos/18665593@N00/




Back at the Tiger Tops Karnali Lodge and I had yet another delicious fruit salad for lunch. Of course, tea and their superb home-made bread to go with the fruit salad. I spent one and a half hour in my room and I returned to the restaurant 10 minutes before 3 o'clock. Departure at 3 for the afternoon safari. But now the sky was black and it looked to be rain. We gave it 15 minutes and it seems like it cleared up.

In to the jeep and off we went to the park for some safari action. More Peacock dance? Birds in the tree with the orange flowers? We will see. We entered a park and it was pretty dead, even crossing the river gave us nothing. We met another jeep and they had seen a tiger at the water hole with the Brown Fish Owl from a couple of days ago.


Dark skies when we leave Tiger Tops Karnali Lodge
We met another jeep in the park

Does it look like this is something you would enjoy? Seriously. You pay
TOP DOLLARS to travel around the world to experience a safari adventure. Then you can as
well put in the "Little" extra to get your own jeep. Go where you want, stop where you want


10 or 11 people in the jeep and I was happy that I had paid extra for my own jeep as I always do. Only have had a couple of safaris in a "shared" jeep. And that was because they didn't had any available jeep. Look at the jeep above.

How do you see things? Taking photos? When the excitements shows up you need an instant 360° view. And sometimes it goes quick. So let's say that you have spent 8000 US to go see some wildlife, and when finally the wild life shows up you cannot enjoy it because you cannot move in the jeep. What a waste of money, if you ask me that it.

We spotted "duck all" during the afternoon, but I still had the tree with the orange flowers and the "Peacock Area" to look forward to when we drove back towards the exit and the Tiger Tops Karnali Lodge. No sightings but we had been lucky with the weather, no rain during the game drive.


The birds really love the orange flowers
The red coloured forehead is from the flowers
Oriental White-Eye - นกแว่นตาขาวสีทอง
The birds really love the orange flowers
The red coloured forehead is from the flowers
Oriental White-Eye - นกแว่นตาขาวสีทอง
The birds really love the orange flowers
The red coloured forehead is from the flowers
Oriental White-Eye - นกแว่นตาขาวสีทอง
The birds really love the orange flowers
The red coloured forehead is from the flowers
Crimson Sunbird hiding in the bushes


Stopping at the orange coloured flowers, not as many birds as in the morning. But there was quite a few and I asked the Guide to stay here for a while. Not many pictures, only the Oriental White-Eye. There was a Crimson Sunbird jumping around but no pictures. I never managed to get any pictures of the Purple Sunbird, the bird I wanted to have on picture.

The "Peacock Area" is just 50 meters up front and we could see a Peahen crossing the road. Is the Peacock putting on a show attracting the female? We left the orange flowers to go check it out. If there is a Peacock dance we don't want to miss it.


A peahen crossing the dirt road
The show is in full swing when we arrive - The female is already there
She doesn't look very impressed
She doesn't look very impressed
Well, maybe...

The Peacock put on a good show for us and we have been lucky today as we have got to see the show both in the morning and in the evening. I only wish I had have a good video camera. Manual focus on my Canon D5 and the lens, well, it would be impossible to get a good video. But I decided that I will check out a video camera, if I can find a good quality camera that I can have hanging in my belt, so it would have to be a small one.

We left the park and it was almost time for dinner when we came back to Tiger Tops Karnali Lodge. My last safari and we will leave for Chitwan National Park tomorrow morning, 400km and 8 hours to get there so you can imagine what kind of roads we're going to drive on.


Back in the village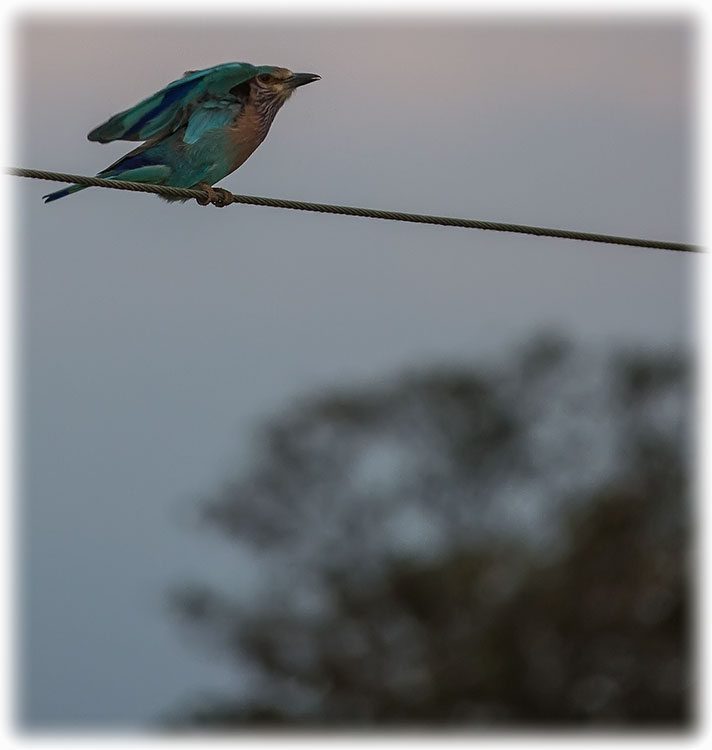 Indian Roller - ठेउवा


The Manager at Tiger Tops Karnali Lodge had told me about Lumbini, the place where, according to Buddhist tradition, Queen Mayadevi gave birth to Siddhartha Gautama in 563 BCE. So I decided to make a stop there for lunch. Actually this is how we got in to the Lumbini. I had asked if we would pass any 5 Star hotels on the way to Chitawan.

Nah, there wasn't any hotels, but then he got to think about Lumbini. There should be hotels, but no 5 stars. Well, I decided to go to check out the place. Click HERE to find out if I made it all the way to Chitwan via Lumbini




General election in Sweden September 2018. Sweden is already beyond rescue and this is most likely the last free election in Sweden. They are already changing the "Free speech" laws in Sweden. Censorship and it only show how desperate they are to keep the population in the dark, as by now they have (must have) realised how they have destroyed what might have once been the best country in the world.

State media blasting 24/7 on how well Sweden is doing when it is obvious for everyone how health care, education system, police, judicial system and the welfare state have collapsed. People are afraid to walk the streets, females are scared of getting raped. The Swedish feminists are cheering on.

You would think the feminists would be working against the developments in Sweden. But no! The feminists were out calling demonstrators, demonstrating against immigrants that had gang raped a woman in wheelchair. Yes, the feminists came and called the protestors for, what do you think? Nazis and racists!!! You can't make this shit up. Sweden really have got everything they deserve. The only thing driving the Swedish feminists is the hate of the white man.

Where it is now allowed to be married to children, rape is a normal thing that the Police don't even investigate thanks to the world's first feminist government. What a sad joke this country have turned in to.


English subtitles available - Click on settings
English subtitles available - Click on settings
OK, it has come to my knowledge that we have senior citizens visiting my web page. How hard can it
be? So it's not very easy for them to see the blue coloured links to the next page.

Jiffy (also jiff)


noun [in SING.] informal a moment: we'll be back in a jiffy.

ORIGIN late 18th cent.: of unknown origin.

So as you understand, in a jiff pretty much depends on your internet.

So I put a "Next" button here and I hope that there isn't any problem to understand how to use that one. So just CLICK the "Next" button on your left hand side and you will be on the next page in a jiff!
Marunong ka mag-tagalog? Walang problema! Magpunta sa kabilang pahina pindutin ang "NEXT" button sa itaas


Faites vous parlez le français? Pas de problème! Pour arriver à la page suivante faites s'il vous plaît un déclic le bouton "Next" ci-dessus!


Haga usted dice el español? No hay problema! Ver la siguiente página sólo hacer clic el botón "Next" encima!


Farla parla l'italiano? Non problemi! Per vedere la prossima pagina lo scatto per favore giusto Il bottone "Next" sopra


Sprechen sie Deutsch! Kein problem! Wenn Sie die folgende Seite sehen wollen gerade klicken der Knopf "Next" oben!


คุณพูดภาษาไทยได้ไหม ไม่มีปัญหา ถ้าคุณต้องการไปหน้าถัดไป ให้กดปุ่ม "Next" ข้างบนนี้


Вы говорите по-русски? Просто нажмите синюю кнопку "Next" с левой стороны и Вы моментально переместитесь на следующую страницу!


E ni Svenskar och inte förstår Engelska så ska ni skämmas. J och Björn, med det menar jag inte att alla mina stavfel ska ältas varje gång vi träffas.


Well, the flag of Skåne, just a BONUS flag.
You are visitor no.