Monday 26th of March 2018 and it was the same driver that had picked me up at the airport, and the same Guide. I liked the car instantly, a Land Rover that I'm used to from Africa. Not a small Wurunuti jeep. We had a chat for a few minutes before we took our seats and off we went. We left the gate to Tiger Tops Karnali Lodge behind and we had been driving for 200 meters when I saw 4 girls walking on the dust path.

They were carrying heavy rice bags on their heads and I asked the Guide and Driver to stop to ask if they needed lift
- We have to go to the safari
- Never mind, they are in need of help and it will only take a few minutes, I said

We stopped and they were on the way to the rice mill, so we have to turn left instead of right to go to the forest. But it is not too long to the mill. And the ladies were happy.


We are ready to get in to the jeep
4 ladies carrying heavy rice bags on their heads
We stop to ask if they want a lift
They load the rice in to the car
The rice is in the back of the jeep
Come on board ladies
All on board, ready to go to the rice mill
Arriving to the mill and Strong Man #1 helping the girls with the rice
That's the spirit!
Hej vad det går!
Last bag
We have to drive through a ECO village
Paddyfield Pipit
We drive through the village
Small Minivet
We continue through the forest


We have to drive through an ECO village to get to the forest and we need to register before entering the forest. We passed a Paddyfield Pipit sitting on a wire on the way to register. I told the driver to stop so I could have a few pictures. So the Paddyfield pipit ends up on my list of observed birds in Nepal.

We registered and we ran in to an Emerald Dove, the very beautiful Emerald Dove not long after that. But I never managed to get any pictures. A Small Minivet was soon sitting in a tree above us, yet again, not any very good pictures.

We make a stop and my Guide want to go down to the river, the almost dry river.

- ARE YOU CRAZY!!!! GET OUT OF THE CAR!!!!?? NO I DON'T WANT TO!

I have never heard about such a thing! Get out of the car to get killed by a tiger. My Guide told me that they have never had any people been attacked by tigers in Nepal, never any reported cases. Only Leopards are attacking people in Nepal. I told him that in India it is mostly Leopards killing people, not the tigers. I explained that I was not afraid of the tigers (only in Sundarbans) but the leopards. We heard a Stork-billed Kingfisher and never ducking mind the leopards and tigers.

We threw ourselves out in the jungle and we came down to the what is a mighty river during the rain season. Now it was not so impressive. We never saw any birds, only a broken hanging bridge over the river. We walked back to the jeep and we drove away. The engine stopped and it took 5 or 10 minutes before the engine was running again.

Plenty of time to think about getting stuck in the forest, sitting here in the dark with hungry tigers and leopards around us. But they managed to start the jeep and we were soon on our way again. We were soon reaching a river and we crossed the river. We stopped in the middle of the river, only about 30 to 40 cm of water at the deepest places.


A bridge, not in use any more (
Hopefully)
The jeep stops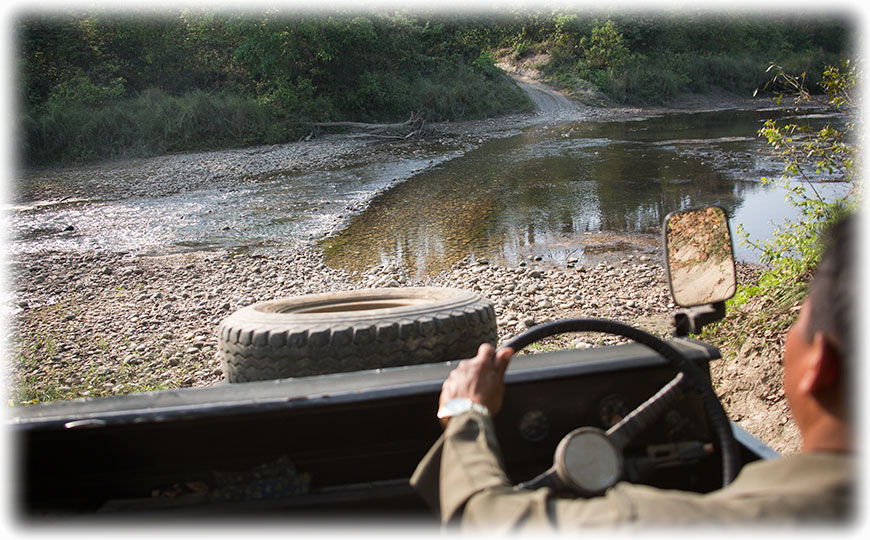 Crossing a river
Spotted deer
Greenshank
White-throated Kingfisher eating on something
White-throated Kingfisher eating on something
Chestnut headed Bee-eater


We cross the river after a long stop watching the beautiful views. White-throated Kingfishers and they look to be more colourful here, very strong red bill and legs. We saw a Greenshank but it never came close enough for a good picture. Same with the River Lapwing, no good picture. Well, I must mention one thing. Here is a lot of Drongos in the area, and I mean a lot of them.

I told the Guide about the drinking Black Drongo in Tadoba and he was looking at me like I was trying to pull his leg. He was convinced that I was an idiot, yeah, I could tell just by his face expression. But we sat in the jeep looking for tigers when a Greater Racket-tailed Drongo was flying over the river.

High altitude and suddenly the Drongo dived down to the river and had a sip of water. A few minutes later and a Black Drongo dived form a tree for a sip of water, not once but twice. My Guide looked shocked. He told me that he had been a Guide for 17 years and he had never seen something like this before.
- Yeah, and now you seen it three times within 5 minutes with me, I said.


Drongo drinking water


Of course, I never got any video or photo, so I put the video I was lucky to get in India of the drinking Black Drongo

We continued our drive and it was soon time to get out of the jeep again. This time I had the guide to carry a leopard/ tiger stick. A stick the guard at Irai Safari Retreat – Resort at Tadoba showed me how to use to scare away the leopards. Seems like they don't like the sound when you tapping the stick on the ground THUS THUD THUD. We got out of the jeep and we walked down to the river again. Here was 5 people or so looking at a Rhino in the river. The people here seems to have been walking here and I learned that they had trekking tours through the forest as well.

No one seems to consider the leopards and tigers in the forest, I even saw a group bicycling through the forest. And thinking about it, why not, they are walking around in the villages. They have seen several leopards at our hotel in the early mornings.

We could see the Rhino in the water and there were some Woolly-necked Stork Storks in the water, but too far away for any pictures.


Now he is carrying the leopard/ tiger stick
A Rhino in the river
A Rhino in the river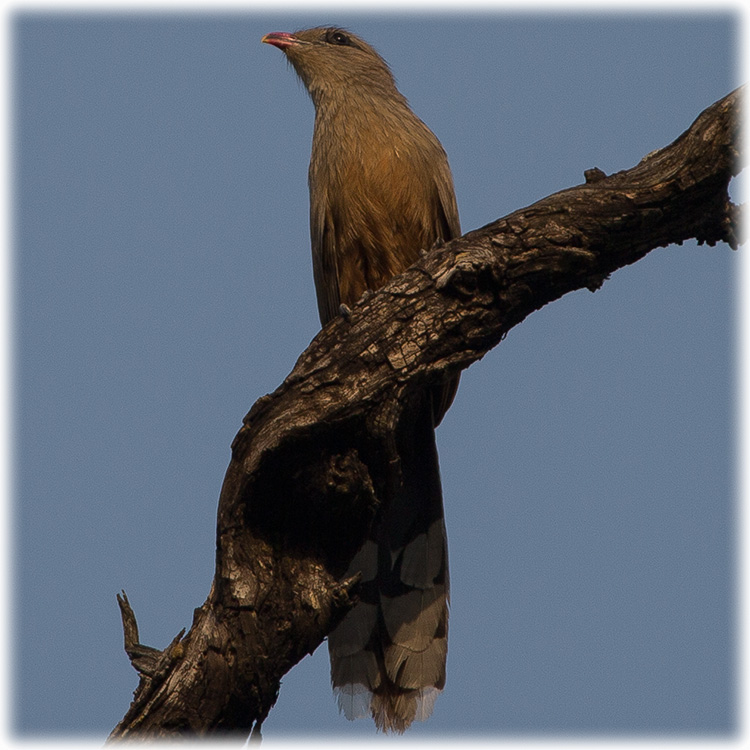 Sirkeer Malkoha or Sirkeer Cuckoo
Sirkeer Malkoha or Sirkeer Cuckoo
Sirkeer Malkoha or Sirkeer Cuckoo



We leave the place and we spot a beautiful Sirkeer Malkoha in a tree. Very lucky, I have seen the bird in India and Sri Lanka but I have never got any pictures. But I was satisfied with these pictures, and with the moon behind the bird. We left the Sirkeer Malkoha behind and we were in an "UP BEAT" mood.

We stopped again and there were 3 or 4 other jeeps parked on the dust road. A place called, Kingfisher, at least it sounds like Kingfisher when the local guides speaks in their local lingo. We worked our way through the bushes on a small dirt path. I will not tell you what I was thinking about fighting my way down to the river. But if you guess snakes and leopards etc. you're not far from. When we came down to the river we spotted 3 girls sitting on a log watching a Rhino. After a few minutes I discovered that there was a lot of people.

The Rhino was in the reeds and it was quite far away. After a while the Rhino went out in the water and then it disappeared. This is the place where they see the tiger coming down to drink. But the boredom, the boredom to stay here waiting. No, then I prefer the actions on the road.


Walking to the river
At the river
We see a Rhino
We see a Rhino
Spotted deer
Spotted deer
On the way back to the hotel


No tigers, but it have been a good day, long nosed crocodile and a Rhino, of course, on top of that a beautiful afternoon in the nature. Now, let's call it a day. We pass a Jungle Owlet and Swamp deer on our way back to the hotel. I don't think I have ever seen Swamp deer before so this might be the first time. We have seen plenty Spotted deer and Sambar deer today.


Jungle Owlet
Swamp Deer - I think it is the first time I see a Swamp deer
Swamp Deer - I think it is the first time I see a Swamp deer
Driving in to the sunset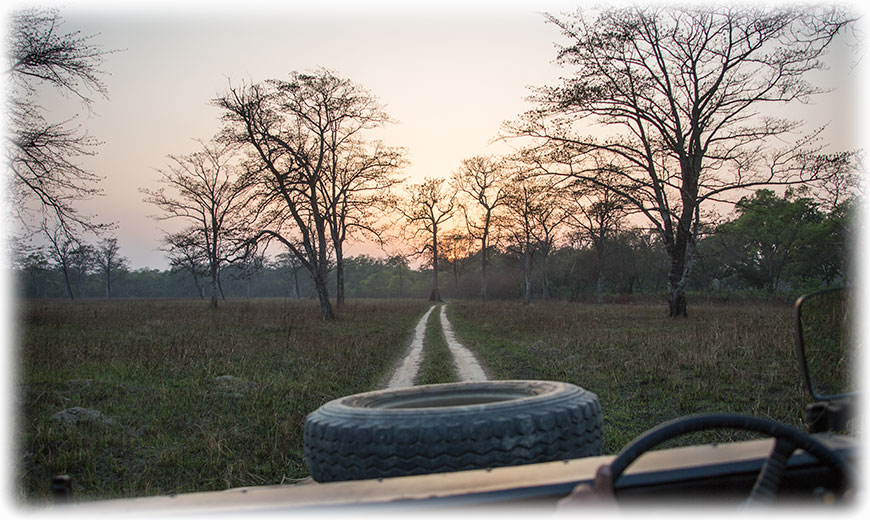 Driving in to the sunset

We make a stop in a village so I can buy some mango juice to bring to my room so I have a little something for early mornings and the evenings when I sit in my room. I had to borrow 1000 Nepal Scooby Doo Dollars from my Guide as I don't have any cash. I bought 20 small bottles of Mango juice and 3 bottles of water and it set me back by 675 Scooby Doo Dollars, about 6$ 50¢

The traditional houses in the village is made by cow shit and they are actually looking nice. Most of the new houses are built by bricks and I must say that they make their houses looks very nice with colourful exterior and decorations. Really nice to see that they cae how they live. Have you been in a Thai village? Or a village in India? They just throw garbage everywhere and sometimes you wonder if it is their garden or a garbage dump.

Driving through a Nepalese village is a pleasure comparing driving through a Thai village. But now it was getting dark quickly and we had to hurry back to the hotel.


We stop to buy juice. And we can see that they are building a second floor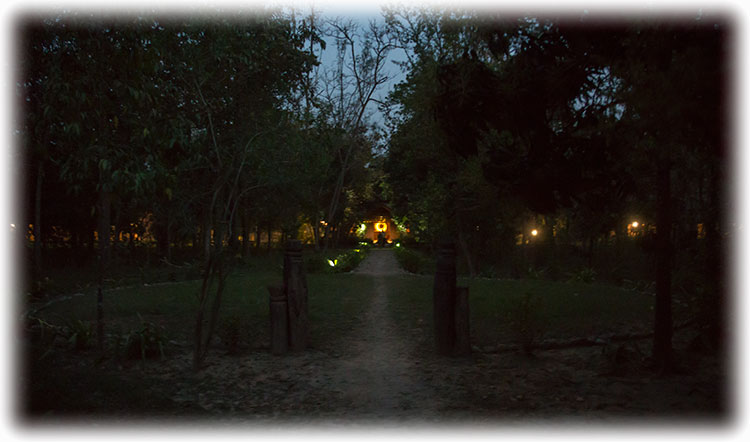 Back at the hotel
The restaurant


We were back at the hotel around 7 or so and dinner was served at 7 thirty. I asked them to wake me up at 4o'clock every morning with two pots of tea. Yes, not possible to make your own tea in the room. We will leave at 06:45 tomorrow morning and we will see if we find any tigers, or elephants. The farmers have a lot of problems with the elephants around here and my Guide told me that a horde of 20 to 25 elephants had created a traffic jam a few days ago.

Anyway, click HERE to find out if we find any tigers or elephants tomorrow, in any case, it promise to be exciting day in the forest.


OK, it has come to my knowledge that we have senior citizens visiting my web page. How hard can it
be? So it's not very easy for them to see the blue coloured links to the next page.

Jiffy (also jiff)


noun [in SING.] informal a moment: we'll be back in a jiffy.

ORIGIN late 18th cent.: of unknown origin.

So as you understand, in a jiff pretty much depends on your internet.

So I put a "Next" button here and I hope that there isn't any problem to understand how to use that one. So just CLICK the "Next" button on your left hand side and you will be on the next page in a jiff!
Marunong ka mag-tagalog? Walang problema! Magpunta sa kabilang pahina pindutin ang "NEXT" button sa itaas


Faites vous parlez le français? Pas de problème! Pour arriver à la page suivante faites s'il vous plaît un déclic le bouton "Next" ci-dessus!


Haga usted dice el español? No hay problema! Ver la siguiente página sólo hacer clic el botón "Next" encima!


Farla parla l'italiano? Non problemi! Per vedere la prossima pagina lo scatto per favore giusto Il bottone "Next" sopra


Sprechen sie Deutsch! Kein problem! Wenn Sie die folgende Seite sehen wollen gerade klicken der Knopf "Next" oben!


คุณพูดภาษาไทยได้ไหม ไม่มีปัญหา ถ้าคุณต้องการไปหน้าถัดไป ให้กดปุ่ม "Next" ข้างบนนี้


Вы говорите по-русски? Просто нажмите синюю кнопку "Next" с левой стороны и Вы моментально переместитесь на следующую страницу!


E ni Svenskar och inte förstår Engelska så ska ni skämmas. J och Björn, med det menar jag inte att alla mina stavfel ska ältas varje gång vi träffas.


Well, the flag of Skåne, just a BONUS flag.
You are visitor no.