India Wildlife and Medieval Tour for Mr. Aladdin
Mumbai – Rajkot - Sasan Gir – Alang - Ahmedabad – Delhi – Corbett – Delhi - Neemrana – Jaipur - Ranthambhore – Fatehpur Sikri – Agra – Delhi - Bandhavgarh – Kanha – Pench – Nagpur – Mumbai

34 Nights – 35 Days
Cut short to 30 days due to VISA issues
Day 32 Day 29: Pench – Nagpur (160 kms: 4 hrs) By road


After breakfast, check out the hotel and drive to Nagpur airport to board Jet Airways 9W-7134 flight for Mumbai, depart 1710 hrs, and arrived 1835 hrs, on arrival transfer to the hotel, if you wish than visit Iskcon Temple: dedicated to Lord Krishna, The architectural splendour of the ISKCON Temple is adorned with murals and sculptures. Also visit the Juhu Chowpatty, nearby to the temple, one of the famous beaches in Mumbai. Overnight at the hotel
Cancelled as I only got 30 day visa

After an early breakfast, check out the hotel and drive to Nagpur airport to board IndiGo flight 6E-544 flight for Mumbai, depart 1020 hrs, and arrived 1150 hrs, On departure tour conclude with the happy memories.

Flight changed as I discovered that they had booked a game drive Wednesday afternoon when the park is closed. And I had to send them an e-mail asking about the closing Wednesday afternoon. So I paid for 1 day extra that I never used.
When I discovered that the park was closed Wednesday afternoon I changed flight to:
2) Nagpur – Mumbai IndiGo Flight 6E 404 Departure 4th of February @ 20:25 Arrival @ 21:55 hrs

Yeah, why go up at 4 o'clock just to catch an early morning flight? So I booked a room at ibis Airport hotel in Mumbai and a flight in the evening
Thursday 14th of January 2016 and I left my room just before 2 o'clock and I was at the parking lot 2 minutes before 2 o'clock. I waited a few minutes before my car arrived. On the way I
passed the plastic bottle just thrown on the ground. The plastic garbage was there when I arrived Monday and it is still laying there Wednesday afternoon when I leave.

So yes, it looks like it is pretty untouched around here @ Pench Jungle Camp.

I was told that it was 2 and a half hours from Pench Jungle Camp to Nagpur. My original plan, when I learned that the afternoon safari was cancelled.

I would take a late afternoon flight to Bombay tomorrow. And I would stay the night at Radisson Blu in Nagpur. Spending 24 hours at Radisson Blu in Nagpur and go straight from Bombay Domestic to the Chhatrapati Shivaji International Airport and my flight back home to Bangkok

But I will feel better to be in Bombay as the flight might be cancelled and then I'm standing in Nagpur looking stupid in my safari uniform. So IBIS Airport Hotel in Mumbai tonight with a Diet Pepsi. But I will stop at Radisson Blu for dinner before the flight.


Leaving Pench behind
Suddenly there was a market along the road
Suddenly there was a market along the road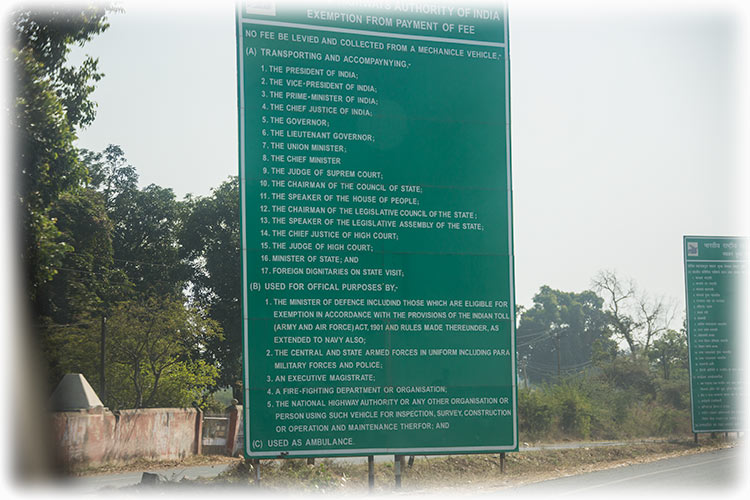 Here is another one for you to memorize plunging down the Indian highway
We see a old wagon
Suddenly I see them change course
U-turn or are they coming up on the highway?
Yes, they come up on the highway
A sudden U-turn and heading back against the traffic


I have been scared many times on the Indian Highways, all kind of traffic coming against us on the roads. Trucks, Motorcycles and busses etc. For sure not a nice experience to have a buss coming against you on the highway.


Another phone number to memorize plunging down the Indian highway
We are in Nagpur
Arriving to Radisson Blu

It took us about 2 and a half hour to reach Radisson Blu. I stepped inside and I booked a car to the airport for 18 thirty and I asked for internet. Well, 2016 and I had to pay for the WIFI. I
went to the restaurant and one of the staff was soon coming with the password.

I bought 2 hours, enough until it was time to leave.

I asked for a pot of tea and some fresh bread. I was very hungry so i would like to enjoy some tea and fresh bread while I study the menu.

I decided to ask for a "The longest" fish fingers. And it said in the menu that that it was the longest fish fingers in the world. And as main course I asked for Spaghetti Bolognese. I
updated myself with the latest news on the internet while waiting for my tea and bread.

Darn! Where is the tea. After 15 minutes I asked where my tea was. And the bread, the bread came after the food so they could as well have skipped the bread.

The fish fingers and the Spaghetti was excellent. But they brought all the food at the same time. I asked how many stars the hotel had and they told me it was a 5 star hotel. I told them that this was the first time I had got the starter and the main course at the same time at a 5 star hotel. But it was very good food and I was almost about to order a new round, but after the breed there was no more room.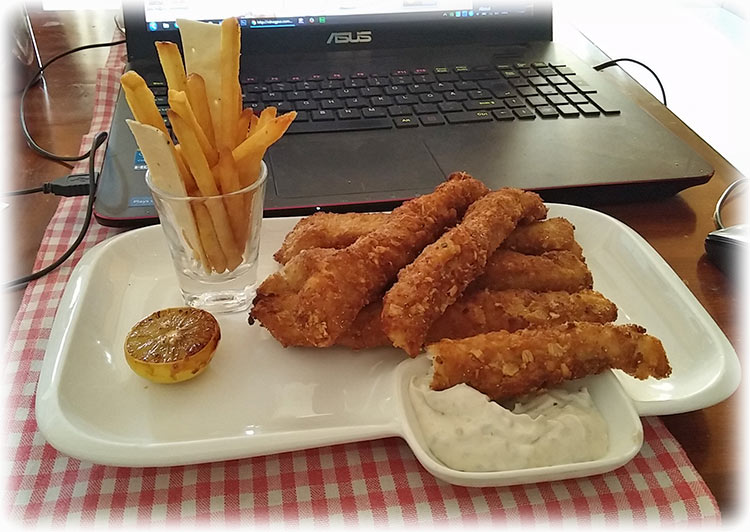 Fish fingers
Nutty pie with extra whipped cream


I was full when I was ready with the food. I checked the menu for dessert and there was a nutty pie. I called the waiter and I asked if they had "real" whipped cream. And as they had real
whipped cream I asked for a plate. The clock was 16:50 and I asked them to bring the dessert at 15:30.

Well, soon time to leave and I asked for my bill. First they wanted me to come with them so I could enter my pin code. I told them to wait as I didn't wanted to run around, I was here to relax. I would pay everything in the reception.

Food, Internet and car, all in one go. But this was obviously not good enough and the brought a portable machine. It didn't work and they told me my pin code was incorrect. I tried again and it said pin code OK but the machine was off line. So we went out in the kitchen and out in the bar where they had their "broadband" This one wasn't working either and finally, in the reception I managed to pay the bill.

I asked them to prepare my bill for the car and internet and this took long time and when we were finally ready, 30 minutes after I asked for the bill at the restaurant. It was quarter to 7 and no sign off my car. The car arrived a few minutes later and I was off to the airport.


No car for me
Waiting for my car
Still no car
Still no car
Arriving to Nagpur Airport


I arrived to Nagpur airport a few minutes before 7. It was only a few minutes from the hotel. Well, now we will see if IndiGo's flight to Bombay will depart in time, just click HERE to find out.


OK, it has come to my knowledge that we have senior citizens visiting my web page. How hard can it
be? So it's not very easy for them to see the blue coloured links to the next page.

Jiffy (also jiff)


noun [in SING.] informal a moment: we'll be back in a jiffy.

ORIGIN late 18th cent.: of unknown origin.

So as you understand, in a jiff pretty much depends on your internet.

So I put a "Next" button here and I hope that there isn't any problem to understand how to use that one. So just CLICK the "Next" button on your left hand side and you will be on the next page in a jiff!
Marunong ka mag-tagalog? Walang problema! Magpunta sa kabilang pahina pindutin ang "NEXT" button sa itaas


Faites vous parlez le français? Pas de problème! Pour arriver à la page suivante faites s'il vous plaît un déclic le bouton "Next" ci-dessus!


Haga usted dice el español? No hay problema! Ver la siguiente página sólo hacer clic el botón "Next" encima!


Farla parla l'italiano? Non problemi! Per vedere la prossima pagina lo scatto per favore giusto Il bottone "Next" sopra


Sprechen sie Deutsch! Kein problem! Wenn Sie die folgende Seite sehen wollen gerade klicken der Knopf "Next" oben!


คุณพูดภาษาไทยได้ไหม ไม่มีปัญหา ถ้าคุณต้องการไปหน้าถัดไป ให้กดปุ่ม "Next" ข้างบนนี้


Вы говорите по-русски? NJET PROBLEMA! Просто нажмите синюю кнопку "Next" с левой стороны и Вы моментально переместитесь на следующую страницу!


E ni Svenskar och inte förstår Engelska så ska ni skämmas. J och Björn, med det menar jag inte att alla mina stavfel ska ältas varje gång vi träffas.


Well, the flag of Skåne, just a BONUS flag.
You are visitor no.
To www.aladdin.st since December 2005
Visitors from different countries since 26th of September 2011