India Wildlife and Medieval Tour for Mr. Aladdin
Mumbai – Rajkot - Sasan Gir – Alang - Ahmedabad – Delhi – Corbett – Delhi - Neemrana – Jaipur - Ranthambhore – Fatehpur Sikri – Agra – Delhi - Bandhavgarh – Kanha – Pench – Nagpur – Mumbai

34 Nights – 35 Days
Cut short to 30 days due to VISA issues
Day 2: Mumbai – Rajkot (By Air)- Sasan Gir (175 kms: 4 hrs)


Today morning after breakfast day is free for individual activities, later check out the hotel and drive to the airport to board Jet Airways 9W-7001 depart 1025 hrs and arrived 1135 hrs at Rajkot

CHANGED TO: Jet Airways 9W-7205, departure 13:55 and arriving 15:00

Jet Airways 9W-7205 cancelled Changed to Air India AI 655, departure 18:40 and arriving 19:50

Assistance on arrival and drive to Sasan Gir, on arrival transfer to the Jungle resort for overnight stay.
Wednesday 6th of January 2016 and finally, 5 minutes past midnight. I confirmed the time with one of the staff and I went to the immigration desk. Finger prints and interrogation, but they
stamped 6th of January in my passport and I can stay until 4th of February.

Of course, my bag wasn't at the luggage band so I went to some Thai Airways help desk and they had my bag and I was soon out of here.

Chhatrapati Shivaji International Airport in Bombay is looking nice. In the 80's it was a battle to arrive here. I remember arriving very late in the night from Bangkok. Yeah, I think you can imagine leaving Bangkok for a shit hole like Bombay.

Custom was only interested in video cameras. And their X-ray machines had a sign saying "FILM SAFE" Yeah, machines looking like they had been bought from East Germany. So yes, it is easy to
imagine how I felt coming to India for the first time.

Back then I visited Bangkok, Manila and Bombay. Today, well, we know how Bangkok look like. Bombay has turned in to a modern city with nice houses and with an obvious improvement and development.

Back then it was like Eastern Europe and the Soviet Union, nothing Western and you had to drink Thumbs Up cola. Nothing to eat but omelettes and steamed (cold) rice. Last time I was here there were so many 5 star restaurants with the best food you can think off.

Actually, I'm drooling while writing this just thinking about the Indian spinach. Of course, the same spinach as 30 years ago, but then you just couldn't find any nice and clean restaurants.

I DON'T SAY BANGKOK AND BOMBAY HAVE BEEN GETTING BETTER! But it has for sure been nicer and more convenient in the last few years. Of course, they have lost much of their original soul and excitements. Manila, well, that is a totally different story. Manila and the city at the Eastern entrance to the Panama Canal are the only places I know of that are getting worse and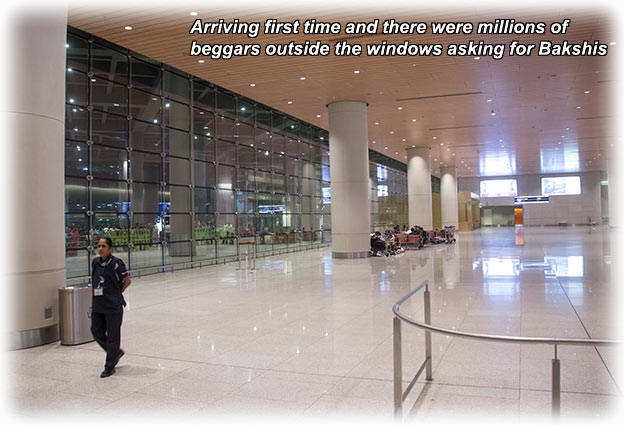 more worn down by the year

But what I remember most from my first visit to Bombay International was the noise. I will never forget this and I was looking around wondering what the duck it was. Passing custom and it became worse. Like a rumble and I looked around. What is this noise?

The windows is the only thing I recognise from the old airport. And behind the windows was millions of beggars pressed against the window chanting BAKSHEESH BAKSHEESH. Imagine me coming out from the terminal in to this. An experience I will never forget.

No internet so I had no hotel booking and I pretty much knew duck all about Bombay. I knew Gateway of India so I took a taxi down there to look for a hotel. And as you have guessed, this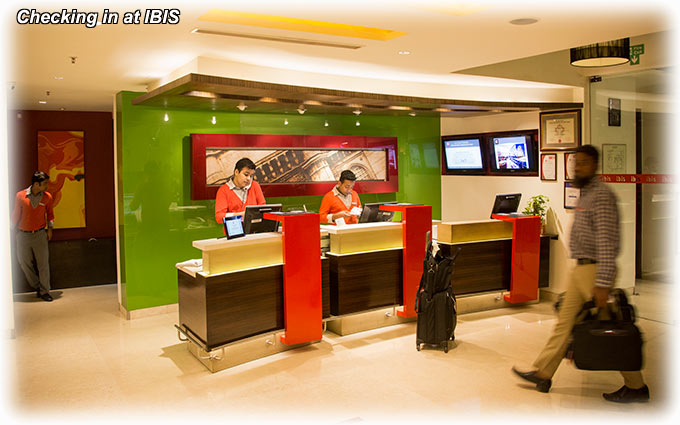 adventure is also available here on www.aladdin.st

But now a days they have rebuilt the airport and when you come outside you are greeted by people waiting for you and we were soon on our way to the hotel.

There were 3 people to pick me up, one that I think was the driver, one representative from the hotel and a guy that looked to be a friend joining them. I was afraid that they had come in a small Scooby 750 and that it would be more people than would be comfortable. But it was OK.

I will stay at IBIS Hotel very close to the domestic airport. Actually next to the 5 Star ECO Hotel I stayed at back in 2012. That is how I know about the IBIS Hotel. I went to eat at the
IBIS as the restaurant left a whole lot to wish for at the 5 Star ECO Hotel.

Back then I decided to stay at IBIS if I was ever coming back to stay close to the airport in Bombay.

We were on our way towards IBIS Hotel and I was soon having my new friends in a pretty rough interrogation about what kind of drinks they had at the hotel. And I had them to confirm that they had Diet Pepsi

- Yes, there is. Restaurant open 24/7
- Pepsi, not Coca Cola?
- Yes, Pepsi
- Diet Pepsi
- Yes
- Not Coca Cola?
- Diet Pepsi
- Sure?
- Yes

IBIS is always a safe bet. They told me that they would come to pick me up at 8 thirty in the morning. I confirmed that my flight to Rajkot departed at 13:55. It will be enough if you pick
me up around lunch time.
- No, 8 thirty
- No, no way I'm going at 8 thirty, by then I will be sleeping.

They will be here around 12 tomorrow and I went to the restaurant and I bought 6 cans of Diet Pepsi.

I enjoyed a few cans of Diet Pepsi before I went to bed. I had asked for a wake-up call at 9 o'clock. Breakfast is served to 10 thirty so I have plenty time before it is time to leave for the airport.


The room looks exactly like at IBIS in Vientiane, Laos


I had breakfast and then I was back to my room to enjoy 4 new cans of Diet Pepsi before they will come to pick me up. I also applied for a new tourist visa as I might leave for Kathmandu on the 4th of February to get a new 30 days so I can complete the Bombay part of my Indian adventure before going back home to FUNKY TOWN.

I checked out and it was a 3 minutes' drive to the domestic airport. We were just about to reach the airport when they called from Meruka India Tourism Service. Jet Airways flight W9 7205 had
been cancelled.

They asked if I wanted to go back to the hotel or to take a tour of Bombay. There was a Jet Airways flight at 18 hundred and they would try to get me a seat.

Well, what to do? Go sit at the hotel, well, not very exciting. I asked them to take me to Bollywood.

Not to go inside any studios, just to pass by to see how it looked. The driver suggested markets, temples and I could not keep
track of everything.
- Just Bollywood!

They called again from Meruka India Tourism Service and the Jet Airways was not confirmed.

My Driver said that he could drive me to Rajkot
- How long time?
- 10 hours
I sked them to call Meruka India Tourism Service because if they didn't get any seat on a flight we would have to go by car. I must be there tomorrow morning for my morning game drive. And the wildlife is the reason for me to be here. IBIS Hotel is a very good one, but I
could as well have been home. Wildlife or bust!

I pay, well, money for this trip. Of course I could have done this much cheaper. Running around looking for dormitories and busses.

But as you get older you like the convenience of full service. They pick me up where ever I go and like today, flight cancelled and Meruka India Tourism Service reacted forcefully to get me on another flight.

Imagine me having to do this by myself. Now I was in the back of a car enjoying, well, I don't know if enjoying is the word I'm looking for. But I was relaxing in the back while I had TEAM Meruka India Tourism Service on the job to get me to Gir


Crossing a new bridge, one of today's "highlights"
Stuck in the traffic

We reached Bollywood and it looked, well, exactly as the rest of Bombay. The Driver pointed.
- There is a studio
- What....
- And there is another...

It was like small shops with signs saying dance and photography. Well, it was nothing like I had imagine it. So I asked them to take me back to IBIS and I would drink tea in the restaurant until
they would come to pick me up for transport to the airport.

I applied for a new Indian tourist visa this morning, but the online payment service was unavailable in the morning. LUCKY ME!! I saved 48 or 49 US Dollars. During our Bombay or if you like, Mumbai City Tour I decided not to stay here when I was back from my Tiger safari. Straight back to Bangkok.

My Guide and Driver was desperate trying to entertain me. I thought we were on our way back to IBIS Hotel. Suddenly we were on a beach.
- This is a very very nice beach, the driver said as the Guide could not speak more than 2 words of English. But we managed to enjoy our city tour.
- What....

There was a guy taking a dump
just in front of our car. Oh! Fy för satan! And nowhere to wash the hands and, well, this was a nice beach. I got out of the car and the whole place smelled terrible. The beach and the water was full of garbage and the beach looked like a shanty town.

But the smell made me sick and I told them that I was leaving, with or without them. Now they say that it smells a little bad
- A little! Understatement of the year!



That was some smell, I could not get rid of the taste in my mouth and I was about to puke several times on our way back to the hotel. They would be back to pick me up at 16 thirty for transportation to the airport. I will enjoy tea and paratha while waiting.

Well, I got a tour of Bombay out of the day, save me a lot of money as I was going to skip the tour to Kathmandu and the last 3 or 4 days at Taj Mahal in Bombay. I have had it with Bombay already and thus I can save some money. Taj Mahal in Bombay doesn't come cheap

There must have been a misunderstanding. We agreed that they should pick me up at 5 o'clock in the afternoon. Then they said 4 thirty. I was outside the hotel at 4 thirty and no sign of the cars or my new friends. One of the Security Guards asked if I had a number for the driver.

Meruka India Tourism Service had sent me the phone number for the guy that was going to pick me up. And actually, I had printed the e-mail and I gave it to the Security Guard. They say that everyone in India speaks English, don't believe them. Same as they say about the Filipinos, everyone speaks English, don't believe them!

I don't understand what the guy said, but I think it was that they would send a new driver. OK, it was quarter to 5 and I asked the hotel if they had a car.

I had just paid when my new friends arrived
- You should be here at 16 thirty?
- No, 16 thirty up
- What the duck does 16 thirty up means?

I got my money back for the hotel car and we took off towards Chhatrapati Shivaji International Airport. They have been, first time I see the new airport in Bombay in daylight, doing some serious
shit when building that airport. I can say that it is the most beautiful airport I have ever seen. At least what I can remember.

And I have seen more than one airport before coming to Chhatrapati Shivaji International Airport

The building was very very simple, but a very spectacular sight when we were approaching on the new built high way. I remember back in the day coming to Bombay International on a dust road.

Getting out of the taxi and I was instantly impressed by the building. Coming inside didn't make me less impressed. This was a beautiful airport and, well, what a shame. Building all this beauty
and it is still the same slow Indian organisation as I remember for back in the days.

When I was finally checked-in I started to walk towards the domestic gates.

Air India's domestic flights use Bombay International. I passed a Samsonite shop and they had a nice back pack that I could use for my laptop and a few
shirts and underwear.

When we went to Udon Thani I just brought my computer bag and it was a little too small for my extra clothing. So a back pack combo would come in handy.

I put my computer bag and computer in my new back pack and I continued towards the security check.

I'm pretty sure this back pack will turn in to a huge success on my next bird watching adventure.

Passing the security and I was in the departure hall. Very nice with many restaurants and there were plenty chairs and tables around the departure hall.

The airport have a circled center and the wall is like an art exhibition for a few floors up and down. I have never seen something like this before. A museum and art exhibition and you can walk around looking at it while waiting for you flight. Of course, you can
not see the stuff in the arrival hall, but this you have seen if you arrived to Bombay with Air India.

Our Hero is walking around the airport for a while before going to locate Gate 44A, the first gate. Lucky for once, and double lucky that it!

Air India's lounge is just next to the gate and I stepped in and ask for a Diet Pepsi.

I sat down in the bar as this was looking to be the best place to set up my computer. I just
wanted to check then pictures I had been taken. And yes, asking for a Diet Pepsi resulted in instant disappointment.
- We only have Diet Coke
- Yeah, that's why your lounge is empty!

I asked for a soda water and I sat down having a chat with the staff before it was time to go to gate 44A to board Air India's flight AI 655 from Delhi to Rajkot.

It was just a 30 seconds walk to the gate, but darn, there were much people waiting to board AI 655 to Rajkot. Gate 44 as 2 gates, A and B, we're leaving from Gate 44A and there was a flight to Nagpur from gate 44B. The Nagpur flight boarded first



Chhatrapati Shivaji International Airport

Bombay International Airport



What a beauty the former disgrace and shit hole have turned out to be. I think this is the most beautiful airport I have ever been to. It was an impressive building. And the inside was fantastic.


Air India's check-in
On the way down to the security check
At the security check
At the security check
Departure Hall
The walls are turned in to an exhibition/ museum
The walls are turned in to an exhibition/ museum
The walls are turned in to an exhibition/ museum
The walls are turned in to an exhibition/ museum
Air India's lounge at Chhatrapati Shivaji International Airport
Air India's lounge at Chhatrapati Shivaji International Airport
Air India's lounge at Chhatrapati Shivaji International Airport
Air India's lounge at Chhatrapati Shivaji International Airport
Gate 44 at Chhatrapati Shivaji International Airport
Our plane
Our plane

We were on board and I was lucky, the seat next to me was empty. The flight was almost full so I was happy to have a empty seat next to me. The original departure time was at 17:00. Then it
was changed to 18:40 and it was almost 19 thirty when we could finally take off for Rajkot and the safari adventure.

It was a nice flight, we got a container with mango juice, not bad, but far from as good as the mango juice on the Philippines. We got a sandwich as a snack and I ate the snack even though I was suspicious.

It was not very good, but as we were delayed I suspected that there would not be any food until I arrived to the hotel. Or worst case, breakfast tomorrow morning. Rajkot, didn't sound like a place with any 5 star restaurants. And one thing is for sure, if I don't eat the street food in Bangkok I will for sure not do it here in India.


Boarding Air India's flight AI 655
Arriving to Rajkot
Arriving to Rajkot
Arriving to Rajkot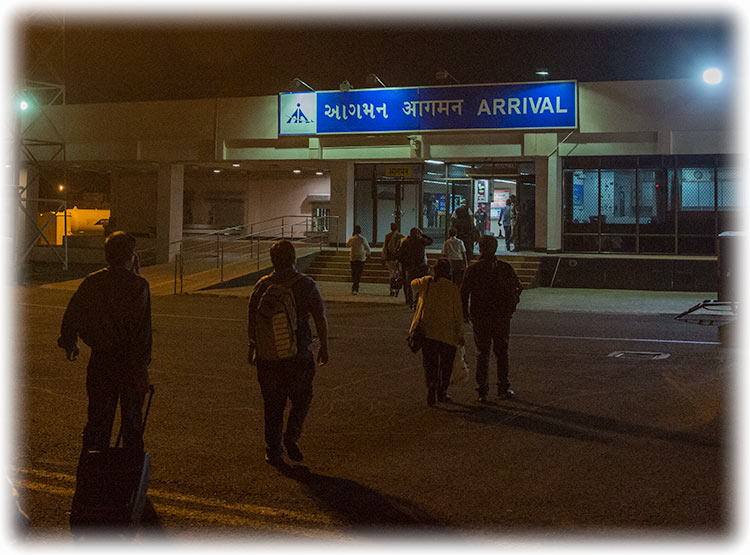 Arriving to Rajkot
Arriving to Rajkot
Arriving to Rajkot
People waiting at Rajkot airport


I was walking over the Tarmac taking pictures when one of the soldiers told me that it was forbidden to take pictures.
- Only self-picture allowed.

OK, he got me there, if I take a picture of the plane, this is a big NO NO. But if I take a "selfie" with the plane in the back it is OK. Yeah, the power of social media or whatever they call
it. I picked up my bag and I went out to look for my driver. He was just outside the door with a placard. 3 minutes later we were in the car on our way.

The Driver asked me if I was hungry, well, for sure, again, I was not going to eat at any of the places around here. I asked the driver how many people that lived in the town. And I was surprised.
- 4 to 5 million

Even though it was a very big city there was no places I wanted to eat at. But I wouldn't mind a few Diet Pepsis. So we stopped in town, and when we stopped I was certain that here would not
be any place where I would find anything that I wanted to eat.

And there was no Diet Pepsi available, Coke light, but then I prefer to drink nothing.

We were soon back in the car and we took off towards the Lion Safari Camp at Gir National Park.

About 180 km from Rajkot and the driver told me it would be about 3 to 4 hours to get there. 100 km was a good highway, 2 lines in each direction. The last 80 km was on a single lane road. But I had my road trip to Donsol, Philippines
fresh in mind I understood that it would take some time to put 180km behind us.

I was about to say that I did 180km in an hour in Sweden. I never said anything as it was better to make it slowly than to never make it to the Lion Safari Camp.

And that's even though I was in a hurry to get to bed. They had called me when we left Rajkot airport. They will pick me up at 05:30 and I shat my pants. I had expected to be able to sleep until 7 at least. Well, 5 thirty, of course, the
excitements of going for a safari will help
to push me out of bed when they call me at 5 tomorrow morning.

It was a comfortable car and I was enjoying myself in the back. I gave up speaking with the driver after 15 minutes. He told me that he spoke "English a little bit very good" And it was mostly misunderstandings, so better of being quite. He told me that it was very dangerous on the roads around Gir in the night time
- Many lines on the road
- What kind of lines?
- Last time 7 or 8 lines on the road
- OK, what the duck is so dangerous with the lines?

Turned out it was lions he was talking about. Well, He also told me that there were a river at the
hotel and there was crocodiles. Well, sounds like a perfect place to live at.

We were soon on the highway and we had to stop two times to pay the toll. Well, we made 70 to 80 km/ hour.

No one using helmets, cars and motorcycles coming head on in hour lanes. Trucks
driving in the middle of the roads. Suddenly there was a zebra crossing, a road sign about 30 meters before the Zebra crossing. Then between the zebra crossing
sign and the zebra crossing, another warning sign, school children.

Well, wouldn't the most obvious be to put the warning signs "well" ahead of the zebra crossing to give ample warning.

And talking about signs, there is the IN EMERGENCY CALL 112. Yeah, 112 is pretty simple to remember. But 112, you wish! It was IN EMERGENCY CALL 2078543267247856 and good luck to remember that number in case of an "emergency"















We passed some very strange vehicles and vehicles that, well, for sure if you would have tried to drive them in Sweden you would soon have run in to trouble.

Well, at least back in the days, now Sweden is a free for all country with slave labour driving trucks that, well, they should have been at the scrap yard.


On Indian National Highway #27
On Indian National Highway #27
We stop in a village so the driver can have tea


I felt sorry for my driver, he have to drop me at Lion Safari Camp and then he have to return to Rajkot to pick up more passengers at the airport. Then he will have to drive here again to drop them at Lion Safari Camp.

We stopped so the driver could have some tea before we continued. We reached a dark Sasan Gir and I could notice that there were hotels popping up along the road. All of them had names like Lion and Safari etc. So yes, I understood that we had reached our destination.

Well, we had reached Sasan Gir and it was obvious that my hotel was in the middle of nowhere when we left the paved road. But it was nice to finally have "almost" reached my destination.


Off road in Sasan Gir
Off road in Sasan Gir
Off road in Sasan Gir


It was just past midnight when we arrived and I was in a hurry to get my key. Pick-up time at 5 thirty and the restaurant was closed, so I was off to bed. Wil I make it out of bed in time for 5 thirty, just click HERE to find out.


OK, it has come to my knowledge that we have senior citizens visiting my web page. How hard can it
be? So it's not very easy for them to see the blue coloured links to the next page.

Jiffy (also jiff)


noun [in SING.] informal a moment: we'll be back in a jiffy.

ORIGIN late 18th cent.: of unknown origin.

So as you understand, in a jiff pretty much depends on your internet.

So I put a "Next" button here and I hope that there isn't any problem to understand how to use that one. So just CLICK the "Next" button on your left hand side and you will be on the next page in a jiff!
Marunong ka mag-tagalog? Walang problema! Magpunta sa kabilang pahina pindutin ang "NEXT" button sa itaas


Faites vous parlez le français? Pas de problème! Pour arriver à la page suivante faites s'il vous plaît un déclic le bouton "Next" ci-dessus!


Haga usted dice el español? No hay problema! Ver la siguiente página sólo hacer clic el botón "Next" encima!


Farla parla l'italiano? Non problemi! Per vedere la prossima pagina lo scatto per favore giusto Il bottone "Next" sopra


Sprechen sie Deutsch! Kein problem! Wenn Sie die folgende Seite sehen wollen gerade klicken der Knopf "Next" oben!


คุณพูดภาษาไทยได้ไหม ไม่มีปัญหา ถ้าคุณต้องการไปหน้าถัดไป ให้กดปุ่ม "Next" ข้างบนนี้


Вы говорите по-русски? NJET PROBLEMA! Просто нажмите синюю кнопку "Next" с левой стороны и Вы моментально переместитесь на следующую страницу!


E ni Svenskar och inte förstår Engelska så ska ni skämmas. J och Björn, med det menar jag inte att alla mina stavfel ska ältas varje gång vi träffas.


Well, the flag of Skåne, just a BONUS flag.
You are visitor no.
To www.aladdin.st since December 2005
Visitors from different countries since 26th of September 2011