Working our way deeper in to ZONE 5
Working our way deeper in to ZONE 5
Working our way deeper in to ZONE 5
I see two Spotted Deer practicing fighting and I ask them to stop
I see two Spotted Deer practicing fighting and I ask them to stop
I see two Spotted Deer practicing fighting and I ask them to stop
I see two Spotted Deer practicing fighting and I ask them to stop
I see two Spotted Deer practicing fighting and I ask them to stop
They see me and they stop the practicing
I see a Sloth Bear and I ask them to stop
I see a Sloth Bear and I ask them to stop
I see a Sloth Bear and I ask them to stop
Working our way deeper in to ZONE 5
Working our way deeper in to ZONE 5
White throated Kingfisher and a Pond Heron
White throated Kingfisher


We reached a man made dam and by then I was about to punch my Driver and Guide. They were talking non-stop with each other and after like 10 "please, can we be quiet so we can enjoy the nature" I want to listen to the birds and animals, for sure, I didn't wanted to listen to these two. They just didn't understand and they went on and on.

- SHUT UP THE FOOCK UP!!!

Finally, they were shutting up, for a while. We reached the old man made dam and there were some beautiful birds. We went out of the jeep and I walked down to the water and the Guide followed me chatting on and on

- LEAVE ME ALONE!!!

The Driver, the twat was walking around looking for signal for his phone and I could hear him screaming HELLO HELLO HELLO non foocking stop. Another jeep arrived and suddenly there were a whole bunch of the screaming and I lost it.

I was far away but their screaming could be heard all over the tiger reserve. I screamed at them:
- Is it impossible to be quiet for three hours while we are in the park so we can enjoy the sounds from the nature? What are you doing here? You could as well sit on a street in Bombay!

They had destroyed the feeling at the dam and I told my Driver and Guide that I wanted to leave. I have been on a few safaris in my days, but these two are the worst I have ever experienced. I was mentioned that all the Guides I have ever met loved the nature. But in Ramthanbhore I never met anyone caring for the nature.

At the Sherpur Gate, the gate to the park from the main road there are many "Business men" selling t-shirts, books and souvenirs. And they don't understand "no thanks" and they go on and on while they surround you holding up their stuff for display.

And to have both a Driver and a Guide is not good around here, they just talk with each other. In Africa they only had a Driver that was also the Guide. And they knew all the animals and trees.

So if you want to go for a safari in India, stay well clear of Ranthambhore even though it is a beautiful park.


White throated Kingfisher
Indian Pond Heron
Indian Pond Heron
White-throated Kingfisher
White-throated Kingfisher
White-throated Kingfisher
White-throated Kingfisher
White-throated Kingfisher
White-throated Kingfisher
White-throated Kingfisher
Ranthambhore Tiger Reserve - ZONE 5
Ranthambhore Tiger Reserve - ZONE 5
Ranthambhore Tiger Reserve - ZONE 5
Ranthambhore Tiger Reserve - ZONE 5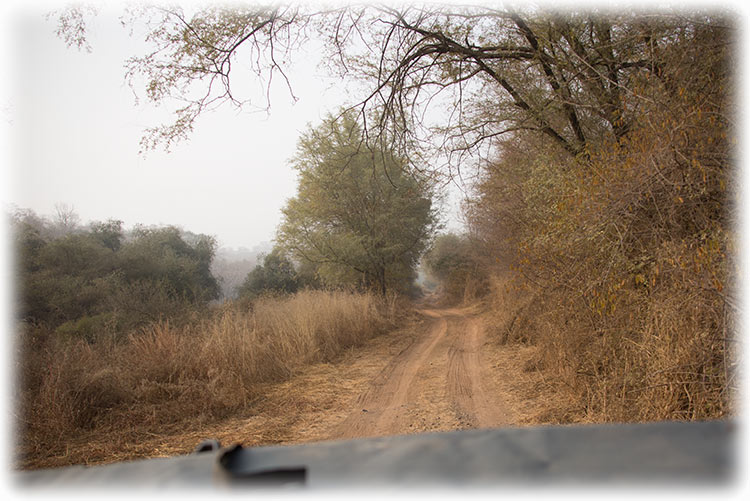 Ranthambhore Tiger Reserve - ZONE 5
Ranthambhore Tiger Reserve - ZONE 5
I see Crocodiles and ask them to stop
Among others I have used Peter Ericsson's web page Birds of Thailand These galleries contain 668 species of the Birds of Thailand and have been of a great help to identify some of the birds as the birds in Thailand and India are, well, many of them are the same.

I have had most help from my friend, the bird pal I met at Suan Rot Fai. Sending pictures of birds I have not been able to identify to him via Line. 3 minutes later he and he have managed to identify most of the birds I have had problems with. THANKS! Visit his web page m☥lever for his beautiful pictures.

And my new aid, maybe, and I say maybe the best aid. I brought my mobile phone as my SIM card have stopped working and I tried to get it to work again so I can use the internet. Thus I had my phone in my pocket on my first game drive in Jim Corbett National Park.

We saw a bird and I asked my Guide and the driver if they had a pen and a paper as I had forgot my pen and paper in my room. I remembered my LG phone and I recorded the name. And thus I will always bring my phone. Writing the name in the car and I have found more than once that it can be hard to read what I had wrote when I'm back in my room.

So now I always have my mobile in my pocket and it has been a great help.



Of course, all bird pictures available on my Indian

bird checklist of bird I have seen by clicking

HERE

Of course, I have seen many many more, but this list is for birds I managed to get on picture

Some of the pictures are OK, and some of them are straight up in a very poor quality