India Wildlife and Medieval Tour for Mr. Aladdin
Mumbai – Rajkot - Sasan Gir – Alang - Ahmedabad – Delhi – Corbett – Delhi - Neemrana – Jaipur - Ranthambhore – Fatehpur Sikri – Agra – Delhi - Bandhavgarh – Kanha – Pench – Nagpur – Mumbai

34 Nights – 35 Days
Cut short to 30 days due to VISA issues
Day 13: Arrival to Ranthambhore


Ranthambhore, the hunting place of Royal Family of Jaipur and one of finest tiger reserve of India. On arrival, transfer to the hotel. Later in the afternoon take a jungle safari by canter with naturalist guide at the tiger reserve of Ranthambhore, one of the best places in India to see a tiger in its natural habitat. In the dry season tigers can be seen near the watering holes and are clearly visible in the dry forest. Rest of the evening is free for leisure. Overnight at the jungle resort.
Sunday 17th of January 2016 and I was not happy when we arrived to the hotel. Abrar Palace and if you throw in the word palace in the hotel name there should at least be a certain standard.
Meruka India Tourism Service had sent me a list of the hotels for me to approve.

I checked out the web pages and I just felt in love with the Abrar Palace and Jungle Camp. It looked beautiful!

Looked like a great camp. And the word palace in the name comes with an obligation. And it is luxury rooms according to their web page. The web page reminded me about the safaris in Botswana. So I was looking forward to arrive to Abrar Palace and their restaurant.



Yes, I think you can imagine my reaction when I step in to the reception. We have all seen the movies where people live in a 15 Dollar Motel room. The reception, the wooden pattern to give the right jungle feeling linoleum was so worn it was white at places. The sofa and arm chairs was, well, the upholstery was worn of and the roof was just corrugated iron


Nothing brings the right luxury retreat feeling like linoleum
Furniture worn beyond recognition
Corrugated iron roof, this was what finally made me choose Abrar Palace


I was of course upset when I saw this. It took me quite some time to grasp the situation, I had been dreaming of this "palace" and their restaurant since we left Jaipur

"Time slows down to almost nothing in our forest haven" Yeah, I can imagine. Only God knows what kind of creatures trying to come in to your room at night, so the time will be like STOPPED while you're
thinking about it.

Going to the bathroom in the middle of the night, I think I prefer to piss my bed. Never know what kind of snakes and stuff that have moved in to the bathroom during the night.

Do I dare to eat in the restaurant? Many thoughts going through my mind when I found out how the place was looking when I stepped in to the reception.

In my itinerary it say 4 and 5 star hotels during the whole tour. Well, 4 stars doesn't mean anything. Just someone calling it 4 star.

5 Star is of course demanding some kind of minimum "luxury " standard at the hotel. But this was a dump, and I asked if this was a scam, of course, I don't blame Meruka India Tourism Service. If they have their information from the internet they
are under the impression that this is a luxury resort. I really didn't feel like going to the room as I didn't had any high hopes.

The room turned out to be far away from any luxury room, but it was OK

But it was better than the reception. At first I really didn't felt like seeing the restaurant but after seeing the room I decided to go have a look.



They asked me if I wanted to go see the fort in the park and I was not really feeling like going to see a fort. They told me that it was included in the price. But no, no fort for me.
- If you're luck you can see tigers there
- OK, lets go

The temple lies within the national park and sometimes they have seen tigers there. Or on the way driving there so this promised to be exciting. They have 2 gates to the national park and we
live close to the Sherpur Gate.

And at the Sherpur Gate we have ZONE 1+2+3+4+5 and there is more zones at the other gate.

Ranthambhore National Park is 1400 SQ. km but only 400 SQ. km is accessible for safari. Rest of the area is a NO GO. To reach the fort was have to drive up to the gate to zone 1. We're not entering any of the zones, but tigers have been seen along the road to the fort as it is impossible to prevent the tigers to move around. I had no intentions to climb up to the fort on top of the mountain. Just to go have a look and it turned out to be a "MINI" safari.


Sambar Deer
A beautiful place with old ruins and stuff
A beautiful place with old ruins and stuff
We can see the fort
Sambar Deer
We reach the end. The gate to ZONE 1 and 2 and the parking lot for the fort.
From here you have to walk if you want to get up to the fort
Langur Monkeys
We turn around and drive back again
We pass a Peacock
It really was a beautiful place
Black-rumped Flameback
Black-rumped Flameback
Checkered keelback


I saw a Black-rumped Flameback Woodpecker on the way back and I told them to stop. What a beautiful bird. I was lucky to get a few pictures before the bird disappeared. On our way back we stopped at the small pond at the gate in the old ruin

There was a White Breasted Waterhen and a Small Cormorant. We saw two Checkered keelback snakes and I decided to make a stop here every day to see what the pond have to offer.

We drove for a few minutes and we spotted a Crested Serpent Eagle and a White throated Kingfisher and a beautiful Peahen. Yeah, this "mini" safari turned out to be great!


Crested Serpent Eagle
Crested Serpent Eagle
Crested Serpent Eagle
Crested Serpent Eagle
White-throated Kingfisher
White-throated Kingfisher
Peahen
Langur Monkeys
Langur Monkeys
Among others I have used Peter Ericsson's web page Birds of Thailand These galleries contain 668 species of the Birds of Thailand and have been of a great help to identify some of the birds as the birds in Thailand and India are, well, many of them are the same.

I have had most help from my friend, the bird pal I met at Suan Rot Fai. Sending pictures of birds I have not been able to identify to him via Line. 3 minutes later he and he have managed to identify most of the birds I have had problems with. THANKS! Visit his web page m☥lever for his beautiful pictures.

And my new aid, maybe, and I say maybe the best aid. I brought my mobile phone as my SIM card have stopped working and I tried to get it to work again so I can use the internet. Thus I had my phone in my pocket on my first game drive in Jim Corbett National Park.

We saw a bird and I asked my Guide and the driver if they had a pen and a paper as I had forgot my pen and paper in my room. I remembered my LG phone and I recorded the name. And thus I will always bring my phone. Writing the name in the car and I have found more than once that it can be hard to read what I had wrote when I'm back in my room.

So now I always have my mobile in my pocket and it has been a great help.



Of course, all bird pictures available on my Indian

bird checklist of bird I have seen by clicking

HERE

Of course, I have seen many many more, but this list is for birds I managed to get on picture

Some of the pictures are OK, and some of them are straight up in a very poor quality






We drove back to Abrar Palace and I spent a few hours checking the pictures. Yeah, one day of safari and then one day to check the pictures. But I was very happy with the "mini" safari and I was very excited to get out on the morning safari tomorrow.

They will come to pick me up at 7 o'clock so I have asked for a 6 thirty wake-up call. I went to the restaurant tent around 8 o'clock and I had some naan and tea. The staff is very friendly and the service are very good as it have been on all the other places I have been to in India.

It is OK here, but the thing that upsets me is their web page and the luxury room. Of course it is luxury if you usually lives under a bridge. It is nothing special, for sure not a 4 star hotel. But I will try to survive 3 nights and then I'm off for new adventures.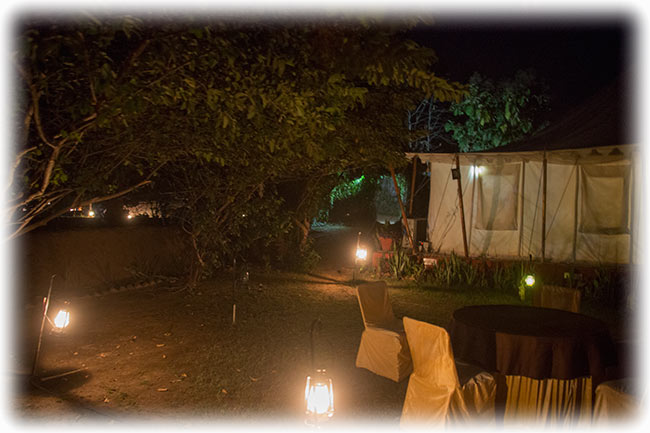 Our restaurant after dark
Our restaurant after dark
Our restaurant after dark


Well, I was off to bed and my wake-up call is ordered for 6 thirty and I have my phone as a back-up alarm. I'm pretty sure it will be an amazing day tomorrow after my experience from this afternoon, a beautiful park. 1400 sq. km but we only have access to 400 as the remaining area is a NO GO. Anyway, if you want to find out more about what animals we will see just click HERE!

I have a good feeling about this. Of course, haven't been to any bad safari so far.


OK, it has come to my knowledge that we have senior citizens visiting my web page. How hard can it
be? So it's not very easy for them to see the blue coloured links to the next page.

Jiffy (also jiff)


noun [in SING.] informal a moment: we'll be back in a jiffy.

ORIGIN late 18th cent.: of unknown origin.

So as you understand, in a jiff pretty much depends on your internet.

So I put a "Next" button here and I hope that there isn't any problem to understand how to use that one. So just CLICK the "Next" button on your left hand side and you will be on the next page in a jiff!
Marunong ka mag-tagalog? Walang problema! Magpunta sa kabilang pahina pindutin ang "NEXT" button sa itaas


Faites vous parlez le français? Pas de problème! Pour arriver à la page suivante faites s'il vous plaît un déclic le bouton "Next" ci-dessus!


Haga usted dice el español? No hay problema! Ver la siguiente página sólo hacer clic el botón "Next" encima!


Farla parla l'italiano? Non problemi! Per vedere la prossima pagina lo scatto per favore giusto Il bottone "Next" sopra


Sprechen sie Deutsch! Kein problem! Wenn Sie die folgende Seite sehen wollen gerade klicken der Knopf "Next" oben!


คุณพูดภาษาไทยได้ไหม ไม่มีปัญหา ถ้าคุณต้องการไปหน้าถัดไป ให้กดปุ่ม "Next" ข้างบนนี้


Вы говорите по-русски? NJET PROBLEMA! Просто нажмите синюю кнопку "Next" с левой стороны и Вы моментально переместитесь на следующую страницу!


E ni Svenskar och inte förstår Engelska så ska ni skämmas. J och Björn, med det menar jag inte att alla mina stavfel ska ältas varje gång vi träffas.


Well, the flag of Skåne, just a BONUS flag.
You are visitor no.
To www.aladdin.st since December 2005
Visitors from different countries since 26th of September 2011