Thursday 8th of December 2016 and we were soon leaving the Lal Bahadur Shastri Airport behind bound for the Ramada Plaza JHV hotel. The airport was impressive as almost all airports are that
I have been to in India. But the roads to the airport, non-existing and I was soon realising that it would take me some to get to my hotel

I had seen a bird at the airport, looked exactly like a Common Myna, but a Common Myna is brown and black with yellow bill and leg. This one was the same but grey and black with orange bill and leg. So now I will have to check out what kind of bird this is. I had not expecting any bird watching here in Varanasi.

I reached the hotel around 12 thirty, the flight was at least 90 minutes late. My Ganges tour will leave at 16:30. The hotel have arranged a car with a driver and a guide for me. Pre booked via e-mail. And I have 2 tours, this one and a early morning "sunrise over the River Ganges" cruise tomorrow morning. Leaving at 5 o'clock in the morning.

But as it is foggy and no sunshine I decided that we would take that tour leaving at 8 o'clock instead. And I wanted to go down the River Ganges, all the way from the first "Ghat" to the last.



Ghat


As used in many parts of Northern South Asia, the term ghat refers to a series of steps leading down to a body of water, particularly a holy river. In Bengali-speaking regions, this set of stairs can lead down to something as small as a pond or as large as a major river.



Ghats in Varanasi


are riverfront steps leading to the banks of the River Ganges. The city has 87 ghats. Most of the ghats are bathing and puja ceremony ghats, while a few are used exclusively as cremation sites.

Most Varanasi ghats were built after 1700 AD, when the city was part of Maratha Empire. The patrons of current ghats are Marathas, Shindes (Scindias), Holkars, Bhonsles, and Peshwes (Peshwas). Many ghats are associated with legends or mythologies while many ghats are privately owned. Morning boat ride on the Ganges across the ghats is a popular visitors attraction.

From Wikipedia, the free encyclopedia


So we will leave for the Ganga aarti at the Dashashwamedh Ghat at 16:30. We will take a boat to the Dashashwamedh Ghat to look at some ceremony. So that gives me some time for lunch, shower and to go to the shopping mall next door to look for Diet Pepsi.

There was no Pepsi Light at the supermarket so I walked back to the hotel. But it was a nice lunch at the hotel. Never mind the Pepsi, I will drink tea and water only from now on.


The road from the airport leaves plenty to wish for
The road from the airport leaves plenty to wish for
It was Christmas at Ramada Plaza JHV
It was Christmas at Ramada Plaza JHV
Reception at Ramada Plaza JHV
My room
My room
My room




Dashashwamedh Ghat


(Hindi: दशाश्वमेध घाट) is the main ghat in Varanasi on the Ganga River. It is located close to Vishwanath Temple and is probably the most spectacular ghat. Two Hindu legends are associated with it: According to one, Lord Brahma created it to welcome Lord Shiva. According to another legend, Lord Brahma sacrificed ten horses during Dasa-Ashwamedha yajna performed here.

Close to the ghat, overlooking the Ganga lies the Jantar Mantar, an observatory built by Maharaja Jai Singh of Jaipur in the year 1737.



Ganga aarti

A group of priests daily in the evening at this ghat perform "Agni Pooja" (Worship to Fire) wherein a dedication is made to Lord Shiva, River Ganga (the Ganges), Surya (Sun), Agni (Fire), and the whole universe. Special aartis are held on Tuesdays and on religious festivals.

From Wikipedia, the free encyclopedia


I was in the reception at 16 thirty and the Guide was there. And the driver and car was waiting outside and it turned out that it was the same driver and car that had picked me up at the airport. We were going to the Dashashwamedh Ghat to see the Ganga aarti.

We expect it to take an hour to get down the River Ganges and we will have to walk through the old city to reach Kedar Ghat and River Ganges. We will take the boat from Kedar Ghat. We left the hotel and it was a terrible traffic, and on top of the traffic you had all the holy cows walking and laying around on the streets.

It was smoke and dust in the air, actually, I was a wee bit worried about taking pictures with the "haze" It looked pretty much as I remembered it, well, pretty much like any city in India. New shop fronts and logos. When I was here last time there were no logos from the western world at all. Thumbs Up cola signs were seen everywhere. Now Varanasi is full of Pepsi signs.

Seeing all these Pepsi signs coming from the airport and I was sure they had Diet Pepsi in the shops. But this was a disappointment. Anyway, we reached the old city and we stopped at an alley and we had to walk from there to the Kedar Ghat.


Food stall, needless to say, I never bought anything to eat
Food stall, needless to say, I never bought anything to eat
Walking through the old city
Walking through the old city
We reach the Kedar Ghat
Beautiful house at Kedar Ghat
Cremations next to the Kedar Ghat
Cremations next to the Kedar Ghat
I send away a "lucky" candle
We're leaving the Kedar Ghat
We're leaving the Kedar Ghat
The Ganges


(/ˈɡændʒiːz/ gan-jeez), also Ganga (Hindustani: [ˈɡəŋɡaː]) is a trans-boundary river of Asia which flows through the nations of India and Bangladesh. The 2,525 km river rises in the western Himalayas in the Indian state of Uttarakhand, and flows south and east through the Gangetic Plain of North India into Bangladesh, where it empties into the Bay of Bengal. It is the third largest river in the world by discharge.

The Ganges is the most sacred river to Hindus. It is also a lifeline to millions of Indians who live along its course and depend on it for their daily needs. It is worshipped as the goddess Ganga in Hinduism. It has also been important historically, with many former provincial or imperial capitals (such as Pataliputra, Kannauj, Kara, Kashi, Patna, Hajipur, Munger, Bhagalpur, Murshidabad, Baharampur, Kampilya, and Kolkata) located on its banks.

The Ganges was ranked as the fifth most polluted river of the world in 2007. Pollution threatens not only humans, but also more than 140 fish species, 90 amphibian species and the endangered Ganges river dolphin. The Ganga Action Plan, an environmental initiative to clean up the river, has been a major failure thus far, due to corruption, lack of technical expertise, poor environmental planning, and lack of support from religious authorities.

The name "Ganges", ending in "-es", came to English via Latin from Ancient Greek sources, particularly from accounts of Alexander the Great's wars, which entered India.


Click HERE to see full size article



From Wikipedia, the free encyclopedia


It took us 5 to 10 minutes to walk to the ghat and we walked through narrow alleys. We reached a house and we walked through a passage and there were holy men sleeping along the walls.

Holy men all over the town, most of them asking for money. You are poor and have no money so you can become a holy man. When I came out on top of the Kedar Ghat I could see the River Ganges and next to the Kedar Ghat I could see one of the cremation sites in Varanasi.

We were waiting for our boat and it turned out to be a rowing boat, I had expected the boas to
have engines now. When I was here 25 years ago they had rowing boats.

I talked with my Guide, I wanted to have a "motor" boat for tomorrow as I had planned
to cover the whole of Varanasi water front. And then we might have to be able to make some speed to cover everything.

I will discuss this with the travel desk on the hotel and we will see how this turns out. We left Kedar Ghat and we were rowing down the river towards the Dashashwamedh Ghat and the Ganga aarti to see the show. Well, they call it a religious ceremony, but it is a show for the tourists.


Leaving the Kedar Ghat behind
Leaving the Kedar Ghat behind
Rowing towards the Dashashwamedh Ghat
Rowing towards the Dashashwamedh Ghat
Rowing towards the Dashashwamedh Ghat
Rowing towards the Dashashwamedh Ghat
We reach Dashashwamedh Ghat
Many tourists come to see the show
The show is about to start
Dance of the 100 candles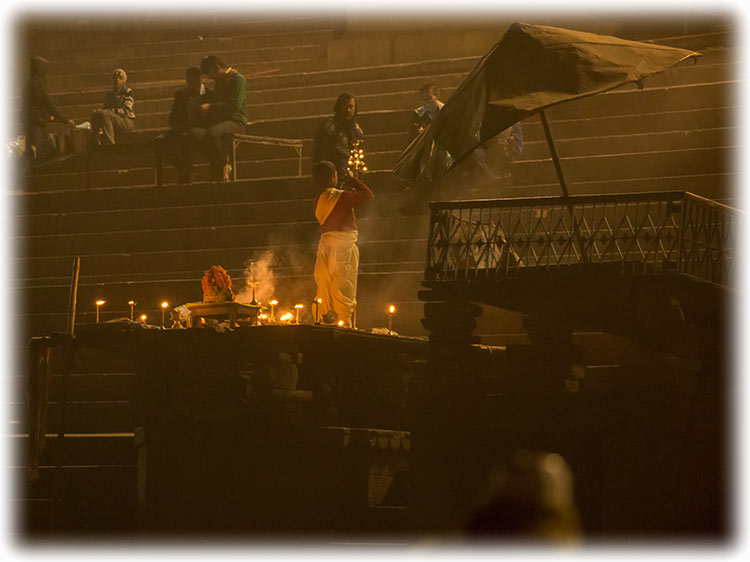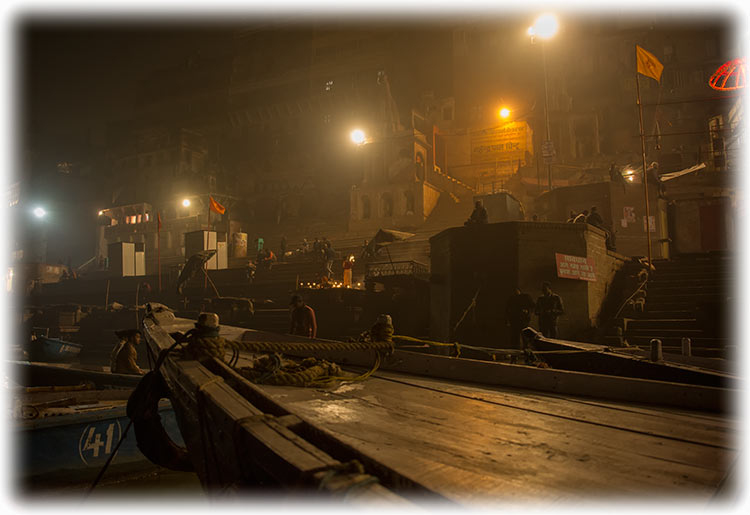 We leave the show
We are on the way back to the Kedar Ghat
We are back at the Kedar Ghat
We are back at the Kedar Ghat
We continue to the cremation site next to the Kedar Ghat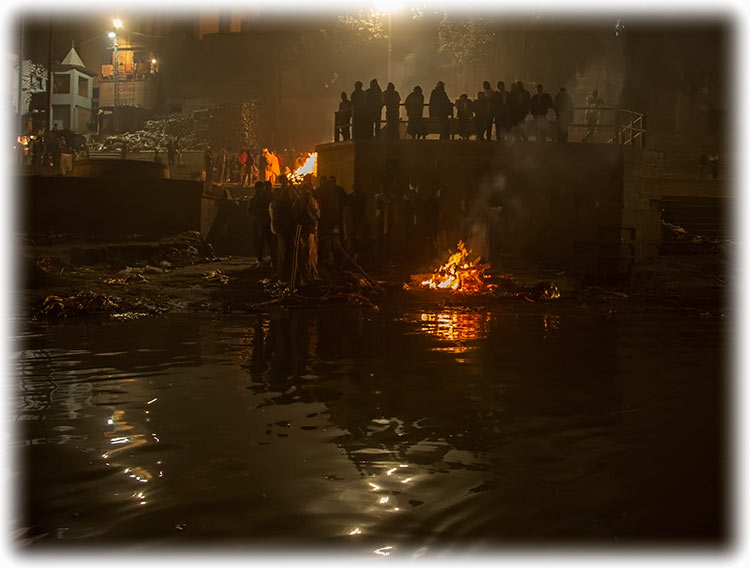 We come ashore at the cremation site

Varanasi river front looks pretty much as I remembered it form last time here. We watched the religious ritual (tourist show) down at the Dashashwamedh Ghat. We spent an hour or so there, this is a new thing. Back in the days they never had this tourist show. Well, now I have seen it and no need for me to ever come back to Varanasi again.

We left the Dashashwamedh Ghat and we were rowing back towards the Kedar Ghat. We were going to look for Ganesh for me, my friend in Bangkok want a Ganesha like the one I bought in
Bombay. So we will go have a look for this. If you want a Ganesha it should be a Ganesha from Varanasi Ganesha, the child of Shiva and Varanasi is the town of Shiva.

I asked them to take me to the cremation site next to the Kedar Ghat when we were back. My Guide told me that there are only 3 kind of humans that they don't burn. They can be sunk in to the River Ganges just by putting weights on them.
1) Holy men
2) Pregnant women died from a cobra bite
3) Children under 5 years old died from chicken pox

They are already clean so no need to burn them. I told my Guide that there were no need to burn me as I felt in to the category of Holy Men able to blow smoke without fire. I said it while puffing on my e-cigarette
- No, that only shows that you're a modern man, not a holy man!

We got off the boat at the cremation ghat and we were going to walk back to the car from here. And we kept an eye out for Ganesh and I was to buy the today as I have planned to bring them on tomorrows cruise along the Varanasi river front. Imagine a Ganesha that have swim in the Ganges, a holier Ganesha will be hard to find in Thailand.



Wood for the cremations
My Guide told me that it took wood for 100 Dollars to burn a body
Wood for the cremations
My Guide told me that it took wood for 100 Dollars to burn a body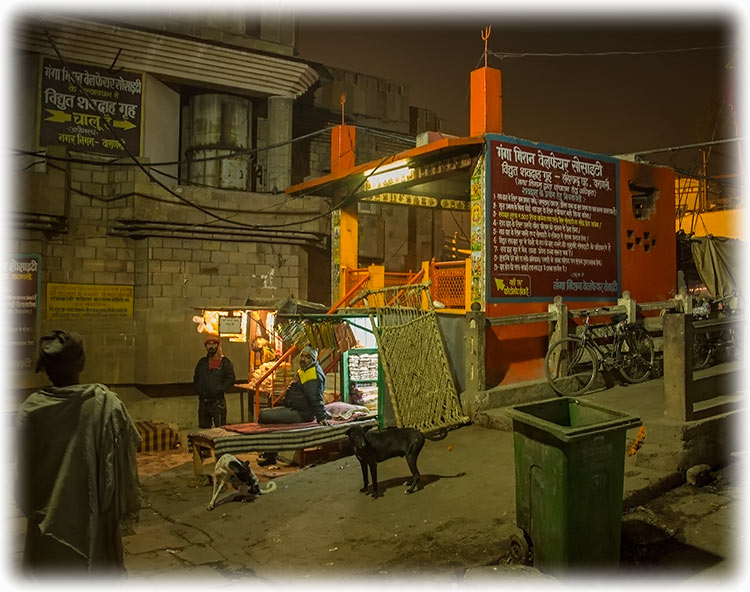 Electric crematorium - Free of charge
Walking through the old city of Varanasi
We stop to look for a Ganesha, but they only had wood Ganesha so I left
I keep my friend updated with the different Ganesh via Line
This is the place where the really sick goes. Super holy water


We stopped at a Ganesha shop but they only had wooden Gameshas, not what I had expected. So we went to another shop, but they were closed. We called the owner and he would come down to show us his Ganesh. While waiting we had a look around. There was a temple and a deep hole with stairs leading down to the water.

This was obviously some extra special place and my Guide told me that this was the place for the really sick people. If you're about to die, this is the place for you. The shop owner cam but it was also only wood Ganesh and we returned to the hotel. We were passing many wedding parties on the way. And they were blocking the roads.

So we saw wedding parties and people coming to town to burn their dead relatives. And on top of this all the traffic and cows on the streets. So it took us quite some time to get back to the hotel. But it had been an interesting ride through town.


Wedding
Another wedding

In front of the wedding procession was always a bicycle rickshaw with a generator. Cables from the generator to all the lights and loudspeakers behind. Fireworks and noise. I had my dinner when I was back at the hotel and I was off to bed. We will leave 8 o'clock tomorrow morning for the day light tour on River Ganges. And I'm looking forward to it.

We have decided to go by the rowing boat. We will not go up and down the river. Well, we will go up to the first ghat and then we will go down river to the railway bridge. Then we have covered the whole river front and the car will pick us up down there.

Click HERE to find out how this plan turns out, it promise to be exciting.


OK, it has come to my knowledge that we have senior citizens visiting my web page. How hard can it
be? So it's not very easy for them to see the blue coloured links to the next page.

Jiffy (also jiff)


noun [in SING.] informal a moment: we'll be back in a jiffy.

ORIGIN late 18th cent.: of unknown origin.

So as you understand, in a jiff pretty much depends on your internet.

So I put a "Next" button here and I hope that there isn't any problem to understand how to use that one. So just CLICK the "Next" button on your left hand side and you will be on the next page in a jiff!
Marunong ka mag-tagalog? Walang problema! Magpunta sa kabilang pahina pindutin ang "NEXT" button sa itaas


Faites vous parlez le français? Pas de problème! Pour arriver à la page suivante faites s'il vous plaît un déclic le bouton "Next" ci-dessus!


Haga usted dice el español? No hay problema! Ver la siguiente página sólo hacer clic el botón "Next" encima!


Farla parla l'italiano? Non problemi! Per vedere la prossima pagina lo scatto per favore giusto Il bottone "Next" sopra


Sprechen sie Deutsch! Kein problem! Wenn Sie die folgende Seite sehen wollen gerade klicken der Knopf "Next" oben!


คุณพูดภาษาไทยได้ไหม ไม่มีปัญหา ถ้าคุณต้องการไปหน้าถัดไป ให้กดปุ่ม "Next" ข้างบนนี้


Вы говорите по-русски? NJET PROBLEMA! Просто нажмите синюю кнопку "Next" с левой стороны и Вы моментально переместитесь на следующую страницу!


E ni Svenskar och inte förstår Engelska så ska ni skämmas. J och Björn, med det menar jag inte att alla mina stavfel ska ältas varje gång vi träffas.


Well, the flag of Skåne, just a BONUS flag.
You are visitor no.