Written onboard M/T Ek-Star October 2010
Aladdin moves to Bangkok
Thursday 22nd of June 1995 and I will never forget this day. I was moving my last stuff to Bangkok the day after. Yes, finally time to move there, I had been in the progress of moving there for 2 years or so. Moving everything I had on the airplane to Bangkok.
So it had been taken me some time to move to Bangkok. But finally.

Well, why do I remember this day? Yes, my ticket to Bangkok was for the day after.

Midsommar afton and I was going to get my tickets. I decided to walk to my travel agent, I really like to walk. But as soon as I came outside I was about to freeze to death.
It is summer fer f@ck's sake!
- What the

I had to cancel my walk and I stopped a taxi. Well, nice to leave the cold summer behind.

Friday 22nd of June 1995 and I left for the airport in the morning bringing my last stuff. I remember the taxi driver, he was jealous of me because I was leaving for Bangkok. And that's
even though it was Midsommar, the biggest holiday in Sweden when everyone is partying.
- It's darn cold. Won't be much outdoor parties today.
- Yes, I'm happy to leave this cold weather behind.

Sunday 24th of June 1995 and I woke up at Hotel 27 when the phone rang.

- So you have arrived

- Ugh
- You never called when you arrived yesterday

- Have they started with mandatory reporting around here?
- Well, come here! Now it's time to move in.

- What about some sleep? I can move in tomorrow
- No, today is the day!

- OK, I'm coming


I had a hangover! What the hell had happened. First when I signed of M/T United Polaris and now here. For sure, I'm getting old.
And for sure, I had no desire to move in to a new place. At least not today.

But I took my stuff and I checked out from Hotel 27. And now we know the date for my last stay at Hotel 27 in Bangkok, I have never been back since I checked out on the Sunday of the 24th of June 1995. Can't say that I have missed it even though I had had a lot of fun at the place.

Well, I took a taxi to Rompo Mansion and 15 minutes later I had a room at the place. Rent paid 6 months in advance and 3 or 6
month rent in deposit. 9600 or 8600 baht per month. I got room 328 and this turned out to be my home for almost exactly 5 years before I moved to Sukhumvit Soi 23. Of course we have had a lot of fun at the place.

I will never forget when I come in to my friend's room. He and another guy were in the room. The guy I had never met lay in the bed.
- Time to drink beer, was the first thing I said when I entered the room.
- I have no money, the guy in the bed said.
- You should get a room first, my friend said.
- I already have the room.
- So you must buy furniture, they both suggested.
- No not today, I have a hangover.
- You must have furniture. Let's go to MBK!!
- What the
is MBK?
- I have a TV and video for sale, the guy without money in the bed said.

What the
, seems to be a nice guy so I can as well make a supporting purchase so he can have
a few beers with us later on.
- OK, I buy your darn TV, I said.

We took a taxi to MBK (Mahboonkrong)and now we also have the date for my first visit to MBK. We went to the ATM and I paid the guy for his TV and video.

Then these two guys brought me to the furniture level at MBK. I was walking a little ahead of them looking through the windows for something interesting to buy. There wasn't anything that I would have bothered taking home. It looked like a second hand market for crap.
- Motherf@ckers, don't they have any taste in this country?

I was passing all the shops when my friends, about 10 meters behind me, called me.
- Hey! Aladdin, here is the shop.

- What the
, there is just crap.
- No, this is very nice stuff.
I could not believe my eyes, everything was made out of plastic.
- Here is a nice sofa!
I was just gaping at the lounge suit. A sofa, two armchairs and a table. 3 or 4000 baht.

- You're joking, right!
- No, this is nice stuff. I have the same in my room.
Should be against the law to sell shit like this. And if you considered buying it you should lose your right to vote on the election day.
- I refuse to buy this shit!
- Yak-yak, nag-nag, blah-blah....
- OK, I buy the crap. Let's go have a beer.

You can imagine the first day I woke up in my
new home discovering
the darn plastic sofa and the armchairs. For sure, did nothing to alleviate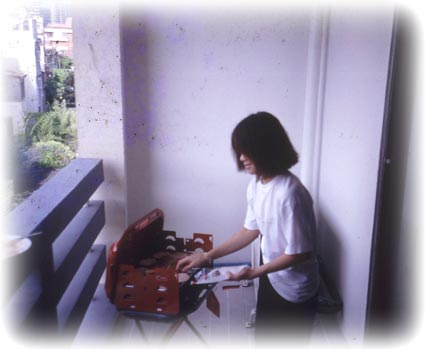 my hangover.

I bought a grill and my new found friend came over
with his girl friend for BBQ.

Hell, it was almost every day there for a while. Well, it was OK, they brought food so I never had to be hungry. And my rented fridge was full of Kloster beers.

And it didn't took long before my
neighbours got to know me. I had a Korean family across from me and as soon as they saw me they took their children and slammed shut their door.

Well, it's not
a popularity contest. And if it had been I would have taken the first prize. The
Chinese owner, yes, I'm pretty sure I was right when he tried to get me married
to his sister. And she was also a co-owner of the apartment block.

Well, of course, it can have been my imagination as well. But every time I passed the office they were waving for me to come in. And it was not like I could pretend that I hadn't notice
them when I was passing.
- Aladdin, have some cake.
- Aladdin, have a bottle of wine.
- Aladdin, can you be Santa Claus at the Christmas party?
- OK, hold it right there! Cake and wine is all right, but I won't be any Santa Claus!

I remember one time coming out from the elevator. The mail boxes were just outside the elevators and I saw one of those MESSAGE notes in my box.
Darn! we had played some music earlier this morning and I was expecting complains about the music from the management.

"Dear Aladdin, as one of our most appreciated tenants we will give you an 10% discount on
your rent"

Of course, I took this note and I posted it on my door. A little something for the neighbours to read when they were knocking on my door to complain.

It was actually cheaper to live there when I moved out 5 years
later than when I moved in. Yes, I like those dear Aladdin letters.

Well, new place to live, but it was still the same old places we went to. New Cowboy on Soi 22. We used to go there for some food and beers. I learned to know this place a few years before when all the Swedes studying Thai at AUA lived in the rooms above the restaurant.

And back then, when all the students used to sit in the restaurant you were better of keeping snus and cigarettes in your pocket.

Even though all of them had a success story handy for you your snus and cigarettes were finished in a jiff if you kept them on the table.
Yes, of course, now it's 2010 and New Cowboy Restaurant has their own web page. And yes, they have a
photo page and yes, Aladdin is on pictures. Can you find him?

Well, at least when I write this in October 2010 it looks like the page hasn't been updated for a while. Never mind, back to 1995.

Time turned quick and it was soon time for me to go back to Sweden to sign on M/T Margita.

OK, it has come to my knowledge that we have senior citizens visiting my web page. How hard can it
be? So it's not very easy for them to see the blue coloured links to the next page. So

Jiffy (also jiff)


noun [in SING.] informal a moment: we'll be back in a jiffy.

ORIGIN late 18th cent.: of unknown origin.

So as you understand, in a jiff pretty much depends on your internet.

I put a "Next" button here and I hope that there isn't any problem to understand how to use that one.
So just CLICK the "Next" button on your left hand side and you will be on the next page in a jiff!
Marunong ka mag-tagalog? Walang problema! Magpunta sa kabilang pahina pindutin ang "NEXT" button sa itaas


Faites vous parlez le français? Pour arriver à la page suivante faites s'il vous plaît un déclic le bouton "Next" ci-dessus!


Haga usted dice el español? Ver la siguiente página sólo hacer clic el botón "Next" encima!


Farla parla l'italiano? Per vedere la prossima pagina lo scatto per favore giusto Il bottone "Next" sopra


Sprechen sie Deutsch! Kein problem! Wenn Sie die folgende Seite sehen wollen gerade klicken der Knopf "Next" oben!


คุณพูดภาษาไทยได้ไหม ไม่มีปัญหา ถ้าคุณต้องการไปหน้าถัดไป ให้กดปุ่ม "Next" ข้างบนนี้



Вы говорите по-русски? NJET PROBLEMA! Просто нажмите синюю кнопку "Next" с левой стороны и Вы моментально переместитесь на следующую страницу!


E ni Svenskar och inte förstår Engelska så ska ni skämmas. J och Björn, med det menar jag inte att alla mina stavfel ska ältas varje gång vi träffas.


Well, the flag of Skåne, just a BONUS flag.
You are visitor no.
To www.aladdin.st since December 2005
Visitors to www.aladdin.st from different countries since 26th of September 2011