They called me from Alpha Ship when I was in Pattaya and I needed to be in Hamburg on the 7th of December for a course in German Shipping Legislation before I could join their ship. So I left Pattaya and I booked a flight to Copenhagen with Lufthansa.


His seat is not working
His seat is not working


Yes, this flight is a flight that I will never forget. I guy had paid premium dollars for a good seat that wasn't working. And when we arrived to Munich we missed the connection flight. It was me and a lady around 80 years old. They told us to run!
- Foocking idiot!
We missed the flight and I try to avoid Lufthansa after this adventure. Business class, premium dollars and they told us to run to make it to the connection flight. OK for a young guy like me, but the 80 year old lady. Amazing Lufthansa.
- Hold the flight for 2 minutes TWAT!!!



+++++++++++++++

Tuesday 6th of December 2005 and it was time to go to Hamburg again. I left a Christmas
decorated Kalmar with Scandinavian Airways at 14:00.
I was flying via Stockholm and I was changing flight in Stockolm. My flight was leaving 14:10 from Kalmar and we should arrive to Stockholm at 15:00. In Stockholm I had 55 minutes to go to terminal 5 and my Lufthansa flight to Hamburg. Lufthansa agin, but it wasn't me paying for the ticket.

Well, before going to the airport I had to buy a new computer. My Fujitsu had broken down again. I wasn't surprised when they told me that it was the main board, yet again. I left my Fujitsu for service and I had hoped that I could use my old Hewlett-Packard while my Fujitsu was on service.

Well, my HP is too old now and I can't use it any more. It's good as a jukebox in my entertainment center at home but thats it. I asked at the service place I if they had a computer that I could borrow while thye repaired the computer they had sold me.
- No.
- Well, maybe you can sell one to me.
They offered me a Fujitsu.

- Fujitsu, are you drunk? Never again!
I went next door and they had a HP and a Packard Bell. I was thinking about it over night and I stopped at the shop nex day when I was on the way to the airport. I made the obvious choise and bought the HP.

We arrived early to Stockholm due to strong tail wind and I had to kill about 1 hour at Arlanda
airport. I had all the information about where to stay and stuff on my e-mail. But my computer had broken down and I could not access the information.
There wasn't enough time to install Windows® XP and Outlook®, just enough time get bored, but I alleviated the boredom by walking around burning calories.

At arrival to Hamburg I went straight out to the bar in the arrival hall after reclaiming my weekend bag. (Only 1 cabin luggage allowed on domestic flights in Sweden). I ordered 2 bottles of diet
Coke® and a Pretzel. After about 40 minutes I had installed Windows® XP and Outlook® on my new computer.

I got the address for my dwelling and I jumped in to a TAXI. We left the airport with screaming and smoking tires. I was screaming in fear while the driver was trying to enter our destination in his GPS while trying to avoid hitting other road-users. Finally he managed to enter our destination, but he didn't manage to find the address. So we had to do a little walking around until we found the place.

After check-in I went for an Italian restaurant and spaghetti Carbonara. On the way back I bought some chocolate. I spent the evening installing program on my computer while eating the chocolate, not a good day for my diet.



+++++++++++++++

Wednesday 7th of December 2005 and and I woke up at 5 o'clock in the morning. I took a shower and I continued to back up my music and my pictures.

At 09:30 something they came from Atlas Marine Service to pick me up and we went to the Seeärztlicher dienst (Maritime Medical service)for a new Seediensttauglichkeitszeugnis (Medical
Certificate for Service at Sea). Oh yeah, we remember last time when they
chased me on the exercise bike. If not, please, refresh your memory

I was told that they would pick me up when I was ready and drive me back to my hotel.
- Then you will be free for today and we pick you up tomorrow for your German Shipping Legislation course.
I told him that he didn't have to pick me up at the Doctor. I will go to the Modelleisenbahn Wunderland and have a look at the model train and from there I will walk back to my hotel.

Well, luckily enough I didn't have to go on the bike this time and I was soon ready. I went straight out and across the street where I bought me a Diet Coke®


Modelleisenbahn Wunderland in Hamburg


It was a five minutes brisk walk to the Modelleisenbahn Wunderland from the Seeärztlicher dienst. It was located at the 3rd floor in a huge building. I paid the 9€ entrance fee. I thought that I was going to be the only one interested in the model railway. I imagined it to be a model railway club with a few old "guys" playing with Märklin train.

Well, the place was huge and there must have been over 100 people watching the
Miniatur-Wunderland. I have never seen something like this and I can recommend everyone visiting Hamburg to spend a few hours at the Miniatur-Wunderland. At least visit the web site at Miniatur-wunderland, there are more than 2500 pictures. But don't miss Aladdin's exciting pictures from Miniatur-Wunderland! Check out the very exciting slid show below and you will never have to visit Miniatur-wunderland's web page.



Yet another stupid slide show on www.aladdin.st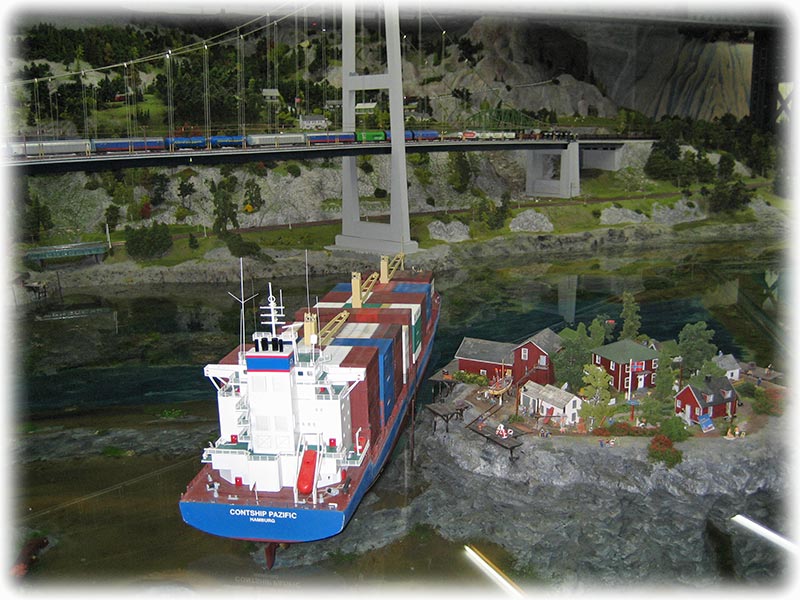 They have spent 375 000 hours and several kilometres with cables to build the railway. There were several people just to monitor and drive the trains. Hmm, one thing is for sure, after seeing this I
have given up my plans to build a railway in my spare room. Comparing to this it will be a waste of time and money.

Well, I left the Miniatur-Wunderland and it was gloomy and grey outside. I walked back to the hotel passing many beautiful houses. Hamburg is a big city, and even though most of it was destroyed during the WW II it's a beautiful city with many nice buildings. There are many Canals and it's nice to walk around the city. Brrr, I only wished for some sunshine and about 10°C extra, then it would have been very nice. Well, I
forgot
to bring my winter gloves and hat. Typical, I was freezing my ears off.


On the way back to my room I passed a "Bistro Italiano" and I stopped for some spaghetti Carbonara. Not good for my diet, but I like it.

When I came back to the hotel there was a package for me in the reception. It was the
book for my "German Shipping Law" course tomorrow.

It's a book with 109 pages that I have to study until tomorrow. I will be busy for a few hours reading the darn thing. It will be more than a little embarrassing to miss the test on the "German Shipping Legislation" when the company had me fly in for the course.

During the evening I returned to the Italian restaurant I was on yesterday for my dinner. I visited the Swedish Seaman's Church, but the door was locked as usually so I went back to my room and my new computer.



+++++++++++++++

Thursday 8th of December 2005 and they picked me up at 08:45. It was me and 3 Engineers from Ukraine and 1 Chief Engineer from Finland. We walked down to the office of Marine Serve Gmbh
where we attended the course. It was a 3 minutes' walk and it was nice with a wee bit of exercise after the breakfast.

Marine Serve Gmbh had a nice premises at Bei den Mühren 66a. We held the lesson in a conference room styled room. It was a relaxed atmosphere
and the only thing disturbed me was the Christmas styled cake-dish on the table.

The cake-dish was brimful with cookies. No one was eating of the cookies, but I had to slap my hand every time I caught myself moving in for a cookie. Well, as you understand it happened every now and then.

Hmm, we we're spending the day wanking off to overhead pictures and at 15:15 it were time for the test. I scored 95% and passed the test and I got my "Proof of sufficient competence in German shipping legislation" or as they say in Germany "Nachweis über ausreichende kenntnisse im Deutchen Schifffahrtsrecht"

And as you understand this is a course to make it possible to have foreign crew on a German flagged vessel. Same in Denmark, Norway and the rest of the world. So this course is a fail proof one and they are free to hire cheap labour from the third world.


German Shipping Legislation course in Hamburg
German Shipping Legislation course in Hamburg
German Shipping Legislation course in Hamburg


It was nice to walk out on the street with the certificate. I wanted to go for a beer but I gave up the plan as they should pick me up at 05:30 tomorrow morning for transportation to the airport.
0530, well, not the best time of the day and I'm not looking forward to the ride to the airport.

Well, it's the back in the days warning again! But 05:30 would have been regarded as a perfect time not too many years ago. Then it was just to take a taxi straight from the disco to the airport.
I don't even dare to try to imagine how I would feel like going straight from Reeperbahn to the airport tomorrow morning.


I had spent my last money. Well, my last Scooby $
any way, on a diet Coke®. Now I needed more, both cash and Coke®. I'm spoiled with ATM machines in every corner in Funky Town, well, I can't call it Funky Town any more. Now a day there is no more 24/7 of fun. Latest news is that they want to close down everything by midnight.

Well, anyway, In Hamburg it's not that easy to get hold of an ATM. I had to walk all the way to Rövhåls Strasse before finding an ATM. Yeah, it was cold and next time in Hamburg I will bring my winter hat and gloves.

With fresh cash in my pocket I went to buy some diet drinks before returning to my room. I had asked in the reception of they had diet drinks.
- No, we don't have anything "diet" here.

Next to the hotel there was a
Christmas market, or something like that. It was crowded and I had to leave due to my dropping pants. My pockets were full of diet bottles and my
pants were on the way down to my ankles. I made it back to my room with one hand holding my trousers up.

Back in the room I wrote a little on my web page before taking a shower. Then I was off to "my" Italian restaurant where I have been eating dinner for three evenings in succession.

When I came to "my" Italian restaurant it was crowded. Hmm, I don't like to sit among strangers so I left. In this area there are millions of restaurants. I had to struggle to find another Italian restaurant. All of the restaurants are Portuguese restaurants.

All restaurants had sign with Portugiesisch Spezialitäten. Yeah yeah, I was ashore eating in Lisbon.
Green French fries and the meat had a repulsive taste. Must have been a dog. Well, anyway, after that I'm sceptical to Portugiesisch Spezialitäten.

After my meal I spent my last 2 Scooby $
on 2 cans of diet drink and I returned to my room. I will try to sleep and at 05:00 tomorrow morning my alarm will go off.

I'm satisfied with my visit to Hamburg. We learnt about the German Shipping Legislation and now I know all the different departments in the German Maritime Administration. Last time I was running around picking up papers and stuff a little here and there.

I didn't have a clue where I was. In Sweden there is only one Maritime Administration. Well, see my updated story on how I obtained my German endorsements and discharge book.



+++++++++++++++

Friday 9th of December 2005 and I was up at 5 o'clock. I packed my stuff and I had a Rittersport®
Marzipan before going down to the reception. My driver was waiting for me and we left for the airport with smoking and screaming tires.

My flight was at 07:00 and we arrived to Stockholm around 08:30. We flew over Skåne and I took a picture of Skanör-Falsterbo and something I think is Malmö


Sun rise over Skanör-Falsterbo
I think this is Malmö


My flight to Kalmar had departure time 1255 from Stockholm. Hmm, I had to kill 4 hours in Stockholm. The first half hour I spent drinking tea and eating sandwiches. Then I went to an internet cafe. I read my e-mail and I had e-mail from Arrownaut Ship Management on Cyprus. They had my flight details for signing on MV Pegasus in Jebel Ali, United Arab Emirates.

I spent the last 2 hours reading newspaper and at 12:35 we boarded our Scandinavian Airline plane to Kalmar. We arrived to Kalmar at 13:45 and I had to take care of plenty things before leaving for Dubai on Sunday. And the most important is the Christmas dinner. It will hopefully not turn out as a few years ago. I had a Christmas Dinner with my friend and it ended up as what is still today known as the big The Big Julmust Squabble



+++++++++++++++

Saturday 10th of December 2005 and my last day in Sweden before leaving for my ship. I went down to the railway station and bought a ticket to the Copenhagen airport for tomorrow.
I had an appointment with Ballong on Larmtorget for our Christmas dinner. So when I had my ticket I took the 2 minutes' walk to Larmtorget.

From Larmtorget it was a 2 minutes' walk to Restaurant Kronan. A Swedish Christmas dinner is a buffet styled dinner and, well, I don't know if I like it so much.

I'm only there for the brunkål and they don't have brunkål in Kalmar.

Well, anyway, after eating the buffet on Marriot in Funky Town you know that it's very hard to surpass that buffet. I never eat buffet, except on Marriot and Christmas dinner once a year. In the summer they have a buffet at Laxbutiken and I enjoy that one as well.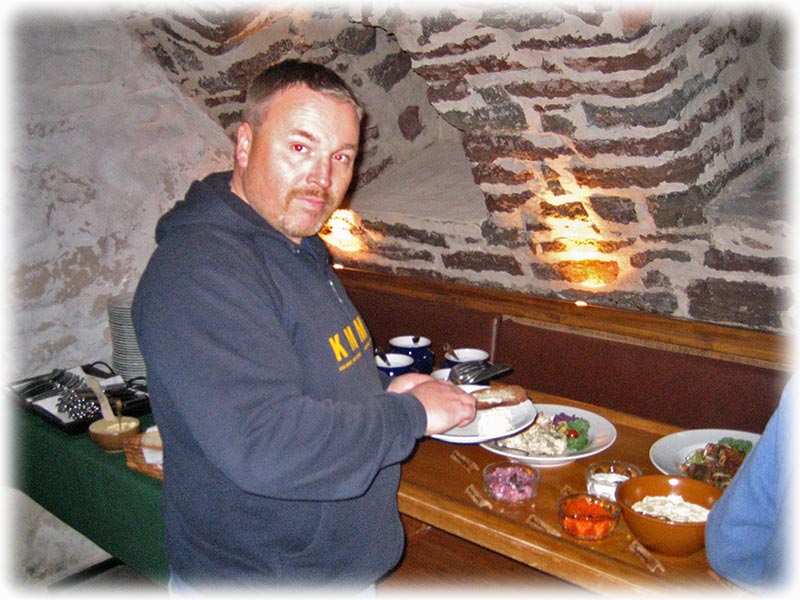 Julbord at Restaurant Kronan in Kalmar
Julbord at Restaurant Kronan in Kalmar
Julbord at Restaurant Kronan in Kalmar
The table is full of Julmust, no worries!
Julbord at Restaurant Kronan in Kalmar
Julbord at Restaurant Kronan in Kalmar

The table is full of Julmust, no worries!



Anyway, now I have had my annual Christmas dinner and I don't have to worry about it until next year. And honestly, never mind if I miss the dinner next year. But the Christmas Dinner at Restaurant Kronan in Kalmar was very good. And the restaurant must be one of the nicest in Kalmar. OK, that doesn't say much, but anyway.



OK, time to leave Kalmar and Sweden behind, time to join M/V Pegasus



OK, it has come to my knowledge that we have senior citizens visiting my web page. How hard can it
be? So it's not very easy for them to see the blue coloured links to the next page.

Jiffy (also jiff)


noun [in SING.] informal a moment: we'll be back in a jiffy.

ORIGIN late 18th cent.: of unknown origin.

So as you understand, in a jiff pretty much depends on your internet.

So I put a "Next" button here and I hope that there isn't any problem to understand how to use that one. So just CLICK the "Next" button on your left hand side and you will be on the next page in a jiff!
Marunong ka mag-tagalog? Walang problema! Magpunta sa kabilang pahina pindutin ang "NEXT" button sa itaas


Faites vous parlez le français? Pas de problème! Pour arriver à la page suivante faites s'il vous plaît un déclic le bouton "Next" ci-dessus!


Haga usted dice el español? No hay problema! Ver la siguiente página sólo hacer clic el botón "Next" encima!


Farla parla l'italiano? Non problemi! Per vedere la prossima pagina lo scatto per favore giusto Il bottone "Next" sopra


Sprechen sie Deutsch! Kein problem! Wenn Sie die folgende Seite sehen wollen gerade klicken der Knopf "Next" oben!


คุณพูดภาษาไทยได้ไหม ไม่มีปัญหา ถ้าคุณต้องการไปหน้าถัดไป ให้กดปุ่ม "Next" ข้างบนนี้


Вы говорите по-русски? NJET PROBLEMA! Просто нажмите синюю кнопку "Next" с левой стороны и Вы моментально переместитесь на следующую страницу!


E ni Svenskar och inte förstår Engelska så ska ni skämmas. J och Björn, med det menar jag inte att alla mina stavfel ska ältas varje gång vi träffas.


Well, the flag of Skåne, just a BONUS flag.
You are visitor no.
To www.aladdin.st since December 2005
Visitors from different countries since 26th of September 2011