Saturday 12th of August 2023 and they had called me in the middle of the night to ask about my ticket. He told me that he thought that I was in Sweden. Well, he is booking a ticket from Bangkok to Copenhagen, he was so sorry to have woken me up. They would send the ticket but there was no ticket when I went for breakfast.

They had called me from Copenhagen yesterday and I will join a ship in Italy and I need to fly via the office in Copenhagen. Later on, I got a tooth ache, well, not really any ache, but a discomfort and I went to see the Dentist in the morning.

I checked the internet for Dentists and I was worried that they would be closed because of the holiday, but I found one around the corner and I booked a time for 9 o'clock.


At the Dentist


The Dentist knocked and pulled my teeth but there was no pain. The X-ray didn't show anything out of order and I was happy and I walked back home where I discovered that they had not send any ticket. So, I will see when the ticket arrives.

The ticket arrived in the afternoon, Sunday morning and I will fly Finnair:
Bangkok International Airport Suvarnabhumi to Copenhagen International Airport, Kastrup via Helsinki-Vantaa Airport (Helsinki-Vantaan lentoasema)

Arriving Sunday night and on Tuesday morning I will fly Lufthansa:
Copenhagen to Catania–Fontanarossa Airport, Vincenzo Bellini Airport (Aeroporto Internazionale Vincenzo Bellini di Catania-Fontanarossa) via Munich

I cannot say that I look forward to flying, but it is necessary. I booked a car from AOT and I will leave at 4 o'clock tomorrow morning.



+++++++++++++++

Sunday 13th of August 2023 and we left m condo at 04:06 and we reached Suvarnabhumi International in 25 minutes. I got out at Finnair's gate, I think it was #6 and I discovered a small queue to the check in.

I sent to the service desk and I asked if there was any seats available in biz. This set me back by 23000฿, well worth it, 12 hours in the back would have been a killer.


On the way to the airport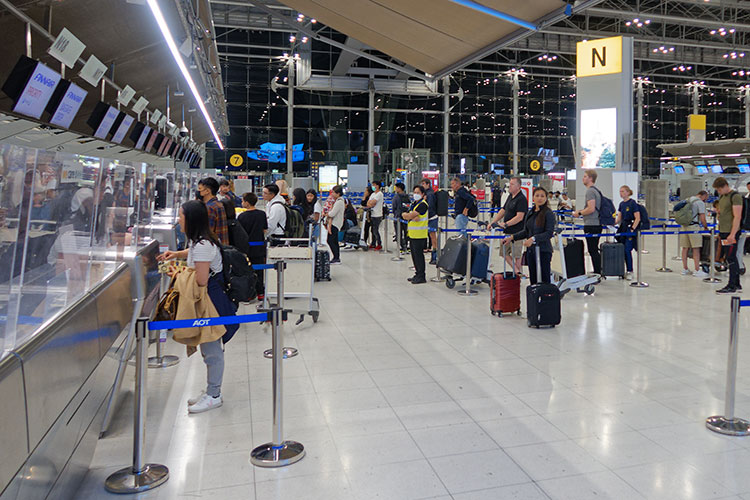 Check-in to Finnair flight AY142


I was passed securit and immigration about 1 hour after having left my home. And I was happy that I had been able to check in my luggage without any problem. I checked in two bags, one on 9 kg and one wheighting in at 27 kg.

And I came up with a plan to buy another Samsonite Unimax so I can have two bags weighting in on 15kg + instead. Or simpler, to give up snus so I don't have to carry all the snus around the world.


Having passed security and immigration
Looking for a place serving the from a proper tea cup
Tea time


I go to look for a place where I can have a proper cup of tea and the first place only have paper cups. I find a bar and they have Earl Grey tea and they serve it from beer mugs if asked to. So I sit down to enjoy my tea.

I had checked all the shops and restaurants for MAX but I have only found Coca Cola products and this is something I can live without. But I was happy to have found a place with Earl Grey tea and a proper mug to drink from.


Could not believe my eyes, they have MAX


I leave the tea bar and I walk towards gate E7 and I pass the last restaurant and I discover that they have MAX in the fridge, I give it a really good look. But I cannot see any bottles, cans only.

But I buy 4 cans to enjoy on my flight, not tasting good to drink from the can, but I will ask for a glass for my MAX. I don't know why, but now a days they have the passengers to line up before they can get down to the gate. Checking passport and boarding pass.

And of course, they have to check it again when boarding starts. Well, anyway, I took a seat while the line of passengers progressed towards the stairs down to the waiting area at the gate.


Line to the waiting area at the gate
Finnair's flight AY 142
Waiting area at gate E7
Finnair's flight AY 142


When the entrance to the gate is cleared, I leave and I go down to the waiting area to have a seat. Of course, boarding doesn't start on scheduled time, but I did not have to wait for too long before it was time to board.

Will be nice to get in to my seat and to "POP" open a MAX and enjoy it while sending stupid pictures and videos via my Line app.

It was a comfy seat and I was happy that I had invested in the upgrade, for sure, 12 hours in the back would have killed me.


Soon on board
Soon on board
My seat for the next 12 hours
Boarding in progress
Have to bring my own refreshments
Have to bring my own refreshments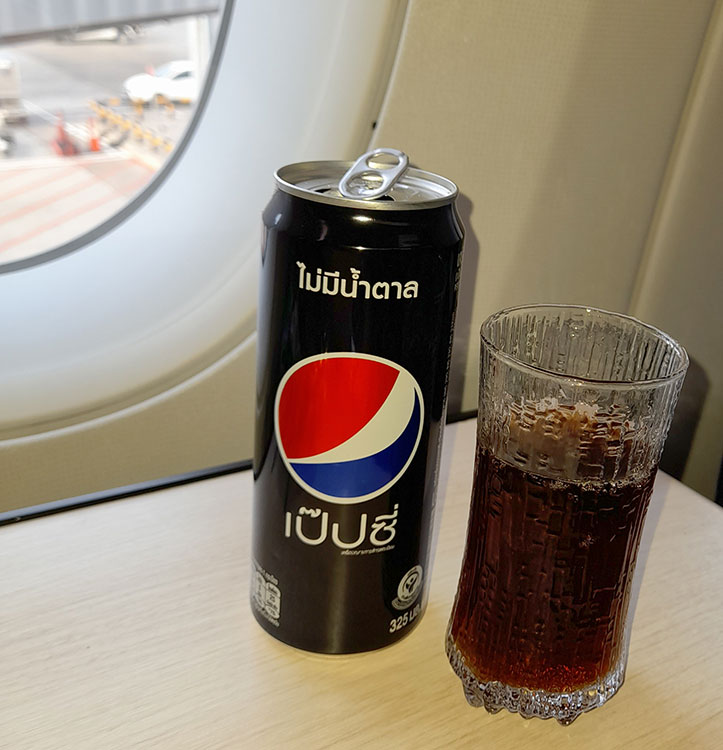 Have to bring my own refreshments

I finished the first refreshment before we were pulled out from the jet bridge. To buy the MAX, the second investment I was happy with today.

TAXI and take off and I cannot remember having been flying over Down Town Bangkok before, and I have had a couple of flights to and from Bangkok.

I could even see my condo from the plane so I said "Bye Bye" and I "POP" open my second refreshments while turning on a movie. A three-hour long drama about someone fighting a table with a blind guy.

Hotels were blown up and Good Grief, where do they come up with all this crap?

I had to hit pause several times during the movie. Day time flight and I could not sleep, well, maybe 30 minutes or an hour during the first movie.

Second movie, a wild west tings and it was named something with a dollar. Where is my gun? Did I
check it in? Lucky me! I would have shot myself while watching this movie. Sweet Lord!

The third movie, I don't even remember what movie it was. But my entertainment system broke down and I could not watch any more movies.


Leaving Bangkok behind
Arriving to Helsinki-Vantaa Airport (Helsinki-Vantaan lentoasema)
12 hours later and time to get off the plane


I have about 3 hours to kill before departure of Finnair's flight AY959 to Copenhagen. I pass security and immigration and I buy two MAX to enjoy while waiting. Too much people at the restaurants so I skip the idea of having dinner.

I was hungry but it will be better to wait until I reach my hotel in Copenhagen. I really do not fancy sitting in the lap of someone else at a crowded airport restaurant.

I go to gate 19 and I find a seat and I enjoy m refreshments while waiting for the boarding to start. And I take the opportunity to test my new USB cable that I bought when I landed.

It seems to be charging quick enough. My old one was ripped to pieces when I left my seat flying here. So, I needed a new good quality USB cable.


Quite a long walk to gate 19

Boarding started, and I think this is the first time ever I have seen this BOARDING GROUP system working. Electronic gate and it said BOARDING GROUP 1 + 2. Alarm went off all the time and the staff told them that it was group 1 + 2 boarding, back of the plane.

Some alarm went off and they called the passenger to the desk.
- This is Finnair to Copenhagen! you are on another airline departed one hour ago!

Full pandemonium, but I managed to get on board and I also found a place for my "carry on" and I took my seat. Worth noting is that I have not been asking for an"extension" one single time since I left home. So, my diet has been working.


Boarding flight AY 959
Boarding flight AY 959
Boarding flight AY 959


I spent the flight playing some bubble game on the phone that I had down loaded before leaving Bangkok. Time passed quickly and we were soon landing in Copenhagen, 10 minutes before schedule.

Both my bag arrived to the luggage claim after 10 minutes or so and I went to look for a taxi to get to the hotel. A lot of people but there was a lot of cars and I was in a car in a minute. I checked in to my hotel 10 minutes later.


Taxi stand at Copenhagen International


I had my dinner, two burgers with no bread and fries at the restaurant next to the hotel and I was in bed around 9 thirty and a sleep at 10.



+++++++++++++++

Monday 14th of August 2023 and I left to lock for a taxi around 10 o'clock. I had had my breakfast at 5 thirty when the opened the restaurant and it was an excellent breakfast. The best with Best Western Copenhagen Airport Hotel.

The hotel is quite run down and I hope I don't have to come back to live here again. I am a Platinum member, or diamond member with Best Western so I have stayed at quite a few of the Best Western hotels, and this might be the worst of them.

They generally keep a good standard and I like to stay at Best Western. Anyway, the breakfast was good, very good.

I found a taxi and I was on my way to the Samsonite shop at Strøget, Down Town Copenhagen. I bought two new Unimax suitcases in Bangkok. But I need a duffel bag, I have the one I bought at Victoria Falls hotel.

But I need a bag with a trolley sleeve to keep it on top on my rolling luggage. And I checked internet and Samsonite have one Respark Duffle Twonighter 55cm on their Danish web page so I went to buy one.



Strøget


is a pedestrian, car free shopping area in Copenhagen, Denmark. This popular tourist attraction in the centre of town is one of the longest pedestrian shopping streets in Europe at 1.1 km. Located at the centre of the old city of Copenhagen, it has long been one of the most high-profile streets in the city.

The pedestrianisation of Strøget in 1962 marked the beginning of a major change in the approach of Copenhagen to urban life; following the success of the initiative the city moved to place a much greater emphasis on pedestrian and bicycle access to the city at the expense of cars. This approach has in turn become internationally influential.



Pølse på Strøget
Strøget
I had to get a cup of tea to get internet

I get out of the taxi, and of course, I have forgotten where the Samsonite shop was. And I don't have any SIM card and no WIFI without any password. But how hard can it be to find the shop?

I turn towards the east and I start to walk towards the City Hall Square (Rådhuspladsen) and I stop at several shops to ask if they knew the Samsonite shop. But no luck with any directions and I turned back towards the east and I stopped at a coffee shop for a cup of tea.

I did not really fancy any tea but I needed some WIFI to get directions to the Samsonite shop and I was soon finding out that the shop was at the beginning of Strøget at the east end, at The King's New Square (Kongens Nytorv)

A gorgeous day and there were plenty tourists strolling along on Strøget and I enjoyed my constitutional.


I found the Samsonite shop and the guy told me that he didn't knew about the duffel bag I was talking about. I looked around in the shop and the guy started to look at me like I was crazy. I told him that the price on internet was 899 DKR.

55 cm long and it has the Smart/ trolley Sleeve. He had never heard of this bag and he was really looking at me thinking "crazy Swede" But I didn't give up and as they did not have any WIFI I could not check internet.

The guy told me to connect to Bang & Olofsen shop as they did not have any password.


I checked and the guy in the shop checked on his screen on the wall and we managed to find the bag.
- I think I have one left in the storage, he said and disappeared.

He came back with the bag and I told him that he should be happy that I did not just give up when I was told they did not have any bags like the one I was talking about.

I was happy and I said thank you and I went down to the King's New Square (Kongens Nytorv) and I bought a refreshment on the way.


Some military guards passing buy


I sit on a bench on the square enjoying the weather and a refreshment when suddenly a group of military guards passing by. A little mid-day excitement all for free. I had spotted a taxi stand across the street and I went to get a taxi.

I arrived to the office just in time for the fire alarm to go off and the evacuated the building. The people came out and they were mustering in groups and I could see that the fire truck was arriving with the blue light and sound on.

I was in the middle of the action and I got a few pictures as a souvenir of the event.


Fire truck arrives to the scene
Staff mustering outside the building
Fire truck have moved
Staff mustering outside the building
Staff mustering outside the building


The fire drill was over quarter to one o'clock and I could reach my meeting in time. Well, the office was empty so I went down to the ground floor and I was looking for a WIFI without password to try to get contact.

I am sitting there when the people from Norden arrives and we go up to the office together.

I spend 3 hours at the office before I take a taxi back to my hotel and I have a cup of tea in my room. I have dinner at the restaurant next door, same food as yesterday.

I packed my bags and I have booked a taxi for 4 o'clock tomorrow morning



+++++++++++++++

Tuesday 15th of August 2023 and I wake up just before my alarm is set to go off at 3 o'clock. I had been at the supermarket next door to buy some refreshments yesterday afternoon. No time to enjoy any morning tea so I had a bottle of MAX.

I left my room 10 minutes before 4 o'clock and I was a little nervous, will the taxi show up at 4 o'clock? I was relieved when the taxi rolled up to the hotel and we were soon on the way to Kastrup, Copenhagen International Airport.


Leaving Best Western Airport Hotel Copenhagen


According to my taxi receipt it took us 7 minutes to reach the terminal. And there were no people at the check in for Lufthansa's flight LH 2447 and I was passed through the security about 10 minutes after arriving to the airport.

There had not been any time for breakfast and the restaurants on the airport was closed so I had to have tea at one of those self-service places. About one and a half hour to kill before departure and I enjoyed two cups of tea with some sandwiches.

The sandwiches were nothing to write home about and for sure not doing my blood sugar levels any good. The tea was OK, but drink from paper cups is not my favourite.


I have my breakfast
I have my breakfast
7 Eleven GO
At gate A14 waiting for boarding


I finish my tea and I walk to gate A14 to wait for the boarding of Luthansa's flight LH 2447 to Munich. I pass one of those self-service convenient stores, a 7 Eleven and you need to check-in on a screen and order what you want. I see that they have MAX.

But the store is not open so I cannot get any refreshments and I go to sit down at the gate next to the computerized convenient store.

I don't have to wait too long before it is time to board the plane and I am among the first to board the plane.


Time to board
Our plane
Getting on board
Getting on board


I was confident putting down my behind 12C, at the emergency exit. I have done it before but
they have kicked me out of my seat when I had been asking for the extension belt. Lard ass is not allowed in the emergency exit row.

Never mind if I have more safety training than the average passenger,
helicopter escape courses among the training I have done.

And I understand, they cannot have a cubic ton of lard blocking the emergency exit.

And believe me, the embarrassment to be kicked out from the seat when the plane is full is nothing you want to go through.
- HEY FATSO! You need to change seat!

All the passengers are looking at you. But now, I am full of confidence and I have not have had to ask for any extension belt for a very long time now so I had no worries taking my seat donning the belt with a click.


My seat at the emergency exit
My seat at the emergency exit
My seat at the emergency exit
My seat at the emergency exit


I was very comfy in my seat, and as an extra bonus, the seat next to me was empty. It was, well, not an enjoyable, but it was an OK flight to Munich and time turned quickly. I had to change terminal in Munich so I had to take a 2 minutes train trip between the terminals.

The train leaves every odd minute or so and I did not have to wait long. Getting on board the train and then to get off again after a minute. Taking the escalators to the departure gate and I was pleasantly surprised to discover that I came up just next to gate K21.

No need to trot around and there were plenty seats so I sat down waiting for them to start boarding my flight to Italy


Waiting for the train
Train arrives
On the way to the next terminal
Taking the escalator to the departure gates
Taking the escalator to the departure gates
At gate K21 waiting to board flight LH 1906


I must say that everything has been working out very smoothly today. Up at 3 o'clock and everything have been working well, pleasant flights and there have really been no time to get bored. All waiting times have passed quite quickly.

I had downloaded a few games to my phone before leaving Bangkok so I have been playing a little bit to kill time. Munich, time passed very quickly and it was soon time to board Lufthansa's flight LH 1906 to Catania on Sicily.


Time to board Lufthansa's flight LH 1906
Time to board Lufthansa's flight LH 1906
Time to board Lufthansa's flight LH 1906

We took our seat, flight was full, but the seat next to me in BIZ was empty so I will enjoy my flight. Boarding completed but we could not leave as there were delays in Catania on Sicily.

The airport has been closed for two days because of Mount Etna, the volcano. Making headlines in the news around the world.

Mount Etna eruption leads to flight cancellations at Sicily's Catania airport, click HERE for full story from The Guardian. We were soon being pulled out from the gate.

We are soon taking off on our way south. After a while we are flying over some mountains and we are soon over the Mediterranean.


We are taxi to the runway
On the runway
Taking off
Flying over the mountains
Island north of Sicily


I spent most of the time with my games and drinking tea and suddenly it was time to land at Catania. No jet bridges so we had to park on the tarmac and there were quite a few planes.

The stairs did not work so they had to arrange for new stairs and we had to wait for them to bring the new stairs. I could see the new stairs coming down the road and we could get off the plane after 10 minutes.

Coming off the plane and there were three buses waiting for us to take us to the terminal.


Arriving to Catania, Sicily
Arriving to Catania, Sicily
Arriving to Catania, Sicily
New stairs arriving
Nice to step down on the tarmac
Nice to step down on the tarmac
Time to get on the bus
On the way to the terminal


Entering the terminal and I checked the monitor, only one arriving Lufthansa flight, from Monaco. Well, this is Italy so Monaco and Munich are close enough. I was waiting at belt #4 and the passengers started to get nervous, 30 minutes and no sign of our luggage.

And the Lufthansa Flight 1906 and Monaco had disappeared from the monitor. I asked some of the staff but they just showed me a telephone screen saying:
I DON'T KNOW, SOME PROMLEM UNLOADING, BUT YOUR LUGGAGE WILL COME

Took an hour before the luggage showed up and I could go out to look for my driver. We came out and the ground was covered with ashes from Mount Etna.

We loaded my bags in to the car and we started to drive south towards my hotel in Siracusa.


driving through the first tunnel


We passed a couple of tunnels on the way to Siracusa and when we came out from the first tunnel, I spotted some Cattle Egrets in the field next to the highway.

There were some cattle and the egrets enjoyed their company. I could not help myself so I reported the birds in eBird. We arrived to the hotel and I will be picked-up tomorrow morning at 8 thirty for the immigration.

I had my lunch, I asked for Spaghetti Carbonara but they could not do it. So, I asked for Spaghetti, bacon and onion and they brought a big bowl. And it was not any good food.

Actually, it tasted like
Making much better pasta at home


I went to buy tea at the supermarket, only fruit tea in the room so I went to buy some Earl Grey tea and milk so I can enjoy some tea in my room in the afternoon. After the pasta adventure in the restaurant, I decided to skip dinner at the hotel.

I bought some chocolate at the supermarket and it did not make me feel any good, tasty while eating it. But after, a totally different story.


Supermarket


So, this is pretty much it from my holiday 2023, 7 months and I have had the time of my life. But the best thing happened was my diet. And my diabetes is gone. The Doctor told me that I don't have diabetes anymore.

I can eat cake and the blood sugar levels are OK after 2 hours, one year ago my sugar levels would have been off the chart for three days after eating cake.

Tomorrow is a new adventure and you just need to click HERE to follow the new adventure.


OK, it has come to my knowledge that we have senior citizens visiting my web page. How hard can it
be? So it's not very easy for them to see the blue coloured links to the next page.

Jiffy (also jiff)


noun [in SING.] informal a moment: we'll be back in a jiffy.

ORIGIN late 18th cent.: of unknown origin.

So as you understand, in a jiff pretty much depends on your internet.

So I put a "Next" button here and I hope that there isn't any problem to understand how to use that one. So just CLICK the "Next" button on your left hand side and you will be on the next page in a jiff!
Marunong ka mag-tagalog? Walang problema! Magpunta sa kabilang pahina pindutin ang "NEXT" button sa itaas


Faites vous parlez le français? Pas de problème! Pour arriver à la page suivante faites s'il vous plaît un déclic le bouton "Next" ci-dessus!


Haga usted dice el español? No hay problema! Ver la siguiente página sólo hacer clic el botón "Next" encima!


Farla parla l'italiano? Non problemi! Per vedere la prossima pagina lo scatto per favore giusto Il bottone "Next" sopra


Sprechen sie Deutsch! Kein problem! Wenn Sie die folgende Seite sehen wollen gerade klicken der Knopf "Next" oben!


คุณพูดภาษาไทยได้ไหม ไม่มีปัญหา ถ้าคุณต้องการไปหน้าถัดไป ให้กดปุ่ม "Next" ข้างบนนี้


Вы говорите по-русски? Просто нажмите синюю кнопку "Next" с левой стороны и Вы моментально переместитесь на следующую страницу!


E ni Svenskar och inte förstår Engelska så ska ni skämmas. J och Björn, med det menar jag inte att alla mina stavfel ska ältas varje gång vi träffas.


Well, the flag of Skåne, just a BONUS flag.
You are visitor no.