Tuesday 22nd of June 2021 and it was nice to leave my apartment after 3 weeks home quarantine. I am not allowed to leave my apartment before flying to Singapore. But they require a Covid-19 test 72 hours before departure. Then I need a FIT TO FLY less than 24 hours before departure.

Anyway, so I needed to visit the hospital and it was nice to get out. Arriving at 06:20 and I registered and then I had to wait until 7 before the Covid test department opened. I had booked
a time to see the Doctor so I could buy one more box of Ivermectin. So she checked my vitals and I booked blood tests to look for cancer.

She sold me a package including ECG on the 4th floor.


Bangkok Hospital
Bangkok Hospital
Checking my vitals


I finished with the doctor and I got to take the Covid-19 test, for sure nothing I was looking forward to. I got in to the room and I took my seat. And one test in the nose and one in the mouth, and the nurse could not answer why it was necessary for two tests if the Corona is so dangerous that we need to be 2 meters apart. Less than 2 meter between nose and mouth.



I finished my Covid test and I went to the 4th floor for my blood and ECG. We got right off with the blood test and then I continued with the ECG. I left a urine sample and I left the hospital to come back to pick up the result in the afternoon.


ECG


I picked up my Covid result in the afternoon and it was negative. I will have to come back tomorrow for my FIT TO FLY certificate. I was also happy that my ECG was normal, no cancer and I was pretty happy when I got back home.



+++++++++++++++

Wednesday 23rd of June 2021 and I got my Covid result yesterday, negative. So now I have everything except the FIT TO FLY and I went to pick up the FIT TO FLY in the afternoon. Now everything is ready for flying to Singapore. TAXI booked for 08:30 tomorrow morning and my alarm set to go off at 4 o'clock.





+++++++++++++++

Thursday 24th of June 2021 and I woke up 15 minutes before the alarm was set to go off. I had spinach for breakfast, leftovers from yesterday's dinner. My bag was ready and it was just to relax waiting for the taxi when I had done the dishes.

We have the drama of me signing off fresh in mind. Not possible to fly to Thailand so I had to go to Europe. Lucky our Agent's Representative was in Bangkok so he could bring my winter equipment and my camera stuff. I have prepared a bag that I keep on the bed in my guest room in case we have the same drama signing off next time.


My WINTER EMERGENCY PACK in my guest room
My bag ready to go to Singapore
Yoga mats


I will also bring two yoga mats on board. Well, our Agent's Representative will bring them when he joins us when we come back to Thailand 3rd of July. Loading Bongkot 1st of July. So I will
hopefully have a V-shaped torso when I come back home.

The car called me at 8 o'clock to tell me that he had arrived. I was pretty much ready and we left at 8 thirty and I was happy to leave Bangkok and Thailand behind. But I hope this is the last time I have to fly to Singapore to work in Thailand.

Normally just a quick trip with a car to reach Rayong.

Well, Corona and nothing is easy, except for if you have plans for a Olympic Game or a soccer championship. Or even get on board a crammed commuter train.



I was in the taxi, sitting in the back enjoying the AC and it was light traffic on Sukhumvit. It have been fantastic in Thailand since the Covid started some 16 months ago. No traffic and easy to get hold of a taxi. Of course, closed public parks have not been so nice.

Anyway, I expected to be at Suvarnabhumi way before check-in opens. But nice to have ample time if something goes pear shaped.


On the way to Suvarnabhumi
On the way to Suvarnabhumi
Approaching Suvarnabhumi International
Here we are
Suvarnabhumi is empty
Suvarnabhumi is empty


There is only one entrance in use due to the epidemic. They are checking temperature at the entrance so there was no option to get out of the taxi at Singapore Airlines check-in row.

Check in at row K and the entrance door is at row B. I said bye to the driver and I went inside passing the temperature check. What is this temperature check for? Discover corona?

The airport was next to empty. Oh!I will really miss this times when the airport is full again. Of course, Singapore Airlines check-in was not open so I sat down for 45 minutes or so and at 09:45 the check-in was open when I went to check.

Check-in was quite quick even though they had to check all my documents needed for being allowed in to Singapore. I was informed by the very nice and helpful check-in staff that the airplane was next to empty. Exactly as I want it to be.

Singapore Airlines lounge is closed, but Thai Airways lounge just next to the Gate E1 is open. Perfect, flight SQ 707 is departing from gate E1.


Only 3 people in the security
Suvarnabhumi is like a Ghost Town
Suvarnabhumi is like a Ghost Town
Some shops are open

3 passengers in the security and the immigration was totally empty, not one single passenger and I just had to take a picture. But I had to erase the picture when I had passed immigration as it was not allowed to take pictures. Suvarnabhumi International was like a Ghost Town.

But there was still a couple of shops open, but I don't need anything so I walked straight to Thai Airways lounge. I found me a soda water and I took my seat. There was also a small selections of pastries and pies. That was actually nice as I was a little hungry.

Frankfurt and Lufthansa lounge, there was nothing because of what they claimed to be due to corona. Lufthansa's corona strategy seemed to be to cut everything, food and drinks and continue as normal with selling tickets. Outside the lounge you could by tea and sandwiches at all the food shops, but in the lounge, nothing.

And they had cut the opening time to a few hours during day time. So this was a strategy to save money, not to fight corona.


Soda water in Thai Airways lounge
My plane waiting for me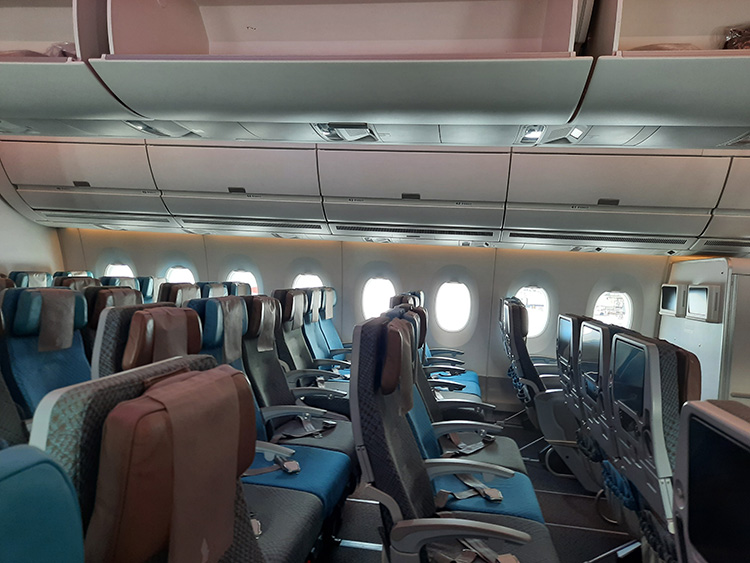 Almost empty plane
Pulling back from the terminal


I spent 30 to 40 minutes in the lounge and they came to tell me that Singapore Airlines was boarding. It was early but all passengers had boarded and they called up passengers to board after row number. Yes, I could not help myself so I asked why they called the passengers when there was no one to board.

I got my seat and as we had boarded early it was a little bit of waiting in my seat. No problem, I enjoyed myself relaxing in the seat leaning to the seat forward of me. I dozed off and I woke up when the plane pulled back from the gate.

Airborne and they were soon serving food and it is the first time I eat food from paper boxes, but it was good. Some pasta and a cake for dessert and I had two cups of tea.


On the way to Singapore
Pasta in a paper box
Pasta in a paper box


Time passed quite quickly and we were approaching Singapore and we had some slight turbulence, typical, I like slight turbulence as it makes me fall asleep. But now we were landing so this was annoying. I could see that we had normal Singapore weather, whenever I come to Singapore it is overcast with showers and very hot.

Coming of the plane and it was same procedures as last time I was here. Transfer passengers were lined up and walking to the next terminal where they will check the temperature like they did with me last time. I was going to stay in Singapore so I could just proceed to the immigration.


Leave my plane behind
Immigration is totally empty
Immigration is totally empty


They looked at my passport and the arrival card I had filled up online, pictures and finger prints, a look at the Covid test and I was off to pick up my bag. X-ray the bag in the custom and I have passed here many times. Many many times and never any issues with the X-ray but this time there was a whole team coming to look at the screen.

- Do you have a pocket knife in your bag?
- No
OK, have a good day and I was off to look for the wan that will bring me to the pier. So Roy Maersk next and you just need to click HERE to find out if I made it on board.


OK, it has come to my knowledge that we have senior citizens visiting my web page. How hard can it
be? So it's not very easy for them to see the blue coloured links to the next page.

Jiffy (also jiff)


noun [in SING.] informal a moment: we'll be back in a jiffy.

ORIGIN late 18th cent.: of unknown origin.

So as you understand, in a jiff pretty much depends on your internet.

So I put a "Next" button here and I hope that there isn't any problem to understand how to use that one. So just CLICK the "Next" button on your left hand side and you will be on the next page in a jiff!
Marunong ka mag-tagalog? Walang problema! Magpunta sa kabilang pahina pindutin ang "NEXT" button sa itaas


Faites vous parlez le français? Pas de problème! Pour arriver à la page suivante faites s'il vous plaît un déclic le bouton "Next" ci-dessus!


Haga usted dice el español? No hay problema! Ver la siguiente página sólo hacer clic el botón "Next" encima!


Farla parla l'italiano? Non problemi! Per vedere la prossima pagina lo scatto per favore giusto Il bottone "Next" sopra


Sprechen sie Deutsch! Kein problem! Wenn Sie die folgende Seite sehen wollen gerade klicken der Knopf "Next" oben!


คุณพูดภาษาไทยได้ไหม ไม่มีปัญหา ถ้าคุณต้องการไปหน้าถัดไป ให้กดปุ่ม "Next" ข้างบนนี้


Вы говорите по-русски? Просто нажмите синюю кнопку "Next" с левой стороны и Вы моментально переместитесь на следующую страницу!


E ni Svenskar och inte förstår Engelska så ska ni skämmas. J och Björn, med det menar jag inte att alla mina stavfel ska ältas varje gång vi träffas.


Well, the flag of Skåne, just a BONUS flag.
You are visitor no.