"The postings on this site are my own and don't represent Maersk Group's position, strategies or opinions. All views are my own"
Thursday 4th of June 2015 and as soon as we reached the end of the jetty we discovered that the driver had not drove the car all the way down. He had parked outside the gate and we had to walk
through sand to the gate. Well, my new luggage are destroyed by sand.

And it didn't make it better that we were going to the airport in a pick-up truck with our luggage in the back. But we were on our way and that is the most important so we were in a glorious mood. First stop. Mauritania Airline.

Our driver was back after a few seconds and we drove off with smoking and screaming tyres. We passed the airport,
well, at least we thought it was the airport as there were something looking like a traffic tower.

















We ended up in a housing area. Our driver got out and he went in to a house and we thought he went for lunch. Of course, we took the opportunity to explore the area. It was, well, just sand and dust and a lot of
garbage flying around. They throw the garbage everywhere and the desert is full of garbage.

There were some fences in the desert and they were full of garbage that had got caught on the fences when blowing around. I called our Chief Engineer.
- Look, it is easy to understand that we're heading for a disaster with all this plastic.

In NW Europe we recycle, for what. Seriously, billions of people just throw the garbage where ever they stand or sit. If they were serious with "trying" to save they should forbid plastic.


A donkey come along
The pick-up truck
The housing area is mostly gravel and sand
Goats walking around in the rubbish

We saw goats all over town eating paper and other rubbish laying around


Our driver was soon back and we took off again, passing the airport for the second time and we were wondering what was going on. Well, we were soon back at the Mauritania Airlines office. Turned out that our driver had been in the house to get cash so he could pay for the tickets. OK, we got the tickets and we were finally on our way to the airport.



=================================================================
Passengers(s) :
Aladdin

=================================================================

Thursday 04 Jun 2015 AF 727


Airline
Departs
Arrives
Status
Duration
Seating
Baggage
Aircraft
Air France
22:40 Nouakchott - Nouakchott Arpt
05:40 Next Day Paris - Charles De Gaulle Intl Arpt Terminal 2E
Confirmed Economy Class
5 hours
Seating to be allocated at check-in
2PC
Airbus Industrie A330


-----------------------------------------------------------------

Friday 05 Jun 2015 TG 931


Airline
Departs
Arrives
Status
Duration
Seating
Baggage
Aircraft
Thai Airways Int
13:40 Paris - Charles De Gaulle Intl Arpt Terminal 1
05:55 Next Day Bangkok - Bangkok Intl Arpt
Confirmed Economy Class
11 hours 15 minutes
Seating to be allocated at check-in
40K
380


------------------------------------------------------------------


So on top of the Nouakchott to Bangkok ticket I had another ticket to keep track of.



------------------------------------------------------------------
| | | | | | | |
| --- | --- | --- | --- | --- | --- | --- |
| DATE | FLIGHT | DEPARTURE AIRPORT | TIME | ARRIVAL AIRPORT | CLASS | BAG |
| 04JUN | L6 115 | NDB-NOUADHIBOU, MAURIT | 1930 | NKC-NOUAKCHOTT, MAURIT | y -OK | 20K |
| | | | | ARRIVAL:2010 | | |
------------------------------------------------------------------


We arrived to the airport (third time passing the traffic tower) around 5 o'clock, still 2 and a half hour until departure. Our driver went up to what was turning out to be the terminal and he was
soon back. We had to wait in the car as the terminal wasn't open yet. Charterer's representative told us that they could just cancel the flight without any information.

Well, we were soon joined by 2 off signers from a Green Reefer ship. Otherwise there was no sign of any other passengers. We were parked across the street and they were building a stage behind us so there is about to be a concert of something.
Well, a shame that we will miss that excitements.

Time passed kind of quick, well, I was mostly thinking about how lucky I had been. My reliever had to cry and beg to board the flight in Bombay. He had even threaten them to commit suicide right there in front of the check-in desk. So they had let him on board.

Well, don't get me started about what I think about failing to provide the right documents THREE TIMES! But I was off the ship and I will soon be on my Polar Bear Quest and 30,000 US Dollars will come to a good use. I would not have been happy if they had been turning out to be a waste.

Nouadhibou Domestic Airport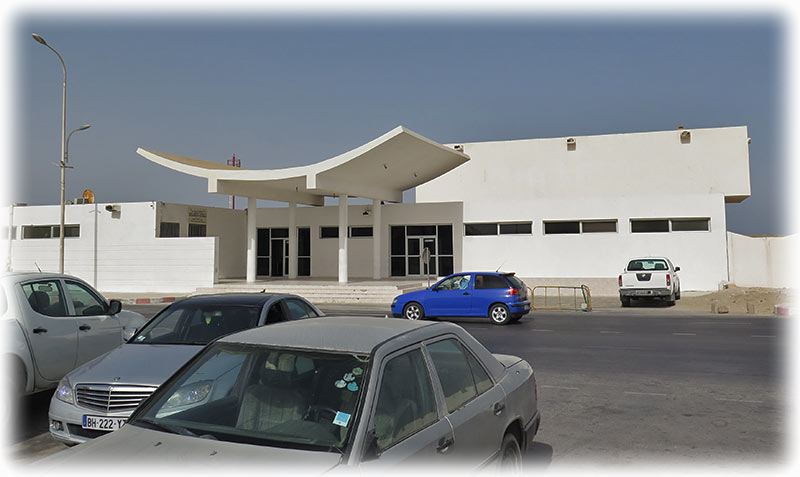 Nouadhibou Domestic Airport
Nouadhibou Domestic Airport
Playing soccer across the street from Nouadhibou Domestic Airport
Playing soccer across the street from Nouadhibou Domestic Airport


We saw some action at the terminal building and we crossed the street. We scanned our luggage
and we put our luggage in front of the check in counter. No sign off any check in staff. 2 hours until departure and there wasn't any sight of anything to kill the time with. Nothing, a few benches.

I walked around taking pictures, this was absolutely forbidden according to our driver. Well, of course I wanted pictures and I
asked the security if I could take pictures. Something was allowed and something was not possible to get on picture.


And I really wanted a picture of the Tenadi Tours logo. I liked the camels and the palm tree. Security came running waving their guns but it was OK to take the picture.


Not much exciting going on at Nouadhibou Domestic Airport


Walking around, well, there wasn't much space to walk around. I was thirsty and I saw a cupboard
in a corner. There were some chocolate bars that looked to have been there for quite a while. There were also some soda cans and a few bottles of water.

Is this the snack bar? I was thirsty and I asked someone of this was the snack bar.

They called a guy and I asked him if it was OK to pay with Dollars. I asked our Chief Engineer if he wanted water. I bought 2 bottles and I handed the guy 2 Dollars. He took of and he
was obviously thinking it was a Dollar millionaire visiting town throwing dollars around because he was soon back.

He was carrying a bowl and he opened the lid. Inside was a lot of smaller
bowls
- Madame
- What?
- Madame
- I don't understand what you mean!

Took me some time to understand that he wanted to sell the bowl to me and I should give it to my girlfriend. I told him that I was single. Now all the people in the terminal got involved. They could not believe that I was single. A guy with so much dollars single, impossible.

Our driver was soon asking us to follow him and we went to a small room that turned out to be the immigration. We got a visa to Mauritania, another page wasted in my passport. We went back to
the departure hall and we passed the Police and security check.

There was a bar in the departure hall. Well, a bar is too much to call it. They had coffee. Time passed by and it was soon 19 thirty, departure time.


Nouadhibou Domestic Airport
Nouadhibou Domestic Airport


8 o'clock and still no sign of the plane. 8 thirty and the passengers started to pray but no sign of the plane. Where is the plane? They have one departure per day to Nouakchott. Our
relievers arrived with the plane from Nouakchott. Then the plane go to another town and stop at Nouadhibou on the way back to Nouakchott.

The plane arrived and as soon as they let us on board I was the first one to leave the terminal. I tried to take some pictures of the plane walking across the tarmac, but they turned out to be nothing but shit. Plane had some passengers on board, but the row at the emergency exit was empty and I took a seat holding the row for me and the Chief Engineer.

We were on board around 21 thirty. Now they had to hurry up if we were going to make it with the Air France AF 727 to Paris. We had the safety show, everything in Arabic and French. Not a word of English was mentioned during the flight. I have been on some Scooby Doo flights in my days, but there had always been information in English, even on domestic flights.


Safety information
On our way to Nouakchott
On our way to Nouakchott
Landing in Nouakchott and we can see the Air France plane
Walking to the luggage claim at Nouakchott International


Arriving to Nouakchott International Airport almost 2 hours late and we were in ahurry if we wanted to make it on Air France's flight to Paris. The Agent was waiting for us and we ran to the luggage claim area where we had to wait for a few minutes before our luggage came.


Running to the check in with our Agent saying GO GO GO all the time. We were soon annoyed with him and his GO GO GO and hurry up all the time.
- Can I please have a aisle seat?
- I will look, the girl said
- Do you check my luggage all the way to Bangkok?
- Yes
She took my bags and moved them to the other check-in counter. Well, maybe because they were going to Bangkok. Chief Engineer's bag ended up there as well. Turned out that we were on stand-

by. The plane was full and no seats available for us. Boarding completed and monkey class was full. There was a guy at the business check in trying to get a BIZ seat. I asked a guy how much is was to upgrade.
- 350€
I had my Amex in front of him before he had finished his sentence. He screamed to the guy at the business check-in.
- We have 2 business passenger here!

In the nick of foocking time, the 2 last seats on board and the other guys trying to upgrade had to take another flight. Don't blame me, if they had just upgraded without all the haggle they had been on the flight. Now it was me and the Chief Engineer going on the flight, in style. They sent away our bags. The Agent was running around and by now our Chief Engineer and I was very annoyed with him.
- We have flied millions of time and you have never been flying.
- GO GO GO
- We're not foocking dogs!
- Oh, sorry.

Flying and there was a few things happening as soon as I put my Amex in front of the check-in guy. He screamed 2 upgrades and we got our seats. Our bag left the terminal for the flight. Now it
was never mind how much the Agent was running around GO GO GO. Our bags are on board and they will need to unload them before departure if we're not on board.

So then they are of course waiting a few extra minutes for us to be ready.

I told the Agent that we would get out of here. And we must get out of here, yellow port regarding the security. But this was not of our concern. But the malaria is. We had planned to start eat malaria medicine yesterday, but as there was no need to
stay at hotel in Nouakchott (only God knows how many hardships we would have to experience here in Nouakchott waiting for the next available flight) we had just greased us up in mosquito repellent.

Nouakchott have plenty malaria, but there are no mosquitos in Nouadhibou and thus we had to pay 10 US per bottle for the mosquito repellent.

We walked to the air plane and there was a last security check before we were allowed to board.
Maybe Air France doesn't trust the X-ray machines here in Mauritania. Or the attitude towards safety and security in general.

Well, I would not have trusted them as it looked like they were a wee bit lenient towards security. We had 2 ladies walking through security in Nouadhibou talking on the phone holding their hand bags. Of
course, the machine gave of alarm, but no one seemed to care. Never mind, we were on board and we will soon be on our way to Paris on board Air France flight AF
727. Hasta La Vista, let's get us out of here in double hurry. I'm hungry, we have not had anything to eat since lunch.

So the quicker we're air borne the quicker we can get some food.


Now, where is the food?
Champagne
Champagne
I had a bottle of water
Finally food - My starter

I have always heard that the food on Air France is excellent. And it was excellent, well, maybe because I was very hungry. But we had a starter and then I had beef, very good beef. I finished my meal, I advanced my wrist watch by 2 hours and I was on Paris time and suddenly it was the 5th of June and I tried to get some sleep.



+++++++++++++++

Friday 5th of June 2015 and I woke up after an hour or so. Soon time for breakfast, as I told our Chief Engineer: We're not doing anything but eating on this flight. But I was very tired, this is what I don't like with this short flights during the night, not possible to take a sleeping pill and it is hard to sleep. Nut it could have been worse, we could have been sitting in the back.


Some people can sleep
We're over Europe
Still sleeping
I get his tooth brush and tooth paste
Crack of dawn when we reach Paris
We had a good breakfast, well, not like on Thai Airways where they provide me with a big tea cup. Air France and everything shall be "CHIC" and they only had small cups. But they provided me with
two (a little bigger) paper cups.

I was tired, but we felt OK when we stepped of the plane at Charles De Gaulle International Airport.

Arriving at Terminal 2E and my flight will depart from Terminal 1 in about 8 hours. Our Chief Engineer will go to Copenhagen so we split up when I took the elevator down to the shuttle bus.

I had to take a shuttle bus to another terminal and from there I had to take another shuttle bus to Terminal 1. Charles De Gaulle International Airport is quite big so there was no bus straight to
Terminal 1. But there was a bus waiting when I came down and I was soon on the bus sitting in the front as I had no clue where to go. But the driver would tell me where to get off.

I got off the bus and I was soon on the next bus taking me to Terminal 1.

Terminal 1, I could not believe it when I got off the bus. This was something I had expected from East Germany back in the 80's. Looked very run down. Well, my guess is that Terminal 1 is the original airport from
back in the 50's or something like that.

It was for sure looking like something that was 60 years old.

I recognised the underpass under the tarmac since me and my friend was in Paris when we were in the navigation school a few years back.

And I'm sure the escalators or whatever they call the stuff that makes you move along without having to walk through the tunnel was something they were talking about around the world back in the 50's. But now it is the year 2015. Never mind, I will soon be out of here, and that is without any backward glances.



I found STAR Alliance lounge, but I need to find a transfer desk so I can check-in. The people at the airport foocked up big time. They showed me around and suddenly I found myself outside the
security area.

No way to get back in and I will have to kill 3 to 4 hours in the terminal before Thai Airways check-in opens. I was not happy, and my shoes, after 3 months on board the leather have most likely shrunk and it was by now very painful to walk around in my shoes.

Walking, I wish, it was more like I was limping around Charles De Gaulle International Airport. And my mood didn't improve when I asked
for a restaurant in the information. They, seriously, recommended
Mc Donalds. IN FRANCE! I had expected more, much more.

I found a coffee shop, everything served in paper cups. I took a seat and I put up my computer. But there were too much people in line so I enjoyed a bottle of water I had bought in a newspaper stand.






The plan was to sit here until Thai Airways check-in open at 10 o'clock. I was at the ticket office to upgrade my ticket, but they told me to come back when the check-in had opened.

Well, I was back 10 minutes before 10 and they called the manager at Thai check-in and I got my upgrade, 700€ And was I lucky, the last seat available on Thai Airways flight TG 931 to Bangkok.

Well, I was happy when I had the ticket in my hand and I returned to Thai Airways check-in
counter. I asked the girl for a window seat if they had single seating. She told me that they had a 3-4-3 configuration.

This Airbus A380 must be really big and wide aircraft I thought. I looked at the girl and I asked her if I had heard right. And yes, she had said 3-4-3. And this is for sure not a business class I want to sit in.
- That was strange, how wide is this aircraft? Don't you have the single seat configuration?
- You are flying monkey class
- Please, have a look at the ticket
- Oh, sorry!


Turns out that we're flying with a A380 - First time for me

Will be interesting to see what's so foocking fantastic - They have spoken about the A380 like the second coming


I have made a fool out of my self enough thinking I was going in Biz when I have had a monkey class ticket. I bought a Biz in Kalmar, at least I thought it was a Biz, it was the same price. But they had issued a monkey class ticket. Embarrassing when I tried to get in to the lounge. After
that I always look at the tickets and boarding passes.

I limped back through immigration and I was soon at the STAR Alliance lounge. And it didn't took me long to discover that this must have been one of the worst lounges I have ever been to.

Seriously, it is the year 2000 foocking 15 and most of the passengers bring a lap top. So who the foock came up with the idea to have the computer desk in some white material so it
was impossible to use my mouse.

And I was very tired and I was almost falling asleep a few times. I decided to leave and I went to buy 2 bottles of Whiskey for my friend before going to the gate. I felt asleep at the gate, 30 minutes or so of power nap and when I woke up it was time to board.

My gate was leading us right up to the upper deck and my seat was 2 chairs from the door so I was soon sitting. Airbus A380, wått's dö madderfakking diil? It was exactly the same seat as they have in their Boeing 777. And I got this confirmed by one of the
Stewards during the flight.

We were soon air borne and they started to serve the food. I was soon asleep but it must have been a very quick power nap. I woke up just in time for the food.

Well, I missed the entry but they were soon bringing a starter for me. And as always with Thai Airways, it was excellent food.

I finished my starter and I got some beef and this was very good. Cheese and fruit platter and it was soon time for the cake
cart. They served something that looked like sponge cake in honey. It was not honey, it was actually so good I had to
call the Stewardess to ask what it was.
-It is rum
- RUM!!??
- Yes
- What kind of rum?

She didn't know and she went to consult the menu. She came back with the menu and it was only the name of the dessert.

Sponge cake drenched in something delicious. It was almost as good
as the Stroh Rum, but I suspect it was mixed with something. Thank
God I'm on a diet, imagine Charisma Man after 15 of those
desserts. Charisma Man would have turned in to the Obnoxious Man
before very soon, nothing we want to expose Thai Airways staff with and the embarrassment is something we want to avoid.

I enjoyed the view through the window while having my meal. So far this is the only thing I have discovered that is better on the Airbus A380. Windows are at a level so you can look out the window without having to sit on the floor.

I was very tired and it would not be any problem to fall asleep, but I didn't want to take any chance so I popped a sleeping pill. I slept for 3 or 4 hours. I woke up, but I was soon asleep again and I woke up 4 o'clock in the morning Thai time as I had advance the time by 5 hours on my wrist watch.



+++++++++++++++

Saturday 5th of June 2015 and we had about 2 hours to go to reach Suvarnabhumi when I woke up. It was soon time for breakfast and I had ordered croque-monsieur and some potatoes. Yes, I say
some kind of potato as it is in French and everything should have some fancy name. It is a darn potato. And croque-monsieur, why don't they just call it a grilled ham and cheese sandwich because that is what it is.
















Croque-monsieur, or a grilled ham and cheese sandwich and the "whatever" potato was excellent and I had several cups of tea. The Stewardess was busy bringing tea to my seat, and I had two of the JUMBO cups. Well, not JUMBO size for me, but according
to airline standards. And as I said to the Stewardess, the tea mugs are the reason I fly with Thai Airways. I have never seen them on any other airline.


So as long as they have these cups on board I will fly with Thai Airways. I must have had about, well, more than 10 of these cups with tea and I felt good. Nice to arrive and get back home, but I was not in a hurry. What a difference from sitting in the back. 20 minutes after departure and
the only thing you're thinking about is to get off the plane.

But they don't have Pepsi products anymore. I have had Pepsi Max on board Thai airways, but now it is only Coca Cola products. I will have send them a complain letter. Who the hell want to drink Coca Cola. I will not spend any money on any Coca Cola products. I even stopped drinking the Minute Maid.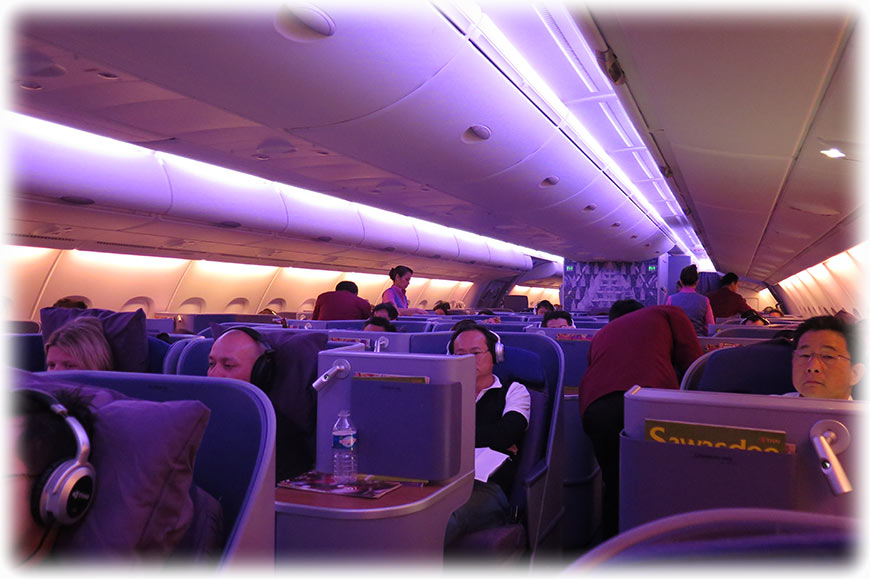 Business class section of the Thai Airways Airbus A 380

Too big for me, it feels like riding a crowded bus. 20 seats or so is a perfect size


Breakfast finished and I had one of the Stewardesses to fill up my tea cups. She never allowed me
to have an empty cup, top service as usual on board Thai Airways flights.

I was looking out the window and as we were approaching Bangkok the sun was coming up. Yes, this is what I liked with the Airbus A380. But I had expected much more after the HYPE with the A380. They have been promoted this airplane as a greater event than The Resurrection. I know people that have been flying between Bangkok and Hon Kong just to try the plane. IT IS A FOOCKING AIRPLANE!!

Seriously, what do they expect, a 5 STAR experience. Well, I was expecting a 5 STAR experience after everything I have read about the A380. OK, maybe not, I have been flying too much to believe that this would be any different from other planes. A flight is a flight and that is something you want to get over with. Of course, if you're sitting in the pointed area of the plane you are not in such a hurry as if you're in the back.

As we were descending to Bangkok, I had just heard the announcement to fasten seat our belts, and I was thinking about what had been better on the Airbus A380.
1) The window, I could look out the window while sitting in my chair

2) The PA system. I could hear what they were saying. It have always amazed me how they pay billions for an aircraft with a PA system for 3 dollars. Impossible to hear what they are saying.

?) They say the A380 is very quiet. I don't know, maybe

So this was what is was all about. Seriously, I'm going to stick out my head here, I think The Resurrection would be a far bigger thing than the launch of the A380 ever was. But that is me. Same seat as on board the Boeing 777 (Thai Airways) Same style as on ANA but ANA's seats are far far better. I miss the small boxes to put passports etc. when flying with Thai Airways.


The best BIZ seat I have experienced - All Nippon Airways


Thai Airways is OK, but ANA is a clear winner with the tray that you pull out from under the screen. This turns in to a desk if you need to work on your lap top. Thai Airways have the tray
next to you with a hinge to fold it down. And the hinge is right on your leg if you're a bit on the lage side.

Well, flying to my Polar Bear Quest and I will sit in a Boeing 777 again. We landed in Bangkok at time and I was limping off the plane. It took me an eternity to get to the immigration. And they are doing some redecoration so I had to walk through a maze looking construction site before reaching the PREMIUM LANE.

As usually, the PREMIUM LANE was empty and I was through the immigration in a jiff. Yes, the PREMIUM LANE is the best thing. Early morning and a few A380 and Jumbo Jets arriving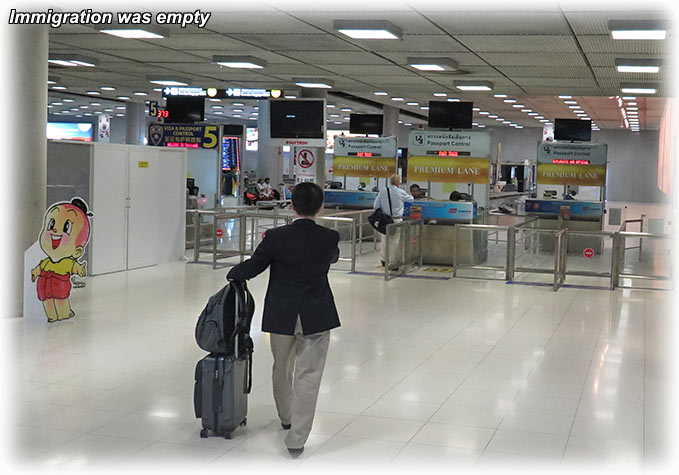 from Europe and it is a pandemonium at the immigration. Exit immigration at luggage belt #18, I looked at the monitor.

Arriving flight TG 931 from Paris, belt 8. Foock, on the other side of the terminal.

I limped down to belt #8 with a stop at AOT Limousine to book a car. I got my receipt and I continued to belt #8 where the luggage from TG 931 was just
coming up. I grabbed my bag and I went through the custom and straight to
AOT Limousine service desk. I was provided with a porter and he took charge of my luggage cart. The girl at AOT saw my camera and she wanted me to take a picture of
her before I left.

We left AOT's desk behind and I asked the guy to take me to Family Mart before we left Suvarnabhumi. I need some milk and
some Pepsi Max.

I have a few cans of tuna at home so I don't need to go shopping before we're getting started with the boxing.


My friend arrived at 1 o'clock with 3 bags of pineapple. Now I only need some papaya and I will buy it first thing.

I was quite happy with the exercise. I
had to do it barefoot as I could not walk wearing any shoes. But I have to wear shoes when going to MBK Center to buy my new camera and I'm not looking forward
to limping around MBK Center like I have shat my pants.

And while at MBK Center I can shop groceries at Tops Market and have my dinner at Kobune before going back home to sleep.

As I told the taxi driver, you know you're old (or have had a long flight) when you go home to sleep a Saturday evening in Bangkok. But I was very sleepy.


Canon EOS 5D Mark III
Often referred to as the King of cameras (For us normal deadly people)
I decided to buy this camera and the smallest flash I can find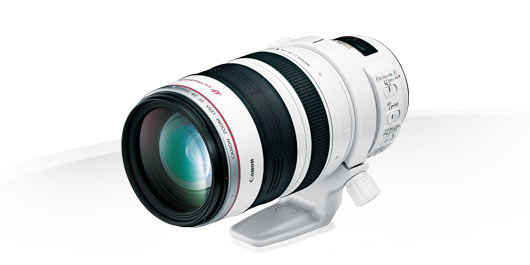 Canon EF 28-300/3,5-5,6 L IS USM
A great lens according to all the reviews I have read.
Perfect for the Polar Bear adventure in the midnight sun environment
Canon EF 70-200/2,8L IS II USM
A prize winner form Canon

F 2.8 and this will be a very good lens for the dusky jungles in the Amazonas

I got out of the taxi at MBK Center and I walked like I had shat my pants. 10 steps to get a meter forward. It was really pain full to walk. I was hungry and I started at Kobune. What a disappointment Kobune have turned out to be after having eating here for 20 years.

I took my seat and they brought me a placard for menu. I asked for the real menu. But this was what they had. No tuna steak or any of the other very good stuff I used to order. OK, I can have some salmon and I asked for a Purple Haze, the best smoothie I have ever had. I was told they don't have the smoothies anymore. I told them that I was on diet and I left.

I went in to Bangkok Foto next door. I got the price for the equipment I would like to buy. Then I
went to the 5th floor to check out Fotofile. I limped in to the shop and they looked at
me, yeah, like I had shat my pants. I explained that my shoes were too small. I gave them my list and the price came to 225,000 Baht.

Well, it ended up setting me back by 240,000 Bath as I needed filters and all the plus plus stuff. And a flash, I bought the smallest flash they had, a Speedlite 270 EXII

Paper work and it took quite some time before I could leave with 2 big bags. And it was heavy and I was limping and getting back home
to bed was the only thing I was thinking about when leaving.


A lot to do before I could leave
And there was a lot of paper work to be done before I could leave


Well, this is pretty much it about the adventure on board m/t Rø Mærsk. Now I will prepare myself for the Polar Bear Quest with a few sessions with Bangkok Photographers to get the ropes of my new camera equipment. And we will start on Monday and we just have to click HERE to find our self in the middle of that adventure.
OK, it has come to my knowledge that we have senior citizens visiting my web page. How hard can it
be? So it's not very easy for them to see the blue coloured links to the next page.

Jiffy (also jiff)


noun [in SING.] informal a moment: we'll be back in a jiffy.

ORIGIN late 18th cent.: of unknown origin.

So as you understand, in a jiff pretty much depends on your internet.

So I put a "Next" button here and I hope that there isn't any problem to understand how to use that one. So just CLICK the "Next" button on your left hand side and you will be on the next page in a jiff!
Marunong ka mag-tagalog? Walang problema! Magpunta sa kabilang pahina pindutin ang "NEXT" button sa itaas


Faites vous parlez le français? Pas de problème! Pour arriver à la page suivante faites s'il vous plaît un déclic le bouton "Next" ci-dessus!


Haga usted dice el español? No hay problema! Ver la siguiente página sólo hacer clic el botón "Next" encima!


Farla parla l'italiano? Non problemi! Per vedere la prossima pagina lo scatto per favore giusto Il bottone "Next" sopra


Sprechen sie Deutsch! Kein problem! Wenn Sie die folgende Seite sehen wollen gerade klicken der Knopf "Next" oben!


คุณพูดภาษาไทยได้ไหม ไม่มีปัญหา ถ้าคุณต้องการไปหน้าถัดไป ให้กดปุ่ม "Next" ข้างบนนี้


Вы говорите по-русски? NJET PROBLEMA! Просто нажмите синюю кнопку "Next" с левой стороны и Вы моментально переместитесь на следующую страницу!


E ni Svenskar och inte förstår Engelska så ska ni skämmas. J och Björn, med det menar jag inte att alla mina stavfel ska ältas varje gång vi träffas.


Well, the flag of Skåne, just a BONUS flag.
You are visitor no.
To www.aladdin.st since December 2005