Written onboard Ek-Star October 2010
Bangkok - Songkran 1997
Monday 14th of April 1997 and it was nice to be back home leaving Argo Pallas and Dubai behind. I liked Dubai, for a day or two. But then it's nice to get back to Bangkok.

But I was discovering that I was arriving to Bangkok in the middle of Songkran. The Thai new year and everyone is throwing water and baby powder at each other.
The girls in the reception of Rompo Mansion called me in my room

- Aladdin, we need to speak with you!

- Yes, no problem. Just come up!

- No, can you come down?

- What the
? Do you think I was born yesterday?

I had seen that the doors to the swimming pool were open and they had all kinds of water guns and toys, including buckets down there. Well, everything to dodge the water. It's nice as long as you're out doors but its freezing cold as soon as you come inside to the AC. And money and snus is destroyed. So songkran us a major hassle.

But it's fun. I remember this very Songkran because of the baby powder war at New Cowboy
Restaurant. If the throwing water part is fun, well, it's kind of boring. Everyone is wet so what's the point? And in Bangkok with the AC it's ice cold. But the baby powder is hilarious.

We were at New Cowboy having a beer minding our own business when a girl approached from another table. She
waied us.
- Happy New Year!
The she poured a flake of baby powder on each of our heads from a can of baby powder.
Hmm, can, I don't know It was in the size of a salt jar. I was watching this single flake of baby powder falling in front of me while thinking:
"OK, so this is how they like things around here"
Well, they don't know Aladdin!


I went to the convenient store next door and I bought a bucket of baby powder and I returned to the
restaurant. I waied
the girl and I wished her a happy new year.

She waied back smiling and I could see on her face that she was thinking "What a handsome guy!" just before I poured my bucket of baby powder over her. OK, now the war had started and the fun
was taking off. Back to the convenient store to buy two more buckets of baby powder.

And it went on until they were running out of baby powder. Hell, I even had to buy the small POCKET size baby powder jars. And when they were out of baby powder I bought all the PRICKLY HEAT powder. And that burns when you get this on your skin.

There was a guy having a few drinks with us. He told us to go easy with the baby powder.
- I'm on my way to a dinner part.
- Who the
cares? I said while pouring a full bucket of baby powder over him. ENJOY YOUR DINNER PARTY!

Well, who gets dressed for a dinner party during songkran in Thailand? And who the
ask
people not to throw baby powder and water during the songkran in Thailand? That's like asking for a shower and a bucket of baby powder.

Well, I was running out of snus. We had not planned for staying out getting drunk throwing baby powder around. And, well, anyway, the convenient store next door was out of baby powder and I was runnin glow on snus so we could as well leave.

And New Cowboy Bar & Restaurant,
when we left it looked like an avalanche had passed through the restaurant. It was thick with baby powder all the way from the
bathroom and out on the street. Hell, coming out from the restaurant and I expected a snowplough to come by any second.

They made a major redecoration of the whole place 10 years later or so. And they told me that
they were still finding baby powder at the restaurant.
- Well, substandard cleaning, I said.



So we left for my room to change clothes and to get more snus before we continued
to celebrate songkran. Of course, songkran is much more fun when you have your pockets full of snus so I don't have to run around worry if the snus will last.

Well, songkran is not something that you finish in one day. No, the party continues
for several days. And the day after it was knocking on my door.
- Is it the neighbours complaining over something?
Luckily enough I discovered a Norwegian and Finnish friend outside my door and not any of my neighbours.








- Come in fer f@ck's sake. Have a beer and let the songkran continue!

Rompo Mansion and they had a massage place
on the second floor. I don't like massage, I never understand the jumping up and down on top of me. But my friend does so they called for some massage and a few minutes later it was knocking on my door again.

They had an hour or so of massage and of course,
they were drinking beers meanwhile. So when the massage was over one of my friends passed out
in my bed.






Well, this was not the first time someone passed out in my room. But this was maybe the first
time someone had passed out in my bed. Otherwise they pass out on the floor and in the bathroom.

I don't know where we went when we left my room. But according to
the pictures we meet the ice hockey player from Finland. Sounds strange, but Bangkok had a hockey team.

And I knew one of the players, a
guy from Finland and they used to go to Dubai and other places to play hockey. So they took their hockey serious.
I don't know if it was my music, but there were always people in my room drinking beer and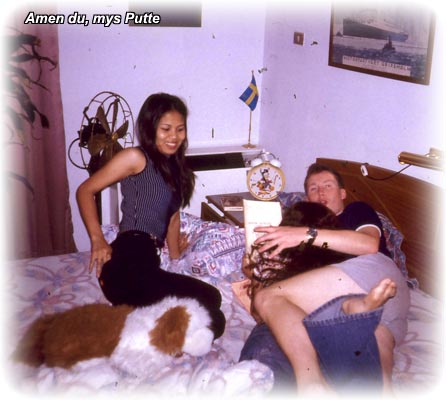 listening to music. OK, when you're 20 you don't
complain when they come knocking on your door with a case of beer.


And by the way, Ruff, the dog on the bed. I
haven't seen him (or her) since he was with us eating buffet at Marriot a few
years later. My friend brought him and, well, I was not asking for him when we left. And this was the last time I saw Ruff.

There are times when you just can sense how it is going to end. And when my friends came over with Bacardi it didn't take long before I could sense how it was going to end.

And I was right, the concrete hat was on before soon. One of them felt asleep sitting on my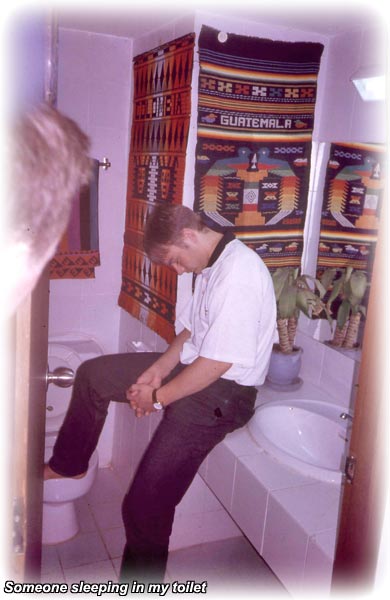 hand basin and later on he was sleeping on the floor and
we could not get him to wake up.

My Norwegian friend felt asleep on the floor. But we managed to wake him up and he joined us for a night on town.

I don't know what we did with the guy on the bathroom floor. I think we left him there when we left. Must have been nice to wake up there. Yes I can imagine how it must have felt waking up there.

- Where the
am I?
And with an aching body after sleeping on the hard tiles. Yes, been there, done that!

I was taking a few pictures of the eye sore and I had one of the pictures framed and I attached it to
my bathroom door as a terrible warning. So no one could
blame me for falling asleep on my floor. I had it hanging there until I moved out. But it didn't help. I have pictures of people sleeping under the picture. But that was still to come.

1997 and I don't think I had ever been to Pattaya. Maybe one time, but only for an hour. Going to Pattaya back then was an adventure. Today there is a
nice high way all the way and you take the trip in 90 minutes. But today there is only one stop and thus only one chance to replenish you beer bag.

Back then we stopped every 500 meters for beer and stuff.
Hmm, might be the reason for the long time spent on the road between Pattaya and Bangkok.

Well, we were sitting at New Cowboy Bar and
Restaurant eating lunch and we decided to go to Pattaya. we stepped out on Soi 22 and we stopped a taxi. No need to pack any bags or stuff like that.


We just stopped at Rompo Mansion to pick up my entertainment centre while the taxi was waiting outside.

Of course, along trip requires music and plenty stop
to buy beers or it will be boring. And all the beer stops had had an effect on us so we were in a good mood when we arrived.








But Pattaya, well, I didn't like it. So we had a beer in one of the beer bars and we took a taxi
back to Bangkok. And I didn't return to Pattaya for a long time.





One thing that was good with Sweden joining EU was that we lost our 90 days visa. We only get 30
days now as the other EU countries when we enter Thailand. So I have to leave every month and it's nice to get a weekend in Singapore, Vietnam or Malaysia or something.

I have pictures from the Don Muang airport. But then no more pictures so I don't know where I went. But I was in Vietnam so it might have been this time. Or if it was Singapore.
But I remember them coming to serve my wine outside the bar because I wanted to listen to my music. And I was not allowed inside with my entertainment centre.
Back from Vietnam or where ever I went and the party continued. Our friend from Finland was
moving back to Finland and I was going to
join a ship in Sweden so we had a last night out.

And when writing this I realise that I must have left for Vietnam when I was a Don Muang. I did just spend 30 days in Thailand so it would not have been any problem with my VISA. And back then I had overstay every time.

Overstay and Don Muang, yes, the queue to the Immigration when departed was a killer.



If you had overstayed you walked straight to the Immigration office and you had your stamp in 5 minutes, clever. I never had to wait in any queue at Don Muang. If it was as easy when arriving it would have been even better.

Well, anyway, we spent the last night at Woodstock on Nana Plaza, at least I think it was our last night. But I remember us being at Woodstock and I have the pictures to prove it.



Well, everything fun has to come to an end and I had to go back to Sweden. Darn, I just finished
a 4 months trip on Argo Pallas and after a month in FUNKY TOWN I had to join a new ship.
What did I do with all the money?

17th of May 1997 and it was time to join my next ship M/T Ekturus, just 1 click away.
OK, it has come to my knowledge that we have senior citizens visiting my web page. How hard can it
be? So it's not very easy for them to see the blue coloured links to the next page. So

Jiffy (also jiff)


noun [in SING.] informal a moment: we'll be back in a jiffy.

ORIGIN late 18th cent.: of unknown origin.

So as you understand, in a jiff pretty much depends on your internet.

I put a "Next" button here and I hope that there isn't any problem to understand how to use that one.
So just CLICK the "Next" button on your left hand side and you will be on the next page in a jiff!
Marunong ka mag-tagalog? Walang problema! Magpunta sa kabilang pahina pindutin ang "NEXT" button sa itaas


Faites vous parlez le français? Pas de problème! Pour arriver à la page suivante faites s'il vous plaît un déclic le bouton "Next" ci-dessus!


Haga usted dice el español? No hay problema! Ver la siguiente página sólo hacer clic el botón "Next" encima!


Farla parla l'italiano? Non problemi! Per vedere la prossima pagina lo scatto per favore giusto Il bottone "Next" sopra


Sprechen sie Deutsch! Kein problem! Wenn Sie die folgende Seite sehen wollen gerade klicken der Knopf "Next" oben!


คุณพูดภาษาไทยได้ไหม ไม่มีปัญหา ถ้าคุณต้องการไปหน้าถัดไป ให้กดปุ่ม "Next" ข้างบนนี้



Вы говорите по-русски? NJET PROBLEMA! Просто нажмите синюю кнопку "Next" с левой стороны и Вы моментально переместитесь на следующую страницу!


E ni Svenskar och inte förstår Engelska så ska ni skämmas. J och Björn, med det menar jag inte att alla mina stavfel ska ältas varje gång vi träffas.
You are visitor no.
To www.aladdin.st since December 2005
Visitors from different countries since 26th of September 2011