Introduction


I have booked tiger safaris and bird watching in India and Nepal and I will leave on the 5 March 2018. I had booked a few days in Chiang Mai before the tiger safaris. So when I was back home from Singapore it was just to turn around and go back to the airport and fly to Chiang Mai.

I have been in the area before and I want to give it another try. I will of course visit Doi Inthanon when I´m in Chiang Mai. Last time I stayed for a few nights in a hut on Doi Inthanon. Well, it wasn´t so comfortable so I decided to stay in a hotel in Chiang Mai next time coming here.

So I will stay in Chiang Mai and my Driver/ Guide will come to pick me up early tomorrow morning and we will drive there.




Guide


I know this man from previous trips to Chiang Mai. Starting out as a Driver. Now he is a full-fledged bird watcher and a good friend. He knows everything in the Chiang Mai area and I look forward for a few days with him.




Flights



Thai Smile flight WE 160
Bangkok Suvarnabhumi Intl - Chiang Mai 25Feb2018 10:00 25Feb2018 11:15
Thai Airways flight TG 111
Chiang Mai - Bangkok Suvarnabhumi Intl 28Feb2018 15:10 28Feb2018 16:20

Booked on Thai International´s web page.




Land transportation


• AOT Limousine between my home and Bangkok International Airport



AOT Limousine


I recommend the AOT or any other taxi service if you are leaving early morning. The price per trip is 1200 Baht comparing to around 220 Baht + about 80 Baht road toll. But the taxi can easily be 1000 baht if you´re getting desperate when not finding a taxi.

Early morning flight and it can be a hassle to find a taxi that want to take you to the airport so I book AOT and the car wait for me outside my apartment.

Leaving Suvarnabhumi and AOT have desks in the luggage claim area, where I use to book my car while waiting for my luggage. There are also desks just outside the custom and you cannot miss them.







•Taxi meter (Public Taxi) from Bangkok International Airport

Arriving to Suvarnabhumi International and they have TAXI Meters leaving from the ground floor. It is quite organised and I was surprised the first time I used a TAXI meter from Suvarnabhumi back home.



Bangkok Airport Public Taxi Service


• Public taxi stand is located on Level 1 (Ground Level).

• Contact Taxi counter, Level 1 – Ground Level, near entrances 3, 4, 7 and 8.

• Receive a ticket from a taxi queue machine, proceed to the lane number printed on your ticket.

• Taxi fare: metered taxi fare plus 50 Baht airport surcharge, and expressway fees.

• Public taxis serving Bangkok's Suvarnabhumi airport must be less than 5 years old.

• Public taxi drivers must be certified by Airports of Thailand.

• Passenger drop off at Departures (level 4 – outer curb).

From www.bangkokairportonline.com




• TAXI in Chiang Mai
Taxi in Thailand, if you are outside Bangkok is nothing but a scam for foreigner. I was using GRAB and it worked beautifully in Chiang Mai. Of course, it was not any Bangkok TAXI METER prices, but I didn´t had to haggle and fight with drivers asking for ridiculous prices.

I booked a GRAB and the car was waiting for me outside the hotel

SO I STRONGLY RECOMMEND YOU TO DOWNLOAD A TAXI APP!!!!! One of the best thing happened to Chiang Mai. I used UBER or GRAB. I think GRAB have bought UBER now but you will find out when you arrive to Chiang Mai. Anyway, you can have both apps on your phone so you are prepared for whatever taxi company is serving the city you are visiting.



GRAB Click and download their app for your phone



UBER Click and download their app for your phone



Accommodations


Mövenpick Suriwongse Hotel Chiang Mai
110 Changklan Rd
Tambon Chang Khlan
Amphoe Mueang Chiang Mai
Chang Wat Chiang Mai 50100



Mövenpick Suriwongse Hotel Chiang Mai
Well, for this price I have no other option than to give it 5 stars. 40 US Dollars per night is a bargain. I don't know, maybe a LOW SEASON price. But for 40 US it is a 5 star. For 80 US Dollars + I would have given it a weak 3 stars

Nice room, good internet and a good location. Super friendly and helpful staff at the hotel.

The water in the shower wasn't as hot as I would have wished for. Maybe it was me, but the AC was either too cold or not cooling at all.

The restaurant, maybe the best Khao Soi I have ever had even though it was pricey. 7 Dollar for a fried rice!!

Breakfast, 7 US Dollar so what can you expect. For the price it was a very good breakfast. I will stay here next time in Chiang Mai





Mövenpick Suriwongse Hotel Chiang Mai, well, last time I was living here I gave them 5 stars. This time it was another price, high season? Or maybe because the redecoration was completed.

I don't know, but it was a beautiful hotel and the room was very good. But I would only give them 1 star this time and I will change my review. What a scam this was.



Mövenpick Suriwongse Hotel Chiang Mai

Checking-in and they give me an upgrade. They changed from room 411 to 401. Later on in my room I discover a letter "Dear Mr. Aladdin" so this room was for me all the time.

I never accept any upgrades because I have had so many bad experiences with the "upgrades" But I have stayed here before and room 401 was a gorgeous room. But in the evening, I was in bed and the music started. My alarm is set to go off at 4 o'clock so I can go bird watching.

I call the reception
- There is some terrible music
- I don't understand
- There is some terrible music
- Do they play music in the next door room?
- No it is from a bar
- Who is playing music?
- I don't know, from one of you bars
- Not from the room?
- No
- Do you hear music from the outside? Very strange!

She was really playing surprised and she didn't knew anything.

- Do you mean that I'm the first one complaining?
- Hmmmmmm, errrrrr
- How many guest have complained before?
- Hmmmmmm, errrrrr Many!

So they treat their guests like idiots and I will not come back.









Equipment


Canon 5D Mk. III
Canon EF 28-300/3,5-5,6 L IS USM
Canon EF 70-200/2,8L IS II USM
Canon EF 100-400mm f/4.5-5.6L IS II USM lens
Canon Speedlite 600EXII-RT flash
Canon PowerShot G7X Mark II
Panasonic HC-W585 video camera

Sound recorder
ZOOM H5 Handy Recorder




Weather / climate


Weather, it can get cold in Chiang Mai during the winter months. And on top of Doi Inthanon it can actually drop to below zero. But I know that there will be no need for any winter clothing. Too much to carry and a little chill can be nice when walking around.


Chiang Mai, Thailand - Climate & Temperature
Chiang Mai, Thailand - Climate & Temperature - Click picture for full size






References/Resources


There are two sites covering Thailand and I have used them many times. These two web pages are actually everything you need for your birding adventures in Thailand. All the information you need about all the birding spots. Click on the map and then select your spot and you will have maps and everything you need to know about the areas. They have put a lot of jobs in to their web pages, North Thailand Birding and thaibirding.com A must to visit before you go bird watching in Thailand.

www.norththailandbirding.com - A one stop only for all your birding in Thailand

www.thaibirding.com - Nick Upton's one stop only for all your birding in Thailand.

Use both www.thaibirding.com and www.norththailandbirding.com and you have a winner. Some of the maps on www.norththailandbirding.com are way better than Nich Uptons, while some of Nick's maps are much more detailed. So I have found that if I use both the web pages for information, well, nothing else needed.

For inspiration, just click LOCATION on both of the web pages and you will have more than enough of ideas and information on where to go in Thailand to look for birds. EXCELLENT work!

ebird - Find birding hotspots with bird checklists from all over the world

Avibase - is an extensive database information system about all birds of the world, containing over 25 million records about 10,000 species and 22,000 subspecies of birds, including distribution information for 12,000 regions, taxonomy, synonyms in several languages



www.oiseaux.net This web page is also excellent for identifying birds. There is information and range maps for many many birds from all over the world. This page is almost guaranteed to give you any answer you have about any bird in the world.

Cloudbirders - Read birding trip reports from all over the world

Fatbirder - Linking birders worldwide... Wildlife Travellers see their sister site: WAND



Fatbirder is a fantastic web page with information from, I think every country in the world. My first stop when I plan for my bird watching trips. There is information about locations and guides, well, pretty much everything you need to know. Sometimes this is the only place I need to visit to plan my trip.

BirdingPal - find a birding Guide around the world



And the web page you cannot live without. I have been around the world looking for birds. I usually have a Guide, but sometimes it is not possible to find a Guide. So, well, I have lost count on how many times I have had help to ID birds at BirdForum. Joining this forum have been very very good for my bird watching experience.

www.birdforum.net

ClimaTemps.com is the place to learn about the worlds climates with more than 4000 locations documented. Each aspect of the climate is represented using colour enhanced tables and professional graphs so that data can easily be compared by switching between locations in different tabs in your browser.



"A Field Guide to the Birds of Thailand and South East Asia by Craig Robson"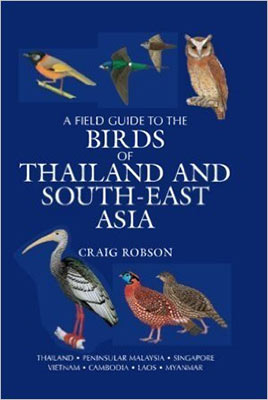 A Field Guide to the Birds of Thailand and South East Asia by Craig Robson. New edition updated with 76 species since previous edition "A Field Guide to the Birds of Thailand and South East Asia by Craig" Nick Upton at www.thaibirding.com wrote "This quite excellent book is packed full of quality illustrations and written information on 1251 species recorded in Southeast Asia"

I bought this book for bird watching in Thailand, but it goes for all over SE Asia




Places to visit


• Lanna Rama 9 Park, Chiang Mai
To find the place, well, should be easy if you use the GRAB/ UBER app. Book a taxi and put the marker on Lanna Rama 9 Park, easy enough. But to stop a taxi and to say that you´re going to Lanna Rama 9 Park will most likely end up with a taxi driver that don´t know the place. I booked from my hotel and I heard them say Suan Luang to the taxi driver. And if you can read Thai it actually say: สวนหลวง ร.9 and that is Suan Luang Rama 9. But be careful, there is a park in Bangkok with the same name.

Or show the below to the taxi driver:
สวนหลวง ร.9

I have been to nicer parks but it is Ok to kill a few hours. In this park I have seen the only Cinnamon Bittern I have ever seen. Snakes, I was putting my sound recorder in a tree, suddenly the what I thought was a rope started to move. I never tried to put anything in the trees after that.

I have seen owlets, Cuckoos and barbets in the park. In the NW corner there is a dump for organic waste and there are some old trees and the barbets seems to like these trees. There is a stable for, I think race horses along the road on the north side of the park so there are horses walking along the road. Some interesting birds can be seen walking along this road to the dam/ pond where you can see kingfishers and Racket-tailed Drongos

If you are in Chiang Mai it is worth a few hours to look around the park even if it is what I call a boring park.

• Doi Inthanon
Thailand's highest mountain of 2,530 m and a world famous birding destination. 301 Species recorded on www.norththailandbirding.com Doi Inthanon National Park Bird Checklist.

thaibirding.com have a Doi Inthanon Checklist with (351 species : Updated 28/12/18)

The road up the top offers differing habitats and a large altitudinal range. For example the Green-tailed sunbird it lives in open mountain woods from 1825 to 3350 meters elevation. And there are plenty of them at the summit. Last time I was there they had removed the concrete water containers just above the coffee shop next something looking like an office building.

The container was open on one corner with water dripping out. And I loved to hide there mid dy when the birds came to "swim" and cool down in the mid day heat. And the trees were full of bird waiting for their turn with the water.

There are also many of the very beautiful Bar-throated Minla or Chestnut-tailed Minla. Bar-throated Minla occupies a range of montane forest habitats from 1,800–3,750 m. The species is mainly resident but may move to lower altitudes during harsh winters, coming as low as 1,300 m.

Information about Doi Inthanon:
• thaibirding.com
• www.norththailandbirding.com

My favourite spot in Doi Inthanon is THE TOILET. Last time I was there they had changed the concrete containers for plastic and no more swimming. But the toilet is still there. In the bushes and trees behind the toilet you can find many birds. Just walk right in and the birds are scared away. Take a chair and sit down and the birds are soon coming back. I have been so close so it have not been possible to take pictures, would have had to use a MACRO lens

Toilet in June 2017

Toilet in February 2018

You find the toilet on the left hand side approaching the summit. There is a huge parking lot on the right hand side and on the left hand side there is also a huge parking lot and a few noodle stands. And the toilet is on the left hand side down in the corner of the parking area. There I see birds all the time.

Another area I like is to drive along road #1284 towards Check-point #5. All kinds of different Minivets along this stretch of road.

• Doi Chiang Dao
Chiang Dao, a small town in the northern part of Chiang Mai. The limestone peaks reach a height of 2,186 metres, people used to believe the highest point is at the same level of the stars. Chiang Dao is the third highest peak in Chiang Mai after Doi Inthanon and Doi Pha Hom Pok.

We parked the car at the gate to the Wat Tham Pha Plong temple. This small forest temple is accessible by an ascent of 510 steps. We walked all the steps up to the temple without seeing many birds. No pictures of any birds to bring back home.

But there was a lot of birds where we had parked the car. Outside the toilet there was a tree with small fruits and there was so many different birds flying in and out of the tree.

Doi Chiang Dao Checklist (272 species) from thaibirding.com

Chiang Dao and Doi Chiang Dao Wildlife Sanctuary Bird Checklist (300 species) from www.norththailandbirding.com

• Huai Tueng Thao
Huay Tueng Thao is a fresh water reservoir at the foot of Doi Suthep Mountain, just a few kilometres north-west of the Chiang Mai city center. It is a military area so don´t be surprised if you end up in a military exercise. It is a famous area and during weekends and holidays you might be better off staying away as it is full of people along the dam.

And even though it is a very popular place I have never managed to go there with a taxi driver that finds it at the first try. Going there with taxi and we have ended up at the strangest places. Yes, I have really not paid attention going there with my Guide. Anyway, even if the Thai script is saying Huai Tueng Thao it might be worth showing the below name to the driver and it should not be any problem:
ห้วยตึงเฒ่า




North of Thailand bird watching map





Bird checklist


I never use any bird lists, but since I try to make it in to Cloudbirders. A very helpful site when planning your birding trips. But they ask for a bird checklist, and if I use their service, of course I want to contribute as well. My two first bird watching trip reports was rejected by Cloudbirders.

So I started to take ideas from the reports I found on Cloudbirders. So I have started to use bird lists, eBird generate one for me and I can post it on Cloudbirders. I will post my birds on eBird and on my different "BIRDS THAT I HAVE OBSERVED" pages.

Full Thai list updated to the taxonomy, nomenclature and sequence of the IOU/IOC World Bird List. The complete checklist, including Thai names and synonyms, can be downloaded in Excel format - Thailand Bird Checklist. - Version 8.2 (2018) - found at www.norththailandbirding.com

Check lists can come in handy to find out the local name of the bird etc. And Avibase have a list with pictures and sounds, excellent!

So I will post bird checklists here and if my Guides provide me with checklists I will also post them here.




Chiang Mai, Thailand bird checklist from Avibase, click HERE

Avibase is providing you with bird checklists from all over the world. And I´m impressed by their web page. Select country and area and you get the bird checklist. Like the PDF files I got from Avibase on the links above. You also get the checklist with pictures and sounds.

The best part is that you get the local names of the birds and the online checklist gives the names in English plus the language you have selected. But it seems like the PDF cannot handle some alphabet.

For example the Japanese language so it is blank in the PDF checklist. But it worked excellent with Swedish. But you get them in the local language on the online version.




Bird list


I only listed birds I have got on picture before I started with eBird in November 2019. Now I record all the birds that I can identify. Before that see the DAY TO DAY reports and my lists of observed birds in different countries.

And you can visit my list of "Birds I have seen in Thailand"

My eBird checklists can be found HERE




Itinerary


Click on the links below for daily bird watching results:

25 February 2018: Bird watching in Lanna Rama 9 Park, Chiang Mai

26 February 2018: Bird watching on Doi Inthanon

27 February 2018: Bird watching on Doi Chiang Dao

28 February 2018: Bird watching in Huai Tueng Thao, Chiang Mai




You are visitor no.
To www.aladdin.st since December 2005
Visitors from different countries since 26th of September 2011