Friday 10th of November 2017 and I was very tired when they called me at 8 o'clock. Not much sleep but I forced myself out of bed. Birding or bust! I had one of the Choco milks I had bought at the service station next door when we arrived a few hours ago. I relax for a while trying to wake up and I get hungry. Lunch at the Japanese restaurant on the hotel. The food was, well, I have had better, much better.

I took a taxi and we were half way to Botanical Garden, the Tanglin Gate at the Holland road. The last area of the Botanical Garden that I have to explore. In this corner we have the Swan Lake, sounds exciting. Anyway, the sky opened up and it started to rain.


It starts to rain
Click HERE for bigger map
Arriving to Botanical Garden Tanglin Gate
Tanglin Gate visitor centre
Can you see the Monitor lizard?
Monitor lizard
Monitor lizard


Well, I spotted a White-breasted Waterhen and there was a Monitor Lizard. I heard some birds and I went to check it out. Looked like a small Tailor bird in the bushes. I had about 2 minutes of bird watching in the drizzle before it started to rain. I took cover but it seems that the rain will last all day long.

I decided to hang around for a little while more to see if the rain stopped or I will go back to my room. Well, I was paid handsomely for my waiting in the rain, a Jungle Myna showed up.


Jungle Myna

I took a taxi back to my hotel and I asked the driver to stop at the service station next to the hotel. I bought some orange juice and milk for my tea. I discovered a message from the agent in my room. Pick-up tomorrow morning cancelled, the ship is delayed by one day. Well, I don't mind, but now I just want to get on board. There are two nice occasions working on the ships:
1) When you put your bag in your cabin
2) When you put your bag on the floor back home

I decided to go for dinner and I wanted to be early or the restaurants will be full. Tony Roma's, not been there for a long time since I stopped going at Tony's in Bangkok. So it will be a FULL BABY BACK and a BAKED POTATO SOUP at Tony's.


Service station next to my hotel
Service station and Singapore river from my window
Christmas decorated Orchard Road


So I called a taxi and I was soon on my way to Tony Roma's. Located on Orchard Road in some kind of shopping mall. I have been there before but Tony's was full then so I never went inside. Anyway, Orchard Central as the mall is called is the most confusing place I have ever been to. Well, maybe second to Genting Highlands.

I got out of the taxi and the Christmas is in full swing in Singapore. Christmas decorations all over the place and as I said to the driver. Could have built many schools and hospitals for this money. Anyway, it was not easy to find my way to Tony Roma's at the Orchard Central

I had my food and I went to look for a Super Market. I will buy oatmeal and olive oil to bring with me on board. I have brought Earl Grey tea and Pepsi MAX from Bangkok. Now when I have the time I can as well look for olive oil and oatmeal. And of course, a beer mug for my tea.



Tony Roma's was a huge setback for my diet


I never found any beer mug, but I had two big boxes of oatmeal to carry back to my room together with a bottle of olive oil. Jump in bed early with my alarm set to go off at 5 o'clock. I will
hopefully be lucky with the weather tomorrow.



+++++++++++++++

Saturday 11th of November 2017 and I woke up at 7, obviously I had turned off my alarm. Good, I needed some sleep. I made tea and I was on my way to Botanical garden just after 8 o'clock. I asked the driver to drop me at the gate on Holland Road.
- YOU ARE WRONG!!??
- At the hospital, I said.

Of course, he passed the gate and I had to stop him. He was on the way to the Nassim Gate further up the road. Exactly where I didn't wanted to go.
- You want to get off here?
- Who was wrong now? Twat!

Tanglin Gate, same as I had been at yesterday. The security guards (Keeping track of people vaping in the park) came and shake my hand. He recognised me from yesterday when I had him to promise to get the weather back in order for today. My plan is to walk from here to the Swan Lake and up to the Shaw Foundation Symphony Stage. Walking along the "Kingfisher walk" (My own name, don't try to find it on any map, well, except for my map) and to go home from the Nassim Gate.

Of course, I hope to get a chance to try my new Audubon Bird Call machine. I had not seen any birds by the time I reached the Swan Lake.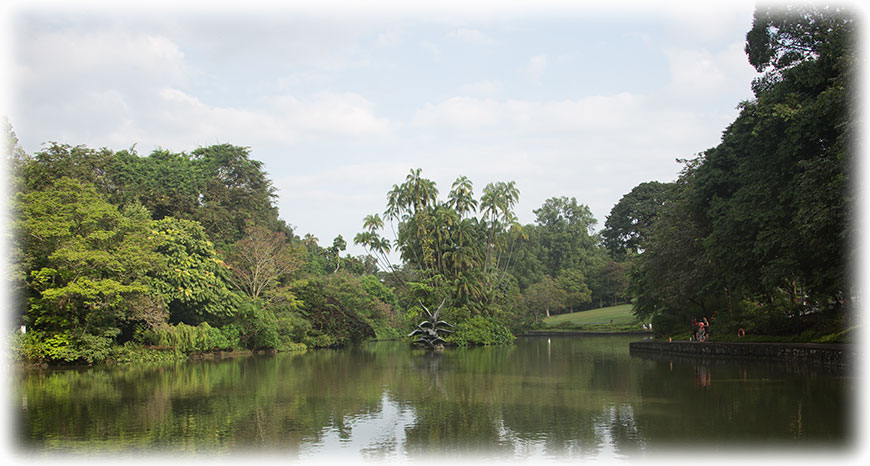 Walking around the Swan Lake
Walking around the Swan Lake
Walking around the Swan Lake
Walking around the Swan Lake
Audubon Bird Call machine in action


Not many birds were seen. Actually, I only spotted a swan in the Swan Lake. But it was a beautiful area and I could hear many birds. I continued towards the Symphony Lake and the Nassim Gate. I passed the Learning forest and I spotted a Sunbird in the flower. But this bird really didn't wanted to be on any pictures. Never sat still, always jumping around.

The Learning Garden or forest is a really beautiful place. But all is manmade and it was a strange feeling walking around. Suddenly some water fog started to spray in the middle of the plants. Just like you can imagine a space station when we have managed to kill the planet.

What are they saying? Spending billions (Million with a B) to try to find a place to live in outer space while spending millions to destroy our own planet.


The Sunbird was really playing hard to get
The Sunbird was really playing hard to get
Learning Garden
Learning Garden
Learning Garden
Psssss, and suddenly there are water fog among the plants
Coming in to the Ginger Garden


I leave the Learning Garden and I walk through the Ginger Garden and I'm at the clock tower. I walk down to the Symphony Lake to walking along the "Kingfisher walk" (My own name, don't try to find it on any map, well, except for my map) I can see a Heron but it is too far away to see what kind of Heron it is.

Coming to the "Kingfisher walk" and the Heron is gone. I don't see any Kingfishers but there are two White-breasted Waterhens making a terrible noise again. And I see turtles, they are all over the Symphony Lake and the children loves to watch them swimming around in the lake.


A Heron
White-breasted Waterhen
White-breasted Waterhen
One of many turtles in the Botanical Garden


I took a taxi from Nassim Gate to Orchard road. I will have my lunch and I will see if I can find a beer mug for my tea. So I asked the taxi to take me to the Ngee Ann City. I had bought the a
somewhat disappointment the Whistling Kettle at the Takashimaya Shopping Centre.

The place seemed fairly big so they must have a beer mug of a proper size. Yeah,
wasting my time at the Takashimaya Shopping Centre just to come up with nothing.



There was a huge Homeware Bazaar at Ngee Ann City, but no proper size mug. I went for breakfast/ lunch at Pauls before going to the Super Market. I was full and latest news is that they will pick me up at 8 o'clock tonight. So I bought Diet Pepsi and some bread. No need to leave my room to take a taxi to go for dinner.


Homeware Bazaar at Ngee Ann City - But no proper sized mug


They called me from the Agent when I was in the taxi. Pick up time at 14:00. 20 minutes later it was 15 to 15 thirty. I told them to call me when they were at the hotel. Quarter to 3 and they called. They were leaving the Airport with the new Mess man and they would be here in 30 minutes. I prepared myself and I went down to wait for them. Finally time to join Roy Mærsk. Click HERE to find out more about that adventure. This promise to be exciting!!


OK, it has come to my knowledge that we have senior citizens visiting my web page. How hard can it
be? So it's not very easy for them to see the blue coloured links to the next page.

Jiffy (also jiff)


noun [in SING.] informal a moment: we'll be back in a jiffy.

ORIGIN late 18th cent.: of unknown origin.

So as you understand, in a jiff pretty much depends on your internet.

So I put a "Next" button here and I hope that there isn't any problem to understand how to use that one. So just CLICK the "Next" button on your left hand side and you will be on the next page in a jiff!
Marunong ka mag-tagalog? Walang problema! Magpunta sa kabilang pahina pindutin ang "NEXT" button sa itaas


Faites vous parlez le français? Pas de problème! Pour arriver à la page suivante faites s'il vous plaît un déclic le bouton "Next" ci-dessus!


Haga usted dice el español? No hay problema! Ver la siguiente página sólo hacer clic el botón "Next" encima!


Farla parla l'italiano? Non problemi! Per vedere la prossima pagina lo scatto per favore giusto Il bottone "Next" sopra


Sprechen sie Deutsch! Kein problem! Wenn Sie die folgende Seite sehen wollen gerade klicken der Knopf "Next" oben!


คุณพูดภาษาไทยได้ไหม ไม่มีปัญหา ถ้าคุณต้องการไปหน้าถัดไป ให้กดปุ่ม "Next" ข้างบนนี้


Вы говорите по-русски? Просто нажмите синюю кнопку "Next" с левой стороны и Вы моментально переместитесь на следующую страницу!


E ni Svenskar och inte förstår Engelska så ska ni skämmas. J och Björn, med det menar jag inte att alla mina stavfel ska ältas varje gång vi träffas.


Well, the flag of Skåne, just a BONUS flag.
You are visitor no.