Tuesday 3rd of January 2017 and I woke up ay 7 thirty in what must be the smallest hotel room in the world. At least I cannot remember ever having stayed in a smaller room. I had my bag on the
floor and there was no space over for me or anything else in the room.

I regret that I had not chosen Elite Hotel Marina Plaza in Helsingborg. Same price, but what a difference. No
cleaning of the room, I have to hand in my towels if I want to change them. The restaurant is closed and they say it is because of the Christmas, 3rd of January?

The reception was closed when I arrived yesterday and my key was in an envelop on the desk, together with a
letter about their Christmas service. IT IS 4TH OF JANUARY AND THE CHRISTMAS IS PUT BEHIND US A LONG TIME AGO!!!!!

I was surprised to see that they had breakfast in the restaurant, nothing compared to the breakfast at Marina Plaza in Helsingborg. Anyway, I left the hotel around 13 thirty and it was really about time to leave Sweden. Strong
winds and it was cold.

I walked to the marina 2 minutes away and I stopped at the kiosk to buy some snus. I also bought two lottery scratchers and I won sweet FA, no surprises there. There was a barber shop and I had a navy cut before I continued to look for a place where I can buy a semla


Gloom and grey for long as I could see when I came out from my hotel
Simrishamn marina
The waves are pounding the breakers in Simrishamn marina
The waves are pounding the breakers in Simrishamn marina
The waves are pounding the breakers in Simrishamn marina
I read the lates news at Hamnkiosken in Simrishamn marina
Simrishamn sea front
Simrishamn shopping street


I left the barber shop bald and I went around the corner to look for a coffee shop for a semla or two. 30 meters up the shopping street and I discovered Thulins Konditori on the left hand side. A beautiful yellow house next to a beautiful red house.

The whole town, or at least the town centre is very picturesque, if it had only been summer when walking around here. Now it is blowing cold wind so I was in a hurry to get in to Thulins Konditori. I spotted semlor as soon as I opened the door. I asked for 2 semlor and 2 cups of tea s they didn't had any tea pots. 2 minutes later and I asked for 2 more semlor.

I started with one semla, and I had the second. The third semla was very slow and I left the fourth and last semla behind when I left. Semla, I really don't like them so much any more and
these semlor might have been the last semlor I had in my life.

I left Thulins Konditori and I will not come back again, I have had my last semla. Drastic decision but my health are more important than to eat semlor. So it is time for a long constitutional to check out the town of Simrishamn.








Let's go inside to see if they have semlor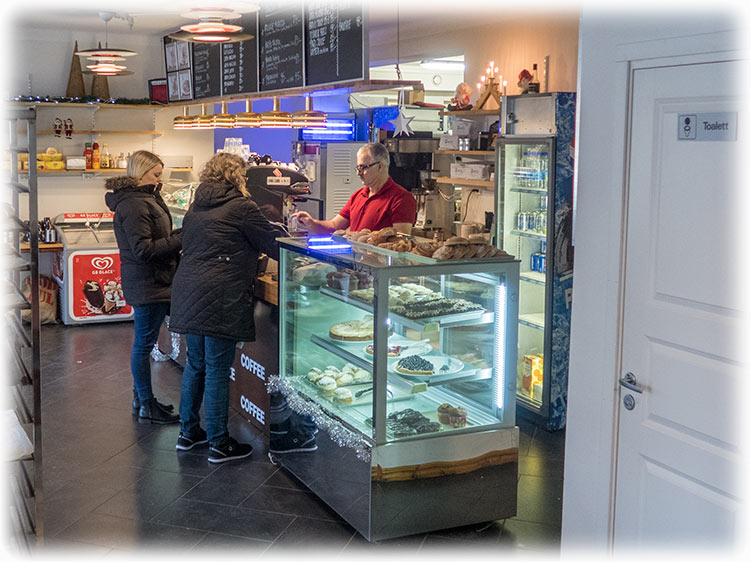 I see semlor first time when I step in to Thulins Konditori
I buy 4 semlor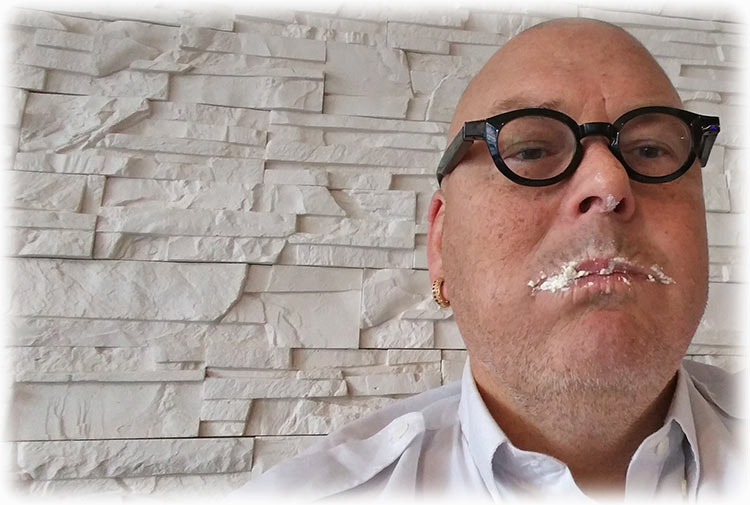 I could not finish all and I had to leave one semla behind
And a classic picture before I leave to explore Simrishamn - Semla 50 years ago






I left Thulins Konditori and I walked up towards the town square. I stopped at a restaurant to see if it was open. There was a sign on the door saying SEE YOU IN THE SUMMER 2017. I had asked at the coffee shop for a restaurant as I suspected that everything was closed. He told me about the restaurant but they were closed.

The restaurant at the hotel is closed and the chance to find a place to have dinner looks slim. I continued towards the town square and I passed another restaurant that was open. I will stop there on the way back to the hotel to check it out.

I passed the town square, beautiful houses. I had passed the town square and I passed Österlens Museum on the right hand side. I crossed the street but the museum was closed. BIG SURPRISE! So I had seen 2 museums here in Simrishamn and both of them was closed.


Österlens Museum
Österlens Museum
I had to go in to the shop to tell them that there was some green shit on the flag of Skåne
Now I know that it is the flag of Österlen


I continued my constitutional
and I was passing a shop with the flag of Skåne flying in the wind outside the shop. I was soon to discover that there was some green colour on the flag. I stepped inside to tell them about the green on the flag.

I was informed that this is the flag of Österlen, a flag I have never heard of before. And it is obviously a mix of the flag of Bornholm and the flag of Skåne. Yeah, I learn something every day and when I passed the shop on my way back I knew it was the flag of Österlen. So no need to stop to go in to make a tit out of myself.

I walked around and as it was getting a wee bit nippy I decided to go back to my cubbyhole back at Hotel Svea. I went to a supermarket and I bought a few bottles of Pepsi MAX, a little something to enjoy during the evening. And I suspect that the evening will be very long as here is exactly nothing to do.

I would love to have walked around a little, but the weather, the weather makes it easy to choose to stay in my room. Believe me, I don't look forward to two more nights here in Simrishamn.



I passed the restaurant i had decided to check out. Pizza and I had exactly ZERO hope to find any
fine dining. But they might be open for dinner in the evening. Pizza, hamburgers and shit and you know exactly what kind of place I mean. I stepped inside and I was surprised, it was a very nice place.

And I was very pleased when I got the menu. There was many things I had expected at a Skånskt Gästgiveri. Pizza on the menu as well, pretty much everything you could wish for including traditional food from Skåne.

I ordered some plaice in creamed shrimps and it was excellent. They will close at 9 o'clock tonight so I will come back for dinner. It was very cold when I left the Restaurang & Pizzeria Cimbris, and it was almost dark. The food had been good and I was full. So I will
hopefully not have to go back tonight. Better to stay in my room.


Almost back at the hotel




+++++++++++++++

Thursday 5th of January 2017 and I didn't woke up until 9 o'clock. They don't have breakfast at the hotel and I asked why. When I booked the hotel it was said to be breakfast buffet. They had a small fridge with some juice and sliced ham with a bread from yesterday. Who wants to eat a day old bread? I was angry and the
girl in the office understood me. She told me that it was because they didn't had much guests during the winter. But we cannot blame her, she had informed hotel.com about this.

She understood me and I told her that I always stayed at Elite Hotel Marina
Plaza when I was in Sweden, but this time I had decided to stay in Simrishamn to check it out.

But the service here is excellent, first the Pepsi MAX and now she went to start up the kitchen. I took my seat in the restaurant and she was soon bringing egg & bacon and some tea for me. When I was finished with my breakfast I went to my room to check out if I could rent a car here in Simrishamn.

HERZ had no more cars and there was only one more car rent company. They only had 2 cars, a Polo and a Golf. No AUDI and only small cars. I told them that I would come by to try one of the
cars on before making a decision to rent.

Took me about 15 minutes to walk to the rent a car shop. I spotted the Polo and I knew already, just by looking at the car that it would not fit.

I stepped in to the shop and I asked if I could try the Golf, I was surprised, pleasantly surprised. There were plenty space in the car and I decided to rent the car. It was not an AUDI but it was cheaper and it will obviously cost me less to fill up gasoline in the car as I expect the Golf to drink less than the
AUDI would have.

Back in the days, I don't remember how much money I have wasted on radio transmitters and shit for my iPod. My phone and a modern car stereo. Bluetooth and I just turn on my phone with a 128GB memory card full of funky music.

And I have full access to all my music from the steering wheel. No need for fiddling around, and a bottle of refreshment easy accessible between the front seats. I took off towards Helsingborg with screamin' and smokin' tyres. It was a gorgeous day, windy and 8°C BELOW ZERO but blue sky and sunshine.


Beautiful weather when driving through Skåne
Skånsk farmer in his tractor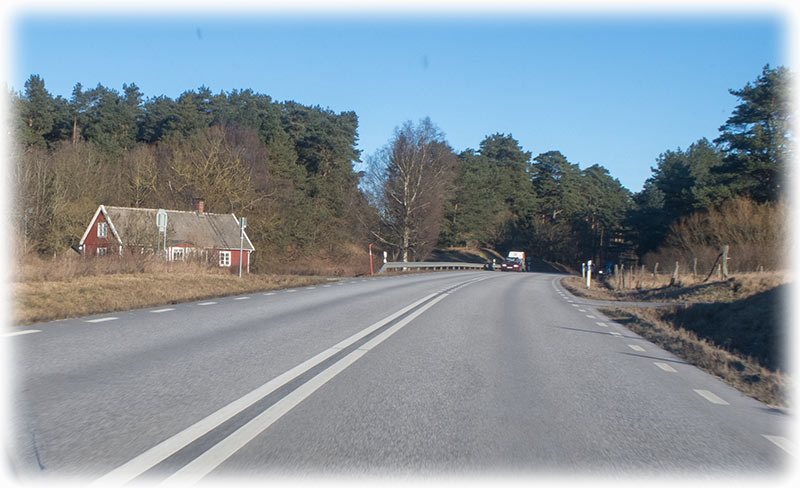 I made a mistake and I was driving towards Ystad and I could not rectify my mistake until I was in Tomelilla and I knew where I was. I saw a sign saying Kristianstad and I got on the road and I was soon on my way towards Kristianstad and Helsingborg.

I was hauling arse on the roads and I was son seeing a sign saying Vinslöv and I left the road towards Helsingborg to check out Vinslöv. I was in Vinslöv back in 2014 and I wanted to go back to see if the famous bench from the movie "Plötsligt i Vinslöv"

I had to drive around for quite a while before I found the bench. I parked and I got out of the car. DARN! It was ice cold, literally, 8 °C below zero and windy. And as I had my parka in the car I took a quick phot before running back to the car.

There were exactly nothing exciting happening in Vinslöv and I was soon on my way to Helsingborg again. Just before I left Vinslöv we came to a rail crossing and the boom came down. Light and sound signals and we had to wait for a train to cross. The most exciting happening so far today.






We have to wait for a train to cross- The only thing exciting happening in Vinslöv
We have to wait for a train to cross- The only thing exciting happening in Vinslöv
Leaving Vinslöv behind






I was not sad leaving Vinslöv behind, I cranked up my music and I sat course towards Helsingborg. I was leaving Kristianstad behind and when I came up on the highway to Helsingborg I passed a
truck. Suddenly there was a ton of ice falling down form the trucks roof.

I was afraid that the ice blocks would come through
my windshield. There were some banging in the car but the windshield held and when I had passed the truck I started the window wipers and what was looking like scratches in the windshield disappeared.

Who the duck gets on the road without making sure the top of the truck is cleared from ice? Very dangerous! Imagine this truck flying pass a bicycle and all the ice coming off the truck.


I decided to go to Österns Pärla first for lunch. Then I would go to buy Christmas gifts for my niece and nephews at Väla. And as I was driving I had to worry about finding a parking place close
to Österns Pärla.

It took some looking to find a parking place and when I finally found a space I had to go buy a ticket. And as they try to make it as hard as possible for people to use their cars it was only possible to buy a ticket for 30 minutes.

The cars, of course it is pollution and the government want us to go by bus or train. Right! We are killing ourselves and everything on the globe. But if we stop buying cars it will soon be recession, hard times and anarchy in the world. Just stop for a while and think about how many people in the world that are dependent on the car manufacturing. And how much money are going to the government in tax from the sale of gasoline, EVERY DAY?

Most of the price for gasoline is tax so it is a lot of money every day that are supposed to go to schools and hospitals. In Sweden they are wasting the money on other things and the whole country is in a sad state. And the swedes, they are so fed up with all the NEW SWEDES coming to Sweden now

Everyone is complaining and they are worried for the future of Sweden, something I have only experienced the very last few years. 8 years ago and Sweden was what must have been the most accommodating country in the world. Today it is a different story.


Almost at Österns Pärla
Now I can see Österns Pärla
Finally at Österns Pärla
I start with 2 spring rolls
Soon 2 more spring rolls in the table, just bring it on!
Time to leave Helsingborg


Of course, the recognised me when I stepped in to Österns Pärla. She just held up two fingers. I nodded and she turned around to go out in the kitchen.
- PLEASE! Double quick, I only have parking for 30 minutes!

I explained that I was in a hurry because of the parking space. I was soon asking for 2 more spring rolls and I was back at the car just when my 30 minutes was up. I left Helsingborg without
stopping to look at MBT shoes. But as it is holiday in Sweden they closed at 2 o'clock in the afternoon.

Well, next time in Sweden and I'm very happy for the two pair of MBT shoes I have got already. Will make wonders on board m/t Roy Maersk. And my new boiler suits will make a success in Maersk. There have been some complains about how I dress, so I took the opportunity to buy some boiler suits here in Sweden.

I left Helsingborg behind and I missed the exit to Väla so I had to continue to Hyllinge. I was almost sure that they would have toys there. And when I stepped inside the shopping centre I
spotted the kiosk where I had have the Engelholms Glass soft ice cream last summer. I went over to ask if they had soft ice there. Not expecting much as it was in the middle of the winter.

I could not believe my luck, they had the soft ice cream machine running and I asked for a soft ice cream. Of course, a big one. Seriously, the guy asked if I wanted a small or big. I looked at him, do I look like a guy asking for a small ice cream.


Same place we went last summer
Engelholms glass
Engelholms glass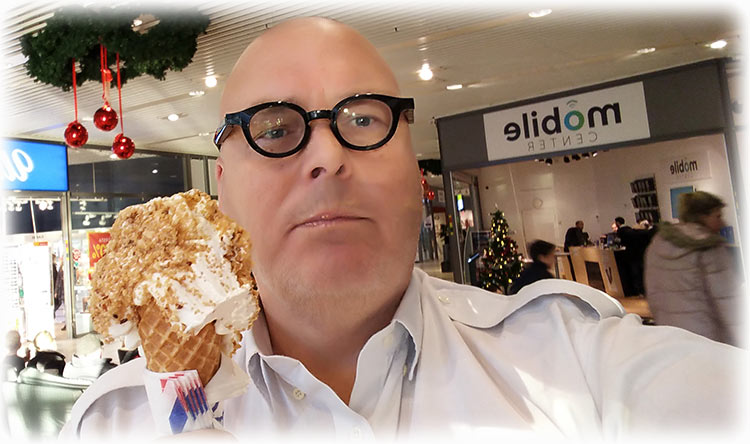 Engelholms glass

I went to the toy shop and I bought the Christmas gifts and when I left Hyllinge I had completed more than I had ever expected on my TO DO LIST:

Semla

Spring roll at Österns Pärla

And as it is winter, the totally unexpected bonus Engelholms Glass soft ice cream

The only thing remaining is to survive yet another night in Simrishamn before taking the train to
Copenhagen International tomorrow to catch Thai Airways flight TG 953 from Copenhagen to Bangkok.

Before going back to Simrishamn I will go to see my niece and nephews. I have not seen
them since I was in Skåne last summer. My niece just had her 1 year birthday so she will soon be able to walk
and talk. Anyway, it is January and I will have to play Santa Claus. It is not far from Hylling to drive but it was almost dark when I arrived. I had been
hoping to be able to try out the drone I have bought for my youngest nephew before it was getting dark. I tried it out in the living room but I was about to clear the walls from pictures. I told my nephew that he wasn't allowed to use it indoors.


First Christmas gift to my niece
First Christmas gift to my niece
First Christmas gift to my niece

It was soon dark and I left after an hour or so, still a long way to drive back to Simrisham and Svea Hotel. When we came from Skillinge the other night it was beautiful on town with the Christmas lights so my plan is to stop to get a few pictures while driving through Simrishamn.

It was not so much traffic and I was hauling arse driving Road #21 to Kristianstad and from there road #19 and the last 40 km or so on road #9. They have a Italian buffet at the hotel tonight, the only day the restaurant is open and my plan is to have dinner there before they close at 8 thirty or when ever they are closing

I wanted to return the car today but they were closing at 17:00 so I will have to return the car tomorrow, with full tank. I filled up the car with gasoline when I was back in Simrishamn in order to save time tomorrow morning.


I fill up the car with gasoline so I don't have to do this tomorrow
Simrishamn by night
Simrishamn by night
Simrishamn by night
Simrishamn by night
Simrishamn by night
Simrishamn by night




+++++++++++++++

Wednesday 6th of January 2017 and the alarm went off at 6, but I was quickly changing the alarm to 7. I was tired because I got some line messages 3 in the morning that woke me up. It was from my e-juice pusher so it was important messages. Anyway, today they had breakfast buffet at the hotel so I went to the restaurant for breakfast. They open the car rental at quarter past ten and I have planned to be there by then.

It was a gorgeous morning, no wind and plenty of sunshine. Of course, it was 12 °C below zero. But it was nicer to be outside today than the other day when it was 7 above zero and windy. I found the car covered in frost and I was lucky that they had 2 ice scrapers in the car. You cannot drive with the windows covered in frost so I had to scrape the windows.



The car was covered in frost so I had to scrape the windows.


I had been driving 3 km more than the included 400km so I had to pay almost a dollar, but for him it was very important that he got his 60¢ and it was more trouble than it was worth. I was just thinking what the duck making a mental note not to come back here again. If I can avoid it that is, but now this was the only place and he only had 2 cars.

I walked back to Hotel Svea and I packed my things and checked out and the taxi arrived 20 minutes later. It was a 5 minutes ride to the train station and we arrived just a few minutes after 12 thirty. My train was departing at 12:47 The train arrived at 12:36 exactly as per schedule and I took a seat on an almost empty train. When we left I got a hot tip from the ticket-collector. I have to change train to get to Copenhagen International in Hyllie.

But the ticket-collector told me to hang on for one more station and change train at triangeln
instead. It is indoors and no need to walk around taking elevators with all my bags. Just to walk across the platform at Triangeln.

Good news, I got dressed in my summer uniform and my new MBT sandals and I packed all my winter clothing in my bag and I will
hopefully never find any use for them again.

I take Skånetrafikens Pågatåg to Triangeln and from there I take the
Öresundståg across Öresund to Kastrup, Copenhagen International.


Simrishamn train station
Simrishamn train station
The train is coming
I just miss the train to Kastrup
Pågatåg leaving Triangeln - Next train is my train to the airport



When we reach Triangeln the train to Copenhagen that I should have taken from Hyllie is still on the platform and I just miss it. So I had to wait until 14:36 to take the train the ticket-collector had told me I had to take. The train leaving when we come was the train I would have catch if I had got off at Hyllie.

Never mind, itis six hours until Thai Airways flight TG 953 is leaving so I have plenty time. When I arrived to Copenhagen International I was soon discover that I could not check-in at Star Alliance as Thai Airways have their own check-in. That means that I have to wait for several hours, a real set back. Instead of waiting in the SAS lounge I had to wait in the terminal.

As soon as they opened the check-in it was quite quick with the security and I was soon in the lounge drinking soda water. I had a few Danish red hot dogs, but I was not hungry as I had have a hamburger at O'Lerrys while waiting.


Copenhagen airport terminal
Waiting to check-in to Thai Airways flight TG 953
SAS Lounge in Copenhagen


Of course, the flight was delayed by almost an hour so it will be late before I'm home tomorrow. I will just have time to buy fruit and I will be in bed early and Sunday morning I will be in Suan Rot Fai looking for birds.

I spent the time waiting on the lounge on the second floor. Same entrance but there are one lounge above the other lounge, I have been up there before, only once as you have to
walk the stairs. Today I noticed that they were different lounges, the second floor was the Gold lounge and I asked which lounge that was the best.

The girls in the reception told me that the lounge on the second floor was better and I went up. When I left I was soon discover a queue outside the lounge, millions of people lining up for the immigration. Just what I had wished for.

Kastrup, for sure one of the worst airports I have been to. Lining up to the immigration and only 4 Officers on duty. I was in one of the 2 lines on the left hand side and when we reached the
immigration booths they just closed the 2 booth on the left hand side, impressive.

Now there was a wee bit of confusion in front of the immigration booths. And it got worse when they opened the booths again.

Seriously, seems like there is no planning ahead at all here on Kastrup. I saw the whole Thai Airways crew waiting when I came to gate C29 so I guessed that we would not leave for a while.

And I was right, more delays and now I was realising that I might miss the "buying fruit" opportunity tomorrow as we would most likely be in Bangkok very late. I was killing time talking
with a guy from Norway, and as me, he was very impressed by Thai Airways. I'm on this flight only because of my "free" upgrade to business cla, no premium economy.

I took my seat when it was finally time to board and I had 2 sleeping pills telling the Stewardess that I was on diet skipping the dinner. I woke up 6 hours later and I started to drink tea like there was no tomorrow while watching a movie. I don't remember the name of the movie, but it was OK to kill the time. I was on my second movie when the breakfast came and I never had a chance to finish the movie before we arrived to Phuket. Same plane from Phuket to Bangkok so I can finish the move on that leg.

Checking in to Thai Airways flight TG 953 in Copenhagen and they handed me 2 stickers. I told them that I was hundred years old and I had been on airplanes and more flight than I care for so I didn't needed any stickers on my shirt. BUT THESE STICKES WERE VERY IMPORTANT! We are going to go through immigration in Phuket as the last flight will be a domestic flight. And I was told that the stickers was for them to recognise us.

The luggage will be picked up at the international luggage claim in Bangkok as we needed to have a lot of stickers on our shirts. Well, I'm not going to walk around like a twat with all these stickers on my shirt so I put them on my passport

Coming off the flight in Phuket and they were screaming THIS WAY everywhere and no one was looking at any stupid stickers, it felt more like pandemonium. We had to line up in front of 2
Immigration Officers and Copenhagen was a beacon of efficiency in comparison.

And there was, well, many passengers in transit, not only from our flight. Me and the Norwegian guy was of course in the line that didn't move at all. The line next to us moved along but our line was at a full stop. And then suddenly, the Immigration girl stopped to work in our line and as she had to attend to the airline crew. Thai Airways and the passengers are coming second.

What an impressive set up. And I was suddenly behind a Thai girl and when it was her turn in the immigration it came to a full stop and I had expected here to pass through quickly.
- Where did you exit Thailand?

- ????????????
- Where did you exit Thailand?

- ????????????
- Where did you exit Thailand?

- ????????????
I was behind her thinking what the duck
while jumping up and down impatiently.


And it went on and on.
- Where did you exit Thailand?

- ????????????
- Where did you exit Thailand?

- ????????????

He tried a new technique:
- When you left Thailand to fly abroad, where did you leave? Suvarnabhumi, Phuket or any place else?

- ????????????

When it was finally my turn the computer screen turned red and he told me that I was rejected entry and he kept my passport. I had to wait for the girl that had turned out to be very efficient before. She told me that I had been too many times in Thailand.
She told me that I was doing visa runs.

- I DO VISA RUNS?
- Do you know what a visa run is? She asked

I lost it:
- You ....

This one was obviously not having a clue. Have she got all her vitamins. She got upset and started to threatening me. I was thinking about the girl's house we visited on Kangaroo Island. Kangaroos and parrots in the garden. I would grow a few calypso tree so the Koalas would move in. Then I would spend the rest of my life sitting on the porch drinking tea enjoying the wildlife.

If it wasn't for the snakes and other pleasantries living there. But I can move somewhere else so reject me all you can, but how stupid can you be? Visa run, a lot of people coming here doing dodgy business, 30 days visa at arrival and after 30 days they take a tour to any neighbouring country and you come back for another 30 days. And they keep on for years doing this.

I come to Thailand for a week, then I go outside for 12 days and then back for one day and I'm gone for almost a month and she calls this VISA RUN! It was hilarious!


She told me that I was only allowed to visit Thailand 2 times per year or I needed to apply for a tourist visa
- YOU DON'T KNOW WHAT YOU'RE TALKING ABOUT!!!
She told me that she would let me in, but she would make a note in the computer that I was not allowed in again without any visa. Jeez, I had to go to immigration in Suvarnabhumi when we arrived and they told me that she didn't had a clue what she was talking about. Come and go as you please. I also asked him to check my passport and we went to a computer.

OK, seems like I have entered Thailand a lot of times, there were plenty pages with me entering. He told me that it was no problem, from 1st of January they had changed the rules, 2 times per year arriving over land. Arriving to an international airport, NO WORRIES!

Good, I was soon on Sukhumvit Soi 8 eating pizza with my friends. But only soda water as I will go birding tomorrow morning. And how did the movie end? I have no clue as Thai Airways didn't had any movie service on the last leg. So I will have to watch the end on Singapore Airlines when I fly to Bali

And all passengers coming back on board in Phuket was angry. I thought they were fighting at the door to the plane when I was in my seat. They were not impressed with the stop in Phuket and
there was a lot of screaming from old ladies and gentlemen. So I guess they won't come back soon, at least not by judging from the language they were using when boarding
the plane. They said that they had been treated like criminals.

Of course, the staff had nothing to do with it. I felt sorry for the crew, the crew, many of them are the reason I sometimes miss to fly with Thai Airways. But as I don't agree with the owners I
give Thai Airways a skip.

10 times more for my entrance fee than a Thai to go
birding in the national parks and I can as well spend my money elsewhere.

I had said a few words of Thai to one of the Stewardesses and now she was running back and forth (I was almost alone in my section of the plane on the Phuket to Bangkok leg) with Thai magazines for me to read for her.

She was quite fascinated by the fact that I knew the Thai alphabet. I read a sentence and she went to gossip with her colleagues. And I can
imagine what they were talking about. Oh, the handsome passenger this and that. Well, of
course, it can have been something totally different they were discussing. What do I know? And what do I care?

Line and I can update my friends step by step as the journey proceeds.

I updated my friend step by step via line


Anyway, tomorrow morning it will be birding, a pizza and a soda water with my friends and when they continued to another place I went home. Click HERE to find out if I found any birds in Suan Rot Fai. A day in the Bangkok wilderness.


OK, it has come to my knowledge that we have senior citizens visiting my web page. How hard can it
be? So it's not very easy for them to see the blue coloured links to the next page.

Jiffy (also jiff)


noun [in SING.] informal a moment: we'll be back in a jiffy.

ORIGIN late 18th cent.: of unknown origin.

So as you understand, in a jiff pretty much depends on your internet.

So I put a "Next" button here and I hope that there isn't any problem to understand how to use that one. So just CLICK the "Next" button on your left hand side and you will be on the next page in a jiff!
Marunong ka mag-tagalog? Walang problema! Magpunta sa kabilang pahina pindutin ang "NEXT" button sa itaas


Faites vous parlez le français? Pas de problème! Pour arriver à la page suivante faites s'il vous plaît un déclic le bouton "Next" ci-dessus!


Haga usted dice el español? No hay problema! Ver la siguiente página sólo hacer clic el botón "Next" encima!


Farla parla l'italiano? Non problemi! Per vedere la prossima pagina lo scatto per favore giusto Il bottone "Next" sopra


Sprechen sie Deutsch! Kein problem! Wenn Sie die folgende Seite sehen wollen gerade klicken der Knopf "Next" oben!


คุณพูดภาษาไทยได้ไหม ไม่มีปัญหา ถ้าคุณต้องการไปหน้าถัดไป ให้กดปุ่ม "Next" ข้างบนนี้


Вы говорите по-русски? NJET PROBLEMA! Просто нажмите синюю кнопку "Next" с левой стороны и Вы моментально переместитесь на следующую страницу!


E ni Svenskar och inte förstår Engelska så ska ni skämmas. J och Björn, med det menar jag inte att alla mina stavfel ska ältas varje gång vi träffas.


Well, the flag of Skåne, just a BONUS flag.
You are visitor no.
To www.aladdin.st since December 2005
Visitors from different countries since 26th of September 2011