Tuesday 8th of March 2016 and we had been on our way for a few minutes when it started to rain. Well, it was just a drizzle. But I had been lucky with the weather, not a drop of rain while I
had been in Donsol. At least not what I had noticed.

We drove through a very beautiful landscape. Well, I was wearing my "garbage" filter. As soon as you disregarded all the garbage and shit it was a very beautiful landscape. I even saw a Collared Kingfisher sitting on a wire.

My first bird except the Eurasian Tree Sparrows that I see all over the place since I came to the Philippines. I was starting to ponder an idea, a bird watching tour to the Philippines? Yeah, maybe I will have to check it out. My next project might be a Koala and Kangaroo safari in Australia next time I come home so I will see if I want to squeeze in Philippines. But as for now, I have no wished for returning to the Philippines.

We reached the airport in Legazpi after about one hour and I was happy to get out of the car. It had been a nice trip, but I was almost sea sick after all the ZIG ZAGGING as it is not a very straight road. I got out and I was in a hurry to the check-in as there were a bus dropping a load full of passengers. And I did for sure not want to end up behind them.


School children on the way to or from school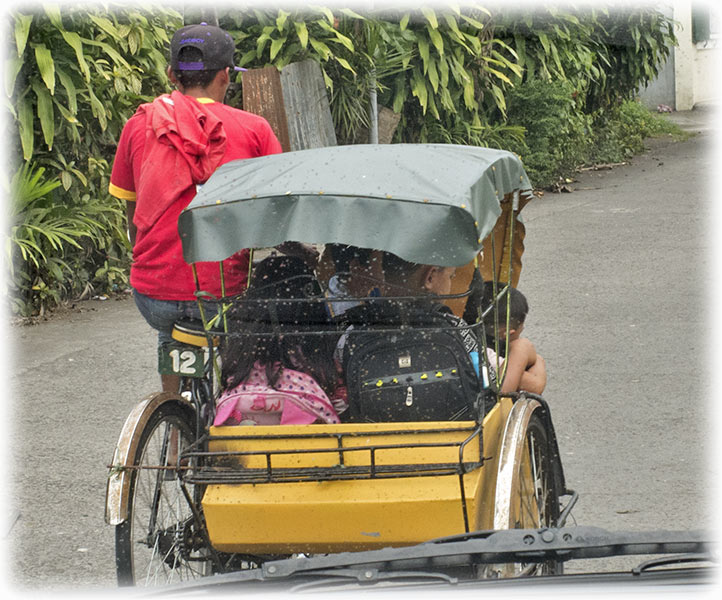 School children on the way to or from school
School children on the way to or from school
School children on the way to or from school
We're at Legazpi Airport
A bus load of passengers arriving to Legazpi Airport


Imagin ending up behind a bus load of people at the check-in! So I hurried in to the check-in and I could see a Cebu Pacific plane on the tarmac. Was this my flight, or an earlier flight? I found
the check-in empty and I had checked in after 2 minutes. And I had a seat in the aisle and he had promised that the seat next to me should be empty as the flight was not full.









The plane on the tarmac was scheduled to leave at 12:15 and the clock was almost 12:20 so no chance to get on that flight. I had about 2 hours to kill so I crossed the street to a restaurant
and I was enjoying a soda while reading the news on my phone.

The restaurant was, well, it is not a place I would have had any food. But a can of soda was OK. When I finished the soda I crossed the street again to get back in to the terminal.

Passing the security and I was in the departure hall, but before I was allowed through the security I had to
pay airport tax, 150 peso. Yes, Philippines is so 70's

I had asked if the flight was in time and the guy told me arrival time was 13:44, a wee bit late. When I asked about the departure time he said that it would
hopefully leave for Manila in time.

The tarmac was empty, well, except for a small Piper or Cessna or whatever they call them taxing out to the runway to take off. I was reading newspapers on my phone when I saw the Cebu Pacific flight arriving and now it was almost 13:50 and this is the boarding time for our flight.


Cebu Pacific arrives to Legazpi Airport
Legazpi Airport - Departure hall
Cebu Pacific arrives to Legazpi Airport
Cebu Pacific arrives to Legazpi Airport
Cebu Pacific arrives to Legazpi Airport
Queue to the boarding gate
Cebu Pacific, flight 5J-328 to Manila
Cebu Pacific, flight 5J-328 to Manila
Cebu Pacific, flight 5J-328 to Manila
Cebu Pacific, flight 5J-328 to Manila
Cebu Pacific, flight 5J-328 to Manila
Cebu Pacific, flight 5J-328 to Manila
Cebu Pacific, flight 5J-328 to Manila
Cebu Pacific, flight 5J-328 to Manila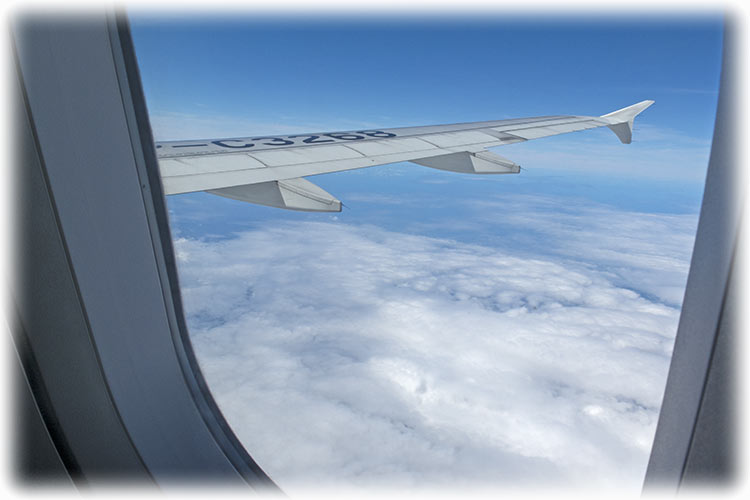 Cebu Pacific, flight 5J-328 to Manila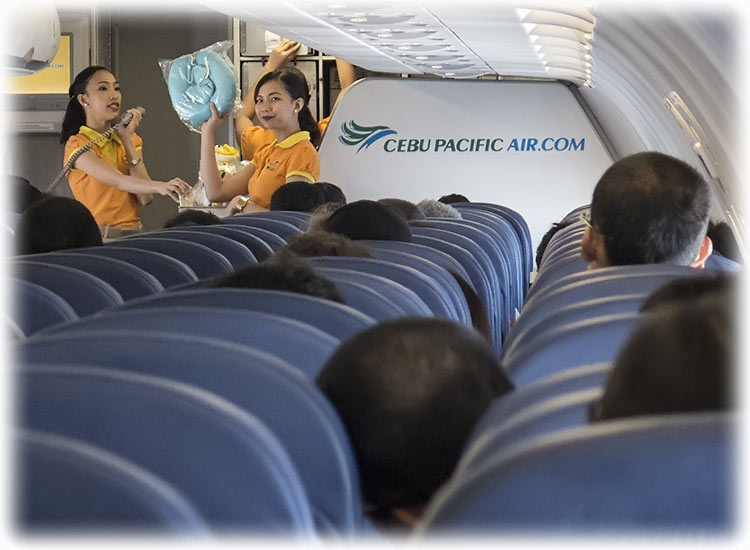 Quiz time
Manila
Arriving to Manila

I had my luggage before 4 o'clock and I was expecting to have my dinner at Arya, the Persian Restaurant at Robinsons Place very soon. Then I ran in to ATM problem. Seems to be the same
problem at every terminal at Manila Airport. I have to run around looking for an ATM that will give me money.

When I had th emoney I went to look for a taxi and we were soon in heavy traffic. It was way later than expected when I checked-in at the hotel. I just left my back pack on the bed in my apartment. Yes, the room was like a big apartment. They had "upgraded" me when I checked in.

I have been upgraded many times and it always means shit, well, except at one hotel where they upgraded me as a returning guest. But otherwise, nothing good had come from this upgrade and I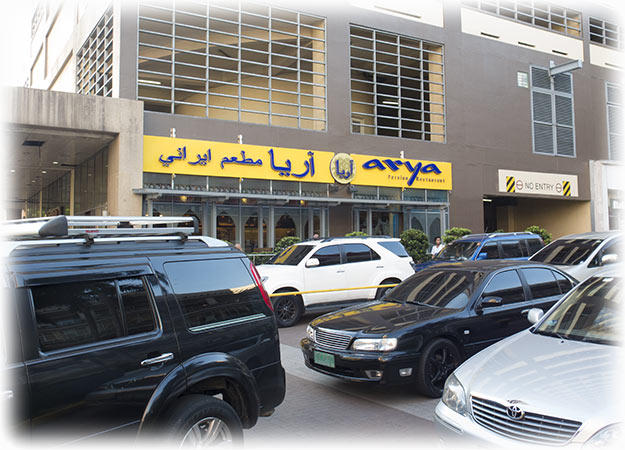 told them that I didn't wanted to be upgraded.

Thye told me that this was their last room and now I
really had many alarm bells and lights going off. This didn't sound any good.

Anyway, the room looked very nice, 2 room and a kitchen, walk in closet and it was a really nice room. Anyway, I was delerious with anticipation and I took off
to Arya, the Persian Restaurant. And as I was walking towards Robinsons Place I saw a sign saying Araya on the corner of the Robinson building. It was another Araya Persian Restaurant and this was a real restaurant comparing to the hole in the wall inside the mall

I stepped inside and I asked if it was the same as inside the mall and it was. I ordered the same thing as last time and as they prepared the table they put a salt and pepper jar on the table.

- What the


They were full of old food shit and I asked them to remove the shit from the table. The food was OK, but I really didn't enjoyed the food after having seen the salt and pepper jars. The baklava, half of them were luke warm and half of them were half frozen. I lost it.

I called th eWaiter and I was nit happy. I told him that this was one of the worst restaurants I had ever been to. And if I ask for a bottle of watwr I expect a glass to drink from. This was the worst ever and I restaurant went for 4 star to 1 star in a jiff. What a disappointment.

Nasty and sleezy and I will for sure not come back here again. And I was happy to go back home tomorrow and we just need to click HERE to find out how that adventure ends.


OK, it has come to my knowledge that we have senior citizens visiting my web page. How hard can it
be? So it's not very easy for them to see the blue coloured links to the next page.

Jiffy (also jiff)


noun [in SING.] informal a moment: we'll be back in a jiffy.

ORIGIN late 18th cent.: of unknown origin.

So as you understand, in a jiff pretty much depends on your internet.

So I put a "Next" button here and I hope that there isn't any problem to understand how to use that one. So just CLICK the "Next" button on your left hand side and you will be on the next page in a jiff!
Marunong ka mag-tagalog? Walang problema! Magpunta sa kabilang pahina pindutin ang "NEXT" button sa itaas


Faites vous parlez le français? Pas de problème! Pour arriver à la page suivante faites s'il vous plaît un déclic le bouton "Next" ci-dessus!


Haga usted dice el español? No hay problema! Ver la siguiente página sólo hacer clic el botón "Next" encima!


Farla parla l'italiano? Non problemi! Per vedere la prossima pagina lo scatto per favore giusto Il bottone "Next" sopra


Sprechen sie Deutsch! Kein problem! Wenn Sie die folgende Seite sehen wollen gerade klicken der Knopf "Next" oben!


คุณพูดภาษาไทยได้ไหม ไม่มีปัญหา ถ้าคุณต้องการไปหน้าถัดไป ให้กดปุ่ม "Next" ข้างบนนี้


Вы говорите по-русски? NJET PROBLEMA! Просто нажмите синюю кнопку "Next" с левой стороны и Вы моментально переместитесь на следующую страницу!


E ni Svenskar och inte förstår Engelska så ska ni skämmas. J och Björn, med det menar jag inte att alla mina stavfel ska ältas varje gång vi träffas.


Well, the flag of Skåne, just a BONUS flag.
You are visitor no.