Tuesday 17th of February 2015 and today it is time to board the Airport Rail Link to get to the Rock Around Asia Art Gallery. Their main showroom is located in the lobby of Novotel Suvarnabhumi
Airport Hotel. So I'm off to Novotel at Suvarnabhumi.

I decided to take the Airport Rail Link and I walked to the Makkasan station. A good morning
constitutional. I walked through the Shrinakarin University and I came out on Asoke where I use to come out when I walk to Bangkok Fight Club

I turned right and I walked along Asoke Road towards Phetchaburi Road. Walking over the bridge over the canal and when I reached the Phetchaburi Road and the motorcycle taxi stand I saw a guy coming out from a taxi. It was obvious that he came from the airport.
The taxi driver was screaming:
- 500 BAHT 500 BAHT!!!! I CALL THE POLICE!!!
- 260 Baht according to the meter
- 500 BAHT 500 BAHT!!!! I CALL THE POLICE!!!

I stopped to keep an eye on things, you never know how things like this ends. The driver looked at the motorcycle taxi drivers like a begging dog under the dinner table. The motorcycle taxi drivers looked at me as they had noticed that I had stopped. I was like oil on the water, the driver gave up, took the 260 Baht while mutter something about calling the police.

I told the guy that if the taxi driver want to call the police just let him. We walked together to Phetchaburi and I continued to the Makkasan station and the train to Suvarnabhumi.


Picture from The Nation Multimedia N CARTOON, the make a cartoon every day and sometimes they are very good so make sure to check in on their web page to check them out every now and then by clicking the link
+++++++++++++++++


I have always liked the taxi service in Bangkok and I use to say that the 2 best things happening to Bangkok is the taxi meter and that Thai people have started to use shoes. But the last year there I have been many complains about the taxi meters in Bangkok. I have never understood the complains, but the last three months I have understood. It is only trouble, most of the taxis turns out to be trouble.

We remember when I was going to Laos. The driver changed his mind and he wanted to drop me half way to the airport. Believe me, I exploded in the back seat and he turned on the meter again
and we continued to Suvarnabhumi. He lost 50 Baht as he turned off the meter at 50 Baht. He lost his tip as I gave him exactly 215 Baht. I slammed the door shut and I left the idiot.

He could have refused to go when I asked him to go to Suvarnabhumi, but if he try to change his mind half way he got another thing coming.

I use to like being out walking, but I also like to be able to get a taxi back home. So I avoid the Ratchaprasong area now a days. And I walk to school, no more taxi. And as we have seen the last week or two I take
the sky train, subway or the Chao Phraya Express Boat.

And I have grown to like it, especially the Chao Phraya Express Boat. Well, it is not so nice when it is crowded, but it is still better than to fight with all the taxi drivers.

Saving time? Yes, I think I had saved myself from several hours in the Bangkok traffic.

Saving money? Well, a little. But as the English Teacher on the boat pier told me "every penny counts" and if I save 100 Baht per day it turns in to 35,000 Baht per year. 2 or 3 nights on town that it, if I had been
partying still that is. But it is 1000 kilos of Papaya. 1 kilo Papaya per day is equal to food for 3 years. Booyaa!


And that is more than a penny!

It took us about 20 minutes to reach Suvarnabhumi International Airport. Take in to account the time I used for walking to the station it is about the same time as going in a taxi. But some times of the day it is way way faster than a taxi. But to catch a flight, a taxi anytime. Running around train stations, carry luggage and you arrive sweaty and then to sit on the plane for 12 hours. No, door to door service is the way to go.

But to go to Rock Around Asia Art Gallery at the lobby of Novotel Suvarnabhumi Airport Hotel, train is the way to go.

I walked around the lobby looking for the Rock Around Asia Art Gallery in the lobby of Novotel Suvarnabhumi Airport Hotel. I could not find it and I asked in the reception.
- Oh, they have moved
- What are you saying?

On their web page it is still open at Novotel. Very bad service from Rock Around Asia and I was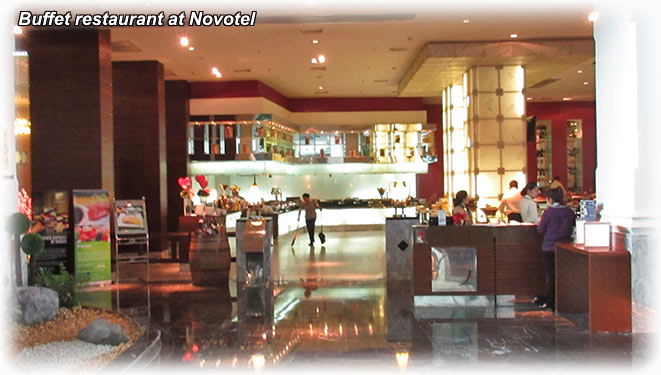 not in a good mood. I prepared to leave Novotel for the train station when I passed the restaurant.

I got off the train and I walked towards Novotel and without thinking about it I was keeping my eyes out for a restaurant. And now I caught sight of the buffet restaurant. I was not going to eat but I went to see what they had to offer. I have had my fruit and protein powder, but I was a wee bit hungry. Well, I'm
better off going back home to have a can of tuna.

I know it won't be as good as the buffet at Marriott, but I just went inside to have a look. Pizza, well, can be good, but I have plenty fruit at home.

BBQ, hmm, good. Some other stuff and what was that? I had to look again. Creamed Spinach. I looked a third time and I opened the lid. Yes, it was creamed spinach and I went to see the Waitress for a table.

I took a seat and I ordered a pot of Earl Grey tea and I attacked the creamed spinach.

There were mashed potato next to the spinach and I filled up my plate. I also asked for some BBQ
sausages and I went to my table.

This was good, not as good as Marriott, but it was good. I enjoyed my spinach, mashed potato and sausage while I was reading Bangkok Post.

And if I'm going to pay for the buffet I can as well try the pizza. The pizza was not bad and I was soon attacking the bread. The bread was a disappointment.
Most likely from the breakfast buffet. But even though I wasn't impressed by the bread I went to the bread basket two times. Then there was the dessert table


Should have had the fruit instead


They came to tell me that they closed in 10 minutes. I could not believe my ears. This is what they should have told me when I sat down 20 minutes ago. Well, never mind, I was almost ready. Just
the dessert remaining.

I had a few mango puddings and a few cookies with the last of my tea. And yes, there was a fruit section that I never touched the fruit. DARN!

I asked for the bill and I got it to 96 something. I gave them my AMEX and when it was time to sign it said 699 Baht. I told the girl it was something wrong. But it turned out that I was wrong, it was 699 Baht and not 960 Baht something. Well, for 699 Baht it was a very good buffet. But me coming back to Novotel Suvarnabhumi Airport Hotel again, slim chance. It looked to be a good enough hotel, but what is here for me to do? Pretty much nothing, next time I'm at Suvarnabhumi it will be for flying out from Thailand in the beginning of March.


How to kill a day in Bangkok #12
Review: Rock around Asia


Fee: -
Web page: -
Address: -
Tel: -
Opening Hours: Closed, what a waste of time this turned out to be

The place had moved without any notification on their web page. According to their web page it is business as usual and I quote:

"Rock Around Asia Art Gallery MAIN SHOWROOM is located in the lobby of Novotel Hotel of Suvarnabhumi Airport in Bangkok, Thailand (daily open from 9 am to 11 pm). We feature a master collection (approx. 500 pieces) of Fine Asian Art originated from:
Thailand (Paintings, Khon Mask, Bronze Earthenware, Ceramics, Wooden carving)
Vietnam (Lacquer paintings, Bronze)
Cambodia (Bronze, Marble stone carving, Wooden carving)
Myanmar (paintings, Wooden carving, Antiques)
Indonesia (Kites, Wooden carving, Stone Carving, Paintings, Resin)
Welcome at Rock Around Asia Art Gallery in Bangkok."


Rated:

And I throw in 5


What an attitude towards their customer/ visitors. Not a word
on their web page about their move.

Just a waste of time. And what disappointed me the most, my failed diet. Well, I know where they can shove the Rock around Asia art gallery. I will not even spend one single cent at the place, never! I WILL STAY WELL CLEAR!!

Review Man

Well, I was really feeling bad when I left Novotel Suvarnabhumi Airport Hotel, and it was no surprise. I have been aware of this problem for a long time, well, for many many years by now. I have
had different ideas. Never have more than 40 Baht in the valet and leave all cards back home.

well, when I'm back home I will take out my cards from my valet.

And I have also, seriously, been thinking about
bringing my own boxed lunch with me when I'm
exploring Bangkok on all my different "What to do for fun when you're too old for party - How to kill a day in Bangkok" adventures. This is a problem I will have to solve before I can continue with my trips around Bangkok. Tomorrow I have planned to visit a less known museum, the Thai Labour Museum. I never thought about it until I read about it on internet.

And I have passed the place many many time, drunk in a taxi going to Lucky Luke from Don Mueang International Airport. Anyway it is a walking distance from here so I will
hopefully (God help me!) be able to do this without any snacks on the way.

Well, I got an e-mail in the evening. It was from Tyson's Ships Riggers and they sent me a copy of their new brochure. And as we can see there are a few pictures that I took when we loaded at Didon Terminal from Didon FSO with Rickard Maersk in Tunisia back in July 2013. If you are interested you can find the SPM Brochure by clicking HERE




Hi Aladdin,

Further to our previous correspondence, please see the attached pdf version of our new brochure.

We have managed to use a few of your photos in the publication and I hope that we have done them justice.

Once again, many thanks for your assistance in allowing us to use the photos.

Best regards
Martin

_____________________________________________
From: Aladdin
Sent: 25 November 2014 00:52
To: 'Tyson's Ships Riggers'
Subject: RE: E-mail from web page

Hello

Yes, go ahead and use any picture you want to use

This brochure, will it be in PDF? Then I would appreciate a copy

Best regards
Aladdin

____________________________________________
From: Tyson's Ships Riggers
Sent: 24 November 2014 21:24
To: aladdin
Subject: E-mail from web page

Good day,

I came across your webpage whilst looking for photos of SPM mooring hawsers on Google and found one of your photos of a mooring hawser for the Didon FSO at the Didon Terminal.

I work for a company called Tyson's Ships Riggers in Grimsby,UK and am currently working on producing a new brochure - Mooring Hawser Assemblies for Calm Buoys/FPSO - and would like to know
if you would give permission for me to use any of your photos in the brochure?

Your soonest response would be appreciated.

Best Regards

Offshore Mooring Systems Manager
Tyson's Ships Riggers
www.tysonsriggers.co.uk

<< OLE Object: Picture (Device Independent Bitmap) >>




The Thai Labour Museum is a single-storey red building near the Makkasan Railway Station. It was first the railway police station, then became the railway labour union office before it became a museum on 17 October 1993. Outside the museum is a monument, \"Dignity of Labour,\" showing a man and a woman pushing the huge wheel of history.

If this sounds exciting you just have to click HERE to find out more about the place




OK, it has come to my knowledge that we have senior citizen visiting my web page. How hard can it
be? So it's not very easy for them to see the blue coloured links to the next page.

Jiffy (also jiff)


noun [in SING.] informal a moment: we'll be back in a jiffy.

ORIGIN late 18th cent.: of unknown origin.

So as you understand, in a jiff pretty much depends on your internet.

So I put a "Next" button here and I hope that there isn't any problem to understand how to use that one. So just CLICK the "Next" button on your left hand side and you will be on the next page in a jiff!
Marunong ka mag-tagalog? Walang problema! Magpunta sa kabilang pahina pindutin ang "NEXT" button sa itaas


Faites vous parlez le français? Pas de problème! Pour arriver à la page suivante faites s'il vous plaît un déclic le bouton "Next" ci-dessus!


Haga usted dice el español? No hay problema! Ver la siguiente página sólo hacer clic el botón "Next" encima!


Farla parla l'italiano? Non problemi! Per vedere la prossima pagina lo scatto per favore giusto Il bottone "Next" sopra


Sprechen sie Deutsch! Kein problem! Wenn Sie die folgende Seite sehen wollen gerade klicken der Knopf "Next" oben!


คุณพูดภาษาไทยได้ไหม ไม่มีปัญหา ถ้าคุณต้องการไปหน้าถัดไป ให้กดปุ่ม "Next" ข้างบนนี้


Вы говорите по-русски? NJET PROBLEMA! Просто нажмите синюю кнопку "Next" с левой стороны и Вы моментально переместитесь на следующую страницу!


E ni Svenskar och inte förstår Engelska så ska ni skämmas. J och Björn, med det menar jag inte att alla mina stavfel ska ältas varje gång vi träffas.


Well, the flag of Skåne, just a BONUS flag.
You are visitor no.
To www.aladdin.st since December 2005
Visitors from different countries since 26th of September 2011