Sunday 8th of March 2015 and I made myself a big pot of tea 2 o'clock in the morning trying to stay awake. Still 2 hours to kill before I will have an early morning constitutional
down to "Korea Town" at Sukhumvit Soi 12. A "TUNA & ONION SURPRISE" ® with the tea as I know from
experience, the breakfast buffet at Poi Pet, not even if it is for free.

I have not been there for a long time now, but I doubt that Poi Pet had
become any better. I have always skipped the breakfast buffet even though the breakfast buffet is included in the tour price.

I left home at 4 thirty and I walked down to "Korea Town" passing Soi Cowboy. Soi Cowboy is closed since many hours, but there were some road side bars playing music and selling liqour.

People drunk, dancing and drinking, and at this time of
the day it was not the most beautiful girls hanging around. An eye sore for sure and it would be better to let the bars be open than to have this people on the sidewalks.

I remember when they started to close the bars, well, when they had to close the bars at 1 o'clock, Taksin in charge and Sukhumvit turned in to a night market with bars and prostitutes all the way from Soi 3 to Soi 23. It was a horrid place 3 o'clock in the morning.

Well, anyway, I passed Soi Cowboy and I crossed Sukhumvit via the Asoke sky train station and Iw as soon at the Korean Town. There were people waiting to take off. Bangkok Buddy Travel Service Co had set up a desk on the plaza just as Jack
Golf used to have. I gave my pass port and my paper work was already completed as we had filled up the immigration forms when I was at their office a few days ago.

I was surprised to see all the people, 14 PAX and I was told that we were going in 2 vans. I already had a seat up front. As I told them, I want to keep an eye on the driver.

She had guaranteed that it was a good driver when I told her that I had been scared going on the bus last time with Jack Golf.

The girl told the driver that I was going to sit up front to keep an eye on things. The van, as usual, to sit up front is not very comfortable. But the seats in the back looked very good. Actually, I can't remember ever having seen a van with this kind of seats before. But of front the
was and we were soon on the way towards Poi Pet in Cambodia.

I was dead tired but it was not easy to sleep, and I had to keep an eye on the driver. But he was driving very good. But the twat behind me put his for to rest on the back of my seat. BAM! I gave him an elbow and the foot disappeared very quickly.

The sun was coming up after an hour or so and we could see the views around us. I was starting to get hungry so I was looking forward to arrive to Cambodia.

We arrived to Aranyaprathet 20 minutes past 8 o'clock. We got our passports and we walked to the immigration check-point to exit Thailand. We will get out of Thailand and then we will have the

Aranyaprathet District


(Thai: อรัญประเทศ) is a district (Amphoe) in Sa Kaeo Province in Thailand. It borders Cambodia to the East.

Until the Khmer Rouge disrupted neighbouring Cambodia in 1975, Aranyaprathet was a stop on the railroad connecting Bangkok with the Cambodian capital Phnom Penh. Aranyaprathet maintains its rail link with Bangkok but Poipet, the neighbouring Cambodian town, is still yet to see any rail activity since the Khmer Rouge destroyed the track.

Southeast of central Aranyaprathet, 6 km away, is the busiest border crossing between Cambodia and Thailand. In addition to being on a major trade route, the border sees much activity touristwise as it is on the road between Bangkok and Siem Reap, the town nearest Angkor Wat.

Aran, as the town is known in Thailand, has been affected by the growth of the gambling industry in Poipet. Despite gambling being illegal in both Thailand and Cambodia, the Cambodian government has granted concessions for casinos to be built at many of its land crossings. Cambodians are not permitted to gamble in the casinos. Poipet's proximity to Bangkok (3-5 hrs by road) has made it the most popular of these border casino areas. It now hosts seven casinos. The popularity of the casinos has increased real estate prices in Aranyaprathet

Aranyaprathet was originally a district within the province Kabin Buri. On April 1, 1926 the province was abolished and the two districts Mueang Kabin Buri and Aranyapathret became districts of Prachinburi Province. In 1993 it was one of the districts which formed the new Sa Kaeo province.

From Wikipedia, the free encyclopedia

breakfast in the "no man's land" between the Thai immigration and the Cambodian immigration.

And in the "no man's land" there are several casinos and the area is full of Thai tourists gambling during the weekends. And I know people with family that have lost everything at gambling, so there are people playing.

Well, anyway, we passed the immigration and we gave our passports to the Guide. He will take our passports to the Cambodian immigration while we're having breakfast at Poi Pet Resort.

For sure, there were changes since I was here the first time. First time I was here it was no end to the misery, despair, dirt and filth. It was still dirty but it was way better than when I was here the first time. They were building everywhere, and they were also building a new railway bridge and new railway tracks.

Seriously, it looks way way worse in Sweden now a days. Sweden have turned in to a piss and shit infested country with shanty towns. Dirt, filth and garbage for as long as you can see. Going from one of the cleanest countries in the world to a landfill in record time.


Landfill Stockholm - Sweden 2015
A man fed up with beggars bringing garbage to the supermarket - That's the spirit!

Of course, if you don't like people to block the entrance to your supermarket with garbage you're a racist


We passed several "TAX FREE" shops on the way to the hotel and the streets are paved. When I was here for the first time, 11 years ago it was just a dust road. And I was also stroke by the
lack of the Thai Police trucks with a cage on the back. They were full of people that was deported from Thailand. So yes, there have been changes and the place looks much better.

But any improvements on the food at the casinos in the area?

We entered the casino and I asked for the restaurant. I was told that the restaurant wa sin the basement. They also told me that I was not allowed to wear my cap because of safety reasons. Where do they come up with all these things? I found the escalator and I was soon at the restaurant.


Walking to the Aranyaprathet immigration check-point
Walking to the Aranyaprathet immigration check-point
Walking to the Aranyaprathet immigration check-point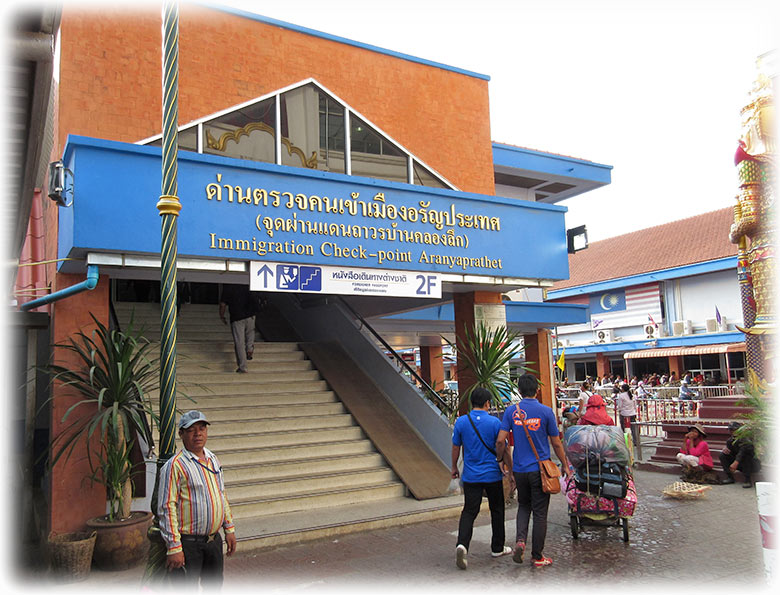 Aranyaprathet immigration check-point
Not many people at the Aranyaprathet immigration check-point
We have passed the Thai immigration
Walking towards the Poi Pet Resort
Some things never change
Walking towards the Poi Pet Resort
TAX FREE shops
TAX FREE shops
Poi Pet Resort, looks good on the outside. Inside was a different story


I approached the buffet restaurant and I took a picture, one of their security guys came running. It was not allowed to take pictures here. Of course, the place looked like a 3 US Dollars per night
place, for sure nothing you want people to take pictures of.

Already stepping in to the hotel, well, approaching the hotel and I had hope for them to have a nice restaurant. It was a nice looking hotel. But my hopes disappeared when I stepped n side. And when I saw the restaurant I was sure that I would not eat there.

And I was right, they did not even had any tea and I was not going to eat any of the food they had on display.

One of my fellow traveller recommended the Grand Diamond Resort across the street, there was an ala carte restaurant with proper breakfasts. I went over and I got a menu and I ordered breakfast, it was OK. Not New Cowboy Bar & Restaurant good, but OK. I was waiting for food
with a big pot of tea in front of me when my fellow traveller came to join me.

We chatted and time turned quick. We almost missed the van back to Bangkok and I was lucky that my fellow traveller joined me, or I would have missed the van. I thought we were going back at 11, but we were leaving at 10 o'clock.

We asked for the bathroom before we left. The Waiter pointed in a direction and I asked him if the bathroom was clean. He gave it a thought and then he
pointed in a different direction. The Waitress got involved and she pointed in the original direction.

They had a discussion and then she pointed in the other direction as well. That was the clean bathroom and we went there.

They were looking for us when we came back to Poi Pet Resort and we went to the Thai immigration and we entered Thailand again. It was a
beautiful Immigration Officer and I took the opportunity to crack a few jokes with her.

The Thai side of the Cambodian border has also got some refreshing new places and I stopped at a coffee shop to buy a bottle of water. Yes, I don't recognise the Thai - Cambodian border any more, and it has changed to the better.

But there was a faulty smell in the whole area and that was not a nice experience. I think it was sea shells stinking up the place. Some of the people from the morning would stay here to apply for tourist visas so we only had one van going back to Bangkok and I was back home at 2 o'clock.

Leaving the border and the Driver was soon upset with me. We took off and he was soon playing with his phone. I told him to put away the phone, he is responsible for the life of the passengers, he was not happy but he put away the phone. Seriously, I pay for a trip and now I will have to have an upset driver next to me and a bad atmosphere up front. Playing with the phone while driving, should I have to tell the guy to concentrate on the driving? I don't think so!

I stopped for some food on my way home from Asoke where they had dropped me. Yeah, it was not a good day for my diet. I ended up with 2 friends at Hemingway's and I had more to eat. But
Hemingway's, maybe the best Fish & Chips since Goose in Pattaya. At least it was better than getting drunk like my 2 friends.

Well, I had time for boxing Monday and Tuesday and I'm of to Suvarnabhumi Tuesday night to catch a flight to Halifax, Canada via London. And you just have to click HERE to find yourself in the middle of that adventure. So hang on to something sturdy, this can turn out to be fun!



OK, it has come to my knowledge that we have senior citizen visiting my web page. How hard can it
be? So it's not very easy for them to see the blue coloured links to the next page.

Jiffy (also jiff)


noun [in SING.] informal a moment: we'll be back in a jiffy.

ORIGIN late 18th cent.: of unknown origin.

So as you understand, in a jiff pretty much depends on your internet.

So I put a "Next" button here and I hope that there isn't any problem to understand how to use that one. So just CLICK the "Next" button on your left hand side and you will be on the next page in a jiff!
Marunong ka mag-tagalog? Walang problema! Magpunta sa kabilang pahina pindutin ang "NEXT" button sa itaas


Faites vous parlez le français? Pas de problème! Pour arriver à la page suivante faites s'il vous plaît un déclic le bouton "Next" ci-dessus!


Haga usted dice el español? No hay problema! Ver la siguiente página sólo hacer clic el botón "Next" encima!


Farla parla l'italiano? Non problemi! Per vedere la prossima pagina lo scatto per favore giusto Il bottone "Next" sopra


Sprechen sie Deutsch! Kein problem! Wenn Sie die folgende Seite sehen wollen gerade klicken der Knopf "Next" oben!


คุณพูดภาษาไทยได้ไหม ไม่มีปัญหา ถ้าคุณต้องการไปหน้าถัดไป ให้กดปุ่ม "Next" ข้างบนนี้


Вы говорите по-русски? NJET PROBLEMA! Просто нажмите синюю кнопку "Next" с левой стороны и Вы моментально переместитесь на следующую страницу!


E ni Svenskar och inte förstår Engelska så ska ni skämmas. J och Björn, med det menar jag inte att alla mina stavfel ska ältas varje gång vi träffas.


Well, the flag of Skåne, just a BONUS flag.
You are visitor no.
To www.aladdin.st since December 2005
Visitors from different countries since 26th of September 2011