Friday 7th of August 2015 and my alarm went off at nine o'clock. I could easily have slept for a few more hours. I left my room around 12 thirty and I left Protea Hotel Breakwater Lodge walking towards Cape Royale Luxury Hotel and the Rustica Restaurant for some breakfast. I reached the
zebra across the road from Rustica. There was a beggar and I should give him a little something. I grab for my valet and I realise that I had forgot the valet in my room.

I told the beggar that I had forgot my valet and I could see that he thought I was lying.

Back to my room and walking back again and I gave a bill to the beggar (The only bill in his cup) And he was very happy. I crossed the road and I was soon sitting at Rustica with a plate
of smoked salmon and avocado in front of me.


The Slave Lodge


is one of the oldest buildings in Cape Town. The many names of the building over three centuries – Slave Lodge, Government Offices Building, Old Supreme Court, and SA Cultural History Museum – reflect the long and rich history of the building.

In 1998 this museum was renamed the Slave Lodge. Under the umbrella theme, 'From human wrongs to human rights, exhibitions on the lower level of this museum explore the long history of slavery in South Africa. Through our changing, temporary exhibitions we address issues around and raise awareness of human rights.

The upper level galleries as well as other spaces in the museum will be renewed in the coming years.

An audio-guided tour can be rented at a nominal fee. This guide takes you on a historical journey through the Slave Lodge and gives you insight into the dismal living conditions.

School groups can book lessons with one of our educators. For more information about school visits see the Education and Public Programmes section of this website.

Unfortunately, the museum does not have a shop. Visitors are however able to purchase an informative brochure entitled "Slaves at the Cape: Oppression, Life and Legacy". The brochure provides visitors with an overview of the history of slavery at the Cape. Visiting exhibitions are sometimes accompanied by publications which can be purchased at the reception desk.

Exhibition Space
The upper galleries of the Iziko Slave Lodge are open to the public. The majority of these exhibitions are older displays which showcase some highlights from our ceramics, silverware and Egyptology collections to name a few. These exhibitions do not focus on the history of the slavery in South Africa.

A selection of ceramics from various parts of the world can be enjoyed in the ceramics gallery. South African wares on show include Ceramic Studio and Linn Ware objects made at Olifantsfontein during the first half of the 20th century, as well as contemporary works.

The silver gallery shows a range of domestic and commemorative objects of Cape, English, Malaysian and Russian origin. The Mullne Collection of Cape silver, on loan from DITSONG Museums in Pretoria, is also on show.

In the coming years we wish to transform these galleries to draw links to national heritage and history.



Tea and toast and I tried a new version of the salmon and avocado today. A smoked salmon and avocado sandwich and it was so good I had 2 more plates with a second pot of tea. It was good, really good and I was full and feeling good when I left.

What a difference from when you're full and feeling bad after having had eating too much chocolate etc.

I took a taxi to the Slave lodge in town. This museum was recommended to me and I decided to check it out.

It was a big museum and the beginning of the museum was interesting. It was interesting until I got to a department where they were showing clothes and jewellery. I think there was a department for pottery and one for different weapons, not so interesting.

But the ground floor was interesting. I spent about one hour at the Slave Lodge. I asked if they knew of any other interesting museum in Cape Town. I got a list of different exhibitions and museums. But there was nothing on the list that I wanted to see.


Slave lodge in Cape Town
Slave lodge in Cape Town
Slave lodge in Cape Town


I decided to walk around Cape Town for a while before returning to my hotel to check my e-mails for news about Romø Mærsk. And I need to find an ATM as I used my last cash for the taxi
coming here to the Slave lodge.

I walked along the street looking for an ATM and I withdrew 100 Rand, about 8 US Dollars or so. I liked Iceland and Greenland, I never had to even see the local currency. Same here, but I need
cash for the taxi. Otherwise I can use my cards everywhere.

100 Rand is enough for two taxi trips, one going back to my hotel and the other trip, well, I don't need to take taxi between Pick n Pay and my room anymore.

So how to kill the time here in Cape Town while waiting for Romø Mærsk to come alongside? Nu museums I'm interested in and tours. There are plenty tours to take but I need to book and as I don't know when Romø Mærsk is coming alongside it is hard to book the tours.

I know that it will be Sunday earliest and I will look for shark safaris to False Bay and the breaching Great White sharks. There was a
sightseeing bus passing me. Something I had never done before,
ever. You have all seen them. The red City Sightseeing Busses Hop-on, Hop-off. You see them all over the world.

Hop-on, Hop-off but the doors were closed so I could not get on board. But I decided to investigate and to take the tour tomorrow.

I walked around looking for a Pick n Pay supermarket. I had been at a Super Spar but that was a Liquor branch. But I was soon in a Pick n Pay supermarket. 7 bottles of diet drink two too many for being allowed to use the fast lane
to the Cashier.

Taxi back to my hotel and I was thinking about having a drink or two tonight. But I'm on stand-by and I will try to get on a shark safari tour tomorrow morning.

And I have heard that the breaching tours are very early in the morning. A quick dinner and I will be back in my room to get some well needed sleep. And it turned out that I had to eat the dinner buffet on the hotel for the second time. I started at V & A Waterfront. All restaurants were full and some of them even had a line outside.

I don't understand this. It was like the whole of Cape Town was out eating. Is there a law here that force people to go eat at a restaurant on a Friday? You're home relaxing and you discover that it is Friday.
- FOOCK! It is Friday and we need to get to a restaurant in a hurry.

I walked back to my hotel and I had the buffet, steamed rice with butter and there were some delicious things at the dessert tray and I was full when I walked back to my room.



+++++++++++++++

Saturday 8th of August 2015 and my alarm went off at 9. Darn! Am I sleeping good or what in this bed? I decided to skip Rustic today as it was 11 o'clock. I will go down to check out the
sightseeing buses and check out if there is a restaurants with good breakfast.

I discovered gorgeous weather when I came out from my hotel and it took me 3 minutes to walk to the Hop-on Hop-off City Sightseeing buses just next to Two Oceans Aquarium.

I was very soon to discover that I wasn't the only one wanting to go with the red bus to discover Cape Town. I was disappointed when I left the ticket office. I went down to a cafe next to the jetty and I discovered that they had a seal platform. 2 seals was lapping sun on the platform.


No way I'm going on the bus with all this people
Just when I decide to go everyone else had decided to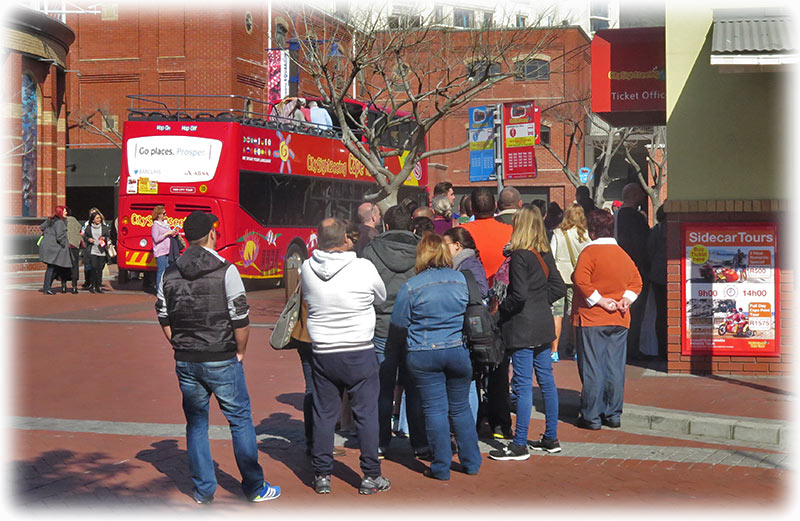 This is how close I got to get on a City Sightseeing Hop on - Hop off tour in Cape Town





I read that there is 2 million of the Cape Fur Seals in South Africa and many seals are swimming
around here at the V & A Waterfront

I left the Cape Fur Seals and the red sightseeing busses behind and I continued along the V & A waterfront.

I stopped at a restaurant and I could see that they had white table cloths on the tables. Looked nice enough and I went inside. Well, what a disappointment, no one in the kitchen could make a simple omelette. Should just be to crack a
few eggs. Well, should be is not the same is being.

Well, I was lucky because in the other corner of the building was another restaurant. I asked if they had omelettes and breakfast. No problem and I went inside. I took my seat and I asked for a pot of the South African tea called Rooibos tea

The waiter went to arrange a pot of tea and to tell the kitchen that I wanted smoked salmon and avocado.
While he was away I checked the menu. Side orders and I discovered Cauliflower and olive oil mash!! This is a must to try. New potato in parmesan and rosemary!!! A must to try!

Full English breakfast and I asked him to take off everything except the bacon and the Banger. I also asked for a 3 egg omelette with bacon, cheese and onion filling. He brought a pot with Rooibos tea and I told him to prepare a second pot as the first pot would be empty very soon.

He brought the avocado and smoked salmon, not on the menu but here they had, obviously, Chefs that could think outside the box. When you come to a restaurant and they tell you they don't have omelette or real whipped cream, LEAVE!! Run and never look back!



Rooibos tea


Rooibos (Anglicized pronunciation: /ˈrɔɪbɒs/ roy-bos; Afrikaans pronunciation: [rɔːibɔs], meaning "red bush"; scientific name Aspalathus linearis) is a broom-like member of the legume family of plants growing in South Africa's fynbos. The generic name comes from the plant Calicotome villosa, aspalathos in Greek. This plant has very similar growth and flowers to the rooibos plant. The specific name linearis comes from the plant's linear growing structure and needle-like leaves.

The leaves are used to make an herbal tea called rooibos or bush tea (especially in Southern Africa) or sometimes red bush tea (especially in Great Britain). The product has been popular in Southern Africa for generations and is now consumed in many countries. It is sometimes spelled rooibosch in accordance with the old Dutch etymology.

In South Africa, it is common to prepare rooibos tea in the same manner as black tea and add milk and sugar to taste. Other methods include a slice of lemon and using honey instead of sugar to sweeten.

History
In 1772, Swedish naturalist Carl Thunberg noted, "the country people made tea" from a plant related to rooibos or red bush.

Traditionally, the local people would climb the mountains and cut the fine, needle-like leaves from wild rooibos plants. They then they rolled bunches of leaves into hessian bags and brought them down the steep slopes using donkeys. The leaves were then chopped with axes and bruised with hammers, before being left to dry in the sun.

Dutch settlers to the Cape learned to drink rooibos as an alternative to black tea, an expensive commodity for the settlers who relied on supply ships from Europe.

In 1904, Benjamin Ginsberg ran a variety of experiments at Rondegat Farm, finally curing rooibos. He simulated the traditional Chinese method of making Keemun by fermenting the tea in barrels. The major hurdle in growing rooibos tea commercially was that farmers could not germinate the rooibos tea seeds. The seeds were hard to find and impossible to germinate commercially.

In 1930, a botanist cultivated the first plants at Clanwilliam. Over the next decade, the price of rooibos seeds increased to £80 a pound, as farmers rushed to plant rooibos tea.

From Wikipedia, the free encyclopedia



Breakfast at Mondiall at V & A Waterfront
Breakfast at Mondiall at V & A Waterfront


It was a wonderful omelette and the bacon and sausage was very good. The potato was good even though I had expected boiled potatoes. The olive oil cauliflower mash was wonderful, I have found myself a new "favourite " restaurant here in Cape Town. I loved the cauliflower mash and I will do
something like that when I'm back home.

I have done it way back in time when I stayed in Sweden. I think it is quite healthy, but of course, removing the cream and I that it will be so tasty. I left the place and it was 12 o'clock something and there was a boat out leaving at 1 o'clock.

They guy tried to get me on board, 250 rand only as he said.

I asked when the next boat as leaving and he told me 3 o'clock. I went back to my hotel to get my camera. And I wanted to check out the City Sightseeing Hop on - Hop off bus. Maybe there were
less people by now.

I was soon to discover that there were still people lining up outside the ticket office and I didn't bother going over to check it out.

Straight to my room and I was back at the busses one and a half hour later when I was on my way back to the boat.

By now the ticket office was almost empty. The girl told me they closed at 15:20 and that was an
hour away. So I didn't bother. I also asked why there had been so much people this morning. She told me to come back tomorrow as there won't be so much people.

I told her that I might try the bus on Monday as I suspected that there would be less people by then.
















I walked to the boat and the guy recognised me
- You made it
- Yes, one ticket please
He had told me it was 200 Rand if I came back at 3 o'clock and I handed him my card. Well, his machine had run out of battery and the machine was recharging on the boat.

I told him that I could pay on the boat, but this was impossible. I asked why
- You must buy the ticket here
- I can buy the ticket on the boat
- Impossible
I asked him if they preferred to lose the business over a stupid thing like where I bought the ticket. Here or 12 meters away on the boat. He would get the machine to see if it was charged and then I could buy my ticket.


People waiting for the Waterfront swing bridge to open
The Waterfront swing bridge is closed again
The Table mountain from the Waterfront swing bridge
Lions head behind the signal hill
The boat is waiting for me


I looked around for 10 to 15 minutes and I was back at the ticket table 5 minutes before 3. Now he had the machine and I handed him my AMERICAN EXPRESS. He put my card in the machine. The boat was waiting for me and we were in a little bit of a hurry. The machine, well, nothing happened and the guy took out my card. He told me that they didn't accept American Express.
- Did you know that?
- Yes, we only take VISA and Master Card
- Why didn't you tell me this when I handed you my AMERICAN EXPRESS? It is not like it was a secret that it was an AMERICAN EXPRESS card. Actually, there is NOT
ONLY AMERICAN EXPRESS written all over the card. It is like the
name AMERICAN EXPRESS comes out and punch you very hard on the nose. So it was impossible to miss that it was an AMERICAN EXPRESS card!
- You are a very difficult customer
- But it says AMERICAN EXPRESSS all over the card and you don't accept it

- You are a very difficult customer
- For telling the truth?

I walked towards the boat that was waiting for me. We should be 9 passengers so this was perfect. But I didn't expect any wildlife at all. 90 minutes of cruising outside Cape Town and we might see a seal and maybe a flipper.

At the ticket table there are pictures of a Humpback showing the fluke, in 17 meters of water? He would have to stand on the nose to show us the fluke. Of course, there was a picture of the Great White shark and some other exciting stuff.

I asked what we could expect to see.
- Can we see Humpbacks?
- Nah, not really
- Why is there a Humpback on the picture?

He pointed to the side and he told me that we could see this things. I looked at the pictures and there was some pictures, much much less exciting than the front pictures. He also told me that we
could see sea birds. Yeah, that means Sea Gulls and they are not so exciting. You see them on every landfill around the world.

It is like the BIG 5 posters you see around town, tour companies selling safari tours. They tell you that the animals are wild in the parks around Cape Town. And I have been around to different tour companies looking for things to do.

As soon as you have done all the tours around Cape Town and spent 45 minutes at the waterfront Cape Town is pretty boring.

I have done everything by now, except the breaching tour that is fully booked until september. Like the whale watching. Fully booked and only one boat running. All the other companies had their boats up for maintenance. Like my Guide said, f***ing unbelievable that they cannot plan to do this during the 9 months of OFF SEASON!

I have called several companies, all of the companies I have found with the shark breaching tours to Seal Island in Simon Town, but only one answering and they are fully booked until september. Remaining companies don't reply on e-mail or phone calls.
That's the way to make money!

Anyway, so I have been to several of the tour companies here to look or things to do. They want to seal the safari tours to me. I tell them that I had been to Aquila Game Reserve and I only like to see wild animals.

As soon as they understood that I wasn't born yesterday they tell me that it is not wild animals in the gaming parks. But of course, if you have never been to see any real safari it is a good way to do it, but it is not a real gaming tour.

All lions are kept in a corral and if I want wild animals there are only one place in South Africa (the country) and that is the Kruger Park. Yeah, my driver in Aquila Game Reserve, we enter the lion corral. He told me that we can see the lion if we're lucky. We enter the corral and he looks around driving straight on even though the road is closed 20 meters ahead. Then he stop.
- OH! There they are, we're very lucky!
- Oh, please!

It was actually the best part with the Aquila Game Reserve, to listen to the Guide. The hippos are eating behind the mountains and the Lions are also hunting behind the mountains. I had actually
expected real gaming in Cape Town so the gaming have been a disappointment. If you want to see wild life in Cape Town go for the very EXCELLENT shark diving and whale watching, this is wild animals. Actually, everything on the ocean is good around Cape Town.

Anyway, we're leaving Cape Town behind on the boat and if you ever meet anyone telling you that they have been on Safari in Cape Town or most of the places in South Africa you know they have not. Unless in Kruger National Park.

I was not surprised to learn that one of our two engines did not work properly. We have 2 small outboard engines in the back of the boat. One working and one slowing us down and we didn't make much speed. We passed the breakwater when we heard from one boat that they had spotted some big fish. We changed course to go check it out.


Leaving Cape Town Waterfront behind
Signal Hill
Signal Hill
Signal Hill


(Afrikaans: Seinheuwel), or Lion's Rump, is a landmark flat-topped hill located in Cape Town, next to Lion's Head and Table Mountain. The hill was also known as "The Lion's Flank", a term now obsolete. Together with Lion's Head, Signal Hill looks like a lion sphinx.

Signals
Signal flags were used to communicate weather warnings as well as anchoring instructions to visiting ships in order to ensure that they prepared adequately for stormy weather while in the bay. Similarly, ships could use flags to signal for assistance if, for example, an anchor line parted during a storm.

It is known for the Noon Gun that is operated there by the South African Navy and South African Astronomical Observatory. In 1836, a time ball was set up at the Cape Town observatory, however it was not visible to ships in the harbour, so a second time ball was erected on Signal Hill in order to relay the precise moment of 1pm Cape Mean Time. In this way ships in the bay were able to check their marine chronometers. The daily practice of dropping of the ball continued until 1934, when it was made redundant by radio signals.

The guns on Signal Hill were used to notify the public when a ship was in trouble and there was a possibility of casualties on the coast near Cape Town. Three guns would be fired from Chavonnes Battery, followed by a single gun in answer from Imhoff Battery.






Lions Head


Lion's Head is a mountain in Cape Town, South Africa, between Table Mountain and Signal Hill. Lion's Head peaks at 669 metres (2,195 ft) above sea level. The peak forms part of a dramatic backdrop to the city of Cape Town and is part of the Table Mountain National Park.

In the 17th century the peak was known as Leeuwen Kop (Lion's Head) by the Dutch, and Signal Hill was known as Leeuwen Staart (Lion's Tail), as the shape resembles a crouching lion or a sphinx. The English in the 17th Century called the peak Sugar Loaf.

From Wikipedia, the free encyclopedia
2 Humpback whales
Signal Hill
Table mountain under the clouds
Lions Head and Signal Hill
Our new friends the Humpback whale couple again

Romø Mærsk at the anchorage
We are back at the V & A Waterfront
Japanese fishing boats

We followed the Humpback when they were leaving Table Bay and they were swimming close to the beach. This was something very special. When I boarded I asked if they had seen any whales. Well, they gave me the Sea Gull and Table Mountain as we would not see any whales here.

We just left the breakwater when we spotted 2 Humpbacks and one of the crew members told me it was thanks to me. I had asked for whales, first time in the history.

When we followed the whales the boats bound for the Waterfront they turned around to check out the whales. Every time the whales came up we could hear people screaming and applauding. So far it have been about 100% of the people on my whale watching tours have loved to see the whales.



Well, maybe except for the old German guy I met at Eldings while waiting for the boat. Well, 100% like the whales and wild life so who the foock is it throwing all the plastic and garbage in the
nature? I also saw Romø Mærsk on the anchorage but she was far away. All in all it was a nice cruise and we were back at V & A Waterfront after about 2 hours.

Saturday and I had been thinking about having a beer or two. But first dinner and I walked to Balducci where I had have my first dinner in Cape Town. I ordered pretty much the same as the first night. But I changed the ostrich for Fillet and I wanted 2 mountains of whipped cream instead of one with the chocolate surprise. It was good, but the ostrich was better than the Fillet.

I walked back to my hotel and I also made the decision not to dink any beers today. I will try the City Sightseeing Hop on - Hop off Red Bus tomorrow. And someone told me that they start the cable car service to the Table Mountain tomorrow after having been closed from 27th of July for maintenance. So I might take the tour to the top of the Table Mountain tomorrow.



So no beer today and I will leave my room early tomorrow, at least try to. And there will
hopefully not be so many people on the red sightseeing busses tomorrow. I have studied the map and the red line goes to the cable car station at the Table Mountain.

And if you want to know how this turns out you just have to click HERE.
OK, it has come to my knowledge that we have senior citizens visiting my web page. How hard can it
be? So it's not very easy for them to see the blue coloured links to the next page.

Jiffy (also jiff)


noun [in SING.] informal a moment: we'll be back in a jiffy.

ORIGIN late 18th cent.: of unknown origin.

So as you understand, in a jiff pretty much depends on your internet.

So I put a "Next" button here and I hope that there isn't any problem to understand how to use that one. So just CLICK the "Next" button on your left hand side and you will be on the next page in a jiff!
Marunong ka mag-tagalog? Walang problema! Magpunta sa kabilang pahina pindutin ang "NEXT" button sa itaas


Faites vous parlez le français? Pas de problème! Pour arriver à la page suivante faites s'il vous plaît un déclic le bouton "Next" ci-dessus!


Haga usted dice el español? No hay problema! Ver la siguiente página sólo hacer clic el botón "Next" encima!


Farla parla l'italiano? Non problemi! Per vedere la prossima pagina lo scatto per favore giusto Il bottone "Next" sopra


Sprechen sie Deutsch! Kein problem! Wenn Sie die folgende Seite sehen wollen gerade klicken der Knopf "Next" oben!


คุณพูดภาษาไทยได้ไหม ไม่มีปัญหา ถ้าคุณต้องการไปหน้าถัดไป ให้กดปุ่ม "Next" ข้างบนนี้


Вы говорите по-русски? NJET PROBLEMA! Просто нажмите синюю кнопку "Next" с левой стороны и Вы моментально переместитесь на следующую страницу!


E ni Svenskar och inte förstår Engelska så ska ni skämmas. J och Björn, med det menar jag inte att alla mina stavfel ska ältas varje gång vi träffas.


Well, the flag of Skåne, just a BONUS flag.
You are visitor no.
To www.aladdin.st since December 2005
Visitors from different countries since 26th of September 2011