Sunday 2nd of August 2015 and I will leave with Emirates flight EK 373 for Cape Town from Suvarnabhumi International tonight via Dubai. Really not a flight I wanted to go on. But Singapore Airline was full and I really want to go for some gaming in Cape Town before joining Romø Mærsk. I was booked on Singapore Airlines yesterday, but I got the e-mail 1 hour 15 minutes before departure so this was an obvious NO SHOW.

But today I got my confirmation and I booked 3 nights at Cape Royale Luxury Hotel. And as I used
hotels.com I got one night free from my previous bookings. Book 10 nights and you receive one free night.

Well, some wildlife before joining Romø Mærsk in Cape Town. She will arrive on the 6th of August so I only have 3 nights. So not much time but I will try to take two one day game driving in the
Aquila Private Game Reserve about 2 hours from Cape Town. And as I have spent all the money on my new camera.

Canon ESO 5D mark III and the Canon 28 to 300mm lens was worth every penny in the arctic. But as I bought the Canon 70 to 200mm F 2,8 I want to use it or it will feel like a waste of money. So game drive, here I come!

My bags were packed yesterday so the only thing to do is to get me some e-juice for my
e-cigarette started with high nicotine content, now I'm down to low and today I will by ZERO nicotine juice. Car booked with AOT and I'm ready to go. I made a quick tour to Big-C at Lad Prao. IVAPOR man have his shop in the basement of Big-C and I bought some e-juice.

Vaporman www.ivaporman.com and I could not help by thinking about the classic Biz Markie tune Vapors. A quick search on Youtube and I found the video with Biz Markie.


Biz Markie's classic Vapors from the album Goin' off 1988

Turn it up to full and enjoy!


The taxi was waiting for me when I came down a few minutes before 6. Maybe he had been there since i was don with my garbage, there was a white and a silver coloured car. The silver coloured
car didn't had any AOT sticker and I went back up again. Turned out that it was the white car that was from AOT and there was a sticker but I never looked at the white car because I had never seen any white AOT cars before, only silver coloured.

The Driver grabbed my bags and the head of security asked where I was going. We were soon on our way toward Suvarnabhumi International Airport. Sunday evening and there was not much traffic so we made it to Suvarnabhumi in no time

I went in to Suvarnabhumi terminal and I saw that there were plenty people in line to check in on the Emirates flight EK373 to Dubai. I went to the customer service desk but it was not possible to upgrade.

I could do it when I had boarded. I found this very strange, they told me that monkey class was
overbooked by 10 persons. They had seats in biz.

But I could not upgrade until after boarding. If I upgraded now they had one seat over in monkey class that one of the passengers on the over booked seats could take. Well, that's up to them.

I had checked-in online but there were more check-in desks than luggage dropping desks so I chose the check-in queue. People checking in and nothing happening. What the duck? Just blah-blah-bla, how hard can it be to check in? It is worth the extra money to fly biz. Mostly people that have been on a plane before. Here, in cattle class people checking in. They want to sit together and all of them want window seat like they are riding a train.

Check in staff explain that they cannot all sit together with a window seat, unless they are sitting
in each other's lap. Then the boarding pass had to be explained and there was no end to it.
All this while I'm jumping up and down behind them.

And the online check in and seat selection. I had 4 seats to choose from on line and none of them in the aisle.

The girl in the check-in arranged aisle seat for me all the way to Cape Town and I threw away my home printed boarding passes. So I was pretty happy when I left the check-in for security and immigration. Security, millions of people but it went pretty smooth. Down the escalator
to the Immigration and BAM. The queues want all the way to the escalator.

But it was surprisingly quick to pass through the immigration and I was walking towards the gates. I had planned to visit the Japanese restaurant but they had moved. Or if the restaurant was in the other direction, but I'm pretty sure it was in this direction. Anyway, where I thought the Japanese restaurant was there was now a Mango Tree and I took a table.

The restaurant was pretty full and chose a table close to the kitchen where I was almost alone. And it was close to the toilet and I took the opportunity to check-out the conveniences. When I left I discovered that the Singapore styled "rating" system had come to Suvarnabhumi International Airport.



I finished my meal and I went to Gate E4 to board flight EK 373. Boarding had started when I came to the gate. I decided to ask if there was any seats remaining with an empty seat next to it.
Lo and behold, the girl found 2 seats for me and she changed my seat number.

And I was at least to say in a "jolly mood" when I boarded Emirates flight EK 373 to Dubai. Yes, the only available seat on the flight was the seat next to me. I was soon to get disappointed, a Stewardess and a girl approached me and the girl wanted to sit next to me.

She sat down and then, well, I don't know what happened but she left and took my original seat. I was very happy, again, the only empty seat on board flight EK 373 to Dubai was the seat next to me. My second time on board
an Airbus 380 and I must change my opinion about the plane.

I was flying in business class from Paris to Bangkok and wått's dö madderfakking diil? The Airbus 380 was announced as the second coming and it was the same as normal business class. Just a lot of hot air about nothing.

Cattle class and I was really impressed, the Airbus 380 is really like the second coming. The seat was wide and ample leg room. The seats are higher or if it is a different construction, I don't know, but I could stretch my legs full out under the seat in front of
me. Sleeping comfort, nah, not much. Not like in biz, but it was very comfy, of course the seat next to me was empty.

500 videos on the big screen in front of me and the flight was really good. Not to the extent that I enjoyed the flight, but it was not bad. If I lose 500 kg I can save money by flying coach instead of paying for a biz ticket. At least when they fly with Airbus 380.

Comfy or not, 6 hours ++ from Bangkok to Dubai and it was darn nice to get out of the seat and off the plane. Now I only have to worry about the flight to Cape Town, on line check in and it was full, but I have an aisle seat thanks to the Emirate's check in girl at Suvarnabhumi Airport.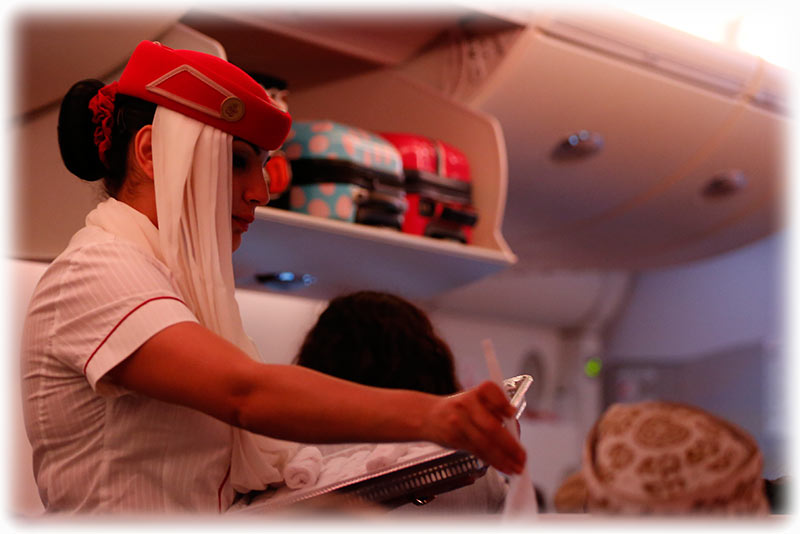 Bringing the drinks
Bringing the drinks
Approaching Dubai
Landing in Dubai


We had to pass another security check here in Dubai. Getting off the plane and before we came to the transfer hall we had to pass the security. I was on the other side and I got my stuff from the x-ray but my lap top bag came out on a different track. A girl took my lap top bag and we went to a separate desk.
- Can I see your e-cigarette?
I brought out my cigarettes and she took them while telling me that they were not allowed on board. I reacted forcefully.
- HEY! NO ONE HAVE TOLD ME THAT!!
She pointed at a notice on the wall.
- There is a note that it is not allowed
- That note should have been at the check-in!

I was angry, I have checked in passed security and I have been on a flight already with the e-cigarettes and now they tell me it is not allowed to bring on board. She called some people and we
went to another desk and the discussion continued. I told them yet again that this should have been at the check in so I could have put my e-cigarettes in my checked luggage.

They told me that I could put them in my checked luggage but as this was checked all the way to Cape Town.

They realised that this would be too much work and they told me that I could keep one of my e-cigarettes. I took the biggest bazooka and then I told them that I needed the batteries and when they looked away I took my big tank as well.

I understand that they want to ban some stuff on board, but then they have to inform about this before check in and not after the security check.

Well, anyway, I left the security and it was a long trot to the terminal for the B gates. Emirates flight EK772 will depart from gate B2. Trotting and then we had to go with a train and then more trotting. When I reached the terminal for the B gates I was hungry, nothing to eat since my lunch oatmeal back home in Bangkok several hours ago.


- Upps, I forgot my snacks on Suvarnabhumi
But that was not very much so we don't count that. I stopped at a restaurant and I had a pot of tea and two smoked salmon bagels. I had also planned to update my web page as there was 3 hours between arrival and departure.

But it took me an hour to get to the departure terminal. Smoked salmon snacks and it was almost 3 o'clock in the morning and time to board flight EK772 to Cape Town. I was looking for a bathroom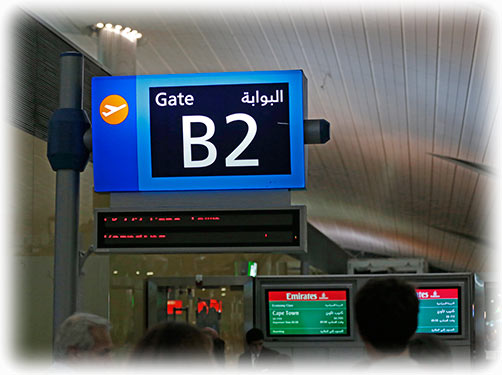 to wash my hands after the salmon snacks.

I didn't find the men's rest room. But there was one for ladies and there was a queue reaching far out in the terminal. I gave up the idea to look for the men's room and I went to gate B2 to board flight EK 772 to Cape Town.

The flight was full when I did my online check in and no aisle seat available. I have an aisle seat thanks to the girl at the check in desk back on Suvarnabhumi. I asked if they had a seat with an empty seat next to it was available. She changed
my boarding pass and I got row 30 A-B-C. I had 3 seats and I was very happy when I went to board my flight. Well, a good look and a smile takes you a long way, or is it because of consideration to the other passengers. Here we have a cubic ton of lard, maybe better to give him his own row of seats. Well, I think it is because of the good looks.


Hmm, I was maybe not so happy to discover that we were going by bus to Emirates flight EK 772. And I was on the last bus so we had to wait for all the remaining passengers. I started to talk with a guy from Cape Town. He was working in Saudi Arabia and he was going home for holiday.

He told me that there was a tour with a cage and the Great White shark. You're in the cage while the sharks attack you. This sounded interesting and I will investigate when I arrive to Cape Town. It sounds amazing, to be in a cage when the Great White are swimming around the cage.

The plane was obviously far away as it took us a very long time to reach the plane. Well, never mind, I have 3 seats and I was very happy.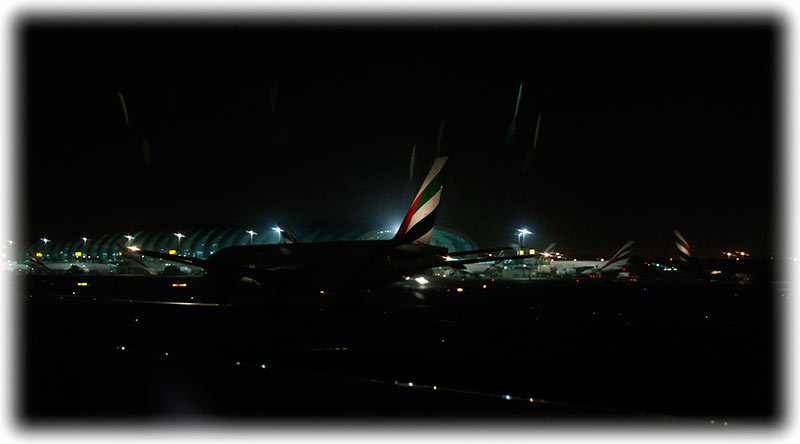 Flying in over Cape Town
Flying in over Cape Town International
Cape Town International Airport


I was soon to discover that I had been very lucky. Boarding completed and the safety video was ready. TAXI out to the runway and I had a row of 3 seats all by lonesome. I looked around and I
could not see any empty seats. So I had been lucky

I was tired and on top of that I had a sleeping pill but it was impossible to sleep in the uncomfortable seats. Boeing 777 and I don't think I had even been on a 777 before. Well, I have been on a 777 but in the biz department, and that is very different from sitting in the back in the monkey class seats.

I laid down on the seats and I managed to sleep for a while and I woke up when the Stewardess came with the food cart and she woke me up.
- Your legs are sticking out in the aisle

It was very hard to fall asleep again, laying down was not very comfortable and I sat up again. PLEASE! Let us arrive soon! But we had several hours to go. Before we were even close to Cape
Town. I was really tossin' and turnin' in my seat until I finally felt asleep.

We had about 2 hours to go and I got some breakfast and we were soon descending to Cape Town. We flew over a beautiful landscape and I could see snow on some of the mountains. South Africa is really a beautiful country and I enjoyed the view until we touched down on the runway in Cape Town. It was nice to get off the plane. If it was nice to come off the comfortable Airbus 380 this was hundred times better. It was not so far to the
immigration and I didn't had to wait so long for my luggage.

I was really glad that I had pre booked my transportation and the Driver was waiting in the arrival hall.

A sign with my name and I was soon in the back seat of a black Mercedes on my way to Cape Royale Luxury Hotel. It took about 30 minutes or so to get to the hotel and I was soon in my room. It was so nice to step inside my room putting the flights behind me.


Check in
My bed
My room


I check my e-mail first thing when I'm connected to the internet. There was an itinerary from "Made in Africa" The same company in Johannesburg that had set up my safari in Botswana last year. Good service so I decided to go for "Made in Africa" again.

03Aug15: PM: half day excursion to Hermanus for Whale Watching (boat departs from Hermanus Harbour @ 15:00, and can last from 1.5 – 3hours)
04Aug15: Full day private safari at Aquila Game Reserve
05Aug15: Full day private safari at Aquila Game Reserve

Price: R 17 075.00

Includes:
· Full day private game drive at Aquila Game Reserve in open 4WD game viewing vehicle (04Aug15)
· Private return to transfer from Cape Town Aquila Game Reserve (05Aug15)
· Full day private game drive at Aquila Game Reserve in open 4WD game viewing vehicle (05Aug15)

Excludes:
Whale Watching Boat trip (R 700) to be paid upon arrival at Hermanus, which Southern Right Charters

I called "Made in Africa" and the first thing I learned was that the whale watching was cancelled due to bad weather. And I was not surprised as it was pretty windy outside. But they will come to
pick me up at 06:30 tomorrow morning and I asked for a 7 o'clock pick-up instead as the restaurant didn't open until 6 thirty.

No I was hungry and I needed to get some food before going to look for new e-cigarettes. I had been up to look for a few Diet MAX at the Supermarket as they only had Coca Cola products at the hotel. But I came up with ZIP. Anyway, they had found an e-cigarette store for me at the V & A Waterfront while I had been at
the supermarket. I said thank you and I went next door to the hotel restaurant Rustica - Italian Inspired.

I asked for smoked salmon and avocado, not on the menu but they should arrange it for me. A pot of tea and a plate of "open" ravioli. I got my pot of tea and I had soon a plate of avocado and smoked salmon on the table in front of me.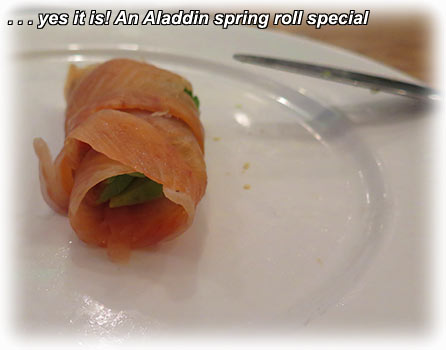 It was a very good salmon, almost like dried beef but the taste was wonderful. And avocado on top of this, of course, I could not help myself and I made an Aladdin spring roll "special"

I had a plate of the "open" ravioli and I have forgot how many of the Aladdin spring roll "special" I had. But I asked them to prepare 4 Aladdin spring roll "special" for me until 6 thirty tomorrow morning. They will have them ready for me at 6 thirty and I can have a quick breakfast before taking off to the Aquila Game Reserve.

I left Rustica and I was really looking forward to my breakfast. But first, I had to go look for Twisp e-cigarette store down at the V &A Waterfront. Just a few minutes away by foot.



Victoria & Alfred Waterfront


The Victoria & Alfred (V&A) Waterfront in Cape Town has sweeping views of the Atlantic Ocean, Table Bay Harbour, the City of Cape Town and Table Mountain. The V&A attracts more than 23 million visitors a year. Situated in South Africa's oldest working harbour, the 123 hectares (300 acres) space has been developed for mixed use, containing residential and commercial real estate.

Prince Alfred, second son of Queen Victoria, began construction of the harbour in 1860. The first basin was named after himself, the second after his mother, hence the name.

With over 450 retail outlets selling everything from fashion, home-ware and curios, to jewellery, leather goods and audio-visual equipment. The Waterfront is also still a working harbour and the fishing boats can be seen working bringing in fresh fish or the large container ships being towed in by the tugboats.

From Wikipedia, the free encyclopedia



Leaving my hotel behind
Coming down to the Waterfront behind
Coming down to the Waterfront behind
Coming down to the Waterfront behind
Twisp store at V & A Waterfront in Cape Town


Took me a few minutes to walk down to the V & A Waterfront and I asked around for Kiosk 21, the address to the Twisp store. I passed a tour shop and they had pictures of a shark cage tour outside. Just as the guy on the bus to the airplane in Dubai had talked about.

The guy told me that the tour was cancelled tomorrow due to bad weather, maybe on Wednesday. I said thank you and I decided to try to get on one of the Great White shark tours, what a thing to
end my holiday with!

I found the Twisp store and I bought the equipment I needed and I went down to the Pick n Pay Supermarket in the basement.

I bought all their Diet MAX and I took a taxi back to my hotel. I called "Made in Africa" in Johannesburg. I told him about the shark cage and we will have a look in to it. He suggested that one day at the Aquila
Game Reserve would be enough for me. He told me that I would most likely not enjoy it as I had been to Botswana. Botswana and Serengeti is the place to go for gaming.

OK, I asked him to try to set up whale watch and shark cage for me or anything else he thought that I would like. I will call him tomorrow again. I went back to the street and I took a taxi to Two Oceans Aquarium at the V & A Waterfront





I arrived to Two Ocean Aquarium 40 minutes before closing time. They told me that it was not enough time but I insisted and I paid my ticket and I entered the Two Oceans Aquarium. The first thing I ran in to was a poster about plastic, and as I had said for thousands of years: Straws should be forbidden! What are they good for? Billions used every day and they just end up in our environment! One straw is nothing, two straws are nothing. But a million! And a billion! Everyday! STRAW SUCKS! the poster I found at the Two Oceans Aquarium, a MUST READ for everyone. SAY NO TO STRAWS!


A little to think about
Junk raft


A junk raft is a type of home-built watercraft made of plastic bottles or other recycled materials constructed by artists and community-minded groups organizing recreational flotillas or by environmentally concerned individuals seeking to draw attention to the problem of floating debris, the Great Pacific Garbage Patch, and the need for recycling. It can also be an improvised small, functional watercraft from readily available materials.



JUNK Raft Project


The JUNK Raft Project was organized by Dr. Marcus Eriksen and Anna Cummins in Long Beach, California in 2008, to bring attention to the issue of plastic pollution in the Great Pacific Garbage Patch. The project was launched with the Algalita Marine Research Foundation, after founder Charles J. Moore encountered the Great Pacific Garbage Patch in 1997.

Organizers hoped to "creatively raise awareness about plastic debris and pollution in the ocean," specifically the Great Pacific Garbage Patch trapped in the North Pacific Gyre, by sailing 2,600 miles across the Pacific Ocean on a 30-foot (9.1 m) raft made from an old Cessna 310 aircraft fuselage and six pontoons filled with 15,000 old plastic bottles. Crewed by Dr. Marcus Eriksen of the Foundation and film-maker Joel Paschal, the raft set off from Long Beach, California on 1 June 2008, arriving in Honolulu, Hawaii on 28 August 2008. On the way, they gave valuable water to record-holding ocean rower Roz Savage, also on an environmental awareness voyage, when her supplies dwindled.

The construction of the JUNK Raft began in April 2008 and was finished the following month. The huge undertaking of constructing a seaworthy raft from "junk" was aided by volunteers from the environmental education programs of: Bell Elementary, Green Ambassadors, Muse Elementary, Santa Monica High School, and Westbridge School for Girls. The volunteers lent a hand by cleaning bottles, fastening bottle caps, and stuffing them into the recycled fisherman's net pontoon forms.

From Wikipedia, the free encyclopedia

PLEASE, follow the Junk raft expidition on their web page http://junkraft.org/

I was satisfied with my visit to the Two Oceans Aquarium and I was especially happy with the information about how the plastic is destroying our oceans. But I'm afraid that it is too late and no one really cares, throw the garbage where you sit or stand.

Using straws when it is not needed. Buying a bottle of milk in Thailand and they throw 3 to 4 straws in the bag if you don't ask them NOT to. I walked through the Waterfront and I recognised it since I was here last time. 10 or 11 years ago. I was soon back at the shopping mall or whatever thy call it. I walked around and I passed Balducci, a restaurant and the girl asked me if I wanted to come in to eat. I asked for smoked salmon and boiled potato. No boiled potato and I left again. I had planned to buy oatmeal at Pick n Pay before going back to my room.


Walking through the V & A Waterfront area
Walking through the V & A Waterfront area
Walking through the V & A Waterfront area
Walking through the V & A Waterfront area
Walking through the V & A Waterfront area
Walking through the V & A Waterfront area
Walking through the V & A Waterfront area
Walking through the V & A Waterfront area
Walking through the V & A Waterfront area


I spent an hour or so walking around the waterfront and I ended up at the Balducci again. This time I went inside and I had a seat while asking for a pot of tea. The menu was like a book and there was plenty to choose from. Salmon and avocado salad to start with and the Ostrich with spaghetti as a main course. Yes, spaghetti instead of potato as they only had the fancy kind of potato that had become quite boring by now. Well, it was boring already a very long time ago.

I asked if they had whipped cream, the real thing and not on a spray can. They had real whipped cream and I asked for a chocolate cake with whipped cream instead of ice cream. And I can really recommend Balducci's at V & A Waterfront if you ever come to Cape Town


A super tanker with avocado & smoked salmon salad
Ostrich with spaghetti
Chocolate cake filled with hot cream and the added extra "Whipped cream"


I paid my bill and it is really cheap here in Cape Town. Next stop Pick n Pay for oatmeal. Our
Chief Engineer had taken the stock on board and they only had 4 kilo, not enough as I'm going serious with my diet as soon as I step on board Romø Mærsk.

I take the escalator don to the basement and as soon as I step in to the supermarket there is a girl asking me if I come back for her.

I looked at her, I didn't recognised her. But she was obviously recognising me since I was here for the Diet MAX a few hours ago.

I asked for the oatmeal and she brought me to the aisle with oatmeal. I took a few packs and as I didn't had any basked the girl
told me that she would help me. She looked shocked when I brought out 12 kilo of
oatmeal.

We went to the queue and we found a basked, well, we could not fit much of the oatmeal in the small basket.

But there was a girl coming running with a shopping cart. We filled up the shopping cart with my oatmeal and I took my place in the line to the Cashiers. I was happy for the help and
there was no baskets or shopping carts when I entered the Pick n Pay. Same when I was here to buy the Diet MAX





Well, anyway, I was soon in a taxi on the way back to my hotel. Passing the reception and I confirmed the wake up time 06:00 tomorrow morning.

That will give me an hour before they are here to pick me up. And I'm looking forward to my avocado and smoked salmon breakfast. And of course a pot of tea.

So it will be a game drive at Aquila Game Reserve tomorrow and you just need to click HERE to find out if I spot any wildlife on the game drive. Might turn out to be a fun tour,
hopefully.


OK, it has come to my knowledge that we have senior citizens visiting my web page. How hard can it
be? So it's not very easy for them to see the blue coloured links to the next page.

Jiffy (also jiff)


noun [in SING.] informal a moment: we'll be back in a jiffy.

ORIGIN late 18th cent.: of unknown origin.

So as you understand, in a jiff pretty much depends on your internet.

So I put a "Next" button here and I hope that there isn't any problem to understand how to use that one. So just CLICK the "Next" button on your left hand side and you will be on the next page in a jiff!
Marunong ka mag-tagalog? Walang problema! Magpunta sa kabilang pahina pindutin ang "NEXT" button sa itaas


Faites vous parlez le français? Pas de problème! Pour arriver à la page suivante faites s'il vous plaît un déclic le bouton "Next" ci-dessus!


Haga usted dice el español? No hay problema! Ver la siguiente página sólo hacer clic el botón "Next" encima!


Farla parla l'italiano? Non problemi! Per vedere la prossima pagina lo scatto per favore giusto Il bottone "Next" sopra


Sprechen sie Deutsch! Kein problem! Wenn Sie die folgende Seite sehen wollen gerade klicken der Knopf "Next" oben!


คุณพูดภาษาไทยได้ไหม ไม่มีปัญหา ถ้าคุณต้องการไปหน้าถัดไป ให้กดปุ่ม "Next" ข้างบนนี้


Вы говорите по-русски? NJET PROBLEMA! Просто нажмите синюю кнопку "Next" с левой стороны и Вы моментально переместитесь на следующую страницу!


E ni Svenskar och inte förstår Engelska så ska ni skämmas. J och Björn, med det menar jag inte att alla mina stavfel ska ältas varje gång vi träffas.


Well, the flag of Skåne, just a BONUS flag.
You are visitor no.
To www.aladdin.st since December 2005
Visitors from different countries since 26th of September 2011