Introduction


My first ever bird watching and I had studied internet, an excellent page that I found thaibirding.com - Nick Upton's one stop only for all your birding in Thailand. Actully, this was the only web page I needed to visit to learn all about birding in the Sri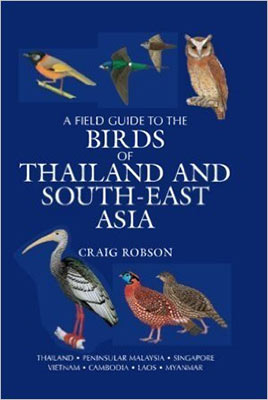 Nakorn Kuen Khan Park/ Bang Krachao, the Green lung of Bangkok.

I had bought two books, "A Field Guide to the Birds of Thailand and South East Asia by Craig Robson" Nick Upton at www.thaibirding.com wrote "This quite excellent book is packed full of quality illustrations and written information on 1251 species recorded in Southeast Asia"

So I bought the book at Asia Books. And the girl at Asia Books gave me the book and I opened a page. DARN! There was the Pheasant-tailed Jacana. First page I open.

Of course I recognised the bird from my pictures from the Red Lotus Sea. I had spent 2 days on internet trying to find the bird to find the name. There it was and I bought the book.

I also bought the book book A "Photographic Guide to Birds of Thailand" by Michael
Webster and Chew Yen Fook. Also reviewed by Nick Upton at www.thaibirding.com wrote:

" The small size of this book suggests that it is a field guide, however, do not fall into this trap as less than 300 species are pictured a long way short of the nearly 1000 species that have been recorded in Thailand. The way this book is set out with reference tabs in the page corners would indeed be useful if this were a full identification guide, but in the absence of around 700 species it seems a bit of a waste of a good idea.

Despite this limitation the book does have a number of good points. The low price of this publication means it is ideal if considering a trip to Thailand in order to see which bird families are likely to be encountered before deciding whether to book a trip and purchase a more expensive field guide.

In fact the information in the first section, about bird finding, habitats and birding sites, fills the void that is created by the lack of introduction in Craig Robson's "A Field Guide to the Birds of Thailand", so would be an ideal purchase to familiarise oneself with the country's ornithology before visiting.

Any faults aside this book is a pleasant addition to any birder's library for the excellent collection of photographs it contains."

I used it one time and I have never looked at it again. I don´t know why I choose Sri Nakorn Kuen Khan Park/ Bang Krachao. Maybe because it was called "the Green lung of Bangkok" on thaibirding.com. Looking at the map and it looked to be close to my place.

I also brought my phone to use as map. There is a small ferry going from Klong Toey across the Chao Phraya River. But as I didn't knew where the ferry stop was or how to find the park I decided to take a taxi.

I went back with the ferry as I found the ferry stop by accident walking around on the other side of Chao Phraya River to look for a taxi to get back home.




Guide


I usually don't use any bird watching Guide in / around Bangkok. But could be a good idea to have a Guide to help me identify all the birds I see. As it is now my eBird checklists are not very impressive as I can only ID half of the birds I see




Flights


n/a




Land transportation


To go by taxi it is of course comfortable. Sitt back and relax in the air condition. And my experience say tha you can always run in to trouble finding you adress so keep this Thai script handy:
Sri Nakhon Khuean Khan Park / Bang Krachao สวนสาธารณะและสวนพฤกษชาติ / บางกะเจ้า


Taxi map


If you don´t like the comfort in the back of a taxi you can go by the ferry from Wat Klong Toey. And when I was there you could rent a bike at the Bang Kachao Port.

Wat Klong Toey Nok วัด คลองเตยนอก

Khlong Toei Pier ท่าเรือ วัดคลองเตยนอก (ท่าโพธิ์ทอง)

Bang Kachao Port ท่าเรือบางกะเจ้า


Walk to the boat, 3 minutes
Cross the river in the boat
Walk or rent a bike to the park





Accommodations


I stay at my home sleeping in my own bed so no need for any hotel.




Equipment


Canon 5D Mk. III
Canon EF 28-300/3,5-5,6 L IS USM
Canon EF 70-200/2,8L IS II USM
Canon EF 100-400mm f/4.5-5.6L IS II USM lens
Canon Speedlite 600EXII-RT flash
Canon PowerShot G7X Mark II
Panasonic HC-W585 video camera

Sound recorder
ZOOM H5 Handy Recorder




Weather / climate


Weather, I don´t know if Bangkok is the hottest capital in the world. But this is what they say and I have no reason to doubt this information because it is darn hot.


Bangkok, Thailand - Climate & Temperature
Bangkok, Thailand - Climate & Temperature - Click picture for full size






References/Resources


There are two sites covering Thailand and I have used them many times. These two web pages are actually everything you need for your birding adventures in Thailand. All the information you need about all the birding spots. Click on the map and then select your spot and you will have maps and everything you need to know about the areas. They have put a lot of jobs in to their web pages, North Thailand Birding and thaibirding.com A must to visit before you go bird watching in Thailand.

www.norththailandbirding.com - A one stop only for all your birding in Thailand

thaibirding.com - Nick Upton's one stop only for all your birding in Thailand.

Use both www.thaibirding.com and www.norththailandbirding.com and you have a winner. Some of the maps on www.norththailandbirding.com are way better than Nich Uptons, while some of Nick's maps are much more detailed. So I have found that if I use both the web pages for information, well, nothing else needed.

Bangkok City Birding - A lot of interesting birding stories and information on this bird watching blog by David Gandy. Bangkok-based patch-worker in Suan Rot Fai, a large park close to the city's famous weekend market. He have recorded 150 species on his patch since 2008. As one of the only big green spaces in the city, "SRF" acts as a real magnet for migrants during spring and autumn, and holds a healthy selection of "sibes" during the winter months.

ebird - Find birding hotspots with bird checklists from all over the world

Avibase - is an extensive database information system about all birds of the world, containing over 25 million records about 10,000 species and 22,000 subspecies of birds, including distribution information for 12,000 regions, taxonomy, synonyms in several languages



www.oiseaux.net This web page is also excellent for identifying birds. There is information and range maps for many many birds from all over the world. This page is almost guaranteed to give you any answer you have about any bird in the world.

Cloudbirders - Read birding trip reports from all over the world

Fatbirder - linking birders worldwide... Wildlife Travellers see our sister site: WAND



Fatbirder is a fantastic web page with information from, I think every country in the world. My first stop when I plan for my bird watching trips. There is information about locations and guides, well, pretty much everything you need to know. Sometimes this is the only place I need to visit to plan my trip.

BirdingPal - find a birding Guide around the world



And the web page you cannot live without. I have been around the world looking for birds. I usually have a Guide, but sometimes it is not possible to find a Guide. So, well, I have lost count on how many times I have had help to ID birds at BirdForum. Joining this forum have been very very good for my bird watching experience.

www.birdforum.net

ClimaTemps.com is the place to learn about the worlds climates with more than 4000 locations documented. Each aspect of the climate is represented using colour enhanced tables and professional graphs so that data can easily be compared by switching between locations in different tabs in your browser.



"A Field Guide to the Birds of Thailand and South East Asia by Craig Robson"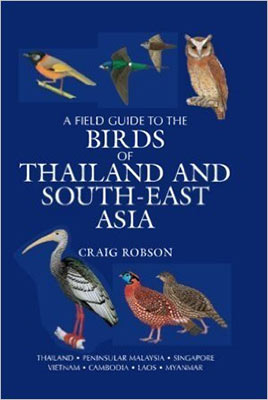 A Field Guide to the Birds of Thailand and South East Asia by Craig Robson. New edition updated with 76 species since previous edition "A Field Guide to the Birds of Thailand and South East Asia by Craig" Nick Upton at www.thaibirding.com wrote "This quite excellent book is packed full of quality illustrations and written information on 1251 species recorded in Southeast Asia"

I bought this book for bird watching in Thailand, but it goes for all over SE Asia




Places to visit


• Sri Nakorn Kuen Khan Park/ Bang Krachao, the Green lung of Bangkok
Arriving with a taxi and I crossed the canal and I entered the park. I don´t know what I had expected, but not this. I continued in to the park and I was disappointed, I didn´t see any birds. But now I realise that it was because it was my first ever bird watching trip and I had not yet learned to spot the birds.

The further in to the park a came the better it became, not to spot any birds, but the park and it was a real nice place, except of course all the garbage they throw all over thailand.

Download thaibirding.com´s Checklist in Word Format HERE This checklist for Sri Nakorn Kuen Khan Park is by no means complete and is not to be mistaken for the official checklist maintained by the national recorders - it is only meant as a guide for visiting birdwatchers. More information about Suan Rot Fai can be found at thaibirding.com

Bangkok City Birding - Dave Gandy's Bangkok City Birding blog is the best source of up-to-date information on bird sightings at Suan Rot Fai.




Bird checklist


I never use any bird lists, but since I try to make it in to Cloudbirders. A very helpful site when planning your birding trips. But they ask for a bird checklist, and if I use their service, of course I want to contribute as well. My two first bird watching trip reports was rejected by Cloudbirders.

So I started to take ideas from the reports I found on Cloudbirders. So I have started to use bird lists, eBird generate one for me and I can post it on Cloudbirders. I will post my birds on eBird and on my different "BIRDS THAT I HAVE OBSERVED" pages.

Full Thai list updated to the taxonomy, nomenclature and sequence of the IOU/IOC World Bird List. The complete checklist, including Thai names and synonyms, can be downloaded in Excel format - Thailand Bird Checklist. - Version 8.2 (2018) - found at www.norththailandbirding.com

Check lists can come in handy to find out the local name of the bird etc. And Avibase have a list with pictures and sounds, excellent!

So I will post bird checklists here and if my Guides provide me with checklists I will also post them here.




Bangkok Metropolis bird checklist from Avibase, click HERE - eBird version 2018 taxonomy

Avibase is providing you with bird checklists from all over the world. And I´m impressed by their web page. Select country and area and you get the bird checklist. Like the PDF files I got from Avibase on the links above. You also get the checklist with pictures and sounds.

The best part is that you get the local names of the birds and the online checklist gives the names in English plus the language you have selected. But it seems like the PDF cannot handle some alphabet.

For example the Japanese language so it is blank in the PDF checklist. But it worked excellent with Swedish. But you get them in the local language on the online version.




Bird list


I only listed birds I have got on picture before I started with eBird in November 2019. Now I record all the birds that I can identify. Before that see the DAY TO DAY reports and my lists of observed birds in different countries.

And you can visit my list of "Birds I have seen in Thailand"

My eBird checklists can be found HERE




Itinerary


Click on the links below for daily bird watching results:

31 January 2015: Bird watching in in Sri Nakorn Kuen Khan Park/ Bang Krachao, the Green lung of Bangkok




You are visitor no.
To www.aladdin.st since December 2005
Visitors from different countries since 26th of September 2011