Saturday 24th of January 2015 and if you didn't knew that you were old before you for sure know it when you walk in the park on a Saturday evening. I was here yesterday on my evening constitutional
and I passed the place where they played Sepak takraw. I decided to come back today to take some pictures in the park.



Benchasiri Park


(Thai: สวนเบญจสิริ; RTGS: Suan Benchasiri; "Park Commemorating the Fifth Cycle Birthday Anniversary") is a garden on Sukhumvit Road, Khlong Toei District, Bangkok, Thailand.

Built on 11.6 acres (47,000 m2) next door to the Emporium shopping complex, it commemorates the fifth cycle (sixtieth) birthday anniversary of Queen Sirikit on 12 August 1992. Construction began in 1990 on land which originally housed the Bangkok Meteorological Department until its relocation to Bang Na. Built around an ornamental lake, it contains 12 pieces of contemporary sculpture by Thai artists and is often used for open air events.

It can be reached from Phrom Phong Station (Sukhumvit Line of the BTS Skytrain), and is located between Soi 22 and 24.

From Wikipedia, the free encyclopedia

Benjasiri Park


Built in 1992 to celebrate Queen Sirikit's 60th birthday, Benjasiri Park is often referred to as 'Queen's Park'. This is definitely the place to be for sculpture lovers, as several of the best examples of Thai sculpture are scattered around the park. The centrepiece fountain, showcasing the work of master sculptor Mesium Yipinsoy, feature multimedia 'water dance' shows three times daily (at 6:00, 12:00 and 18:00).

Although the central pond is not big enough to support paddle boats, Benjasiri Park offers outdoor sports facilities rarely found at other public parks, including a basketball court, roller skating/skateboarding rink, outdoor swimming pool and a multi-purpose court for volleyball and sepak takraw.
Opening Hours: 5:00 - 21:00 daily

From www.bangkok.com





Sepak takraw


(Malay: sepak raga; Jawi: سيڤق راڬا; Thai: ตะกร้อ, RTGS: takro, pronounced [tā.krɔ̂ː]; Khmer: សីដក់ Sei Dak; Lao: ກະຕໍ້ ka-taw; Filipino: sipa; Vietnamese: cầu mây), or kick volleyball.

Sepak takraw is a sport native to Southeast Asia. Sepaktakraw differs from the similar sport of volleyball in its use of a rattan ball and only allowing players to use their feet, knee, chest and head to touch the ball. It is a popular sport in Southeast Asia.

In Malaysia, the game is called sepak raga or takraw. It is also kataw (Lao: "twine" and "kick") while in Thailand it is called takraw. In Myanmar it is known as chin lone, and is
considered more of an art as there is often no opposing team, and the point is to keep the ball aloft gracefully and interestingly. In the Philippines, besides "takraw" it is also known as sipa, meaning "kick".

The earliest historical evidence shows the game was played in the 15th century's Malacca Sultanate, for it is mentioned in the Malay historical text, "Sejarah Melayu" (Malay Annals). The Malay Annals described in details the incident of Raja Muhammad, a son of Sultan Mansur Shah who was accidentally hit with a rattan ball by Tun Besar, a son of Tun Perak, in a Sepak raga game. The ball hit Raja Muhammad's headgear and knocked it down to the ground.

In anger, Raja Muhammad immediately stabbed and killed Tun Besar, whereupon some of Tun Besar's kinsmen retaliated and wanted to kill Raja Muhammad. However, Tun Perak managed to restrain them from such an act of treason by saying that he would no longer accept Raja Muhammad as the Sultan's heir. As a result of this incident, Sultan Mansur Shah ordered his son out of Malacca and had him installed as the ruler of Pahang.

From Wikipedia, the free encyclopedia


I left home around 6 o'clock and it started to get dark when I arrived to Benjasiri Park. They guys were just starting to play when I came and I was looking forward to some real Sepak takraw action. It is a fast sport and I needed to set my ISO to 5000 as I didn't want to disturb them with my flash. At least not to start with, but as soon as they are used to me hanging around.



They play the Sepak takrawon the outdoor sport court and there is also space for Volleyball, badminton and basketball. So there were plenty options for pictures. No barriers or nets between the courts so the balls were flying between the courts. They were also playing badminton so the badminton ball (is that the name) ended up on "our" Sepak takraw court.


Volleyball in Benjasiri Park
Volleyball in Benjasiri Park
Volleyball in Benjasiri Park
Volleyball in Benjasiri Park
Volleyball in Benjasiri Park
Volleyball in Benjasiri Park
Volleyball in Benjasiri Park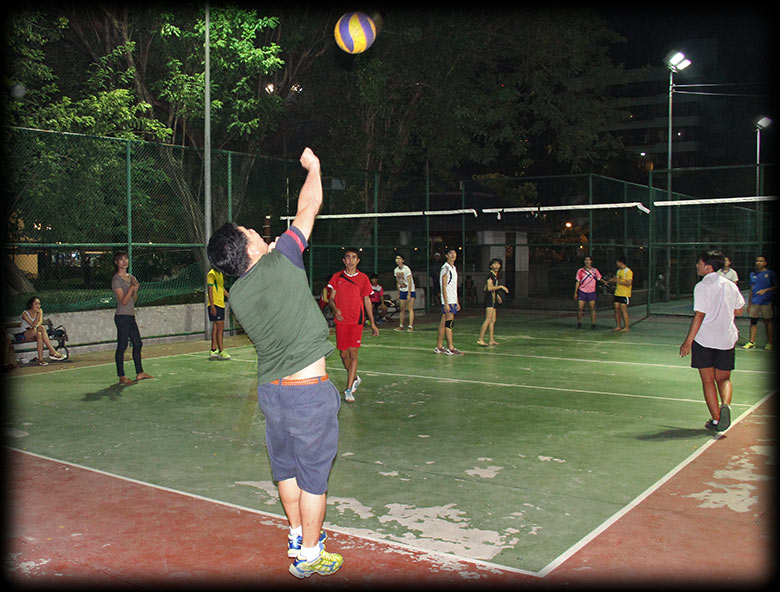 Volleyball in Benjasiri Park
Skateboarding in Benjasiri Park
Skateboarding in Benjasiri Park
Skateboarding in Benjasiri Park
Skateboarding in Benjasiri Park
Skateboarding in Benjasiri Park
Skateboarding in Benjasiri Park
Skateboarding in Benjasiri Park
Skateboarding in Benjasiri Park
Body builders in Benjasiri Park
Body builders in Benjasiri Park
Body builders in Benjasiri Park
Body builders in Benjasiri Park
Body builders in Benjasiri Park
Body builders in Benjasiri Park
Body builders in Benjasiri Park

Benjasiri Park is not very big, but it is the park I like the most. Walking around and there is a lot of activities to watch. And of course, Benjasiri Park is the one closest to my home and I only need a few minutes to walk there. I stopped at the skateboard place before continue my round around the Benjasiri Park.

There are sculptures placed around the park, nice lightning and the area is very nice to walk around. Just takes 10 minutes or so to walk around the park on the walk path. There is also a jogging path going around the park. But I stay in the walking lane.
I stay in the "slower" walk and enjoy lane
I don't know what this is supposed to be, but it looks nice
There are exercise equipment all around the park
Playground for children
There are 3 kiosks in the park for snacks and refreshments
Of course, something Porky avoids
Queens Park Hotel, according to rumours they will tear down this Bangkok landmark
Girls enjoying the evening at the pond
9 o'clock and they close the park


I stopped to look at the bodybuilders, or were they acrobatics. I'm not sure as they were swinging around on the bars provided in the park. Yes, there were activities all over the park. Aerobics on the
lawns and the playground was full of children. I ran in to a guy and a girl setting up a tripod for taking pictures.

People just walking around or jogging. And of course, people sitting on the benches relaxing. So there is always something happening so you have something to look at when you're walking around in the park.

There are 3 kiosks in the park so you never have to be without snacks, but this is something I really try to avoid and I was quick to dash past these temptations on my way around the park.

I was soon back at the Sepak takraw court, the game was in full swing. But 10 minutes before 9 o'clock the park guards drove around on these electric wheels something, whatever they are
called, while whistling. My first thought was "Is it the foocking whistle revolution all over again?" Well, the Benjasiri Park closing at 9 and at 9 o'clock they turned off the light in the park and we walked back to Sukhumvit Road.

I walked towards the Emporium as I had planned to cross the Sukhumvit Road from there. I ran in to one of the Sepak takraw guys when he was buying food. He told me that he would not play tomorrow as he had to work.

I was plunging down Sukhumvit Road, on the right side after having crossed the road from Emporium. I saw a couple in front of me and they walked towards me. They started to laugh.

I looked at them
- You have forgot us??!!
- I will buy more San Miguel Light next time you come!
Well, I had forgot their names, but I have not forgot the dinner at their place last Christmas. And yes, we ran out of San Miguel Light and me and my friend went to rectify the problem. Well, we ran in to trouble and the party finished while we were away.


He was going to buy San Miguel Light for the next time

They were celebrating the 4th anniversary and they had just been at a dinner when I ran in to them. I told them that it was not necessary to buy any San Miguel Lights as I had been giving up
drinking. Well, keep a few in the cooler! We had a chat and they were on the way to some rooftop place
and they asked if I wanted to join. But as I had given up partying I skipped the idea of getting drunk making a tit out of myself.

Well, I'm up early tomorrow for lunch with my friend and I continued to walk back home. I took a picture of them and I would send the picture to another friend that could post it on their Facebook for a remembrance of their 4 years anniversary.

I walked pass Soi Cowboy and it was as always hard to walk through all the parked motorcycles on the side walk. Well, I'm usually walk on the road while in Bangkok as the sidewalks are, well, there are a lot to wish for. But passing Soi Cowboy and that means that
the road is full of taxis, at least during the night time.

But I managed to navigate myself through all the obstacles and I was soon passed Soi Cowboy plunging down Sukhumvit Soi 23.


The pride of Funky Town - Soi Cowboy
The pride of Funky Town - Soi Cowboy
I'm passing GLOW
I'm passing GLOW


I passed GLOW and they guy there recognised me, and that's even though I have been banned from entering GLOW for many years now. I stopped for a chat and they were surprised that I never came by any more. I told them that I had given up party and drinking.

I also happened to mention my diet, well, I hope I can keep my word, but it dosen't look good to start with as I'm off for Sunday lunch at Bistro 33 tomorrow. I will
hopefully be able to keep a low profile. Just click HERE to see how the Sunday lunch adventure turned out.



OK, it has come to my knowledge that we have senior citizen visiting my web page. How hard can it
be? So it's not very easy for them to see the red coloured links to the next page.

Jiffy (also jiff)


noun [in SING.] informal a moment: we'll be back in a jiffy.

ORIGIN late 18th cent.: of unknown origin.

So as you understand, in a jiff pretty much depends on your internet.

So I put a "Next" button here and I hope that there isn't any problem to understand how to use that one. So just CLICK the "Next" button on your left hand side and you will be on the next page in a jiff!


Marunong ka mag-tagalog? Walang problema! Magpunta sa kabilang pahina pindutin ang "NEXT" button sa itaas

Faites vous parlez le français? Pas de problème! Pour arriver à la page suivante faites s'il vous plaît un déclic le bouton "Next" ci-dessus!

Haga usted dice el español? No hay problema! Ver la siguiente página sólo hacer clic el botón "Next" encima!

Farla parla l'italiano? Non problemi! Per vedere la prossima pagina lo scatto per favore giusto Il bottone "Next" sopra

Sprechen sie Deutsch! Kein problem! Wenn Sie die folgende Seite sehen wollen gerade klicken der Knopf "Next" oben!

คุณพูดภาษาไทยได้ไหม ไม่มีปัญหา ถ้าคุณต้องการไปหน้าถัดไป ให้กดปุ่ม "Next" ข้างบนนี้

Вы говорите по-русски? NJET PROBLEMA! Просто нажмите синюю кнопку "Next" с левой стороны и Вы моментально переместитесь на следующую страницу!

E ni Svenskar och inte förstår Engelska så ska ni skämmas. J och Björn, med det menar jag inte att alla mina stavfel ska ältas varje gång vi träffas.


Well, the flag of Skåne, just a BONUS flag.
You are visitor no.
To www.aladdin.st since December 2005