Aladdin's adventure at Thai Navy's shooting range

Saturday 20th of April 2013 and I didn't woke up until 12 o'clock and it was almost half an hour later when I got out of bed. We had agreed that I should call my Teacher at 1 o'clock and I would bring the Malaysian guy to the Thai Navy shooting range at 3 o'clock. This is what we had agreed on at Bangkok Fight Club yesterday.

I called him but there was only a message that the number could not be reached. I know that my Teacher have called me and it had been a different number from the number I have. He have a new phone and he sent me the number before, impossible to find. I called the American girl.

- I don't have his number, try Facebook
I sent him a message and I was soon having his telephone number.

- We meet at 3 o'clock

- OK, see you then, I said

I called the Malaysian guy and we decided to meet at Terminal 21 at 2 thirty, 15 minutes later and I took a taxi to the Subway station. I walked to Terminal 21 and the Malaysian guy and his girl friend arrived a few minutes later. By now we were in a hurry and Sukhumvit looked quite busy so we had to take the sky train to Bang Na.

The shooting range is a few hundred meters from the sky train station, but we took a taxi and we arrived to the shooting range 10 minutes after 3 o'clock. No sign of the Teacher, but when I went out to call him I saw him coming
on his
motorbike. He is teaching Thai boxing at the Navy sport club on weekends and he came from the Thai boxing further up the road.

He showed his Navy ID and we paid 1500 Baht per set, 1 gun and 50 bullets. And of course the targets. We walked past a shooting range for rifles on the
way to the pistol range.

At the shooting range for rifles they were sitting with binoculars to check if they hit the target. Would have driven me crazy, shoot one bullet and then spend more time searching for the hole in the target with a binocular.


My Teacher waste half of his ammunition before he hits the target
My Teacher waste half of his ammunition before he hits the target
My Teacher waste half of his ammunition before he hits the target
Someone isn't so very impressed
My Teacher waste half of his ammunition before he hits the target
My Teacher waste half of his ammunition before he hits the target
3 hits, the rest of the holes is from my gun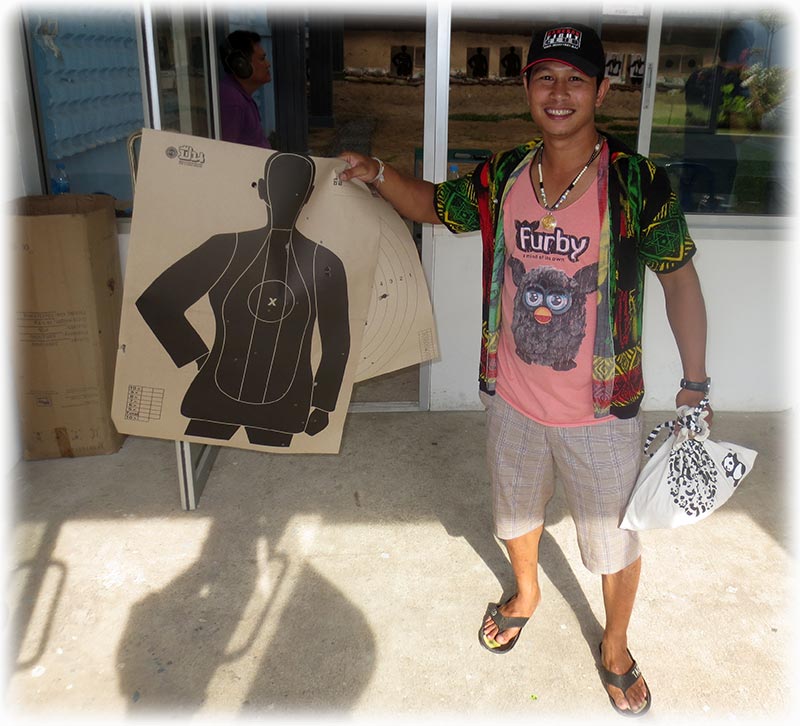 My Teacher started with the shooting so he could return to the Thai boxing and when he left I and
the guy from Malaysia took turns until we had finished all the ammunition.

It was hot and I was happy that they had built a room with fans at the shooting range. Last time there wasn't any roof so the sun was shining at us with no chance to take cover. But today it was better even though it was very hot. We decided to go have a look at my Teacher
teaching Thai boxing.

Took us about 10 minutes to walk to the Thai Boxing and my Teacher was busy with the children.

We spent a few minutes at the Thai boxing before we walked back to the sky train station. The train just left when we came up on the platform, but we could see the next train approaching and we were soon on the way towards Asoke. And by now it was 6 o'clock and I was hungry.


The train is leaving Bang Na


I had decided to go have a look at Klong Lord Market, the market I had been at with Bangkok Photographers last year, but first I had a stop at Queen Victoria on Sukhumvit Soi 23 for some food. I took a taxi to Royal Hotel at Ratchadamnoen Road and I walked around the market for an hour or so before I left for Ratchadamnoen and Sukhumvit by foot. By now it was 9 o'clock and time to get back home.

I passed the Democracy monument when I heard music on the other side off the road and I decided to go check it out. There was several hundred motorcycles parked outside a place and the music was blasting. It was only Harley Davidson and the place was full of bikers from different MC
clubs.
Hmm, this looks interesting, I thought to myself and I walked towards the entrance. Girls with buckets of beer came towards me.

But as I have started my new life I said no thanks. Well, I think we
can sense where this is going by now.

I passed a gate they had put up on the street and I was inside, crowded outside but inside it was only me and 2 girls sitting at the bar. I was soon to discover that I was on the stage behind the band playing.
- What the


When I realised this I started to sweat like
Same when I come onboard the sky train or whenever I'm surrounded by people I don't know. 400 bikers and
asking for a Soda water was NOT an option. I was the only foreigner and as I wanted to keep the image of the COOL foreigner I asked for a San Miguel Light.

And I was really feeling bad about drinking the beer, but it will only be ONE. A gay came up to me and he said that it was the coolest shirt he had ever seen. He told me that the main band would start in about 2 hours, at 11. And as this sounded interesting I asked for a second San Miguel Light. I can drink 3,
then I will have to make a decision to go home or continue with the San Miguel Light. 4 beers and it is too late to stop.

While I talked with the guy the band stopped playing and a charity auction started, the first item, a metal thing looking like a wing. Started with 1000 Baht and finished at 33,000 Baht. And this set
the standard and the other items started at 10,000 Baht. By the time I had my third San Miguel Light I was running very low on snus and one of my e-cigarettes was running empty.

So I decided to go home for a refill, well, one more for the road. And the people was really nice and I forgot the time, and I still had some snus and one fresh e-cigarette. The San Miguel Lights was delivered quickly, at least the first 6 or 7 and then it started to take longer and longer time between the beers.
- What is going on?

Well, seems like I run in to this problem everywhere we go for a few beers. What? Making a tit out of myself? No, but they are running out
of cold San Miguel Lights. They tried to get them cold, but I told them that I could have
warm beer if they could provide me with ice and a wine glass. And how is it possible to go home when you have 6 bottles of San Miguel Light in front of you.
- This is not my beers
- They ordered it for you, the Bartender said pointing at a group next to me in the bar.

- Motherfoockers....

Well, a San Miguel or two is never wrong and for sure, going home when someone had put 6 bottles of San Miguel in front of you is NOT an option. So here we go....


San Miguel Light
San Miguel Light


The band turned out to be Micro and it was very good. Last time I went to see Micro I wasn't all
that impressed.

But tonight it was excellent, maybe because of the different crowd and location. Last time we were at Lad Prao and I had a guy holding my hand all the time. As soon as I was off to the bathroom our friend followed me as a body guard.

It was so annoying holding his hand all evening so I left, but I got him back at a Christmas party, I held his hand all evening and I think he realised how annoying it was. But here was no one holding hand and I had a really good time, I even stopped worrying about my e-cigarette. The snus, I gave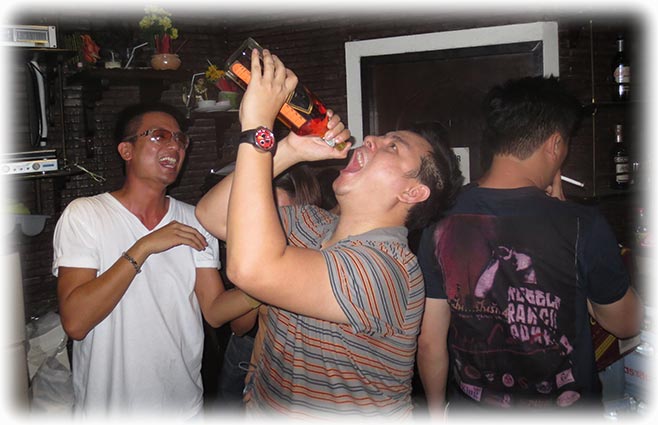 up the hope long time ago and I really don't use much snus since I started with the e-cigarette.

And as soon as Micro started to play we were kicked off the stage and we moved a few meters down the bar. I don't know what time it was when they stopped playing, but I think it was 2 o'clock when I left the place. Taxi home to refill my e-cigarette and a new load of snus.



+++++++++++++++

Sunday 21st of April 2013 and I was lucky that I stayed home after refilling my e-cigarette
this morning. I went to my kitchen and I discovered missed calls on my phone.
- Where is the foocking fire?

The American girl, my Teacher from Sophia Muay Thai Gym and a friend was in Rangsit. Fight Night today and the American girl is having a fight and I was soon on my way to Rangsit to meet my friends.



OK, it has come to my knowledge that we have senior citizens visiting my web page. How hard can it
be? So it's not very easy for them to see the blue coloured links to the next page. So

Jiffy (also jiff)


noun [in SING.] informal a moment: we'll be back in a jiffy.

ORIGIN late 18th cent.: of unknown origin.

So as you understand, in a jiff pretty much depends on your internet.

I put a "Next" button here and I hope that there isn't any problem to understand how to use that one.
So just CLICK the "Next" button on your left hand side and you will be on the next page in a jiff!
Marunong ka mag-tagalog? Walang problema! Magpunta sa kabilang pahina pindutin ang "NEXT" button sa itaas


Faites vous parlez le français? Pas de problème! Pour arriver à la page suivante faites s'il vous plaît un déclic le bouton "Next" ci-dessus!


Haga usted dice el español? No hay problema! Ver la siguiente página sólo hacer clic el botón "Next" encima!


Farla parla l'italiano? Non problemi! Per vedere la prossima pagina lo scatto per favore giusto Il bottone "Next" sopra


Sprechen sie Deutsch! Kein problem! Wenn Sie die folgende Seite sehen wollen gerade klicken der Knopf "Next" oben!


คุณพูดภาษาไทยได้ไหม ไม่มีปัญหา ถ้าคุณต้องการไปหน้าถัดไป ให้กดปุ่ม "Next" ข้างบนนี้


Вы говорите по-русски? NJET PROBLEMA! Просто нажмите синюю кнопку "Next" с левой стороны и Вы моментально переместитесь на следующую страницу!


E ni Svenskar och inte förstår Engelska så ska ni skämmas. J och Björn, med det menar jag inte att alla mina stavfel ska ältas varje gång vi träffas.


Well, the flag of Skåne, just a BONUS flag.
You are visitor no.
To www.aladdin.st since December 2005