Well, the obnoxious man is not my biggest concern here. I'm more worried about all the stairs to get to my room. And I hope I can make it all the way back to my room when I'm coming back. I don't want to pass out half way up start screaming for help. Yes, I have a story from Houston, coming home in the middle of the night and I could not open the door to my hotel room. Yes, I was shit faced but I came up with a plan. I didn't want to go back to the reception so I layed down outside my door.
- Hmm, if I start to scream the neighbours will complain
and call
for someone to sort out
the problem.
I WAS RIGHT! But the day after the hotel manager called me to his office. But he was more impressed that I had managed to get
back home than angry.
- I never seen someone so drunk before!
I left my hotel room at 17:30 and I walked 1 block up on the Sisowath Quay and I stopped at a place. But there were no music so I continued my walk. I stopped at a place, no music again.
- Do you know a place with music? I asked
- We play music
- I hear f@ck all, I said.
The cranked up the music a notch and I ordered a San Miguel Light. What a disappointment, nothing like the San Miguel you get in Manila so I only had one. Tiger beer is imported so imported Tiger beer will be my choice in Phnom Penh from now on.
Imported beer, I remember one time in Singapore. I was enjoying myself in a pub. There was a sign saying IMPORTED CARLBERG so I ordered a Carlsberg and I took a sip.
- What the
is this?
I looked at the bottle, made in Thailand. I got pissed of, they can't make beer in Thailand and if
I buy an imported Carlsberg I expect it to be imported from Denmark. Then we're talking a very good beer. Not as good as the San Miguel Light you get in Manila or the Tiger Light. But one of the best beers in the world. But made in Thailand! No way!
Well, anyway, I had a few imported Tigers (Not from Thailand) and they turned up the music a bit every time I ordered a beer. I asked for suggestions for a good night out in
Phnom Penh. Yes, first time for me in Phnom Penh and they told me to go to the Riverhouse. Just next to my hotel. (They place without music when I was looking for a place for my
first beer)
- Hip Hop santa is in town.
- OK, this one I won't miss, I said.
I asked if they had a disco where there were only Cambodians. When I looked in to Riverhose it was mostly
old foreigners with young Khmer girls so I was looking for something wee different.
They gave me a name of a disco and they told me that it would open at 8.
- But there are no people until 10 or 11!
OK, I get the picture. I left the place and I was walking around Phnom Penh in search for good music. Well, the good music where to be found at the places where they
played my CD. Yes. I always have a CD in my pocket.
It must have been 10 or 11 before I took off to the Khmer disco. I was on my way for a few hours but I ended up at a place and I and we were playing my CD. I was in charge over the remote control so the music was blasting high and it's very hard to leave a place with good music.
I took a Cambodian TUK TUK to the Khmer disco. It
was a well known place. I showed the people the piece of paper with the name of the disco written in Khmer. Same reaction every time: It's a Khmer disco, are you sure you want to go?
I took a Cambodian TUK TUK to the disco, it was a 20 minutes ride. As soon as we left the river side the city was dark and empty. Just a few people to be seen and no lights
at all. When we approached the disco there were some lights to be seen.
I was not allowed inside with my baseball cap on. I tried to bribe the security but no luck.
- What the
do you want me to go in to a disco
showing off my bald spot?
Nothing helped and I had to leave my baseball cap with the security before entering the place.
And what the f@ck? This reminded me of a disco in Bombay
back in 1992 or something like that. It was only guys. Maybe 3 girls and 100 boys. What the
is this??!!
Seriously, it was not a gay club, but it was 99% boys at
the place and I would have left if it wasn't for the , and I mean, EXCELLENT music. Disco in FUNKY TOWN and its pretty much PLAENG THAMADA. But here it was stomping.
I mean, I know my way around good music, but this was all new to me. They even had some very good Khmer
music and I was hanging in the DJ booth. They wrote down the names for me and I will go looking for music tomorrow.
I was home early, I had a few salmon sticks at the Riverhouse before going home. I don't know why I was very carefully. But my guess is that I was thinking about the stairs to my hotel room. So I actually remember how I got home.
+++++++++++++++
Saturday 25
th
of December 2010 and I woke up at 9 o'clock. I wasn't very quick out of bed. Took me 3 hours to get down to the restaurant for my breakfast. Some sandwich and when I had
finished my morning tea I took off to look for the music from yesterday.
- I'm sorry, but we don't have Khmer music. Try the market.
I walked around the market but they didn't had the CD I was looking for. DARN! I had to return to my hotel room as I could feel that the hangover was kicking in.
After 2 or 3 hours I went down to the bar and I ordered an imported Tiger beer. Yes, I'm in Phnom Penh and I want to see as much of the night life as possible before leaving for home on Monday night.
My plan was to go down and drink a beer and bring back 2 or 3 beers to my room. Yes, I don't fancy meeting people with a hangover force 9,8 so if I can have a few beers before going out it will help me a lot. But when I had finished my beer I left for a walk along the river.
Well, what do you know. I left my room at 2 thirty and I came back at 10. Just to get some snus and to write a few words on my web page to sober up a bit. Yes, I have a date and I don't want to go Aladdin style.
I stopped at a place and I asked for a Tiger beer. They only had Kingdom, a locally brewed beer. OK, I can try one bottle. Tasted like shit and I expected a bill, yes, 50 cent tops. But the beer
was 3, 52 US! More expensive than the Tiger beer, and Tiger is a good beer.
As you understand I didn't stayed for a second bottle. I crossed the street because I spotted a bar with a guitar over the entrance door.
- Good, a place with music!
I was disappointed, no music. But as I was walking further in to the bar I could hear music. So I sat down on a stool at the bar.
- Do you have Tiger beers?
- Yes
- Can I please have one? In a wine glass and some ice, please!
I was sitting next to a British guy and he kept on telling me that he had forgotten that it was
Christmas.
- Well, who cares? I said
- Yes, we want to forget the Christmas bullshit, he said.
But we ordered a traditional British Christmas dinner, turkey with stuffing. The
food actually very good, otherwise turkey tend to be very dry and boring. I had planned to stay for a beer or two, but after 15 beers I
turned handsome and I ended up on a date.
Yes, as my friend use to say:
Aladdin, you are very funny, until you have too much to drink and you turn in to the Obnoxious Man.
OK, I know, so I decided to return to my hotel to write a few words on my web page before going on my date. Well, I made several stops on my way back to the hotel and my stop at the hotel was just to pick up snus.
Cambodia and there is always at least one of the staff speaking Thai. I was on my way back to the hotel and I stopped at a pub. I spoke with one of the girls.
- Crank up the music!
- Please, put some ice in my beer!
- Please, one more beer.
The American owner asked me how long I had been in Cambodia. I told him that I had been here for 2 days. He thought that I was joking.
- How come you speak the language?
- I speak f@ck all Cambodian, I said.
- What language are you using when speaking with my staff?
- What the
?? You're have been running a business in the country for several years and you cannot hear that we're speaking another language.
I mean, you don't need to understand the Khmer language, but at least I think you should be able to hear if we're talking Khmer or Swedish.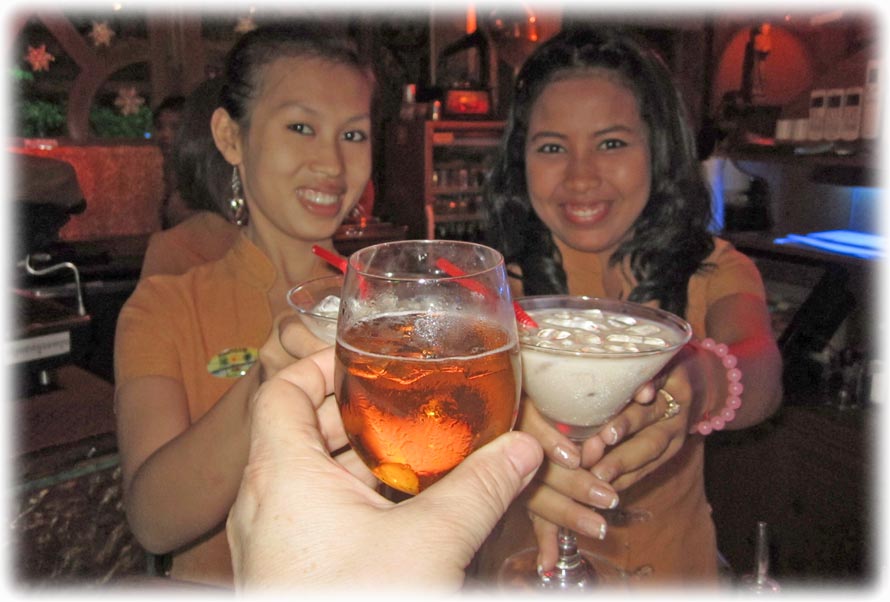 You can enjoy some Danish Hip Hop while I'm out having a good time in Phnom Penh.
Click on the PLAY button to get the real party feeling
Remeber! It has to be on full blast
Going back to my room for a few hours turned out to be a smart move. Otherwise I would have