M/T Fure Sun
Picture from http://www.marine-marchande.net
M/T Fure Sun was built 1995 as Jernavik for Heron Rederi AB at Siong Huat Shipyard, Singapore.

Lenth: 145m
Beam: 22,5m
She is on 14 972 DWT and she load 16 394m³ 98% in 12 cargo tanks. She have 2 slop tanks. Ballast capacity 6444m³.
She have 14 FRAMO pumps. 1 in each cargo tank with the capacity of 330m³/h and 1 in each slop tank with the capacity 70m³/h.
She takes 490m³ fuel oil and 110m³ diesel.
She have Autronica tank level radar.
Hmm
This page should have been updated with new and bigger pictures during May 2011 when I
was onboard M/T Ternvik. But even though I had bought a new camera before I signed on there is no pictures. The pictures from M/T Fure Sun and Vinga Helena
are gone and I can't find them.

So I have to keep the old and small pictures. DARN!




+++++++++++++++

Tuesday 10th of December 2002 and it was finally time to join the ship. I don't remember when I was originally planned to join, but the ship was delayed in the Mediterranean. I took a KLM flight from Gothenburg Tuesday the 10th of December and arrived to Amsterdam at lunch time. No lunch for me, I had my lunch in the bag, remember? But I had stored plenty energy from our
so I didn't needed anything. But, hmm, a glass of water would have been nice.

And as we remember from M/T Tärnvind, I spent a fortune on the Cambridge Weight Plan diet
powder when I signed off in Malmö. So I will have to finish the powder before signing off, I really don't want to carry all the powder back home.

I had to call to the agent at 1230 because there was no one to pick me up at the airport. He said that he will send someone to pick me up and take me to a hotel in Rotterdam. The ship was expected around 9 o'clock in the night. I should wait for about 1 hour at the airport.

I wanted to buy a bottle of water but I didn't have any of the Scooby Doo money they are using here and I don't want to buy a bottle of water with the VISA card so I had a cup of tea and a snack as well. Finally after 2 hours the driver came and we left Amsterdam with screaming and smoking tyres.

He said that he should take me to a hotel in Europoort. We ended up at hotel " De Beer Europoort " around 1530. I checked in at my room and I had a quick power nap and I woke up 1820 freezing. There was no heating in the room and it was below 0 outside. I took a shower and went down for a dinner. Well, hotel " De Beer Europoort " was very East European styled. First I thought that I was back in East-Germany.

After the dinner I went back to my room updating my web page and writing e-mail to Sue
while waiting for the agent to pick me up.

Finally at 2330 they called me on the room and told me that the car was waiting for me. We arrived to the ship at midnight. Seeing the ship I thought it looked like a Panama ship, no light on deck. But when I came down closer to the jetty I could see that they were about to secure the ship so they didn't had any deck light on. Well, I was onboard with all my bags and I was on poop deck
just to see when they secured the last mooring lines. I had to go straight to the CCR and start to kick ass. We should discharge crude condensate. I signed on 11th of December 2002.

We had ordered pilot for 1230 11th of December and we left Rotterdam at 1245. We should proceed to Flushing and
load VGO for Fawley, England. At arrival to Steenbank they told us that we should drop our anchor. Loading postponed until 14th of December due to problem at the terminal.

Well, that meant that I could watch a movie together with the old Chief Officer before our watch. He was supposed to sign off in Flushing, but now we were delayed. On the anchor watch I had plenty time to get familiarized with the bridge
equipment. First I located the entertainment center. Then I turned on a CD with PSTQ
and the Chief Engineer asked:
- What kind of music is that?
I didn't know what to answer. But I found the tea machine in a jiffy and before soon I had a cup of tea. Hmm, yummy. I was all set and we started to tell each other stories from the 7 seas.
Chief Engineer and Chief Officer in CCR

Try not to laugh when the $ pours in to the bank account


When I signed on in Rotterdam it was meant that the Chief Officer should go with us to Flushing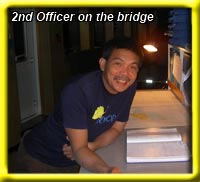 and show me the ship. A trip of 5 Hours jetty to jetty. The Chief Officer should sign off together with him. Otherwise the Chief Engineer, cook and Cadet should have signed off in Rotterdam.

But the company want 3 crew members to sign on and off together. Now they all had to wait for the Chief Officer to sign off. They all had their bag packed when we had to drop the anchor at Steenbank.
Berthing prospects: Earliest Saturday 14th of December and I told them:

- More days more $
But they didn't listening to that argument. Before I knew it they had knocked a hole in my argument.
- We have millions on the bank already.

On my night watches on the bridge there is time for tea and some good music. While Captain and Chief Officer letting me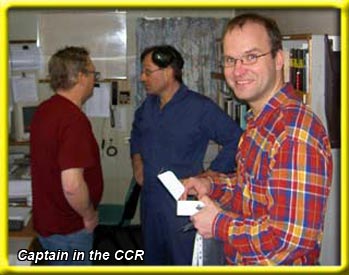 know everything about all their years at sea. Well, the times goes a little quicker when you crack a few jokes.
And before you know it it's midnight and time for my power nap.

8 o'clock it's time for work again. Paper work and inspection of deck. There was time for a video between 1800 and 2000 when it was time for my evening watch.
(Please don't tell the company). These days at the anchorage gave me some extra time to familiarize myself with the ship. There is plenty books and document to read.

At the anchorage I can send a few e-mails to Sue and to update the web page and
hopefully there are some e-mails from Sue for me. Her birthday is soon coming up and I hope that I can send her a nice e-mail by then. But I have warn her beforehand about the possibility of me don't having any internet connection at her birthday. Giving me a saving clause if I forget to send her the e-mail.

Whoopee!! There was e-mail from Sue. So I was happy when I got on my watch below.



+++++++++++++++

Friday 13th of December 2002 and we started to kick ass at 8 o'clock. Testing high level alarms, ODM, lifeboat davit and Gas detectors. Measuring sling for MOB and busy busy. The called from the agent and informed us that the berthing prospects had been changed to Tuesday.



+++++++++++++++

Saturday 14th of December 2002 and I had my I had my first " Chicken soup surprise " for lunch. I mixed the powder with hot water in
a tea cup while waiting for my tea to be ready. It was just to stir the powder into the water and I had a delicious soup.
It was like a cream chicken soup. If you wanted chunky chicken soup it was just to stir the mix so the powder formed lumps.
Hmmm, not so very delicious.

On Saturday they changed our berthing prospects until Sunday afternoon. Well, new orders all the time. Our off signers were
happy about the news, but who knows, maybe they change our prospects tomorrow again. This is the life in the shipping business.

During the afternoon we had an Oil spill drill and an emergency steering drill. We started with the oil spill drill after the coffee break. We
tested the oil spill pump on deck and we pumped some water to our slop tank.

After the oil spill drill we had an emergency steering drill. We went down to the steering room and tried the steering. If the steering on the wheel house doesn't work it should be possible to steer from the steering room in case of emergency.

After the drill I continued with my loading plan and at 1630 it was time for dinner. After the dinner the old Chief Officer selected a video for us.
He managed to hit a new ALL TIME low. A movie about some Indian girl playing soccer. Hmm, a real sleeping pill. Well, we agreed that I should select the next movie.


I had planned to read the ISM manual on my night watch. But every night the wheel house
is crowded and everyone has a story (or 2) to tell about thier adventures on the seven seas. I told the Captain:
- Tonight I want to read the ISM manual. So I hope I will be left alone tonight.
Well, they didn't left me alone on the bridge until 2230 giving me no time to read before it was time to go off my watch. But I must admit that some of the stories were real god tonight.

I just had time to prepare and send my happy birthday e-mail to Sue. Her birthday is on the 16th
of December and if we are going alongside tomorrow there will be no time to send her the e-mail. And a missed HAPPY BIRTHDAY e-mail is a drama I can live without.

It's soon time to sign off and I will meet her making every one green of envy. Especially 1 guy I know. He has wanted to have house, car, wife and kids since he was 15. Now pushing 43 he realize that he's never going to get it. So now he's making sure everyone is suffering for it. But he has managed to get a car, a Toyota or Suki Yuki or whatever it is.
For sure not making anyone green of envy.

Our berthing prospects Sunday afternoon later became Sunday night and then Monday afternoon. Well, I had time to write a second happy birthday e-mail. It was raining and very windy all Sunday.


+++++++++++++++

Monday 16th of December 2002 and the wind and rain were gone. Finally the agent called us at lunch and told us that pilot was ordered for 1830. It was time to go alongside. At 1730 our anchor was a weight and pilot boarded us at 1820. Well, alongside 2130 I thought that the ass kicking could begin. Stupid me, after waiting 5 days at the anchorage for them to be ready to load us,
where did I get the idea that they would be ready when we arrived from?

After the cargo documents and tank inspection we had to wait for about 1,5 hour before they connected the cargo hose. 0010 on Tuesday the arm was connected and they said that they had about 1 hours of work before they could start. Hmm, at 0210 I called them on the radio and asked:
- When do you expect us to start loading?
- We hope that we can start within 1,5 hour.
Then I told the 2nd Officer that I'm going to bed. We have 2 2nd Officers going 6 hours watches in port. So I'm " stand by " (in my bed!!!???) when they need me.

At arrival to Flushing we got a new voyage, the Antwerp - Malmö was cancelled because we were delayed here in Flushing. Now we got order to load in Gdansk, Poland after discharging the VGO in Fawley.
Finally at 0354 we started to load.
They expect about 24 -30 hours for the loading. In the afternoon they came from the Swedish Seaman's church in Rotterdam.
We changed 4 of our book boxes so now we have new books onboard . He also brought Christmas presents for us.
We got a new Steward and Chief Engineer onboard. Our Chief Officer, Steward, Cadet and Chief Engineer signed off after many days of anxious waiting at the anchorage so they were very happy.



+++++++++++++++

Wednesday 18th of December 2002 and we completed loading at 04:05 and it had taken us just a
wee bit more than 24 hours to load. Cargo documents onboard 0615 and pilot ordered for 0730. We left Flushing 0750. After departure I had to start the cargo heating.

On the way to the pilot station I had a " pep talk " with our
Steward. But he thought it was better to eat the powder tomorrow.

For lunch it was raw spiced salmon with potatoes and dill in white sauce. Yummy, and it's healthy too.
Hmm, at least I think so.

We left the pilot at Wandelaar pilot station 1100 and as always, it is nice to leave the Pilot behind. Just me, the tea machine and entertainment centre on the bridge. And of course, a cubic ton of responsibility.

After leaving the pilot I was tired since I had been working from 2230 the day before. But we should pass a place where a car carrier had been hit by a container vessel a few days before.

The ship sunk at a deep of 27 meter and it should stick up 5 m above the sea level. I thought that I could stay up to get some photos for my web page. Big disappointment, when passing 1245 there
was nothing to see. Just a few guard vessels and the sea breaking over the wreck. I lost 45 minutes of valuable sleeping time. And I need my sleep, I will have to wake up at 5 o'clock to check the cargo heating.

It was nice weather when leaving Holland behind. But when I got on my watch 8 o'clock in the evening it was strong wind. But we had tail wind so we didn't notice. ETA to the Southampton pilot 0015 19th of December. 1 Hour before arrival to Nab tower they told us that we had to anchor until 0330 19th of December. They said that there was heavy traffic with big container ships. So we had to wait.

At 0025 we had dropped our anchor. 0205 our anchor was up and at 0305 the pilot came onboard. We came alongside EXXON berth #4 in Fawley at 0735. I had to turn off the cargo heating and then I had a Safety Inspector from EXXON onboard.


Well, blah- blah. We went through the safety checklist and he took a tour around the ship and he sealed our bottom valves. It was a nice guy, he explained everything about the telephone card, buses etc. He promised to come back with tea bags for me when he heard that we were out of tea. We have plenty fruit tea onboard, but who drinks fruit tea?

We got order to pass through the Kiel Canal on the way to Gdansk, Poland. Ugh, Rod Stewart and Julios Inglesias on the radio. But HEY! I have my CD "Verdens længste rap" med Østkyst Hustlers.
I'm sure the pilots in Elbe and the Kiel Canal will love that.
Yes it is very
important with good music and tea on the tedious night watches. But first we have to leave Fawley.


Here you have all of the 72 minutes of Verdens længste rap" with Østkyst Hustlers


When I had completed the paper work with EXXON's Safety inspector I did the cargo calculations with the Surveyor. When completing all the paper work they told us that we could start discharging after 2 hours. Well after 3,5 hours we could start discharge our line displacement of 1200m³.

Well, finally I could take a power nap. Not much sleep around here. When I came back down to the CCR there was a tin with earl grey tea for me from the Safety Inspector. Very good.

1000 000 thanks and Merry Christmas and Happy New Year to him. I made a cup tea first thing.
Life is good. Steward has ordered (real tea) tea for Kiel Canal. But now i got tea from the Safety Inspector that will last for a few weeks. I can't help it but I miss Tärntank a little, every time I signed on they prepared the refrigerator in my cabin with " Diet coke " and there was always tea onboard. But I don't think it's doing any good for you to drink 2 cases of " Diet coke " per week so maybe I'm better off.

At 0310 we completed the discharging and we had 9,99m³ ROB when the AB and Surveyor took the dip in the cargo tanks. Pilot ordered for 0545 and it will be nice to get some sleep.
I'm looking forward for my night watch on the bridge with my new tea.


We left Fawley at 0610 without any backward glance. And I was in my bed in a jiffy (after updating my web page).

Waking up in the afternoon after a few hours sleep was good. After the dinner (salad) I watched a video before my watch at 8 o'clock. It was a nice watch. I had put the AB's on cleaning detail (soon Christmas) and it was nice weather, a little gloomy and grey but no wind. I drank some tea and believe me or not, I thought that I could spot a millionth part of a strawberry (or was it a vitamin) in my strawberry flavoured diet powder. But hold your horses, don't write home about it! It might just have been my imagination playing a trick on me.

Well, I was hungry when we arrived to Elbe pilot 1515 21st of December. Soon dinner, I have to try and find some space for a little salad. They have some dietary supplement on this ship, hmmm, what's the name? Thousand Island, but I'm not sure. Anyway it should contain much vitamins and minerals and the best: It's formulated for men (hard working??!!).

They have new pilot boats at Elbe now. Before they had small boats like the one you can see on
the pictures from Wandelaar. So when it was bad weather we had to go up to Grosser Vogelsand before the pilot could board us.

It takes a few hours to the lock in Brunsbüttel
depending on the tide. Well, we arrived to the lock at 1915. It was quite a chock for me when changing the pilot just outside the lock. Elbe was full of ice. It was very foggy as well. We could not see anything when entering the lock.

When leaving the lock Captain called me to the bridge. I took the wheel. It was very foggy and we could not see many meters ahead of us. We should take bunker in Brunsbüttel so we had to go alongside a bunker jetty. We were secured alongside around 2030. 1 of our AB's from the Philippines should sign off at the other end of the Kiel Canal and his reliever arrived at the bunker jetty. At 2320 we had all bunkers onboard and pilot with helms men was ordered for 0015 22nd of December. We left ELF bunker station at 0025 and as no (not big anyway) surprise I was in my bed
in the twinkling of an eye after that I had tried to send e-mail and update my web page. No connection to any network. In the middle of the Kiel Canal???!!!

We got provision in Holtenau and our AB left us. 9 o'clock in the morning we left the lock in Holtenhau. I send my e-mail and updated my web page while waiting for the pilot to leave us. Normally it's about 1 hour from the lock to the pilot station at Kiel lighthouse.



+++++++++++++++

Monday 23rd of December 2002 and Gdansk Pilot boarded us 01:00 in the morning. We were alongside at 1430 and the Loading Master told us that we should start to load at 1800. Well, at 1820 they changed it to 2000. At 1945 we started to load the Heavy Fuel Oil.

Finally we got our destination. They called us 23rd in the evening and told us that we should proceed to Stanlow after completion of the loading. First it was Rotterdam for order then they changed it to Le petit, France in the river Seine. Well, for now it's Stanlow. Stanlow is a refinery close to Liverpool. I can promise you that Stanlow is nothing to get excited about.



+++++++++++++++

Tuesday 24th of December 2002 and we left Gdansk at 1410 on 24th of December. During the
night it had been snowing. So when we left it was all white, no wind and sun shine. Very nice.

We are going to pass through the Kiel Canal again on the way to Stanlow. And by now you should know what I think about passing through the Kiel Canal.


They called me when I was sitting in my cabin working on my web page.
- You have to come to the day room. We are all here.

So I had a quick shower and I went down to the day room. Hmmm, plenty chocolate and stuff not doing any good for me. But when I get started it's hard to stop so I was eating chocolate like there was no tomorrow.


I will take this opportunity to wish all visitors to www.aladdin.st a Merry Christmas.
Before soon it was time for the gifts. We all received our Christmas gifts. I got a candle and a small table-cloth (Christmas styled). From the company we received a nice
Rörstrand coffee cup. I don't drink coffee but maybe I can get Sue some coffee.

I could see all the other open their gifts
from the company so I didn't open mine. I thought that it was better to keep it wrapped when I should take it home. It's not very funny to come home and find out that there are 1 million pieces of the cup and plate's in my bag.

It was time for dinner and after that I had
to roll back to the day room like a boa-constrictor. Ugh! Tomorrow I have to find my diet powder again. It should be on the bridge
somewhere.
Hmm, at least last time I saw it.

25th of December it became windy and cold. Ice on deck. I started the cargo heating in the morning. With protection and shield from God we arrived to Kiel pilot just after 5 o'clock in the afternoon. About 1 hour to the lock. They called me for stand-by quarter to 6. So I have to go out and be on the poop deck while berthing in the lock. Maybe I have time to send e-mail and update my web page before the lock.

We left the lock and entered the Kiel Canal at 7 o'clock. While the festivities continued down below with more Christmas candy I had to take my night watch. Chatting with the pilot and helms man gets boring soon.
I did send some e-mail and updated my web page.



+++++++++++++++

Thursday 26th of December 2002 and we had just left the Pilot and Elbe behind when I came on my morning watch. Nice, the weather was nice and I was looking forward to 4 hours on the bridge. During the night the head wind increased. Wind from SW and our ETA 28th of December was down the drain.



+++++++++++++++

Friday 27th of December 2002 and we passed the white cliffs of Dover around 9 o'clock in the
morning. Plenty ferries leaving Dover bound for France.

After the coffee at 1015 we held a fire drill and lifeboat muster. Fire drill scenario was fire in engine room. 2 groups of smoke diver went down with fire hose and a stretcher to pick up 1 missing crew. When the missing person was recovered we did resuscitation with oxygen.
The dummy survived if you are interested to know.

After the fire drill we had a lifeboat muster. The crew was checked for their duties in the lifeboat. I should bring the EPIRB and release the lifeboat. A pretty exciting day.



+++++++++++++++

Saturday 28th of December 2002 and I woke up to British time. We had retarded ship's time by 1
hour during the night. After Stanlow we are going to Grangemouth and then to Coryton so we are going to spend some time in U.K.

If we're going to spend some time in UK we are adjusting the ship's time to UK time. If we only visit 1 port we don't bother to adjust the time, we keep the ship time (Swedish time).

After my watch at 12 o'clock I went down and inspected 2 ballast tanks. Both of them looked like new. A little mud in the corner and some dust. Before entry I had to measure the gas and oxygen it the tank.


!! SAFETY FIRST !!





+++++++++++++++

Sunday 29th of December 2002 and we dropped our anchor at 0910 at Bar light vessel. We are waiting for high water.
Our cargo thermometers. Just a tangle of wires

Luckily enough our Captain have deft fingers

It was raining and foggy. Well while waiting for Liverpool pilot we should check our thermometer in cargo tank 6 Starboard.

I opened the cover and there was a tangle of wires. Captain had done this before when he was Chief Officer and he was familiar with a soldering-iron. He by passed the printed circuit card and the thermometer was working again. The old generation passes down the knowledge to the younger generation (me). But Autronica sucks and if you are going to build a ship don't spend your money on Autronica.

They make the equipment so you should order new parts (expensive) when you can put a simple connection for 50 cent instead of spending million on Autronica's spare parts.


Before I signed on I bought a digital camera. It cost 600$ but it was worth it. It's a small camera and I can carry it around and take pictures. I just plug the camera in my computer and you can see the pictures on my web page
the very same day. This is the year of our lord 2002.

Pilot told us that they will board us at 1615. Then we will go up the River Mersey and pass Liverpool. Then we will enter the Eastham lock and continue in the Manchester ship canal to Stanlow.
Pilot came onboard at 1640. We had our anchor up at 1540. We passed through the Eastham lock just before 8 o'clock.

The Manchester ship canal is very narrow and we used 1 tug boat forward and 1 aft. It was raining so I spent the 2 hours it took to go from the lock to our jetty on the bridge.

There is always a yarn or 2 to tell Captain. We arrived at our jetty 2200 and I meet the Loading Master from Shell. He should do the samples and when he finished sampling he left the ship at 2330.
- It will take about 1 hour then we can start, he said.
Why is it always 1 hour? At 0240 we started discharging. Pumping all we can and the rate are 250m³/h, this will take long time.

We got a new AB and Motorman onboard in Stanlow as well. The guys going home are flying early morning. Arriving home to Sweden just in time to celebrate New Year, spending money. Ha ha,
we stay onboard and make money instead of spending them. The new Motorman is from Skåne and he brought snus for me, very good.

I could go to bed at 4 o'clock in the morning, but just after 7 o'clock the called me and said there was a terrible alarm in the CCR. I knew what it was all about so I ran down in the CCR. We were heating the slop tank and when the recirculation pump for the heating oil stops this horrible alarm sounds. I started the pump. We had 52°C in the tank so I stopped the heating.

We should discharge slop and sludge here in Stanlow and we need to keep the sludge at 50°C to be able to pump it. Later on the told us that we could not discharge the slop/sludge here. The heating was all for nothing.

Just after 9 o'clock they called me again.

- Problem with the computer, our 2nd Officer said.
Now it was error on all the tanks on the loading computer. Now I didn't have to run. I went down and pushed a reset button and it was working again.

Well, it was no meaning to go and try to sleep again. So I thought that I should practice some of the electrical knowledge the Captain had passed down to me. I ripped out the printed circuit card to the thermometer in slop tank starboard. I throw the card in the garbage. I changed a (John Ballong, här kommer din ordbok till användning) thingumabob and it was working again. It's not easy for me with my "Falu susage" fingers to work in small boxes like that.

I remember when I was around 10 years old (about 13-14 years ago) when I was building model airplanes. They always looked like they had been in an accident with a paste-pot. It got worse when I tried to paint them. That's me and precision mechanics.

They came from the Swedish Seaman's church with newspaper and The Seaman's mission came on a visit. I got a few copies of NUMAST Telegraph. So now we have things to read. But now a days the newspapers is 2nd to phone card.
Our Pilipino crew wants phone card.

I could buy some phone cards but Sue is at Scout camp with the Swedish king and there are no phones at the camp. They live in tent and stuff.

Our 2nd Officer had put a few Clementine' in the CCR. And when our Cook caught sight of the Clementine's he took them back to the store room.
- Who's these Clementine?
I was embarrassed, would have been embarrassing for me as a Sweden if the Cook had started to make trouble with the Pilipino 2nd Officer. What would his impression of Sweden be. So I told the Cook that it was my Clementine.
- I will not order any more Clementine!!
- Who cares?

Saving money, aiming for the employee of the year prize? Well, I don't think Furetank would be
so impressed by saving a few cents on the Clementine. While I was onboard I never heard of the company complaining about us spending money. Well, anyway, if he wants to save money it would be better not to buy the oranges that no one eats. They are full of pips and it is like chewing chewing gum. OK, at least I saved us from the embarrassment to have the 2nd officer going back home to the Philippines telling them about the Swedes and their Clementine.

In the afternoon when the Captain went ashore for shopping. I asked him if he could buy some "Easy to peel" Clementine's. He came back with 2 bags for me. No pips and easy to peel, tastes like candy and they are healthy.

Now it's dinner time and then a video followed by a POWER NAP

+++++++++++++++
New Year's Eve 2002 and Last day of the year. I must remember to write 2003 on all
cargo documents from tomorrow.

Well, New Year's eve or not, we must continue to work. So I started the day by testing our gas detectors. We have 2 portable and 1 fixed in the pump room so it didn't take too long to test our equipment.


Captain went ashore in the afternoon and he returned with 3 bags of Clementine's for me. Very good.

The discharge rate has been very slow and we need to be finished
at 2000 to be able to leave tonight. We estimate completion around 2300 so we have to wait until 0600 1st of January for the high water. They changed our next voyage today. Now we should proceed to Grangemouth and load full cargo of VGO with destination Gothenburg for order.

Completed at 2210 and I called for the Loading Master to came down to the ship to complete the cargo documents. He didn't want to come down so I told the jetty man that Loading Master needs to sign the document. So when he finally came down he signed the papers but no tank inspection. After a chat with the Captain I was off to bed.
+++++++++++++++
Wednesday 1st of January 2003 and Pilot was ordered for 0600. They called me at 0540. This is an exciting time of the day. Departure at 0610. There was no space for us to turn the ship so a tug boat had to pull us out from the Canal until we reached a turning basin where we could turn the ship around. It was a gloomy and grey day when we came out from the lock passing Liverpool. We left the pilot at 1005 and we set course for Grangemouth.



+++++++++++++++

Thursday 2nd of January 2003 and we passed the Minch, West coast of Scotland. There are many small islands and rocks. A barren landscape, looks like Iceland. Only stones and rocks. Not many houses around.


It soon time for me to sign off and my diet hasn't been the success I was hoping for. Now I'm on double doses of the diet powder. I'm desperately trying to boost the effect of the chicken soup and strawberry shakes.

- Hmm, can I meet Sue when I sign off? What to say about the failure?

And more important, what will she say?
Hmm, maybe I should offer the company a "Work for food " deal and never sign off. I will become a modern Flying Dutchman.

I was walking down the aisle minding my own business when I heard a sound like leaking air.
Psst....pssst..psst
What is this? Some air pipe leaking?
- Pssst.
I could hear it again and then I could spot the Captain.

- What?, I asked.
- Do you want to swap your Christmas gift for 2 cases of diet coke?

- What?
- Scchhh, Do you want to swap your Christmas gift for 2 cases of diet coke?

- OK, but we don't have any coke onboard, I said
- No problem, I order from the agent in Grangemouth. Captain said
- I can throw in the candle and the table-cloth to sweeten up the deal. I offered
- It's not necessary. I don't want them, the cup is enough

Well. I hope we can arrange some diet coke in Grangemouth.
During the night watch 2nd of January there was some rolling due to swell from NE. Captain and I managed to make a pot of tea while passing Pentlands firth. After Pentlands firth the rolling started
again. We use to have our tea time every night listening to stories from the different oceans. Usually our Captain leaves me 10 and 11 o'clock for his POWER NAP and I can crank up the volume on the entertainment center.


Arriving to Forth (Edinburgh, Scotland) pilot at 1240 in a good mood. The sun was shining and on the morning news ( we get Swedish news every morning via e-mail) I could read that MIF had beat Frölunda in ice hockey. Well, I can't say it was any surprise that the best hockey team in Sweden beat (humiliated) the worst team.

Original discharge order was Go:teborg, Sweden. But now they had changed it to Pembroke. So we
will go to Pembroke and discharge the cargo from Grangemouth.

From the pilot station is about 2 hours up the river Forth to Grangemouth. We passed under 2 bridges. Forth road bridge and Forth railway bridge. The old railway bridge was opened at 1890 and the new road bridge was open in the mid 1960's. In Grangemouth we had to pass a lock to enter the Grangemouth docks. We were alongside at 1525 and we started to load at 1715. They calculated about 30 hours for loading.

At 0540 2nd Officer called me. Time to top-up tanks 2+5 P/S. When I got out of my cabin I stumbled over a heap of diet coke cans. Captain had been ashore last evening and bought 2 cases of diet coke for me. I grabbed 2 cokes and went down to the CCR. I offered 1 to the 2nd Officer.
- No thanks, it's to early.
I put 1 on deck for cooling, it's like a freezer outside. When I got out to take the coke it was gone. What the
!!

I think the shore man took it when he was onboard doing the recheck of the ship/ shore check list.

Just before lunch they came onboard and asked us how much cargo we had onboard. They told us that we could not receive full cargo. They were over 2000m³ short of cargo.

It makes me wonder:
Don't they know how much cargo they have in their tanks. If I miss 2000m³ as Chief Officer the company would get me the sack before I had a chance to say Hey!
But the oil terminals and the oil companies can do whatever they want. Always complaining about the ships. When we entered Grangemouth lock it was full of oil. Some terminals I had been on they just drain the arms in the sea. If there is 1 drop from a ship they go haywire and its millions of $ in fine.
We had been around Europe now trying to discharge our slop and sludge. But everywhere we go:
- Sorry we can't receive your sludge and slop.
As a serious shipping company we keep the sludge and slop onboard until we find a place to discharge it. But if it would have been a PanamaGreek ship they would have discharged the dirt into the sea. So now you know where all the oil along the beaches come from.
Every time there had been an accident the companies and the authorities comes up with new rules to improve safety and to protect the environment.
Well, just a simple thing likes a garbage container ashore. On many places you want to take ashore the garbage.
- Sorry Sir it's not possible here at this jetty.

We keep it onboard until we come to a place where we can put it ashore or we have to order a barge coming to pick up our garbage or slop. Very expensive. So many ships just dump it in to the
sea. Very nice when you are on the beach.

Safety and environment is just a question about money. No one cares until it cost money. If they tell you something else they are just lying.
When I was in Stolt it was very important to use a helmet on deck. !! SAFETY FIRST !! But loading dangerous cargoes with open hatches and leaking cargo lines, never mind. ( a helmet is very cheap to buy). And it's very easy to raise the level of safety, next time there is a wreck floating around somewhere in the world destroying beaches and killing birds. Then it's just to demand that ships crew should wear 2 helmets. Enough of this now, just pisses me off to think about it.



+++++++++++++++

Saturday 4th of January 2003 and we were finally receiving our cargo documents onboard at 21:30. Pilot ordered for 0030 5th of January. We departed 0030 and we left the lock just after 1 o'clock. I was off to bed, I had been up since they called me 0540 in the morning and we had been busy kicking ass in the CCR all day long.

But it had been a good day. Stumbling over the diet coke in the morning. Nice Surveyors and nice weather. And best of all...hmmm, does leather stretch? Because I'm on my last hole in my leather belt. OK it was big to start with, but any sign is good. Maybe I have to visit the engine department tomorrow to make new holes.



+++++++++++++++

Tuesday 7th of January 2003 and we had a gale from Se blowing while steaming south in the Irish Sea. The wind was slowing us down and we had information about congestion in Pembroke. It looks like we will have to wait until lunch time tomorrow before our jetty will be free.

We dropped our anchor 2035 in St. Brides Bay. We were allowed to anchor in Milford Haven back in the days. I think it was the Christmas 1990. A tanker was waiting for the jetty at the anchorage
outside Milford Haven. They had a Christmas party in the evening. They got drunk and during the night the watch on the bridge felt asleep
. They start to drag their anchor in the bad weather. They tried to call them from shore and the other ship around them also tried to call them.

The ship drifted aground on the cliffs in Milford Haven. The Captain was not
allowed back to the U.K. as Captain on a tanker again. Even though he didn't know anything about the party. He was sleeping in his cabin. After that we have to go and anchor in St. Brides Bay when
waiting for the jetty. It's a good anchorage except when it's blowing from west.

They had told us that we should go inside around lunch time 8th of January. So we will have an oil spill drill and emergency steering drill in the morning if we have time. We also need to launch out MOB (man over board) boat. This is a small boat we
use to rescue people in the sea with.

I had time to update my web page and send some e-mail while waiting at the anchorage. There was e-mail from Sue. She was back from her scout camp. So I was happy and I could enjoy the rest of my watch.

There was no time for any drills in the morning. We started to heave our anchor just before 9 o'clock and pilot boarded us at 1115 outside Milford Haven. First line ashore around 1230 and we had all fast at 1300, secured along side.

We started to discharge at 1525. After stop for line displacement we speeded up the discharging. I should just turn on our last power pack so I could use all our cargo pumps. Before I turn on a
power pack I need to lower the system pressure. I was lowering the system pressure when we got a black out. Black out is when all the power disappear. Chief Engineer came running.
- What are you doing?
- What the hell, I'm doing fuck all!!

Just before we started do discharge we had 5 black outs within 10 minutes. But now it was convenient to ask me what I was doing, like everything was in good order in the engine department. If there had been 5 black outs just 1 hour before and 1 black out yesterday maybe the first thing on a engineers mind should be:
- Is there something not working as it should in the engine department.
After a while Chief Engineer came back and told me that we could only use 2 power packs. #3 generator had broken down. We need spare parts.
- If we lower the system pressure to fast and bla bla bla...

- I don't give a flying f@ck! I'm not lowering any pressure to fast when I'm discharging, and even if I did there should not be any problem. And even if I turn of the pressure the generator should not break down. Stuff like that they can try to tell the Cadets or Apprentice.

We managed to discharge our slop in Pembroke but they didn't want our engine sludge. We got a new Captain in Pembroke and we completed discharging at 0720. We left Pembroke for Coryton just after 10 o'clock 9th of January 2003. I still don't know if I'm signing off in Coryton or in Spain.

Now you wonder why I haven't updated my web page in Pembroke. Yes, I understand that you are
disappointed. But on the anchorage lost my temper while sending e-mail. I had 1 of those
fancy infra red mouse's. It didn't work the way I wanted it to work so I smashed it. After departure I borrowed a mouse from the CCR and I hope I can update my web page and send some e-mail in Coryton.


EXTRA EXTRA !! Read all about it!!
Just after turning off my computer Captain slipped an e-mail under my door. I'm signing off in London. I have a flight reservation from London on Saturday night. Captain will change the flight for a Sunday afternoon flight so I can spend Saturday night in London. I haven't been in London for many years now.

Anyway, I'm busy before London. Nobel Denton vetting and my cabin need to be cleaned
before my reliever arrives. We have cleaned the ship. Moping pump room, bow thruster room etc. Putting up signs and stuff. So now I hope the ship is in a good shape when arriving to Coryton.

We have ETA to Thames pilot Friday night but we have received berthing prospects via e-mail and we have to drop our anchor until Saturday morning.

On Friday afternoon I received my flight confirmation. I will fly from London at 1920 Sunday 12th of January. Before they had booked me on a flight to Copenhagen!!?? So I will try to call and book a hotel room tomorrow after arrival so I have a place to sleep while in London.



+++++++++++++++

Friday 10th of January 2003 and we passed Dover - Calais. I could hear French radio and some
excellent French Hip Hop.
We have ETA to the pilot station at 2400 and now they changed our berthing prospects, no anchoring, straight to berth. I think it's about 4-5 hours up the river Thames to Coryton. Early morning work again. My reliever will arrive to the airport just before lunch tomorrow and I hope I can get a few hours sleep before he comes here so I'm fit for fight tomorrow night. But we have to see what time the vetting inspector is coming.



+++++++++++++++

Saturday 11th of January 2003 and we took the pilot at NE Spit at 00:01. They called me 3 o'clock in the morning, arriving to Coryton and I need to do paper work with the Loading Master and Surveyor before any discharging operation. I had been hoping for some sleep but the agent told me that there should be a taxi picking us up at 1400 for transportation to the airport. I was signing off together with the Cook and Chief Engineer.

After a tour around the ship with the Nobel Denton vetting inspector I left the ship. We dropped our Cook and Chief Engineer at the airport and then we left for my hotel in London. I was looking forward to a Saturday night in London.


Don't be surprised if there will be new adventures for me soon. By now you should know where to read about it. Just make sure that you can handle the excitement. Hmmm, I hope Sue can handle the excitement when I tell her about my diet.




OK, it has come to my knowledge that we have senior citizens visiting my web page. How hard can it
be? So it's not very easy for them to see the blue coloured links to the next page. So

Jiffy (also jiff)


noun [in SING.] informal a moment: we'll be back in a jiffy.

ORIGIN late 18th cent.: of unknown origin.

So as you understand, in a jiff pretty much depends on your internet.

I put a "Next" button here and I hope that there isn't any problem to understand how to use that one.
So just CLICK the "Next" button on your left hand side and you will be on the next page in a jiff!
Faites vous parlez le français? Pas de problème! Pour arriver à la page suivante faites s'il vous plaît un déclic le bouton "Next" ci-dessus!


Haga usted dice el español? No hay problema! Ver la siguiente página sólo hacer clic el botón "Next" encima!


Farla parla l'italiano? Non problemi! Per vedere la prossima pagina lo scatto per favore giusto Il bottone "Next" sopra


Sprechen sie Deutsch! Kein problem! Wenn Sie die folgende Seite sehen wollen gerade klicken der Knopf "Next" oben!


คุณพูดภาษาไทยได้ไหม ไม่มีปัญหา ถ้าคุณต้องการไปหน้าถัดไป ให้กดปุ่ม "Next" ข้างบนนี้


Вы говорите по-русски? NJET PROBLEMA! Просто нажмите синюю кнопку "Next" с левой стороны и Вы моментально переместитесь на следующую страницу!



E ni Svenskar och inte förstår Engelska så ska ni skämmas. J och Björn, med det menar jag inte att alla mina stavfel ska ältas varje gång vi träffas.


Well, the flag of Skåne, just a BONUS flag.


You are visitor no.
To www.aladdin.st since December 2005
Visitors to www.aladdin.st from different countries since 26th of September 2011