Rewriten onboard M/T Ek-Star September 2010
M/T Forsvik
Picture from www.shipspotting.com Photo by John White
M/T Forsvik was built 1981 in Falkenberg, Sweden. She is 86m long and 12,6m wide. She is on 3889 DWT. She loads 4307m³ in 10 cargo tanks, 6 WT and 4 CT. She can take 876m³ segregated ballast.
Forsvik is what we call a "Vänern size" tanker. That means that she have the maximum size to be able to enter the locks on Göta Älv and Trollhätte kanal. To pass the locks a ship can have
maximum draft 5,4m and length 88m, with 13,2m and height 27m (2000). So we transported gas oil and gasoline to Karlstad in Vänern most of the time.

I signed on in Gothenburg 5th of June 1993. We loaded in Skarvik, today its Preem's refinery and I think it was OK's refinery back then. I don't remember what year it was, but someone bought OK and renamed it to Preem.

During my time onboard we loaded in Gothenburg and discharged in Karlstad. I remember that we loaded gas oil in Brofjorden at least one time.

I also remember that we loaded in Lidköping in Lake
Vänern. It was a military oil tank that had to be emptied so they could fill up the tank with new oil. Yes, oil, is sounds strange, but there are
germs eating oil so they need to change the oil every few years to avoid destroying the oil. In case of war they need this oil for the military.

We were in port loading and discharging almost every day so it was nice to go for a little longer trip. Yes, I remember us discharging 1 time in Copenhagen and that's some 12 hours or so from Brofjorden. But during my 4 weeks we mostly discharged in Karlstad.

Going up the river was very boring, first time it was interesting, but just standing there looking was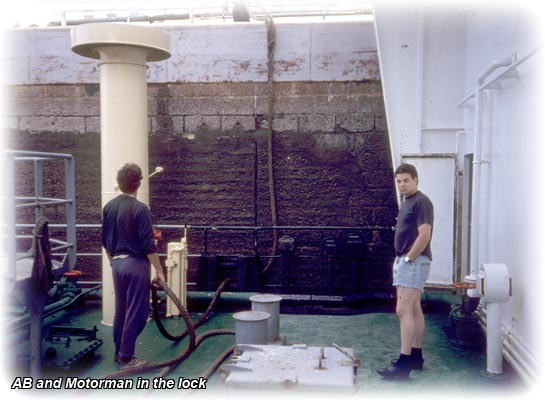 not fun. It was so boring walking around scratching my behind and the time turned very slow.

So it was very nice when I could leave the bridge at arrival to the locks. I had to go on deck for the mooring and of course I took the opportunity to play mischiefs with the crew on deck. We were only 2 Deck Officers so we worked 6 hours on 6 hours off so every opportunity to leave the bridge was nice.

The height different between the sea level and the level in Lake Vänern is 44m. Its 82km from Gothenburg to Lake
Vänern. There are 6 locks between Gothenburg and Lake Vänern. The opening of Trollhätte Kanal with the locks year 1800 made it possible for ships to go from Lake Vänern to Gothenburg and the sea. 1800 a ship with 140 ton of cargo could pass the kanal. Today the ships can carry more than 4000 ton. Maximum draft for passing the locks is 5,4m.

Göta Älv has a long history as a transportation way. According to the legend the Norwegian King Harald
Hårdråde sailed to Vänern with a fleet of 60 war ships the year 1064, and back then there was no canal as you understand. They had to stop at the waterfalls at Lilla Edet, Trollhättan and Brinkebergskulle and pull the ship's pass the waterfall on land.
Before they built the locks they had to discharge the cargo and transport it on land at the waterfalls at Lilla Edet, Trollhättan and Brinkebergskulle.

There had been plans to built locks and canals for hundreds of years. The first examination was done during King Gustav Vasa at the 16th century. But It was King Karl IX that started the work. The first lock was built at 1607 at Lilla Edet. He started to build the canal between Vänersborg and Brinkebergskulle but it was not ready until 1752.

Finally the 14th of August 1800 the waterway between Vänern and Gothenburg was open and from 1974 the Trollhätte Kanal had been open year around.
In the pictures above we're passing through the locks in Trollhättan. There are 4 locks in Trollhättan they lift us 32m. The last lock before Lake Vänern is Brinkebergskulle. If I remember
it right (it was 17 years ago) the lock in Brinkebergskulle was the only place where it was possible to go ashore and buy ice cream and newspaper.

When entering Lake Vänern we have been lifted 44m from sea level since we left Gothenburg.

During the midsummer festivities we were in Karlstad. I went ashore with our motorman for a few beers. But we went back onboard after just 1 or 2. There was a working day the day after and Karlstad wasn't all that exciting. We went to one pub and, well, we left after
1 beer and we went to one place at the square in town. One more beer and we had had it with Karlstad.

They called me at 7 thirty the day after. No discharging operation due to the weekend so I was a wee bit surprises. I had expected to start working at 12 o'clock. But I went on deck and we started to maintain some valves.

I got furious when I got my overtime, they had taken away the hours between 8 and 12.
- What the
is this?
- You start work at 12.

- Yes, but I was called for at 7 thirty.
- For breakfast.

- BREAKFAST!!?? COME HERE YOU LITTLE ....

Needless to say, I never came back to that ship even though I got my hours. I would have preferred to
stay in bed sleeping, but once they call me my clock starts to tick. Well, they called me when I was on my next ship wondering where I was. The seagoing Personnel Manager was almost crying in the phone. Not easy to find people.

Then it was more exciting when we discharged in
Helsingborg. I borrowed the jetty man's car and I took the Motorman on a trip to Mölle so he could see the sights.

5I think our Motorman was from Skåne, but he had never been in Kullabyggden so he was very
excited over the opportunity to see Kullaberg. And of course, he became even happier when we stopped for soft ice-cream
in Viken.

We were loading in Brofjorden, at least one time. How I can remember? I loaded too much in one
tank and we got gas oil on deck. We had whessometers and when I was topping up one tank I opened to the next tank.

The whesso stopped so I thought that I had opened too much and I closed a few turns on the valve on the next tank. It was the whessometer that had got stuck so there was still cargo coming inside.

When the cargo started to come out from the hatch I was very quick to open full to the next tank. We got maybe 50 litres of gasoil on deck.

Luckily enough it was stop on the loading for a while so I could go take a shower.

It was nice when the 4 weeks was up and I could sign off. This Göta Älv up and down was nothing for me. They wanted me back but I arranged so I got a new ship and thus making me unavailable.

I signed off in Gothenburg together with our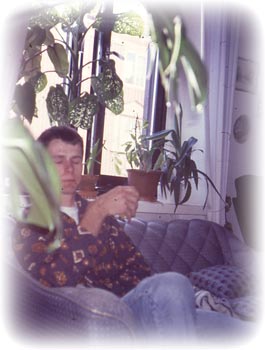 Motorman and we went to my place for a few beers before he went back home with the train.

One night I went for a few beers with a guy that had been in the
Engineer class on Sjöbefälsskolan on Kvarnberget when I was at navigation school there. So we had a few beers at my place and then we left for the city.

I have no clue where we went, but I would guess Solrosen and maybe some place in Majorna because I meet a guy I had been in school with back in 1985.

He was from Stockholm, but now he lived in Gothenburg. 50 meters from where I lived, just on the
other side of the children's paddling pool at Mariaplan. And the other friend from the Engineer class, well, they were both Engineers. But when he broke up with his girl friend he bought an apartment in the same house where I lived.

But by then, at least I think so, I was kicked out
and in progress to move to Thailand. Well, anyway, there were plenty people living in the area and, yeah, you
understand.

well, I have some pictures and they have different t-shirts and with different people
so we must have been busy on town the few days I had
in Gothenburg between ships. No time to waste.

I remember one evening with my friend and his friend. They were celebrating something, or if they just were out to get drunk. At least I remember it like we
were on Victoria. A pub I never liked that much. And the only memory I have from that pub is from when
we were there drinking beer and the waiter passed us on his round emptying the ashtrays.

I gave him my coffin nail.
- You can go finish this smoke in the kitchen.
He was not happy as we can understand so no surprise, we were not allowed to order any more
beers. Good, Victoria was never known as a fun place.

I was home for 11 days and I left for Bituma 17th of July 1993. I don't remember, but I think I joined the ship in Gothenburg. So no long trip, just 10 minutes with a taxi to the port of Göteborg.

It was not nice to leave in the middle of the summer. But it was also nice to leave all the pointless beer drinking behind.

So, I joined M/T Bituma again on a gorgeous day in July 1993 and you can just join me with a single click on your mouse.

OK, it has come to my knowledge that we have senior citizens visiting my web page. How hard can it
be? So it's not very easy for them to see the blue coloured links to the next page. So

Jiffy (also jiff)


noun [in SING.] informal a moment: we'll be back in a jiffy.

ORIGIN late 18th cent.: of unknown origin.

So as you understand, in a jiff pretty much depends on your internet.

I put a "Next" button here and I hope that there isn't any problem to understand how to use that one.
So just CLICK the "Next" button on your left hand side and you will be on the next page in a jiff!
Marunong ka mag-tagalog? Walang problema! Magpunta sa kabilang pahina pindutin ang "NEXT" button sa itaas


Faites vous parlez le français? Pas de problème! Pour arriver à la page suivante faites s'il vous plaît un déclic le bouton "Next" ci-dessus!


Haga usted dice el español? No hay problema! Ver la siguiente página sólo hacer clic el botón "Next" encima!


Farla parla l'italiano? Non problemi! Per vedere la prossima pagina lo scatto per favore giusto Il bottone "Next" sopra


Sprechen sie Deutsch! Kein problem! Wenn Sie die folgende Seite sehen wollen gerade klicken der Knopf "Next" oben!


คุณพูดภาษาไทยได้ไหม ไม่มีปัญหา ถ้าคุณต้องการไปหน้าถัดไป ให้กดปุ่ม "Next" ข้างบนนี้



E ni Svenskar och inte förstår Engelska så ska ni skämmas. J och Björn, med det menar jag inte att alla mina stavfel ska ältas varje gång vi träffas.


Well, the flag of Skåne, just a BONUS flag.
You are visitor no.
To www.aladdin.st since December 2005
Visitors to www.aladdin.st from different countries since 26th of September 2011