Introduction


One week of bird watching on Öland and I will spend a few days of bird watching in Skåne before going for my Course on Öckerö 27th of May. So I have booked three different hotels in Skåne and I will start at Österlen then move to Skanör/ Falsterbo before moving the the NW part of Skåne.




My Guide


No Guide required in Skåne




Land transportation


• Rented car
I have rented a Volvo from HERZ



Accommodations


Brösarps Gästgifveri, Österlen, Skåne: 17 May to 19 May







Weather / climate


Sweden in April and May, could be summer and it can be winter, or anything in between. In the South I hope to have sunshine and the summer in good progress. And I might be lucky Skåne and Öland and I can walk around in shorts and shirt. But it can as well be winter and I need to pack a lot of clothes this time.

And coming to Skåne and Öland I might be lucky and I can walk around in shorts and shirt. But it can as well be winter and I need to pack a lot of clothes this time.



Weather in the spring


Visiting in the spring time and you really need to pack a huge bag. In the morning it is below zero so I have packed full winter equipment, parka jacket, warm hat and gloves. And of course warm socks. In the late morning you will have to change the winter clothing to "spring" clothing, a wind breaker.

If it is sunshine the temperature is easily reaching 20°C at lunch time and that can easily be almost 30°C. If you have a car it is no problem, just keep everything in the car and change as the day proceeds and you ae ready for any weather changes you will run in to.




South of Sweden - Climate & Temperature
South of Sweden - Climate & Temperature - Click picture for full size picture





Equipment


Canon 5D Mk. III and Canon 5D Mk. IV
Canon EF 28-300/3,5-5,6 L IS USM
Canon EF 70-200/2,8L IS II USM
Canon EF 100-400mm f/4.5-5.6L IS II USM lens
Canon Speedlite 600EXII-RT flash
Canon PowerShot G7X Mark II
Panasonic HC-W585 video camera

Sound recorder
ZOOM H5 Handy Recorder




References/Resources


www.natursidan.se Excellent page, but in Swedish only

Visit the Swedish Environmental Protection Agency and choose between Swedish and English

Naturum - visitor centres in nature - A naturum is a visitor centre with activities and exhibitions, located at several of
Sweden's national parks and nature reserves. Here, you will be welcomed by friendly, knowledgeable staff who will answer your questions and guide you through the area's sights of interest.

List of Swedish National Parks (With information about every park in English) from the Swedish Environmental Protection Agency, click HERE.

http://www.nationalparksofsweden.se - Stenshuvud National Park information IN ENGLISH about Stenshuvud National Park

Fåglar på Österlen - Information about birds on Österlen - SWEDISH ONLY!

ebird - Find birding hotspots with bird checklists from all over the world

Avibase - is an extensive database information system about all birds of the world, containing over 25 million records about 10,000 species and 22,000 subspecies of birds, including distribution information for 12,000 regions, taxonomy, synonyms in several languages

Cloudbirders - Read birding trip reports from all over the world

Fatbirder - Linking birders worldwide... Wildlife Travellers see their sister site: WAND



Fatbirder is a fantastic web page with information from, I think every country in the world. My first stop when I plan for my bird watching trips. There is information about locations and guides, well, pretty much everything you need to know. Sometimes this is the only place I need to visit to plan my trip.

BirdingPal - find a birding Guide around the world



And the web page you cannot live without. I have been around the world looking for birds. I usually have a Guide, but sometimes it is not possible to find a Guide. So, well, I have lost count onhow many times I have had help to ID birds at BirdForum. Joining this forum have been very very good for my bird watching experience.

www.birdforum.net

ClimaTemps.com is the place to learn about the worlds climates with more than 4000 locations documented. Each aspect of the climate is represented using colour enhanced tables and professional graphs so that data can easily be compared by switching between locations in different tabs in your browser.



Collins Bird Guide


The Collins Bird Guide is a field guide to the birds of the Western Palearctic.

Its authors are Lars Svensson, Killian Mullarney, Dan Zetterström and Peter J. Grant, and it is illustrated by Killian Mullarney and Dan Zetterström (with two plates of North American passerines contributed by Larry McQueen). It has been described as "undoubtedly the finest field guide that has ever been produced", and "the last great bird book of the 20th century".

It was originally published in Swedish and Danish in 1999, and in English in hardback in the same year, and later in paperback. A large-format English edition has also been produced, as has a German and Dutch edition. The first edition was translated to 14 European languages, including Spanish, Portuguese, French, Dutch and German.

A second edition, revised and enlarged, was published in January 2010. A series of updates and corrections were made in 2015, with no change to the edition number.

The cover of the first edition, in all formats, depicts a barn owl. On the second edition, this was replaced by an arctic tern.


Cover of the first edition

Fair use, https://en.wikipedia.org/w/index.php?curid=15538546



Eleven pages of introductory material are followed by the book's main content: 366 pages of text and colour paintings. The text for each species gives brief status notes, followed by a section detailing identification, and concludes with a section on voice. Accompanying most species accounts is a small colour map showing breeding, wintering and migrant range.

The guide is also available as a paid-for app, for iPhone and Android devices. The app includes all of the text and images from the print edition, as well as audio recordings. Additional data can be bought separately; the first such package being a set of distribution maps for 271 species, from the British Trust for Ornithology's Bird Atlas 2007–11.

All versions cover Europe, North Atlantic islands, much of North Africa and the Middle East.

Most of the species covered in the main part of the guide are regular breeding, wintering or migrant species in its area of coverage, although some vagrants are also included. There are additional sections giving brief accounts of (a) vagrants and (b) introduced breeding species and species recorded only as escapes.

From Wikipedia, the free encyclopedia

Many bird watchers around the world know this book simply as "The Svensson"


Naturum - visitor centres in nature
Map over Sweden with all the naturum marked. Illustrator: Hans Sjögren.
Click HERE for bigger map


A naturum is a visitor centre with activities and exhibitions, located at several of Sweden's national parks and nature reserves. Here, you will be welcomed by friendly, knowledgeable staff who will answer your questions and guide you through the area's sights of interest.

All naturum visitor centres offer guided walks and demonstrations, slide-shows and theme nights. You will also find literature and multimedia here to immerse yourself in. In addition, there are brochures and information boards offering tips on beautiful nature trails and footpaths.

The nature experience starts at naturum
At naturum, you can learn almost everything there is to know about the region's plants, birds, insects and animals. You can also learn about the cultural history and geology of the area as well as people's relationship with nature and their impact on it. Information about the area's national parks and nature reserves and why we need to protect and take care of our nature can also be found here. Join us on an activity in nature!

Opening hours and programmes
All naturum are open during the summer and many are open most of the year. Special demonstrations for school classes and other groups can be booked throughout the year.



Discover Sweden's national parks




The map shows the locations of Sweden´s 30 national parks
Click HERE for bigger map


There are 29 national parks in Sweden. Find more information about each national park in the alphabetical list on Swedish Environmental Protection Agency´s web page, click HERE.




Places to visit




Österlen





Österlen


is a regional of the southeastern part of the Swedish province of Scania.

History
The name derives from its location 'east of the route' (ancient route from Ystad, heading north-east); Öster om len (len is short for leden, i.e. route). The descriptive term Österlen is associated with the writings of Nils Lovén (1796-1858) who was a clergyman and university professor as well as an author.

Use of the term Österlen was popularized during the 1920s by author Fritiof Nilsson Piraten (1895–1972), poet Pehr Theodor Tufvesson (1884-1947) and newspaper journalist John Oskar Osterman (1871-1942). Many songs and poems have been written about Österlen. One of the most popular songs is Om himlen och Österlen, composed by Scanian singer-songwriter Michael Saxell.

Österlen was defined in 1929 as including Albo härad, Ingelstad härad and Järrestad härad in the southeastern part of the Scania. Today the term is associated with Tomelilla Municipality, Ystad Municipality and Simrishamn Municipality The area is a tourist destination known for its natural environment, historic buildings, small towns and farmland. Österlen encompasses the cities of Simrishamn and Tomelilla as well as including Stenshuvud National Park.

From Wikipedia, the free encyclopedia



Discover the wonderful Österlen with its rolling meadows and picturesque communities. The concept Österlen is not even one hundred years but its content goes way back. No one really knows where the limit of Österlen is but generally speaking one can say it is the southeast Skåne where among others Simrishamn, Tomelilla, Kristianstad, Bromölla, and Ystad are included.

The nature in Österlen is the backbone of its charm, a haven for friends of nature who want to partake of the nature reserve's trails and outdoor activities to admire its flora and fauna. There are a wide variety of bird species that attract birdwatchers from far and beyond.



I want to visit the below areas:

• Ravlundafältet
• Haväng
• Stenshuvud National Park
• Hammar / Kåseberga
• Fyledalen




Ravlundafältet


Leave road #9 just south of Brösarp and drive down towards the sea. At the end of the road you turn left to enter Ravlundafältet and continue straight for the parking at Haväng. Military training field open when there is no exercises. Drive along open fields keeping your eyes out for birds. It is a famous place for bird watching, but as you can see on the pictures below it was almost zero visibility so I didn´t see many birds.


To find Ravlundafältet and Haväng
Turn left for Ravlundafältet. Straight for Haväng
Entering the military area
Not allowed to leave the road for 2,5 km
Not easy to see any birds


My eBird checklist from Ravlundafältet, click HERE






Haväng


Haväng and Vitemölla beach slopes is a nature reserve between Verkeån and Vitemölla. The lime in the soil, together with the dry climate created conditions for one of Sweden's rarest habitats, sandy steppe. Here you will find many of sandstäppens typical species - koeleria glauca, sand lily , sand carnation and sandvedel.

In high summer lit beach slopes of yellow and violet of helichrysum , yellow stonecrop , thyme and fältvädd . It also enjoys a variety of butterflies.

There is a huge parking area and a hostel. Parking the car and I walk down towards the sand beach expecting to turn around after a little bit of walking because of the sand. Pleasantly surprised, there is board walks over the sand and you walk down to the bridge crossing the river.

There was a lot of people so the birds were scared away. The board walk comes to an end when you have crossed the river.


Boardwalk
Boardwalk
Crossing the river


My eBird checklist from Haväng, click HERE






Stenshuvud National Park




Stenshuvud National Park


Stenshuvud is a hill in the south-eastern corner of Sweden, in the province of Scania, close to Kivik in Simrishamn Municipality. Since 1986, it is one of the National parks of Sweden. The park covers an area of about 3.9 km2.

The hill is 97 m high and faces the Baltic Sea. Since the surrounding landscape is relatively flat, it can be seen from a great distance and has traditionally been used as a landmark for seafarers. Many visitors trek up the hill to enjoy the view which is very good in clear weather.

Most of the area is covered with broadleaf forest, especially European hornbeam. The park also contains heaths, meadows and swamps. Because of the mild climate and varied habitats, many different animal and plant species can be encountered in the park.

The park contains unusual Swedish wildlife such as the hazel dormouse, Eurasian golden oriole, European tree frog and agile frog. There are about 600 vascular plant species, including several types of orchids and the very rare barren strawberry.

Below the hill there is a popular beach for swimming. Close to the top are the remains of a ruin of a 5th- or 6th-century fortress.

According to local folklore, the hill got its name ("Sten's head") from a giant living in the cave Giddastuan.

From Wikipedia, the free encyclopedia




There is a huge parking area at Naturum Visitor Center. There is 5 coloured walking trails in the park and as soon as you are behind the visitor centre you are in the beautiful forest. And I could hear a lot of birds. And of course, there was a lot of people and the birds was disturbed even though I was "off track"


Stenshuvud National Park
Naturum visitor centre
Naturum visitor centre
Colour coded trails and easy to follow
I follow the RED, YELLOW and ORANGE trail
Walking towards the top
Now there is three heads


Almost at the top and now the sign says that there is 3 different heads, North, East and the South Head. Well, continue straight up and you will reach the look out. The last 25 meters or so it is almost climbing to reach the top, well, easy climbing and if you are young it is an ordinary stroll up the hill.


Almost like climbing the last 25 meters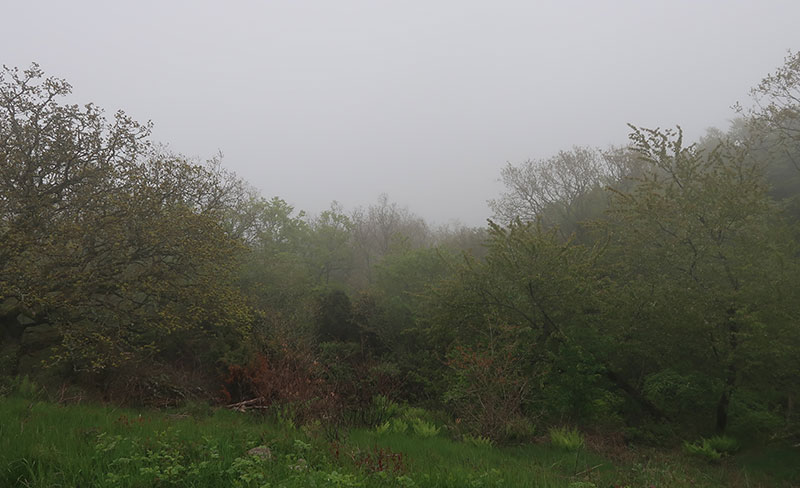 Zero visibility from the top


It was a nice walk and a beautiful forest and there were quite a lot of birds even though the trails was full of visitors. Maybe better to be here early morning.

My eBird checklist from Stenshuvud National Park, click HERE






Hammar / Kåseberga


Kåseberga and the famous Ale Stenar is found at the SE point of Skåne. Hammar is just a few KM west of Kåseberga. Both the places are BIRDING HOTSPOTS at eBird and the reason for me to go there. Approaching from east and I started in Hammar. Turn right and there is a parking and from there it is walking only down towards the beach.

Turning left at the intersection coming in to Hammar and you drive along the fields and there are many Seagulls feeding. So if you´re looking for Gulls it is well worth a visit.


Hammar / Kåseberga


Kåseberga and you are not allowed to park in the village. But there is a parking when entering the village and you can walk from there. Sea birds etc. in the area around the marina. Of course, this area is for when the weather is good.

My eBird checklist from Hammar, click HERE

My eBird checklist from Kåseberga, click HERE






Fyledalen


Fyledalen is a few hundred meters wide, at some places significantly more, around 50 meters deep and strechtes like an arc from southeast of Sjöbo towards Tomelilla and onwards south to Allevad by road 19. Fyledalen is a nature reserve famous for the Sea and Golden eagles. In winter, this is the best place in Europe to see birds of prey, particularly eagles.

Varied bird life. In winter, this is the best place in Europe to see birds of prey, particularly eagles. And you can also spot mammals in the area, such as: Fallow deer, roe deer, red deer, elk, wild boar and fox. In winter, this is the best place in Europe to see birds of prey, particularly eagles.


How to find Fyledalen
Fyledalen
Reaching the parking
Fyledalen parking in the middle of Fyledalen


Driving along Road #11 or #19 and there are signs when to turn off the road to Fyledalsvägen (Fyledal Road) And driving along Fyledalsvägen (Fyledal Road) and you have a stream along the road. I spotted several Grey Herons and ducks on the water.

Fyledalen is a very beautiful area and I was really enjoying the area. BUT, you cannot reach the stream, you cannot leave the roads and trails going towards the stream and this was a big disappointment. I never took any pictures of the birds around the water as I had planned to go back there from the parking.

So no pictures as I could not get to the water. But there are trails and dust roads (walking/ biking only) you can walk on and I spotted a lot of birds.


From the parking it is walking only
Beautiful trails


There is a lot of people coming here for jogging. Also a lot of people coming to walk their dogs etc. So it can be a wee bit crowded. But if you come early morning on a weekday it should be OK.

My eBird checklist from Fyledalen, click HERE






Bird checklist


I never use any bird lists, but since I try to make it in to Cloudbirders. A very helpful site when planning your birding trips. But they ask for a bird checklist, and if I use their service, of course I want to contribute as well. My two first bird watching trip reports was rejected by Cloudbirders.

So I started to take ideas from the reports I found on Cloudbirders. So I have started to use bird lists, eBird generate one for me and I can post it on Cloudbirders. I will post my birds on eBird and on my different "BIRDS THAT I HAVE OBSERVED" pages.

Check lists can come in handy to find out the local name of the bird etc. And Avibase have a list with pictures and sounds, excellent!

So I will post bird checklists here and if my Guides provide me with checklists I will also post them here.




Skåne bird checklist from Avibase, click HERE

Avibase is providing you with bird checklists from all over the world. And I´m impressed by their web page. Select country and area and you get the bird checklist. Like the PDF files I got from Avibase on the links above. You also get the checklist with pictures and sounds.

The best part is that you get the local names of the birds and the online checklist gives the names in English plus the language you have selected. But it seems like the PDF cannot handle some alphabet.

For example the Japanese language so it is blank in the PDF checklist. But it worked excellent with Swedish. But you get them in the local language on the online version.




Bird list


I only listed birds I have got on picture before I started with eBird in November 2019. Now I record all the birds that I can identify. Before that see the DAY TO DAY reports and my lists of observed birds in different countries.

And you can visit my list of "Birds I have seen in Sweden"

My eBird checklists can be found HERE




Trip Report





Ravlundafältet



Today´s Track



Leaving Äspet Nature Reserve and I drive south to look for Ravlundafältet. I arrive to the entrance at Haväng and I enter the Military training field and I could not see much on the fields as it was foggy and almost zero visibility.

Ravlundafältet and I keep an eye out for Orioles, but I could not even see the trees through the fog.


Haväng stright forward and Ravlundafältet to the left
Driving along the road in the fog
Driving along the road in the fog
I had been hoping to see orioles here
Not many birds to be seen on Ravlundafältet
A little bit of "wildlife"


I gave up on Ravlundafältet after about 30 minutes and I drove back to Haväng. Coming all the way to Skåne and all I get is fog. And I had not any high hopes to see much more at Havång.




Haväng



Today´s Track



Parking the car and I walk past the Havängsdösen walking towards the beach. Still dense fog and I cannot see many birds. And there is also many visitors walking around scaring away the birds. I was happy to discover board walks over the sand dunes and it was quite nice to walk around.

No birds on the beach and some small birds at the river but no pictures. I could hear birds but the visibility was at least to say poor. So it was not with a great pleasure I walked around.


Haväng
Havängsdösen

Walking back to the car and I see one Common Redstart that I try to get on picture. Otherwise there was nothing exciting to see. So I left Haväng and putting the parking lot behind me and I spotted a White stork at Ravlunda.

I stopped to watch the stork and after a few minutes there was a second stork coming in to land next to the other stork. A couple? Babies this year? I think it is too late for babies this year.


White Stork / Vit stork


I left the storks behind and I continued to the south to have a look at Stenshuvud National Park. Took me about 30 minutes to reach the parking lot at Stenshuvud National Park. The weather had improved a little, still foggy but I hope to be able to get some bird pictures in the National Park.

The coast line of Österlen is really beautiful with the old villages and gorgeous scenery and I enjoyed the 30 minutes it took me to drive to the National Park, the last bird watching site for today.




Stenshuvud National Park



Today´s Track



Parking at Naturums parking and I followed the signs toward the peak Stenshuvud. There was many many visitors, bad for bird watching but good for my diet. I skipped going inside to buy an ice-cream thanks to all the visitors.

I started to walk towards the peak and I wandering off the trail to check out a Song Thrush and even though I was "off track" I could hear people and children.

I could see one Eurasian Treecreeper my way up to the peak but the pictures turned out to be nothing like garbage.


Song Thrush
Eurasian Treecreeper
Blackbird
Stenshuvud south peak


Reaching the peak and it is impossible to see anything because of the fog. Well, I was not really disappointed, I´m here to look for birds (disappointed) and not the views. Walking back down to the parking and I spotted one Blackbird, otherwise nothing of interest from the bird world.

Spending all the money to come here for birding and all I get is fog. Will it be better tomorrow? I hope so, really or it has been a complete waste of time. Anyway, one more night on Österlen and I will drive south tomorrow morning starting to look for birds in the SE corner of Skåne and I will stay the night at the SW corner of Skåne.



+++++++++++++++

Sunday 19th of May 2019 and my alarm went off at 3 thirty and I left the room around 5 o´clock in the morning and I brought my luggage with me and I left with no backward glimpses. I will most likely never stay at this hotel again.

Checking eBird and I will start the day at Hammar / Kåseberga, two different birding HOT SPOTS in ebird, but it is, well, I call it one place as it is very close to each other.



Hammar / Kåseberga



Today´s track at Hammar
Today´s track in Kåseberga



I pass Hammar and it is a small village and farms outside the village. I stop to try my luck. I spotted a Western Yellow Wagtail next to the road and I managed to get a picture through the window. The Yellow Wagtail is really a very beautiful bird and there are many of them around. I see them all the time, but I´m not so lucky with the pictures.


Western Yellow Wagtail / Gulärla
Gull in the field
Gull in the field


Huge fields with different gulls but they were too far away for any pictures and proper identification for me as an amateur bird watcher. I drove around looking for gulls closer to the road, but no luck.

I spotted some wagtails at the parking at the trail down to the beach. And the weather was for sure not allowing me to get out of the car. How unlucky I have been since I arrived, well, since I left Öland. Nothing but rain, fog and strong winds.


Passing a farm in Kåseberga
Passing a farm in Kåseberga
Pheasant along the road at Kåseberga
Kåseberga harbour
Kåseberga harbour


It is really a very beautiful area so I would have loved to walk around for a while. Kåseberga harbour and, sweet Lord. It was blowing so hard the car almost blew in to the sea.

I decided to leave to start driving towards west with a stop at Fyledalen before leaving Österlen. I drive slowly towards Tomelilla looking for birds on the way. Fyledalen is an area just west of Tomelilla and I drove along the road and suddenly, a sign saying FYLEDALEN and you are there.




Fyledalen



Today´s track



Driving along the stream "Fyleån" and I see a lot of birds and two Grey Herons. So I will walk along the stream to look for birds as soon as I find a parking space. I found the parking area and I walked down towards the stream. Fence around the meadows so it was not possible to get down to the stream.

I turned around and I walked to the road that was used as a jogging track and some people came jogging by when I was walking along the track looking for birds.

I didn´t see any birds until I started to walk back towards the car. Then I spotted several warblers and a Eurasian Treecreeper. I followed a Great Spotted Woodpecker sitting on the wood posts to the fence. The bird jumped to the next wood post and I followed the bird.


Great Spotted Woodpecker / Större hackspett
Common Whitethroat / Törnsångare


When I followed the Woodpecker to a tree I discovered a Common Whitethroat in the tree. A family arrived with a car and I could see that the man was a bird watcher. I went to speak with him and he told me about a very rare Tern that was reported at Vombsjön (Lake Vomb) at Björkaåns utlopp (The mouth of River Björka)

I thanked him for the hot tip and I left Fyledalen and Österlen driving towards Lake Vomb in the "The Avian Kingdom"

Visit the web page: The Avian Kingdom for more information. The Avian Kingdom is one of Sweden's premier bird sites. IN ENGLISH!! Excellent page. A must visit web page:
• Map with hotspots
• Maps
• Tour descriptions
• Eat & Sleep in The Avian Kingdom
• Guided tours in the Avian Kingdom

And you can find my Bird Watching Bird Report from The Avian Kingdom HERE as soon as the report are ready.


You are visitor no.
To www.aladdin.st since December 2005
Visitors from different countries since 26th of September 2011