Saturday 7th of July 2018 and I left Fagersta and Best Western Fagersta Brukshotell after yet another excellent breakfast. My plan is to arrive to Östersund in a good time so I have time for some bird watching around Ändsjön. If you like to see a map over Ändsjön just click HERE

I will drive to Falun, a wee detour, but I want to see the towers for the ski jumping or whatever they call the sport. From there to Sveg and I will join the E45 road at Sveg. E45 is even called Inlandsvägen. Something I didn't know until I saw the signs along the road.



Inlandsvägen (The Inland Road)


is a road passing through the center of Sweden from Gothenburg in the south to Karesuando in the north. Inlandsvägen is at the same time the European route E45 in Sweden. The term Inlandsvägen is also used about Riksväg 26 (National Road 26) that begins in Halmstad in the south and ends in Mora in the midst of Sweden, even though this is called Inlandsvägen Syd (The Inland Road South).

From Wikipedia, the free encyclopedia



The European route E 45


The European route E 45 goes between Norway and Italy, through Finland, Sweden, Denmark, Germany and Austria. With a length of about 5,190 kilometres, it is the longest north-south European route.

North end - Alta ( Norway)
South end - Gela ( Italy)

In November 2006, the E 45 was extended with the then existing Swedish national road 45, which makes it start from Karesuando at the Swedish–Finnish border (near the E 8), over Östersund–Mora–Grums, to Gothenburg and on. This extended the length of the route by about 1,690 km. The signs of road 45 was changed to E 45 during the summer of 2007. The E 45 has now no other national number. In Sweden the road is called Inlandsvägen.


By Macia11 - Own work, CC BY-SA 3.0,
https://commons.wikimedia.org/w/index.php?curid=3495300



From Wikipedia, the free encyclopedia

Nu e d dags för val igen. Inte vill vi väl rösta på dom som styrt dom senaste 20 åren. Sverige är bara skit och allt bra kommer från utlandet! Det är Svenskarna som ska integreras i det nya Sverige! Beställ valsedlar nu!! Vi måste få ett slut på eländet! Valsedlar kan beställas HÄR



It was pouring down when I left the moose safari yesterday. The girl at the hotel was surprised as it was very dry in Fagersta. But when I left in the morning it was raining. But the forecast says that it will be sunshine later on in the day. And further up north it is all blue skies.


Leaving Best Western Fagersta Brukshotell behind in the rain
Leaving Best Western Fagersta Brukshotell behind in the rain


I was halfway to Gävle on the East coast when I understood that something was wrong. The GPS in the car wanted me to take the route along the coast, not my plan. I will go along the coast going south on my way back to Skåne. So I turned towards Avesta.

Coming to Avesta I saw a huge horse, a what they call a Dalahäst. I was on the highway and I had to drive quite a few km before I could turn around. But I got to see Dalaälven when I crossed it on a very old bridge. There was no chance to see it from the highway bridge.

It was not easy to find the horse again. But I got a picture and I was soon back on the highway again. I was soon approaching Falun and it was no problem to find the ski towers. Just next to the
road and I learned that the place is called Lugnet. Lugnet Hills in Falun is Sweden's national ski jumping centre.


I got to cross Dalaälven going to see the horse
I finally find the way to the Dalahäst
Reaching Falun
Lugnet Hills in Falun
Lugnet Hills in Falun
Leaving Falun behind - Warning for moose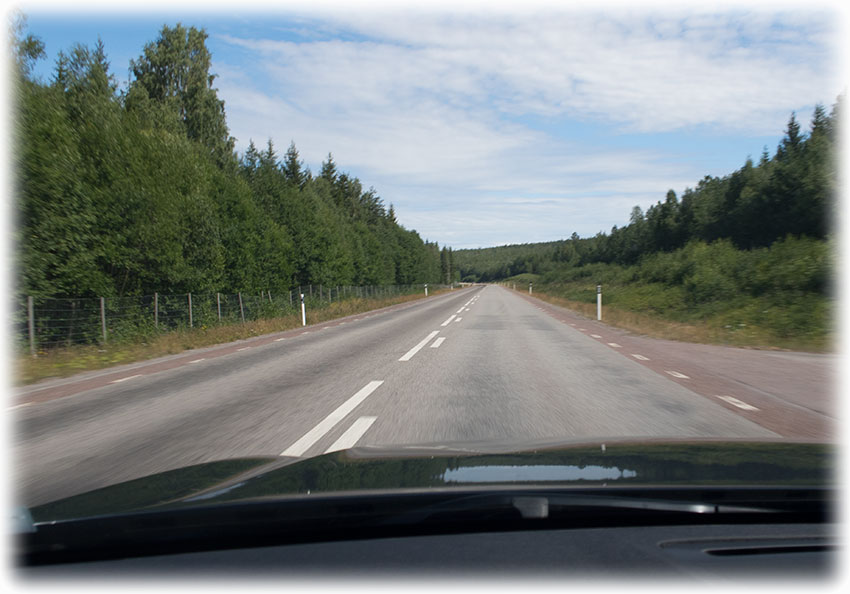 Working my way towards north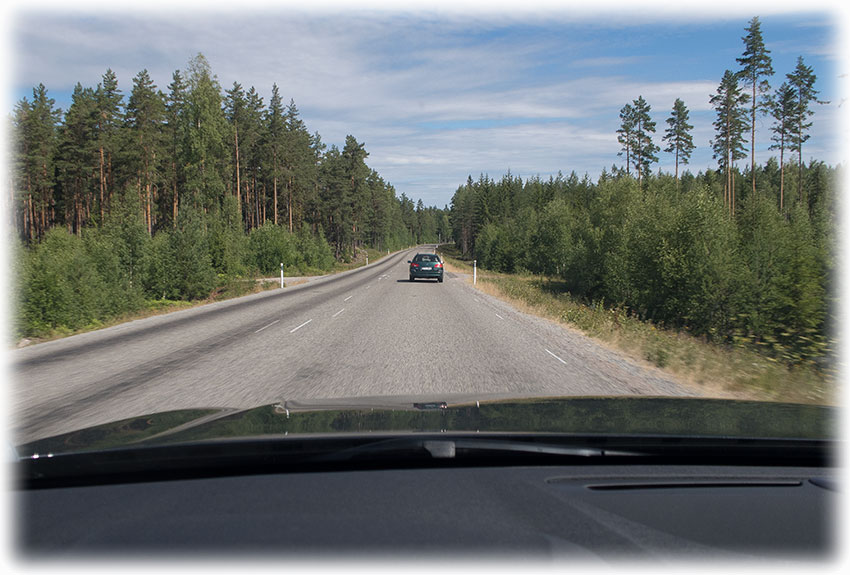 Working my way towards north
Stop to look for birds
Stop to look for birds
This guy have been a little bit unlucky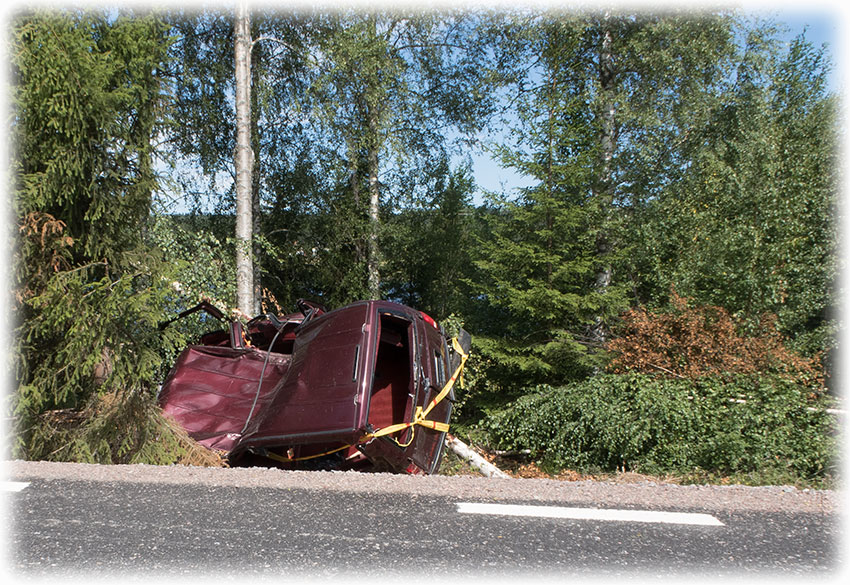 This guy have been a little bit unlucky
This guy have been a little bit unlucky


And suddenly, I'm in Edsbyn. And Edsbyn, famous because of Ingmar Stenmark, the world famous skier, or was it an old class mate from when we were children that came from here. Well, I don't remember, but now I have been here as well, and I was through the town in a minute or two.

It was a fantastic landscape and I kept my eyes out for the mountains that I expected to show up anytime. There was forest for long as you could see, very beautiful.

But, well, it is farmed forest. All the primeval forest was cut down many years ago, now it is the fast growing pine tree and it will end up as paper.


As exciting as it gets in Edsbyn
As exciting as it gets in Edsbyn
Stop to look for birds
Forest for as long as you can see
Forest for as long as you can see
Wärdshuset Pilgrimen - Stop for lunch in Kårböle


My plan was to stop to buy some picnic lunch and then drive out in the forest. But reaching Kårböle and I passed a "Wärdshus" and I thought about "Wärdshus" in Skåne. Good food that is and I decided to try the place, but Wärdshuset Pilgrimen was a disappointment. It was like a self-service restaurant at a train station.

My Schnitzel was pretty tasteless and I will not come back here again. I was disappointed when I left Wärdshuset Pilgrimen behind. I should have bought my own picnic lunch that I could have enjoyed in the forest.

Well, I learn from my mistakes and I will
hopefully not stop at any more restaurants along the way through Sweden. Picnic, forest and birding will be the thing from now on.


On the way to Östersund
Passing a lake


I was in Östersund around 4 o'clock in the afternoon. I found Best Western Hotel Gamla Teatern, but no parking space outside the hotel, and it was prohibited to stop outside the hotel. This was nothing I was impressed by and I ended up in a discussion with the girl in the reception. She informed me that there was a parking house down the road.

So I will have to walk up and down the street with all my luggage if I don't want to take the risk to park outside the hotel with Meter Maids lurking around every corner. Otherwise the hotel looked very nice, well, the room was nothing to get impressed by.

I decided to go to look for Ändsjön on Frösön, but first of all I needed to go look for a drug store, not easy as it is Saturday evening. I woke up last night with a terrible itch on my legs, the mosquitos had been eating my legs and I need to grease up my legs in hydrocortisone.

I found a drug store and I got my cream and I was off to look for Ändsön and it was not so easy to find, but I managed and I walked through the forest towards the sound of gulls screaming.


I found the walk path to Ändsjön
On the walk path to Ändsjön
On the walk path to Ändsjön
Brambling / Bergsfink
Brambling / Bergsfink
Thanks to CARERY and lou salomon at Birdforum I could identify this bird.

Forum thread HERE






I came down to the track around the lake, 2.7 km, but there was a lot of vegetation and trees between the track and the lake so it was not possible to see the water. But there are two look-out towers along the track and you can see the water.

I didn't see any birds walking through the forest to come down to the lake. When I started to walk around the lake I spotted a group of birds in a tree. I had no idea what it was.

But after having posted the pictures on BirdForum I learned that it was Bramblings, or as we say in Skåne, Bergsfink.

I walked around the lake in an anticlockwise direction and I was soon at a bird tower. I could see the tower through the tress from a distance and as the tower was full of gulls there was obviously no one there. And it was empty there when I got there.


I can see the first look-out tower
Just to follow the track
Around the lake: 2.7km
To the bird tower: 350m
The track
I can hear the birds when I approach the Lake
With my ZOON H5 Handy Recorder
Black-headed Gulls in a tree next to the tower
Eurasian Coots / Sothönor fighting
Eurasian Coots / Sothönor fighting
Observe the gull that get scared away
Eurasian Coots / Sothönor fighting
Eurasian Coots / Sothönor fighting

When I left there was a guy coming to the tower and we had a chat, He had seen a Crane couple here with baby. We talked about this and that and I told him about my beaver safari. He told me that there were beavers in Ändsjön. And actually, they are just around the bird tower and he showed me trees that the beavers had cut down

It had been a nice chat, but I needed to say good bye as I wanted to clock how long time it would take to walk the 2.7km, good to know for the 11km trek to Treriksröset. Now I will have to take away 30 minutes from the total time due to our chat.

I find more beaver trees and an information board about beavers, so yes, here is beavers and they could start a safari as well.


Freshly cut tree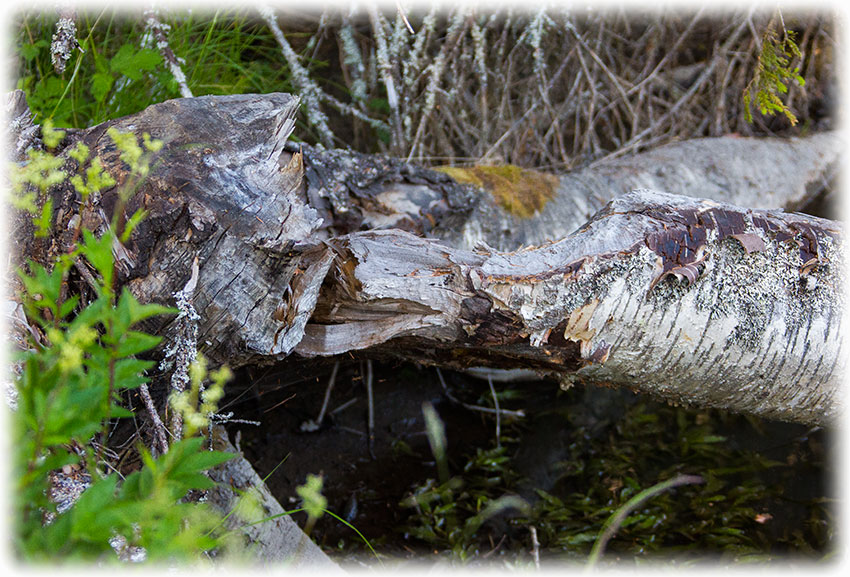 It was quite some time ago this tree was cut down by beavers

I'm back at the car, well, about 2 hours later and I decide to go to the lookout place on top of the hill/ mountain. The tower, Frösötornet was closed, well, it looked to be closed. Never mind, there wasn't anything very interesting to be seen from the mountain top. I had a few pics and I drove down towards the town again.

I had seen some Magpies, but they are very scared so I decided to go look for them in my car. They are seen around the cities but I have never manage to get any picture of the bird, at least not any good pictures. I managed to find some Gooses, at first I thought it was Canada Gooses, but I was soon realising that it was the Barnacle Goose

So, I was in a good mood, an unexpected new bird and I continued to go looking for Magpies


Looking at the views from the mountain top
Looking at the views from the mountain top
Looking at the views from the mountain top
Snow machines at Frösötornet
Östersund from Frösö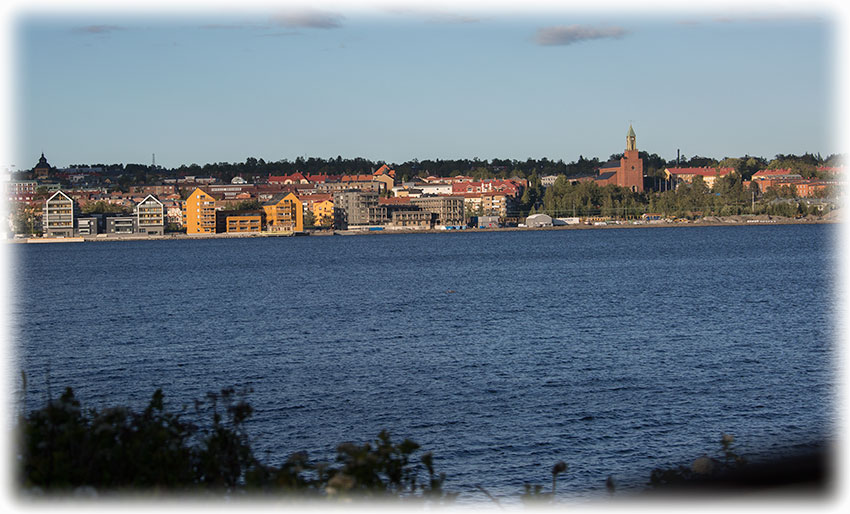 Östersund from Frösö
Barnacle Goose / Vitkindad Gås
Barnacle Goose / Vitkindad Gås
Barnacle Goose / Vitkindad Gås
Barnacle Goose / Vitkindad Gås


I was driving around for almost 1 and a half hour and I saw quite a few "magpies" but this must be the most scared bird I have ever seen. Same on Cyprus, they took off as soon as they could sense you in the horizon. I cannot say that I was lucky, but I managed to get a few pictures, but they wasn't any good.

But it was getting late and I was also getting hungry. The restaurant was in the garden, of course, summer time and they had have a TV in the garden showing Sweden's game in the soccer world cup.

I was not in a good mood, sitting outside, yes it is summer but it was not very hot. And to sit in a garden full of drunk soccer game watchers was nothing for me. So I went to bed with my alarm set to go off at 4 o'clock.


Eurasian Magpie / Skata
Eurasian Magpie / Skata
Eurasian Magpie / Skata


So, I have managed to get quite far up north, but there is still many kilometres to go and tomorrow I will stay in Arvidsjaur. Click HERE to see if I make it there.


Angry Foreigner's You Tube channel, click HERE
OK, it has come to my knowledge that we have senior citizens visiting my web page. How hard can it
be? So it's not very easy for them to see the blue coloured links to the next page.

Jiffy (also jiff)


noun [in SING.] informal a moment: we'll be back in a jiffy.

ORIGIN late 18th cent.: of unknown origin.

So as you understand, in a jiff pretty much depends on your internet.

So I put a "Next" button here and I hope that there isn't any problem to understand how to use that one. So just CLICK the "Next" button on your left hand side and you will be on the next page in a jiff!
Marunong ka mag-tagalog? Walang problema! Magpunta sa kabilang pahina pindutin ang "NEXT" button sa itaas


Faites vous parlez le français? Pas de problème! Pour arriver à la page suivante faites s'il vous plaît un déclic le bouton "Next" ci-dessus!


Haga usted dice el español? No hay problema! Ver la siguiente página sólo hacer clic el botón "Next" encima!


Farla parla l'italiano? Non problemi! Per vedere la prossima pagina lo scatto per favore giusto Il bottone "Next" sopra


Sprechen sie Deutsch! Kein problem! Wenn Sie die folgende Seite sehen wollen gerade klicken der Knopf "Next" oben!


คุณพูดภาษาไทยได้ไหม ไม่มีปัญหา ถ้าคุณต้องการไปหน้าถัดไป ให้กดปุ่ม "Next" ข้างบนนี้


Вы говорите по-русски? Просто нажмите синюю кнопку "Next" с левой стороны и Вы моментально переместитесь на следующую страницу!


E ni Svenskar och inte förstår Engelska så ska ni skämmas. J och Björn, med det menar jag inte att alla mina stavfel ska ältas varje gång vi träffas.


Well, the flag of Skåne, just a BONUS flag.
You are visitor no.