Friday 3rd of August 2018 and I left Hotel Tum Stüürmann way before they started with the breakfast and I took my bike to Büsum train station. I asked for directions and I arrived just when the train left the station. No worries, there is a train leaving every 30 minutes.

Well, I had time to find a vending machine for the ticket and while sitting down relaxing I found out that I had to buy a ticket for the bike as well.


The train is leaving Büsum when I arrive to the train station
Büsum train station
I found the ticket machine
One ticket for my bike
The train is arriving
Bye bye Büsum
On the train
Arrival to Heide train station


We are soon in Heide and I had to go try to find where I should go to get to Brunsbüttel. There is a ticket office and they printed a schedule for me and it looks like I had to go to Itzehoe and with bus from there to Brunsbüttel. I wanted to buy a ticket but they told me that the train would leave in 2 minutes and I had to buy the ticket on the train.

I had to run to the train and we left as soon as i took my seat. No vending machine for tickets so I could never buy any ticket. I was lucky, no one came to check the tickets and I got all the way to Itzehoe for FREE!

And we crossed the Kiel Canal passing a high bridge and this is probably the first time in my life I cross the Kiel Canal. So there was a lot of excitements, but most exciting was to see if they would come to control my ticket. Embarrassing to get caught, but he told me that I could buy the ticket on the train. But even then, I could see the scene in front of me, a guy trying to talk his way out of paying for the ticket. And imagine what the other passengers would have thought, or what you had thought if you saw the same scene.


I will be in Brunsbüttel around eleven o´clock
Me and my bike on the train to Itzehoe
Me and my bike flying over the Kiel Canal
Me and my bike flying over the Kiel Canal
Me and my bike flying over the Kiel Canal
Arriving to Itzehoe
My bike in the elevator at Itzehoe train station


I went to the ticket office first thing getting off the train in Itzehoe. I had to get under ground and I was lucky that they had an elevator for me and my bike. I was informed that it was impossible to take the bicycle on the bus. So I went to look for a taxi.

There were a few taxis behind the railway station and there was a big van, almost like a small lorry and we could fit the bike in the back of the taxi.

We left Itzehoe behind and we were soon flying over the Kiel Canal again, but this time in a car and in the other direction. Now I have crossed over the Kiel Canal twice in my life.

It didn't took us very long to reach Brunsbüttel, maybe 30 minutes or so. As soon as we had crossed the bridge we turned left and we were in Brunsbüttel. First time I crossed was on the railway bridge and now we crossed on the highway bridge.


The bike should fit in the car or bust
Here we go
I´m hauling arse from the comfort of a taxi seat
Approaching the bridge
Nord-Ostsee kanal 1600 m
Flying over the Kiel Canal for the second time today and in my life
Brunsbüttel locks from the bridge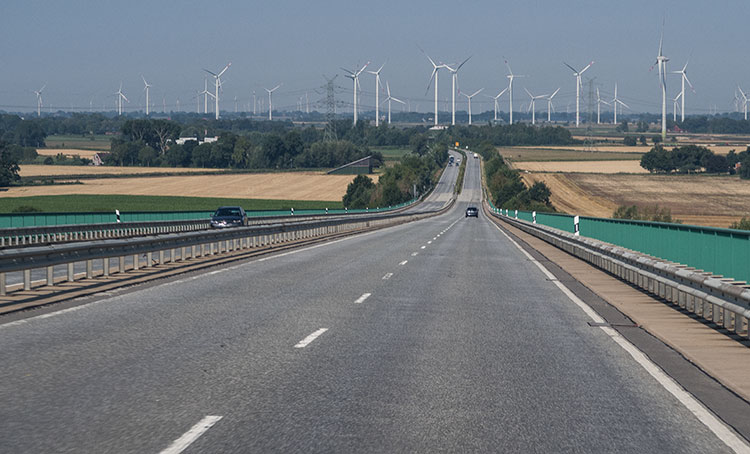 Crossed the Canal...
... and we´re in Brunsbüttel


I asked the driver to let me off down at the jetty front. He dropped me and my bike just outside an ice cream place, but I never bought any ice cream. I walked down towards the water front with my bike and some ships left the lock when I came down to the canal. There is a guy with a big camera and a bag of bread and he is throwing the bread in the canal for the birds to come. But he don´t have any luck with the birds.

I had my breakfast/ lunch and I went to my hotel, Schleusenhotel GmbH to leave my bags and bike, and of course, to check out my room.

I was early for check-in, no problem and I got my room and I was very happy with the room. There were everything I needed, even a bench to put my luggage on. The bathroom was OK and the bed was fine, so I was happy with the room. The only problem is the breakfast, I will be long gone by the time they start to serve breakfast, but I will have something along the way to Breiholz and my hotel tomorrow.

Their original tour is from Brunsbüttel to Rendsburg, but I have choosed to stay one extra night between Brunsbüttel and Rendsburg. At Bootsmann - Lokal Camping & Lodge in Albersdorf outside Breiholz. Well, that will be tomorrow´s adventure.



... and we´re in Brunsbüttel
... and we´re in Brunsbüttel
... and we´re in Brunsbüttel
Baby trying it´s wings in the nest
Baby trying it´s wings in the nest and one baby is to small to try it wings
Baby Barn Swallows
Adult and baby Barn Swallow


I set up my IT Centre before I leave to get down to the Kiel Canal again to see if I can see any birds. I discover a Barn Swallow nest just above the entrance to the hotel so there might be some photo opportunities. And I spent much more time at the nest than I had planned for. I got a few pictures and I walked down to the Kiel Canal and the lock. There was a ship entering the lock, but otherwise not much action, and no birds.

I go to by some bread but I´m told that it is not allowed to feed the birds. Well, I spotted some Common Wood Pigeon and they are busy building nest and to make babies.


Trying to make babies when I come to disturb
Trying to make babies when I come to disturb
Ship entering the lock in Brunsbüttel


I went to check out the lock area and this was as exciting as watching paint dry. No ship, no nothing and I gave up after a few minutes. I walked back towards Schleusenhotel GmbH and the Barn Swallows. I will also look for stuff for my behind. I still haven't given up the idea of wearing adult diapers and I went to look for a drug store.

They didn´t had any diapers but I managed to get a bag of things for my arse, set me back by 55€ It is for sure not cheap biking along the Kiel Canal. But if it helps is for sure worth more than 55€. I will hopefully be able to do the full stretch on the bike tomorrow.

The evening was spent in my room eating blueberries and drinking tea. I had been at the Supermarket next door to buy blueberries for evening meal and for breakfast tomorrow. When they start serving breakfast tomorrow I will be long gone.


Will
hopefully be easier to sit on the bike tomorrow
Not many kilometres today


So, tomorrow it is time to go north along the Kiel Canal and we just need to click HERE to find out everything about that adventure. We will also see if I make it all the way to Albersdorf on my bike without having to take a taxi.


OK, it has come to my knowledge that we have senior citizens visiting my web page. How hard can it
be? So it's not very easy for them to see the blue coloured links to the next page.

Jiffy (also jiff)


noun [in SING.] informal a moment: we'll be back in a jiffy.

ORIGIN late 18th cent.: of unknown origin.

So as you understand, in a jiff pretty much depends on your internet.

So I put a "Next" button here and I hope that there isn't any problem to understand how to use that one. So just CLICK the "Next" button on your left hand side and you will be on the next page in a jiff!
Marunong ka mag-tagalog? Walang problema! Magpunta sa kabilang pahina pindutin ang "NEXT" button sa itaas


Faites vous parlez le français? Pas de problème! Pour arriver à la page suivante faites s'il vous plaît un déclic le bouton "Next" ci-dessus!


Haga usted dice el español? No hay problema! Ver la siguiente página sólo hacer clic el botón "Next" encima!


Farla parla l'italiano? Non problemi! Per vedere la prossima pagina lo scatto per favore giusto Il bottone "Next" sopra


Sprechen sie Deutsch! Kein problem! Wenn Sie die folgende Seite sehen wollen gerade klicken der Knopf "Next" oben!


คุณพูดภาษาไทยได้ไหม ไม่มีปัญหา ถ้าคุณต้องการไปหน้าถัดไป ให้กดปุ่ม "Next" ข้างบนนี้


Вы говорите по-русски? Просто нажмите синюю кнопку "Next" с левой стороны и Вы моментально переместитесь на следующую страницу!


E ni Svenskar och inte förstår Engelska så ska ni skämmas. J och Björn, med det menar jag inte att alla mina stavfel ska ältas varje gång vi träffas.


Well, the flag of Skåne, just a BONUS flag.
You are visitor no.