Thursday 2nd of August 2018 and as I had taken the last part of yesterday´s rout with taxi I wanted to do it today. I will do it in the opposite direction and I will have my lunch at Fischbistro Katinger Watt 1 at the Eider Barrage / Eider-Sperrwerk where I had have my lunch yesterday.

I left Hotel Tum Stüürmann and Büsum behind biking through the town and I was soon at the Dyke north of the town.

I was a little disappointed as I had expected to be biking on top of the dyke to Eider Barrage / Eider-Sperrwerk. Now I was biking behind the dyke and I could not see the sea.



Dyke


dyke1 (also dike)

noun
1) a long wall or embankment built to prevent flooding from the sea.

• [often in PLACE NAMES] a low wall or earthwork serving as a boundary or defence: Offa's Dyke.

• a causeway.

• Geology an intrusion of igneous rock cutting across existing strata. Compare with SILL.

2) a ditch or watercourse.

3) Austral./NZ informal, dated a toilet.


It was a gorgeous morning and, well, my behind was sore already when I left Büsum. I was on a bike track going straight for long as I could see with the dyke on my left hand side and I could not see the sea.

I was paddling along and I ended up on a D-tour as I missed the track along the dyke. I ended up biking along pastures, well, it was better than looking at the dyke blocking the sight. But it was hot, very hot and I was drinking water like there was no tomorrow.


Biking through Büsum
Leaving Büsum behind
I have Büsum behind me
Someone is driving on the bike track
Passing a starling on the bike track
On the way back to the sea side
Coming up the dyke


I was biking along the pastures and no signs of any dyke and I started to think that I was on the wrong way. I continued, the direction was right and I when I came to an intersection I turned left and I was soon down at the dyke again.

This seems to be a place where people come to bath in the North Sea. We have a parking place and plenty people. I bring my bike up on the dyke and I see people walking out towards the water. I park my bike and I take a seat on a bench. There is another couple on the bench next to me and they are also here with bikes.

We talked a little while I enjoyed my Diet Pepsi. People were walking out towards the sea crossing the mudflats. I could see the sea far far away. Sheep were walking around eating from the grass and it was a beautiful morning, but no birds. I was soon on my way again, yet another one of those straight stretches going all the way to the horizon.


Sheep on the mudflats
Leaving Badestelle Westerkoog and the bench behind
Leaving Badestelle Westerkoog and the bench behind
Leaving Badestelle Westerkoog
And we can see the bike track all the way to the horizon
It goes on and on
No end in sight
I meet some new friends
Looking back and I cannot even see Westerkoog anymore
My racer
It goes on and on
Another stop to rest my behind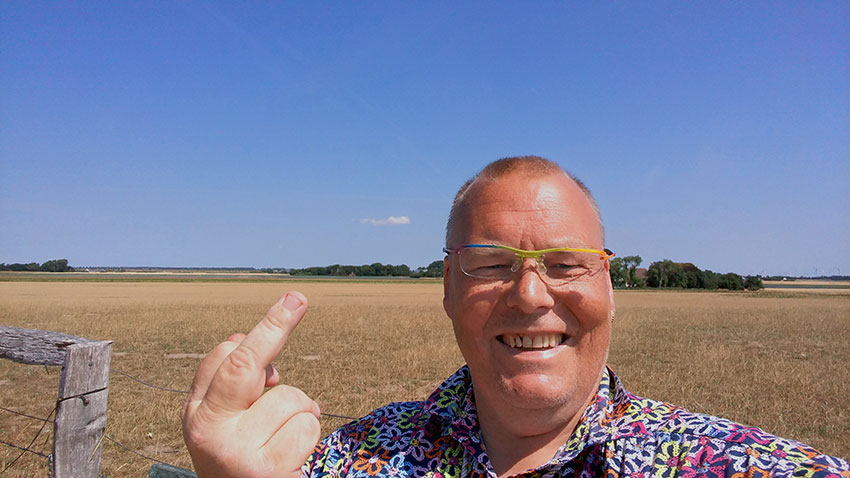 Another stop to rest my behind


Sweet Lord! My #rse is aching and I made a stop every now and then. An I had an idea growing in
my head. I WILL TAKE THE TRAIN TO BRUNSBÜTTEL TOMORROW!!!! FUCKING A! This is the kind of ideas I´m looking for.

I was really happy over this idea, I will not have to sit in my saddle for the whole
day tomorrow and I might be able to do the whole stretch on the bike from Brunsbüttel. I don´t know, might have been my imagination, but after coming up with this idea I thought it was a wee bit easier to paddle my way towards the Eider Barrage / Eider-Sperrwerk and my lunch at Fischbistro Katinger Watt 1.

I paddle my way until the next track going up the dyke. There is a small pond and cattle drinking water. I spot a few birds and I stop to try to get any pictures.


Northern lapwing, a beautiful bird
But the picture is not good enough for the bird to make it to my observed birds list
There is a yellow bird under the cow
Finally, I can see the Eider Barrage / Eider-Sperrwerk when I come up on the dyke
Eider Barrage / Eider-Sperrwerk


The Eider Barrage (German: Eidersperrwerk) is located at the mouth of the river Eider near Tönning on Germany's North Sea coast. Its main purpose is protection from storm surges by the North Seas. It is Germany's largest coastal protection structure. It was also intended to contribute to economic recovery in the districts of Norderdithmarschen (today part of Dithmarschen) and Eiderstedt (today part of Nordfriesland).

From Wikipedia, the free encyclopedia
Eider Barrage / Eider-Sperrwerk


And yes, it was very nice to reach Eider Barrage / Eider-Sperrwerk and I knew that I would not have to sit on the bike any more for today.
Well, maybe the last 100 meters to the restaurant across the road. I walked across the Eider Barrage / Eider-Sperrwerk and the high water was coming in filling up the mudflats.

I came on the other side and was I lucky or what? I ran straight in to some "tourist boat in the lock" drama. And this promised to be exciting. Lock gates to open and close, booms had to be closed and bridge had to open and close.

I could not ask for more from this day! When it calmed down at the lock I continued towards Fischbistro Katinger Watt 1. Something that I had been looking forward to since I left Hotel Tum Stüürmann and Büsum behind this morning.


Eider Barrage / Eider-Sperrwerk


I had seen that they had brat kartoffeln on the menu when I was here yesterday and I wanted to try this today. So I had bratwurst and bratkartoffeln with a properly sized beer mug with tea for lunch. I was enjoying my tea while waiting for the food and there are many people coming to visit. I suspect that it is holiday in Germany as there are many tourist everywhere I go.

I finished my meal and as yesterday, I had an ice cream while waiting for the taxi to come to pick up me and my rented bike. The taxi arrived after 10 minutes or so.


Tea at Fischbistro Katinger Watt 1
Bratwurst and bratkartoffeln at Fischbistro Katinger Watt 1
Taxi to come pick me and the bike up at Fischbistro Katinger Watt 1
Second time I pas the tunnel at Eider Barrage / Eider-Sperrwerk
Out of the tunnel bound for Büsum
97,65 km on the clock since I left Kiel


We were soon on our way to Hotel Tum Stüürmann and Büsum and I passed through the tunnel in Eider Barrage / Eider-Sperrwerk for the second time in my life. I interrogated the driver about the trains and how to get to Brunsbüttel. There is train from Büsum but no train is going to Brunsbüttel. So I will have to go by a train and bus combo, no end to the excitements.

I will investigate on the internet when I'm back at my room where I will spend the whole evening without going outside. I have not been to any restaurant since I came to Germany, blueberries in my room. Well, for some "middle of the day" snacks maybe, but that doesn´t count, does it?

Anyway, believe me, after a day in the saddle you just want to rest your behind and I have blueberries in my room. Anyway, will I manage to get a train tomorrow? Click HERE to find out.


OK, it has come to my knowledge that we have senior citizens visiting my web page. How hard can it
be? So it's not very easy for them to see the blue coloured links to the next page.

Jiffy (also jiff)


noun [in SING.] informal a moment: we'll be back in a jiffy.

ORIGIN late 18th cent.: of unknown origin.

So as you understand, in a jiff pretty much depends on your internet.

So I put a "Next" button here and I hope that there isn't any problem to understand how to use that one. So just CLICK the "Next" button on your left hand side and you will be on the next page in a jiff!
Marunong ka mag-tagalog? Walang problema! Magpunta sa kabilang pahina pindutin ang "NEXT" button sa itaas


Faites vous parlez le français? Pas de problème! Pour arriver à la page suivante faites s'il vous plaît un déclic le bouton "Next" ci-dessus!


Haga usted dice el español? No hay problema! Ver la siguiente página sólo hacer clic el botón "Next" encima!


Farla parla l'italiano? Non problemi! Per vedere la prossima pagina lo scatto per favore giusto Il bottone "Next" sopra


Sprechen sie Deutsch! Kein problem! Wenn Sie die folgende Seite sehen wollen gerade klicken der Knopf "Next" oben!


คุณพูดภาษาไทยได้ไหม ไม่มีปัญหา ถ้าคุณต้องการไปหน้าถัดไป ให้กดปุ่ม "Next" ข้างบนนี้


Вы говорите по-русски? Просто нажмите синюю кнопку "Next" с левой стороны и Вы моментально переместитесь на следующую страницу!


E ni Svenskar och inte förstår Engelska så ska ni skämmas. J och Björn, med det menar jag inte att alla mina stavfel ska ältas varje gång vi träffas.


Well, the flag of Skåne, just a BONUS flag.
You are visitor no.