Wednesday 8th of August 2018 and I take a taxi to Bildeve to pick up my car as soon as I finished my breakfast at Hotel Marina Plaza. I got my Volvo V90 XC and I was soon back on the highway driving towards Jönköping.

I´m going to Röstånga Gästgivaregård with my nephews to eat Skånsk äggakaga and vanilla sauce for dessert, so I was in a hurry and I made it to Jönköping in a record breaking time. I made it to Jönköping in less than 2 hours just to discover that I had to get to a place north of the city.

This took me some time, just to find the way wasn't easy. And I was also running in to some excitements with a train crossing the road.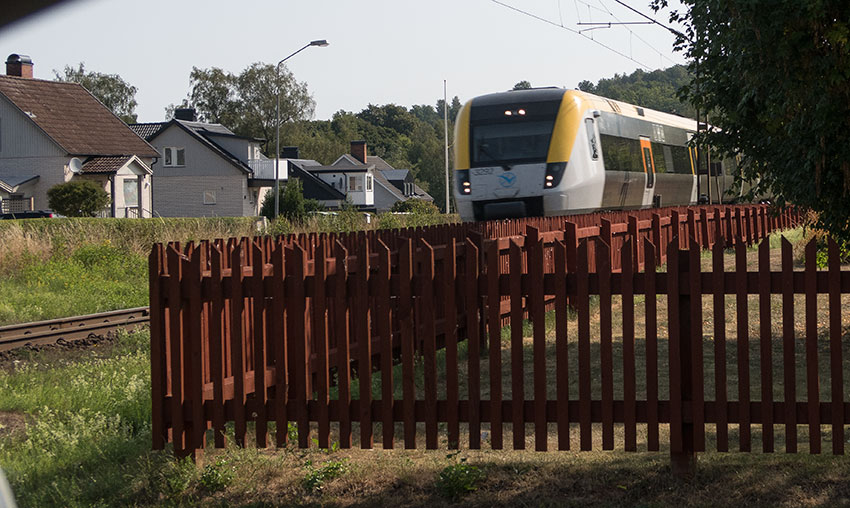 The train is coming
The excitements just lasted for a few seconds


And coming to the village and it was quite some driving to find my friend's house. I was on the right road, at least the sign showed that I was on the right road. But something was wrong and I continued down to road. I stopped at a house by chance, the number was right, but it was on the wrong road. Well, it was the right place.

I stepped inside and he showed me around the house and we had a chat before we left for Gränna and the ferry to Visingsö and as we were getting a wee bit hungry my friend suggested to make a stop for some snack. He suggested Grännaberget where there is a cafe with a view over Gränna and the jetty for the ferries going to Visingsö.


I found my friend´s house


We left my friend´s house driving towards Jönköping. We turned left and we continued down a very long hill. When I came to my friend I had come down from the top of the hill and now we continued down the hill. And this hill is quite famous for being step because the bicycle races passing here have the bikers going up the hill.

We drove the long strait road until we reached a roundabout with 3 trees in the centre. Well, there used to be three trees but now there is only 2 and a half trees. My friend told me, about two weeks ago there was a young guy, most likely drunk leaving a party after a fight for a girl. Coming down the hill in full speed.

Hitting the centre and the car was airborne, no sign of any skid marks at the roundabout so he had never even hit the brakes. Hitting the edge around the centre and the car was airborne, cutting one of the trees about 3 meter above the ground. The trees had a diameter of about 80 cm, so it was a huge tree.

Clean cut and on the other side was a aluminium lamppost that looked like a tree that had exploded and the car had landed down the forest. So yes, the driver had been driving fast, flying for 50 meters cutting a tree and a lamppost meters apart 3 meters above the ground. The car had not touched the ground, so yes, it had been like a bullet coming down that hill.

We drove through Jönköping and my friend showed me the sights and when we reached the highway we crossed the highway driving up the hills. An old railway that they had made in to a road 100 years ago or so and I really got the see the sights thanks to my friend.


At Grännaberget
At Grännaberget


We park the car and we have to walk to the cafe and we have a beautiful view over Gränna and Lake Vättern. We order food and it takes a while for the food to be delivered. But there was a lot of people and only 2 people working there.

The food was OK and when we had paid we returned to the car and we were off to Gränna and the ferry to Visingsö and there will
hopefully be much less cars than when I tried to get on the ferry back in July.


We can see the ferry to Visingsö
Waiting for our food


We leave Grännaberget and driving through Gränna and there wasn´t near as much cars as when I was back here in July, in the middle of the Swedish holiday. So I had high hopes to make it with the ferry today. And we were almost alone when we came down to the port. We were soon waved at and we drove to the lane in front of the ferry and we bought the ticket.

And we were soon rolling on board the ferry, my friend had time for an ice cream but we didn´t had to wait more than 10 minutes or so from arrival to the ferry and until we could roll on board.



Visingsö


is an island in the southern half of Lake Västtern in Sweden.

Visingsö lies 30 kilometres north of the city Jönköping and 6 kilometres west of Gräsnna from which two car ferries connect the island. The island is 14 kilometres long and 3 kilometres wide, with a total area of 24 square kilometres.

According to legend, a giant named Vist created Visingsö by throwing a lump of soil into the lake so that his wife could use it to step over the lake.



History
In the 12th and 13th century, Näss Castle on the southern end of Visingsö was the residence for the fragile Swedish monarchy. Four Swedish kings died there: Karl Sverkersson, Erik Knutsson, Johan Sverkersson, and Magnus Ladulås. Furthermore, in the 17th century the influential Brahe family resided in Visingsborg, a castle on the eastern side of the island. Both Näss Castle and Visingsborg are presently ruins and well known landmarks of Visingsö.

The Swedish Navy planted oak trees on the island in the 19th century to provide strategically important timber for future ship construction. The timber is now ready but no longer required for ship construction. Consequently, Visingsö is partially covered by oak forests, the rest being farmland.

From Wikipedia, the free encyclopedia
Ice cream while waiting for the departure
He is excited to be on the "deep sea"
He is excited to be on the "deep sea"
The ferry is almost empty
We meet the other ferry
Approaching Visingsö
Approaching Visingsö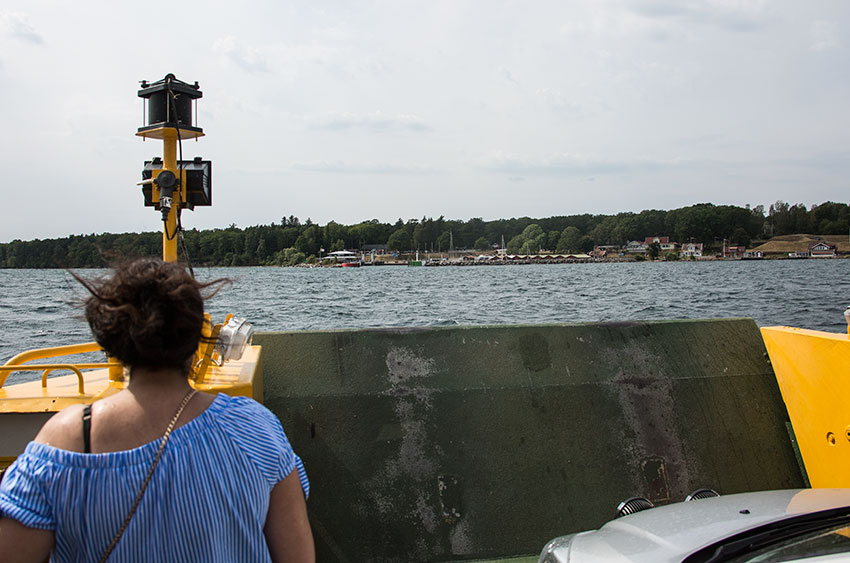 Approaching Visingsö
Approaching Visingsö
Näs Castle
Näss Castle
Leaving Visingsö


I don´t know, 30 minutes or so to get to Visingsö. There was a lot of soft ice cream places coming off the jetty and we will stop here on the way back. We drove south to check out an old castle, the first castle in Sweden or something like that. I was keeping my eyes open for birds and there were a few waders, but no pictures.

We drove to the north point of the island and when we were back at the ferry there were so many cars I was worried if we would make it back. And no ice cream as it was some kind of self-service places with no waffle cones. So we skipped the ice cream.

Now I was in a hurry to get back to Skåne, my nephews, vanila sauce, ägga kaga and Röstånga Gästgivaregård. But my friend didn´t want to call it a day. He had a fantastic place to show me, some old houses with some art shops. Luckily they were all closed, strange, in the middle of the summer and the time the tourists would be here.


Tourist place is closed


I dropped my friend at home, but now he wanted to go to the beach. OK, I´m leaving and my friend was a we bit sullen. I will have to make it back to Skåne in a record breaking time in order to pick up my nephews in time. They called several times and I told them that there was some really heavy traffic.

They were waiting on the street when I arrived to their house. Baby seat in to th eback seat and we were soon on the way to Röstånga Gästgivaregård.


My niece getting ready to get to Röstånga Gästgivaregård
My niece getting ready to get to Röstånga Gästgivaregård
My niece at Röstånga Gästgivaregård
My nephews

The food was excellent and when we left there wasn´t one single drop of vanilla sauce to be find at Röstånga Gästgivaregård. And as there is no reason to hang around Röstånga Gästgivaregård if there isn´t any vanilla sauce we left. I was back at Marina Plaza late in the evening, and as it is August it is getting dark in the late evenings. Summer is about to come to an end.


Helsingborg by night
Helsingborg by night


Tomorrow is my last day in Sweden and I will go look for birds. Click HERE to find out if I find any birds. But with my luck I think it is safe to say that there won´t be many birds.


OK, it has come to my knowledge that we have senior citizens visiting my web page. How hard can it
be? So it's not very easy for them to see the blue coloured links to the next page.

Jiffy (also jiff)


noun [in SING.] informal a moment: we'll be back in a jiffy.

ORIGIN late 18th cent.: of unknown origin.

So as you understand, in a jiff pretty much depends on your internet.

So I put a "Next" button here and I hope that there isn't any problem to understand how to use that one. So just CLICK the "Next" button on your left hand side and you will be on the next page in a jiff!
Marunong ka mag-tagalog? Walang problema! Magpunta sa kabilang pahina pindutin ang "NEXT" button sa itaas


Faites vous parlez le français? Pas de problème! Pour arriver à la page suivante faites s'il vous plaît un déclic le bouton "Next" ci-dessus!


Haga usted dice el español? No hay problema! Ver la siguiente página sólo hacer clic el botón "Next" encima!


Farla parla l'italiano? Non problemi! Per vedere la prossima pagina lo scatto per favore giusto Il bottone "Next" sopra


Sprechen sie Deutsch! Kein problem! Wenn Sie die folgende Seite sehen wollen gerade klicken der Knopf "Next" oben!


คุณพูดภาษาไทยได้ไหม ไม่มีปัญหา ถ้าคุณต้องการไปหน้าถัดไป ให้กดปุ่ม "Next" ข้างบนนี้


Вы говорите по-русски? Просто нажмите синюю кнопку "Next" с левой стороны и Вы моментально переместитесь на следующую страницу!


E ni Svenskar och inte förstår Engelska så ska ni skämmas. J och Björn, med det menar jag inte att alla mina stavfel ska ältas varje gång vi träffas.


Well, the flag of Skåne, just a BONUS flag.
You are visitor no.
To www.aladdin.st since December 2005
Visitors from different countries since 26th of September 2011