Tuesday 17th of July 2018 and I woke up around 6 o'clock and it was cold. Same yesterday at Wild Brown Bear Safaris, first night I woke up and it was cold, well, not cold, it was a little chilli. Anyway, this was the second morning it was a little chilli, but it was over in 10 minutes and it was
soon very hot again.

They will come to pick us up at 7 thirty and breakfast is at 8 thirty. So I had time to look for birds when we were back at the cantina/ lodge at Base Camp Kuikka. So when we get out of the van the other guests go to take a shower and I go to look for birds.

I really need a shower, but I will have my breakfast before driving back to my room for a shower. The first thing I spot is a squirrel, the light was not any good and I didn't wanted to scare the squirrel so I could not move in between the sun and the Squirrel.


Squirrel
Squirrel
Great Tit / Talgoxe
Great Tit / Talgoxe
Great Tit / Talgoxe
Listen to the Great Spotted Woodpecker / Större hackspett
Remarks from the Recordist


Recorded at Wildlife Safaris Finland, Base Camp Kuikka when I came back from a night in the bear hide

Two birds looking for food in the tree and I saw them eating, but I never heard any "KNOCKING"


Great Spotted Woodpecker / Större hackspett
Great Spotted Woodpecker / Större hackspett
Great Spotted Woodpecker / Större hackspett

Nu e d dags för val igen. Inte vill vi väl rösta på dom som styrt dom senaste 20 åren. Sverige är bara skit och allt bra kommer från utlandet! Det är Svenskarna som ska integreras i det nya Sverige! Beställ valsedlar nu!! Vi måste få ett slut på eländet! Valsedlar kan beställas HÄR


Female Eurasian Siskin / Grönsiska
Thanks to birdboybowle at Birdforum I could identify this bird.

Forum thread HERE






I have my breakfast and I drive back to my room where I have a shower and a power nap. I was leaving for Base Camp Kuikka giving me ample time to look for birds before the dinner at 16:00. Gong to my car and I discover a Barn Swallow sitting on top of some construction. Sun was shining and the picture wasn't any good.

Never mind, I was in a good mood leaving the house driving towards Wildlife Safaris Finland, Base Camp Kuikka. Before reaching the Base Camp I right at the intersection. Straight ahead on the gravel road takes me to the Base Camp and the gravel road to the right lead to the border area and the hides.

I drive down to the border area and there is a boom blocking the road as you're not allowed to enter the area. Wildlife Safaris have a special permission to be in the area so when I'm with them it is no problem. But we had seen a Common Cuckoo this very morning and the guy from Wildlife Safaris told us that there were plenty Cuckoos along this road.

I had come up with nothing when I reached the boom and I turned around to drive back to Base Camp Kuikka. I spotted the Great Spotted Woodpecker when I parked my car.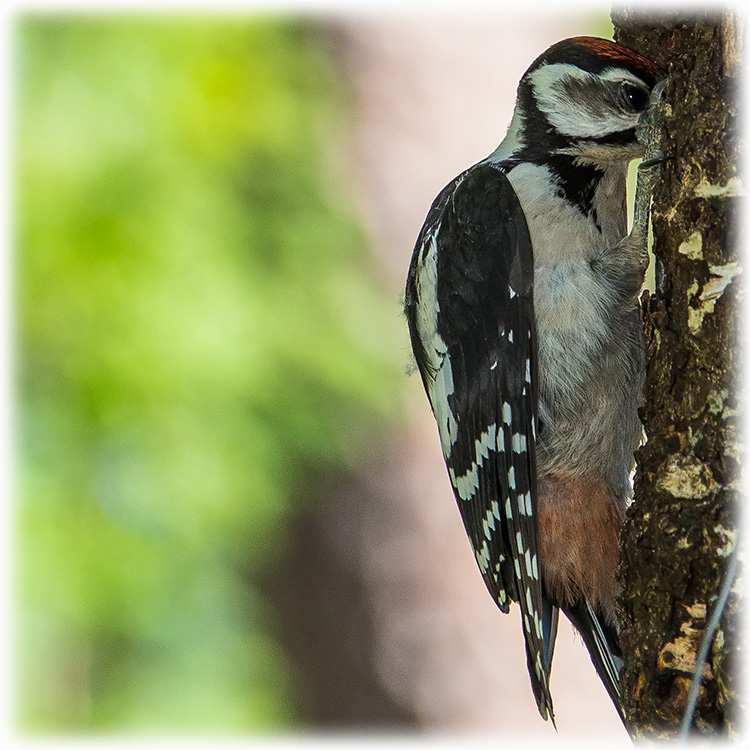 Great Spotted Woodpecker / Större hackspett
Listen to the Common Redstart / Rödstjärt
Remarks from the Recordist


A female jumping around with food in her mouth giving this sound all the tile. When I tried to imitate her sound by whistling she came closer. But not close enough for any good pictures


Female Common Redstart / Rödstjärt


I spot a Common Redstart, a female with her bill full of food. And I managed to make a sound recording with my ZOOM H5 Handy recorder. So two new sound recordings today. So i was happy when I went for dinner. They asked where I wanted to spend the night. I told them that I wanted to see a wolf and a wolverine.

It was decided that I should go to a hide in an area they called "The Lake" so I understood that the hide was at a lake. So we left in the van and I was soon setting up my stuff in a hide overlooking a small lake.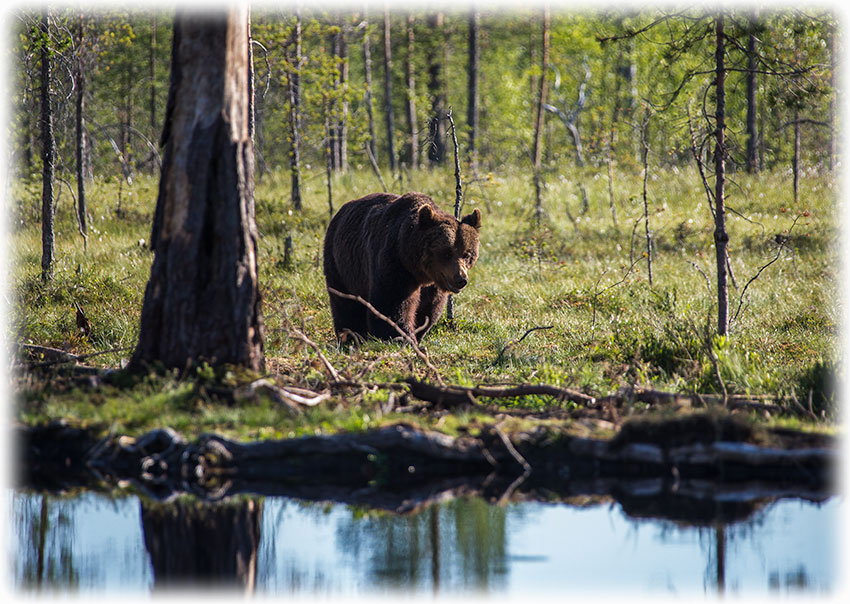 Bear #1 is arriving
Common Gull / Fiskmås

The lake was a beautiful area, but it was very hot. I spotted a few bears and there were gulls. So I was happy with the evening and I studied more about the different gulls. I looked up from the phone, DARN! There was a wolverine and I threw away my phone.

I stuck out my camera through one of the holes in the hide to try to get some pictures. The Wolverine was much smaller than I had expected. The Wolverine approached the lake and the sun was against the hide as it had been since I came to the hide so taking pictures have not been easy against the sun.


My first ever Wolverine
Lesser Black-backed Gull / Silltrut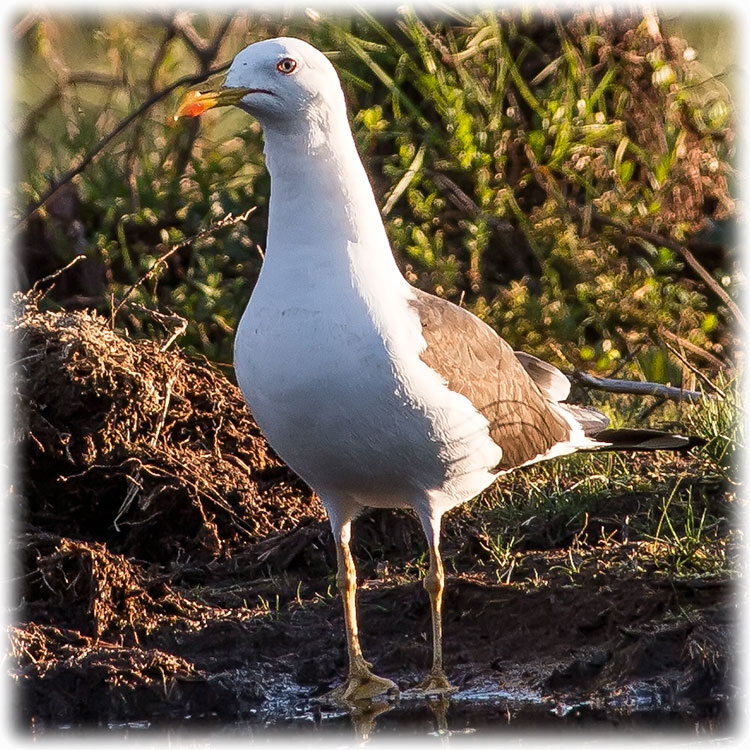 Lesser Black-backed Gull / Silltrut
Lesser Black-backed Gull / Silltrut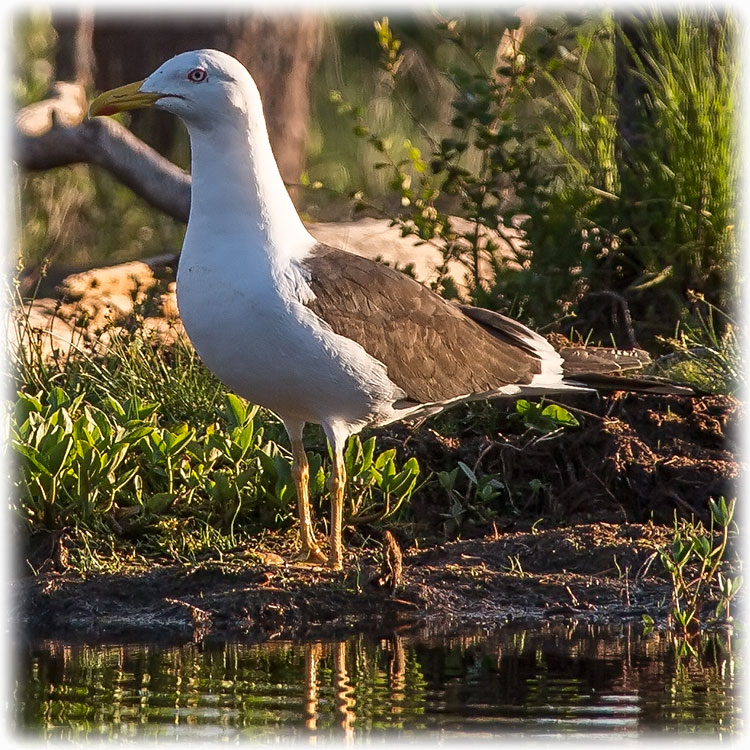 Lesser Black-backed Gull / Silltrut
Looking out my hide
Looking out my hide
My "cozy" hide


Later on in the evening and I could hear the Raven again. It was a fantastic experience to sit there alone in the quiet wilderness when this sound suddenly started. Pling pling pling in the middle of the wilderness and of course, I wondered what it was.



Listen to the Northern Raven / Korp




Remarks from the Recordist


Recorded with my ZOOM H5 Handy Recorder. High pass filter in Audacity

Sitting alone in the middle of nowhere looking for brown bears. Suddenly I hear this sound. Sounded like a machine or an UFO in the middle of the forest.





Common Raven / Korp
Scratching the back

I managed to stay awake until midnight, or around there. By then it was getting a little dark. So I went to bed and I was happy to have seen the wolverine. Now I only miss the wolf and I only have one more day so click HERE to find out if I see any wolf tomorrow.


Visit Alternativ för Sverige's You Tube channel by clicking HERE
If you cannot reach their channel, or see some of their videos, it is because of the censorship. China!!?? NO NO, it is Sweden 2018!!
OK, it has come to my knowledge that we have senior citizens visiting my web page. How hard can it
be? So it's not very easy for them to see the blue coloured links to the next page.

Jiffy (also jiff)


noun [in SING.] informal a moment: we'll be back in a jiffy.

ORIGIN late 18th cent.: of unknown origin.

So as you understand, in a jiff pretty much depends on your internet.

So I put a "Next" button here and I hope that there isn't any problem to understand how to use that one. So just CLICK the "Next" button on your left hand side and you will be on the next page in a jiff!
Marunong ka mag-tagalog? Walang problema! Magpunta sa kabilang pahina pindutin ang "NEXT" button sa itaas


Faites vous parlez le français? Pas de problème! Pour arriver à la page suivante faites s'il vous plaît un déclic le bouton "Next" ci-dessus!


Haga usted dice el español? No hay problema! Ver la siguiente página sólo hacer clic el botón "Next" encima!


Farla parla l'italiano? Non problemi! Per vedere la prossima pagina lo scatto per favore giusto Il bottone "Next" sopra


Sprechen sie Deutsch! Kein problem! Wenn Sie die folgende Seite sehen wollen gerade klicken der Knopf "Next" oben!


คุณพูดภาษาไทยได้ไหม ไม่มีปัญหา ถ้าคุณต้องการไปหน้าถัดไป ให้กดปุ่ม "Next" ข้างบนนี้


Вы говорите по-русски? Просто нажмите синюю кнопку "Next" с левой стороны и Вы моментально переместитесь на следующую страницу!


E ni Svenskar och inte förstår Engelska så ska ni skämmas. J och Björn, med det menar jag inte att alla mina stavfel ska ältas varje gång vi träffas.


Well, the flag of Skåne, just a BONUS flag.
You are visitor no.