Friday 13th of July 2018 and it is time to go to look for bears in Finland. I left River MOTELL & Vandrarhem and I stopped to buy breakfast at 7 Eleven before crossing the bridge over Torne älv and the border to Finland. I will stop in the border town Tornio to fill up diesel in the car.



Brown Bear (Ursus arctos)


The Brown Bear (Ursus arctos) is a bear that is found across much of northern Eurasia and North America. It is one of the largest living terrestrial members of the order Carnivora, rivaled in size only by its closest relative, the polar bear (Ursus maritimus), which is much less variable in size and slightly larger on average.

The brown bear's principal range includes parts of Russia, Central Asia, China, Canada, the United States (mostly Alaska), Scandinavia, and the Carpathian region (especially Romania), Anatolia, and Caucasus. The brown bear is recognized as a national and state animal in several European countries.

While the brown bear's range has shrunk and it has faced local extinctions, it remains listed as a least concern species by the International Union for Conservation of Nature (IUCN) with a total population of approximately 200,000.

As of 2012, this and the American black bear are the only bear species not classified as threatened by the IUCN. However, the Californian, North African and Mexican subspecies were hunted to extinction in the nineteenth and early twentieth centuries and many of the southern Asian subspecies are highly endangered.

One of the smaller-bodied subspecies, the Himalayan brown bear, is critically endangered, occupying only 2% of its former range and threatened by uncontrolled poaching for its parts. The Marsican brown bear, one of several currently isolated populations of the main Eurasian brown bear population, in central Italy is believed to have a population of just 30 to 40 bears.



Conservation status

IUCN Red List

of Threatened Species. IUCN. 2017: e.T41688A114261661. Retrieved 13 July 2017.



Distribution and habitat
Brown bears were once native to much of Asia, some parts of the Atlas Mountains of Africa and perhaps most of Europe and North America, but are now extinct in some areas and their populations have greatly decreased in other areas. There are approximately 200,000 brown bears left in the world.

The largest populations are in Russia with 120,000, the United States with 32,500, Canada with around 25,000 and Romania with around 5,000. The brown bear currently occurs in the countries of Afghanistan, Albania, Andorra (recently reoccupied), Armenia, Azerbaijan, Belarus, Bhutan (possibly extinct), Bosnia and Herzegovina, Bulgaria, Canada, China, Croatia, Czech Republic (possibly only vagrants), Estonia, Finland, France, Georgia, Greece, India, Iran, Iraq, Italy, Japan, Kazakhstan, Kyrgyzstan, Latvia (extinct before World War II; possibly vagrants from Estonia or Russia after World War II), Republic of Macedonia, Mongolia, Montenegro, Nepal, North Korea, Norway, Pakistan, Poland, Romania, Russia, Serbia, Slovakia, Slovenia, Spain, Sweden, Tajikistan, Turkey, Turkmenistan, Ukraine, the United States and Uzbekistan.


Geographic distribution of Brown Bear (Ursus arctos).



From Wikipedia, the free encyclopedia



Nu e d dags för val igen. Inte vill vi väl rösta på dom som styrt dom senaste 20 åren. Sverige är bara skit och allt bra kommer från utlandet! Det är Svenskarna som ska integreras i det nya Sverige! Beställ valsedlar nu!! Vi måste få ett slut på eländet! Valsedlar kan beställas HÄR


Crossing the border to Finland


I cross the border and I start looking for a service station so I can buy diesel. The diesel is a wee bit more expensive in Finland as the Swedish Scooby Doo currency have dropped against the Euro. But I want to spend as little as possible in Sweden as the government mismanage the tax money. And diesel, well, the price is mostly tax and I hope they manage the tax money better than they do in Sweden.

I always look where stuff are made when I buy stuff, Made in Sweden first and then EU, Japan, Australia and USA. But I have stopped with this practice. And I bought medicine a while ago. They gave me 2 boxes, one made in Sweden and one made in some other country. And I told the lady that I bought the medicine made in some other country.

I paid for the diesel and I bought some sandwiches for my picnic lunch and I left Tornio and I was hauling arse on the highway leaving Tornio.


Cruising the roads of Finland towards Wild Brown Bears in Kuhmo
Cruising the roads of Finland towards Wild Brown Bears in Kuhmo
Cruising the roads of Finland towards Wild Brown Bears in Kuhmo
I try to sleep


The road was nice, #E8 until I reached Oulu where I had to leave the highway to get straight to the east towards the Russian border and Kuhmo. Approaching Oulu and the whole area seemed to be a huge road construction area. So I had to do a lot of D-tours in Oulu before I was on road #22 to Kuhmo. Good road and not much traffic so I was hauling arse.

I saw many birds of prays, waders with babies walking along the road. But, yeah, you know it, by the time I had put the car in reverse the birds was gone. And I was getting very tired 45 minutes from Wild Brown Bears in Kuhmo. I drove in to the forest and I made a flatbed out of the driver seat, but I gave up trying to get some sleep after 10 minutes and I continued toward Kuhmo.


Towards the Russian border
I have found the place
Gravel road the last stretch
I reach Wild Brown Bear
I park the car at Wild Brown Bear

I reach Wild Brown Bear - Kuhmo, Finland and I guy come to greet me. He show me around and I get my room. 3 beds in my room, but I have paid extra to have my own room so there is plenty space for me. Breakfast at 7 thirty when we're back from the hides and we have dinner at 16:00. At 17:00 we leave for the hides and we will sit in our hides until 07:00.

He had told me that there is a minimart at the Russian border and as I need some snacks to bring to the hide I got back in to my car. I took off to the border and there was a restaurant with a minimart a few hundred meters before the Russian border.


Approaching the Russian border
Approaching the Russian border
Russian border
Russian border
I turn around at the border
I stop at the minimart


I bought water and 3 chocolate bars, can come in handy in the bear hide. I left the place memorizing the address if I need to come back here again for more snacks. I drive back to Wild Brown Bear and I go to spend an hour in my room before I go to look for birds. It was 16 thirty and dinner was between 4 and 5 o'clock.

They came to tell me it was dinner time and I told him that I only needed 10 minutes. I had a Barn Swallow sitting in a tree just 2 meters above me. And to see a Barn Swallow at this short distance is very uncommon. hey are usually very scared, but this bird just sat there, almost like she/ he was liking to be photographed.


Barn Swallow / Ladusvala
Barn Swallow / Ladusvala
Barn Swallow / Ladusvala
Barn Swallow / Ladusvala
Barn Swallow / Ladusvala
Barn Swallow / Ladusvala
Barn Swallow / Ladusvala
Barn Swallow / Ladusvala
Barn Swallow / Ladusvala


I got a few pictures of the Barn Swallow that I was happy with and I went to have dinner. I don't know what I had expected for dinner here in the middle of the forest, but I was more than pleased with the food. We were 5 people going to the hides today, me and another Swede, a guy from France, a girl from Indonesia living in Switzerland and a British guy living in Finland.

They had packed backpacks for us with snacks and we took our back packs and we left for the hides. We walked through the forest and over some wetlands to the hides. I will have a hide overlooking a small lake.


Time to leave for the hides
Walking to the hides
Walking to the hides
Walking to the hides
Walking to the hides
Walking to the hides
Walking to the hides
I reach my hide
This is where I will spend the night
This is where I will spend the night
The view from the hide
The view from the hide
Map over the different hides - Click HERE for full size

I sit in hide #3


The hide was not big, 2 chairs and two bunks with a sleeping bag. I took my seat and it was very hot with the sun pounding the hide. I prepare my camera and I sit in the chair looking out over the lake. My first time ever in a bear hide and I was excited. And I could soon see a bear coming towards the lake.

I big bear walking along the edge of the lake and I got a good view of the very beautiful bear, my first brown bear ever and I was impressed by the sight.


My first brown bear ever
My first brown bear ever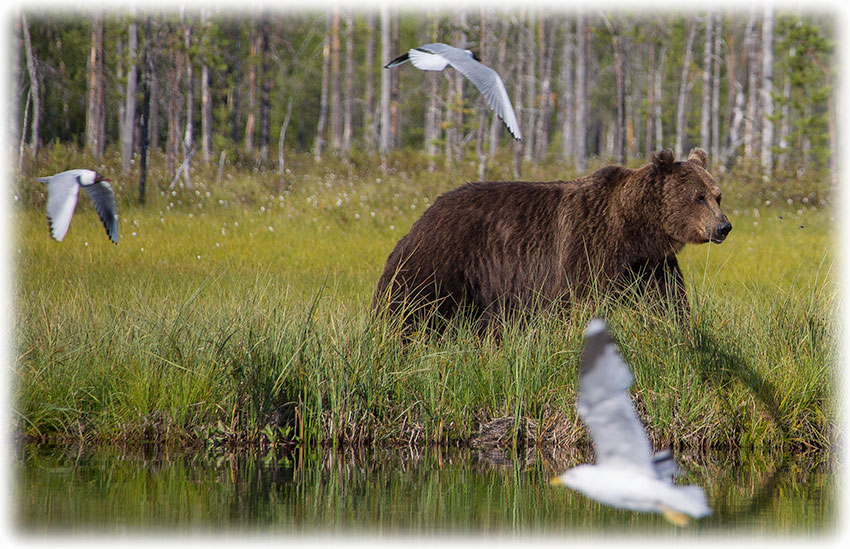 Second bear walk pass the lake - A small bear

I saw at least two different bears, the first and the third bear might have been the same bear. I felt asleep around 10 o'clock and I was happy with the evening. I hope to wake up early if there will be any more animals to see from the hide before I walk back to the breakfast. Click HERE to find out if I see any more exciting wildlife tomorrow.


Visit Alternativ för Sverige's You Tube channel by clicking HERE
If you cannot reach their channel, or see some of their videos, it is because of the censorship. China!!?? NO NO, it is Sweden 2018!!
OK, it has come to my knowledge that we have senior citizens visiting my web page. How hard can it
be? So it's not very easy for them to see the blue coloured links to the next page.

Jiffy (also jiff)


noun [in SING.] informal a moment: we'll be back in a jiffy.

ORIGIN late 18th cent.: of unknown origin.

So as you understand, in a jiff pretty much depends on your internet.

So I put a "Next" button here and I hope that there isn't any problem to understand how to use that one. So just CLICK the "Next" button on your left hand side and you will be on the next page in a jiff!
Marunong ka mag-tagalog? Walang problema! Magpunta sa kabilang pahina pindutin ang "NEXT" button sa itaas


Faites vous parlez le français? Pas de problème! Pour arriver à la page suivante faites s'il vous plaît un déclic le bouton "Next" ci-dessus!


Haga usted dice el español? No hay problema! Ver la siguiente página sólo hacer clic el botón "Next" encima!


Farla parla l'italiano? Non problemi! Per vedere la prossima pagina lo scatto per favore giusto Il bottone "Next" sopra


Sprechen sie Deutsch! Kein problem! Wenn Sie die folgende Seite sehen wollen gerade klicken der Knopf "Next" oben!


คุณพูดภาษาไทยได้ไหม ไม่มีปัญหา ถ้าคุณต้องการไปหน้าถัดไป ให้กดปุ่ม "Next" ข้างบนนี้


Вы говорите по-русски? Просто нажмите синюю кнопку "Next" с левой стороны и Вы моментально переместитесь на следующую страницу!


E ni Svenskar och inte förstår Engelska så ska ni skämmas. J och Björn, med det menar jag inte att alla mina stavfel ska ältas varje gång vi träffas.


Well, the flag of Skåne, just a BONUS flag.
You are visitor no.
To www.aladdin.st since December 2005
Visitors from different countries since 26th of September 2011