Wednesday 13rd of September 2017 and I'm off to Borneo. I was bored to death after less than one day in Bangkok. I was looking for snorkelling places in Malaysia. I can do some snorkelling in Thailand, but as I don't fancy swimming in garbage I will go to Malaysia. One of the places that was mentioned was Kota Kinabalu. I checked out the place and I discovered that the place was on Borneo. And Borneo is famous for the Orangutans, even though they are almost extinct.



Then I can as well take the opportunity to go look for Orangutans and birds at Tabin Nature Reserve. And then I can as well go for some bird watching at Mount Kinabalu. Well, it is not easy to put together the itinerary, especially as I need to be back for my flight to Fiji.

Well, we will see what I can put together. The two first days at home was not very good. Well, I got started with the boxing, but I was meeting friends for dinners and lunches and this was not
doing any good for my diet. I must continue with my diet. People in the shops said that they had not seen me for a long time AND YOU HAVE LOST WEIGHT! So I was very pepped by this, determined to keep up the good work.

Thursday night and we went on a quiz night at a British pub, The Pickled Liver. My friends was having beers and drinks but I only had 2 cups of tea and 2 soda waters.


Sukhumvit Soi 7/1
Pickled Liver on Sukhumvit Soi 7/1
Quiz night at the Pickled Liver on Sukhumvit Soi 7/1
Quiz night and I'm the only one drinking tea


Friday morning and it was time for Thai boxing with ปีศาจแดง ก.กุมานนท์, Red Devil. I took a taxi to Chaiyasit Muay Thai Gym and it was nice to be back in the gym. And I need every hour, especially as I will have to go eat dinner with my friend tonight. I bought a cubic ton of fresh fruit at MAX Valu before taking a taxi back to Sukhumvit Soi 23.


Fruit salad
Fruit salad


I realised that I might have bought too much fruit, no chance I can finish the fruit before taking off to Borneo, but I changed the departure to Wednesday so I will be able to finish both my fruit and tuna salad. Original plan was to leave on Tuesday to get 3 days of birding at Mount Kinabalu. But this company was, well, I decided not to go with this Guide. And I never replied to his last e-mail. It only said:


Yes, ok

Ck

So, of course, I will not have anything to do with him. So I cut my Borneo trip a little short and I can spend a few more days at Chaiyasit Muay Thai Gym with ปีศาจแดง ก.กุมานนท์, Red Devil for some Muay Thai exercises before taking off to Tonga.


At Chaiyasit Muay Thai Gym
Dinner


Dinner with friends every night and this is not helping me finish my fruit salad before I take off. And I have not had any time to do any birding. Sunday and I decided to go when I was ready at
Chaiyasit Muay Thai Gym in the morning, or well around lunch time.

Bird life is taking off again in the afternoon, my experience tells me that the bird go to take a rest around 11 or so and then they come out again in the afternoon. So I will
take a taxi to Suan Rot Fai at 2 o'clock. I was just about to take off when I heard a big bang. Thunder and lightning and the sky opened up. The rain poured down over Bangkok.

DARN! Was I lucky or what? I never got away and I skipped my birding tour to Suan Rot Fai. Sukhumvit Soi 23 was flooded, imagine if I had been in the park walking around with my camera.

Monday and they will come to work in my bathroom so no birding in Bangkok before taking off to Borneo. But I might have the chance when I'm back from Borneo.

This is of course depending on the weather, in the middle of the rain season and there is chance for showers. And I have had enough water in my camera and lens while bird watching to last me for a life time.


Sunday at Chaiyasit Muay Thai Gym
Flooding
Flooding
Flooding


Reason to go to Borneo was originally because I need some practice with my FANTASEA wet wide lens before going to Tonga. I used the wide lens on Bali. But only on my firs snorkelling. I was not very happy so I didn't used it again. During my swim with the turtles in Malaysia I realised that I need the wide angle lens. Especially with the huge humpback whales on Tonga.

Coming close to the humpback whales and you won't get much of the whale on the picture without the wide angle lens. I went to the pool for some practice and I was kind of happy. And I have one more practice session when I get to Borneo. Then it will be the real thing.


Our hero
Without the wide angle lens
With the wide angle lens

AOT Limousine is booked for 8 o'clock and I was on my balcony 20 minutes before 8 to look for the car. No sign off the car, but I saw the car arriving when I left my balcony. I grabbed my
garbage and luggage and I left my room. Suvarnabhumi International next. Kind of heave traffic to start with, but the road cleared up and we were at Suvarnabhumi at 9 o'clock. Or just before 9 o'clock.

Check-in was pretty quick and the security and immigration was almost as quick. The girl at the check-in told me that the seat next to me was empty so I was in a good mood arriving to the security check. Well, at least until they told me to take off my shoes.


New adventures ahead
Check in to Malaysia Airlines MH 0785 and MH2640
Will I live long enough?

Departure from gate D6 and the Miracle lounge was located just next to the gate, perfect! I gave my voucher to the girl in the reception and I started to enter the Miracle lounge.
- Your boarding pass?
- What?
I told them at check-in that I didn't needed the lounge voucher as I had my boarding pass.
- You must have the voucher!

I told the girl that we are generating too much garbage. She had envelopes for my boarding pass and a lot of other papers that I told her to keep. Yes, we know that we're killing ourselves. Alarming reports everyday on the news. About the plastic killing our oceans and when the oceans are dead, so are we as they generate the oxygen we need. Yes, the trees and plants generates oxygen as well. But the oceans are the most important when it comes to taking care of greenhouse gases. Well, I will soon be dead so let's go with the flag at the top.

Anyway, alarm every day and you might think that we should reduce our use of plastic. I don't think so. It is quite a new service with the plastic wrappings on our luggage at the airports. Some years ago you never saw this service, now it is everywhere. Wrapping you bags in one kilo of plastic. And how many bags per day around the world. With the plastic straws, totally unnecessary and should be banned.

Anyway, entering the Miracle lounge and the girl in the reception gave me a full tour. I had a breakfast, sausages and home fried potatoes before I went to visit the Bamboo garden. I asked about Pepsi MAX, but only Coca Cola, what a disappointment


Thooomaaas, nu missar du ditt "speciella" Pepsi MAX äventyr, men min hälsa är viktigare!


Well, Malaysia and I know it will be next to impossible to find any Pepsi MAX. I had looked around for a box of Pepsi MAX but I failed to find any small bottles. So I had to buy big bottles and I prepared a box, but when it was time to leave I decided to leave the Pepsi MAX home. Drinking Pepsi MAX all night long.

No sleep, up to the bathroom once per hour and I will be dead tired when it is time for my very early morning birding tour in Tabin Wildlife reserve. So no Pepsi MAX during this trip!


Miracle Lounge
Bamboo Garden at the Miracle Lounge
Bamboo Garden at the Miracle Lounge
Bamboo Garden at the Miracle Lounge
Bamboo Garden at the Miracle Lounge


It was just a few meters from the Miracle Lounge to gate D6. But they had not started to boarding so I had to wait for a few minutes. It was not a big aircraft, just a small Boeing 737 and the seat was not as WIDE as I had expected. Well, it is a short flight and I was happy that the seat next to me was empty.

We took off and it was kind of a bumpy ride due to turbulence, but I managed to keep my tea mugs without spilling. The food was OK and I killed time watching TV series on the entertainment centre. So time passed quite quickly and I was happy when we landed in Kuala Lumpur.


Malaysia Airlines aircraft
Gate D6
Malaysia Airlines aircraft
Boarding Malaysia Airlines flight MH 785
Boarding Malaysia Airlines flight MH 785
Boarding Malaysia Airlines flight MH 785
Time to take off towards Kuala Lumpur
Time to take off towards Kuala Lumpur
Lunch


Well well, Malaysian Airlines. They say they have trouble filling their flights after the two world famous incidents. But how old was the airplane? The safety belt was very worn. The price was for business class, but it was more like the economy plus standard. I was looking forward to relaxing in the lounge at Kuala Lumpur International Airport.

They made kind of a big deal about their lounges, THREE of them at Kuala Lumpur International. And they showed nice pictures of food, good food in nice surroundings. Well, the lounge was closed at the domestic terminal. They had moved the lounge so we had to sit in the terminal. Needless to say I left again after having a look around. I just looked for something to drink, nothing but coffee in paper mugs. I went to look for a place to buy a drink.

AC, it was darn hot in the terminal and it was very nice when we could finally board flight MH 2640 bound for Kota Kinabalu on Borneo.

I felt a sleep and I woke up when they brought my second lunch for today. The food was OK but I could not drink tea as they didn't served hot drinks due to turbulence. Again, I killed time looking at TV series on the video screen in the back of the seat in front of me. 2 and a half hour after departure and we landed at Kota Kinabalu International.


On board Malaysia Airlines flight MH 2640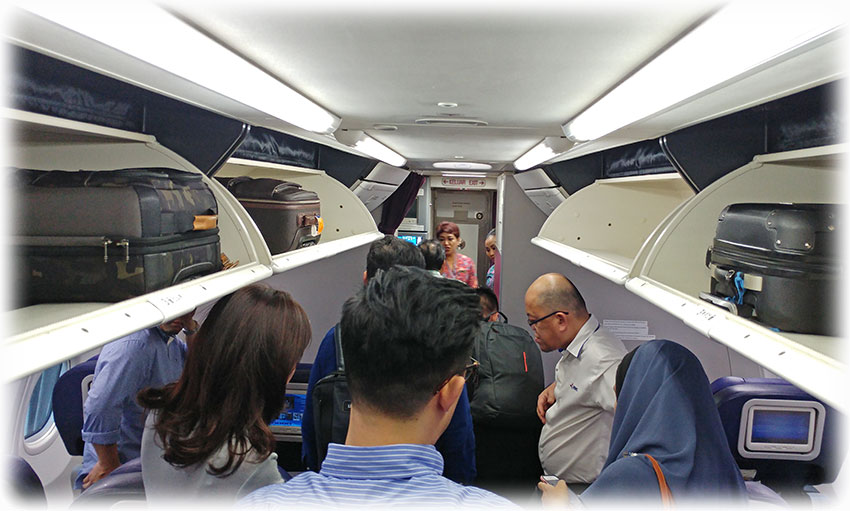 Arriving to Kota Kinabalu
Taxi at Kota Kinabalu International Airport


I had to pass immigration again as Borneo is a special area of Malaysia, through the custom and then I went to a AIRPORT TAXI stand after have been looking for a place to buy a Celcom sim card. They told me that I could find a sim card in the city. I paid 30 Ringgits for the trip to the Ming Garden Hotel and Residences.

Checking in and I went to my room, I could not open the door and I called the reception from a phone outside the elevator. They sent a guy and they had given me the wrong room. We trotted away, far away. I was happy with the first room, just next to the elevator. But I was very happy with my new room. 2 bed room and a living room. Kitchen and two bathrooms. A perfect place for a headquarter if I decide to come back for more birding. This time I will not make any tea in my room this time.

But I have noted this hotel on a mental note. I have also checked the price for taxi, 40 Ringits per hour if I want to go birding. This time there won't be any time, looks like my friend have booked a whale watching tour for the 21st of september, the day after I come back home to Bangkok.


My room - kitchen
My room
Bathroom
Bathroom #2
Bed room #2
My bedroom


I took a taxi from the hotel to the new (and biggest shopping mall in Kota Kinabalu) shopping mall across the highway from the hotel. The shopping mall is called IMAGO Shopping Mall. Celcom, I needed my passport to buy a sim card. And, well, then I had to go back to the hotel and back here again. So I decided to use my M1 card from Singapore

I had seen posters with ribs while walking through the IMAGO Shopping Mall. It looked very good and I got hungry and I started to look around for Morganfield's. It was not easy to find and I had to go out. There was a stretch with several restaurants and I found Morganfield's. I stepped inside and the waitress wanted me to take a seat among the other guests. I wanted to sit alone, but she told me that this section was closed.

I said that I didn't want to sit with all the other people and I sat down and I was alone and I could enjoy myself with the ribs. The food was good, I could not finish the food as I was full. But I went to look for a place to buy a milk shake before going back to the hotel.


Food street
Time for dinner
I found a Baskin Robbins

I asked for a 5 thirty wake-up call when I came back to the hotel and the bird watching adventure can start tomorrow. I was very full after the ribs and two milkshakes. And from now on it will not be any more ice cream and unhealthy food. Healthy living and bird watching only. But you will soon find out exactly what birds I see. And I learned that they call the Orangutans for Nederlands around here. They looks like people from Holland as they told me.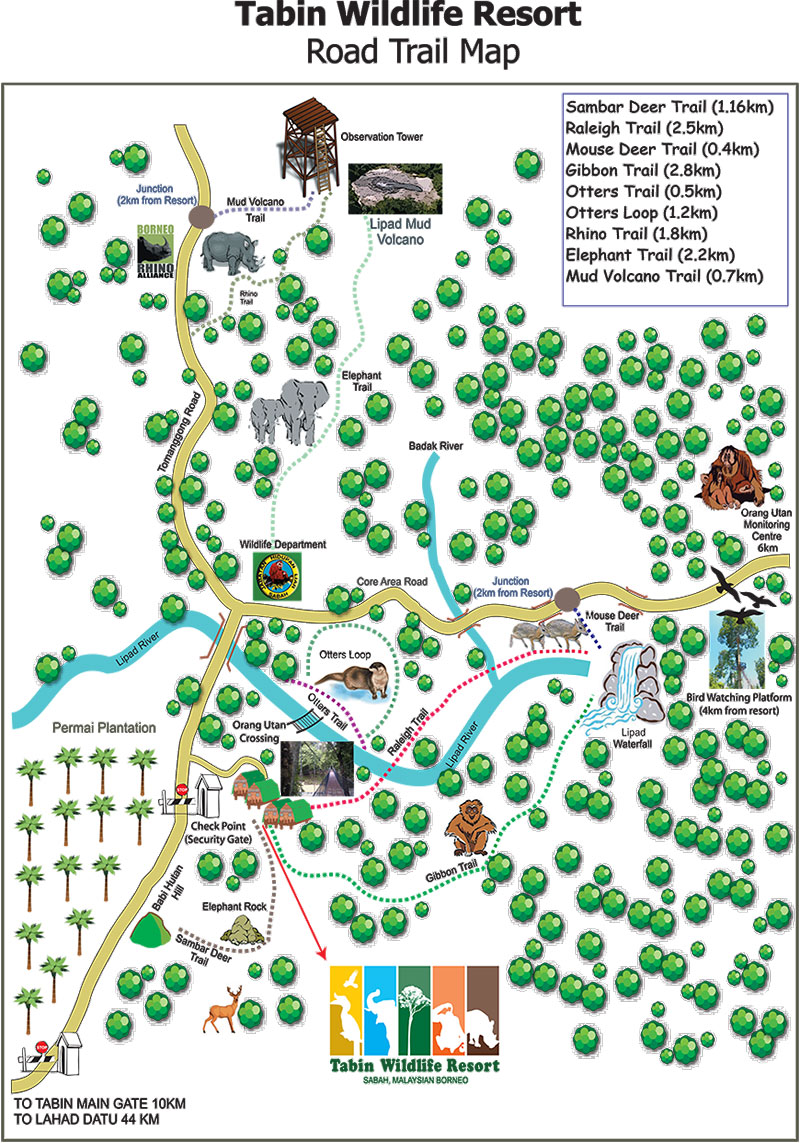 Click HERE for full size PDF file

Du Thooomaaaas, klicka inte på linken med ditt sura internet


OK, the adventure on Borneo can start, and I'm pretty excited, and I quote: "along the Core Road where you will most likely be able to spot one or more of Borneo's eight species of hornbill such as the Black, White-crowned, Rhinoceros, Wreathed, Oriental Pied, Bushy Crested, Helmeted and Wrinkled Hornbill either flying in groups across the sky or in pairs perching on bare branches"

But before leaving for Tabin tomorrow afternoon with MASwings Flight MH3018 I will do a early morning bird watching tour to Tanjung Aru Beach/ Prince Philip Park to have a look for the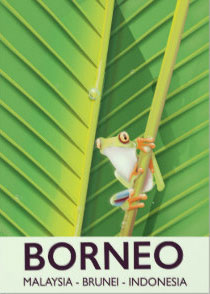 blue-naped parrot, Brown Throated Sunbird and the endemic Dusky Munia.

So this promise to be exciting, early morning birding in Kota Kinabalu.

Of course, I would have liked to add the extra days for birding at the Mount Kinabalu. But I need to be back home for my trip to Tonga.
Hmm, if I find a good Guide I can always change my ticket back home. Anyway, the exciting DAY TO DAY schedule for Borneo below:

13 September 2017 - Flying to Kota Kinabalu

14 September 2017 - Bird watching in Kota Kinabalu

14 September 2017 - Flying to Lahad Datu, and by car to Tabin Wildlife Resort

15 September 2017 - Bird watching in Tabin, of course, I keep my eyes out for orangutans

16 September 2017 - Bird watching in Tabin, of course, I keep my eyes out for orangutans

17 September 2017 - Bird watching in Tabin, of course, I keep my eyes out for orangutans

18 September 2017 - Bird watching in Tabin, of course, I keep my eyes out for orangutans

18 September 2017 - Flying back to Kota Kinabalu

19 September 2017 - Snorkelling day trip - Underwater camera training, preparing for the BIG humpback adventure

19 September 2017 - Bird watching at Kota Kinabalu Wetland Centre

20 September 2017 - Bird watching in Kota Kinabalu - Tanjung Aru Beach, Prince Philip Park

20 September 2017 - Flying back home to Bangkok


OK, it has come to my knowledge that we have senior citizens visiting my web page. How hard can it
be? So it's not very easy for them to see the blue coloured links to the next page.

Jiffy (also jiff)


noun [in SING.] informal a moment: we'll be back in a jiffy.

ORIGIN late 18th cent.: of unknown origin.

So as you understand, in a jiff pretty much depends on your internet.

So I put a "Next" button here and I hope that there isn't any problem to understand how to use that one. So just CLICK the "Next" button on your left hand side and you will be on the next page in a jiff!
Marunong ka mag-tagalog? Walang problema! Magpunta sa kabilang pahina pindutin ang "NEXT" button sa itaas


Faites vous parlez le français? Pas de problème! Pour arriver à la page suivante faites s'il vous plaît un déclic le bouton "Next" ci-dessus!


Haga usted dice el español? No hay problema! Ver la siguiente página sólo hacer clic el botón "Next" encima!


Farla parla l'italiano? Non problemi! Per vedere la prossima pagina lo scatto per favore giusto Il bottone "Next" sopra


Sprechen sie Deutsch! Kein problem! Wenn Sie die folgende Seite sehen wollen gerade klicken der Knopf "Next" oben!


คุณพูดภาษาไทยได้ไหม ไม่มีปัญหา ถ้าคุณต้องการไปหน้าถัดไป ให้กดปุ่ม "Next" ข้างบนนี้


Вы говорите по-русски? Просто нажмите синюю кнопку "Next" с левой стороны и Вы моментально переместитесь на следующую страницу!


E ni Svenskar och inte förstår Engelska så ska ni skämmas. J och Björn, med det menar jag inte att alla mina stavfel ska ältas varje gång vi träffas.


Well, the flag of Skåne, just a BONUS flag.
You are visitor no.
To www.aladdin.st since December 2005
Visitors from different countries since 26th of September 2011