Written onboard M/T Ek-Star September 2010
Bangkok October 1993
I just signed off M/T Bituma, and after 2 months onboard I had f@ck all in my valet. One day when I'm opening my door I discover a letter from the bank. My first thought:
- What the
?! Damn! Yet another demand note from my bank.
S
o imagine my joy when I'm opening the letter and I discover that it was a statement from an account I had opened 2 or 3 years ago. I had forgotten all about it and there were plenty money. I call my friend in Helsingborg.

- I won the lottery and I'm off to Bangkok

- Can I borrow money of you so I can join you?

- Niemas problemas Motherf@cker!

- I'm coming to Gothenburg.

This guy borrowed money from me and then I forgot all about it. And this a-hole calls me in the middle of the night to remind me a few months later.

- Hey a-hole! Why do you call me 3 o'clock in the morning?

- I owe you money.

- Don't f@cking call here 3 o'clock in the morning to remind me about 50$. Bjäbben gets very angry and I cannot talk with her for several days!

- It's more than 50$
I stood up in my bed.

- I'm gonna call my travel agent first thing tomorrow morning.

OK, well, anyway, back to september/ October 1993. I meet my friend at the train station in
Gothenburg and the first thing I noticed was that he had bought a weekend bag. Almost like
mine. We took a taxi to the airport. Motherf@cker, we were drunk before we reached the airport and I had my entertainment centre with me so it was music on full blast.

Changing flight in Amsterdam and we were soon on our way to Bangkok. We were tipsy and back then it was never any problem to fly. No
need to fly business class back then, just get drunk and you slept all the way.


We were enjoying ourselves with a few drinks while listening to Kal P Dal on my entertainment centre.

Well, that was until my friend spilt a glass of beer in my entertainment centre. The whole machine capsized and my friend took the machine to the toilet to try to flush out the bad things with fresh water. No success, surprised?

And back then, today it sounds unbelievable, there was a very good service on KLM. That's why I used to fly with them. I had the Gold card and, well, don't get me started about the darn KLM. But this was 1993 and KLM was the airline of my choice. The Steward arrived with a toolbox
so we
could repair the music machine.

I was in a good mood. We will soon have music again, I mean, I'm going with a Chief Engineer so this little "Ghetto Blaster" would be mended in a jiff. OK, I started to get worried when the "Ghetto Blaster" turned in to 10 pieces and when it was turned in to 20+ pieces I could not help myself.
- What the
are you doing?

Back then I always went straight from Don Muang to Lucky Luke and I usually arrived around mid day. I ordered a Mekong Namsom first thing, many times the girl
owing the bar and her brother had to make sure I got to my hotel. And they always took care of my luggage. And when they heard that I was drunk somewhere in the area, yes, everyone knew Aladdin, they came to pick me up.

So I and my friend took a taxi straight to Lucky Luke where we meet my friends. They were all busy writing post cards. Yes, post cards, when
did you get a post card last time?

I don't know if it was the jetlag or the 30 Mekong Namsom, but my friend got very
tired. He had left us 4 times leaving for Don Muang and Phuket. The people in the bar was relieved every time he left and when he came back the last time I took him across the street and I checked him in on Nana Hotel.

When I came back to Lucky Luke everyone was
really happy, now he was sleeping at the hotel and we ordered more Mekong Namsom. Motherf@cker, I had finished half my drink when the hotel Manager arrived on the scene. He demanded a talk with me.

- Blah-blah-bla! He has left the hotel without paying the bill.
- HEY! Easy now, he is a wee bit tired. I take care of everything tomorrow. Can I have a quiet drink now after my long flight? PLEASE!

we ran in to Norwegian guy that we know. A nice guy, but impossible
to understand what he is saying. And all the Norwegians say the same so it's next to impossible to understand him when you're from Skåne. But we had a good time and we spend the whole night at my room on Nana hotel drinking beer and listening to music. My entertainment centre capsized over South Europe when we came here. But the hotel provided us with a "Ghetto Blaster".

We went to see my friend in his room. we were not sure if he would be there, but he was sleeping.
- Where did you go? I asked.
- I went to the airport to get to Phuket, but there were no flights.
- Yes, the hotel manager came to see me. You had just left the hotel without paying
- I don't remember, I wanted to go to Phuket.
- What's the f@cking story with you and Phuket?

He is nagging about Phuket 24 Seven. He had been there 10 years ago and he felt in love with a
girl in a barber shop. He had not been there for 10 years and now he wanted to go see her.
- Fer f@ck's' sake, grow up!

Well, Lucky Luke was just across the street so we
moved over and we decided to stay one more night at Nana Hotel. Otherwise I had planned to move down to Hotel 27 on Sukhumvit Soi 22. I real shit hole, but I really liked this hotel.

I meet a guy from Finland at Lucky Luke. I had seen him there many times and now he was pissin' and moanin'. Obviously he had to get on a flight home tonight.
- I don't want to go!
- It's so boring in Finland.
- I wish I could stay!
- OK, enough already, I said and I took his ticket and put it in my mouth starting to chew.

- What the.......
- Do you want your ticket back?
It was hard to chew on the darn thing, but it didn't look like a ticket when he got it back. I thought he should be happy. Well, today there are no such things as plane ticket. Just to show your passport and you get your boarding pass.
Well, we moved to Hotel 27 and they recognised me instantly.
- Aladdin, you're back! Easy with the music!
- No worries, clotsy destroyed my "Ghetto Blaster" on the flight coming here.

We checked in and it a darn scabby hotel, so not strange that we had to be drunk
to be able
to sleep there. Believe me, this was not the hotel were you went for a good night's sleep sober. But it was fun, yes, I had very fun at this hotel. And you meet some characters at this place. And I even meet a guy I had been in school with when we were 10 years old.

Well, anyway, this hotel was not the place where you spent the afternoon chilling in your room. Check in and let's f@ck off out of here and let's not return until we're unconscious.
So we left and it was a 73 seconds walk up the Soi and we were on Sukhumvit Soi 22 where we
could get a taxi. Back then there was a Shakeys Pizza on the small square at Soi 12. Today it's a 7
Eleven. But I used to stop there on my way to Lucky Luke for a good morning (good afternoon) strawberry shake

Back then I always started my days at Lucky Luke,
darn, it was nice to be 20. When you woke up you knew that it would be fun in 30 minutes. A shower and 30 minutes later I was sitting with a Mekong Namsom at Lucky Luke and it was fun to party back then.

I spent every day at Lucky Luke, at least I started everyday there. My friend turned worse and worse and I suspect that his mentally wasn't strong enough for Bangkok. One day he just knocked on my door and he told me that he was leaving for the airport. He had changed his ticked and he returned
back to Sweden earlier than planned. OK, what I waste to lend him money, I could have stayed a couple of weeks extra in Bangkok. Well, never mind, first we had the fiasco in Norway and now this, I'm better off going alone in the future.

OK, the faux pas in Norway might have been my fault. But that was not how I saw it when he was knocking on my hotel door telling me that he was returning to Sweden.
- F@ck, you just made yourself a name in Bangkok and you're leaving.
Yes, my friend was walking around in dungarees with
short legs and where ever we went people were screaming BABY MAN after him. I can't help it
but I felt of my chair laughing when I was writing this thinking about us in Bangkok back in '93. Thai people are the way they are and they can be very straight forward, at least regarding certain things.

So where ever we came they just greeted him with a:
- Hello Mr. Baby Man!
And same with me:
- Hello Porky!
Well, anyway, changing your ticket to return to Sweden on an earlier flight, f@cking unheard of! OK, I have changed a lot of tickets in Bangkok, but always to stay longer. And I don't know how many "LAST NIGHTS" I have spent at Lucky Luke when I have let people talk me in to missing my flights.
Yes, we remember last time when I was going to Calcutta, how many flights did I miss back then? Many.

Night life in Bangkok back then, of course
NASA. They claimed to be Asia's
biggest disco. And back in 1993 that was, well, big for being 1993. The main feature was, I think at
midnight when they turned off the music. Then they played some famous SPACE song and there was a space ship coming out from the ceiling.

And, well, it was, hmm, mostly embarrassing. I was just waiting for
Balalaika or whatever the Russian space dog was named to come out from the space ship.

NASA closed at 1 or 2 o'clock in the morning.
Morning!!?? 1 o'clock is still in the
evening! well, anyway, much too early when you're 20.

And I don't understand why they could not be open to 6 o'clock because when they closed we
went down the basement. There were 2 clubs, one was Dynamite and I have forgotten the name of the other club.

I remember one morning, 6 or 7 o'clock when they closed NASA/ Dynamite and we didn't felt like going home to sleep. Of course, when did I felt like I wanted to return to Hotel 27.
- Siam Coffee shop, my friend suggested.
So we took 3 motorcycle taxis. Yes, back then I was still riding the motorcycle taxis. But it must have been 10 years ago since I was riding a motorcycle taxi last time.

Damn, there was a period when I could not walk around Bangkok without meeting people telling me about someone I knew that had been killed in a motorcycle accident. Darn dangerous and since the introduction of taxi meter this is my choice of transportation. No more hustle with taxi and motorcycle drivers.


And I remember when we arrived to Siam coffee shop, I had lost my hat and I offered the driver
500 Baht if he could find it for me. He returned 10 minutes later and he got the 500 Baht note.

Well, I have been 2 times at Siam coffee shop in my life and I never
had any fun so I will give this place a wide berth in the future. NASA was not the only disco in Bangkok, there was Red Label on Phetchaburi. And of course Peninsula Hotel, at Surawong Road. I think it was the name of the place. But it doesn't exist anymore, not the disco anyway, at least not last time I walked by.

Hog's breath, the owner wanted me to get married to their
niece and they had arranged it. I got letters sent to me in Sweden that she was
waiting for me. How the F did I end up in all this?

Luckily enough I never got married, but when I meet them they still talking about her when I meet them. Actually, I ran in to her Uncle in May 2010 when I was on my way to check out Little Isarn and the red Shirts at Chitlom in Bangkok. He called her and we changed a few words, I had not seen her New Year's Eve 2006.
And then I greeted her with snow spray and I have not seen her since and I'm still single.

OK, we went to see Phuket for a few days. And this was the last time I was at the shit place. I
just hate Phuket and October 1993 will go down my book as the last time I went there. Well, I went down there
in December 2006 to celebrate Mr. Baby Man's birthday. I took a flight, I stayed 2 days and it sounds unbelievable, but a shitty place back in 1993 had turned worse. Impossible you might think, but not.

My advice is: STAY WELL CLEAR OF PHUKET! I have not been there since 2006 and I will most likely never go back there.

Motherf@cker, I just realised that we spent a few days
on Phuket in 1994 when we escaped Ko Phangan. We took a taxi to Phuket and a flight to Bangkok. OK, but never again.

Well, where were we? On the way to Phuket and I'm always told that I asked for two beers when we boarded and I got 2 beers. Singha, but anyway.
- I never seen anyone getting 2 beers at boarding before.
- You got to have the looks!




And he goes on and on about this flight, even today,17 years later.
- When everyone was sitting down and we were taxing out you just stood up screaming to the flight attendant " Do you have any sex tourists onboard?"
- You're full of it!
- No, and all the Germans just sank down in their seats trying to hide.

Arriving to Phuket and we were soon running in to reason # 1, 2, 3, 4, 5 and 6 for never go to Phuket. The taxi drivers, going around Phuket is a pain in the behind.

Pattaya, has a very bad reputation, but if you want some beach action you're better off in
Pattaya. When I need some beach action I take a taxi from Bangkok. And sometimes I don't feel like staying and I just tell the driver to go have a fried rice and I call
him when I want to go back home. All the beach action
I want and I wake up in my own bed back in Bangkok.

We checked in at a hotel in Karon Beach and we took a taxi to Patong Beach and I was soon disgracefully drunk and when I stopped a taxi to get back I was convinced that I was in Bangkok.
- Take me to Hotel 27

- ?????
- F@ck! Everyone knows Hotel 27!

- ????? Never heard of this hotel before. where is it?
- Motherf@cker! Sukhumvit Soi 22! How hard can it be to find this darn hotel?

I woke up on a sofa in a hotel reception somewhere in Patong Beach. And when I got back to the bar we had been the day before they were just laughing. There was a British guy sitting next to us.
- Hell, yesterday you just knocked back a bottle of Mekong and you threw the bottle behind your back.
- Moi??!! I just arrived from the airport.

Yes, I think we stayed 2 nights before we
grew tired of the place. If I remember it right we changed our tickets and returned to Bangkok earlier.

On our flight back we ended up in the seats opposite from the s
eats where the stewardesses sat so I had a real cross-examination with them about the night life in Bangkok.
- At Thonglo you have a few good places.

So we went to check out Thong Lo when back in Bangkok and we ran in to the owner of the Lucky
Luke at the first places we got to. She was there with the other girls drinking whiskey.

And I also remember from Bangkok '93, and don't say
that I'm not a trend setter. Now 2010 I read in all magazines how the latest stuff for men are to have a hand bag.

Hell, I bought one in Bangkok 1993. I thought it would be convenient instead of a valet. Back then
they were laughing
at my handbag, but today it's the latest fashion.

It was very convenient with the handbag, snus
coffin nails and music cassettes. There were room for everything. But Of course, I never used it again. Can't say that this was an accessory I walked around with when I was
sober.

And I remember that I threw it away when we returned home 8 or 9 o'clock in the morning. It was outside Nana
Hotel and we had finished a few beers at Nana Hotel after they closed Thermae.

Well, Thermae doesn't exist anymore. I think they have built a SOFITEL on top of Thermae. And it must have
been 2009 when a construction crane felt down on Miami Hotel. Well, I think they closed Thermae
1997 or something like that so it has been taken a very long time to finish this new hotel.

It was, well, a special place. You entered the place through the toilet, went down the stairs to the kitchen and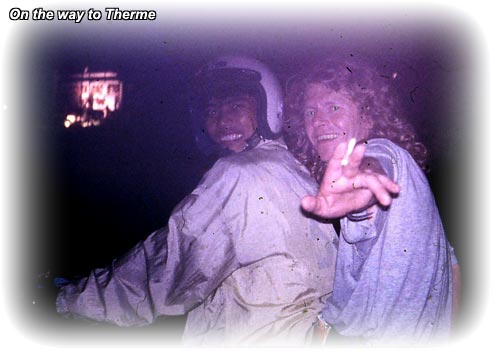 then one more stair and you were inside. At least I have never been to a place before nor after were you entering through the toilet.

And by the time we went to Thermae there were no thinking about how dangerous it was going by the motorcycle taxis. And most likely the drivers were as drunk as we were.

When you're out walking
in Bangkok you can see some of those drivers sitting and drinking all day long and when they get a passenger they just roars off and it's beyond comprehension how the passenger just goes along even
if it's quite obvious that the driver is
drunk.

Never mind when we were drunk, the
quicker the driver could reach Thermae the better. Every minute without a fresh drink in front of us was a wasted minute. So we were in a great
hurry so first best motorcycle had to do.

I remember one time waking up on a
sofa at Thermae. OK, sofa might be a bit too much to call it. A bench covered in some plastic looking like leather.

Well, anyway, I woke up and I saw the waiter coming towards me.

- What the
are you doing here? Are you working at my hotel as well?
He just laughed and I realised that I was still at
Thermae. OK, I'm better off going back to my hotel for some sleep.

I returned to Sweden, most likely on my second or third try to leave Bangkok. How fun is it to fly back to Sweden in October? Not very, but I had to go work again.

I arrived to Gothenburg in the morning and I was usually home an hour later. And of
course, we had time to check out the night life in Gothenburg before I left for my ship.


And I don't remember much from Oct/ Nov '93 in Gothenburg.

But when I checked my pictures I remember that we were visiting a friend in Frölunda and I also remember meeting a few guys from the Engineer class on Avenyn. Don't ask me about the name of the place, I have no clue. But I
remember that I meet them.

But I don't remember if this was the year they opened a new Irish pub on Kungsgatan. A very good place and we had a lot of fun there. And we meet a lot of fun people at the place. We spent, not every day, but many days at this Irish pub drinking beer.

So one day when we arrived to the pub we asked for t
he music. Music is a must when you drink beer, and of course, it should be good music.
- We have turned off the music. We will have a band
start playing in a few minutes.
- GREAT!
The band started to play, Irish music, and it was good for exactly 17 seconds. But they just went on and on so we left the place. Next time coming back and it was the same band playing and we turned around in the door. OK, seems like they have got an IN HOUSE band at the pub and I have never sat foot at the place again.


10th of November and I'm off to Karlshamn to join M/T Margaron, nice to get away for a while.
OK, it has come to my knowledge that we have senior citizens visiting my web page. How hard can it
be? So it's not very easy for them to see the blue coloured links to the next page. So

Jiffy (also jiff)


noun [in SING.] informal a moment: we'll be back in a jiffy.

ORIGIN late 18th cent.: of unknown origin.

So as you understand, in a jiff pretty much depends on your internet.

I put a "Next" button here and I hope that there isn't any problem to understand how to use that one.
So just CLICK the "Next" button on your left hand side and you will be on the next page in a jiff!
Marunong ka mag-tagalog? Walang problema! Magpunta sa kabilang pahina pindutin ang "NEXT" button sa itaas


Faites vous parlez le français? Pas de problème! Pour arriver à la page suivante faites s'il vous plaît un déclic le bouton "Next" ci-dessus!


Haga usted dice el español? No hay problema! Ver la siguiente página sólo hacer clic el botón "Next" encima!


Farla parla l'italiano? Non problemi! Per vedere la prossima pagina lo scatto per favore giusto Il bottone "Next" sopra


Sprechen sie Deutsch! Kein problem! Wenn Sie die folgende Seite sehen wollen gerade klicken der Knopf "Next" oben!


คุณพูดภาษาไทยได้ไหม ไม่มีปัญหา ถ้าคุณต้องการไปหน้าถัดไป ให้กดปุ่ม "Next" ข้างบนนี้



E ni Svenskar och inte förstår Engelska så ska ni skämmas. J och Björn, med det menar jag inte att alla mina stavfel ska ältas varje gång vi träffas.


Well, the flag of Skåne, just a BONUS flag.
You are visitor no.
To www.aladdin.st since December 2005
Visitors from different countries since 26th of September 2011