Written onboard M/T Ek-Star September 2010
Bangkok & Australia 1993
Back in Bangkok and what a disappointment. Back at Atlanta Hotel and Miss "Most beautiful in the world" didn't work at the hotel anymore. Well, this was my last time at this hotel. And I have only been back
once, several years later to eat with my friend. And I have not been there since.

Disappointment #2: I left a film for them to develop at a shop next to the gas stop between Soi 2 and 4. They had processed several slide films for me during the years. But this time they processed the slide as a film and my slides came back as f@cked up negatives. So please, bear this in mind when you're looking at the pictures. I meet a guy in Sydney that worked in a photo lab and he managed to save the slides. They are not good, but compared to the slides they returned to me in Bangkok they are perfect.

Well, anyway, I don't know if it was when I came back from Calcutta stopped at Joe Buckskin on the
way to my hotel. But according to my pictures we stopped somewhere and it looks like Joe Buckskin.

And after checking in on my hotel I was off to Lucky Luke. And then the second floor on Nana, back then it was Four Roses or something like that. Then it was Hog's breath, Hollywood, Farang Connection, Sexy Night and DC-10. In the corner was a place with lady boys and on the other side we had Woodstock.

I have not been there for 10 years so I have no idea how it looks today, but I knew for sure that Woodstock have moved. I meet the owner and his wife one day, I think it was at Robinson. They
told me that they had opened a new Woodstock Restaurant in the vicinity of Sukhumvit Road Soi 39.

And everyone knew Aladdin and they kept track of me, good, if I passed out in a
bar they came from Lucky Luke and picked me up.

I'm not proud of it, but it happened more than one time.
- OK, Aladdin, time to go home!

I also see on my pictures that we're drinking Amarit. Omelette as I said when I ordered Amarit. Amarit was the second best, or it was as good as Kloster and both of them is
gone by now. I have not seen Kloster or Amarit for many years by now. The best two beer brands disappeared leaving a lot of the shit behind, Singha, Leo, Chang and some other Scooby Doo brands.











I remember one morning when we left Thermae. We didn't want
to go sleep. We wanted more
beers, strange. So we continued to REX hotel. Located at Soi 34 if I remember it right.

We stepped I to the coffee shop between 7 or 8 in the morning. This was during some European Soccer championship. Or if it was the world champion ship, OK, it might have been anything regarding any sport event because there were plenty Thai people watching the big screen TV and drinking beer.

They must have arrived from the pub as well, because I doubt they started the day with
beers at the coffee shop at REX Hotel.

We ordered beers and we grew tired of the place so we
continued to our friend's room at the AA House on Soi 36.

I don't understand why I just didn't go back to my hotel. Staying up drinking
beer until midday even though it
stopped being fun at 4 o'clock in the morning. But of course, if you
go home there is always a chance that you will miss something fun.

I had my breakfast at my hotel every morning, well, more like late afternoon/ evening. If you go
to bed 10 o'clock in the morning you will have your breakfast in the late afternoon.

I don't remember much from the restaurant at Atlanta Hotel, but I remember one day when I was sitting there the waitress
passed me with the news papers. She dropped one on the floor and I brought it to her.

I could hear some giggling from around the corner and then I saw them throwing newspapers on the floor. Obviously thinking
that I would come rushing to pick them up.

Red Label, a place at Phetchaburi Road, we went there a
few times and I only brought my camera once. And of course, this was the slide film
they developed as negatives. Motherf@ckers!!!

But I remember my friend falling over a table.

- Hmm, or was it me? Most likely.
Well, no hard feelings, we were invited to join them at the table. Of course, only
foreigners at the place so there were a fight to
get us to the table.

Washington Square, there was a cinema back in the days.
I don't remember if the closed the cinema and opened a disco or if there was both a cinema and a disco. But I know that both the disco and cinema is gone today. Now there are busloads with tourist going to watch the lady boy show. At least it used to be up until 2007.

I always saw these busses come when I was on my
evening constitutional
between Soi 23 and Ekamai.

Never mind, 1993, there was a disco and we went to check out the place. And it was, well, I can't remember that we went back a second time.

The only place I visited at Washington Square was
Texas Lone Star and that was maybe 10 times tops. Washington Square was not fun at all and I have not been there for a very long time now.

We went to the place with 2 sisters, but I have no clue
where we meet them or who they were. But I remember one of them, she had never been drinking beer before and she got so
drunk that she had to go home.

I even think she started to cry. Yes, you know the type, after 2 beers.

- No one likes me.
- OK, time is running, I'm out of here!


And as usually we ended up at Thermae and I meet 2 guys from Australia.


Of course, we didn't want to go sleep when Thermae closed so we decided to go for a few drinks
at their swimming pool on Sukhumvit Soi 1.

It was 8 o'clock in the morning so we had to make a
quick stop at Foodland on Soi 5 for Mekong and orange juice and then it was just across the Sukhumvit to my hotel to pick up the entertainment
centre.

We had a few drinks and I didn't felt like a million when I
returned to my hotel. The sun was already high on the sky and it was hot.

And now it started to look like when I was on my way to India, I never got my arse moving. OK, The VISA section at the Australian Embassy had the most stupid opening times so they get a lot of the
blame for me never getting away.

Only open in the morning and after a while it was getting embarrassing. Where ever I came I was greeted with a:
- Hey! Thought you were in Australia.

Well, our Hero came up whit yet another "MASTER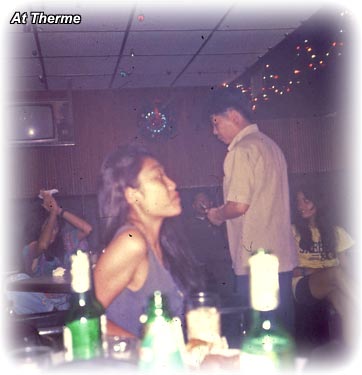 PLAN". To go straight from Thermae to the embassy at Sathon Road. And it worked beautiful, I had my VISA.
Now it's only the ticket missing and I'm ready to go.

Yeah, you know how it is. You get to sleep at 10 o'clock in the morning and buying a ticket is not the first thing you have on your mind when you wake up.

Well, at least I got to enjoy Thermae for yet another few days and that was not bad.
Soi Ngam Duphli, Malaysia Hotel and back then there was a place called Blue Fox in the corner
of Ngam Duhpli and Si Bamphen. Today it's a 7 Eleven or a Family Mart. Ngam Duphli, there were some "Funky" places on that stretch of road. Well, you had to turn up on Si Bamphen to find them. And sometimes it could be worth the trouble.

I have not been there in a very long time. Last time we were there, must have been 10 years ago or more, I got the feeling that all the back packers and sex tourists were gone.
And they must have left all the junkies behind because there were a lot of junkies around.

Otherwise I spent most of the time at NASA or
Thermae, not much else to choose from.

OK, there was Grace Hotel, but the coffee shop at Grace Hotel was pure ghastliness and I only went 2 or 3 times. And there is a reason for them to call Sukhumvit Soi 3 for Soi Arab or Soi Niko.


Well, I had my Australian VISA and a ticket to Sydney so I was ready to leave for Australia. And after too much party in Bangkok I was glad to leave for a month of sightseeing and relaxing.

Yes, you read it right! Relaxing and sightseeing, no party for a month in Australia.
Our first stop was Melbourne and as I only had my weekend bag with me I left the plane in Melbourne. Waste of time to fly to Sydney North of Melbourne and then go back to Melbourne and then back to Sydney to catch my flight back to Bangkok.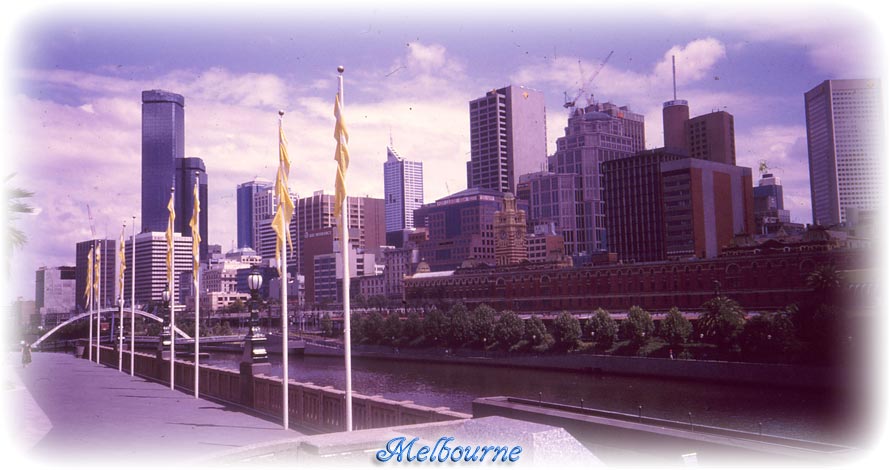 I got a room and I went to a book store to buy a Thai course. My plan was not only to do sight
seeing and relax after my last stay in Bangkok. I had planned to do some
serious studies as well. Go to bed early study Thai for a few hours and I would wake up early. Full of vim and I would be able to cover a lot of territory in Australia.

And seriously, I don't even remember if this Thai course made it back to my room the first night in Melbourne. I got drunk, yeah, what a surprise.

Maybe it's me looking strange or the Australians are just too friendly. So me getting drunk,
hmm, I blame the Australians!
- Ay Mate! Time for a beer!
- OK
And this happened to me all the time. Walking down the street and I was soon sitting in a bar.


OK, first night was a setback. Well, I will not make this mistake again. I was walking around
looking at Melbourne and on my way back to my Hostel, or whatever they called it in Australia, I stopped at a bar. And I remember this bar as being around the corner from my Hostel.

I was soon discovering that they had Carlsberg, Imported, important so I had a few bottles of the imported Carlsberg and I was tipsy when I returned to my hostel. And this was early afternoon.

Melbourne, and I felt in love. When I arrived to my
Hostel the first day I meet a Japanese girl and she was gorgeous. But then I was sober so I never talked to her. But now I decided to go see if she was in her room. Yes, I was tipsy and I felt like the most handsome
guy in the world.
Of course, I could not even imagine that she would reject He-man.
She was not in her room, my guess is that she took her Australian adventure a wee bit more serious
than I did and she was most likely out looking at something interesting. I'm not very proud of this, but, I think that all of us have done something we're not very proud off. Something we don't, for example, bring up around the Christmas table with family and relatives.

I took my entertainment centre and I went to the roof
top to enjoy the view over Melbourne. There were a few Australians drinking beer on the roof top when I came up. And they were drinking VB from
a case. I joined them and it didn't take long for us to finish their case of beer.

I went down from the roof and across the
street and I returned less than 5 minutes later with a new case of VB beer.

And as my Thai teacher say "When Aladdin is drunk he has no secrets"

Yes, maybe so, and I told the Australians about the Japanese girl.
- Go get her!!

- Nah, I don't know....

Oh yes, it was very hard to talk me in to this and I disappeared to
go check out her room. She was back from where ever she had been and of course, she wanted to join us at the roof top.

- WHAT!!??
That was a little unexpected.
Hmm, maybe not, who will say
no when a dashing party guy is knocking on
your door?

Time flies when you have a good time and a sunny afternoon

Björn,

tror du att jag kom iväg på krogen, eller tror du att jag fick på mig betong kepsen
och gick och la mig?

was soon turned in to a dark evening.

I don't remember what we did when we left the roof top. Did I pass out in my bed? Or did we go to karaoke? Well, my next picture is from something
that looks like someone is singing karaoke.

I don't remember how long I stayed in Melbourne, I remember being showed to the door at a place when I was dancing on the bar. And I remember when I left, I came back to my hostel 6 o'clock in the morning and there was a tour leaving in a van. They were going to see some penguins.

Melbourne is obviously famous for their penguins. The Japanese girl was in the van and I wanted to join. Luckily enough the tour was fully booked so I went to bed. Yes, I was way better off in bed.

I really didn't have a clue what I had said to the Japanese girl so when I woke up I left the place and I took an overnight bus trip to Canberra. And this bus trip turned out to be the only sober night I would have in Australia. My Thai course, not a f@cking clue. But I remember buying it.


We arrived to Canberra in the morning, nice, one night on the bus was more than enough. I don't remember, but they came to pick me up at the bus station and we took off towards the hostel.

I left my bag at the room and I went to check out Canberra, what a disappointment. Not a pub, at least no pub that looked worth visiting. I went to a park and there were plenty people and I think it was Australia's national day. So I guess we have determined the date of my arrival to Canberra,
26th of January 1993.

I found a shopping centre and I bought the CD "Tribal Voice" with Yothu Yindi and I went for a beer.
- DARN! It's boring around here!
I returned to my hostel to check out. I decided to continue to Sydney, Canberra seemed like a boring place and a waste of time. The booked me at a hostel in Sydney before I left.
- Do you want them to pick you up at the bus station in Sydney.
- No, it's OK.

The Australians have a tradition of "Walking about" or "Walk around" or whatever they call it. But they travel around the country so there is a hostel or Yostel or whatever they called it in Australia, in every town. And they pick you up and they book you at a place at your next destination. Very convenient and it was fun to live in the dorm.

I would like to do it again, as with India, living in a dorm is fun when you're 20. You meet a lot of fun people and there were always a party or some ballyhoo going on at the Hostel. Now I'm too old for adventures like this.

Well, anyway, I left Canberra for Sydney and I was hoping to find some party in the evening.
I arrived to the bus station at Oxford Street, Sydney in the evening. I don't remember much, I remember that my Hostels were at the Victoria Cross. I think that was the name. And I remember getting off the bus and I really wanted a beer.

I got out from the bus terminal and I passed a place with loud music.
- Ah, time for a beer.
I went inside and I took a seat at the bar and I ordered a beer. I got my beer and I looked around to see what kind of place it was and if there were any beautiful girls at the place.

- What the
??!!
Guys sitting in the sofas doing some heavy petting, a GAY bar. I didn't finish my beer, I just made a quick decision to try out another place.

I meet a British guy in my room and he had had the same experience.
- F@ck, after this "no drinking and smoking" bus trip I was dying for a fag and a beer.
He had heard the music and he had decided to check it out. He ordered a beer.
- Do you have FAGS (cigarettes) here?

The bar tender had just looked at him.

I don't know for how many days I stayed in Sydney. But I was recommended to visit Coff's Harbour on my way to Brisbane.
I arrived to Coff's Harbour with the bus in the evening and I was soon in my room at the pre booked hostel. I had a roommate from Denmark and I remember him being green of envy when I
was drinking beer. He had got hepatitis from sharing a glass so he was not allowed to drink alcohol for 6 months.

In Australia and not allowed to drink alcohol. I was about to give him my Thai course, but I was soon realising that I didn't had it anymore.

Well, we had a few drinks at the hostel before we continued to the town. And the girl on the picture, I'm almost sure it's the same girl I have on my pictures from Byron Bay.

I remember 2 girls from Israel, OK I don't remember. But they stayed at the same place as I did in Byron Bay and they told me that we had arrived with the same bus from Sydney to Coff's Harbour.

I don't know how many days I stayed in Coff's Harbour, most likely not more than 2 days. Swimming in the day time and drinking in the afternoon/ evening/ night. There was a place in the town and a place on the beach so I guess I knew these places after 2 days.


I arrived with the train to Byron Bay in the afternoon. My hostel was a 2 minutes' walk from the train station. But I had been 3 or 4 hours on the train so I went in the other direction for a beer.
And they were not happy when I arrived to the Hostel in the evening.

A wee bit tipsy, no problem, that was expected from a guy on a "Walking about" or "Walk around" or whatever they call it in Australia. But....
- Where were you? We were waiting for you at the train station!!
- Oh, I had no idea! I went for a beer.

So now you know what kind of service they provide at the Australian Hostels. They pick you up at the station even if it's just 150 meters away from the hostel.


I ended in in a room with some guys
from Denmark and the party were soon in full swing.

I remember one day, I was in the top bunk and I felt out of bed. Took me 1 second to hit the floor. But during this second I had time to ask the Danish guy if he had a cigarette for me.

- !!!!
I will never forget his face and he never talked about anything else after that.
- When you felt out of the bed asking for a fag.......
But it was not only party, we went to the beach and I decided to try surfing. A big mistake. I
spent 15 minutes in the ocean and I was burnt by the sun. I was red like a crayfish and it was hurting like...

I never bring any cream or lotion to the beach. And I never get brown. I burn myself and I'm red for 2 days and then I'm white again.

I also got sucked down to the bottom
by a wave and I was pushed face down on the bottom
all the way up on the beach. I lost my ear rings and I had 2 black eyes when I came up on the beach.

I gave up the swimming and I went to a kiosk and I returned
2 minutes' later with a case of VB beer and I enjoyed the afternoon on the beach with my shirt on and a beer in my hand. And I could as well take the opportunity to get a little tipsy. They were throwing a BBQ party at the Hostel later on in the evening so I would be better off arriving as handsome as possible.
And as I understand it, it's not polite to show up sober at a party in Australia.
Of course, time passed by and the sun burnt got worse by the minute so I went to my bed taking a rest when we returned to the Hostel. But I was soon called for the BBQ.

And a few beers later I didn't gave much thought to my sun burned back and head.
And the BBQ turned out exactly how I had expected it to turn out, everyone got drunk.
Yes, even our Hero got a wee bit tipsy.

The two Israeli girls from Coff's Harbour had arrived during the day and they joined the BBQ
party.

And our Hero, well, I blame it on the sun and the surfing incident. The beer had nothing to do with it. But later on in the evening our hero had asked the
Israeli girls if they had been shooting any rock throwing children in Gaza lately.

Of course, our hero remembers f@ck all about this. But the day after one of the Danish guys asked me if I remembered what I had told the Israeli girls the day before.

Well, no one was embarrassed,
hmm, maybe the girls from Israel. I never saw them again.

And I don't have a clue for how long I stayed in Byron Bay, and I don't think that anyone had expected me to do. My next stop was Brisbane and I left Byron Bay with the bus or train. I'm not sure which, most likely the buss.


Yes, Brisbane was not very fun. Well, it was fun, but there was nothing to do during the days so I
spent the whole days in the bars. I don't remember how long I stayed and I only remember one night, hell, I don't even remember the night. But I remember that the Hostel had arranged a tour of Brisbane's pubs and discos.









So we took off in a van and, well, that's pretty much
what I remember. I also remember sitting on a balcony at the hostel drinking beer one night.

Well, it was soon time for me to return to Sydney and as
I understand it from my pictures I stopped a few days at Byron Bay on the way back to Sydney.

All the people from when I stayed last time in Byron Bay were gone when I came back from Brisbane. And it's strange, even if they were strangers when I meet them the first time I missed them this time around. I don't remember any fun people from my second stay.

I remember a disco just pass the railway station from my hostel. And the only thing I remember form the is that they played "Paid in full (Seven minutes of madness)" with Eric B & Rakim
I was back at King's Cross in Sydney and even though it had been very fun in Byron Bay I was glad
to be back in Sydney.

Obviously the night life around here has more to offer than Brisbane, and for sure, more than Coff's Harbour.

King's Cross, a lot of bars and they were all trying to attract the people from the hostels. All the tourists and all the Australians and their "Walking about" or "Walk around" or whatever they call it.

And it was different nights on different pubs. You passed signs like:
"Buy 1 drink get 2"
"Buy 1 drink and get drunk"

"Buy 1 drink and 50% off on all the other drinks"
"Have a peanut and a free beer"

Yes, it was like heaven and you meet all the same people at the different places and you were soon
friends with most of them.

During my time in Australia I only got
kicked out from 2 places, 1 place in Melbourne and 1 place in Sydney. At least what I can remember.

I was sitting in a bar having a beer talking with the girl tending the bar. Suddenly there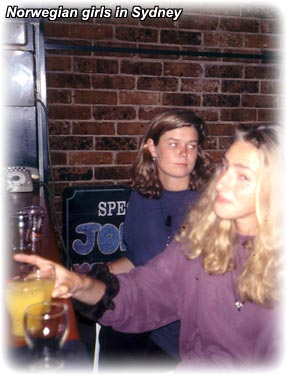 was a middle aged guy coming in to the bar starting to ask for a dollar and all the bullshit. He was really annoying and the girl in the bar got pissed off.

This guy went on and on.

- Blah-blah-bla... No job....spare change...
- SHUT UP! Here, take 20 dollars and go get an f.... haircut!
The bartender turned crazy.

- You have to be polite... blah-blah.... Get out of here!

Well, there was plenty more places and I was on one of those
"Buy 1 drink and get drunk"
deals when 2 girls stepped in to the bar.
I was looking at the door and the girls recognised me and I recognised them instantly. It was the 2
Norwegian girls that I meet in Goa, India January 1992.

Strange, the world is small. They were on a year around the world trip and I was just out for a beer. Well, didn't
take long before we had several vodka orange in front of us.

Didn't take long before one
of the girls asked if she could try some snus. Amazing, I still had snus after all this time in India and Australia. Well, the spirit was high and we had a constant flow of double
vodka
orange coming our way.


One of the girls disappeared to the bathroom and, well, we were in a good mood and time flied away. After a while there was a guy approaching me in the bar.
- Is it your friend lying outside the bathroom?
- I don't know.

I went up to the bathroom and the Norwegian girl
had passed out on the floor.
Impossible to get any contact with her and I had to carry her out to a taxi and I took her to her hotel. I ran in to the guy in the reception.
- Do you recognise her? Is this one of your guests?
- Yes
- Where is her room?
I was back at the bar 7 minutes later and her friend asked if I had taken her to her room.
My roommates, a guy from Fiji and one guy from Germany. And I remember it like they were all in
Australia to look for job. the German guy was travelling around Australia trying to get financing by working. The guy from Fiji was also looking for job and I'm almost sure that he was a sailor.

When the German guy moved out there was a British guy moving in. And yes, he was also looking for job. I was the only one partying and having a good time.

Of course, look at the pictures from my room! Does this look like a place where you "Spend the night enjoying a cosy evening"? No, you had to be drunk to be able to sleep there.
And one morning the guy from Fiji asked me if I remembered that I had embarrassed the MANAGEMENT when I had come home at the wee hours.
- No, I can't say that I remember me EMBARRASSING THE MANAGEMENT when I came home.
Well, the MANAGEMENT never mentioned anything to me so never mind. I remember one afternoon
when I went to have a few beers with my British roommate. We were enjoying our beers watching a Japanese guy trying to order a beer.

It was only the three of us and when he got his beer I raised my beer.
- Kampai!!
He raised his beer smiling.
- Kampai!
He didn't speak f@ck all English so he really appreciated that someone was speaking Japanese to him.


When he left the bar he had left 100 dollars for me to drink beer for. 100 dollars was a lot of
beers so I and the British guy were pretty drunk when we left the place.

Sydney was a very fun place and I would like to go back. But, stay in a hostel is something you do when you're 20. Today I would have stayed at a hotel and then
I miss the fun of meeting people in a dorm. staying at a hotel, then I can as well fly to Singapore, a 3 hours flight comparing to a 7 or 8 hours flight to Sydney.











I meet a lot of nice people and the last few
days I spent with two guys from the London area. We had a great time with party every day

Last night and we got very drunk coming home at the wee hours, usually no problem. But this was my
last night and I had to catch my flight in a few hours. I really don't understand how I managed to get out of bed.

I was still drunk when I checked out from my hostel. I
decided to go see the British guys before leaving for the airport and my flight to Bangkok.

I walked to their hostel a few minutes away. And of course, they were sleeping, but the whole hostel were soon awake and we
had a few good morning beers.

One of the British guys had a baseball cap and I nagged him in to give it to me even though he didn't want to. This is nothing I remember as a proud moment, and when I'm thinking about it I'm hit by agony.

We had a few beers, I was in a hurry. My f
light was about to leave so I threw myself in to a taxi.
- TO THE AIRPORT!! ON THE DOUBLE!! MY FLIGHT IS LEAVING IN 30!
- You won't make it!
- You want a bet? I pay you double if you make it in time.

I arrived to the airport and at check in they stopped me. Too late to check in.

- I'm sorry, I had a late night.
- More like an early morning.
I checked in and I ran through the security, too late. They had closed the doors when I arrived to the gate.
- DARN!

Luckily enough they opened the gate and the door to the plane so I could board. Good, on the way back to Bangkok. It didn't take long for me to
run in to trouble. There were two old guys a few rows back getting all winded up about my T-shirt.
"KICK MY ASS" HYSTERIC GLAMOUR WORLD TOUR 1984
- Kiss my ass! What is this? We will get you in Bangkok!

- Go clean toilet, Motherf@ckers!

The stewardesses came running and they put me in business class.
- Sorry Sir! These people seem a bit crazy.
- You're right about that!
That's what I remember from this flight. And yes, I woke up when there were 5 people in uniform
entering the plane to help me out.
- Hey! I can walk by myself!

Immigration was a quick formality and I got in to a taxi and I was sitting with a beer in front of me 30 minutes' later talking with my friend. We had decided to meet in a bar when I came back. I didn't stay at Atlanta Hotel anymore. My friend had booked a room at Hotel 27 for me, first time at Hotel 27 for me.

And I had come straight from the airport so I had my
weekend bag with me.
And I asked them to play some of my music in the bar so my bag was open on the table with some of my stuff laying around after me searching the bag for my tapes. The owner came running towards us.

- WHY YOU MAKE A MESS IN MY BAR?

OK, so I had to leave for my hotel and I left my bag before we
continued the drinking. All night long and when waking up at Hotel 27 I had no wishes for spending the day lolling around in bed. So a quick
shower and I was off to Lucky Luke.

I spent most of the day at Lucky Luke with a quick lunch break at Nana Hotel. As soon as I opened the door to the restaurant they asked:
- Cream Chicken soup, rice and Maggie sauce?

- Yes sir!
I had the same everyday and they were so impressed by me. They were under the impression that I was walking
from Banglamphu every day.

I returned to Lucky Luke when I finished my Cream Chicken soup, rice and Maggie sauce. Enough vitamins for one day, at least until the wee hours. There was a girl selling hamburgers at Nana and there was a hamburger restaurant outside Nana Plaza. A popular stop when I was tipsy.

Back then there was a tailor, a photo shop and the
hamburger restaurant. Today it's all gone.






I also remember a place called Hollywood in one of the
corners on the ground floor. There was an out
door bar and we used to go there for a beer or two.


I remember one time, I was going to a
disco with the girl tending the bar when she finished work 8 o'clock in the evening. Of course, I had been sitting
there for several hours and I had not been drinking orange juice. So our hero was more than tipsy
when the clock turned 8. She got very angry and she never spoke to me again.

Well, never mind, I never liked the Hollywood very
much. Outdoor was OK, but inside was a drag. I remember one time, I was meeting a guy I knew and he was sitting at Hollywood. Yeah, with a girl that was drinking cola like there was no tomorrow.

I gave him a kiss and she turned jealous or
something. She took a knife and she stabbed me until a girl hit her with an iron pipe. Not
good for the business if the customer get stabbed in the bar.

Well, I still have the scar to prove my story. And how the
did this guy end up with a girl like this? He must have been drunk, otherwise he would have discovered what we can see on the picture. She is a raving lunatic and I cannot understand how anyone in his right mind can find it fun to
spend time with a girl like this. What are they
talking about? What a waste of time.

At least when you're sober, but if you are dead drunk it doesn't matter. When the concrete hat
is on it might even be a
fruitful discussions.


I look at my pictures and as no surprise there a quite a
few from Thermae. I discover a Swedish guy that I meet and I had a friend that meets this guy several years later on a flight from Sweden to Bangkok.

They ended up next to each other and the guy
started to tell my friend about a bank robber he had meet in Bangkok.

- He was sleeping outside a bar and he had Televinken tattooed on
his leg.
- That's Aladdin.

Well, anyway, the guy was wearing a cord suit. Yeah, sexy! My friend asked him:

- What the
are you wearing?
- If you wear a suit the chance is greater to be upgraded to Biz.
- In a worn cord suit from 1972?
- Yeah, you never know.

Yeah, we can imagine a JUMBO full of disappointed people in second hand suites from the 70's that had
expected to be upgraded to Biz. And seriously,
where do they come up with ideas like this?

You pay for a ticket in Biz and you're prepared to enjoy your flight in an empty Biz section. Then you find yourself with a lot of sex tourists wearing old suits.


- Hmm, well, I was upgraded due to my T-shirt, wasn't I?
Or maybe it was due to the guys that were annoyed by my T-shirt. Well, needless to say. He was never upgraded so he had to spend the
trip with my friend in monkey class.

Well, the world is small and you never know who you meet on you flight.

Nana Plaza and my friend's favourite place was a bar called Sexy Night between DC-10 and Farang Connection. Well, I never liked the place very much,
hmm, maybe due to the fact that they closed the door when they saw me.

So I only went there when my friend was
with me, otherwise I tried to stay well clear of the place.

And I don't remember the place as very fun and I got this confirmed when I looked at my old pictures. People sleeping outside
the place so actually I must have been right about this.
Who goes to a fun place and fall asleep?
At least it never happened to me, OK, at least not without suffering from a severe jetlag.

Time to go home, and I was a wee bit tipsy when I arrived to Don Muang. I think this was my second or third time to get on my KLM flight back to Sweden. And this time the flight was delayed by several hours due to some technical problem.

I had spent 3 or 4 months party every day. Not according to plan, my Australian trip with the fiasco with the Thai studies was a setback. So I didn't felt all that good sitting on the plane.

I was in the last row with a girl next to me. Or if it was a lady boy, I was in no state to tell. But he/ she was going to Switzerland and I remember he/ she being a pain in the behind.

Sit in my lap, sleeping in my lap. Pinch my behind and grabbing me between my legs. And that's even though I had covered myself with the blanket pretending to sleep. What to do? It was not
like I could call the flight attendant. Put imagine if it had been the opposite! The Police would have arrived to the scene with the blue light on before I have had a chance to say HEY! This is how I spent the flight to Amsterdam and it was terrible. Even though I was 20 I suffered from a severe hangover after 3 to 4 months of party.

I changed flight in Amsterdam and I was back in Sweden again.

OK, it has come to my knowledge that we have senior citizens visiting my web page. How hard can it
be? So it's not very easy for them to see the blue coloured links to the next page. So

Jiffy (also jiff)


noun [in SING.] informal a moment: we'll be back in a jiffy.

ORIGIN late 18th cent.: of unknown origin.

So as you understand, in a jiff pretty much depends on your internet.

I put a "Next" button here and I hope that there isn't any problem to understand how to use that one.
So just CLICK the "Next" button on your left hand side and you will be on the next page in a jiff!
Marunong ka mag-tagalog? Walang problema! Magpunta sa kabilang pahina pindutin ang "NEXT" button sa itaas


Faites vous parlez le français? Pas de problème! Pour arriver à la page suivante faites s'il vous plaît un déclic le bouton "Next" ci-dessus!


Haga usted dice el español? No hay problema! Ver la siguiente página sólo hacer clic el botón "Next" encima!


Farla parla l'italiano? Non problemi! Per vedere la prossima pagina lo scatto per favore giusto Il bottone "Next" sopra


Sprechen sie Deutsch! Kein problem! Wenn Sie die folgende Seite sehen wollen gerade klicken der Knopf "Next" oben!


คุณพูดภาษาไทยได้ไหม ไม่มีปัญหา ถ้าคุณต้องการไปหน้าถัดไป ให้กดปุ่ม "Next" ข้างบนนี้



E ni Svenskar och inte förstår Engelska så ska ni skämmas. J och Björn, med det menar jag inte att alla mina stavfel ska ältas varje gång vi träffas.


Well, the flag of Skåne, just a BONUS flag.
You are visitor no.
To www.aladdin.st since December 2005
Visitors from different countries since 26th of September 2011