The Common Whitethroat (Sylvia communis), called Törnsångare in Skåne, is a common and widespread typical warbler which breeds throughout Europe and across much of temperate western Asia. This small passerine bird is strongly migratory, and winters in tropical Africa, Arabia, and Pakistan.


Range map from www.oiseaux.net - Ornithological Portal Oiseaux.net

www.oiseaux.net is one of those MUST visit pages if you're in to bird watching. You can find just about everything there



This is one of several Sylvia species that has distinct male and female plumages. Both sexes are mainly brown above and buff below, with chestnut fringes to the secondary remiges. The adult male has a grey head and a white throat. The female lacks the grey head, and the throat is duller.


Length:
14 cm
Wingspan:
22 cm
Weight:
12 - 18 g
Longevity:
9 Years

Distinctive Feature

•

Similar Species

• Lesser Whitethroat

From opus at www.birdforum.net the forum for wild birds and birding.


The whitethroat's song is fast and scratchy, with a scolding tone. The hoarse, a little bit nasal call sounds like wed-wed or woid-woid. The warning cry is long-pulled, rough tschehr which resembles that of the Dartford warbler.



Listen to the Common Whitethroat / Törnsångare




Remarks from the Recordist


Recorded with my ZOOM H5 Handy recorder. High Pass Filter applied Audacity

I heard a bird in the bushes and I was thinking about the Tui I recorded on New Zealand. It was a very strange sound. I made the recording and it is a Thrush Nightingale as we can hear in recording XC484745

Thanks to Nordöstra Skånes Fågelklubb www.spoven.com for helping me identify the Nightingale together with the Common Whitethroat in the same bush







This species may appear to be closely related to the lesser whitethroat, the species having evolved only during the end of the last ice age similar to the willow warbler and chiffchaffs. However, researchers found the presence of a white throat is an unreliable morphological marker for relationships in Sylvia, and the greater and lesser whitethroats are not closely related.

Chestnut wing patches, like white throats, seem to be plesiomorphic, but indicate phylogeny better. Nonetheless, apart from the whitethroat not being closely related to the lesser whitethroat group, little can be resolved as it seems a fairly basal taxon.


Eggs, Collection Museum Wiesbaden, Germany

By Klaus Rassinger und Gerhard Cammerer, Museum Wiesbaden - Own work, CC BY-SA 3.0,
https://commons.wikimedia.org/w/index.php?curid=37326692



This is a bird of open country and cultivation, with bushes for nesting. The nest is built in low shrub or brambles, and 3–7 eggs are laid. Like most warblers, it is insectivorous, but will also eat berries and other soft fruit.

The genus name is from Modern Latin silvia, a woodland sprite, related to silva, a wood. The specific communis is Latin for "common".

An older scientific name for the whitethroat is Sylvia cinerea.



Conservation status
Near Threatened (IUCN 3.1)
IUCN Red List
of Threatened Species. Version 2013.2. International Union for Conservation of Nature. Retrieved 26 November 2013.
From Wikipedia, the free encyclopedia


Sighted: (Date of first photo that I could use) 18 May 2019
Location: Äspet Nature reserve, Skåne


Common Whitethroat / Törnsångare - 18 May 2019 - Äspet Nature reserve, Skåne
Common Whitethroat / Törnsångare - 18 May 2019 - Äspet Nature reserve, Skåne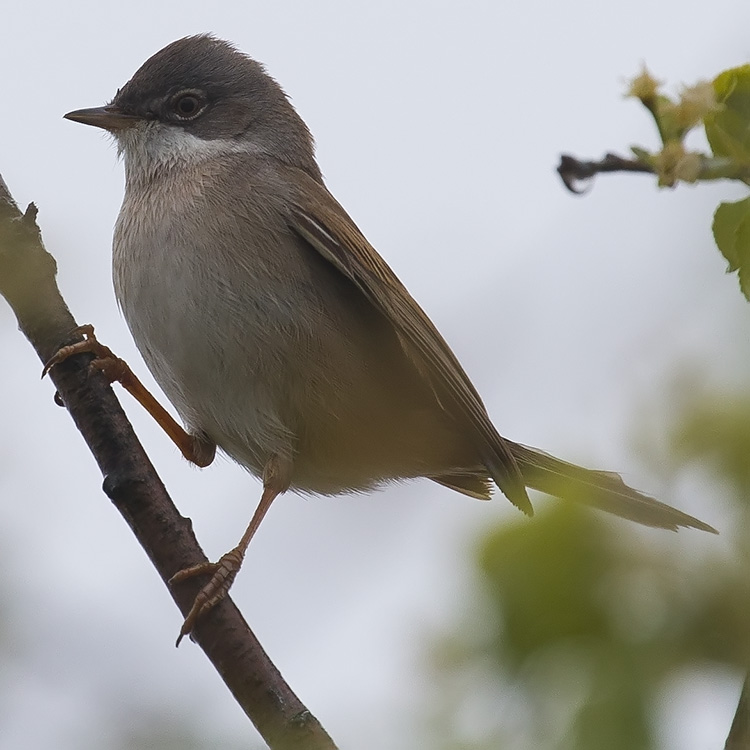 Common Whitethroat / Törnsångare - 18 May 2019 - Äspet Nature reserve, Skåne
Common Whitethroat / Törnsångare - 18 May 2019 - Äspet Nature reserve, Skåne
Common Whitethroat / Törnsångare - 19 May 2019 - Fyledalen, Skåne
Common Whitethroat / Törnsångare - 25 May 2019 - Hasslarps Dammar / Ponds in Hasslarp




PLEASE! If I have made any mistakes identifying any bird, PLEASE let me know on my guestbook



You are visitor no.
To www.aladdin.st since December 2005
Visitors from different countries since 26th of September 2011