I had expected a hangover force 9,3 when I woke up the day after signing off. But I was surprised, no hangover. It was a pleasant surprise, I'm used to feel like, hmm, very bad. We
wanted to go to New York and we took off to the police station in Mölndal to make a passport for J first thing when we woke up. (In Sweden the police issue the passports)

Me and my friend had planned to visit New York in september, well, that was the original plan. But we changed our mind when I signed off earlier than planned. I bought 2 tickets for us in the middle of July. But my friend hadn't order his new passport as he had not expected to leave until september.

Going to the Police station and I was happy that I didn't have any hangover.
They could not promise to have the passport ready for the next weekend.
- But we can issue a temporary passport in 1 day, they told us.

We decided to order the tickets confident that he would manage to get a passport before the weekend. When I went to the travel agency to pay the tickets I asked them about the temporary passport. Just to make sure that we didn't waste any money buying the tickets.

- Is it possible to come in to the USA with a temporary passport? I asked.

- No!
Well, I cancelled the tickets because we were not sure that his passport would be ready in time. Summer time and we can have a good
time in Gothenburg. We lived in our friend's apartment as he was at his summer house on Bohus - Malmön.





+++++++++++++++

Tuesday 19th of July 2005 and there was more people moving in to the apartment today. Our friend had an old friend coming to Gothenburg and he had promised him and his wife that they could stay in his apartment as well. They lived in Thailand and when they arrived the apartment was full and it was more or less beer drinking every day.


Freshly arrived from Thailand
Preparing food
Here we go with the hallon vodka - Nu går d grant!
I was in charge of the music - Of course, who else? My friend had had a few hallon vodka
too much and he came out to me with what must have been the strangest idea ever.


He would only drink a "wee" bit and the girls would grow to like him when they others got too drunk and passed out. He was proud over the idea and I was just gaping at him.

How is the plan working out for you? - Den gammle SMS Poeten
How is the plan working out for you? - Den gammle SMS Poeten




+++++++++++++++

Wednesday 20th of July 2005 and Lo and behold, they managed to get his passport ready and we
going to pick up the passport at Mölndal's Police station. But we started with a breakfast and our friend made an excellent breakfast for us.

Well, our SMS Poet was busy trying to find out what he had sent via SMS yesterday while the breakfast was prepared in the kitchen.


Agony and pain and he will never send any
more SMS poetry, at least when he is sober. But 2 or 3 more of the hallon vodka and we will go again.

I was still surprised, no hangovers and I'm sure I was on to something with my new healthy life style. Of course, the breakfast set me and my diet back by several weeks.


Breakfast
D e rätt, ät så du blir stor och stark
E där ingen botten i dig?


We picked up the pass port in Mölndal and we stopped at "Röda rummet" on Järntorget. We had a
few beers during the afternoon we got a
little tipsy sitting at the pub "Röda rummet". A beautiful summer afternoon and it felt like being a teenager again drinking beer in the afternoon.

Yes, a few beers in the afternoon is OK, that's the time you meet the most interesting people at the pubs. And if you get tired or suffering from "motion sickness" you're in bed in a good time at night. A word of precaution though: Known to have happened that the "motion sickness"
hit too early with the results of waking up 2 o'clock in the morning. Hangover and impossible to fall asleep again. Never happened to me, but I have heard of cases...


Röda rummet at Järntorget in Gothenburg


We were soon back home and the other guests prepared food
I called a travel agency in Malmö and made a reservation to New York for Friday. We booked two rooms at Peninsula Hotel next to Madison Square Garden as well.

When I should give them my credit card number they told me that I could not pay with
credit card.
- Motherfåcker!
Well, they promise you a gold edged life and a flamboyant lifestyle with all your cards. But reality is something else. We cancelled New York for the time being.


Back home
Watching the fridge
Joe Cool on the balcony
Sill i dill
A few too many of the hallon vodka
Busy in the kitchen
Enjoying the evening on the balcony
He is after the girl like a Band-Aid©




+++++++++++++++

Thursday 21st of July 2005 and we grew tired of Gothenburg and we decided to rent a car for a few days. We didn't know where to go but we decided to go visit our friend on Malmön. Malmön is
a small island in the northern Bohuslän, just North of Brofjorden anchorage.

Our friend have a summer house on Bohus - Malmön and we were for sure not going to sit on a bus so we took the opportunity to go visit when we had the car. And maybe time to fo somewhere more exciting than Gothenburg to drink beer. And I don't mean Bohus - Malmön, that is just a rock and our friend always want us to spend the night.

Yeah, fat chance, and with the car we can just foock off out of there whenever we want. I haven't had any hangover for a long time and I'm better off taking this opportunity to have a few beers. Maybe it's my healthy living making me feel good, well, for sure it is. But can it be due to eating salad that I don't have any hangovers, hmm, salad and vitamins can't be bad.


Waiting for the ferry
Waiting for the ferry
Ferry is arriving
On board the line ferry to Bohus - Malmön
At our friend's summer house on Bohus - Malmön


On the way we stopped to buy stuff for our planned BBQ. We arrived to the ferry at 15:00. We
should be at our friends house at 15:00 and the ferry was not leaving until 15:10. So we arrived a little late to our friend's house as we didn't know the time table for the ferry.

If we knew we would have stepped on it and we wold have made it to the house in time as the ferries are going several hours per hour. Ferry, is it just a line ferry, or a cable ferry.



J is in charge of the grill



At our friend's summer house on Bohus - Malmön
At our friend's summer house on Bohus - Malmön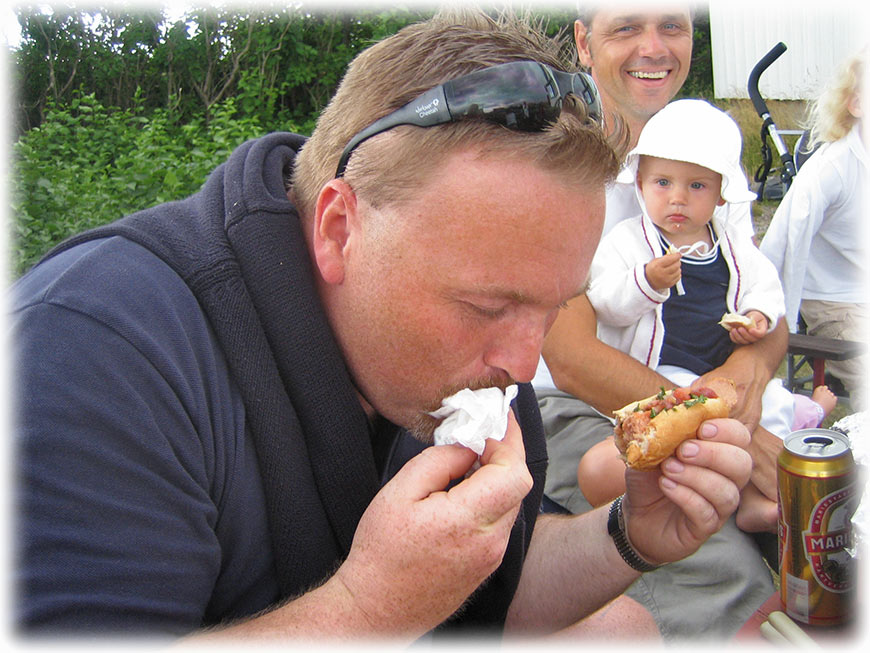 Scaring the children
Scaring the children and they are in a hurry to leave
They are in a hurry to leave the ghastliness behind and he is only laughing
A rainbow
Time for a constitutional
We had time for a walk before leaving Bohus - Malmön
Cutest couple on Bohus - Malmön


At arrival we were up for more waiting and we were in a hurry to come down to the south of Sweden. But one of our friend and his family was in the marina with their sailing yacht and our friend had to drive there to pick them up. He borrowed our rented car as we blocked his car.

We had the fire up and running in no time and when our friend returned we were almost ready with
the food. We finished the food and we walked down to the sea (A 2 minutes' walk). But as mentioned before we were in a hurry and of course we didn't want to over stay our welcome. And a beautiful day had turned in to an overcast afternoon and the rain was in the air. So let's get out of here!

We drove our friend to his sailing boat in the marina. We spent some time checking out their sailing boat before we left Malmön with screaming and smoking tyres.
Time to leave Bohus - Malmön
Time to leave Bohus - Malmön
Leaving our friends at Bohus - Malmöns Marina




+++++++++++++++

Friday 22nd of July 2005 and we woke up in Kalmar. I had to drop off some of my stuff in Kalmar and we arrived in Kalmar around midnight. We stayed overnight in Kalmar and when we woke up we had to decide what to do.
- What about Copenhagen? I asked.

So we drove towards Skåne and the bridge to Copenhagen. When we made one of many stops for gas I was in a mood for some wine. We had good music on the stereo and, yes, I wanted to get some wine. The reason for me wanting wine (wine has less calories than beer) is that I can get a bottle of wine with a screw cap. If I buy beer they have to open the beer bottles.

Here we go again, it's the back in the day warning. I remember some 6 - 7 years ago
when my friend and I was driving from Skåne to Gothenburg.

Well, good music was on "FULL BLAST" and spring time. May and the weather was good and I wanted to have something to drink. My friend was driving, I had driven the car to Skåne and he had to drive back and thus could I have a drink. Well, were to find something to drink late evening.
- Stop at the next restaurant, I said to my friend.
I told him to back up to the door and keep the engine running. Keep my door open and to be stand-by for a "very quick" departure. You're not allowed to take any alcoholic beverages out from a restaurant in Sweden.


I went in to the restaurant, it was a self-service restaurant. I filled my tray with as much beer I could carry. I paid the cashier and I walked towards one of the tables pretending to sit down drinking the beers at the restaurant.
- You must open the beers here, the cashier called after me.
I made a run for the car that should be stand-by at the entrance. Well, no sign of the car when I came out with the cashier a few steps behind. I looked around and I saw him in the horizon.
- What the foock!!!! What the bip is he doing over there?
Luckily enough he realised the seriousness in the situation and he started the engine and I throw myself in to the car and we disappeared with a roaring engine and the cashier screaming on the parking lot.


Well, that's why I wanted a wine bottle with screwing cap. I bought 2 bottles of wine and no one
asked any questions when I diapered out to the car.

We decided to stop in Mölle on the way to Copenhagen.

We parked the car in Mölle marina and I meet my old neighbour. I knew that he knew one of the ABs on Astoria that lived in Mölle and we asked where he lived. We had a few beers, well, as my friend was driving he was drinking Coke. We chatted about the good ol' times at the bar on hotel Kullaberg in the marina before
leaving Mölle for Copenhagen.

Time turned quick and it was soon time to leave if we wanted to make it to Copenhagen in a good time. We asked if they had room for us on hotel Kullaberg but they were full. Well, Copenhagen will be more fun. We were
plunging down the highway towards Malmö with DJ Pro'sha on full blast in the rented car.

I bought the CD in Kaliningrad and I bought a CD with Torsson at a gas stop in Gothenburg. But J just wanted to listen
to DJ Pro'sha as there was a tune where Steven Segal was mentioned.

But the double CD Fritidsmusik with Torsson is not bad and I managed to get one or two tunes every now and then. Of course,
when plunging down the landscape of Skåne Skånsk music is required.

Well, just to give you some of the feeling I will put DJ Pro'sha here for you to listen to. Of course, add a few bottles of wine on top of this music experience and you understand that the spirit was high. Yeah, must have been a foocking dream come through being the dedicated driver on this trip.


| | | |
| --- | --- | --- |
| | Seriously, FULL blast or don't bother | |

We left Mölle around 18:30 something and we passed Domsten at 19:10 when I took a picture of an old farm flying the flag of Skåne. It was so beautiful that I almost started to cry.


On the Öresunds Bridge and leaving Skåne behind


We crossed Öresund on the Öresund Bridge and we were soon in Copenhagen City looking
for a hotel. We stayed close to the railway station and we had walking distance to about everything. After checking in on the hotel in Copenhagen we
went out for a few beers.

I already had a few beers waiting for my friend to park the car so I was in a better mood
than him. And of course, I had had a few beers in the car on the way to Copenhagen.

Tivoli and Strøget was only a few minutes away by foot. We walked towards Strøget and we passed
Tivoli and more important, an ATM so we could get cash. We had exactly foock all Danish cash
in our pockets and it was not
very fun walking around town.

Yeah, walking around town a beautiful summer evening
- OH! Look a nice pub!
- We don't have any money

But that changed as soon as we had been at the ATM. Now we looked at Copenhagen with different eyes. Well well, we were soon to end up in a basement somewhere in Copenhagen where they played heavy metal and we ordered more beers.

We left the place and we were walking down Strøget when we passed a place and we decided to try
it out. We ordered beers and we discovered that it was a Karaoke place.

Customer got on the stage and started to sing, not exactly what we call a good time. We were about to finish our beers and leave when Østkust Hustlers came on.

Impossible to leave in the middle of a Østkust Hustlers tune and we were soon having full bottles of beer in front of us again. It was 4 girls up on the stage
doing Karaoke with Østkust Hustlers. I don't know if it was the beer or what it was, but we grew to like the place.



We stayed for a few more beers and we met a lot of people, among them a lesbian couple from
Iceland. We stayed way longer than we had expected when
we first stepped inside to discover that it was a pub with Karaoke.

Well, anyway, we stepped out on Strøget and we walked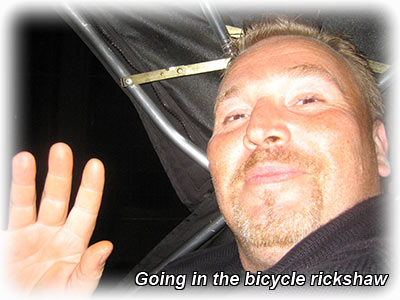 towards Nyhavn.

We were looking for a new place when a bicycle rickshaw passed us. He asked if we wanted a ride and we said no thanks. It would be embarrassing to have this guy on the bike trying to move half a ton sitting in the back.

But he said that he knew a very good place with music and he talked us in to get on the rickshaw.


Plunging down the streets of Copenhagen on a bicycle rickshaw



We were soon plunging down the streets of Copenhagen and he dropped us at a disco, well, more like a pub. We were soon having more beers in front of us and I was soon notice that they were playing B-52 on full blast.

They only played 80's music and not the boring 80's disco they played at discotheques in Sweden back in the 80's. I always consider the 80's as a lost decade when it comes to good music. But that's just because they played very bad music at the night clubs in Sweden. Of course there was a lot of good music, B-52, Talking Heads etc. Of course a lot of good Heavy Metal and Hip Hop a lot of good Hip Hop. But they never played this music on the clubs.

I knew one DJ and he gave me all the Hip Hop records they sent to him.
- No one wants' to listen to this shit!


And B-52 was on full blast
And B-52 was on full blast
And B-52 was on full blast




+++++++++++++++

Saturday 23rd of July 2005 and waking up the day after with no hangover was a pleasant surprise. Now I really wonder what have happened to me, I'm known for my hangovers.


Yes, maybe it is my new healthy life style that alleviates my hangovers. I called my friends room and we checked out from the hotel. We had some Danish cash remaining and we decided to stop to buy Danish beer before leaving Copenhagen. We could buy Harboe (pretty sure this was the name) beer for our cash, but then we would not have any space remaining in the car for us. This beer is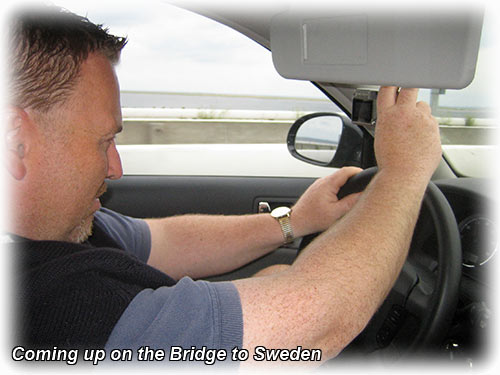 terrible and the can reminds a wee bit about a Green Tuborg.

The beer is dirt cheap so they have the beer at every party and I remember one time. I arrived to the place.
- Do you want a beer?
- Does the bear crap in the forest

I ripped open a can under the impression that it was a Green Tuborg and I spitted it out right away
- What the


Impossible to drink, well, anyway, we passed Haboe and we went to buy Tuborg and we got 3 cases or so for our remaining Danish cash.


On the Öresunds Bridge and leaving Copenhagen behind
Passing some beautiful scenery in Skåne
Passing some beautiful scenery in Skåne


We were soon leaving Copenhagen behind and we passed through Skåne in an hour in a hurry to get
back to our friends in Gothenburg. Of course, we were not in such a hurry that we skipped the stop at Laxbutiken outside Falkenberg.

Stopping at Laxbutiken when passing is a must, I even think it is against the law not to stop. So we stopped for some salmon before we continued to Gothenburg. Laxbutiken have a salmon buffet during the summer and I only eat buffet at Laxbutiken and the Marriott in Bangkok. Excellent food and we were soon on the way again. They were waiting for us in Gothenburg, hmm, or was it the beer they waited for.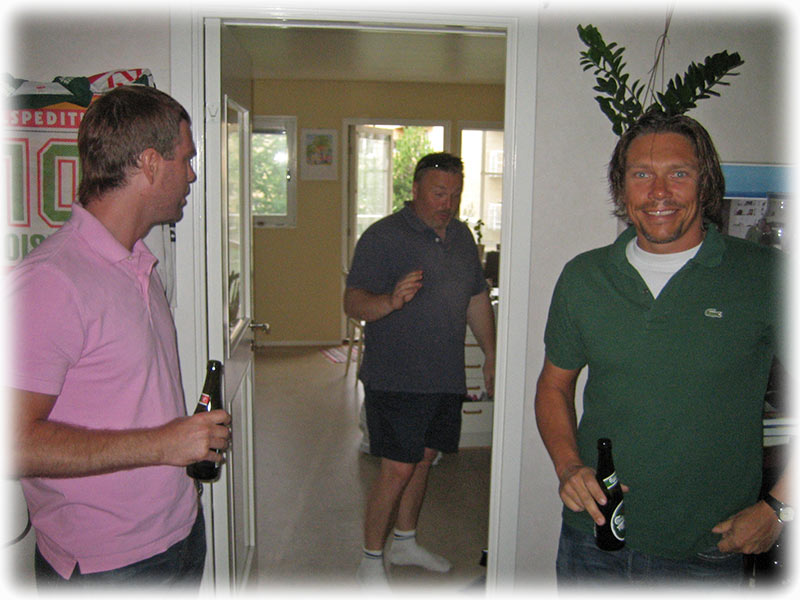 Back in Gothenburg
Back in Gothenburg
Back in Gothenburg



+++++++++++++++

Monday 25th of July 2005 and we had time to visit the amusement park Liseberg in Gothenburg as
well. Yes, celebrating the summer include at least one visit to an amusement park. The weather was gorgeous and we spent a lovely evening in the amusement park.
We started in the restaurant with beer and diet coke.

We could not ride on any merry-go-round, roller coaster or any of the attractions.
There were over an hour waiting time for all the attractions. So we played the wheel of fortune and there were
plenty chocolate coming to us. My diet!

Well, I had to ask them to hide the chocolate for me. I know myself and if there is chocolate lying around there is nothing stopping me.

A summer without sailing in the archipelago is not worth calling a summer. We packed some of the chocolate we had won at Liseberg the
evening before and we took of to the marina.

The weather was gloomy and grey but we spent a few hours in the archipelago.

The last day in July we drove to Ljungskile north of
Gothenburg to watch a soccer game. My friend
supports GAIS, a team from Gothenburg playing in the bush league.
Talking about the bush league, the match was played in the middle of the forest. I don't remember the result, but I think GAIS won.

On the way back to Gothenburg we stopped for dinner in Stenungsund. We found a restaurant in the marina, next to the water. And it was a beautiful summer evening with a waterfront dinner.


Eating dinner waterfront


We arrived back to Gothenburg late evening. August is coming up and, well, I got a 5000 US$ bill from AMEX for July, but no one told me it was coming cheap celebrating the summer. I don't dare thinking about the next bill coming in a few days.


I decided to go back home to Funky Town. My plan was to stay in Gothenburg to celebrate the "Göteborgs kalaset". This event takes place in the middle of August and the close the town for traffic for a week. They play music and drinking beers on the street for 1 week. It would have been fun, but I had grown tired of Gothenburg.


GT 27th of June 2006 - Less than one year later



Well, I arrived to Funky Town on a Friday and it was 2 days of heavy party. When I was tired of the party I decided to start school again. I was really happy that I had managed to lose weight. As you can see you can't press down very much in the chairs. But no problem, I slide in with no problem.


I like being a student, it's nice to answer the question
"what are you doing?" with:
- I'm a student.

It was school during the week and we spent the weekends having a good time.

I had planned to spend the weekend at the beach with sunshine and Bacardi and I took a
taxi to the beach. That's a 90 minutes ride and I remember cruising down the highway in the backseat of a taxi. I was enjoying myself drinking Bacardi Breezers
while listening to music. The music was blasting high and I was in a good mood. Hmm, good mood, for sure I was merry from drinking a few Bacardi Breezers.

Well, anyway, while cruising down the highway there was a car with 2 girls coming up from behind. They were waving their hands and I was waving back and I forgot all about it.

I was sitting in the backseat minding my own business when the driver called out.
- Yeah what? I screamed to the driver.
He pointed out through the window and I turned around. The girls where next to us sticking out a name card from the window while roaring down the highway at 130 km/h.

I took the card, but I can't remember it saying "Be careful, we want to marry you".
There should have been a warning on the card, then I should have forgot all about it.

Well, anyway, the whole thing reminded me of a Hollywood styled car chase, but things were going to turn worse. The driver turned crazy, there were 2 girls in the car.
- I also want, he said.

He started to chase them down the highway. We were weaving our way through the traffic in 150 km/h.
I was lucky to have my Bacardi Breezer, I would have wet myself zigzagging down the highway at 150 km/h being sober. Now I was roaring with laughter sipping
my drink. Well, sipping, it was more like gulping down the Bacardi Breezer.

After being forced off the road by the girls I handed them my name card. We drove off with screaming and smoking tires and the girl followed us all the way.


I promised to call them in the evening for dinner, but excuse me, I became roaring drunk and I didn't manage to call.

There had been plenty calls from one of the girls and when I called her back we
decided to have a date.
We meet at a restaurant and I was giggly during the date and she asked me:
- Are you never serious?

Well, what do they expect? They pick you up in a "stock-car race" style on the highway and they expect you to be serious. Well well, this is what's happen when you lose a few kilos. They only want me because I'm handsome and they don't care about my beautiful inside. I don't like being treated like a sex object.

We spent the days in the swimming pool
drinking coconuts with Bacardi, delicious. But those "Coconut surprises" are very deceptive, it tastes like
coconut milk and all of the sudden your tipsy.

Well, they started the work with my kitchen. We remember the last company, I ordered the height of my kitchen to 90 cm and they made it 82 cm.
- Get out of here! I said.
Well, this company was very good. It took them about 2 weeks to do the kitchen in the factory and then 8 days to fit it in my kitchen.


My kitchen
My kitchen
My kitchen, well, the whole condo is ready and I woke up with a hangover


My apartment was ready and my neighbours had had it with me and time to go to Sweden. Those weekends we didn't spend at the beach we spend at my place throwing BBQ parties.

The music was blasting high on the Richter scale
and my neighbours weren't very happy with me. But who would be waking up at 6 o'clock in the morning to **** the police
with NWA at 140db? Yeah, you know how it is, I had to avoid running in to them so I sneaked in and out from my apartment after making sure there were no one outside my door.

I left Thailand and I was back in Hicksville where we had the first day with strong winds on the 14th of september. The autumn is here, but I'm still in shorts.



+++++++++++++++

Friday 16th of September 2005 and the boredom are about to kill me in
Hicksville. Especially when coming from Funky Town to Hicksville.

Did I ever told you about signing on in UAE?
Back in the days
warning!!!

Well, we had to spend 1 week at the hotel in Dubai waiting for the ship. She was loading crude in Kuwait.
I was flying in from Funky Town and the rest of the guys came from Sweden. Boring Bay, Hicksville, yeah you name it. Coming from Farmerville to Dubai must have been a sensation.
- Hey Aladdin! Join us for a few beers and disco
tonight.
- No no, I'm staying at my room.
I spent the evenings walking around Dubai. Coming from Farmerville (with 1 pizzeria) to Dubai (with 1 or 2 discos) makes you go bananas with all the "fun"


Coming in from Funky Town (with 1000 discos) where I have spent my shore leave, party every day in Funky Town and Dubai didn't impress me very much. OK OK, I must admit that after the first
evening I was banned from both the discos in Dubai, but anyway, you get the picture. And they remembered me when I was back 5 months later, so same story then.


Hmm, how did we end up in Dubai? Oh yeah, Hicksville was about to kill me and I was in love in Funky Town
, well, not in the city but in someone living in the city.


I wanted to go back, but I had promised my friend to take him to New York. New York was much more attractive in July and I asked my friend if he wanted to go to New York or Funky Town. We decided to go to Funky
Town,
very good! I can meet the love of my life again.


Romantic dinners and all the exciting stuff we can do makes me want to leave for FUNKY TOWN today already. I can bother her from early morning to late evening when I'm back home. She will be terrified.

But my friend he needs to know his school schedule for the next term. If he has any compulsory lessons he can't go. I asked him to find out so we could buy the tickets. He went to the administration and asked to see the schedule for the next term.
- Come back next week!
- Bipping bip!! Sorry to disturb you while drinking your bipping coffee.

We're in a hurry to buy our tickets and all we get is "Come back next week" Next week!! We're in a
hurry here! We can't wait to get back to our coconuts. Last time I
really got hooked on these "coconut surprises" Where ever we came we ordered coconuts.

Most of the places, well, none of the places kept coconuts in stock. But it was just to send a messenger to the market to buy a bag of coconuts.

"Ipsi Wipsi Wu" and we had a coconut with Bacardi in our hands and after a few of those things looked a little brighter. Amazing how a little Bacardi in a coconut changes everything. All of a sudden you're dashing handsome and all the girls are so beautiful.


12 o'clock and help is needed to get out of the pool after a few too many of the Coconut Surprises™
Of course it's a different story the day after.



+++++++++++++++

Saturday 17th of September 2005 and what to do while waiting for them to work out the schedule?
There are beer to drink and we should be
at "Ballong's" class mate drinking beer in the evening.

But as J had a few important things to do we started the day by taking off to the library. The library is just a few minutes away, well, everything in Kalmar is just a few minutes away, from where ever you are in the town. One of the pros living in a small town, nothing is far away.
Of course, it comes with the cons of being driven up the wall by boredom.



We did what ever my friend needed to have done at the library. When he was ready we took off towards the Thai restaurant, this restaurant have really grown to be one of our favourites in
Kalmar. Eating Thai food in Thailand
doesn't taste, it is just burning in your mouth.

But the food is OK at the Thai restaurant in Kalmar, well, I'm sure there are more than this restaurant. But this is the place we're going to. We didn't knew what time we were going to go to our friend to drink beer so we called from the Thai restaurant.

14:30 and they had already started with
the beer drinking. Oh yeah, it's nice being a student, party all day long. We finished our food and we returned home with the car.


His behaviour left more than a little to wish for
Funkabo Pizzeria - As exciting as it get's in Funkabo


The car is nothing you want to bring with you when drinking beer. Ballong's class mate lived around the corner but we needed a taxi because we had a few cases of beer to carry.

Just to call a cab, easy enough. Well, lo and behold, when we gave the address and where we wanted to go to the taxi company they said:
- It will take you 1 minute to walk there.
- We have a lot to carry, Ballong told them.
- What do you have to carry? They asked.
- What the bip! Hang up, we walk, I said to Ballong.

What have happened with Sweden? I could not find any basket for the food the other day when we were shopping.
- Where are the baskets? I asked.
- We don't have baskets any more.


One day we went to a restaurant and we had to pay before we ate our lunch. For sure it is time to leave Sweden. People eating at restaurants without paying and stealing the shopping baskets, a sure sign of a country going down hill. Well, anyway, we stopped at Funkabo Pizzeria on the way to our friend and we had a few beers before we continued.


Drinking beer before going to Sjösjukan, the student pub in Kalmar
Drinking beer before going to Sjösjukan, the student pub in Kalmar
Drinking beer before going to Sjösjukan, the student pub in Kalmar
Drinking beer before going to Sjösjukan, the student pub in Kalmar
Drinking beer before going to Sjösjukan, the student pub in Kalmar
At Sjösjukan, the student pub in Kalmar
At Sjösjukan, the student pub in Kalmar
At Sjösjukan, the student pub in Kalmar


When all the stories had been told we left for
Sjösjukan, the student pub in Kalmar. Student pub, yeah, I like being a student. As a student you're allowed to do things other people can't do.

Our TAXI driver drove, well, there must have been something with his way of driving that I didn't liked. I got motion sick and I needed tug assistance to come back home to the sofa.


I must buy medicine for motion sickness ASAP when the drugstore opens on Monday. I had a terrible headache when waking up Sunday morning.


Well, I was up for another chock, and motion sickness is nothing in comparison,
AMEX will charge me 10 000 US$ for september. What the what? Bipping bip! Motherf***** Bipping Bip! It's not even summer, I understand that it's expensive to celebrating the summer. But now it's september.

Well, I had been in Sweden for a wee bit more than a week, I just got to Sweden to take care of my promise to J. I had promised him to go to New York. But he wanted to go to FUNKY TOWN instead. He sorted out his school and he could go in October. We bought the tickets and I returned to Bangkok and J will come on the 14th of October.

Well, everything has to come to an end. December 2005 and I had to go to take a course in German Shipping Law in Hamburg. So hang on! This might be fun.



OK, it has come to my knowledge that we have senior citizens visiting my web page. How hard can it
be? So it's not very easy for them to see the blue coloured links to the next page.

Jiffy (also jiff)


noun [in SING.] informal a moment: we'll be back in a jiffy.

ORIGIN late 18th cent.: of unknown origin.

So as you understand, in a jiff pretty much depends on your internet.

So I put a "Next" button here and I hope that there isn't any problem to understand how to use that one. So just CLICK the "Next" button on your left hand side and you will be on the next page in a jiff!
Marunong ka mag-tagalog? Walang problema! Magpunta sa kabilang pahina pindutin ang "NEXT" button sa itaas


Faites vous parlez le français? Pas de problème! Pour arriver à la page suivante faites s'il vous plaît un déclic le bouton "Next" ci-dessus!


Haga usted dice el español? No hay problema! Ver la siguiente página sólo hacer clic el botón "Next" encima!


Farla parla l'italiano? Non problemi! Per vedere la prossima pagina lo scatto per favore giusto Il bottone "Next" sopra


Sprechen sie Deutsch! Kein problem! Wenn Sie die folgende Seite sehen wollen gerade klicken der Knopf "Next" oben!


คุณพูดภาษาไทยได้ไหม ไม่มีปัญหา ถ้าคุณต้องการไปหน้าถัดไป ให้กดปุ่ม "Next" ข้างบนนี้


Вы говорите по-русски? NJET PROBLEMA! Просто нажмите синюю кнопку "Next" с левой стороны и Вы моментально переместитесь на следующую страницу!


E ni Svenskar och inte förstår Engelska så ska ni skämmas. J och Björn, med det menar jag inte att alla mina stavfel ska ältas varje gång vi träffas.


Well, the flag of Skåne, just a BONUS flag.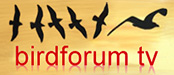 You are visitor no.
To www.aladdin.st since December 2005
Visitors from different countries since 26th of September 2011