Arriving to FUNKY TOWN International just after 10 o'clock in the evening. I stopped at GLOW just after 11 and there was a girl sitting outside. I didn't recognised her, but obviously she
recognised me.
- Aladdin, I hope you behave tonight!
Nice to hear and I decided that this was my last day drinking, I'm too old for this and it's embarrassing not to
be able to behave. Well, drinking too much making a fool out of yourself and now it's enough.

And waking up Sunday morning didn't make me feel any better. I didn't get out of bed until late Sunday afternoon.

I had to go to the police station and report that I had lost my Thai driving license. I need the police report to get a new license.
| | | |
| --- | --- | --- |
| | School week again | |
I overslept by 1 hour and I didn't get out of bed until 9 o'clock. A quick shower and I grabbed my bag with Korean snacks and I was off to school. I had a bottle of water and a bun at a coffee shop close to the school and I was ready for class.



Björn, here you have the full story on how I managed to get my paper box to school. You remember how it started in Seoul.





OK Björn, now I don't want to hear anything about this darn paper box again! But now you know the story from purchase until delivery.


School finished 10 minutes before 1 o'clock and I was off to my afternoon school. But I had to leave
my afternoon school early to make it in time to get my new driving licences that I lost in Seoul. And I have my contractor to show me
wall paper samples at 4 o'clock in the afternoon. So it will be a busy afternoon and I will not have time for gym or home work today.

I was at the Ministry of Transportation or whatever they call it at 14:30. My taxi driver followed me inside and asked the lady how long time they expected it to take for me to get my license. His plan was to wait for me so he could drive me home. But there were a quite a few people so he left me and I was ready after about 1 hour. 2 new driving licenses and I hope I can keep them now with my new wallet with a chain attached to it. I arrived home 30 minutes late and the contractor was waiting for me. We brought the wall paper samples to my apartment and hopefully my bed rooms will be ready on Friday. But it means another week of moving around stuff in my apartment and my school work and exercise will suffer again.

Tuesday 1st of September 2009 and I was dead tired when my alarm went off at 8 o'clock. I
didn't managed to fall as sleep until almost 4 o'clock. I really hope that I'm not back in the routine to be awake all night long and to be dead tired in school.

But I managed to get in to the shower and after my morning tea I was off to school in a taxi and I arrived 5 minutes later.

I was half asleep 10 minutes in to the first class and the second and third wasn't any better.
One of the Teachers got a wee bit annoyed to have me sleeping
in the class room. She asked if I wanted to go home, but I can as well stay the last 5 minutes.

Of course, when it was time to go to my afternoon school it started to rain. The sky opened and I had to take a taxi to school
from Robinsons department store across from my morning school. Just to cross the bridge to the sky train and I'm on 2nd floor on Robinson and I was dry when entering the taxi.
- Soi 11, and on the double!

My class mate was in school when I arrived to my afternoon
school and it was laughs from the first second. We were studying and pestering the Teacher. Well she soon gave up and started to laugh as well. Her phone rang and my class mate answered the phone.

- The institution for higher education, my class mate answered.
Obviously it was someone wanting to collect the rent.

- A moment! Chutichiong, can you please pick up line 1, my class mate
continued.
Our Teacher, Mrs Chutichong came rushing snatched the phone from my class mate. We were laughing so we almost choked ourselves. Yeas, we were screaming
of laughter almost wetting our selves. And when I put my feet up on
the table our Teacher really turned bananas and started to hit me with my empty diet drink bottle.
- You are not polite!

Time turned quick and it was soon time to go home. I bought some tuna and canned corn and I was off in a taxi. I have plenty to do at home. The workers will come tomorrow morning and start to do my sleeping rooms and hopefully it should be ready on Friday.

But I have chosen purple wall paper for my master bed room and I'm starting to have second thoughts and I will call the contractor and see if we can change the wall papers in the master bed room.

Wednesday 2nd of September 2009 and I managed to sleep a full night. But I don't know what it is,
but as soon as I come to school I'm getting very sleepy and I'm soon half asleep and it's a wee bit embarrassing.

Coming home and had my tea and tuna. And I have started to mix canned corn in the tuna to make it a
little more exciting. When I was ready I left for a few galleries to see if I could find some paintings for my walls.

I had it by now with my Berlin posters from 1989. It was kind of fun back then, but they don't go very well with my new wall paper.

My apartment is upside down again, I have emptied my bedrooms of most of the things and tomorrow they will paint the ceilings and on Friday they will put up new wall papers in my bed rooms.

Today they have put my electric wires in my guestroom in to the wall so it will be covered on Friday with the new wall papers. When I first started to decorate my condo the first company, a beach boy from Pattaya managed to cut all the electric wires to my guestroom so there was no power in any of the sockets. But now it works again.

I expected them to fit a new duct on my AC compressor to the Master bedroom today, but they are delayed until Monday. So by then I can hopefully
run the AC in Master bedroom and the living room at the same time.

Thursday 3rd of September 2009 and coming to school and I left after 10 minutes again. I was not
in a very good mood and I decided to go to Sunbeltasia
to get some info about work permit. I had planned to go home after the visit, but time flied and on the way back home I decided to go for lunch at my favourite restaurant on Soi 22 instead.

I had time for lunch, but not much time to do anything at home before leaving for my afternoon school. So I asked the driver to take me
to Soi 22 for lunch before going to my afternoon school. And of course I ordered my Chiang Mai curry soup and I put in two bowls of steamed rice in the soup as always. And I ordered the mango with sticky rice for dessert.

This is something they really can do at this restaurant, but I don't know if it's any diet food but I go there two or three days a week for my soup. And the last three times I have ordered the mango with sticky rice for dessert. The whole thing cost about 15 US dollars so it's quite OK. When I was ready I went out on the street get a taxi to my afternoon school.
Friday 4th of September 2009 and I had planned to skip school today because the wall paper guys were coming. And at 9 o'clock they arrived and I'm more and more impressed by this contractor. They got started and I was off for school and I enjoyed the day in school. Arriving to school and they called from a gallery I went to the other night.

They wanted 70000 for 2 paintings and I gave them my card:
- Call me when you want 40000.
So they called today and they will deliver the paintings at 15:00, so let's see if they manage to impress me by being in time. But I don't bet any money on them being in time. When I came home from school, a wee bit late. I had to take care of some bank business so I could
pay the contractor and the guy delivering the paintings.

Coming home and I had expected to be able to move in my stuff in at least one room that I thought they would be ready with. But obviously this is not the way they work around here.

They work in both the rooms at the same time so all I could do when I came home was to go sit in my computer room writing stupid stuff on my web page. And by the way, this page is blown out of all proportions after the Seoul and Taipei adventure so it will soon be time to turn page.

I had called my friend and we had planned a weekend at the
beach with a few drinks and misbehaving ourselves. My other friend drove to the beach early this morning with his motorcycle and the original plan was for us 3 bikers
to drive around watching the sights.

But it looks like I have to go to Singapore on Sunday so the biking adventure was cancelled. But the
drinking and misbehaving adventure was still on but now it looks like this wall paper business will be a wee bit delayed so maybe I have to cancel the beach thing all together.
And, hmm, didn't I said that I would never drink again a few days ago? I love the wall papers in the Master bed room, but I'm not very pleased with the wall paper in the guestroom. But maybe it will look better when the pictures are back on the wall. Well, actually, after being in the room for a while I grew to like it more and more. But there is always the possibility to change wall papers. I like to paint and change wall papers every 5 years or so. And what have happened to Bangkok? Lo and behold, they delivered the paintings in time. Must be
the difference between working with professional workers and nitwits.

Well, it didn't take many seconds before my old Berlin posters were down from the walls and at least I'm satisfied with the new paintings. And the wall paper guys starts to get things together so I'm in a good mood. But a diet drink would be nice.
So I walked down to the 7-11 down the Soi and yes, I wore
sandals. Anders, you never thought that you would see me walking around in sandals. Even though it's a 100 dollar pair of sandals and not made of plastic.


But promise not to say anything to Gus and Harry after the scolding I gave them last time coming to FUNKY TOWN in GOOD MORNING BOOTS.

The workers left just before 6 o'clock and I had an hour to put back everything to place before taking a shower and enjoying a cold diet drink. Listening to Linton Kwesi Johnson on full blast. Well, it's Friday and the neighbours has to allow some noise in the early evening.
Well, it was nice to be ready and I was happy for the changes even though it f@cket up my school work and holiday. And not to talk about the gym, I have only been there one time since I signed off in the beginning of August.

When the worker left one of my friends called and he wanted to come over to check out the wall papers.
- Give me an hour, I said.
During the hour I cleaned up the worst and I had time for a shower. Actually I missed 2 calls from
him when I was in the shower. I love long hot showers. I called back and he asked about food. Obviously he doesn't know that I'm on diet.
- Are you hungry? Do you want to go to a restaurant or should I bring something?
- Not necessary, I said.
But remember my friend's advice in Seoul and I changed my mind in the last second.
-OK, please bring something! I have plenty wine at home!


He arrived just after 7 and by then I already had an open bottle of wine. I had a glass while waiting and when he stepped inside I poured him a glass of white wine.
- Do you like some ice in the wine?
- Yes!
So the ice in the wine thing seems to have been the last thing to have caught on.
My friend arrived without any food and we ordered food by the phone. And while waiting we
drank wine playing music. For the first time only using my iPod. No more ugly Laptop computer in the living room.

I gave the laptop to the girl taking care of my flowers together with the watertight camera I bought in Pattaya last Songkran. So she was very happy.

Saturday 5th of September 2009 and I woke up at 3 o'clock in the afternoon. How to spend the Saturday? I called my friend in Pattaya.
- I'm getting in to a taxi and I will soon be in Pattaya
After that I called the guy in Singapore. I received an e-mail that he had cancelled our meeting on Sunday and now it was postphoned until Tuesday. I was not happy when I called. They want me for and interview for a job and to meet the owners.
- You must wear a suit, he told me last time we talked.

But now I was angry, we had cancelled our weekend motorcycle tour due to the meeting on Sunday and now I don't want the job anymore. I wiill go to Singapore in sandals and I will wear one of my stupid hats. Shirt, of course I will wear a nice shirt. I only have nice shirts.
I took a shower and I stopped a taxi on the street and we were on the way to Pattaya. No iPod but
the driver played PLENG ISSARN the whole way. The original plan was to go there without drinking anything and thus we would skip the pit stop half way to Pattaya. Of course, approaching the pit stop and I made a last minute change of mind. I stopped at my
usual shop and I bought three beers. The shop owner looked surprised
when I bought the beer.
- No Bacardi Breezers today? The lady asked.
- No, beer is good enough.
Man vill ju inte komma fram apefull Anders.

Usually I buy 6 Bacardi Breezers and when I arrive I'm a little more than tipsy. 3 beers and I will arrive as the Charisma Man. So this is my plan for today. Actually the original plan was to go to Pattaya to eat dinner and watch a movie. But my friend told me that there are no good movies at the cinema now. Well, no movie and the Charisma Man is not afraid of changed plans
Leaving the pit stop and I had soon opened my first beer and we were hauling arse towards Pattaya

I picked up my friend at his apartment and we left for the restaurant we had chosen for the
dinner. We were in a good mood when we left towards an ATM. We passed another restaurant where a friend (From Skåne) to my friend was sitting drinking wine.
- Hey! Do you want a glass of wine?

- Does the bear shit in the woods?
Of course we want a glass of wine and we were soon sitting down and one glass
became
10 or more. The waiter was at our table all the time. Well, when it was time to change the place
my friend had to lead me to the taxi.

We went to a place where my friend use to go and I had my new Skåne hat on. I got it from my friend when I arrived to
Pattaya.
Ja fan Anders. Nu hoppas jag att det inte e
nån som sitter o blir bittter bara för att dom inte är Skåningar

Time turned quick and the staff was busy filling up my wine glass. My CD was on full blast and it was a festive mood in the bar.

And the best thing was that the bar owner told my friend that he wanted customers like me. He asked if he could copy my music and my friend is coming to FUNKY TOWN later in the week.
- Buy a hard drive and he can bring it to FUNKY TOWN and I can copy the music for you.
- Thank you very much!
And the bill, 1400 woody dollars. Unheard of in FUNKY TOWN. Drinking wine like that in Bangkok
and you would have had a 5000 Woody dollar bill, at least. Not strange that I'm spending 10-15000 every night I'm go on town in FUNKY TOWN. Customers like Aladdin are what they want.

- Hmm, well, not everywhere.

Well, my "LIFE COACH" was at a restaurant in FUNKY
TOWN. We had a friend working there so he went there once a month for a cup of coffee. My "LIFE COACH" got a surprise when the friend working there told him that it was customers like my "LIFE COACH" they wanted.
- We don't want customers like Aladdin!

- WHAT!!?? Aladdin spends more here in one night than I do in one year!

Sunday 6th of September 2009 and I got out of med at 12. I arrived home around 5 o'clock in
the morning and I slept most of the way from Pattaya so I had had my 8 hours of sleep. Give and take.

So how to spend the Sunday? I'm looking for more paintings for my condo so I left for Bangkok Art and Culture Centre after a tip from my friend last Friday

MBK, or Mah Boon Krong

is probably Bangkok's most legendary shopping mall, popular with both tourists and locals. Eight floors packed with 2,000 shops that sell everything from clothing, fashion accessories, handbags, leather products and luggage to furniture, mobile phones, electric appliances, cameras, stationery and DVD's (and then some).

MBK (launched in 1986) is a beehive of activity, especially on weekends, when half of Bangkok converges to shop for bargains. And plenty of bargains are to be found here!

while drinking wine. There was much art but I got a feeling that it was more like a museum. But there was one painting, very beautiful. A wee bit big but they wanted 1,6 million for
the darn thing and then I can have more fun for those money.

I went to MBK just across the street to make new name cards and I while waiting I went for lunch at Karborune.
Yeah, the very same restaurant where the girl at the airport worked. And there were still people at the restaurant that recognised me. And that's even though I haven't been there for 10 years.

I returned home and then I decided to go to World Trade Centre
to see if I could find some galleries there. I found 3 and I bought one painting at the last gallery I visited. At the first gallery I found a nice painting. 1,3m by 1,1m so I will measure my wall if there is space for it. 50000 and I managed to knock it down to 30000 and in a few days she will be desperate and maybe I can get it for 25000. But first I must measure my wall above the bed.

Back home with the painting. So now you don't have to see the old ship anymore when stepping inside my door. When the painting was up I was off to my favourite Thai restaurant for some curry soup and sticky rice with mango as dessert. After my dinner I took a walk down to Villa Market at Soi 11 to buy tuna, green peas and corn. And no, it doesn't taste good but I think it's healthy. Back home I was trying to get some sleep so I can be full of vim in school tomorrow.

| | | |
| --- | --- | --- |
| | School week again | |
And darn! It was hard to get out of bed Monday morning. I felt asleep between 3 and 4 o'clock and I was dead tired when my alarm went off at 8 o'clock. But I managed to stay awake in school and when we were finished I went to pick up some new shirts.

No afternoon school today, or for the rest of the week for that matter. I have cancelled my afternoon school due to my supposed visit to Singapore. Cancelled and postponed until Tuesday but
no flight details or any news from Singapore so I decided to stay home for a prolonged holiday. I have been home less than a month since my last ship and I can need the holiday.

In the afternoon my contractor came with the new name signs for my door. He sent the picture to me by SMS yesterday when I was at MBK.

He was at HomePro and he was taking pictures of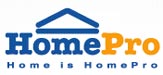 different letters. There was actually no letters that I really liked, but I had to choose when he had gone through the trouble getting out to HomePro on Sunday afternoon. Aladdin was not correctly spelt so I had to send him a SMS with Aladdin spelt, yeah, Aladdin When they put up the wall papers he got some rolls too
much and he deducted that from the price. Yeah, good luck with that one with Pattaya Beach Boys. I asked him how much he wanted for the name on the door.

- Ah! This is nothing. For free.

Either he has overcharged me for the other jobs he have done or he knows how to bring in more business. But it's nice to see they guy working, he is very careful he likes the things he does to be accurate and that it should look good.

Well, anyway, In case that you miss
the flag of Skåne hanging next to the door it should now be easier to find my door.

But the best thing I have is the old Khao San Road sign I bought some 15 years ago when passing a guy buying all kind of stuff from the

Banglamphu

Located to the east of Ko Rattanakosin, Banglamphu in Bangkok is a home to many wonderful sites. It has numerous popular tourist attractions which deserve to be explored.

Banglamphu, Bangkok is well known for Khao San road which is about 10 minutes walk away from Sanam Luang. Khao San road attracts thousands of tourists to its scenic places. Its budget accommodations have created a special place in the hearts of its travellers. It is a home to extensive market where a huge range of goods comprising of cheap clothes to Thai handicrafts are found. It also boasts of different types of restaurants.
Source: http://www.asiarooms.com

back packers. I asked if I could buy the sign and, well, this is nothing you see down at Banglamphu
any more. And no one knows what a Farang Banglamphu is any more. So it's a piece of Thai history I have hanging outside my door.

Well, they guy from Singapore called and he should call back within 30 minutes. Well, I'm really impressed by how they manage their manning department. Or they are very lucky, they must have plenty
experienced Chief Officers waiting in cue to join their ships when they can treat me, an experienced Chief Officer this way. Sitting here and wait like another nitwit. 30 minutes became 3 hours and I was off to buy chocolate for my Teacher.

Deciding to skip Singapore and I could be back in my afternoon class so I called my class mate
from my afternoon school. He wanted to go tomorrow afternoon.

- I call you back in a minute! I will call the Teacher to see if she still has our 1 o'clock time available.
I called my Teacher and our 1 o'clock time was available and she was happy that we wanted to come, believe it or not.

It will be fun to see my class mate again. He thought I was on the 7 seas so he was
surprised when I called and asked about the school. Well, pranks and frolic tomorrow afternoon so I'm looking forward to a few laughs.

My friend the Lawyer will arrive to FUNKY TOWN tomorrow afternoon so I will have him to help me checking out the painting at the gallery on World Trade Centre. And of course
I told him to bring his gym clothes. I haven't been at the gym for several weeks and by
now it's time to go there again.

I must lose 20 in a jiff, and I'm not talking about 20 kg coffee. There is a girl
I like
but she's in to girls. Yeah, well, anyway, she told me to lose 20 kg or to do a sex change. FUNKY TOWN, I love it there is always an opportunity

The AC man is coming tomorrow, should have been here today, but I was supposed to be in
Singapore today so I cancelled the AC repair. But I will not be in Singapore tomorrow so hopefully
my AC will be working as it should tomorrow afternoon. Singapore, I don't mind going there but then it will be to visit Eskibar.

Eskibar, Singapore. Yet another place to make a total tit
out of yourself. Yeah, I can't help it, but its fun.

Tuesday 8th of September 2009 and I'm a worried man. I didn't think about it until yesterday
evening. My friend the Lawyer from Pattaya will arrive to FUNKY TOWN this afternoon.
- What about the food?
I'm eating twice a day. A plate of tuna, canned corn and green peas with a pot of tea. In the morning I add 2 slices of Pumpernickel.
This is what I eat, OK, maybe once or twice a week I go to my Thai restaurant for some curry soup. Sometimes I have sticky rice with mango for dessert. But it's a great improvement from previous year when I lived my unhealthy life. Marriot at least 4
times a week. Italia restaurant at least once a day (Yeah, at least once every day) and I looked like an "anti aircraft balloon"
Well, if we spend time on the gym we can afford a visit to a restaurant.

E-MAIL FROM THE CONDO COMMITTEE


A suggestion letter also received from an unknown owner, and based on that following actions have been taken :-
1. Railings installation has been ordered at the staircase at the entry of swimming pool and way to shower room.
2. Whistling by security guards have been stopped.
Hope this information will be useful for all co-owners.

Management Committee"



OK, dead tired when my alarm went off. I didn't felt asleep until 4 o'clock and I hope I manage to stay awake at school.

Well, at least the guards have had their whistles taken away from them and that's a VERY nice change. Everyone ever been to FUNKY TOWN knows what I'm talking about. Everyone with a white shirt and a
gold plated shoe string attached to the shoulder think they are a traffic polices. Directing the traffic with a terrible whistling 24/7. The whistling everywhere drives you up the wall.
But finally they are gone, at least at my condo. Now they have a red and quiet flag instead and I discovered it this very morning after receiving an e-mail from our condo committee. So it was nice to be able to get a taxi to school without having to listening to the mind numbing whistling. I was in school 5 minutes later and I handed over the chocolate to the Teacher. Yesterday she was happy but today she felt a little awkward. So I guess it will be pure
embarrassment tomorrow.
I don't dare to think about Thursday and on Friday she will refuse to take the chocolate.

Well, anyway, on the way to afternoon school I ran in to my class mate from New
York outside 7/11 on the way to school and we walked the last 200m together. We started class by a chapter from, yeah, don't ask me from what book. But it sounded like an Indian chant and we had to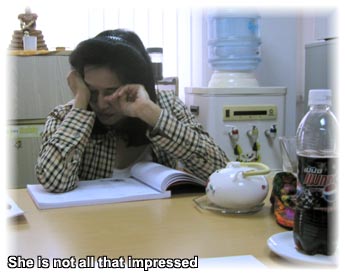 listen to the translation as well.

And of course, our Teacher was driven up the wall and she could not hide how bored she was. But well, after a while we could start the lesson. Well, it was mostly frolics and larks but we picked up a word or two here and there. But it was fun and time turned quick.
The phone was soon ringing and my class mate beat our Teacher to the phone. It was hilarious to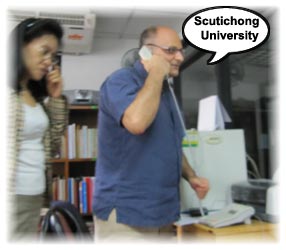 see them racing towards the phone. My friend won the race.
- Schutichong University.
Well, of course, when my class mate handed over the phone there was no one at the phone.

- You haven't paid your bill. They don't even let people call you!
- It must have been a ghost!
And of course, at least 20 minutes was spent
discussing ghosts and stuff. Our Teacher told us that she wanted to move to Soi 13. But when she was down at Soi 13 looking at the space she could see smoke from a hose that ho one
else could see.
- Maybe it was a bad sign, she suggested.

My spiritual leader was soon quick to reply.
- Give everything you have to me in your will and move down to Soi 13 as quick as you can.

I had another theory and I asked.
- Are you on strong medication or are you smoking something? I asked.
Well, we had great fun and even though I only managed to learn a new word we had fun and, well, I had the chance to practise some of my Thai even though it was mostly frolic and lark.




www.aladdin. st proudly presents the video:

"Ordinary day at school"

Your browser does not support the video tag.




My friend the Lawyer called 10 minutes before 3 and he told me that they was just leaving the highway coming down on Sukhumvit Road in a second.

| | |
| --- | --- |
| Before | After |
- Good, I'm at Soi 11 and we will arrive home at the same time.
I had forgotten to leave my keys at the office and I had been worried about the AC man. But I called the manager and she got the key from
the girl that takes
cares of my potted plants. So when I arrived home my AC was working again, but no sign of my friend the Lawyer. I had time for my tuna, canned corns and green tea and when I was done eating my health food he has still not arrived.

I had time for a few words on my web page before he arrived, one and a half hour later.

- Where have you been?
- The driver didn't know his way around FUNKY TOWN.
- Stick to the Bangkok drivers.
When they had passed the sign to the Swedish Embassy my friend directed the driver who turned in the opposite direction.
- We were soon up on the highway again and I had to pay the toll for the second time. But tooling around Bangkok is not the worst thing to do, he said.

Well, we were soon at World Trade Centre looking at the painting and we decided not to buy it. We checked out another gallery as well, but no luck. We had decided to go look for carpets but it started to rain when we left the shopping mall and to get a taxi was not so easy. We stopped 4 before we had any luck and we were soon back at my apartment.

We had to return my shirts to the tailor before we went to check out the carpets. I ordered 6
| | |
| --- | --- |
| Before | After |
shirts the other day and they looked like I had went from 250 kg to 80 kg in one week.
- It looks like a dress. The sleeves are very short if you ordered a
long sleeved shirt and they are very long if you ordered a short sleeved shirt, he said.

And the tailor blamed me.
- We asked you to come for a fitting but you refused.
- A fitting!!?? You nitwit, I have made millions of shirts in FUNKY TOWN and never had a fitting. This is what you do when you order a suit.

We went straight from the tailor to the carpet shop and we found 4 carpets that we liked and we asked him to deliver them home to me. I and my friend left with a taxi and they should deliver the carpets in a few minutes.
By then the shop was closed so they should just load the carpets in their car and I live just around the corner from the shop so it shouldn't take more than 3 minutes to bring the carpets. I Liked the carpets, but the one going from the living room to my bed room was too short. So they
went back to the shop to get a 15 feet carpet and it looked much better. They wanted 80,000 or so for the carpets.

But I knocked it down to 65 and when I expected us to go back to the shop to pay the girl brought a VISA machine and we connected it to my telephone line. 25 seconds later my account was 65,000 Baht lighter.

But now I have what I need, only some paintings for my bed room and still no answer from the gallery in Manila so I guess I have to buy them next time I go for school in Manila. Or if I can find something nice elsewhere.
Well, I was pleased with my new carpets and they are nice to walk on and they look good. And the 3 carpets in my bed room go well with my wall paper.

Wednesday 9th of September 2009 and I was out of bed at 8. Even if I was dead tired. Tea and I was off to school while my friend was sleeping in my guestroom.

20 minutes after class had started there were 3 girls coming in to class. I got angry.
- We are grown ups and you come 20 minutes late without any book!

3 seconds later one of the girls mobile started to ring and she talked on the phone.
- What the f@ck! I'm wasting my time here. I can as well stay home reading Donald Duck!
And I could not f@cking believe it when her telephone went off after 2 seconds again. I grabbed my book and left class. You pay for 180 hours and 120 of the hours is a waste of time.

I went back home in a bad mood and I had to wait until 1 o'clock for the guy to come and repair the water leak in the apartment above me. I was in a bad mood because I want to learn Thai and here I am sitting waiting instead of being in class. Well, being in class is a waste of time if they only speak in mobile phones.

While waiting for the handy man my friend suggested that I should move my CDs to the bookshelf. I told him that I wanted to throw them away and so far no one has wanted to come pick them up.
- Take them for free. I only want to get rid of them!

At 1 o'clock the handy man came and they started to work in my bathroom. This water leak has been for 10 years and they never manage to fix it. They made a new service hatch in my expensive wooden ceiling and they soon found the leak. They have tried to blame it on my AC but it's from the piping at the apartment above me. And now I really hope that they manage to fix it for good.
I'm sick'n tired of the water drops coming on my marble floor.

When the handy man left my friend had been out having his lunch. He needed a haircut and I
needed my 2nd boost of my hepatitis vaccination. We started at the Bumrungrad
hospital and when we were ready we decided to check out a gallery to see if they had some nice paintings at Soi 4. They had told me about the gallery on the gallery at Soi 1 where I bought the other paintings.

We walked from the Bumrungrad hospital all the way down Soi 4 without seeing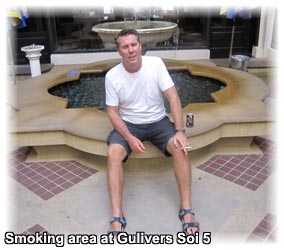 any gallery. They also told me about a gallery at Soi 7 so we walked up Soi 7 until we reached Soi 5 were we stopped for 2 diet drinks.

My friend was getting a haircut and the barber shop is at Soi 5 so it was nice to cool down with a diet drink in the AC. While in the smoking area a friend to my Lawyer friend showed up. Yeah, the world is small.
My friend's favourite barber shop is a few meters down the Soi from Gulliver's and we were soon there. It took almost an hour for them to cut his hair. He is using buckets of hair gel so they needed a chain saw to cut his hair. Coming out from the barbershop and it was 6 o'clock in the evening. I had not had anything to eat since 8 o'clock this morning so I was very hungry. We decided to try the Thai restaurant, Baan Khanitha, at Soi 23, within walking distance from my apartment. Excellent food
And the food here is very good. OK, the sticky rice with mango is way better on Soi 22. But the
food is very good and it's a very nice restaurant. The surroundings are very important. Of course, I can eat the same for along the street for 20 Bath. But quality must be allowed to cost a little extra

Well, our table was full of food and that's even though only the food I had ordered had come to our table.


When we were ready we decided to go to the gallery at Soi 1 to check out the addresses of the other galleries. Obviously I had misunderstood them last time, there are no galleries at Soi 4 or 7. But we took a taxi to Silom Soi 19, according to the
BAM! Bangkok Art Map they should be open until 21:00

Arriving and of course they had closed at 8 and we gave up and returned home. But we found out that there is a gallery at Bangkok University and we will go there tomorrow. And I won't be surprised if there are a lot of beautiful girls on campus.

Thursday 10th of September 2009 and I started my day the usual way. Shower, tuna and the tuna is like eating wood by now. I'm fed up with the tuna, but it does wonders to my looks. My friend the lawyer came out in the kitchen when I had my breakfast.

- What the hell are you eating?
- It's not tasty but it's healthy, I said.
- Looks like your suffering when you're chewing, he said.
- Yeah, it does not taste any good.

My morning school wasn't all that exciting so I called my class mate at the afternoon school.
- Where are you? Would you like some lunch?
- OK, I'm coming to town.
- See you at the corner of Soi 11 at 1230, I said and I picked up my school bag and I skipped the last hour on my morning school.

I stopped at my tailor on Soi 15, not the one that made the parachutes for me on Soi 11. I want to make baseball caps in the same fabric as my shirts. I bought a baseball cap on the street to give him as sample. He will send the cap to a tailor to see if she can do the baseball caps. So I hope he can give me the good news tomorrow.

I was at another tailor at the corner of Soi 11, still not the one that made the shirts looking like
parachutes. It was impossible to get out of the taxi with one of those shirts on. The back seat was full of shirt and it was next to impossible to find the way out of the taxi. Well my class mate called.
- Where are you?
- I'm at the tailor 100m from you, I said.
I went out to get him and when we were back we had a chat with the tailor and it was too late for lunch. We walked up Soi 11 towards school when my class mate asked if I wanted lemonade.
- Let's swing by Villa Market
I saw the road side full of cars, motor cycles and TUK TUK and it would be impossible to squeeze you through.
- We can buy it at 7/11, I suggested.
- They have excellent lemonade at Villa.
OK, we had to climb through a TUK TUK to reach Villa Market. We drank our lemonades while taking the 3 minutes' walk up the soi to the school. We arrived to school on the fifth floor and it didn't took long before the chaos and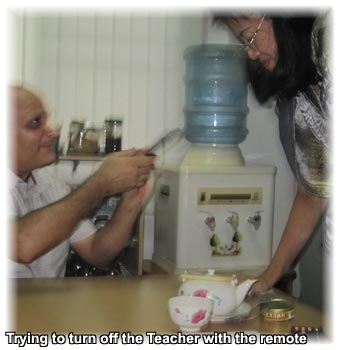 mayhem started. My class mate had tea all over the table and paper
work and I was on the floor laughing.


When I had picked myself up from the floor I could see our Teacher smiling.
- That's the spirit. If you can keep that smile on you will soon have 10000 boyfriends, I said.
- Yeah, you look gorgeous when you're smiling. You should do it all the time, my class mate
said to her.
But when teaching us her mood swing rapidly between laughter,
despair, anger
and when
she has enough of our silly behaviour and drivel she goes to her corner of the room and sent SMS to someone. (That I and my class mate calling her boy friend)

My friend gives her suggestions on what to write to make sure he will be here in a jiff. And this is nothing I can write about on my web page.

But if you have a credit card you can always swing over to my MEMBER'S ONLY area. And of course, you need to be 18 or above.

- Is there any battery in the clock!!?? My class mate suddenly screamed pointing at the clock on top of the bookshelf.
There was nothing stopping him and he continued:
- Seems like these lessons never ends!

Well, the clock was soon 10 minutes before 3 and we left. My Lawyer friend is waiting for me at the German restaurant next to the school. And meeting him at the restaurant, I had hoped
for him to have had his breakfast/ lunch already. But no!

He was ordering food and I had to join him with a potato & sausage soup. When we were finished we had to stop 3 taxis before we could leave for Bangkok University and the gallery.
We arrived to Bangkok University on Rama 4 20 minutes later and we found the gallery within seconds. But Jesus Christ! There were millions of beautiful students in school uniforms and we decided to visit the coffee shop before visiting the gallery. When we were finished we left for the gallery. 2 floors of pure shit. Zeitgeist Becomes Form: German Fashion Photography 1945 – 1995. That was exactly 0 interesting and fun. Only photos and I would not hang one single one of them on one of my walls even if my life depended up on it. We left the place after,
hmm, maybe 3 minutes and we had spent more time in the coffee shop than in the gallery.
- What to do now? I asked
- Let's go to Silom Galleria where it was closed yesterday.

We stopped a taxi and we were hauling arse towards Silom. At Saladeang it was full stop in the traffic. The driver asked if he should do a U-turn and take Sathorn Road.

- It's much quicker!
- So what the f@ck are we doing on Saladeang?
But it was a nice driver and he managed to explain the difference between ngaang and sapson for me. I asked the Teacher at my morning school this very morning:

- Hmm, it's the same. But different!

But our driver was excellent and my friend the Lawyer sitting up front asked if I had pen and paper.
- Of course, always carrying my school bag.
He started taking notes and when we arrived to Silom Galleria we paid the driver the 200 Baht fare (140 Bath)
for more than 1 hours ride. We got out of the taxi and I told my friend that this was a cheap Thai lesson. The Teachers charge you 400 or 450 Baht per hour for private lessons.

We stopped at a paint shop (Pattaya style) on the way to Silom Galleria and we were out of there before very soon. We checked out 3 galleries at Silom Galleria and we
found nothing we liked.
- Do you have any more galleries in Silom Galleria?
- There are 5 or 7 on floor B1.

Coming down to floor B1 there were 2 openings of art exhibition with free booze. But we were looking for paintings and we stayed well clear of the booze. At the first vernissage we found f@ck all and at the 2nd vernissage there was nothing of interest. But the girl gave me a catalogue and we checked out 2 paintings.
100,000 Bath, but I knocked down the price to 50,000 and we had a deal.

Their VISA machine didn't work or if it was my card that was, well, anyway, we had to go up to the ATM at the ground floor to get 50,000 in cash and we went back down to pay the paintings.

I asked when they would deliver the paintings and we agreed that they would be delivered tomorrow afternoon at 2 o'clock, when I was finished in school.

Vernissage, I remember the good ol' West Berlin. Back then I was young and handsome. We were in
Berlin to help them take down the wall 1989 and we ended
up at the first vernissage by mistake. I don't know how it happened, but me and my friend became the talk of the town and we were invited to every vernissage in town.

And seriously, I have never seen so much shit before.
Maybe it was due to the festive spirit in town when the wall came down or the free booze. All the vernissages was
brimmed with people.

Well, at Silom Galleria my Lawyer friend became suspicious because every time we moved around I made sure to pass I girl sitting outside the exhibition with some people looking like artists.

She was very beautiful and she undressed me with her eyes every time we passed and before we left I asked they guy to hand her my name card. My friend turned bananas.

- YOU CHICKEN!! DON'T YOU DARE HAND IT OVER YOURSELF??!!
- No. it's out of respect. Imagine her loosing face when Porky
comes over with his name card.

- SHE WILL NEVER CALL YOU!
We just got outside Silom Galleria when my phone rang. And it was the girl and my friend was surprised.
- I never said she wouldn't call. I only said that you were a coward not handing her you card yourself.
- It's out of respect. Imagine her loosing face when Porky
comes over with his name card.
- Now you have to call her back tomorrow, she is obviously interested, he said.
- Well, I will think about it over a bottle of wine or two.

Back to Sukhumvit Soi 11 to see if they were ready doing shirts out of my parachutes. No, it was raining so the shirts were not ready. We went next door to Villa Market and bought food and returned home. The taxi was waiting while we took up the food and when the food was on the shelves we went to my favourite Thai restaurant on Sukhumvit Soi 22. After dinner it was time to go home for some sleep after a long and busy day. On the way home we
passed GLOW and I could see that their red sign was on.
- Good, that was the first thing I destroyed on my stop there coming home from Taiwan.

Never mind, I will not show up there for at least a year or so. We
were soon home and I was checking my e-mail when my friend the Lawyer came in disturbing me.
- Hey Aladdin? Why is everything so childish in Thailand?
He had been looking for containers for his contact lenses and there had only been stupid animals to choose between. I told him that I thought they were cute.
Friday 11th of September 2009 and my alarm went off and I was out of bed 10 minutes past the hour. A hot shower and I knocked on the door to the guest room to wake up my friend. He will
check in to the hospital at noon so this is the last breakfast in my kitchen until next time in Bangkok.

I was eating my bowl of wood while my friend gave suggestions for other "LOW FAT" food.
- That looks horrible! He said.
- Mmmm! Yummy!!!
And healthy! And all the girls calling!

Coming home from school and it was kind of boring to be alone. My friend is at the hospital and I have no one to be up to mischief with. Well, plenty to update on the web page and my paintings will be delivered at 2 o'clock. Well, no friend living in my condo any more. But I was busy hanging up paintings, and the
construction workers doing the bathroom in the condo on top of mine was here to fix my ceiling in the afternoon. So I was hungry at 6 o'clock when I finally had time to eat. And hunger is the best spice and my plate of tuna, onion, corn and green peas was delicious.

I will visit my friend at the hospital tonight when he wakes up after the operation. They expect him to be back in his room at 22:00 so I had time to look up the artist of the two paintings I bought.

He is from Phuket and his name is Watcharin Rodnit and my paintings is, well, at least I think so. From a series called Brushstroke from nature 2008. And he has his own web page. http://www.rindamagicalart.com and that's more than I can say about my favourite Filipino artists Joseph Bañez and Adrian Morales. I have not even received an answer on my inquiry to the gallery in Manila.

I left my apartment at 21:30 and a few minutes later I found a taxi at Prasanmit Plaza. We were
cruising up Sukhumvit Road in a light Friday night traffic and I stepped out from the elevator on floor 11 at Bumrungrad hospital at 21:50.

He had put me up as next of kin so it will be me they are calling if
something goes wrong and I had the right to visit 24/7. The Nurse in the
reception told me that he was still at operation.

- AT THE OPERATION!!??
- Yes, and when he is ready they have to put him in a recovery room for 2 hours.
I'm not allowed to visit him in the recovery room. He needs 2 hours in the recovery room to get out of the narcosis. He was so disappointed when he called me this very afternoon.

The original plan was for me to be there at 8 o'clock.
- They will start the operation at 6 o'clock and it will take 2 hours. You can be here at 8.
- But it will take long time for you to get out of the anaesthetize. So maybe its better you call when you are ready, I suggested.

- No problem, we have been talking with each other drunk before. Drink a bottle of wine before you come. This will be fun! FRIDAY NIGHT!

Second time he called he was disappointed had been talking with the anaesthesiologist.
- I will be in a recover room for 2 hours after the operation. And I'm not allowed to have any visitors there.
He told me to be there at 10 o'clock. He also told me that there was a very nice nurse and she came in to his room.
- OH! Here she comes.
- OK, let me speak with her.
He handed her his phone and I introduced myself and I found out that she was single.

Getting married to a beautiful nurse vs. Being alone for the rest of my life: 1 to 0

And yes, she didn't mind having a boyfriend.

Getting married to a beautiful nurse vs. Being alone for the rest of my life: 2 to 0

And yes, she didn't mind having a foreign boyfriend.

Getting married to a beautiful nurse vs. Being alone for the rest of my life: 3 to 0

And yes, her mother didn't mind having a foreign son in law.

Getting married to a beautiful nurse vs. Being alone for the rest of my life: 4 to 0

And yes, it was Friday and she wanted to go to disco.

Getting married to a beautiful nurse vs. Being alone for the rest of my life: 5 to 0

She wanted to see me first.
Porky is down and out!

And the winner is: Being alone for the rest of my life! Knock out in round 6


Well, anyway, we decided that I should be at the hospital at 10 o'clock. The nurse called to the
operation and they were not even ready with the operation. I thought that maybe he was in the recovery room already. Well, I took a taxi back home. After 5 minutes they called from the hospital and told me that the operation was ready and he was now in
the recovery room.
- He will be in his room at midnight, she said.

I stopped at my local 7-11 and I bought 2 diet drinks and I walked back home. I will call my friend at midnight to see how he is.
Maybe still dizzy from the narcosis. Well, anyway, Friday night waiting to
go to the hospital and no wine or disco. Saving a lot of money.

- Hmm, 2 more Fridays like this and I have had the paintings for free.

Saturday tomorrow and if I can skip the bars I will soon be a millionaire, but I guess the
chances are slim. It's not like being on an amusement park sitting home a weekend night. I mean, you can have more fun than spending Friday night writing stupid stuff on a web page.

Lo and behold, at 23:35 my friend called. He was back on his room and I was soon plunging down Sukhumvit Road towards Bumrungrad hospital for the second time tonight. According to the clock in my camera we were at Asoke Sukhumvit intersection at 23:52 and I stepped in to my friend's room 2 minutes after midnight. Saturday 12th of September 2009 and I stepped in to my friend's room 2 minutes after midnight
with my camera stand by. There was a nurse attending to him when I arrived so I started right off with some action pictures.

My friend looked good, well, not in that way but you know what I mean.

- Hmm, maybe he is looking good the other way also, especially after his haircut the other day.

I don't have that problem, I do my own hair cutting
with a machine.
Well, any way, he was full of vim and we had a few laughs. There were running Nurses all the time, none of them were the beautiful. She is on the day shift and she will start work at 7
o'clock in the morning and he told me to be back by then. I got upset. First he tells me how beautiful she is and I make a total tit out of myself. When I'm coming to the hospital she is off her shift but then he tells me that she had a moustache.

And now he wants me to be back here at 7 o'clock in the morning. (By now it was almost 2 o'clock in the morning).

- What the
! When I'm running in to the moustache
nurse I will think I'm running in to Santa Claus and that it's Christmas.

It was almost 3 o'clock before I was back home, no problem, it's Saturday and I can sleep until noon or longer.
- FAT CHANCE!!

My alarm went off, well, I thought it was my alarm. But it was my phone ringing at 0930.
- Who the
is calling someone at 09:30 Saturday morning? Of course my "LIFE COACH" use to call at the most stupid hours, but no normal human being calls at this early hour.
I didn't recognised the number, but I think it was one of my Teachers I had a few years ago. I
really don't know, I will call back in the afternoon.

My friend the Lawyer called from the hospital at 10:50. Now we're closing in on the normal time to call on Saturday mornings. - Have you seen the Doctor yet? I asked.
- No, he has not been here yet.
- So then you will not check out at 12, I said.
- Most likely not.
- OK, I take a shower and a will have a " TUNA SURPRISE " and I'm soon at the hospital.
- Very good, here is boring like
!

- OK, I'm coming over ASAP. - And the good looking Nurse is here now. SO HURRY UP!!
- The moustached one? I asked.
- Yes.
- OK, do you know a good way to lose 50kg in an hour so I look good when I arrive?
- Not without using a knife!

Darn, I have to rely on my Charisma. But if she looks like Santa, who cares? I didn't have time for a morning shave. But I soaked myself in after shave, the good smell might draw some of the attention from the mid part of my, what I wished was a V-shaped torso. After exactly 12 hours since last time I was at the Asoke-Sukhumvit intersection on my way to visit my friend the second time. I expected to step inside his door 2 minutes after 12, and again, exactly 12 hours since last visit. We were hauling arse in light Saturday traffic on Sukhumvit. Well, that is until we reached the Nana intersection and it was like driving in to a wall.

So I was a few minutes later than expected. They recognised me on the hospital.

- Your friend is in his room.
I knocked on the door and crack opened the door.
- Are you dapper and presentable?
- Yes, come in.
My friend was in progress of packing his bags expecting to go home soon.

- I'm just waiting for my medicine and bill.

When he was packed we went to the reception. But my friend was not allowed to check out. They had to check out things with his insurance company before he could leave. After one and a half hour the boredom drove me up the wall. - Let's go for a walk looking for beautiful nurses, I suggested to my friend.
We were walking back and forth on the 11th floor and I took pictures of Bangkok from the windows.
Well, just North of Bumrungrad hospital there is a skyscraper so it was not possible to get a panorama view towards North. But you can see the dwelling made out of garbage. Not a common sight any more in Bangkok.

At least not in the city. But a few years back you could see areas like this everywhere. Imagine taking pictures like this every year. Back in the 90's you could not leave town for 2 months and come back recognising the city. But the 1997 crash put an end to it and the Bangkok skyline was full of half finished skyscrapers. But now they are back in business.
Well, it didn't take that long to get from Sukhumvit Soi 23 to Bumrungrad hospital back then. Comparing with that I called light traffic on Sukhumvit today there was no traffic back then. But now we have taxi meters and that's the best thing ever introduced to me in Bangkok. No more TUK TUK and now you can see where you are. Sitting in a TUK TUK and the only thing you could see was the canvas or plastic roof of the darn TUK TUK. Well, anyway, this is a few years back and now I don't have to go through all the trouble every
time going somewhere. Haggling and trouble every day and it's still the same in Phuket today. That's why I haven't been there since 92 or something. If you want to enjoy Thailand stay WELL CLEAR of Phuket, and I mean it.

And of course, coming home a little tipsy at the wee hours you are no longer risking being attacked by any monkeys or
all the wild dogs roaming the streets a few years back. They are gone, at least from my street. Where? Most likely eaten by someone.

Well, where were we? Yes at the hospital.
This waiting were tedious and we told them in the reception that we went to the Mini Mart on Soi 1.
- OK, we will call when they are ready with the bill and
insurance company.

While buying coffin nails at the Mini Mart there was no call and they were still not ready when we returned.

But I got to meet the moustached Nurse and she turned out to be beautiful. Of course I handed her my name card. You don't want to miss an opportunity like this.
- So today you dare doing it yourself, my friend was quick to say.

- Of course, here is no chance of losing any face. Can't you see how all the Nurses are all over me?

Waiting and waiting, I was climbing the walls when they came to check my friend's blood pressure.
- Can you please check me as well? I asked the Nurse.
- This is the deal of the week. Have an operation for 240,000 Baht
and your friend can have a free blood pressure test.

She had trouble getting the cuff around my over arm You know, I'm
an old body builder. But finally she managed to get me hooked up to the machine. OK, to keep it short, she wasn't as impressed by my blood pressure as she was of my friend's blood pressure.

Well, even though I was busy flirting with the nurses it became more and more
tedious and I had stuff to do. Clean my bathroom and to put all this stupid stuff on the internet. So I left the hospital at 4 o'clock and I took a taxi home. While cleaning my bathroom my friend called and finally he was cleared to check out from the hospital.

OK, I have managed to blow yet another page out of proportions so let's change page.


OK, it has come to my knowledge that we have senior citizens at my web page. How hard can it be?
So it's not very easy for them to see the blue coloured links to the next page.

Jiffy (also jiff)


noun [in SING.] informal a moment: we'll be back in a jiffy.

ORIGIN late 18th cent.: of unknown origin.

So as you understand, in a jiff pretty much depends on your internet.

So I put a "Next" button here and I hope that there isn't any problem to understand how to use that one. So just CLICK the "Next" button on your left hand side and you will be on the next page in a jiff!
Marunong ka mag-tagalog? Walang problema! Magpunta sa kabilang pahina pindutin ang "NEXT" button sa itaas


Faites vous parlez le français? Pour arriver à la page suivante faites s'il vous plaît un déclic le bouton "Next" ci-dessus!


Haga usted dice el español? Ver la siguiente página sólo hacer clic el botón "Next" encima!


Farla parla l'italiano? Per vedere la prossima pagina lo scatto per favore giusto Il bottone "Next" sopra


Sprechen sie Deutsch! Kein problem! Wenn Sie die folgende Seite sehen wollen gerade klicken der Knopf "Next" oben!


คุณพูดภาษาไทยได้ไหม ไม่มีปัญหา ถ้าคุณต้องการไปหน้าถัดไป ให้กดปุ่ม "Next" ข้างบนนี้


Вы говорите по-русски? NJET PROBLEMA! Просто нажмите синюю кнопку "Next" с левой стороны и Вы моментально переместитесь на следующую страницу!


E ni Svenskar och inte förstår Engelska så ska ni skämmas. J och Björn, med det menar jag inte att alla mina stavfel ska ältas varje gång vi träffas.
You are visitor no.
To www.aladdin.st since December 2005
Visitors to www.aladdin.st from different countries since 26th of September 2011