Sunday 1st of April 2018 and they knocked on my door at 4 o'clock with a pot of tea, honey and milk. And of course a cup. I was drinking tea and at 7 thirty I went for breakfast, same as on the other hotel. But the food was better at the previous lodge.

I'm at the jeep at 7 and we took a 10 to 15 minutes ride down to the Gandaki River. There was a small wooden boat waiting for us, and as it is not allowed to use engines in the national park they have to paddle the boat across the river. Gandaki River forms a natural boundary between the human settlements to the north and west of the protected area.

And it is a strong current in the river so it is a little tricky to cross. Takes us about 10 minutes to cross the river to the waiting jeep.


On the way down to the river
The boat is waiting for us
Leaving for the river crossing
Leaving the river behind looking for wildlife
Rhino poo on the dirt road


We leave the river behind and we drive through a beautiful grass land. We saw some small birds and for the first time I saw the Chestnut-capped Babbler. The bird was jumping around and it was impossible to get any pictures. We were soon spotting some Rhino poo on the dirt road, and it was a huge pile. And it looked fresh so there is Rhinos in the vicinity.

We drove along the river but we could not see the almost dry part of the river due to all the bushes and trees between the dirt road and the water. But we tried to keep an eye on the water just in case there was a tiger drinking water.


We see an elephant in the horizon
Dry part of the river
2 Rhinos
We continue along the dirt road

We comes deeper in to the forest and we see a lot of interesting birds, but no pictures.
• Indian Paradise Flycatcher
• Red-headed Trogon
• Orange-headed Thrush
• Great Tit
• Scarlet Minivets

We pass a huge tree laying on the ground and the trunk is hollow. I told the Guide that this was the kind of place the leopards liked to have their babies. My Guide told me that Jackals and other animals could live there as well. We stopped and my Guide went out of the car to go check out the tee. I asked him if he was going to look at the tree.
- What if there is a leopard?

He brought the leopard stick and he approached the tree very slowly trying to look in to the trunk.


He is a little scared approaching the tree
He is a little scared approaching the tree
He is lucky, nothing is attacking him

After 10 o'clock it turned very hot and there wasn't much around to look at. We stopped to have our lunch at a river, no animals coming to drink water and when we had finished the lunch we left.

We drove around in the forest, there was plenty spotted deer and sambar deer, and there is also barking deer but we only saw 2 of them. We had seen Rhino Poo and Rhinos in a far distance. We drove down the dirt road when suddenly we had a big Rhino stepping out in front of us. The Rhino crossed the road and disappeared in the forest on our left hand side.


He is lucky, nothing is attacking him
Sambar deer
A Rhino cross our path
A Rhino cross our path
A Rhino cross our path
Disappearing in to the forest
In Sweden we have a feminist government
We see a baby and a mother Rhino cooling down in the river
We see a baby and a mother Rhino cooling down in the river
We see a baby and a mother Rhino cooling down in the river
White-throated Kingfisher
Spotted deer


We drive on through the forest and as it was during the hot part of the day we didn't see any animals and birds, of course, we could see a lot of deer taking shelter in the shadow under the trees. We saw one White-throated Kingfisher.

So my Guide and Driver was surprised when I screamed STOP! They looked back at me and I told them to go back. The driver put the jeep in reverse and we went back 50 meters or so. I had seen a small black face behind a tree 100 meters or so away. We found the animal climbing up the hill and it turned out to be a Yellow-throated Marten.



Yellow-throated Marten


The yellow-throated marten (Martes flavigula) is an Asian marten species, which is listed as Least Concern on the IUCN Red List due to its wide distribution, evidently relatively stable population, occurrence in a number of protected areas, and lack of major threats.

The yellow-throated marten is also known as the kharza, and is the largest marten in the Old World, with the tail making up more than half its length. Its fur is brightly colored, consisting of a unique blend of black, white, golden-yellow and brown. It is an omnivore, whose sources of food range from fruit and nectar to small deer.

The yellow-throated marten is a fearless animal with few natural predators, because of its powerful build, its bright coloration and unpleasant odour. It shows little fear of humans or dogs, and is easily tamed.

Although similar in several respects to the smaller beech marten, it is sharply differentiated from other martens by its unique color and the structure of its baculum. It is probably the most ancient form of marten, having likely originated during the Pliocene, as indicated by its geographical distribution and its atypical coloration.

The first written description of the yellow-throated marten in the Western World is given by Thomas Pennant in his History of Quadrupeds (1781), in which he named it "White-cheeked Weasel". Pieter Boddaert featured it in his Elenchus Animalium with the name Mustela flavigula.

For a long period after the Elenchus' publication, the existence of the yellow-throated marten was considered doubtful by many zoologists, until a skin was presented to the Museum of the East India Company in 1824 by Thomas Hardwicke.



Conservation status

From Wikipedia, the free encyclopedia



We were soon seeing another Yellow-throated Marten coming after the first so it might be a couple looking to make babies. I got some pictures, but the Marten was very far away so the pictures turned out to be NO GOOD. But now I have seen a Marten, I think this is the first Marten for me ever.

No tiger, and no leopard, but the Yellow-throated Marten was kind of nice to see, not very exciting, but at least we got to see something. We continued our game drive through the forest and there wasn't much to see.


Yellow-throated Marten
Yellow-throated Marten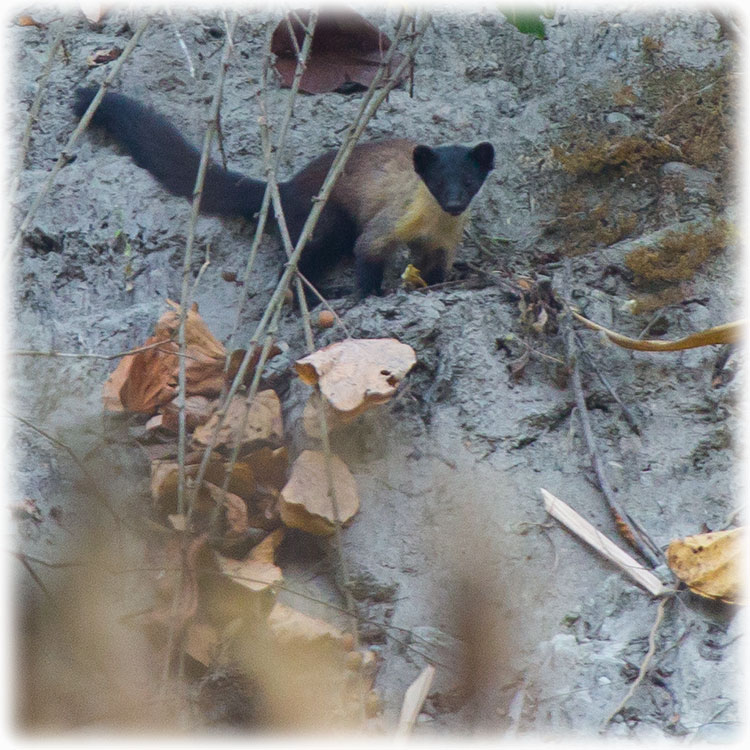 Yellow-throated Marten
Yellow-throated Marten
Yellow-throated Marten


Suddenly I screamed STOP again, but this time I was quiet. I had spotted a Kalij pheasant in the bushes. A very shy bird and same as with the Small Buttonquail back at Bardiya/ Bardia National Park. We could not approach the bird or they would run away. So after having studied the birds movement I told the driver to go back.

We drove back 20 meters and we stopped the engine and we just sat there waiting for the birds to come towards us. If we're lucky the birds, yes, two birds, we discovered a female as well, so it is a couple out looking for food. And if we're lucky they will walk toward us.

The bird came pretty close so I could take some pictures, but they were always behind some grass and twigs. But I was very happy to get some pictures.


Female Kalij Pheasant
Male Spotted deer
Monkey eating fruit
We spot a Rhino in the grass on the way back to the boat
We spot a Rhino in the grass on the way back to the boat
Woolly-necked Stork
Woolly-necked Stork
Woolly-necked Stork
We're back at the boat
Small Pratincole - पानीगौथली


We passed one more Rhino eating grass on the other side of the river. And we were lucky to see two Woolly-necked Storks in a tree before we reached the beach and the boat that will take us back across the river. At the boat and I can hear the Small Pratincole, but it is very hard to see the beautiful bird among the rocks on the beach.

I chased the bird trying to get some pictures before I get on the boat. Me and my Guide sitting down relaxing while out crew paddling us over the river. The jeep is waiting for us and we're soon on our way back to Tiger Tops Tharu Lodge and dinner. It have been a nice day in Chitwan National Park even though we didn't see any tigers and leopards.


Crossing the river
The jeep is waiting for us on the other side
We spot a Jackal on the way back to the hotel
We spot a Jackal on the way back to the hotel


We spot a Jackal when we're almost back at the hotel. The Jackal was behind a fence but I managed to get a picture. We had dinner at 7 thirty and I was soon in bed as they will knock on my door with a pot of tea at 4 o'clock tomorrow morning. We will take off to the National park at 7 o'clock. Click HERE to find out if we find any tigers.


OK, it has come to my knowledge that we have senior citizens visiting my web page. How hard can it
be? So it's not very easy for them to see the blue coloured links to the next page.

Jiffy (also jiff)


noun [in SING.] informal a moment: we'll be back in a jiffy.

ORIGIN late 18th cent.: of unknown origin.

So as you understand, in a jiff pretty much depends on your internet.

So I put a "Next" button here and I hope that there isn't any problem to understand how to use that one. So just CLICK the "Next" button on your left hand side and you will be on the next page in a jiff!
Marunong ka mag-tagalog? Walang problema! Magpunta sa kabilang pahina pindutin ang "NEXT" button sa itaas


Faites vous parlez le français? Pas de problème! Pour arriver à la page suivante faites s'il vous plaît un déclic le bouton "Next" ci-dessus!


Haga usted dice el español? No hay problema! Ver la siguiente página sólo hacer clic el botón "Next" encima!


Farla parla l'italiano? Non problemi! Per vedere la prossima pagina lo scatto per favore giusto Il bottone "Next" sopra


Sprechen sie Deutsch! Kein problem! Wenn Sie die folgende Seite sehen wollen gerade klicken der Knopf "Next" oben!


คุณพูดภาษาไทยได้ไหม ไม่มีปัญหา ถ้าคุณต้องการไปหน้าถัดไป ให้กดปุ่ม "Next" ข้างบนนี้


Вы говорите по-русски? Просто нажмите синюю кнопку "Next" с левой стороны и Вы моментально переместитесь на следующую страницу!


E ni Svenskar och inte förstår Engelska så ska ni skämmas. J och Björn, med det menar jag inte att alla mina stavfel ska ältas varje gång vi träffas.


Well, the flag of Skåne, just a BONUS flag.
You are visitor no.